26+ Mediterranean Bathroom Ideas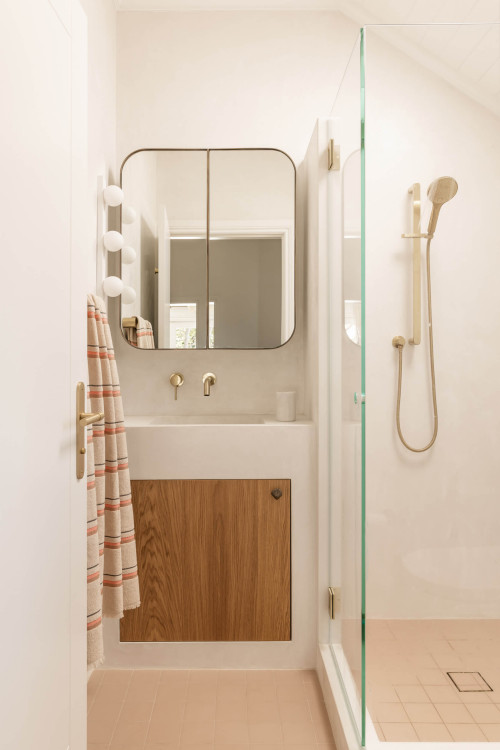 ID# 161511 | Houzz.com – Credit | © iSpace Solutions
---
Warm and Inviting Small Bathroom with Shower
This cozy bathroom is greeted by a serene earthy color palette! The compact vanity and elegant wooden cabinet offer ample storage for all your toiletries, while the mirrored upper cabinets add a touch of sophistication and provide convenience in a limited area. Moreover, the beige floor tiles complement the design, imbuing it with a warm and natural touch.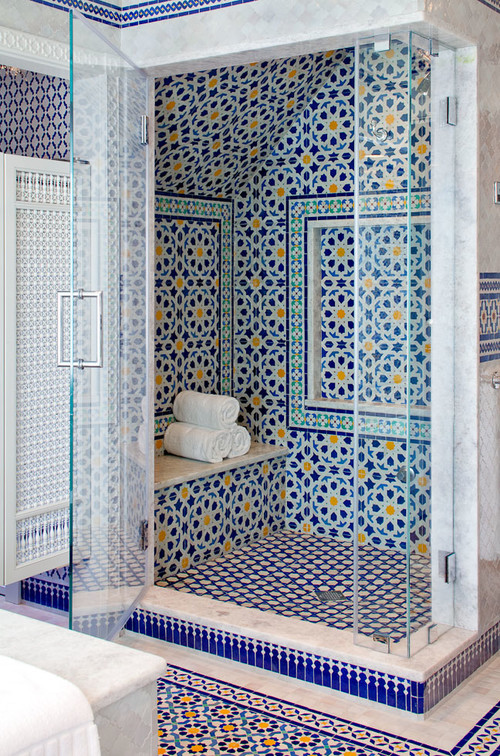 ID# 161514 | Houzz.com – Credit | © Kyle Timothy Home
---
Eye-catching Blue and Yellow Tiles for Mediterranean Style
Indulge in the beauty of this Mediterranean-style bathroom that boasts exquisite tilework enveloping the space, creating a striking focal point! The blue and yellow tones of the tiles imbue a vivacious and cheerful vibe to the bathroom. The intricate patterns transport you to the seaside villas of the Mediterranean. With cleverly placed marble accents, this gorgeous bathroom exudes a touch of elegance and luxury.
Mediterranean Bathroom Ideas
Mediterranean bathroom ideas encompass warm color palettes, intricate tile work, natural materials, archways, vintage fixtures, decorative accents, and greenery to create a warm, inviting, and timeless aesthetic. By incorporating these elements, you can transform your bathroom into a Mediterranean oasis that exudes elegance, comfort, and a sense of coastal living.
Warm and Inviting Feel of the Mediterranean Style
Natural materials like limestone and marble are often used for countertops, sinks, and even walls in Mediterranean bathrooms. These materials not only provide durability but also add a touch of elegance and luxury to the space. Archways and curves are also characteristic of the Mediterranean architectural style and can be incorporated into the bathroom design. Mosaic mirrors, colorful ceramics, and intricate patterns on shower curtains or window treatments can all add visual interest and personality to the space.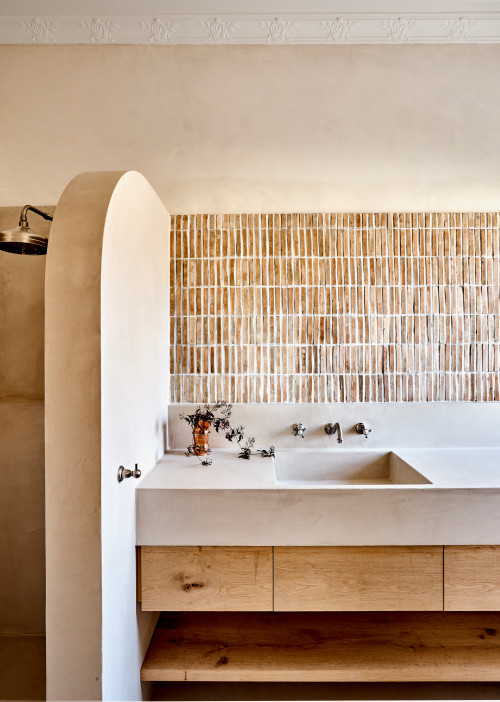 ID# 161501 | Houzz.com – Credit | © Brodware
---
Beige Mediterranean Bathroom Ideas with Handmade Tiles
In this Mediterranean bathroom, a warm beige color palette sets the tone for a cozy and inviting ambiance! The handmade tile backsplash adds a touch of craftsmanship and artistry, bringing in a sense of authenticity and character. The wood vanity with a concrete top creates a natural and rustic feel and adds warmth and texture to the space.
ID# 161502 | Houzz.com – Credit | © Nick Smith
---
Black Freestanding Bathtub with Glamorous Lighting Fixtures
Welcome to this stylish bathroom, where the centerpiece is undeniably an exquisite black freestanding bathtub that exudes a touch of elegance and charm. Above it, the stunning lighting fixtures provide a warm and inviting aura, imparting a sense of intimacy and comfort in the space. The rustic wood-look floor tiles add a natural and organic element to the bathroom, creating a warm and textured vibe. To add a bold and dramatic contrast, the black painted fireplace makes a statement and adds a touch of sophistication to the ambiance. Step into this stunning space, and let it wrap you in luxury and tranquility.
What is a Mediterranean bath?
A Mediterranean bath, also known as a Mediterranean-style bathroom, is a design style that draws inspiration from the coastal regions of the Mediterranean Sea, such as Greece, Italy, and Spain. It typically features warm and earthy colors, natural materials, intricate patterns and rustic elements. Mediterranean baths often have a timeless and elegant feel, with a focus on comfort and relaxation. Common features of a Mediterranean bath may include decorative tilework, such as colorful mosaic tiles, terra cotta or stone flooring, arched doorways, textured walls, wrought iron accents, ornate mirrors and open vanities. The overall aesthetic is warm, inviting, and reflective of the rustic charm and timeless beauty of Mediterranean coastal living!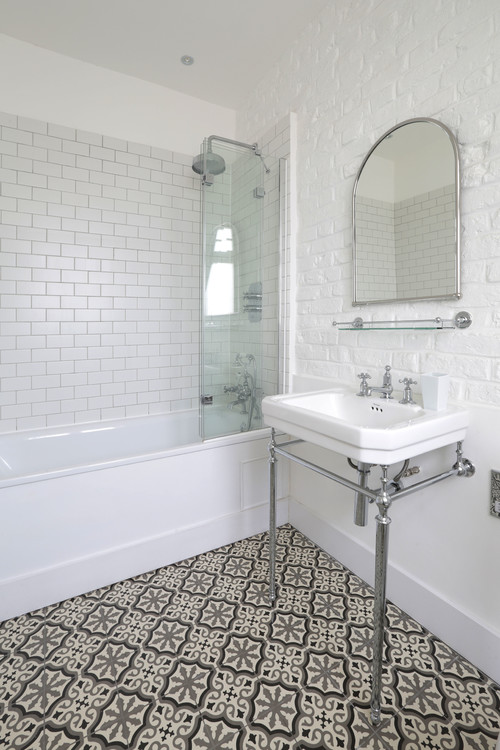 ID# 161503 | Houzz.com – Credit | © Alex Maguire
---
White Bathroom with Multicolored Floor Tiles
This pristine bathroom boasts an alluring multi-hued floor with a captivating design, infusing a lively and cheerful flair into the room. The alcove bathtub is encompassed by conventional white subway tiles, forging an elegant yet ageless appeal. The unassuming sink with its sleek chrome fittings lends a modern and understated touch to the bathroom, blending seamlessly with the overarching white color scheme.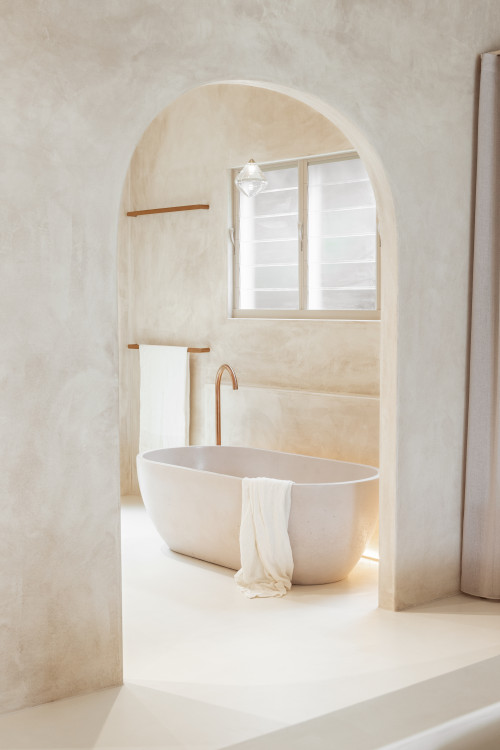 ID# 161504 | Houzz.com – Credit | © ABI Interiors
---
Mediterranean Bathroom Ideas with Beige Shades
This stunning bathroom design takes inspiration from the Mediterranean, showcasing raw minimalism at its finest. With an emphasis on clean lines and natural materials, the space exudes a sense of simplicity and tranquility. Warm beige tones are used throughout the color palette, creating a peaceful atmosphere that promotes relaxation. A standout feature of the bathroom is the one-of-a-kind niche wall, which not only adds a unique and eye-catching element to the space but also serves as a practical and stylish storage solution for toiletries and mediterranean bathroom decor. The focal point of the room is undoubtedly the curved freestanding bathtub, which exudes elegance and luxury.
Modern Mediterranean Bathroom Ideas
Modern Mediterranean bathroom ideas combine classic Mediterranean elements with contemporary design for a fresh and updated look. Key ideas include a neutral color palette, minimalist design, mosaic tiles, freestanding bathtub, natural materials, metal accents, streamlined fixtures, open shelving, appropriate lighting, and minimalistic decor. Choose neutral colors like whites, grays, and beiges, and incorporate mosaic tiles in contemporary colors or patterns. Opt for a minimalist design with clean lines and simple shapes in fixtures and hardware. Use natural materials like marble and wood for countertops, flooring, and accents. Incorporate metal accents in faucets and fixtures with finishes like brushed nickel or matte black. Consider open shelving for displaying towels and toiletries. Choose appropriate lighting fixtures and keep decor minimalistic with simple and contemporary accessories.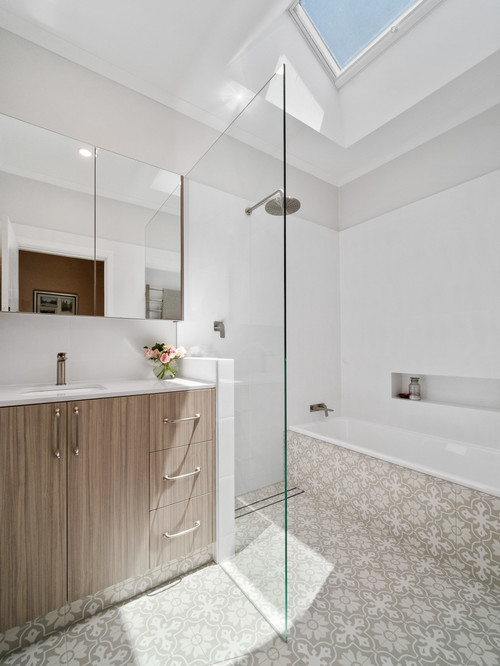 ID# 161505 | Houzz.com – Credit | © SilQ Interiors
---
Modern Bathroom Design with Patterned Floor Tiles
Incorporating natural elements into a modern bathroom design can provide a cozy and inviting atmosphere! This sleek wood vanity achieves just that while also adding warmth to the space. The addition of mirrored upper cabinets brings a sense of openness and brightness, as well as more storage options. The luxurious walk-in shower and alcove tub offer the perfect balance of function and relaxation. The beige and white patterned tiles on the floor add contemporary style and visual interest to the overall design.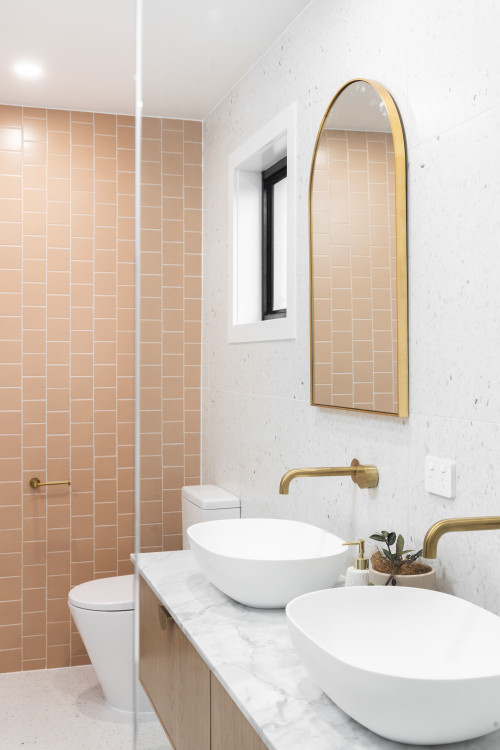 ID# 161506 | Houzz.com – Credit | © KjK Interiors
---
Bright Bathroom Design with Square Tiled Accent Wall
In this bright bathroom, a wood vanity with a marble top adds warmth and natural elegance to the space. Vessel sinks atop the vanity add a modern touch and create a statement focal point. An arched mirror above the vanity adds a touch of architectural interest and enhances the overall aesthetic of the bathroom. The walls are adorned with pastel pink square tiles, adding a soft and feminine touch to the space.
Is Mediterranean style out of style?
The Mediterranean style exudes a tranquil and rejuvenating vibe through its mesmerizing designs which never fail to ignite a fiery passion within the hearts of its admirers. It boasts an alluring aesthetic that appeals to a vast array of individuals, making it a top pick for many interior enthusiasts!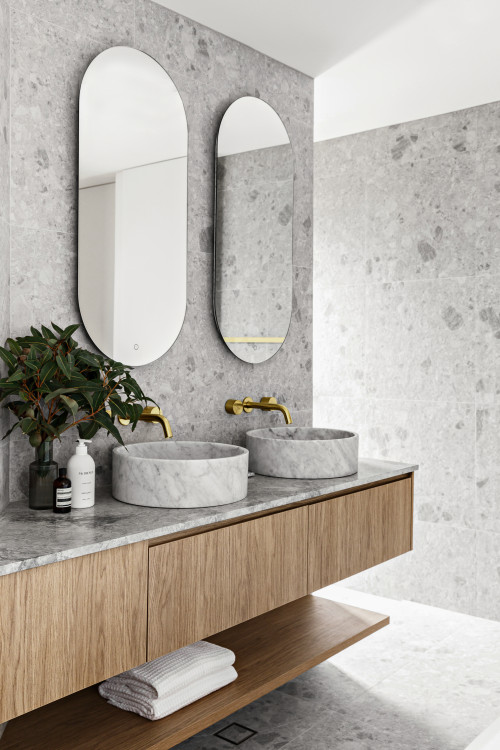 ID# 161507 | Houzz.com – Credit | © Dion Group Projects
---
Wood Floating Vanity with Marble Top and Vessel Sinks
This stunning Mediterranean bathroom style boasts a sleek wood floating vanity complete with an under shelf, bringing natural warmth and beauty to the room. Atop the vanity sits a luxurious gray marble countertop with stunning natural veining that complements the Mediterranean décor. The addition of vessel sinks adds a modern touch, creating a bold statement piece. The seamless gray stone-look porcelain tiles adorning the walls and floor lend a rustic yet elegant vibe. Gold-finished wall-mounted faucets exude opulence, perfect for the Mediterranean vibe. And to top it off, the frameless mirrors with rounded edges add both sophistication and contemporary flair to the overall design.
Rustic Mediterranean Bathroom Ideas
Rustic designs are designs where the natural effects of wood are applied intensely. Authentic designs can be achieved by using more bulky elements. Natural stones are another favorite material of rustic designs. When it comes to rustic Mediterranean bathroom designs, practical and feel-good spaces can be created with completely natural concepts. Interesting designs are made with woods, terracotta tones and white. It is a form of design that successfully responds to the natural and luxurious effects of Mediterranean influences.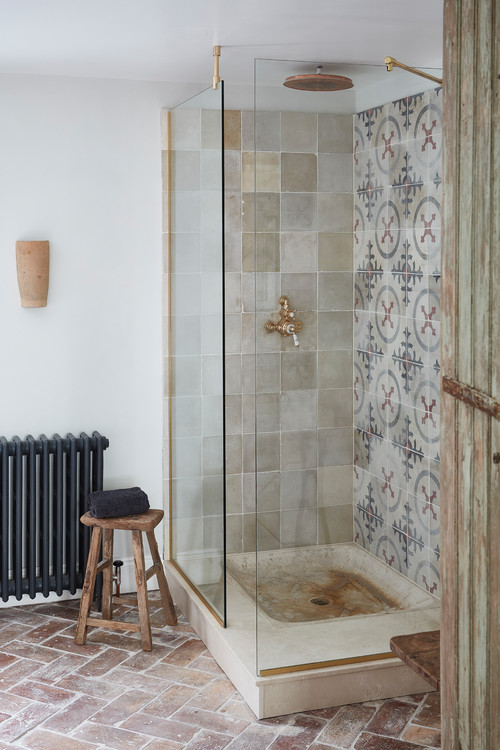 ID# 161508 | Houzz.com – Credit | © Maitland & Poate Ltd
---
Rustic Bathroom with Mix and Match Materials
Imbued with a warm and welcoming feel, this rustic bathroom features terracotta floor tiles that effortlessly add an earthy vibe to the space. The corner shower is enclosed by glass doors that flood the room with natural light and give it an open and airy appearance. The unconventional use of two distinct types of shower tiles adds visual interest and texture to the shower area, making it a standout feature in the bathroom. The clever utilization of different shower tiles creates a unique depth and character and brings an overall refined and charming vibe!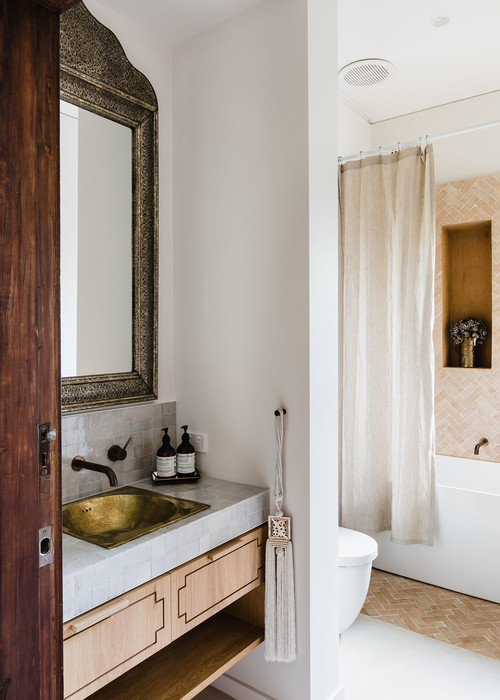 ID# 161509 | Houzz.com – Credit | © Studio Ezra
---
Wood Vanity with Stunning Mirror Above It
Step into this exquisite bathroom and feast your eyes on the stunning wood vanity resting gracefully with a concrete top. The natural wood texture adds a touch of warmth to the overall vibe whilst the concrete top compliments the sleek modernity. A brass sink exudes luxury and the perfect finishing touch to the vanity. But wait, there's more! Above the vanity, a stunning metal mirror frame grabs your attention with its uniqueness and charm. The warm and rich glow of the mirror frame elevates the design to a whole new level of elegance. This bathroom is a perfect blend of rustic and modern elements combined to enchant and inspire.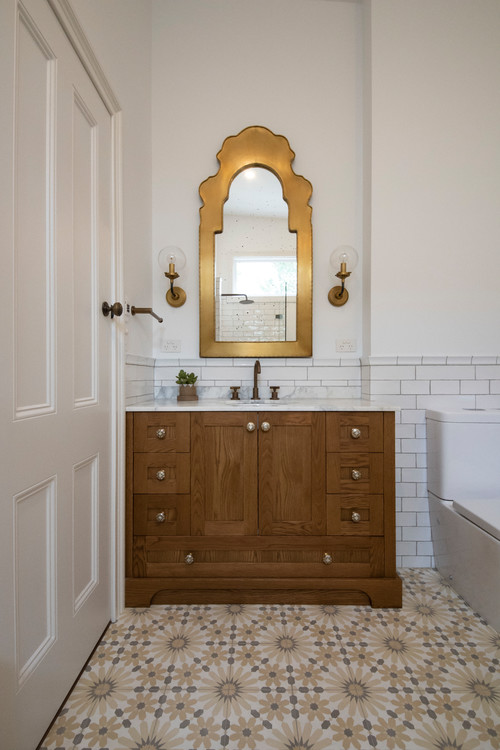 ID# 161510 | Houzz.com – Credit | © Key Piece
---
Wood Bathroom Vanity with White Subway Tile Backsplash
This rustic Mediterranean bathroom layout features a wood vanity with a gold-framed mirror, a white subway tile backsplash and multicolored flower-patterned floor tiles. The wood vanity and gold-framed mirror add warmth and elegance while the subway tile backsplash provides a classic touch. The standout feature is the vibrant multicolored floor tiles with a flower pattern, adding a bold Mediterranean flair to the space.
Small Mediterranean Bathroom Ideas
Mediterranean bathrooms can add great style to a home. They offer a bathing space that is both relaxing and serene and elegant. White, earth tones, green and blue tones are the main color choices for Mediterranean-style designs. In small Mediterranean bathrooms, these colors suit quite nicely. In small spaces, successful spaces can be created without overwhelming the space. Generally, Mediterranean bathroom designs are a successful design choice in small spaces, as they are fresh areas with little furniture. It is almost as if small spaces create big effects.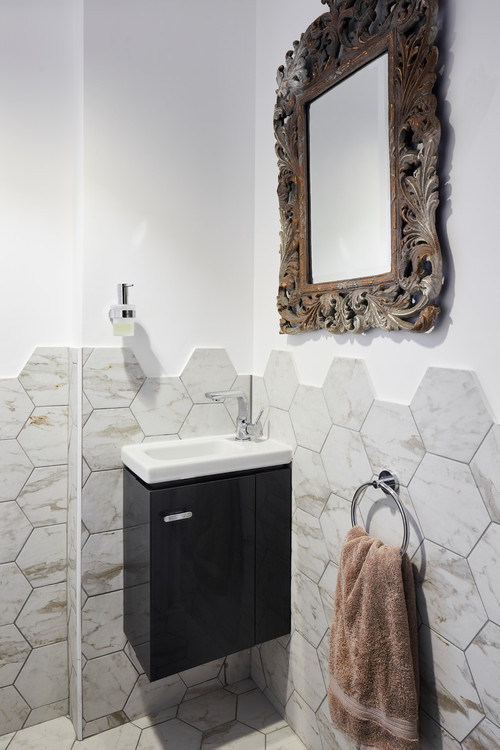 ID# 161512 | Houzz.com – Credit | © MODEL Projects Ltd
---
Tiny Powder Room with Black Floating Vanity
This cozy powder room boasts a compact yet stylish black floating vanity which lends a contemporary feel to the area. The marble-look hexagonal tiles adorning the floor impart a timeless and refined appeal to the space. Moreover, the wooden-framed mirror imbues the setting with a sense of warmth and organic charm. Interestingly, the exquisite intricacies of the mirror frame create a standout feature, ensuring that the overall design is unique and captivating.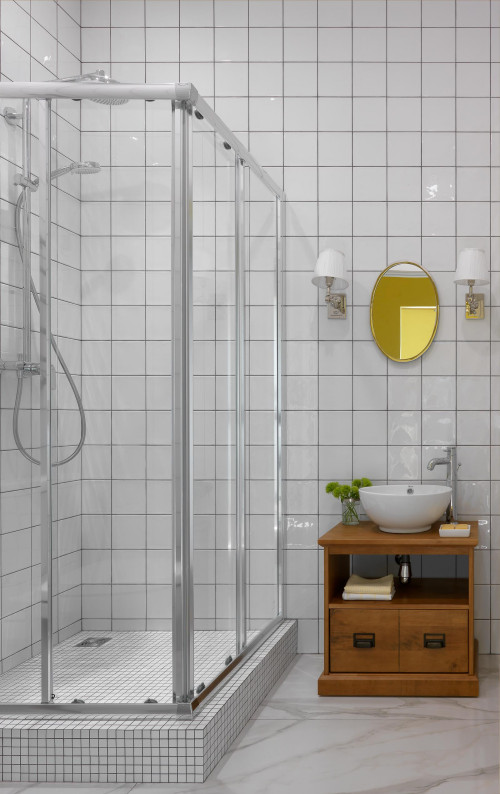 ID# 161513 | Houzz.com – Credit | © O Deco Studio
---
White Mediterranean Bathroom Ideas with Small Vanity
This bathroom flaunts a small yet captivating wooden vanity that infuses a natural charm into the milieu. The squared wall tiles adorned in glossy white amplify the contemporary and hygienic aura, complimenting the overall modern design. The flooring embellished in marble-like tiles enhances the luxurious vibe of the space. The chrome fixtures add a finishing touch of sophistication and exude a polished appearance that's hard to resist.
Blue Mediterranean Bathroom Ideas
As a color reminiscent of the sea and the sky, blue leaves a calm and refreshing effect on the areas where it is applied. Thanks to the unlimited shades of blue, interesting areas are created. The feeling of depth, which is felt by the sea, is provided by blue tones. While light blue tones give a feeling of calm, dark blues provide stylish sharp effects. When it comes to Mediterranean bathrooms, the first color that comes to mind is undoubtedly blue. The comfortable and stylish designs given by the Mediterranean style are handled very successfully thanks to the various shades of blue. It is one of the most used color options.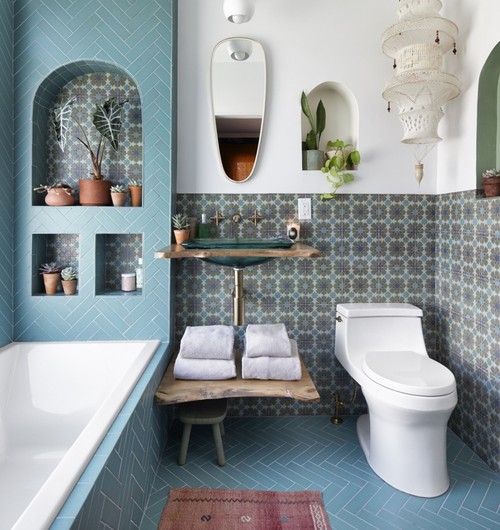 ID# 161515 | Houzz.com – Credit | © The Ensuite Bath & Kitchen Showroom
---
Blue Mediterranean Bathroom Ideas with Built-in Niches
This blue Mediterranean bathroom features a mix-and-match of different tiles that add depth and character to the space! The rustic vanity adds a unique touch, complementing the Mediterranean style. Patterned tiles are used as a backsplash behind the vanity and toilet and add visual interest. The blue herringbone tiles on the floor and tub surround add a stylish and dynamic pattern, enhancing the overall aesthetic of the space. Built-in niches provide practical storage and add a sense of functionality to the bathroom.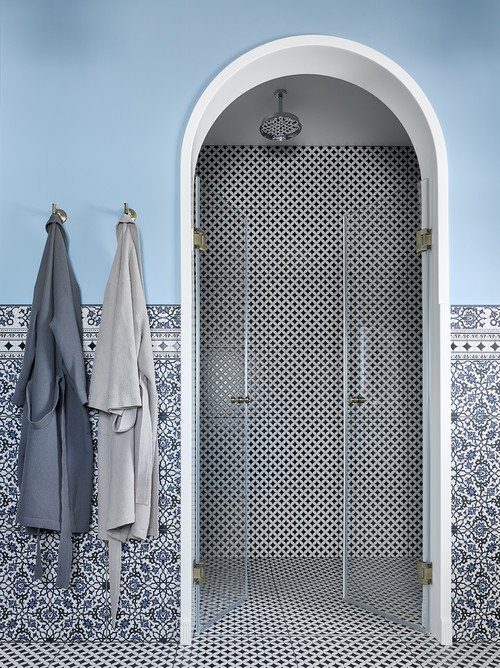 ID# 161516 | Houzz.com – Credit | © Lavka-Design
---
Stunning Tile Designs with Blue Details
In this Mediterranean inspired bathroom, soothing blue color shades create a relaxing atmosphere. The walk-in shower features an arched doorway, adding an elegant touch to the space. Black and white patterns on the floor and shower walls add visual interest and a classic touch. Moroccan-style tiles adorn the shower walls, adding an exotic flair to the design. The rest of the walls are painted in a serene blue color, tying in with the overall Mediterranean theme.
White Mediterranean Bathroom Ideas
The color white has a timeless and distinct quality that can provide a refreshing elegance to any area where it is applied. Due to its association with purity and cleanliness, it is often chosen as the preferred design type for bathrooms. By using white in different areas such as wall paints, tiles, and cabinets, elegant bathrooms can be created that reflect the shape of the design. In Mediterranean bathroom designs, white is used as a stylish color with natural textures. The elegance of white can be enhanced by making combinations with other colors such as blue tones and wooden textures, resulting in a beautifully handled and sophisticated look.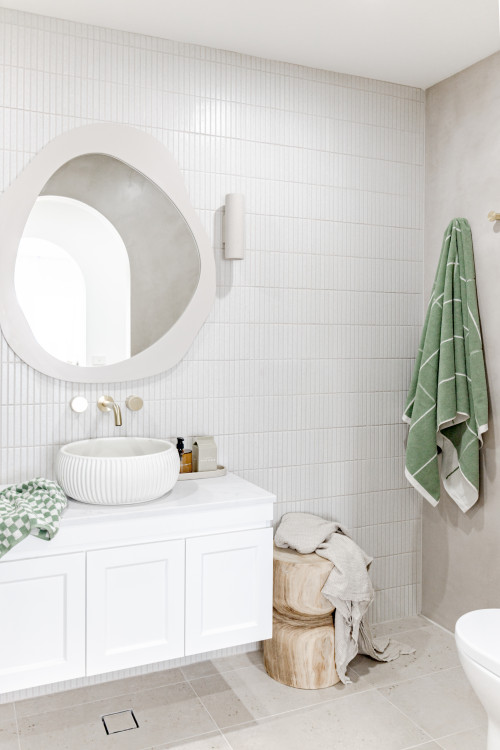 ID# 161517 | Houzz.com – Credit | © SHE IS LIV
---
White Kit Kat Tile Backsplash with Unique Mirror Design
In this white Mediterranean bathroom, a floating vanity with white cabinets adds a sleek and modern touch. The kit kat tile backsplash in white creates a subtle and stylish backdrop for the vanity. An oversized mirror with an organic shape adds a unique and eye-catching focal point to the design. Light gray floor tiles bring a touch of contrast and sophistication. The white color palette creates a fresh and airy ambiance while the modern elements add a contemporary twist to the Mediterranean style.
Mediterranean Bathroom Backsplash
Mediterranean bathroom designs create unique spaces with various colors such as light tones, woods, shades of blue, and green. There are also many backsplash options suitable for the bathroom concept, with varieties such as ceramic, marble, paint, and glass. Patterned and motif backsplash options also provide original spaces with an authentic ambiance. Mediterranean bathrooms, as a general concept, are design types that provide calm and refreshing effects. You can choose the most suitable backsplash among the unlimited options, entirely ideal for the bathroom design.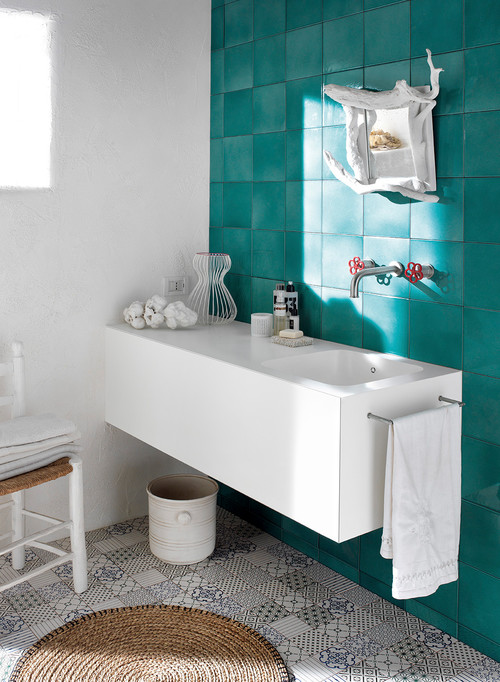 ID# 161518 | Houzz.com – Credit | © Corian Design UK
---
Modern White Vanity with Teal Backsplash Tiles
In this small bathroom, a modern white vanity creates a clean and minimalist look. Teal backsplash tiles add a pop of color and visual interest, serving as an accent wall that adds a touch of personality to the space. Black and white patterned floor tiles add a stylish and bold statement and complement the teal backsplash and adding visual texture to the design!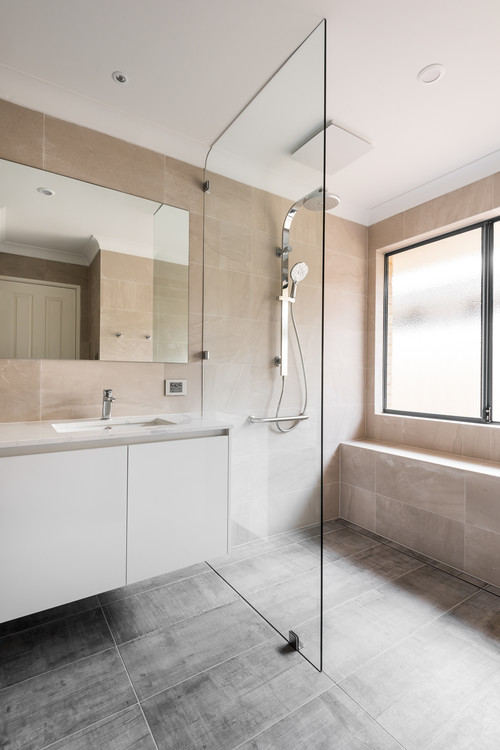 ID# 161519 | Houzz.com – Credit | © Evolution Build + Renovate + Extend
---
Minimalist Bathroom with Soft Color Palette
In this minimalist bathroom, a soft beige and gray color palette creates a serene and calming ambiance. A white floating vanity adds a clean and contemporary touch to the space while a frameless mirror enhances the minimalist aesthetic. The walk-in shower features a glass division and adds a touch of openness and modernity to the design. Beige wall tiles bring warmth and texture to the bathroom. The overall design of this bathroom is simple yet sophisticated, perfect for those who appreciate a minimalist and refined aesthetic!
How to Modernize a Mediterranean bathroom?
If you have a Mediterranean bathroom that you would like to modernize, consider updating the color palette to more muted or cooler tones, replacing outdated fixtures and hardware with sleek and minimalist designs, updating the lighting with modern fixtures, using modern materials such as subway tiles or glass tiles, simplifying patterns, updating the vanity with a streamlined option, and adding modern accessories such as towels, rugs, and decor items. These changes can give your Mediterranean bathroom a fresh and contemporary look while still retaining some of its unique characteristics. Remember to choose elements that align with your personal style and preferences for a space that feels updated, functional, and visually appealing to you.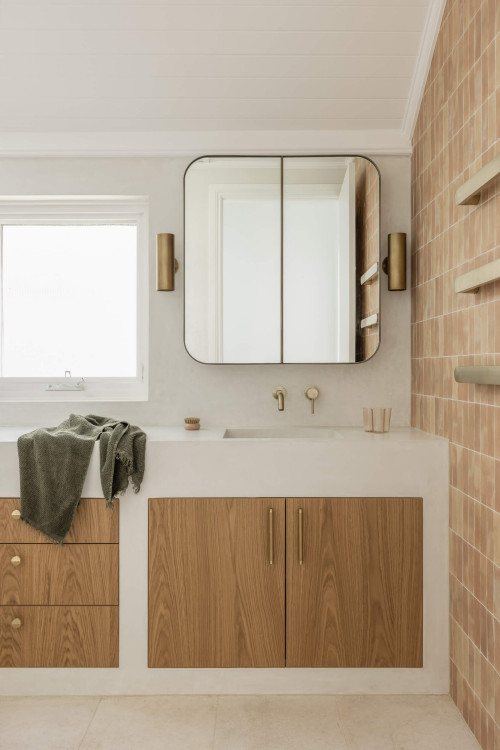 ID# 161520 | Houzz.com – Credit | © iSpace Solutions
---
Cozy Mediterranean Bathroom Ideas with Beige Wall Tiles
In this cozy bathroom, a unique vanity with wood cabinet doors adds warmth and character to the space. Mirrored medicine cabinets provide practical storage and reflect light, adding brightness to the room. Soft beige wall tiles create a soothing and inviting atmosphere, perfect for a cozy and relaxing bathroom experience!
Mediterranean Bathroom Vanity
The bathroom vanity holds a crucial position among the design elements of a bathroom. Its aesthetic appeal should not come at the cost of its functionality. With the availability of various styles, colors, and designs, they offer a variety of options to choose from – drawers, cabinets, large vanities, open shelves, and simpler concepts. A Mediterranean-style bathroom follows the general concept of rustic or natural wood styles, as well as elegant cabinets in blue and white tones with open shelves. The width of the bathroom, user requirements, and cabinet selection are significant factors in finalizing the design. It is essential to choose the right cabinet styles that complement the main concept.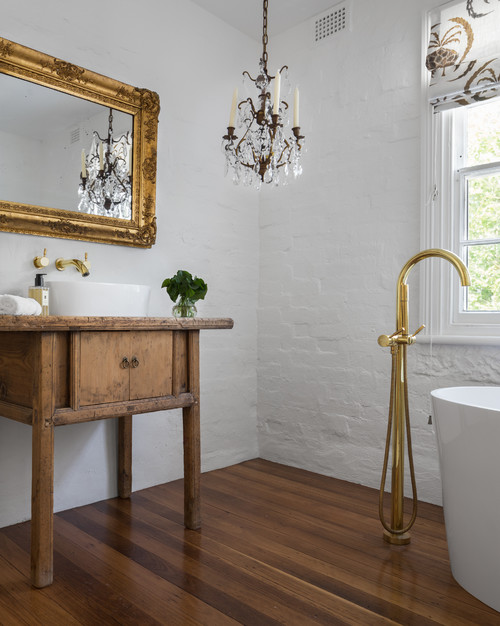 ID# 161521 | Houzz.com – Credit
---
Rustic Bathroom with White Brick Walls
Step into this charming rustic bathroom where a wooden vanity topped with a white vessel sink immediately catches your eye, exuding natural warmth and charm. Upon catching a glimpse of the gold-framed mirror, you'll feel a sense of elegance wash over you, as it reflects light and elevates the ambiance. As your gaze moves upwards to the crystal chandelier, you'll experience a sense of luxury and sophistication, as it shines bright and creates a stunning focal point. The white brick walls provide a uniquely textured and visually appealing backdrop.
Natural Stone Mosaic Tiles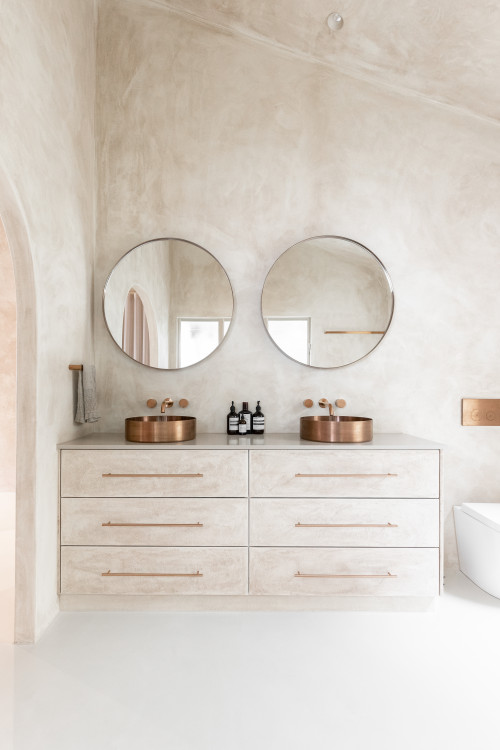 ID# 161522 | Houzz.com – Credit | © ABI Interiors
---
Minimalist Beige Bathroom with Copper Accents
This minimalist beige bathroom design features a textured beige bathroom vanity that adds depth and interest to the space! The same texture is carried onto the walls, creating a cohesive and visually appealing look. Copper vessel sinks and fixtures add a touch of warmth and elegance and create a striking contrast against the beige backdrop. Circular bathroom mirrors add a modern and sleek element and complement the minimalist aesthetic of the bathroom.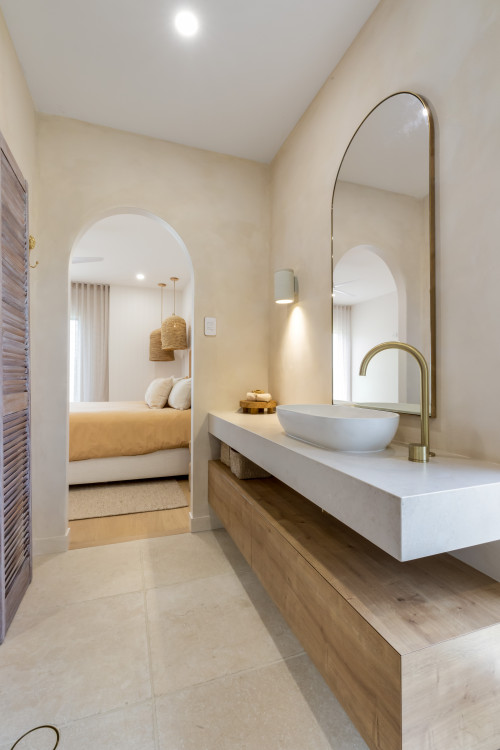 ID# 161523 | Houzz.com – Credit | © Tempus Design Studio Pty Ltd
---
Floating Vanity Design with White Vessel Sink
This Mediterranean design bathroom features a modern twist with clean lines and contemporary elements. The white floating vanity with wood cabinets adds a touch of warmth and rustic charm while the arched mirror adds a classic Mediterranean architectural detail. The beige floor tiles provide a neutral and timeless base for the space, allowing the other design elements to shine!
Mediterranean Bathroom Floor Tiles
When it comes to Mediterranean bathroom floor tiles, of course, the first thing that comes to mind is the patterned, interesting, and moving tiles. Besides the calm and refreshing effects of the Mediterranean, it also has an energizing, lively, and active atmosphere. It has many varieties with various types of materials such as marble, ceramic, and stone. Baked floor tiles are a type of material that creates popular and beautiful designs for Mediterranean bathroom design. Considering the width of the space, how much light it receives, and the tastes and wishes of the users, successful results are obtained from unlimited options.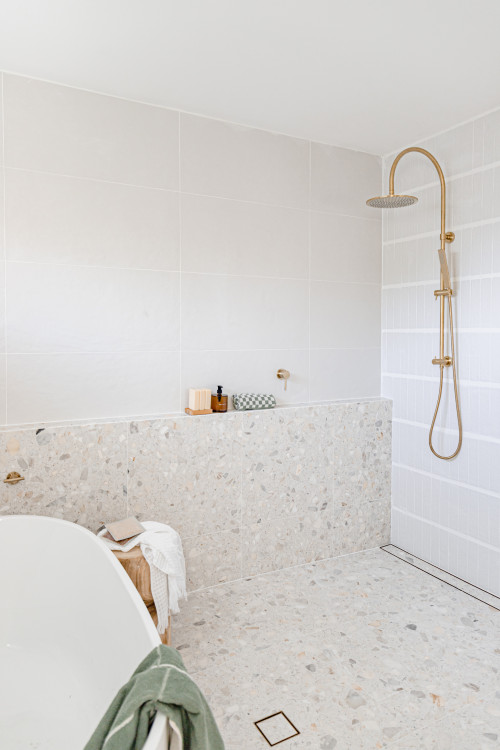 ID# 161524 | Houzz.com – Credit | © SHE IS LIV
---
Gray Mediterranean Bathroom Ideas with Terrazzo Tiles
This gray bathroom features a minimalist aesthetic with sleek and clean design elements. The terrazzo floor tiles add a touch of texture and visual interest to the space while the light gray stacked subway tiles create an accent wall in the shower, adding a modern and stylish touch. The brass fixtures provide a warm and sophisticated contrast against the cool gray tones and elevate the overall look of the bathroom.
What are Mediterranean house colors?
Mediterranean house colors typically draw inspiration from the natural landscape and traditional architecture of Mediterranean regions. Some common Mediterranean house colors include warm earthy tones such as terracotta, sandy beige, ochre, and rust. Other popular colors include rich blues, vibrant greens, and deep reds. These colors are often used on exterior walls, roofs and accents to create a warm, inviting, and timeless look reminiscent of Mediterranean-style homes. Additionally, white or off-white colors are often used for trim, doors, and window frames to provide contrast and enhance the overall aesthetic. Mediterranean house colors are known for their warm, welcoming and earthy tones that exude a sense of rustic elegance and charm.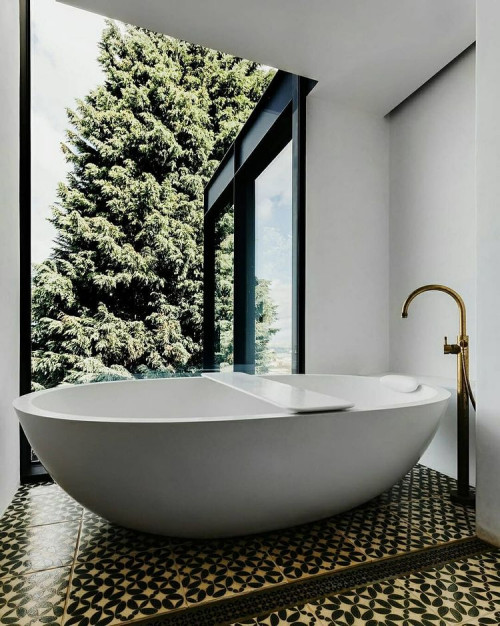 ID# 161525 | Houzz.com – Credit
---
White Freestanding Bathtub with Patterned Floor Tiles
This stunning luxurious bathroom boasts breathtaking nature views through a large window, creating a serene and tranquil ambiance. The freestanding bathtub against the window, allows for a relaxing soak while enjoying the scenic beauty of the outdoors. The black and beige patterned floor tiles add a touch of elegance and visual interest to the space and create a stunning focal point.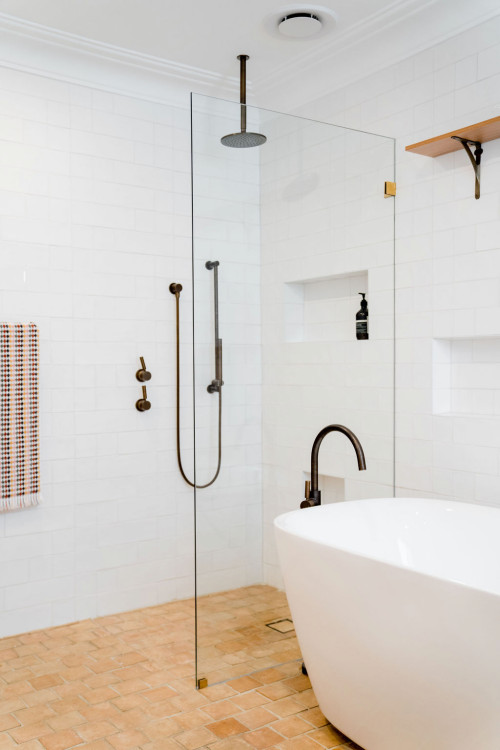 ID# 161526 | Houzz.com – Credit | © Origin Bathrooms
---
White Square Wall Tiles with Matte Black Fixtures
Introducing a strikingly modern and sophisticated bathroom that emanates simplicity and cleanliness. The predominantly white color scheme gives an immaculate and pristine feel and the combination of terracotta floor tiles and white wall tiles establishes a contrast that is both earthy and trendy. The square-shaped tiles confer a leaden appearance, complementing the minimalist outlook of the space. With the stunning matte black faucets, showerheads, and towel bars, this bathroom incorporates a contemporary feel that is sure to captivate!