30+ Spanish Style Bathroom Ideas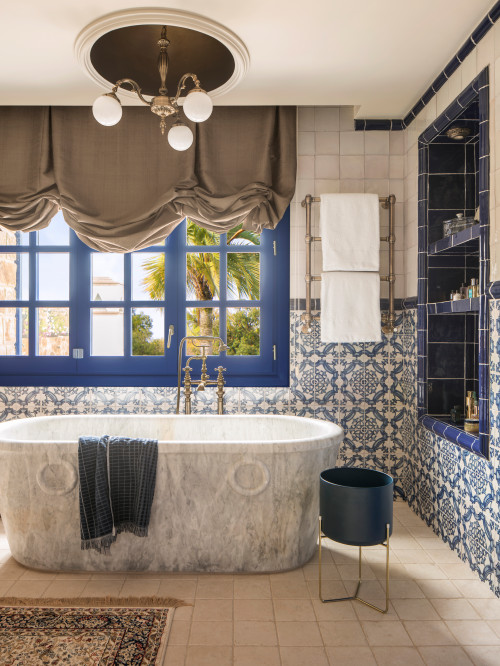 ID# 169104 | Houzz.com – Credit | © A! Emotional & estudioDOM
---
Marble Freestanding Bathtub with Beige Floor Tiles
Surrounded by the blue Spanish-style tiles, the marble freestanding bathtub takes the stage in this Mediterranean bathroom and makes a strong statement! The beige square tiles and the brown curtain complement the soft appeal of the tub while the vibrant blue color of the patterned tiles bring dynamism to the space.
ID# 169116 | Houzz.com – Credit | © Nick Smith
---
Beige Spanish Style Bathroom Idea with Textured Walls
This gorgeous view welcomes you with an elegant and warm atmosphere thanks to the beige Spanish tiles in the shower. The textured walls make the environment cozy and homey while the frameless glass doors of the shower allow these tiles to stand out. For the left side of the bathroom, the black freestanding bathtub takes the stage and creates a striking focal point. The large pendant lights highlight the tub area even more. The wood-look floor tiles and the black fireplace perfectly complement the rustic flair of the Spanish tiles.
Spanish Style Bathroom Ideas
In general, homeowners get used to elegant bathrooms with soft beige tones and off-white or gray colors that soothe the bathroom. It is very natural if you nod off during your morning shower in one of your calm, understated bathrooms. However, you need some colorful bathroom ideas if you want to experience the energy, enthusiasm, and dynamism, such as Spanish-style bathroom ideas!
Create Calm and Tranquil Atmosphere
The relaxed, cozy, and welcoming design that evolved over many centuries in the areas bordering the Mediterranean Sea is the inspiration for Spanish-style bathroom ideas. Some components of Spanish-style bathroom ideas are quite enduring, having endured centuries of fashion changes due to their usefulness, beauty, and adaptability. The use of vibrant color is perhaps the Spanish-style bathroom's defining characteristic. The color scheme for Spanish-style design is influenced by the rich, bright hues of the earth, sky, sea, and sun in this region of the world as well as by the natural beauty of the Mediterranean region. Warm earth tones like deep orange and rusty red are frequently used in Spanish-style bathrooms, along with vibrant, sun-washed hues like brilliant whites and yellows, turquoise, and glittering blues. Colors may either dominate the room as a dominant color scheme or be noticed as vibrant splashes of color in accents like linens and decorations.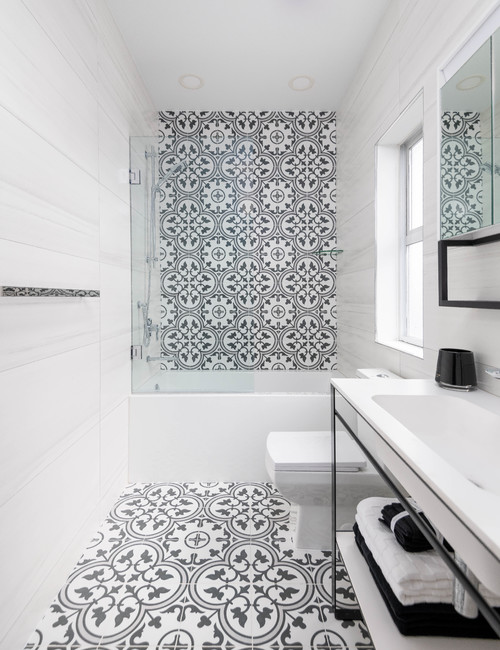 ID# 169101 | Houzz.com – Credit | © Dimora Interiors
---
Spanish Style Bathroom Ideas with Black and White Tiles
If you want to create an accent wall for your bathroom, the charming appeal of the Spanish-style tiles might be the element that you are looking for! The contrast between the black and push the limits provides a bold, dramatic and eye-catching design! Accentuated by the large white wall tiles, the black and white accent wall and floor instantly elevate this otherwise ordinary bathroom while the black details of the vanity complement the tiles.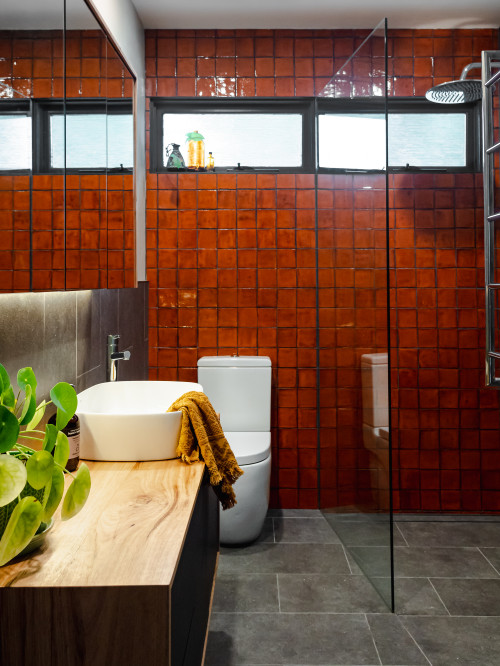 ID# 169102 | Houzz.com – Credit | © Green Room Interiors
---
Orange Zellige Wall Tiles with a Contemporary Aesthetic
Finished with a glossy seal, these orange Zellige tiles create a striking accent wall for this contemporary bathroom and bring the undeniable charm of the Spanish style! For the rest, the dark gray floor tiles highlight the orange accent wall while the wood floating vanity creates a modern look.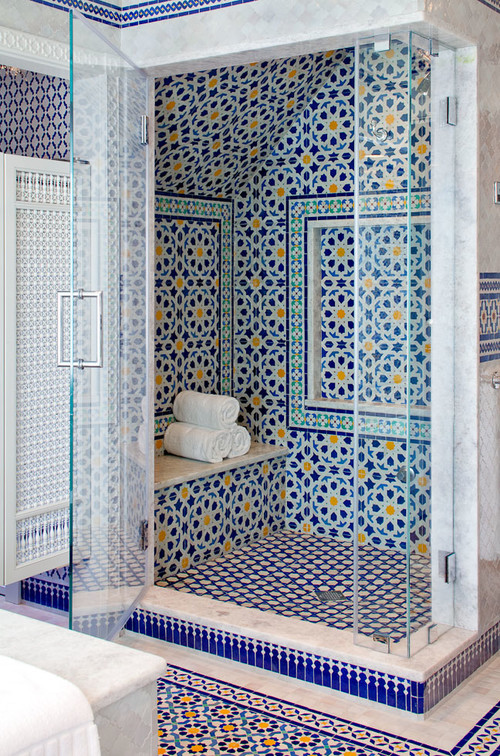 ID# 169103 | Houzz.com – Credit | © Kyle Timothy Home
---
Spanish Style Bathroom Ideas with Colorful Tiles
The elegance and the energy welcome you with Mediterranean breezes! The peaceful atmosphere is created by the harmony between the blue and yellow patterns of the tiles. Using such a striking tile design for all surfaces of the bathroom is a very bold move but this bathroom proves that it isn't too much!
Modern Spanish Style Bathroom Ideas
Often, bathrooms are designed to look neat, gloomy and harsh. Modern bathrooms tend to favor clean lines, neutral or monochromatic color choices, and a lack of ornate décor. Many of us still hunger for the joy and beauty of color in every room in the house, though. A modern Spanish-style bathroom idea is attainable if you combine bold color tones with the sleek lines of modern design!
Clear lines, sculpted shapes, different color schemes and more are present in modern bathroom design ideas. No matter how big or little, wet room or en suite, your bathroom area's size or shape, modern design is very easy to implement!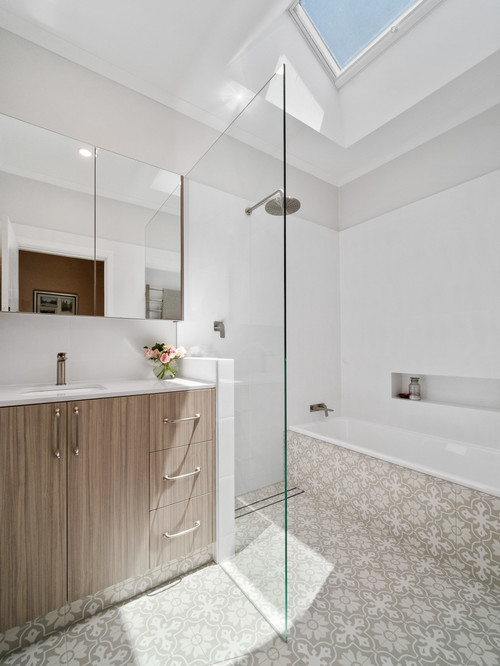 ID# 169105 | Houzz.com – Credit | © SilQ Interiors
---
Modern Spanish Style Bathroom Ideas with Mismatched Patterns
The Spanish-style floor tiles enhance this interior design's sleek and modern touch! The white and beige colors are accentuated by the movement of the mismatched wall tile patterns while the floral patterns of the floor tiles shine thanks to the skylight. The wood vanity, mirrored upper cabinets and frameless division of the walk in shower create a canvas for the floral pattern wall tiles to stand out with an organic and warm look.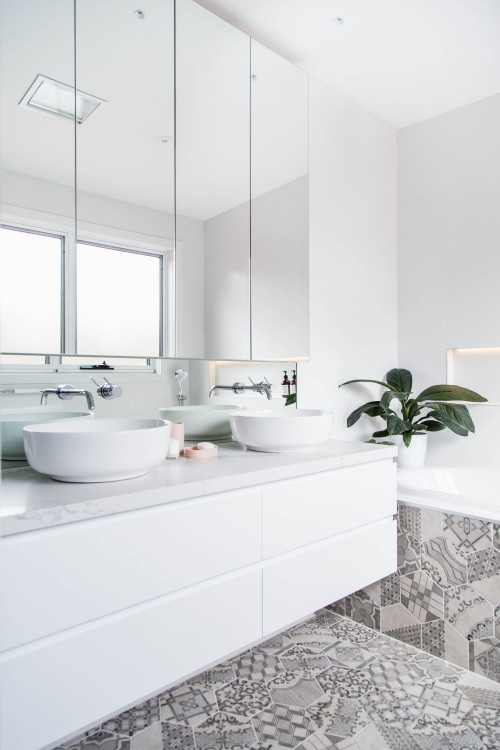 ID# 169106 | Houzz.com – Credit | © Style Precinct Interior Design & Decoration
---
Contemporary Vibes with Dark Colors
Light, bright, and functional… Surrounded by the spacious feel of the crisp white, this contemporary bathroom offers a luxurious retreat after a long day! Topped with a quartz countertop and white vessel sinks, the white floating vanity creates a seamless design that enhances the floor space. The mirrored upper cabinets complement the spacious atmosphere by adding depth. Last but not least, the gray hexagonal Moorish patterned floor tiles make an unexpected twist to enhance the overall look with a Spanish charm.
What is Spanish style?
Although the phrase "Spanish style" is most frequently associated with architecture (stucco walls, red tile roofs, rounded arches), there is also a Spanish style aesthetic that can be applied to the inside of residences, including the furnishings and décor. Dark, intricately carved timbers, colonial influences, and a warm color scheme are characteristics of Spanish-style interior design.
The Spanish-style interior design draws inspiration from the Mediterranean region and uses a color scheme of blues, greens, whites and browns. Due to the frequent use of terracotta tiles for floors and roofing, the warmth of terracotta reds and oranges are additional significant actors in Spanish color schemes. Along with ceramics, wrought iron, candlesticks, and carved wood, stone and ceramics are frequently used in Spanish design. Copper-colored metal embellishments are also crucial to this design aesthetic.
For intriguing visual depth, Spanish interior design uses rich plaster or stucco texture on the walls. To add more definition and color to these textured walls, gentle neutral glazes are frequently applied. Richly woven tapestries and wrought iron grilles are frequently used in Spanish wall décor to add a rustic, opulent touch. The number of accessories is maintained to a minimum, with a preference for grouping a few bigger things, such as urns, vases, planters, and pots.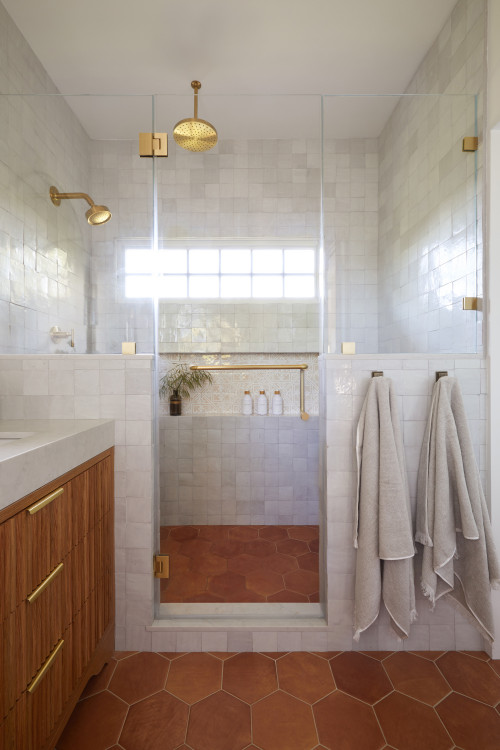 ID# 169107 | Houzz.com – Credit | © Nina Jizhar
---
Terracotta Hexagon Floor Tiles with Wood Vanity
Immersed in a captivating Spanish ambiance, this bathroom masterfully harmonizes the union of white and orange tiles! The glossy white square tiles elegantly grace the walls to create a clean and fresh base. A contrast emerges through the introduction of terracotta hexagon floor tiles that evoke the Spanish charm.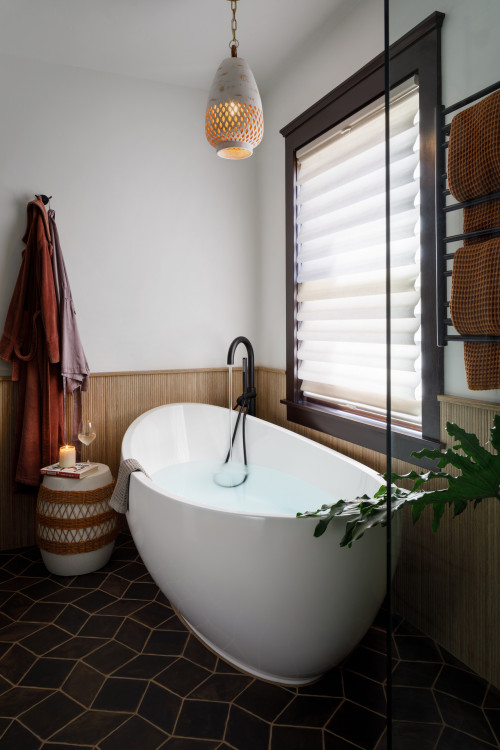 ID# 169108 | Houzz.com – Credit | © Sklar Studios
---
Modern Mediterranean Bathroom with Curved Bathtub
This bathroom warmed up with a neutral color scheme, produces an eye-catching blend of modern and traditional design most peacefully and harmoniously! The lavishly patterned floor tiles are eye-catching, while the white freestanding bathtub contrasts with and stands out against the tiles. The oak wood wainscoting creates a clean transition between the black floor and the white-painted walls while also adding to the room's warmth!
Rustic Spanish Style Bathroom Ideas
Rustic interior design is a fantastic way to showcase your love of organic materials, vintage furnishings, and distinctive architectural details. This entails showcasing components like wood beams, clay and stone embellishments, and antique lighting fixtures. It is possible to combine two styles if one style is not enough! The colors and warm vibes of the Spanish style will be enhanced by the rustic touch! If you're intrigued by this, think about experimenting with rustic Spanish-style bathroom ideas.
It doesn't have to be expensive to turn your Spanish-style bathroom into a rustic haven for you and your guests. Bathroom photos abound, ranging from spectacular makeovers to more subdued designs with rustic touches. Shiplap walls, patterned wallpaper (plaid and flowers are typically a wonderful choice), Spanish-style bathroom tile ideas, sliding barn doors, or even a walk-in shower may all be used to enhance your space. You may choose! Therefore, if you're unsure of how to incorporate rustic elements into your bathroom, these rustic Spanish-style bathroom ideas may serve as inspiration.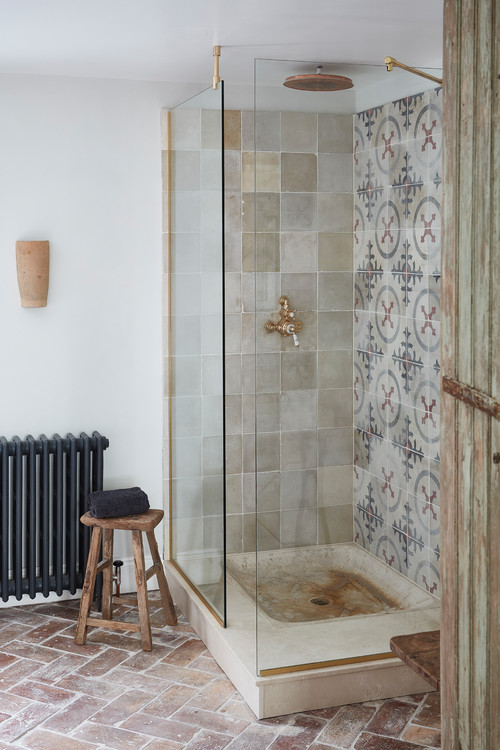 ID# 169109 | Houzz.com – Credit | © Maitland & Poate Ltd
---
Rustic Spanish Style Bathroom Ideas with Patterned Shower Tiles
Enriched with a cozy and warm atmosphere, the dim light of the interior and the combination of textured tiles create homey vibes with a serene look. The rustic charm is accentuated by the Spanish-style wall tiles in the shower area! The wooden accents complement the rustic design perfectly while the combination of different tile designs brings dynamic appeal with a contrasted look.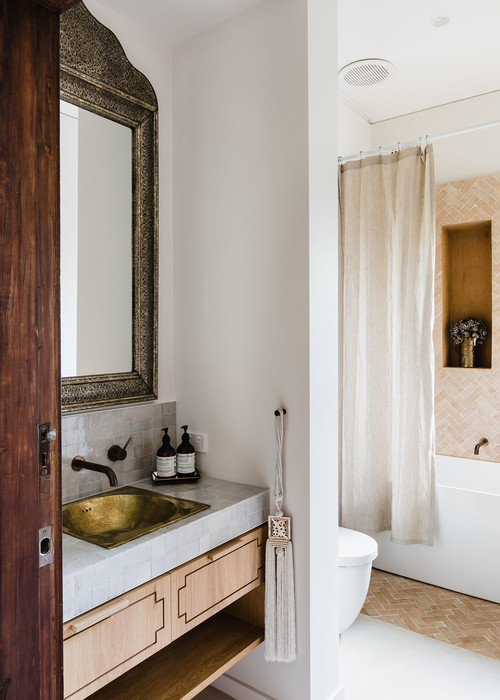 ID# 169110 | Houzz.com – Credit | © Studio Ezra
---
Small Rustic Mediterranean Bathroom with Gray Backsplash
The inherent warmth of the natural wood vanity infuses the space with coziness while the concrete top provides a compelling contrast against the backdrop of modern sleekness. The brass sink exudes opulence to add a dose of glam while beholding a stunning metal mirror frame adorning the vanity area.
Small Spanish Style Bathroom Ideas
When it comes to living in a tiny place, the bathroom usually takes the biggest hit. If your bathroom is quite small, you might be looking for small Spanish-style bathroom ideas to brighten up the area. Don't worry though; even a small bathroom can be attractive. If you've ever attempted to add more storage to a small bathroom, you are aware of how difficult the task may seem. With the help of small Spanish-style bathroom ideas, these cramped spaces might serve as your energy boosters.
These creative small Spanish-style bathroom ideas go beyond merely optimizing the useable square footage to demonstrate how bold design elements can work in even the tiniest rooms. Here are the best tricks for making cramped, occasionally windowless bathrooms, half-baths, and powder rooms feel delightfully roomy. With the right small Spanish-style bathroom ideas, your little area might wind up becoming your new favorite place.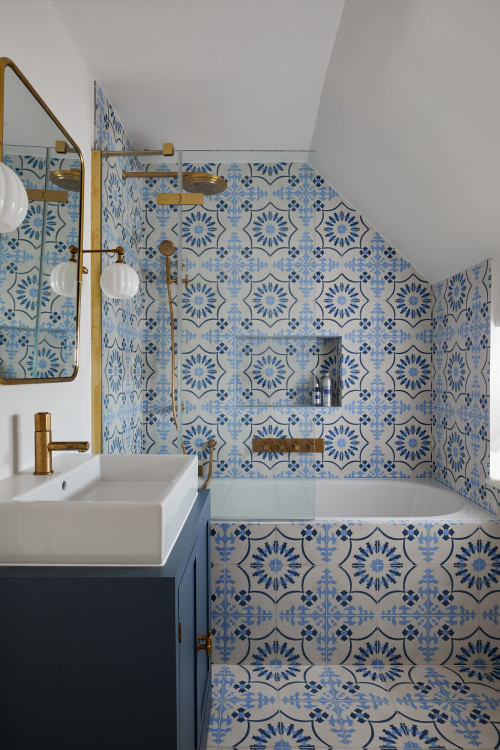 ID# 169111 | Houzz.com – Credit | © BLANK-SLATE STUDIO
---
Blue Bathroom Vanity Design with Brass Fixtures
Enriched with stunning patterns, the lovely blue hues of the tiles add a serene and relaxing atmosphere to this small bathroom! The blue and white ceramic tiles surround the walls, floor and the tub front and create a dynamic overall look. The brass detail is the signature of luxe and they enrich the bathroom with a glamorous look. The navy blue vanity complements the blue shades and brings depth to the space while the white-painted wall behind the vanity and ceiling balances the busy patterns.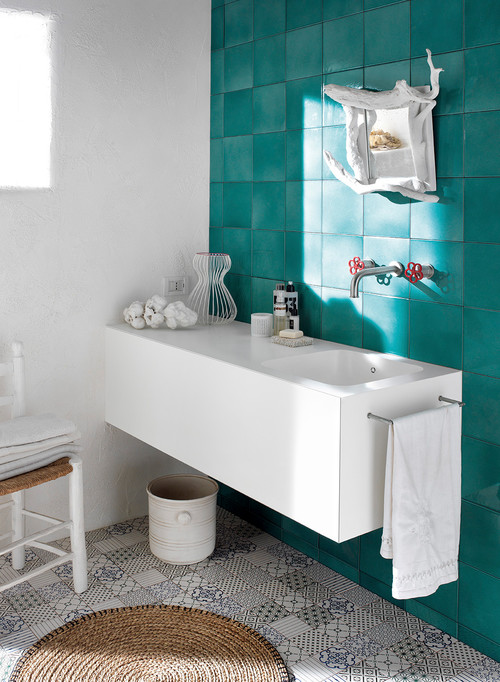 ID# 169112 | Houzz.com – Credit | © Corian Design UK
---
White Floating Vanity with Patterned Floor Tiles
A sleek white vanity offers a clean and minimalist effect in this little bathroom. Acting as an accent wall, the teal backsplash tiles offer a dash of color and visual interest to the room while the black and white patterned floor tiles provide a fashionable and dramatic statement to the design!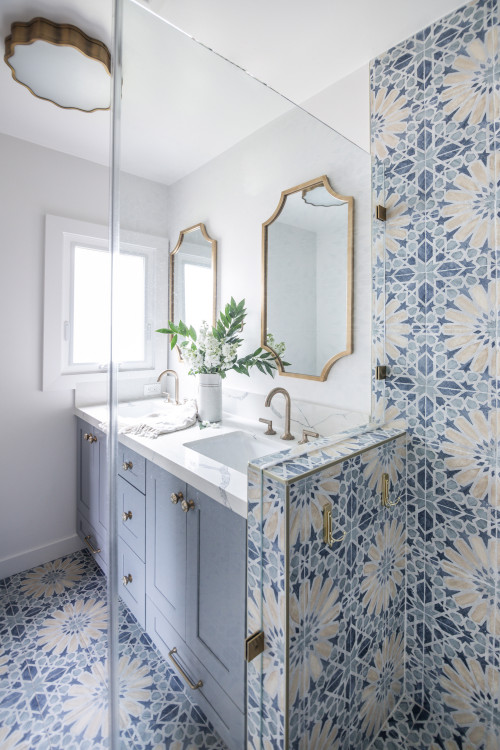 ID# 169113 | Houzz.com – Credit | © Sayler Studio
---
Small Spanish Style Bathroom Ideas with Blue and White Hues
The blue and white harmony greets you with an elegant appeal in this Mediterranean bathroom. The floral patterned tiles that create a dynamic look, are the star of this bathroom. The light blue vanity perfectly complements these tiles while the frameless glass division of the walk-in shower balances the busy patterns and brings an open and airy feel. Brass faucets and details complement this blue and white bathroom with a touch of luxe.
White Spanish Style Bathroom Ideas
White is the most timeless color for any room and bathroom. This color can easily combine with any style and color or texture creating a fresh environment. If you do not like the bold and warm colors of the Spanish-style design, but like the patterns or style, you can still have it! Thanks to the white color, you can embrace your bathroom's environment with white Spanish-style bathroom ideas.
The patterns and the white color will combine each other creating both contrast and movement in the environment of the bathroom. You can enhance the small space if it is a small bathroom, for instance, the white color can help you to have a Mediterranean breeze in a spacious environment. Let's deep dive into the white Spanish-style bathroom ideas and see how can you apply them!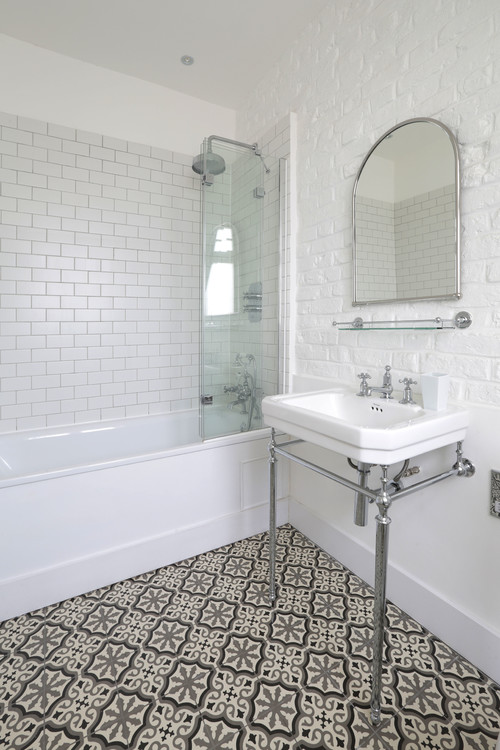 ID# 169114 | Houzz.com – Credit | © Alex Maguire
---
An Elegant Contrast in a White Spanish Style Bathroom Ideas
The naïve design of the Spanish-style tile patterns fills the entire bathroom floor with an elegant appeal. The black-and-white contrast is softened by the classic yet timeless design of the subway wall tiles. The white sink adds a vintage flair to the design while the chrome fixtures make a glamorous final touch that enhances the overall look!
Beige Spanish Style Bathroom Ideas
Although beige may seem like a boring color, these gorgeous bathrooms are everything but. A beige bathroom may have a calming effect and be a light-hued color scheme suitable for either traditional or modern settings. It also works well with Spanish-style accents. The strength or beauty of a beige bathroom depends on your style. The decor of your Spanish-style bathroom may stand out if you use beige since it is peaceful, neutral, and adaptable to Mediterranean vibes. Let's examine this gorgeous color in more detail with beige Spanish-style bathroom ideas!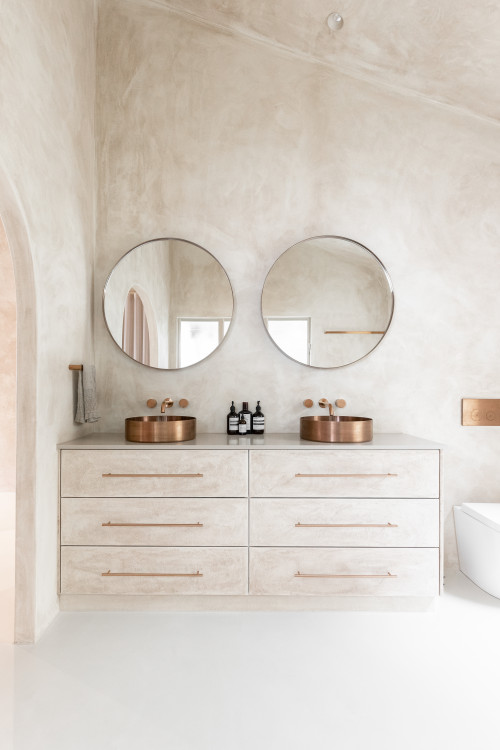 ID# 169115 | Houzz.com – Credit | © ABI Interiors
---
Beige Spanish Style Bathroom Idea with Organic Feeling
Surrounded by soft beige shades, this bathroom takes influence from traditional Spanish haciendas with a touch of raw minimalism. One-of-a-kind niche wall, beige hues, and brushed copper fixtures seamlessly blend and make this bathroom an entertainer's dream. Copper vessel sinks and fittings give warmth and elegance while standing out against the beige backdrop. Circular bathroom mirrors give a contemporary and sleek accent that complements the bathroom's minimalist look.
Blue Spanish Style Bathroom Ideas
Blue might be the hue of the sky outside your bathroom window or it can conjure up images of the deep blue sea and fond recollections of a beloved vacation. It is calming and evocative and blends well with many different hues. Here are some of our favorite blue Spanish-style bathroom ideas. There are warm and cold tones available for every taste, room size, and orientation.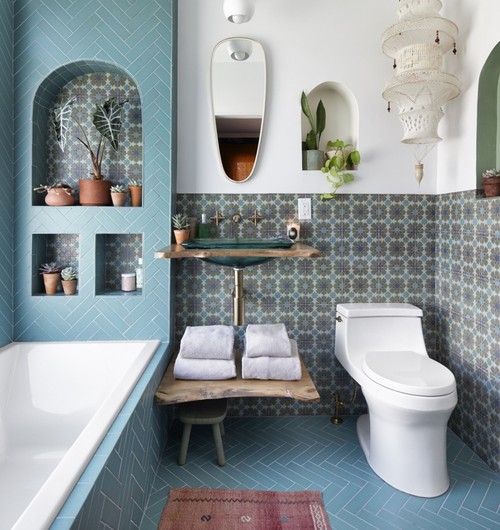 ID# 169117 | Houzz.com – Credit | © The Ensuite Bath & Kitchen Showroom
---
Blue Spanish Style Bathroom Ideas with Herringbone Floor Tiles
Those beautiful blue and white tiles create stunning art behind the rustic vanity and the toilet. The blue and white tiles are the most eye-catching design elements in this bathroom of course. On the other hand, the blue herringbone tiles surround the floor and tub front to complement the Mediterranean vibes. The white-painted upper walls create a simple canvas for the tiles to make them stand out. The freshness of the blue color combines with the white color adding a natural look.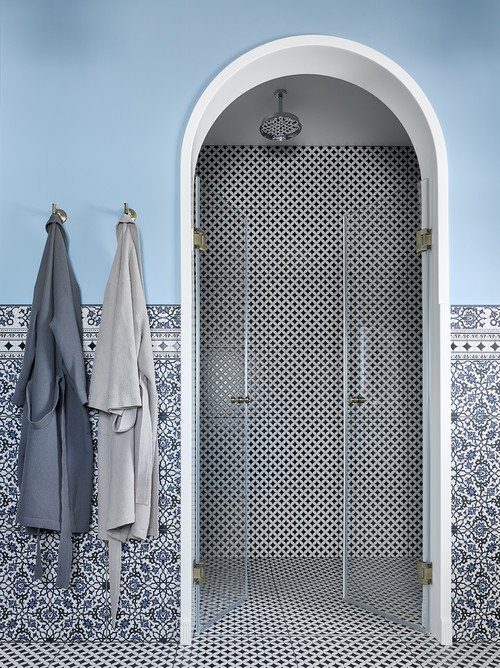 ID# 169118 | Houzz.com – Credit | © Lavka-Design
---
Mosaic Tiles with a Gorgeous Pattern and Color Harmony
Enriched with a Spanish style, the blue and white mosaic tiles create a gorgeous pattern and texture to the shower wall! The floral pattern of the mosaic tiles expresses the shape of the sun when the Mediterranean Sea welcomes the most. The blue-painted upper walls complement the darker blue hues of the tiles while this pastel shade balances the busy patterns of the tiles with its soft finish. For a final touch, the arched doorway of the walk-in shower design adds an elegant appeal.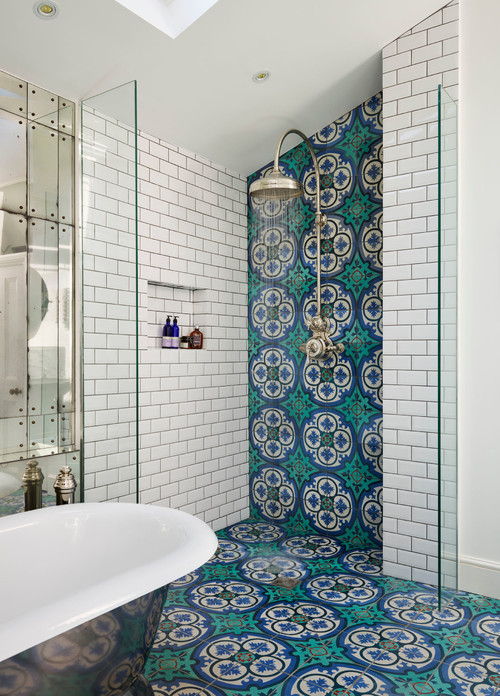 ID# 169119 | Houzz.com – Credit | © Rustico Tile & Stone
---
Walk-in Shower Design with Blue and Green Spanish Inspired Tiles
The blue and green hues of the Spanish-style tiles fill the entire bathroom with movement and organic flow. Thanks to the chrome fixtures, there is a cohesive and harmonious appeal with the floral patterned tiles. The white subway-tiled walls and the white ceiling emphasize the patterned tiles helping them to stand out.
Spanish Style Bathroom Backsplash
One of the most important rooms in our homes is the bathroom, of course. You can start your day with a fresh shower, or you can end your exhausted Monday with a serene shower. To freshen up and add an energetic flair to your bathrooms, a Spanish-style bathroom backsplash can be one of the clever solutions! A Spanish-style bathroom backsplash is ideal for you if you want your bathroom to have a focal point. These Spanish tiles, which can be made of clay or ceramic, were first produced in Spain hundreds of years ago. Spain has been supplying the rest of the globe with these amazing tiles since the 17th century. They may be crafted by an artist and have a bespoke design in addition to having distinctive patterns, attractive colors, and the capacity to bring an enthusiastic aspect to the ambiance of your bathroom.
No matter what your preferred design aesthetic is—contemporary, traditional, or modern—you can utilize a Spanish-style bathroom backsplash with practically any kind of decor. They offer gorgeous colors and patterns that you can mix and match with any design theme. They are typically used in bathrooms, showers, and kitchens, though occasionally they may be used for a distinctive wall that is required for your design. For your bathroom backsplash, you may pick or create a design with these tiles if you want a vibrant and eye-catching appearance. Discover chic ideas for a Spanish-style bathroom backsplash by scrolling down!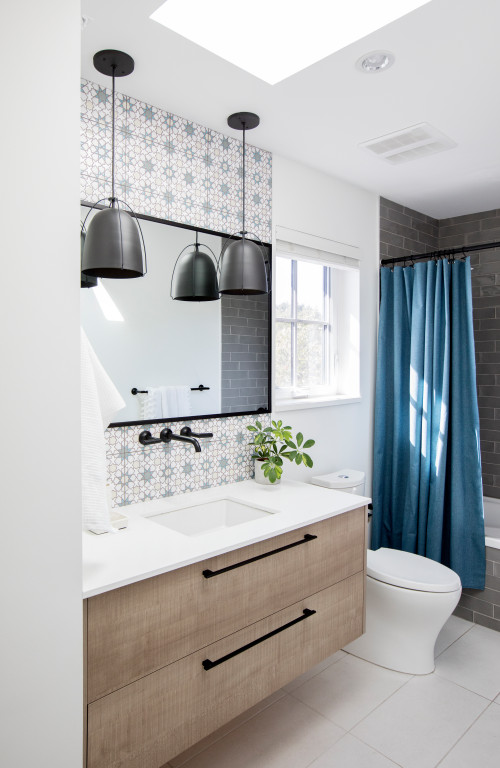 ID# 169120 | Houzz.com – Credit | © PURE Design Inc.
---
Gray and White Patterned Backsplash with Wood Floating Vanity
The beautiful pattern of the Spanish-style bathroom backsplash draws all the attention in this contemporary bathroom and instantly elevates the overall look. The floor-to-ceiling tile design makes the tiles stand out with a stylish aspect! Thanks to the gray-to-white color transition of the environment, there is a striking contrast with a vibrant appeal. The wood floating vanity creates harmonious appeal with the bathroom backsplash while the matte black hardware and fixtures enhance the modern aesthetic.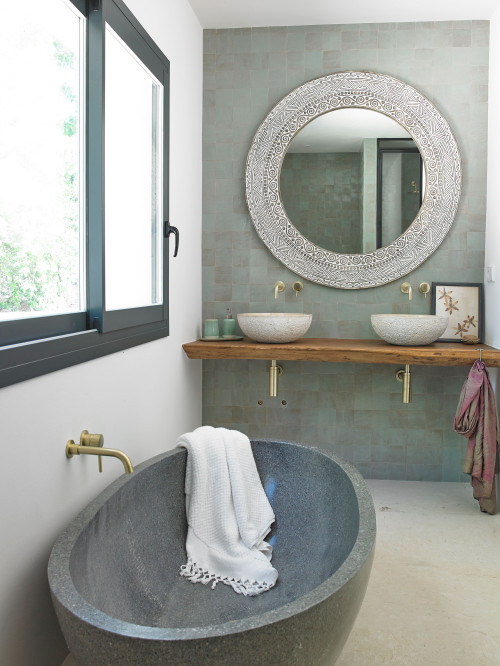 ID# 169121 | Houzz.com – Credit | © THE BLUE PEARL. Home Remodeling & Construction.
---
Full-Height Green Square Tile Backsplash with Rustic Vanity
Boosted by a warm color palette, the exquisite design of this Mediterranean bathroom welcomes you with a modern appeal! The vanity's basic design and the backsplash tiles create a rich appeal with warm sensations. The backsplash tiles are placed full height behind the rustic vanity design, creating an accent, while the huge circular mirror serves as a focal point. The stone bathtub, as a finishing touch, nicely completes the spa-like ambiance.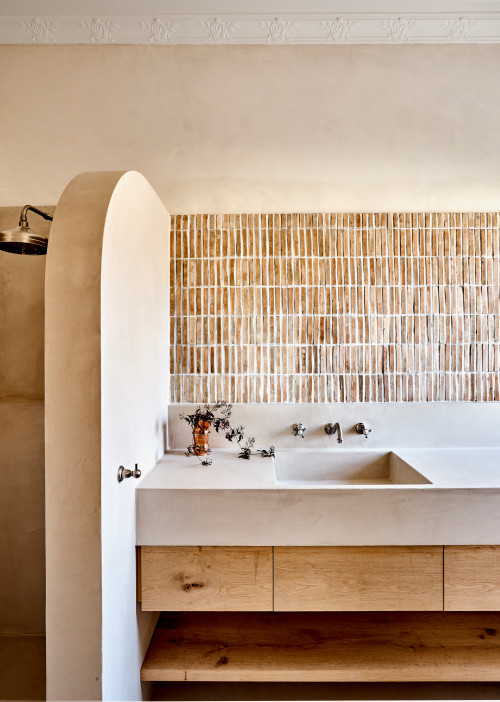 ID# 169122 | Houzz.com – Credit | © Brodware
---
Beige Bathroom Design with Kit Kat Tile Backsplash
Steeped in the essence of the Mediterranean, this bathroom embraces a welcoming and convivial atmosphere through its warm beige color palette. A delightful touch of originality and organic charm is introduced by the handcrafted Kit Kat tile backsplash while the wood vanity, accompanied by a concrete top, further amplifies the room's natural and rustic aesthetic.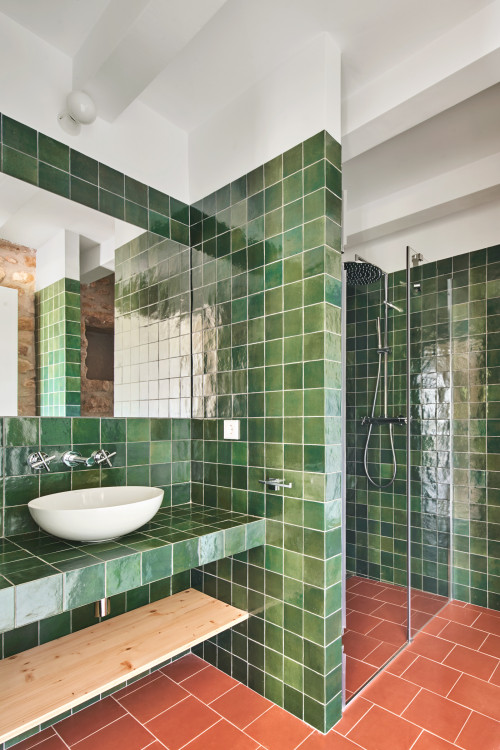 ID# 169123 | Houzz.com – Credit | © Vallribera Arquitectes
---
Green Zellige Wall Tiles with White Vessel Sink
Embraced with a gorgeous green shade, these Zellige tiles surround the wall space and create an eye-catching appeal for this Mediterranean bathroom! The same tiles are used for the vanity top to create a seamless look while the white vessel sink brings a bright and fresh appeal. On the other hand, the terracotta subway floor tiles create a contrasting look with the vibrant green shade and enhance warmth.
Spanish Style Bathroom Vanity Ideas
The vanity is the bathroom's center of attention. They are practical and make a big difference in maintaining the area's order, cleanliness, and beauty. The bathroom vanities are responsible for organizing and storing bathroom supplies. It effectively hides plumbing and unsightly pipes. It serves as the base for the sink basin and counter. While a bathroom vanity has several practical purposes, it also acts as the space's most overtly decorative and aesthetically dominant focal point. A beautiful vanity may transform a boring bathroom, just as an ugly vanity will ruin a beautiful one. You become aware of their relevance as you design! Designing Spanish-style bathroom vanity ideas is one of the options you have if you want to grab everyone's attention and make a statement.
Each and every home plan has a wonderful bathroom layout that is completed with a gorgeous modern, traditional, boho, or rustic vanity unit. From ultra-contemporary designs with shallow glass basins and waterfall taps to rustic wood vanities with vessel sinks and matte black faucets, we've seen them all and liked them all. If you're sick of bathrooms that look neat and uninteresting, it's time to switch to Spanish-style bathroom vanity ideas and inject some Mediterranean breeze into the area!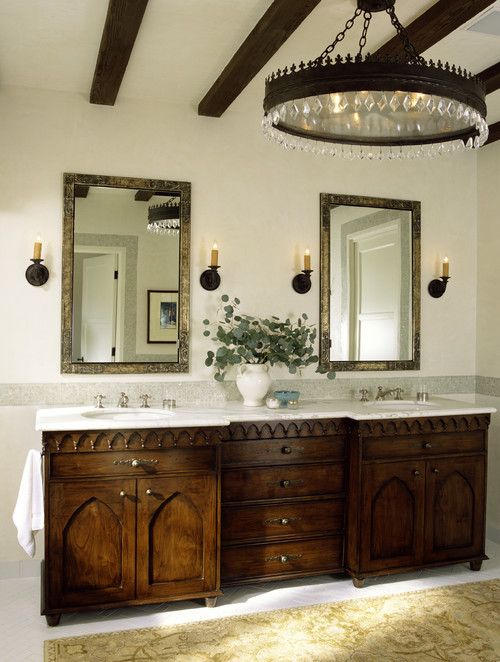 ID# 169124 | Houzz.com – Credit | © Tommy Chambers Interiors, Inc.
---
Rustic Wood Vanity with Glamorous Chandelier
Adorned with oil-rubbed bronze hardware, this antique vanity takes the stage in this Mediterranean bathroom and makes a statement with a vintage charm. For the rest, the metallic framed mirrors, bronze sconces, and circular chandelier perfectly complete this old charm while the white countertop brings a bright look.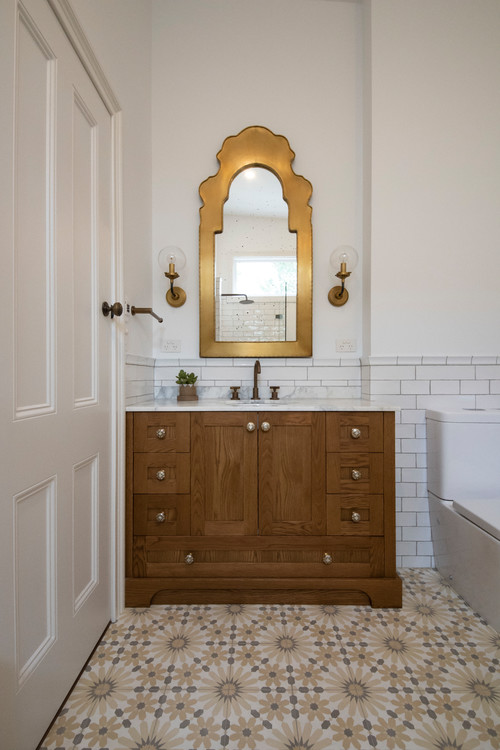 ID# 169125 | Houzz.com – Credit | © Key Piece
---
Wood Vanity with Brass Framed Mirror
The beige patterned floor tiles and the wooden vanity design complement each other to add natural vibes to the interior of the bathroom with a modern touch! Boosted with a brass frame, the arched top mirror creates a focal point above the vanity while the white subway wall tiles provide a clean and sleek canvas for the rest of the bathroom.
How to decorate a Spanish Style bathroom?
Beautiful and cozy, rooms decorated in a Mediterranean style. Here are some tips for creating a Spanish-inspired bathroom. You'd be surprised at how simple it is!
1-Arches!
Arches are a typical component of Spanish design, and they may add some classic character to a bathroom. A huge mirror or a creative place with candles or potted plants to provide beauty may go perfectly in the bathroom dome area.
2-Spanish Tiles!
Bright bathroom tiles are a need! These keep a Spanish bathroom from being bland or monotonous, which is the very last thing it ought to be. Even better, you may combine and match several tile styles for a more diverse look.
3-Wooden Walls
Although wooden walls in the bathroom may seem strange, they actually create a chic ambiance. They may become the bathroom's center point, highlighting the welcoming quality of Spanish design. Additionally, wood complements a variety of hues beautifully, adding a substantial, earthy aspect to the blazing design.
4-Go Darker with Wooden Details
Choose bathroom cabinets or wooden shutters in dark, polished wood if you want to emphasize the attractiveness of darker wood in Spanish bathrooms, especially if you are constructing a vintage space. This has a feel of rural Spain, yet it also works in a more contemporary setting.
5-Use Many Different Colors!
Don't be afraid to use a variety of colors in your bathroom, not only when it comes to the tiles you choose. When creating a Spanish bathroom, earthy tones work particularly well. However, for maximum effect, use a few colors in vivid tints. The combination of blue, green, orange, and yellow is delightful.
6-Mediterranean Lightings
In a Mediterranean bathroom, a chandelier might be a wonderful accent. It emanates style and originality, giving the bathroom a sanctuary-like atmosphere. Depending on the style you desire, pick a modern or vintage fixture.
7-Exposed Beams
Adding exposed ceiling beams is a cunning method to direct attention. A striking chandelier works nicely with exposed beams to guarantee Spanish style in your house.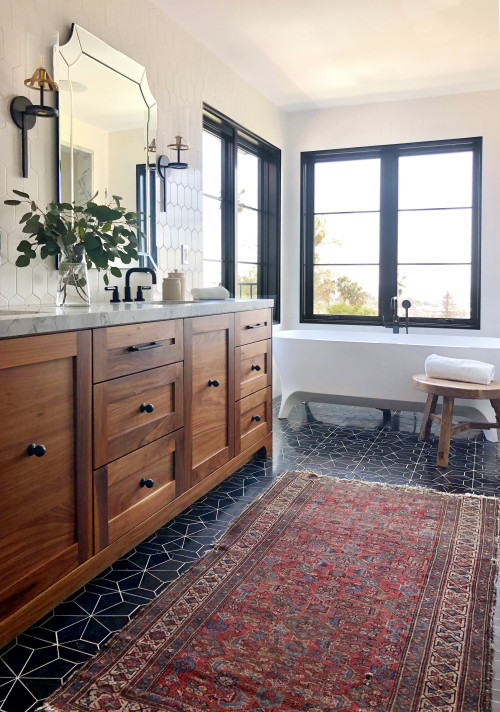 ID# 169126 | Houzz.com – Credit | © Britney Wior Interiors
---
Spanish Style Bathroom Vanity Ideas with Stone Countertops
The warm and intimate Spanish atmosphere welcomes you with a stylish wooden vanity. Topped with a gray marble countertop, this vanity takes the stage and brings an old charm. The white picket tile backsplash creates a clean backdrop for to vanity while the black floor tiles contrast against the wall tiles to add an aesthetic appeal. The white grout of the floor tiles highlights the geometrical pattern which adds a modern flair to the design.
Spanish Style Bathroom Floor Tiles
There are several alternatives for Spanish-style bathroom floor tiles, and like with many other interior design choices, trying to decide which tile is best for your area may be overwhelming. But don't worry, we've done the research and selected a few of the best ones for bathroom floor tiles for you.
There is a bathroom design for every taste. It could be challenging to narrow down your options when there are so many lovely Spanish-style bathroom floor tiles available. To make this process simpler, consider how the scale of the tile will impact the area. For instance, big format tiles are a great option for a large bathroom since you'll need fewer of them, they'll be simpler to install, and you'll spend less money on labor. To add light and the illusion of space, choose mid-sized white-dominated patterned bathroom floor tiles for small bathrooms.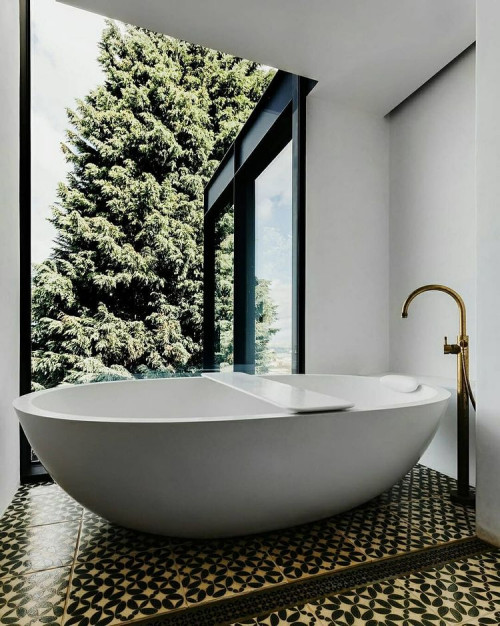 ID# 169127 | Houzz.com – Credit
---
Spanish Style Bathroom Floor Tiles with a Modern Black and White Contrast
The stunning Spanish patterns accentuate this luxurious bathroom floor to add a beautiful contrast with black and white colors! The black-and-white contrast increases the movement of the environment with the patterns while the Spanish style creates a warm and familiar atmosphere. The white freestanding bathtub stands out on these patterned tiles and offers a luxurious retreat through a gorgeous nature view.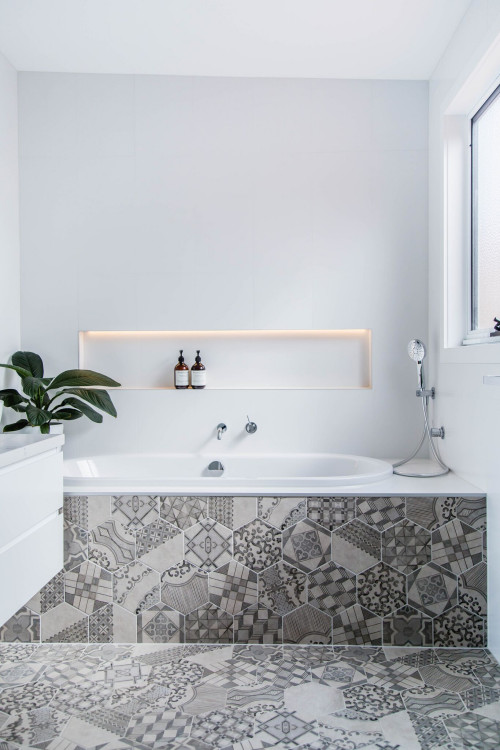 ID# 169128 | Houzz.com – Credit | © Style Precinct Interior Design & Decoration
---
White Bathroom with Gray Pattenred Hexagon Floor Tiles
Wow… These hexagon floor tiles are definitely a game changer that can instantly the overall look of any bathroom design! Enhanced by eye-catching patterns, these gray tiles directly draw attention between the white surroundings to create a one-of-a-kind appeal.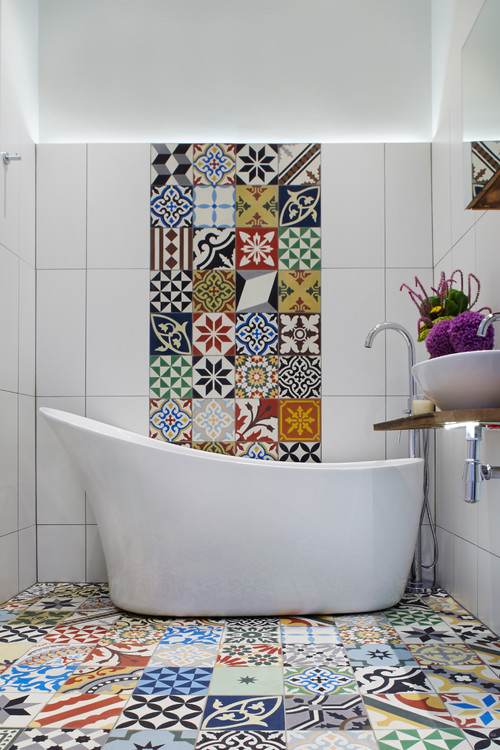 ID# 169129 | Houzz.com – Credit | © Cassidy Hughes Interior Design
---
Pattern Burst for a Modern Twist with Spanish Style Bathroom Floor Tiles
The mesmerizing look of the colorful patterned Spanish-style tiles creates an optical illusion together with the accent wall behind the bathtub. Accentuated with the large white tiles, the accent wall creates a seamless look with the floor tiles while the white freestanding bathtub brings a modern flair with its unique organic shape.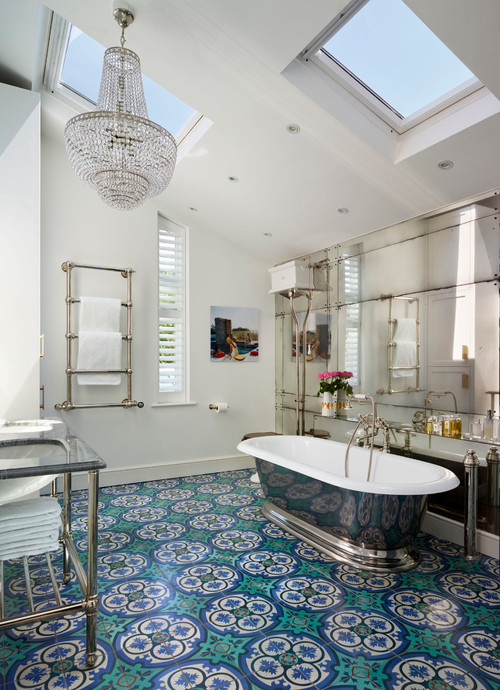 ID# 169130 | Houzz.com – Credit | © Rustico Tile & Stone
---
Victorian Bathroom with Metallic Freestanding Bathtub
Wow!!! This Victorian bathroom showcases a one-of-a-kind appeal thanks to its stunning Spanish-inspired tiles! Enriched with vibrant shades of blue and green, these floor tiles instantly change this otherwise classic white bathroom into a dream design. The metallic surface of the freestanding tub reflects these beautiful tiles and creates a seamless look! Keeping the rest of the bathroom white allows the tiles and the tub to stand out while the chrome fixtures compliment the glamorous appeal of the tub.