32+ Contemporary Bathroom Ideas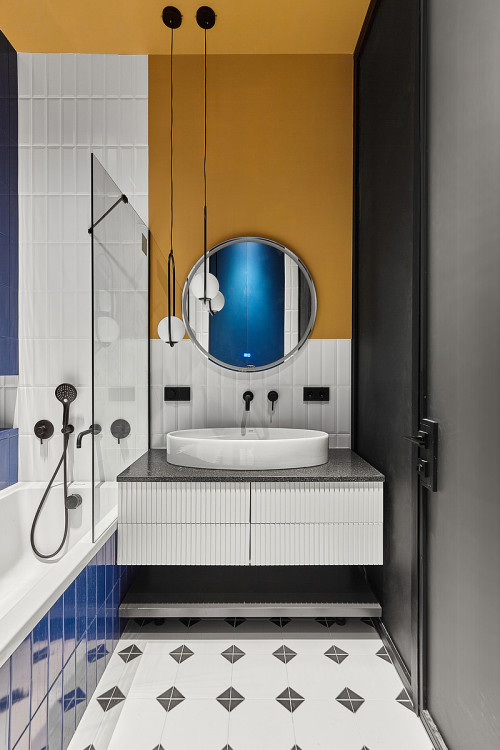 ID# 150302 | Houzz.com – Credit | © Артём Самохин
---
Floating Vanity with Black Countertops and White Cabinets
This bathroom is a triumphant and beautiful space, its yellow and dark gray walls providing a stark contrast to the black and white features! The alluring floating vanity, white cabinets and black countertops create a chic and modern feel, all of which is brought to life with the white vessel sink and tile backsplash, bringing warmth and a sense of cleanliness to the room. Unmistakably eye-catching, the round mirror adds a layer of depth and individuality. Patterned floor tiles of grey and white tie together the room, resulting in a refined and harmonious atmosphere. The distinct use of various shades of grey, creating an impression of depth and interest, is truly awe-inspiring.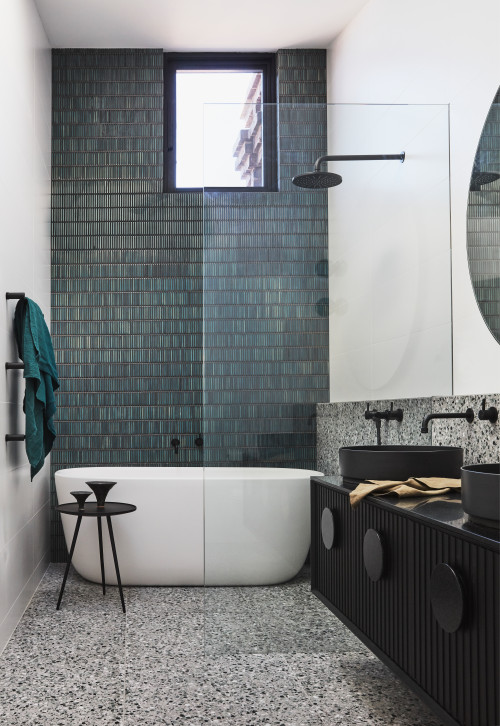 ID# 150321 | Houzz.com – Credit | © Penman Brown Interior Design
---
Contemporary Master Bathroom with a Freestanding Tub
This bathroom boasts a chic, modern design with a blend of light and dark colors. The open shower and white freestanding tub provide plenty of space for a relaxing soak or invigorating rinse. The dark green shower wall tiles add a bold splash of color, while the gray floors and black floating vanity add a touch of sophistication. The gray tile backsplash on the vanity complements the overall color scheme and the white walls provide a clean crisp contrast.
Contemporary Bathroom Ideas
Contemporary bathroom ideas are all about creating a space that is enjoyable and stylish to be in, while also being practical. Using clean lines, neutral color schemes and natural features like wood, stone and glass, your modern bathroom can be a relaxing retreat or fun and energizing, depending on your mood. Gilded finishes and a minimalist touch add an air of luxury and sophistication. Ultimately, a contemporary bathroom should inspire positive feelings.
Let the Simplicity Fill your Contemporary Bathrooms
Rejuvenate your bathroom with contemporary designs offering minimal and streamlined fixtures. Replace traditional, bulky sinks with modern, vessel, and wall-mounted designs that make the room feel more open, spacious, and inviting. Bring extra light through windows and skylights, while also utilizing a harmonious mix of ambient, task, and accent lighting. Utilize natural materials such as stone, wood, and glass, to give the room an inviting warmth and texture. Install dimmer switches to truly customize the lighting, creating a calming atmosphere that is perfect for relaxation. To learn more about contemporary bathroom ideas, scroll down and get inspired!
How Can I Make My Bathroom Look Contemporary?
To create a contemporary bathroom look, begin by using a neutral palette with accents of vibrant hues for an eye-catching contrast. Flat-panel or frameless cupboards and vanities with neat, streamlined lines add to the modern, minimalist effect. Complete the design, including current fixtures like wall-mounted sinks, walk-in showers, or freestanding tubs for an updated feel. Embrace the warmth and texture that natural materials bring to contemporary design. With these steps, you can transform your bathroom into a stylish and functional space that expresses your personality.
Contemporary Bathroom Vanity
A contemporary bathroom vanity is a stylish and functional piece, imbued with human emotions, that can dramatically alter the ambiance and feel of your bathroom. With its sleek and modern design, it exudes beauty and sophistication while providing ample storage space. Varied materials, such as natural wood, synthetics like acrylic and metal, and customizable designs let you craft a contemporary vanity that appeals to your individual artistic taste. Its minimalistic aesthetic, straight lines and simple shapes impart a chic and fashionable atmosphere while exuding both function and class.
What is a contemporary bathroom?
Contemporary bathroom design has become a popular choice, offering a look that is characterized by clean, minimal lines and a focus on both comfort and function. While the style may vary, it is often associated with modern architecture and interior design and can be used for both new construction and renovation projects. Contemporary bathroom design allows for a range of personal preferences, but it particularly emphasizes simplicity, neutrality, and practicality. Bringing feelings of comfort and relaxation, it is a style that can be easily adapted to suit the needs of any homeowner.

Contemporary Bathroom Backsplash
Bathrooms are one of the areas of the house that excite us about design, just like other rooms do. Bathrooms are where we rest with lengthy baths and occasionally get ready quickly, so it makes sense to want them to be elegantly designed. One of the bathroom design features is the backsplash. As kitchen backsplashes, they may shield your walls from water splashes. A contemporary bathroom backslash is an ideal choice if you prefer clean, uncomplicated designs.
A contemporary bathroom backsplash may help you create a trendy and streamlined appearance. Bold or neutral hues are also acceptable choices. Sharp contrasts between the hues are conceivable. The materials may alter the mood as well. Stone can offer a natural element, while wood elements can add warmth. For a contemporary bathroom backsplash, you may select a variety of material colors based on your preferences in terms of style and color.
What colors are good for a contemporary bathroom?
No specific colors are demanded in a contemporary bathroom design, as individual preferences and decoration ideas can be adapted to suit. Although there are popular color palettes and mixtures that are regularly employed in contemporary bathrooms.
Neutral colors, such as white, beige, and grey, are timeless selections for present-day bathrooms as they create a composed and unified appearance to be enhanced by different highlights and finishes.
The classic contrast of black and white can also be employed for a modernistic and stylish effect, and can be jazzed up with colorful add-ons or natural materials to induce comfort and energy.
Subtle pastels, like subtle pink, blue, and green, can be used to present an expressive and graceful flair to a modern bathroom. These colors can serve as the core of the color plan or just be a contributing factor to it.
Bright colors, like red, orange, or yellow, are ideal if you intend to pull off a daring and eye-catching bathroom. They can also be either the central color or done in moderation to create a desired effect.
A contemporary bathroom can be designed to reflect your emotions and desires, allowing you to make it unique with a personalized color addition.
Contemporary Bathroom Lighting
Contemporary bathroom lighting can be an integral part of modern bathroom design, both practical and aesthetic. With a range of options to suit individual needs, helping to connect tasks like grooming and showering with the desired atmosphere and ambiance, it can be difficult to decide. Here are some ideas to mindfully go over when choosing to light for your contemporary bathroom:
Take account of what you need:
Thinking about what activities you'll be doing in the bathroom will be key in determining the best lighting for the task. Think about the difference between lighting for tasks such as grooming and relaxing in the bath, and decide which is more important for you.
Consider the overall look:
Making sure the lighting complements the style of the bathroom is essential. For a minimalist, modern approach, opt for pendant lighting or basic sconces for the wall. If a more classic style is preferred, wall sconces or a chandelier might be the way to go.
Don't forget the ceiling:
This is often forgotten when it comes to bathroom lighting, but it is ideal for helping to create a general ambiance. Fitting either recessed lighting or flush mount lighting in the center of the ceiling will work perfectly.
Think layer by layer:
Adding multiple lighting sources creates a more visually appealing and stimulating space, so think about adding wall sconces, vanity lights, or accent lights in addition to overhead lights.
Prioritize energy efficiency:
In this day and age, energy efficiency is a concern, so opt for LED lighting with longer lifespans rather than traditional incandescent bulbs. With these tips, hopefully, you'll be able to create the perfect lighting to suit your contemporary bathroom.
By following these tips, you can choose the perfect contemporary bathroom lighting for your space. Whether you opt for statement-making fixtures or subtle and understated lighting, the right lighting can make all the difference in the look and feel of your bathroom.
Contemporary Master Bathroom
Designing a contemporary master bathroom is all about creating a sophisticated and luxurious atmosphere that expresses your unique style. Selecting the right materials and finishes can turn a space from mundane to marvelous. Sleek and modern materials like marble, quartz and granite can lend an air of refinement, while natural elements such as wood and stone add warmth and character. To embrace the minimalism associated with contemporary design, incorporate a clutter-free aesthetic with floating vanities, open shelving and simple finishes. A monochromatic color scheme with sleek and understated fixtures helps to further cultivate a calming, serene environment – the perfect sanctuary to retreat to after a long day!
Small Contemporary Bathroom
Searching for balance between style and functionality when designing a small bathroom? Look no further! Creating the perfect combination of appealing aesthetics and practical use can be tricky, but these small contemporary bathroom ideas will set you in the right direction. Go for a minimal, sleek look by incorporating modern, wall-mounted fixtures like a toilet and a floating vanity. Opt for neutral colors like white and gray, to keep the space light and airy. To add some personality, pick eye-catching accents – like bright towels and rugs – or paint the walls to create a bold statement. In addition to creating a fun and fashionable atmosphere, don't forget the practical side; smart storage solutions and oversized mirrors can help you stay organized while also making the most of the space. With these small contemporary bathroom ideas, you can have both a chic and functional comfort zone!
Is contemporary still trending in 2023?
It is likely that the minimalist and textureless surfaces of contemporary design will not be a part of what encompasses contemporary style in 2023. Nonetheless, we can still expect to see aspects that fall within the realms of a contemporary aesthetic in 2023. It is with a tinge of sadness that we will witness this change, but also with optimism that other elements of contemporary design will remain.
White Contemporary Bathroom
When it comes to renovating a bathroom, white is often the go-to choice for a fresh and modern look. Yet, with so many options, it can sometimes be daunting to decide what is the best. Focusing on classic white gives you an effortless and versatile option to incorporate into a range of contemporary designs. Having a white contemporary bathroom can be akin to a security blanket for many – it's a timeless classic.
Benefits abound to using white in the bathroom; it makes the space feel larger and airier, a feeling particularly conducive to small spaces which can come off as cluttered. The colour white exudes brightness, creating a welcoming and calming atmosphere. On top of its aesthetic offerings, white is also a practical choice. It's easy to clean and maintain and is less likely to show dirt as compared to other dark hues, making it a great option for busier spaces.
How much does it cost to build a contemporary bathroom?
The cost of creating a modern bathroom will vary depending on numerous factors, such as its size, materials, fixtures, and complexity of design. A full overhaul of a bathroom is usually expensive, numbering anywhere from five to thirty thousand dollars, or even more, depending on the scale of the work. The expense of constructing a contemporary bathroom can be daunting – from the size, materials, fixtures and complexity of the design, the full cost of a complete renovation can come as quite a shock. On average, the price tag for an entire bathroom makeover could be between $5,000 and $30,000, or even more, depending on the magnitude of the project.