29+ Backsplash Ideas for Blue and White Kitchens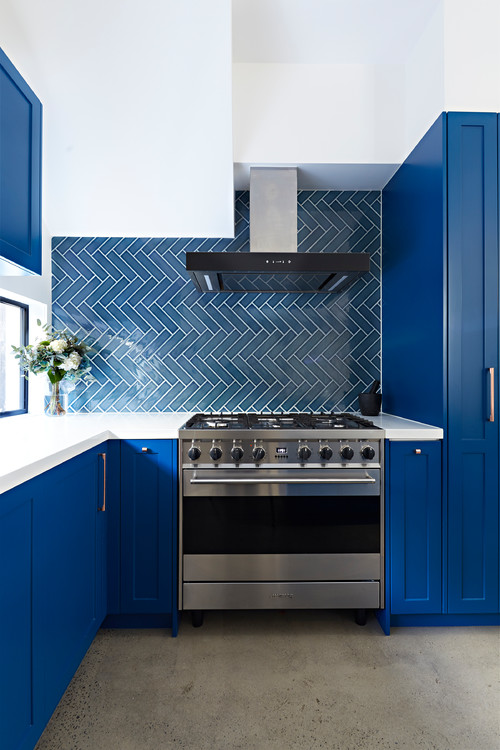 ID# 168615 | Houzz.com – Credit | © smarterBATHROOMS+
---
Transitional Kitchen with Blue Backsplash and White Countertop
If you want to make a big impact with your backsplash, you will love this design! As you can see here, the blue herringbone backsplash creates a striking focal point thanks to its horizontal layout and of course, the white grout color that highlights the eye-catching pattern more. The blue shaker cabinets create a cohesive look with the backsplash while the pure white Silestone quartz countertop softens the deep blue shades and brings a fresh look.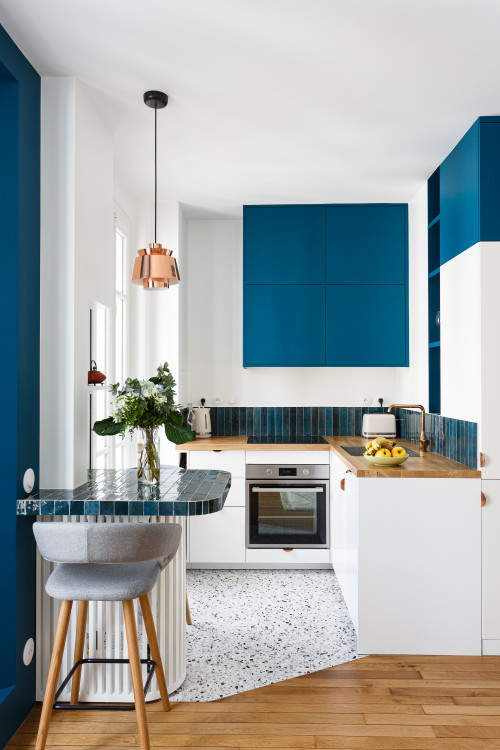 ID# 168616 | Houzz.com – Credit | © Emilie Melin architecte DPLG
---
Blue Backsplash Ideas for Blue and White Kitchens with Terrazzo Floor
The wooden counter in the modern compact kitchen design with blue and white flat cabinets produces a warm impact while the single-row, blue, vertical subway backsplash adds a distinctive ambiance. The use of the same tiles on the dining tabletop gives a nice uniformity. Furthermore, the Terrazzo tiles on the floor blend in nicely in this modern kitchen. In addition, built-in appliances and under-counter sinks are used. In this white-dominated space, the blue cabinets stand out more, while also generating an invigorating design.
Backsplash Ideas for Blue and White Kitchens
Blue and white kitchens are popular as they provide a soothing and serene atmosphere where you can rest your eyes and find a restful repose both for yourself, your family, and your guests. In other words, if you love white kitchens and want to introduce an accent color to the kitchen, blue is one of the best options. While benefiting from dark and light shades of blue, you can inject completely different vibes into your home. For example, you can go with lighter shades and pastel tones like powder blue for a coastal vibe or dark shades like navy blue to add a dramatic and edgy personality. But of course, there is another crucial piece you need to consider, which is the backsplash. Here we have a list of backsplash ideas for blue and white kitchens that will familiarize you with some inspiring design projects.
Complete the Serene Feel of Blue and White Combination with Stylish Tiles
Speaking generally, backsplash ideas for blue and white kitchens include white subway tiles, marble and quartzite backsplashes, blue glass tiles, mermaid patterns, and more. Coastal designs, transitional kitchens, and contemporary kitchens particularly love shades of blue to add a splash of color, imply the design's association with beach life, or integrate fun elements to entertain the space. Below you will find multiple design projects that concretize these suggestions; just scroll down to discover some, and don't forget at the end of the day it all comes down to you and what kind of narrative design you want to develop for your kitchen.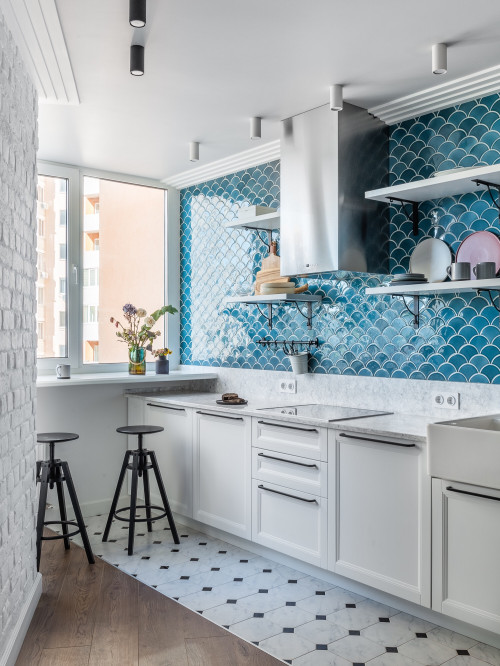 ID# 168601 | Houzz.com – Credit | © Архитектурная студия QUADRUM
---
Backsplash Ideas for Blue and White Kitchens with Fish Scale Patterns
A collage of blue and white integrated with cabinets and backsplash achieves a dynamic visual scheme in this transitional kitchen. The fish scale mosaic backsplash in resonance with the color scheme features a glossy finish, acting as the centerpiece of the design. The stainless steel range hood pops against the backsplash, while gray marble countertops brighten up the overall look with a sense of optimism. Paired with modern and understated ceiling-mounted lighting fixtures and black and white floor tiles, this kitchen exudes a stylish and quirky appeal while dark wood flooring injects color and warmth!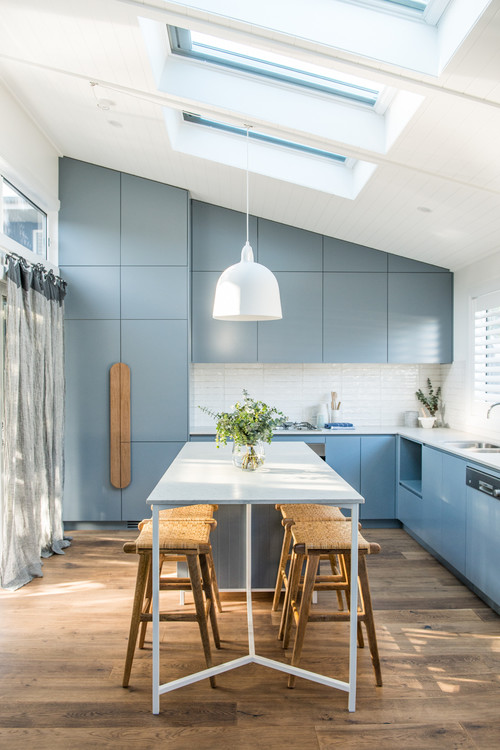 ID# 168602 | Houzz.com – Credit | © Wideline Windows & Doors
---
Coastal Design with Light Blue Cabinets and WoodStools
In coastal kitchen designs, sticking to lighter shades and white cabinets make it easier to give the space a coastal flavor. In this kitchen, for instance, the light blue cabinets bring just the right amount of color in soft shades to create a gentle look between the white stacked tile backsplash. The white shiplap ceiling, dining table, and skylights enhance the openness. If you would like to enrich the overall look and give the kitchen a bit more summer effect, you can use glazed glass tiles that emphasize the shimmering effect. Also, if you want to add more dimension to the wall, you can benefit from wooden accents.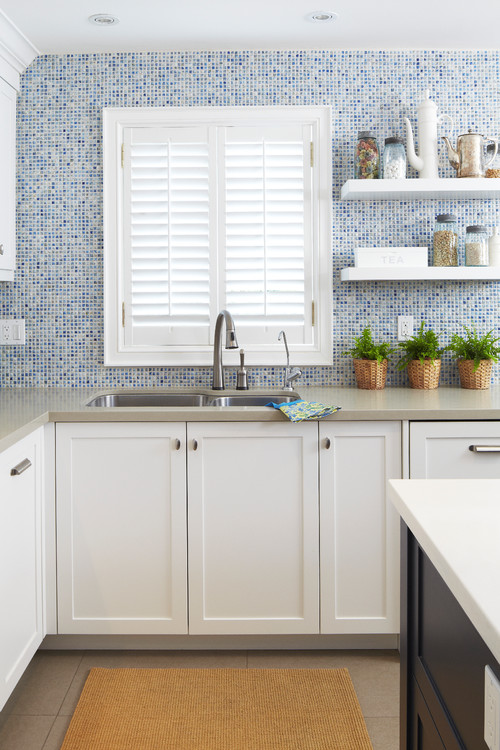 ID# 168603 | Houzz.com – Credit | © Sealy Design Inc.
---
Mosaic Backsplash for White Shaker Cabinetry and Gray Quartz Countertops
The eye-catching blue shades of the mosaic tile backsplash bring a breath of life to this serene kitchen design! This full-height backsplash provides a visually appealing backdrop for the classic white shaker cabinets without overwhelming the space. The gray quartz countertops introduce sleek lines without breaking the harmonious look.
What backsplash goes with a blue and white kitchen?
In blue and white kitchens, backsplashes generally feature neutral and light shades, such as light blue, powder blue, gray, off-white, and printed ceramic tiles. But of course, if you love dark colors and pops of color, you can color your walls with bold blue shades that will create a very contemporary look.
When it comes to the patterns, mermaid, subway, herringbone, chevron, arabesque, Moroccan and penny round mosaic tiles get along well with the blue-white kitchens. As for the material options, marble, quartz, glass, ceramic, porcelain and cement are the most preferred materials!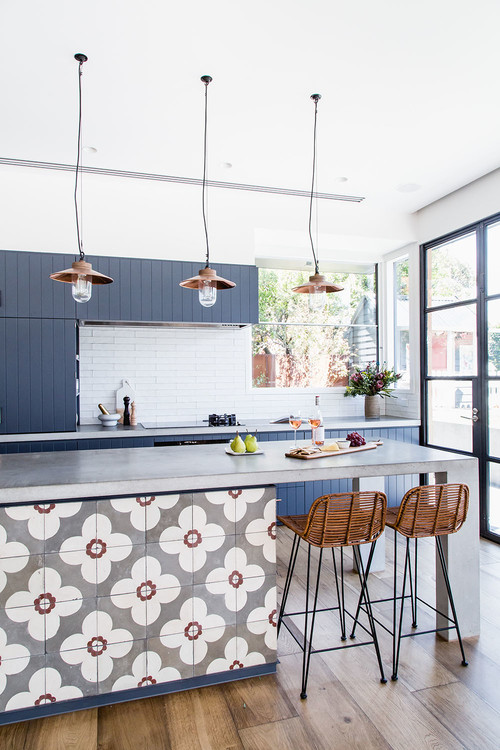 ID# 168604 | Houzz.com – Credit | © Suzi Appel
---
Backsplash Ideas for Blue and Kitchens with Tiled Island
Building a punching character with the blue and white contrasts, this beach style kitchen shines a light on the blue cabinets that introduce an edgy feel to the design. With a seamless flow, the white ceramic subway tile backsplash and concrete countertops come together to ensure a harmonious ambiance. The tongue and groove cabinet doors introduce a three-dimensional element that enriches the overall design. The waterfall kitchen island is paired with copper lighting fixtures that add an industrial vibe. But the most unexpected fun addition comes with the eye-catching tiled kitchen island that pops out to entertain the overall look playfully.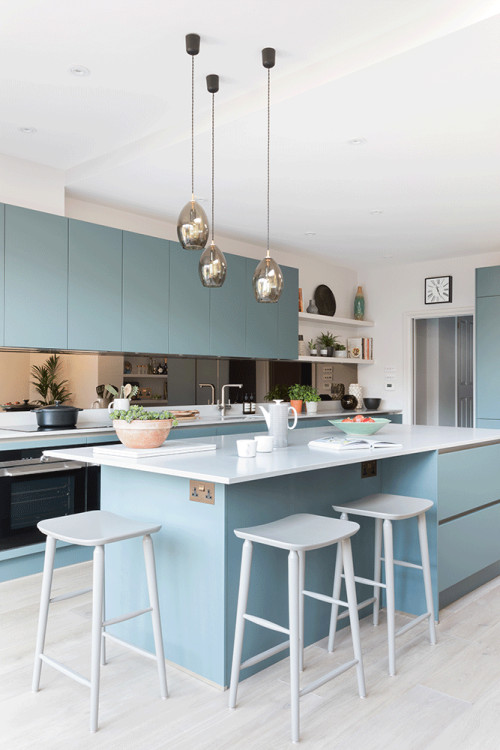 ID# 168605 | Houzz.com – Credit | © NJC Kitchens
---
Modern Kitchen with Metallic Mirrored Backsplash
If you want to jazz up a little bit for your blue and white kitchen design, the almost endless design opportunities of backsplashes will help you to achieve this goal. In this modern kitchen, for example, the metallic mirrored backsplash directly catches the eye and creates a striking focal point between the light blue cabinets and white quartz countertops!! The stainless steel appliances and the metallic finish of the pendant lights perfectly complement the backsplash and finalize the overall look.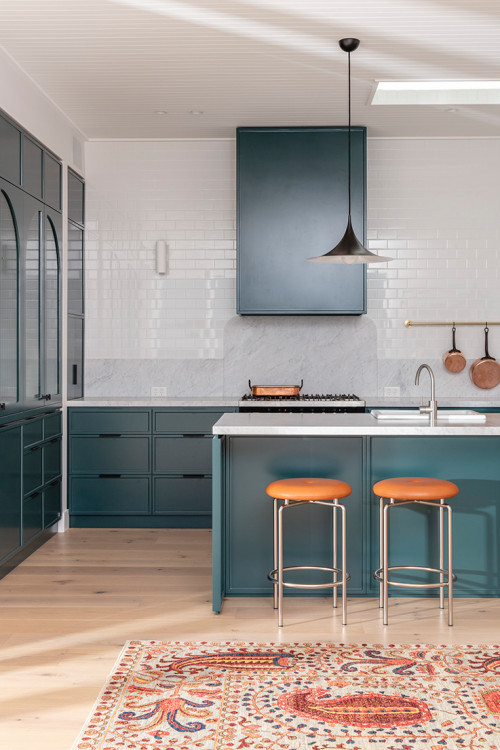 ID# 168606 | Houzz.com – Credit | © Newton Home Improvements
---
Dark Blue Kitchen Cabinetry with Two Different Backsplash
Dark blue is one of the unique colors that has a strong, noble and powerful impression and when these colors are employed in kitchens, the resulting visuals are usually stunning. The dark blue kitchen cabinets highlight the beauty of blue by being mixed with white and white gray-toned countertops and backsplash! The wood on the floor and the warm tones in the kitchen's cooking equipment make the area more appealing and inviting while minor details add to the lively atmosphere.
Backsplash Color Options for Blue and White Kitchens
If your kitchen already features two main colors such as blue and white, you can stick to these two colors not to break the harmony while choosing the color of the other main features. But if you like pops of colors and whimsical elements, you can integrate bold shades of blue for white cabinets to make a statement. But in general terms, among the most popular backsplash color options for blue and white kitchens, we can count powder blue, light gray, and white.
White Backsplash Ideas for Blue and White Kitchens
If you have two-tone cabinetry in white and blue shades, you can benefit from a white backsplash to preserve balance and integrity while enhancing the openness and spaciousness of your kitchen. A white backsplash will also provide a blank backdrop for every element to work harmoniously and blend in effortlessly!!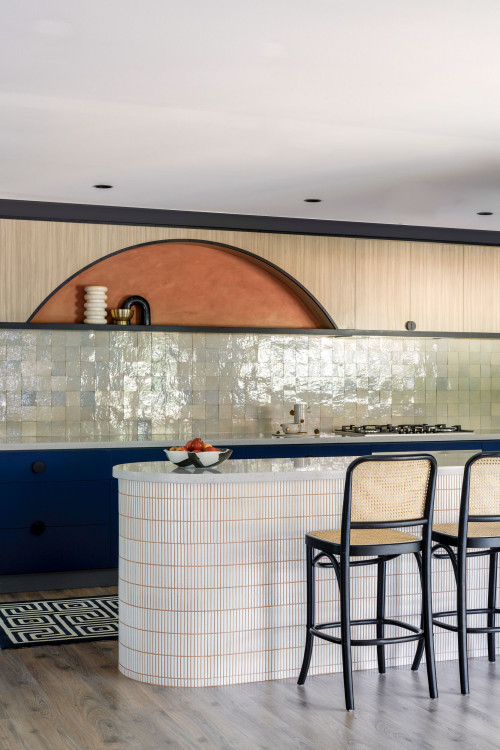 ID# 168607 | Houzz.com – Credit | © Kaiko Design Interiors
---
Contemporary Kitchen with Glazed Backsplash Tiles
The soothing design of this modern kitchen exudes elegance, presenting a well-balanced and cohesive look. The blue base cabinets are paired with a white quartz countertop and glazed tile backsplash that blend seamlessly with the rest, while the wooden upper cabinets are an unexpected addition that subverts what you expect to see in a modern kitchen. But when done properly, borrowing from other styles helps integrate various vibes that enrich the look. The kit kat tiled kitchen island that adds extra character and warmth allows homeowners to personalize the space and create a more sensible atmosphere that directly connects with its users.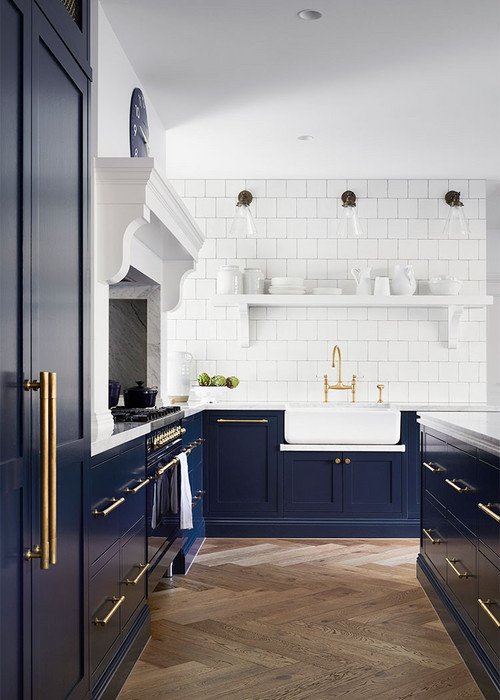 ID# 168608 | Houzz.com – Credit | © The English Tapware Company
---
Blue and White Transitional Kitchen with Brass Accents
If you aren't for extra bold statements and patterns, the subway tiles will always be your savior! Here, for instance, the classic white subway tile backsplash is added to ease the color transitions between blue and white. Likewise, the brass cabinet handles pop on blue cabinets to enhance the sense of luxury. The wood herringbone flooring in large format doesn't make itself foregrounded. Rather, it only brings a subtle hint of color as a warming shade to complement the brass accents.
Should your backsplash match your countertop?
Designing a kitchen is fun and a complicated process that requires a lot of thinking to ensure a flow between the different materials and colors. To accomplish this flow, matching a backsplash with your countertop could be one way. This way, you provide a continuous flow, assuring a uniform look. But this isn't a must. As long as the countertop and backsplash feel coordinated with each other and the rest of the kitchen, they don't necessarily have to feature the same color, pattern, or design. Below are some of the tips you may find helpful.
Use Complementary Contrasts
When coordinating your backsplash with your countertops, you can bring contrasting colors together such as off-white Moroccan tiles and soapstone backsplashes. And you can soften this contrast with wooden applications. Or another example is pairing handmade terracotta tiles with honed granite countertops that will anchor the look immediately. Additionally, while doing so, don't be afraid to introduce a third color that will add depth and dimension to the kitchen.
Go Monochromatic
Another alternative to capture depth is to go monochromatic and use different shades of the same color such as yellow, pink, blue, green, and gray. This way, your space not only gains depth but also its architectural features feel emphasized which creates a very modern appeal. If you want to bring in natural touches, you can use marble and granite as countertops that come with lots of natural and unique patterns, which make them inherently gorgeous.
Bring Different Colors Together
A backsplash doesn't have to feature just one color; so, feel free to use tiles of various shades. For example, you can use a backsplash of pink tiles of dark and light hues and pair them with white and gray lightly streaked marble countertops or white quartz and laminate. If you love organic shades reminiscent of nature, you can couple green tiles with butcher block countertops. Another practical design hint while coordinating colors is to use a color wheel to check which colors blend harmoniously with each other.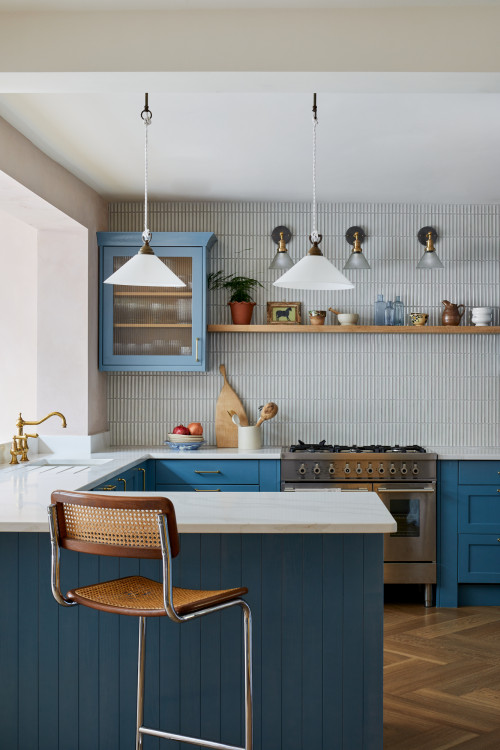 ID# 168609 | Houzz.com – Credit | © Vaughan Design and Development
---
White Kit Kat Tile Backsplash Ideas for Blue and White Kitchens
These blue shaker cabinets convey a traditional and timeless vibe, enriched by exquisite lines and a splash of color! White quartz worktops compliment the cabinetry with a clean modern aesthetic while gleaming stainless steel appliances add a feeling of luxury and brightness. Finally, the white kit kat tile backsplash adds a textural feature without being overbearing.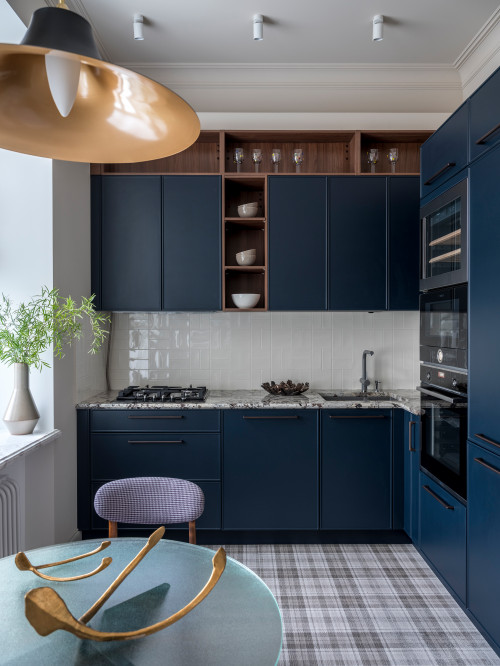 ID# 168610 | Houzz.com – Credit | © Анна Кларк
---
Dark Blue Kitchen Cabinets with Wood Open Shelves
Elegantly elevated by the inclusion of beaded-inset blue cabinetry, this transitional kitchen design radiates both refinement and sophistication. The striking juxtaposition between the blue cabinetry and the pristine white basketweave backsplash creates a clean and captivating visual contrast! The gray granite countertop evokes timeless elegance while the open wooden shelves amidst the blue upper cabinets bring warmth.
What is the most popular backsplash?
To be extremely specific, ceramic subway tile backsplash is the most popular backsplash, and here is why. To start with, the most popular backsplash material is ceramic tiles since they are affordable, easy to maintain, durable, and easy to clean which makes many things easy for homeowners. In terms of patterns, subway tiles, also known as metro tiles, are the most popular backsplash patterns that you come across almost everywhere, be it commercial or residential, private or public, indoor or outdoor. Based on these, a ceramic subway tile backsplash stands out as the safest choice to go with if you are not feeling adventurous at all for your home improvement project.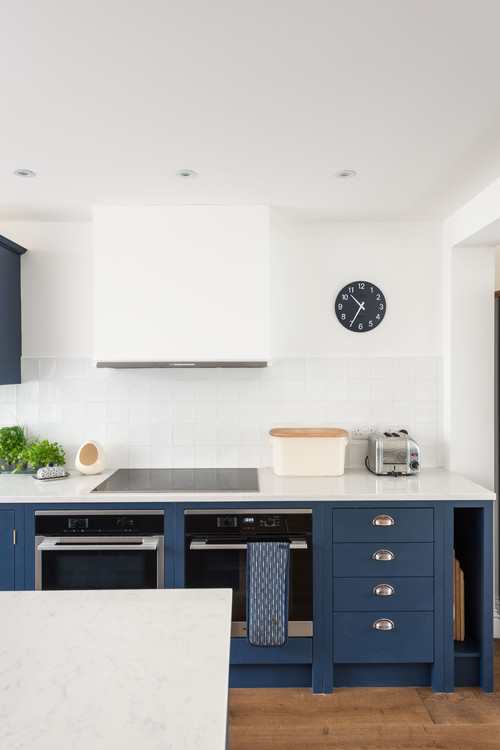 ID# 168611 | Houzz.com – Credit | © MW Architects
---
White Cement Tile Backsplash with Quartz Countertop
The white cement square tile backsplash adds texture and a modern feel to the space! The blue flat panel cabinets add a dramatic, classic touch that contrasts nicely with the white tiling. The chrome hardware gives the area a dazzling sheen and modernism while the white solid surface countertops provide a clean and smooth appearance that is simple to maintain. The medium-tone wood floors add warmth and depth to the white tile and worktops.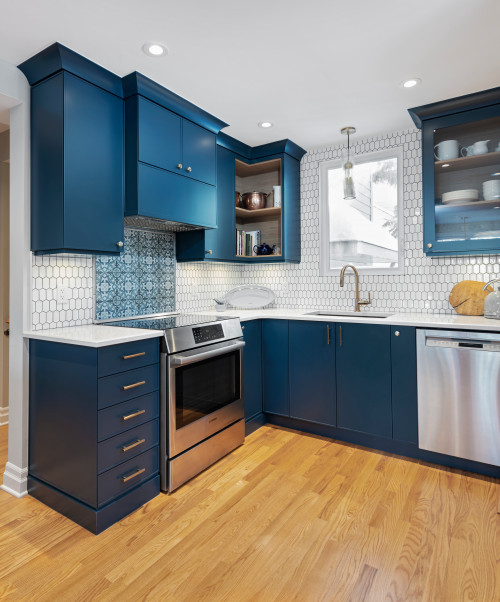 ID# 168612 | Houzz.com – Credit | © StyleHaus Interiors
---
Mosaic Tile Backsplash Behind the Stove
The white hexagon tile backsplash adds a vintage touch that contrasts wonderfully with the dark blue cabinets! The blue mosaic tile backsplash behind the stove provides a vivid and eye-catching focal point while the brass hardware enhances the sense of luxury.
Blue Backsplash Ideas for Blue and White Kitchens
Have you been dreaming about a blue-and-white kitchen? With a blue backsplash, you can create an accent wall for your white cabinets and coordinate the backsplash with a blue island that will achieve effortless harmony within the space. As for the material of the backsplash, you can go with porcelain, ceramic and glass which will bring a clean and sleek look. To enrich this white-blue color scheme, you can integrate bistro stools, wooden accents, and chrome finish hardware!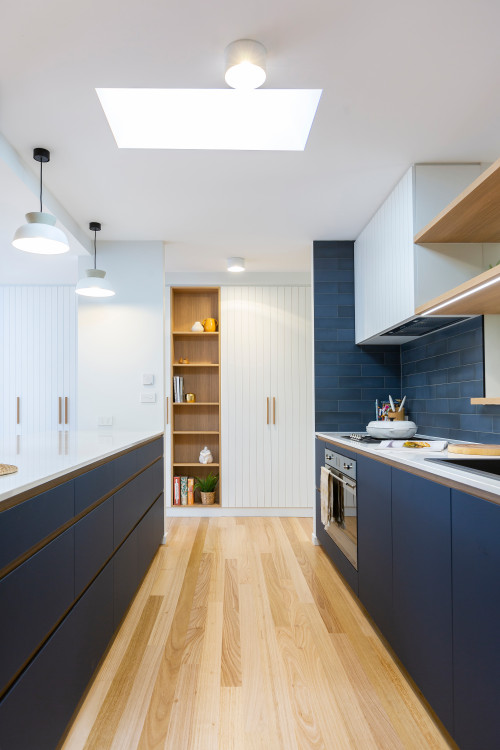 ID# 168613 | Houzz.com – Credit | © Built By Drew
---
Blue Backsplash Ideas for Blue and White Kitchens with Wood Accents
This well-curated modern kitchen comes as a mélange of various materials saturated in a white and blue palette, where you could easily see yourself having a fresh drink in this soothing design. To start with, the blue modern cabinets along with the beaded tall cabinets create lightness for a sense of intimacy. The blue subway tile backsplash brings a subtle feel, supported by white countertops and wood floating shelves.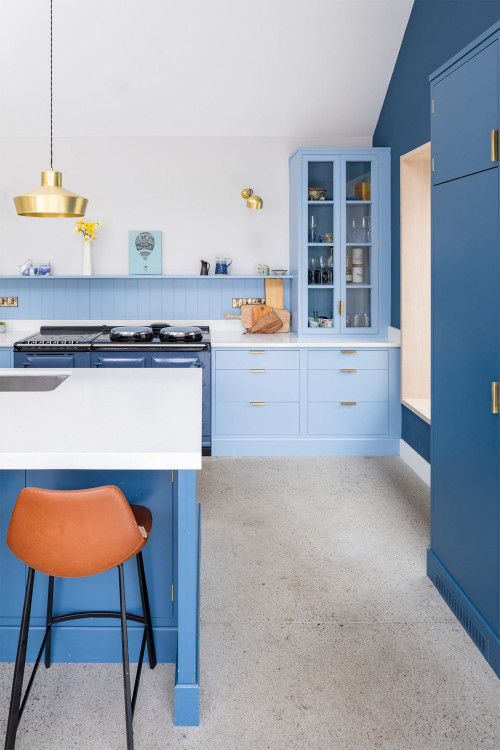 ID# 168614 | Houzz.com – Credit | © Mullan Lighting
---
Modern Farmhouse Kitchen with Blue Shiplap Backsplash
This modern farmhouse kitchen presents a very communicative design that directly draws attention, thanks to its blue color scheme. At the back, the soft shade of blue dominates the kitchen cabinets and the shiplap backsplash. To complement this appeal, designers go with crisp white countertops with a sleek and clean look and use contrasting elements to distribute attention. To achieve this, the dark blue stove and kitchen island are brought in as another strong color, and the gray concrete flooring is given another. Choosing the hardware brass retains the integrity both within the kitchen and the apartment characterized by lovely shades of blue.
Gray Backsplash Ideas for Blue and White Kitchens
If you want to inject a third color into your blue and white kitchen without overwhelming the space, then gray is your color. For a soft transition between colors, gray provides the most neutral shade whether your kitchen features navy blue or powder blue. If you stick to the light shades of gray and use gray marble, for example, it will give you a pleasant, well-balanced, and cohesive look.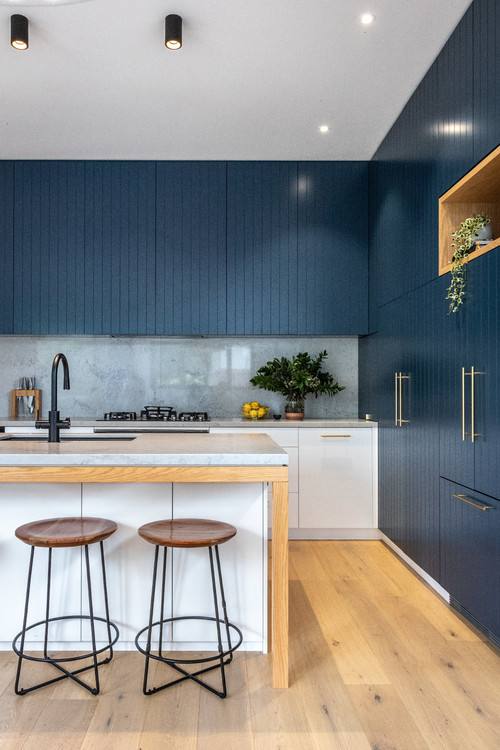 ID# 168617 | Houzz.com – Credit | © Nimmo Nielsen Collective
---
Gray Backsplash Ideas for Blue and White Cabinets
This contemporary kitchen combines white, blue, wood and brass to offer another white-blue kitchen to pull inspiration. In the rear, the gray marble backsplash makes a statement between the two-tone cabinets. Topped with a concrete countertop, the white kitchen island furthers the fresh look of the perimeter counters while brass fixtures tinge them with glow and warmth. The wood flooring lends a visual drama and the backless bistro stools add a fun element to make for an impactful look!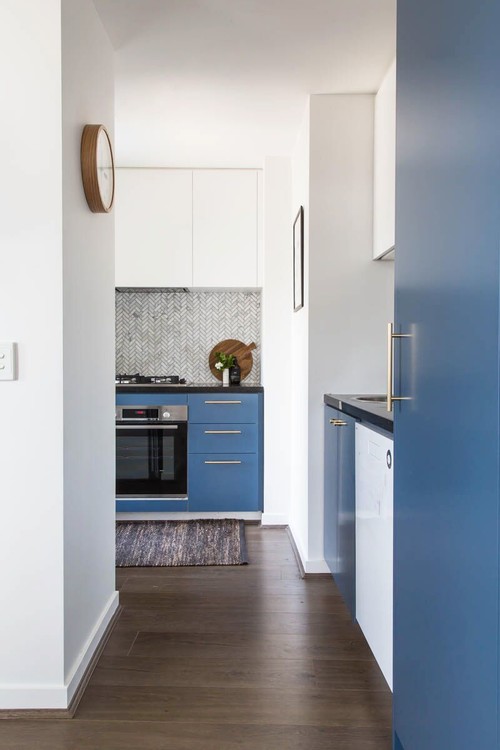 ID# 168618 | Houzz.com – Credit | © The Den Interiors
---
Light Gray Herringbone Backsplash with Stainless Steel Appliances
If you can't decide how to incorporate color into your kitchen, why not try it on perimeter cabinets? Getting a blue cabinet design with brass detailing here brings all you need for a ripple of color, glow and personality. If you want this piece to remain as a statement piece, just keep the rest simple. Here, for example, white upper cabinets and light gray herringbone pattern backsplash with charcoal grout create a neutral background for the base cabinets to feel like a centerpiece!
Tile Materials for Blue and White Kitchens
To accompany the gentle nature of blue and white kitchens, the best materials are marble, ceramics, quartzite and glass. Depending on the impact you aim for, you can choose what suits your interests best. For instance, if you want to shine a light on the material, you can consider glass! But if you aim to give a luxurious finish then go with marble or quartzite slab backsplashes. To complement them, stick to modern fixtures such as glass pendants or modern-rustic elements that will preserve the refined look of the blue-white kitchens.
Marble Backsplash Ideas for Blue and White Kitchens
Coming in tile and panel versions, marble backsplashes offer statement finishes, creating an upscale atmosphere. The best part of the marble is that there are various ways to integrate it into your kitchen. Whether you want to create a continuous design by matching marble countertops with a marble backsplash or enveloping the range hood with marble tiles or a marble slab for a uniform look, each strategy pays off well for a sophisticated atmosphere.
When it comes to blue and white kitchens, white marble backsplashes with slightly bluish veins create a perfect balance with blue-white color palettes. Fish scale, hexagon, and subway tile patterns are commonly used to achieve a stylish, modest, and sophisticated look for blue and white kitchens.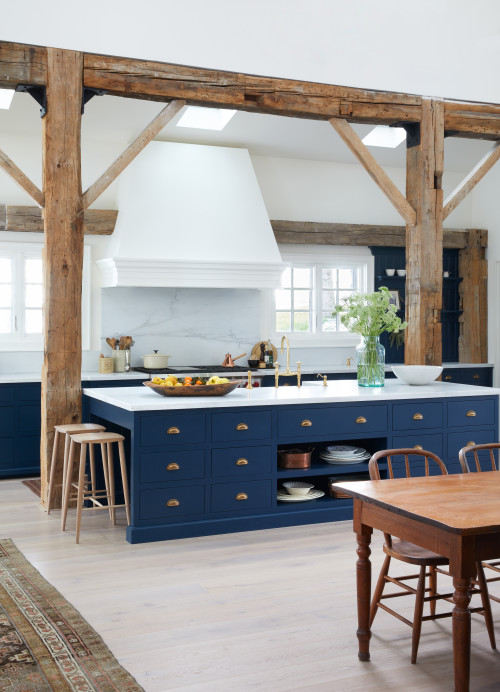 ID# 168619 | Houzz.com – Credit | © Bloomsbury Kitchens and Fine Cabinetry
---
Marble Backsplash for Blue and White Cabinets and Wood Detailing
The aesthetic of this farmhouse kitchen is guided by a marble slab backsplash that offers a statement finish, enveloping the area behind the stove for a sense of integrity. Below, the white and cobalt blue cabinets engage in an interactive dialogue alongside the brass hardware that creates a luminous effect! The design places the naturally exposed wooden beams and columns without causing any clash with the white and blue shades.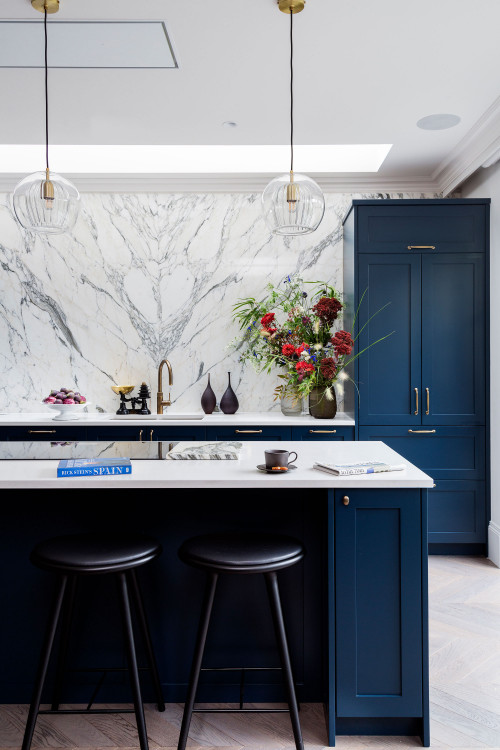 ID# 168620 | Houzz.com – Credit | © Zulufish
---
Statement Backsplash Design with Glass Pendant Lights
This vast transitional kitchen is conceived as a modern space with glamorous elements to create a luxurious appeal! More specifically, the modern and sleek lines are enmeshed with traditional features such as shaker cabinets and brass finish hardware to enhance visual interest. To build a contrast, the eye-catching bookmatched marble backsplash achieves a stylish look with white quartz countertops, while blue gets integrated into the form of kitchen cabinets and an island that brings depth to the space. Lastly, the glass pendant lights and brass accents enliven the space to create warm liveliness and soften the refractive white shades.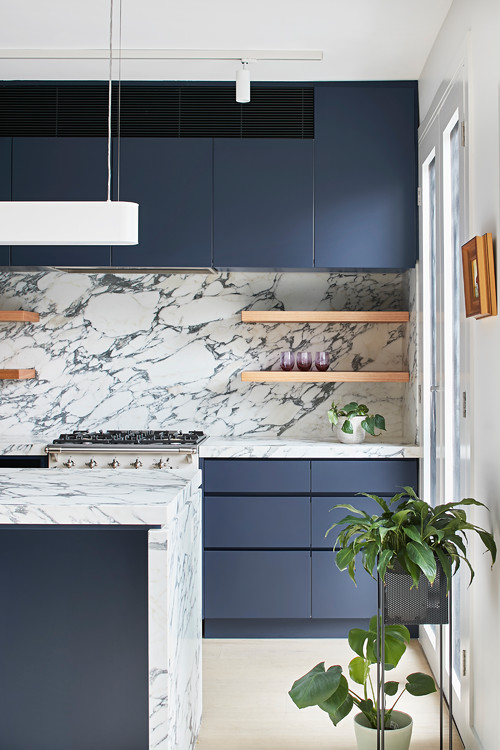 ID# 168621 | Houzz.com – Credit | © Mcmahon and Nerlich
---
Modern Kitchen Cabinets with Marble Slab Backsplash and Countertops
The deep gray veins inside the marble add a touch of refinement and luxury to the white marble countertops and backsplash. Wooden shelves add to the warmth of the space and provide additional storage and display choices for a domestic sense. The tranquil blue cabinetry and mild beige colors of the flooring complement the ageless white marble and its beautiful veins. In this thoughtfully designed kitchen, a perfect combination of colors and textures creates a sense of tranquility and beauty.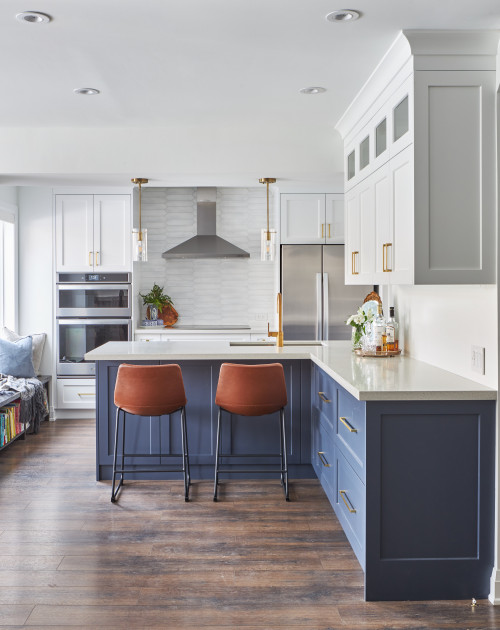 ID# 168622 | Houzz.com – Credit | © Se7en Interiors Inc
---
Marble Picket Tiles with White and Blue Cabinets
This space exudes harmony, from the bright blue Shaker-style cabinetry on the lower half to the white upper cabinets for contrast. A calming ambiance is created by the white counters and backsplash with exquisite white marble picket tiles. Add to that the warm, medium-tone wood floors and the sparkling brass hardware on the cabinets, and you've got a kitchen that's full of emotion. The stainless steel appliances add a touch of contemporary to this pleasant setting.
Ceramic Backsplash Ideas for Blue and White Kitchens
The most popular backsplashes are without a doubt ceramics that come in a wide range of patterns, formats, and color options. As such, highly customizable ceramics give you full access to design flexibility. Ranging from printed ceramics to the subway and geometric patterns, ceramic tiles present many different looks. As for blue and white kitchens, there are so many printed tiles in blue and white shades. If you love a vintage look and pattern-rich backsplashes, you can give a chance to white-blue printed ceramic backsplashes for harmonious integrity.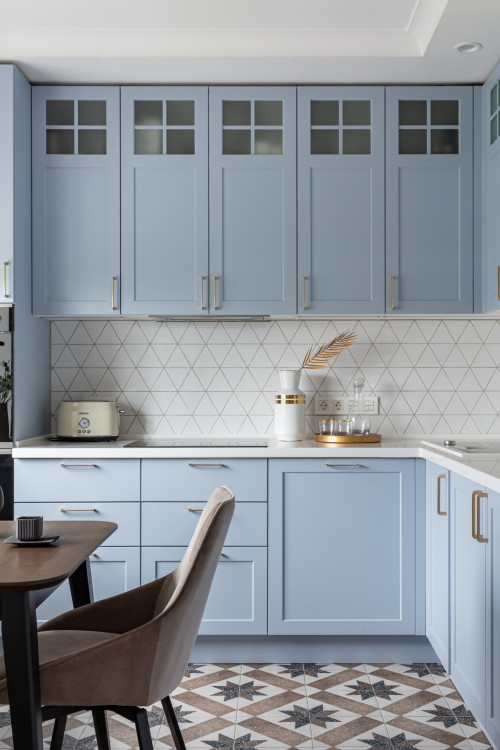 ID# 168623 | Houzz.com – Credit | © Миксон — мебель на заказ
---
Wet Bar with Blue Floating Shelves And Blue Cabinets
Awash with blue and white colors, this well-designed kitchen feels very cohesive as each material and hue comes in pairs. The blue cabinets perfectly blend with the white ceramic tiles and quartz countertop. Also incorporating eye-catching patterned floor tiles creates a visually appealing design.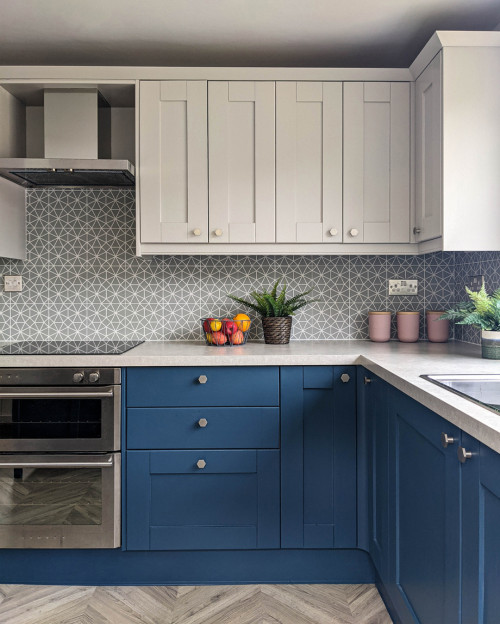 ID# 168624 | Houzz.com – Credit | © No Space Like Home
---
Ceramic Printed Backsplash Ideas for Blue and White Cabinets and Quartzite Countertops
In this beach-style kitchen, the printed backsplash tiles create a pattern-rich background with vintage vibes, emanating a sense of coziness. To accompany the upper white cabinets, the blue base cabinets inject a healthy dose of color in resonance with the ceramic backsplash tiles. The quartzite countertops with gentle bluish veins bring an upscale finish to coordinate with the present blue shades of the overarching narrative. In sum, posing as a collage of forms, patterns, and light shades, this kitchen executes a stylish look and a serene atmosphere, providing restful repose after a long working day.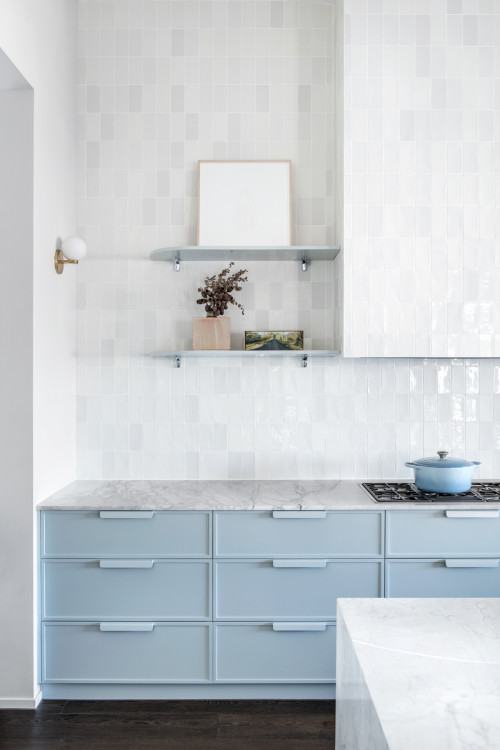 ID# 168625 | Houzz.com – Credit | © Room By Room
---
Modern Blue and White Kitchen Design with Glazed Ceramic Tiles
White tiles are always a good choice to create a bright and spacious atmosphere but if it is not enough for you, consider glazed tiles that offer a glossy surface that can reflect the natural light and enhance the lightness of the room. In this modern kitchen, for example, the white-glazed tile backsplash reaches the ceiling and provides a clean and sleek backdrop!! The plain design of the floating shelves complements the backsplash tiles without disrupting the unified appeal. For the base, the baby blue kitchen cabinets are enriched by a marble countertop that adds a sense of luxury.
How do you pick a good backsplash?
A backsplash is one of the key elements of the kitchen design as it is at eye level and the first thing you directly see as you enter the kitchen. Secondly, it provides a backdrop for other elements to settle in and helps a smooth transition between the upper and base cabinets, particularly in kitchens with two-tone cabinetry. Given how essential it is to choose a good backsplash you have to keep in mind certain things when choosing one:
What is the style of your kitchen?
Backsplash colors, patterns, and materials are the main defining features of a backsplash aesthetic. When choosing what is better for your kitchen, just focus on what kind of look you aim for. Rustic, contemporary, modern, traditional, beach-style, or transitional? Decide on the patterns and colors, accordingly, which will define the outlook of your kitchen.
Benefit from Pops of Color
Feel free to mismatch. Especially if you have a contemporary kitchen, don't hesitate to add pops of colors that will bring a new dynamic to the space. In retro styles, for example, you can use variously colored square tile backsplashes to make a statement.
Pay Attention to the Tile Format
The format of the tiles is another thing to consider. Larger tiles seem to have taken the place of the mosaics and are recommended more as they make the space feel larger, working as a visually expanding factor with unbroken lines. If you want a modern kitchen, larger tiles, again, serve the space better, whereas small tiles are more popular in traditional kitchens.
Go Green
You can consider eco-friendly materials such as recycled glass tile and bamboo backsplashes. This way, you can make a statement and reduce the burden on nature, minimizing the carbon footprint of your kitchen.
Choose Your Material Wisely
Another thing to consider is how often you can clean and seal your backsplash. As each material has different nature and requires various care routines, it is an important detail to keep in mind. If you are looking for a material with low maintenance, porcelain, and ceramic tiles are your best options. Also, you may want to stay away from stacked stone backsplashes.
Matte or glazed finish?
Matte or glazed/gloss finishes are another defining feature of the backsplashes. If you have a small and enclosed kitchen and need to open up the space, a glazed finish can do that for you. It also provides easy-to-clean surfaces but is more prone to show stains of water and dirt. Matte or honed and tumbled finishes, on the other hand, give a natural look, hiding stains better. But matte tiles are not as easy to clean as glazed ones. In other words, the finish styles play with how backsplashes function and determine their nature, which might affect your decision-making process.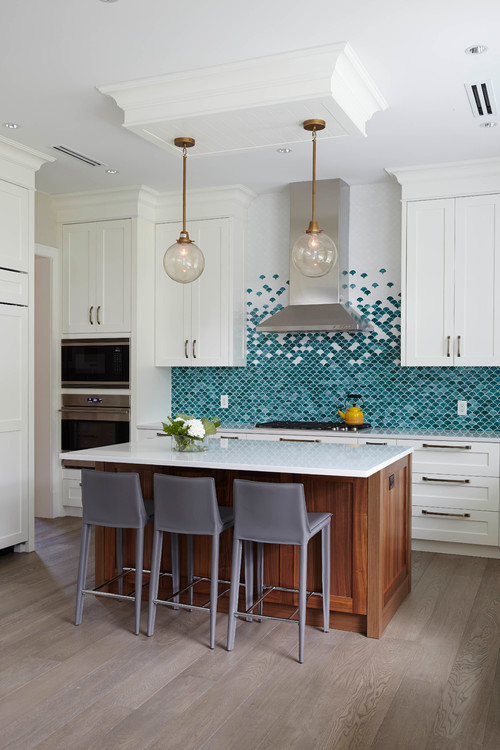 ID# 168626 | Houzz.com – Credit | © MaK Interiors
---
White Cabinets with Wood Island and Brass Hardware
Enriched with a unique backsplash design, this transitional kitchen exudes an elegant appeal that will be a conversation piece for many years! The blue fish scale tile backsplash is the first thing that draws attention and creates a striking focal point. The plain and naïve design of the white shaker cabinets allows the backsplash to be the star of the design while the quartz countertops complement the bright look of the cabinetry. The wooden kitchen island topped with white countertops, sits at the center of the room and enhances the warmth.
Glass Backsplash Ideas for Blue and White Kitchens
As eco-friendly materials, glass backsplashes are one of the greatest materials for blue and white kitchens. Especially if you want to create a coastal look, there is nothing better than a shimmering glass backsplash that comes in blue and white shades. But if you want to go for a timeless look, you can consider light blue and white ceramic subway tile backsplashes.
Apart from these two, glass penny round mosaic, KitKat, and picket tile hexagon tiles give a modern appeal and create texture-rich backgrounds. Also, if you want to go green and create a sustainable design, recycled glass tile backsplashes will not only minimize the carbon footprint of your kitchen but also create a unique backdrop.
Yet above all, what differentiates glass tiles from many other materials is their non-porous and easy-to-clean nature, not to mention their durability and resistance to moisture and heat.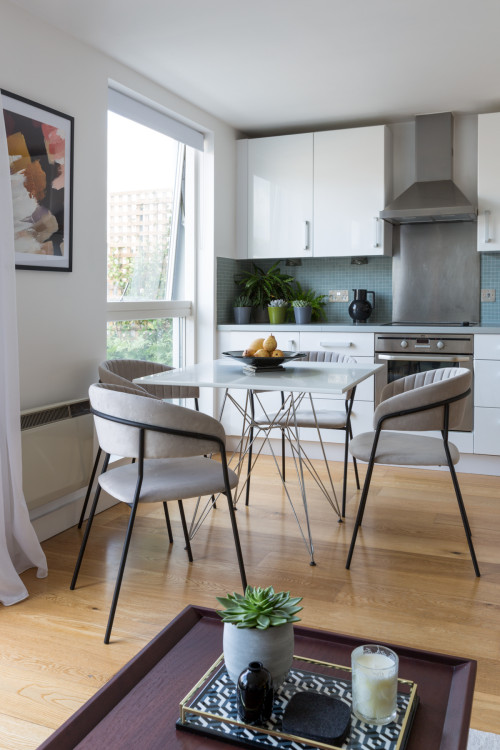 ID# 168627 | Houzz.com – Credit | © Cigal Kaplan Interiors
---
Glass Backsplash Ideas for Blue and White Kitchens and White Hardware
Glass backsplashes have a unique charm of their own, coming with a glittering effect and adding movement to the wall! Here, for instance, surrounded by white cabinets, the blue glass backsplash creates a soft and optimistic background, perfectly coordinated with the gray countertops. The gentle spirit of the materials and patterns works harmoniously to create a sanctuary of sorts that feels complete with the wood flooring.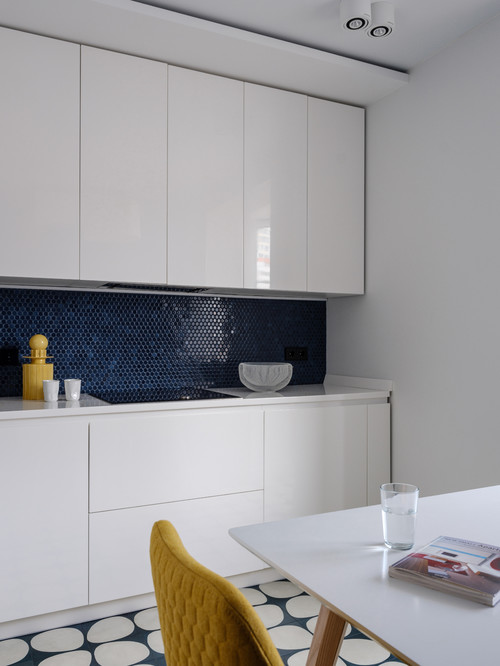 ID# 168628 | Houzz.com – Credit | © Анастасия Туганова и Ярослав Ряжский | Студия 25
---
Blue Glass Penny Tile Backsplash with Modern White Cabinetry
The accentuated geometric features of the cabinets, as shown here in the white flat-front cupboards, are the nicest part of contemporary kitchens! The contemporary cabinets which are used to define both the top half and bottom level, give a streamlined design that is offset by a blue backsplash to keep the kitchen from being harsh or sterile. Blue glass penny mosaic tiles on the backsplash give a dash of color while also creating visual drama and a tactile surface.
Should backsplash be lighter than cabinets?
A backsplash could be lighter or darker than the cabinets. It is all dependent on personal preferences. Many kitchen designs combine dark gray, black and masculine mustard backsplashes with white cabinets. Unlike what is generally assumed, dark backsplashes add depth to the walls, playing with the scale and proportion.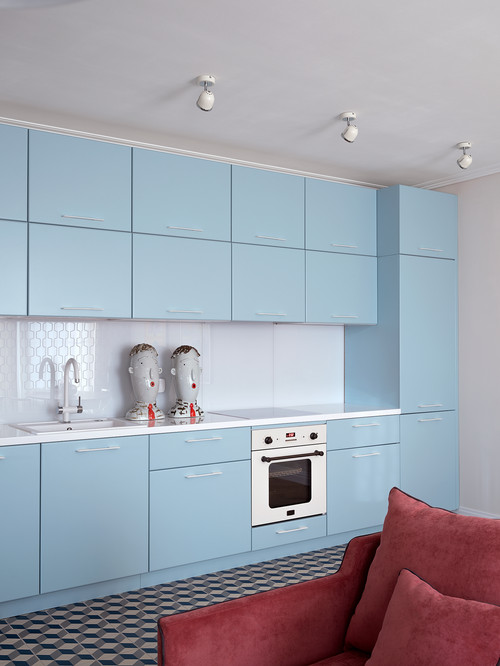 ID# 168629 | Houzz.com – Credit | © propertylab+art
---
White Glass Sheet Backsplash for Blue Cabinets and White Hardware
In this super-chic and modern kitchen, the white glass sheet backsplash creates a clean and seamless look while complementing the lovely blue shade of the cabinetry. The rest of the kitchen communicates with the backsplash through white countertops and white hardware that delivers a sense of freshness to the space. The multicolored floor tiles contrast with the clean and smooth surfaces of the other features to bring visual interest.