33+ Backsplash for Shaker Cabinets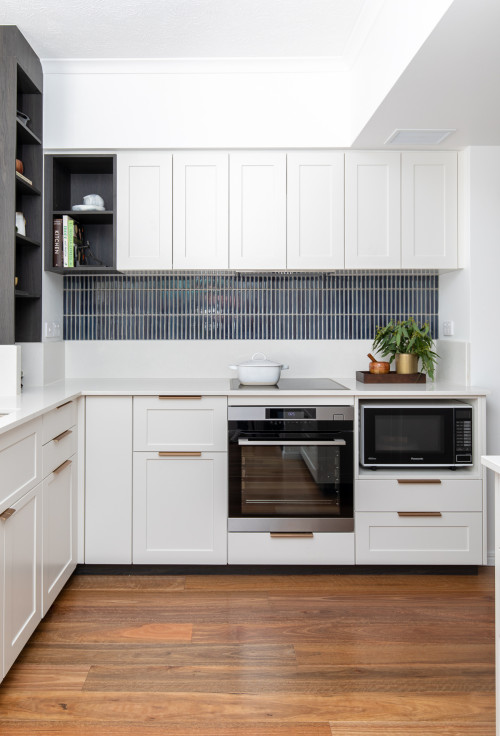 ID# 152816 | Houzz.com – Credit | © Designtank
---
Blue Kit Kat Tile Backsplash for Shaker Cabinets and Gold Accents
In this transitional kitchen, the white shaker cabinets present a clean-lined profile, and even the overhead units are kept hardware-free for a more contemporary look. The blue kit kat tiles create a sophisticated background, though lining only the top half of the backsplash area. The other part is clad in a white quartz backsplash that extends on the countertop for a seamless look. These blue kit kat tiles are also brought into dialogue with the blue cabinet shelves. The gold cabinet pulls and engineered wood flooring complement the white cabinets, finalizing the look with a sense of warmth.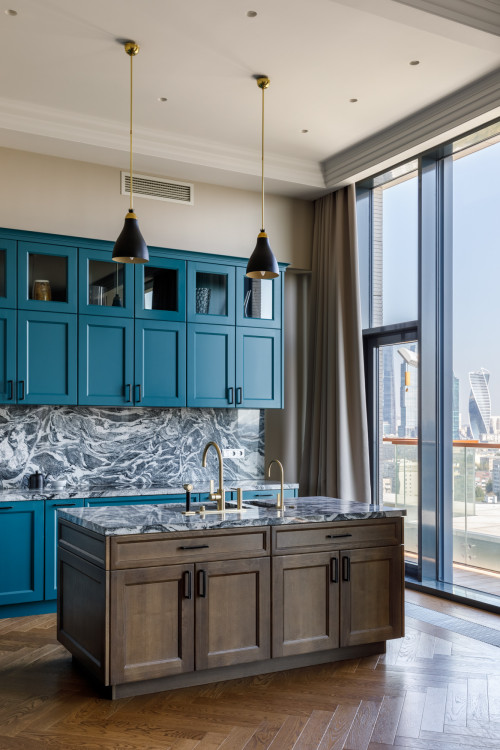 ID# 152826 | Houzz.com – Credit | © Ирина Крашенинникова
---
Blue Marble Backsplash for Shaker Cabinets and Wood Island
Blessed with high ceilings and full-height glass windows, the outdoors feel as if they are a natural extension of this kitchen, which makes it more alluring. And inside the kitchen, what awaits its users is a stunning blue marble backsplash that features a jaw-dropping beauty. Used on the countertops and the island, it creates a continuous look. The vibrant blue shaker cabinets take this kitchen's energic look to the next level. By contrast, the solid dark wood island with grayish undertones brings calmness to downplay the blue cabinets.
Backsplash for Shaker Cabinets
Adjustable to any design, shaker cabinets are still part of our lives, taking their place even in contemporary designs. Sometimes kept hardware-free and sometimes featuring oversized cabinet handles, they are one of the main bones of our kitchens. And designing with them is relatively easier since they suit any design and any look. Thus, when choosing a backsplash for shaker cabinets, there are a plethora of ways to make a combination.
If you are looking for a backsplash for shaker cabinets, ahead are over 30 designs with shaker cabinets. This list showcases backsplashes ranging from subway tiles to marble slabs, quartz backsplashes, and colorful mermaid tiles. Keep reading to fire up your imagination to find a new backsplash idea for shaker cabinets.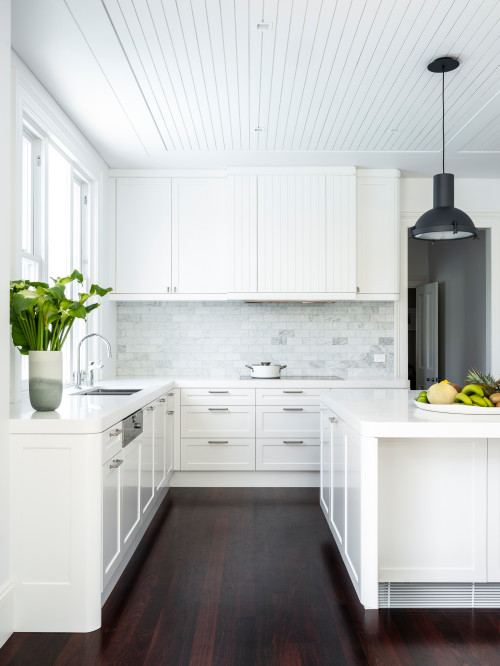 ID# 152801 | Houzz.com – Credit | © Galina Goliney
---
White Marble Subway Tile Backsplash for Shaker Cabinets and Shiplap Ceiling
Though achromatic, this contemporary kitchen makes itself stand out with tiny and well-executed details. For example, the curved edges of overhead corner cabinets add soft features. The beadboard front panels of these units also match the shiplap ceiling to create a continuous look, retaining visual integrity. The soft gentle veining on the marble subway tiles in the background makes a visual statement. And the dark wood floor finish anchors this visually lightweight kitchen design.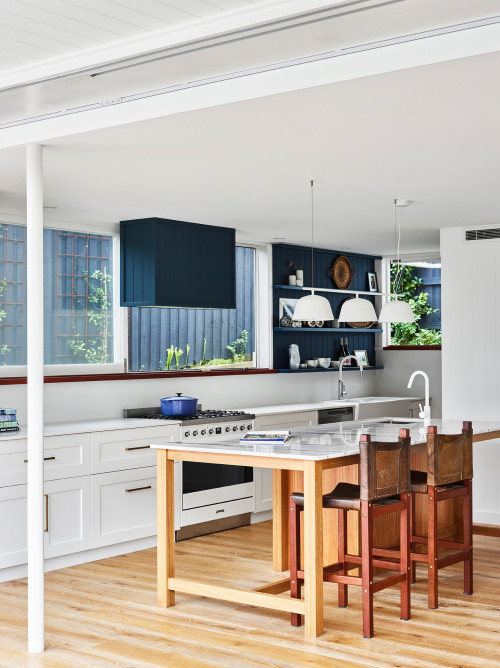 ID# 152802 | Houzz.com – Credit | © Shane Marsh Architects
---
White Cabinets with Blue Beadboard Backsplash and Wood Island
Opening onto a patio, this vast contemporary kitchen is light-filled and mainly characterized by white shaker cabinets. A white quartz backsplash and countertops blend seamlessly with these cabinets, acting as a singular body. Above, the blue-washed beadboard panels with light blue floating shelves bring a splash of color that switches the action mode of the kitchen on. Likewise, the V-groove range hood fixture coordinates with the other blue features. The wood island and dining table with wood stools add warming wood shades to make the design more handsome.
What backsplash goes with white shaker cabinets?
From metal backsplashes to ceramic subway tiles, marble slabs, geometric tile backsplashes, and glass tiles, a wide range of backsplash options goes with white shaker cabinets. What you need to do, first, is to decide on the look you aim for. Since white shaker cabinets are adjustable to any design, first decide with which look your kitchen should align itself. For example, if you want something more classic and luxe, you can go with a marble slab backsplash. For a more modern and sleeker backdrop, you can consider glass tiles and geometric tile backsplashes.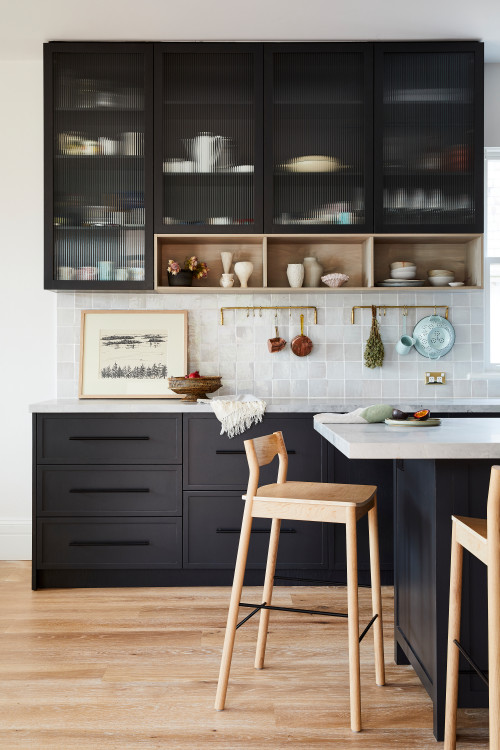 ID# 152803 | Houzz.com – Credit | © Blue Tea Kitchens and Bathrooms
---
Mid-Century Modern Kitchen with Fluted Glass Cabinets and Square Tile Backsplash
This mid-century modern kitchen design boasts fluted glass cabinets, a white square tile backsplash, and black shaker cabinets. While the beautiful glassware shares its silhouette behind the fluted glass, the white countertops portray a contrast with the cabinets. Complementing them is a sense of warmth introduced by the brass accents and wood cabinet shelves. Coming in the form of wall-mounted rails, these brass accents keep the most needed kitchen utensils within arm's reach in a utilitarian mindset. As for the wood cabinet shelves, they bring texture, stimulating the senses of kitchen users and oozing warmth.
Backsplash Color Options for Shaker Cabinets
While white, gray, and black are the most popular color options, blue, beige, and green follow these neutral shades. Feel free to use different saturations of these colors, depending on the mood you want to evoke. Below we share a wide range of backsplash designs for shaker cabinets. Just take a closer look at them to get a better idea.
White Backsplash for Shaker Cabinets
White ceramic subway tiles, glass tiles, and quartz or marble slabs are sought-after backsplash materials for shaker cabinets. They encourage the space to feel larger and brighter. And if you want to avoid grout cleaning, just go with quartz slabs. Unlike natural stones, they don't require any sealing.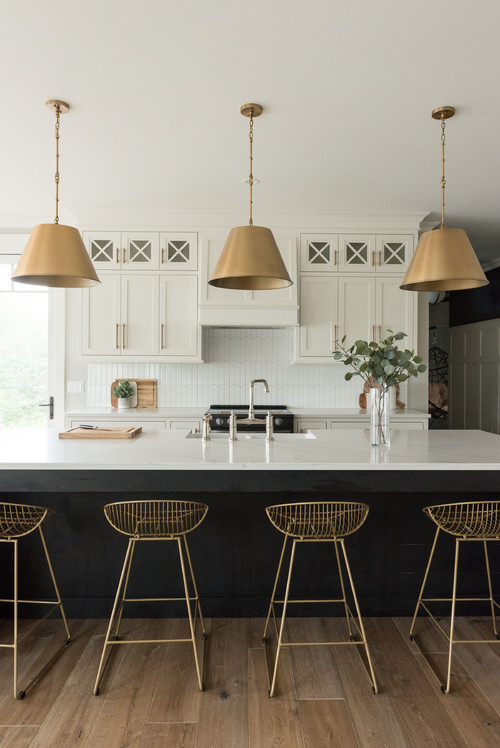 ID# 152804 | Houzz.com – Credit | © Refined Cabinets Inc.
---
White Backsplash for Shaker Cabinets and Black Island
This transitional kitchen makes a statement with its black island that brings contrast to the perimeter counters and whose hefty countertop provides ample food preparation zone. The brass wire stools and oversized brass lighting fixtures overhanging the island turn this island unit into a true focal point. And what peeks out behind it is white shaker cabinets with yellow undertones and X-detailed top units, giving the kitchen a farmhouse spin. By contrast, the white ceramic subway tile backsplash is stacked vertically to bring a contemporary edge to the kitchen.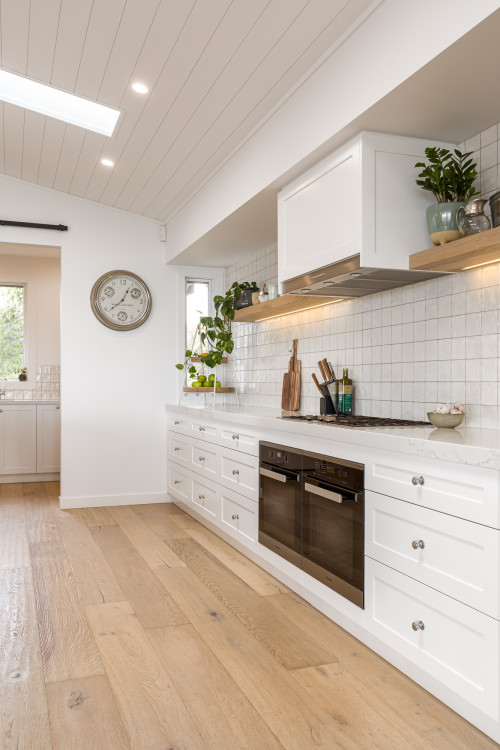 ID# 152805 | Houzz.com – Credit | © Roger Thompson
---
Spacious Kitchen with Shiplap Ceiling and Oak Floor
This spacious rustic kitchen is nestled under a whitewashed shiplap ceiling, spanning a vast space. It is outfitted with white shaker cabinets, a wood linear floating shelf, and white countertops. The LED-strip lighting inserted into the cantilevered shelf provides accent and task lighting for the white square tile backsplash. The range hood hidden inside a cabinet keeps the design clutter free, along with the sleek built-in appliances. The oak floor adds a rustic flair to finalize the kitchen aesthetic without compromising the modern style of the room.
Should the backsplash be lighter or darker than the cabinets?
When designing a kitchen, a healthy combination of dark and light shades is required to provide an efficient working space. And to achieve that, well-planned color coordination among the main bones of the kitchen- countertops, cabinets, and backsplashes- is necessary. If, for example, your kitchen has light cabinets, you may want to go with a darker backsplash. It, in turn, adds depth and dimension to the background. Or you may want your cabinets to anchor your backsplash, then it is better to keep cabinets darker.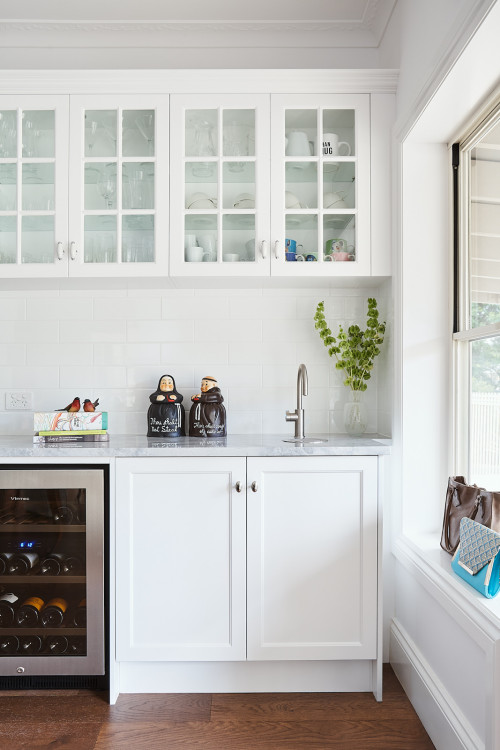 ID# 152806 | Houzz.com – Credit | © Ivy + Piper Pty Ltd
---
Monochromatic Kitchen with Subway Tile Backsplash and Glass Front Cabinets
This traditional kitchen plays safe, building its design on timeless patterns such as subway tiles and a monochromatic palette, an all-white look. The white grout between the metro tiles gives the background a fresh and retro feel. Likewise, the white shaker cabinets bring a classical finish. Overhead, the glass-front cabinets expose the eye-catching glassware, making the design more intriguing. The engineered wood floor finish brings the right amount of warmth to break up the monochromatic palette. And a beverage cooler enriches the kitchen's repertoire, adding a luxurious detail.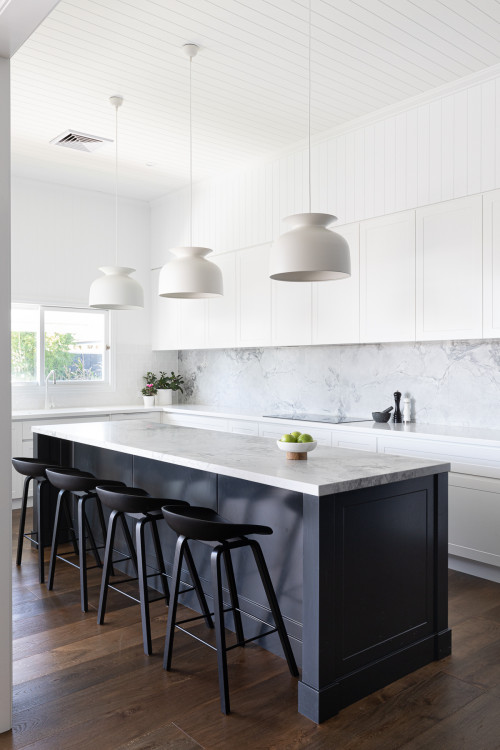 ID# 152807 | Houzz.com – Credit | © Bella Vie Interiors
---
Marble Slab Backsplash with Black Island and Shiplap Ceiling
Designed to serve a family with three active children, this kitchen fulfills the expectations of a kitchen as a workhorse. For example, it goes with durable materials such as marble for a backsplash and white shaker cabinets for a timeless feel. Used in a slab form, the seamless backsplash makes for a practical design, saving home cooks from cleaning grout joints. And the shaker cabinets come hardware-free to provide a sleeker profile to keep the kitchen in line with contemporary designs. Accompanying them is a black island kept big enough to accommodate four people while creating a social hub. The wood floor injects warmth and texture underfoot, which is again a strategic decision. The kitchen also receives enough sunlight for the wellness of kitchen users. And the white color scheme along with the white-washed shiplap ceiling expands the impact of natural light, making it perfect for a family kitchen.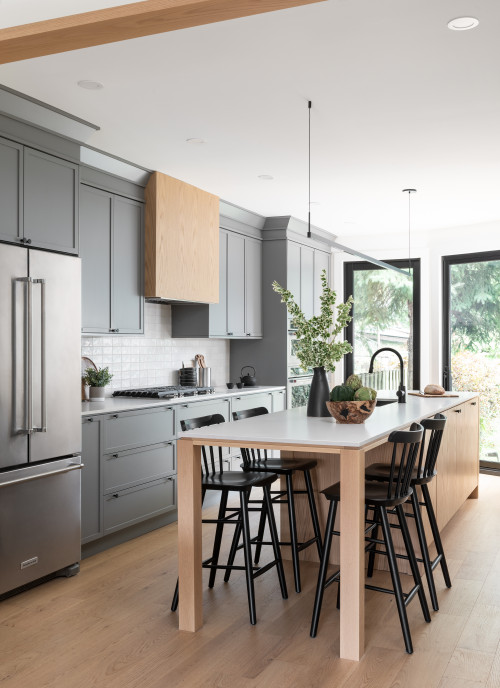 ID# 152808 | Houzz.com – Credit | © D Lesley Brookes Design
---
Gray Cabinets and Wood Island with White Backsplash
Opening toward a garden view and graced with plenty of sunlight, this transitional kitchen ensures everything sits in harmony. The gray shaker cabinets and wood island ensure there is enough color and warmth. The white countertops and a square tile backsplash further the openness of the kitchen. And the galley-style layout enjoys smooth human traffic, while the multi-functional island offers ample storage and a dining area.
Gray Backsplash for Shaker Cabinets
Gray marble slabs, gray geometric tiles, and gray subway tiles are some of the most popular gray backsplashes for shaker cabinets. Depending on the material, they may create different impacts on the kitchen. Though gray backsplashes are generally considered to bring a gloomy and edgy ambiance, when they are combined with warm shades, they can also make the design look cozy and homey.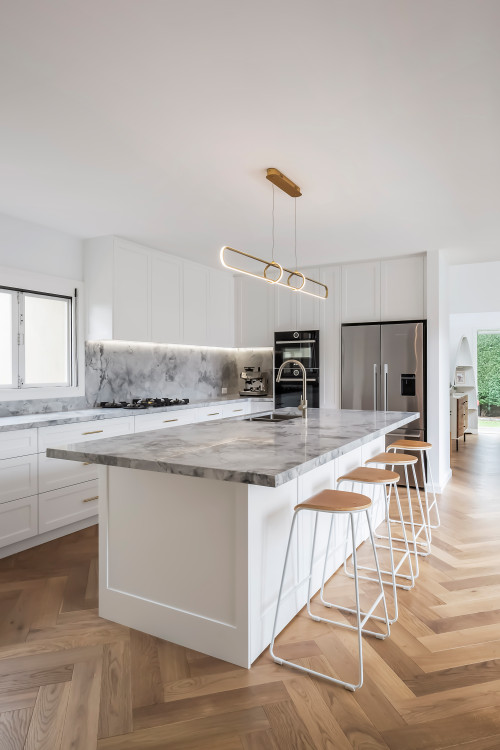 ID# 152809 | Houzz.com – Credit | © Northern Beaches Kitchens and Bathrooms
---
Gray Marble Backsplash for Shaker Cabinets and Linear Lighting Fixture
This beach-style open-plan kitchen makes its backsplash to be a true showstopper. Elegant and sophisticated, this marble slab backsplash continues on the countertops and kitchen island as well. Used to tie the two different arms of cabinetry together, it also ensures visual integrity. The white shaker cabinets create a blank canvas for the marble to do all speaking. The sleek appliances, gold hardware on shaker drawers, and the linear lighting fixture round up the overall kitchen aesthetic. The herringbone wood flooring delivers warmth with modern bar stools.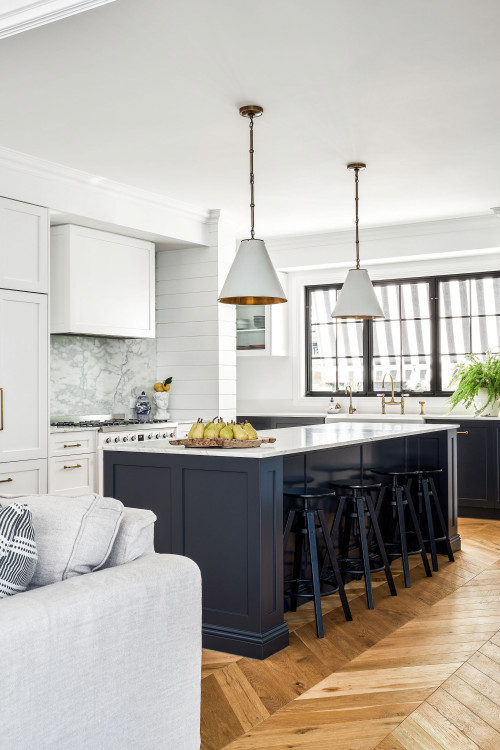 ID# 152810 | Houzz.com – Credit | © Intrim Group Pty Ltd
---
Marble Backsplash with Black Island and White Cabinets
When every inch of a kitchen is designed with a purpose, it just shows. And this country kitchen is one of them, speaking volumes of luxury and proposing a very purposeful look. Bridging old and new; farmhouse and modern, here, it offers a restful repose. The bold veins on the marble find resonance in the black island that brings a dramatic piece of furniture. The white farmhouse sink with a gold bridge faucet brings warmth and further stylizes the kitchen. The chevron wood flooring runs across the room to pull this open floor plan together. And by just merely looking at the couch, we can say that the kitchen is designed to match the lounge and vice versa.
Should the backsplash be the same color as the cabinets?
A backsplash could be the same color as the cabinets or even feature a contrasting shade or a vibrant hue. It rather depends on the look homeowners aim for. Yet all they need to pay attention to specifically is that the kitchen is lit enough and offers an efficient working space.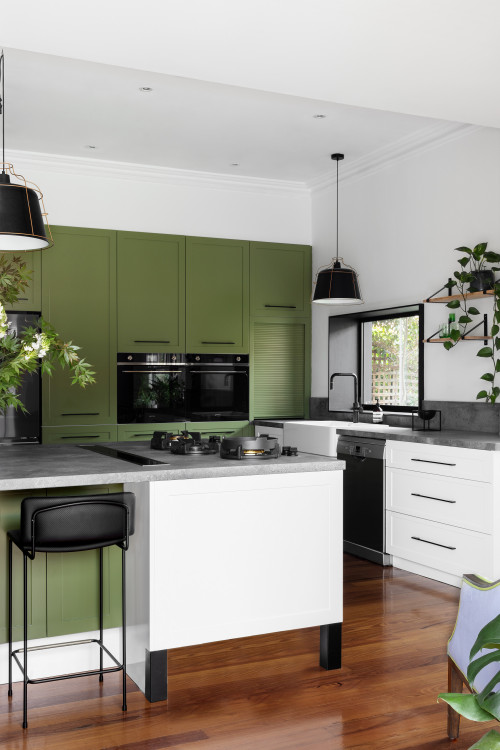 ID# 152811 | Houzz.com – Credit | © Peter Schaad Design Studio
---
Green Cabinets and Gray Backsplash with Gray Countertops
This kitchen goes with a standard 4 inch gray marble backsplash that extends on the countertop. It is accompanied by a combination of gray and white shaker cabinets. In other words, it is guaranteed natural colors and brightness in this kitchen. The timber floating shelves and kitchen plants bring biophilic design elements, making the design more relaxing and peaceful. Even though the 4 inch backsplashes are outdated, this design shows that you can transform a dated element into a stylish detail!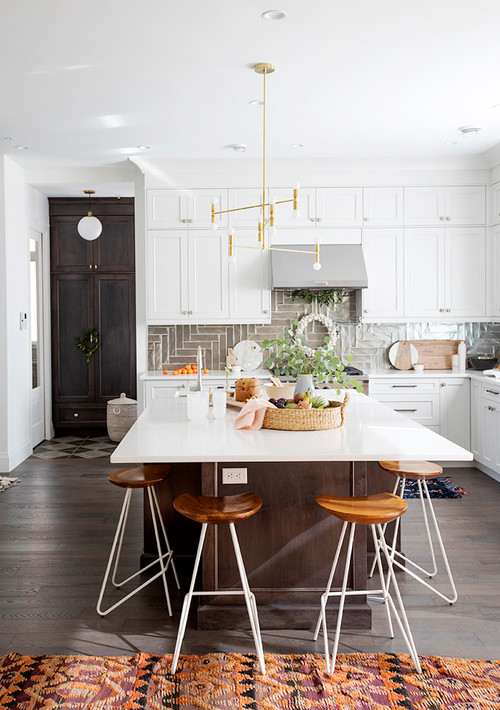 ID# 152812 | Houzz.com – Credit | © PURE Design Inc.
---
Gray Herringbone Tile Backsplash for Shaker Cabinets and Colorful Runner
Transitional kitchens love geometric backsplashes, and this one is no exception. Employing a gray herringbone tile backsplash between white shaker cabinets, it makes a visual statement. The wood kitchen island brings a traditional feel and instant warmth, which is modernized with orange backless stools. Likewise, a colorful, geometric-patterned runner brings a bohemian feel, taking the design to the next level. And a yellow gold sputnik-inspired lighting fixture overhangs the island, adding extra charm to the design.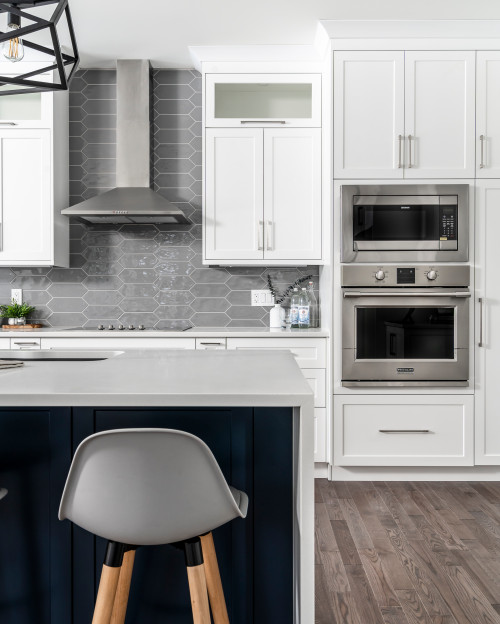 ID# 152813 | Houzz.com – Credit | © YourStyle Kitchens Ltd
---
Gray Picket Tile Backsplash and White Shaker Cabinets with White Countertops
To make a backsplash pop, choose an eye-catching pattern and use its large formats – as showcased by this transitional kitchen. Here, the gray picket tile backsplash stacked horizontally reaches up the ceiling to achieve a full impact. Its gloss finish further dramatizes them without feeling over the top. The white shaker cabinets frame it on all sides with white cabinets to keep it as the centerpiece of the room.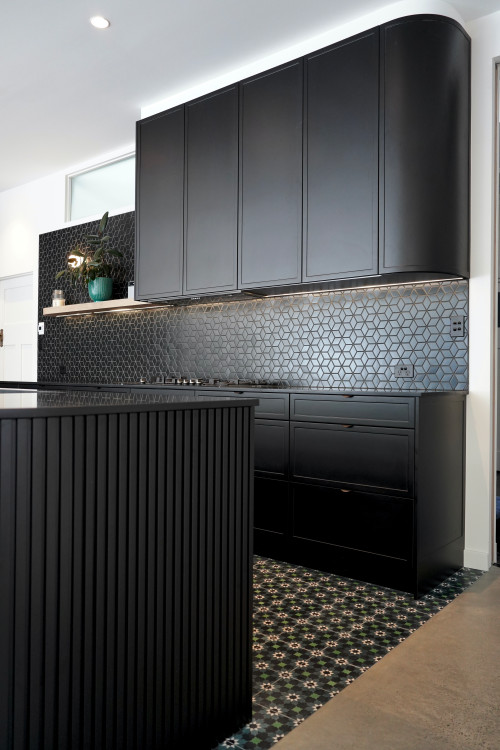 ID# 152814 | Houzz.com – Credit | © Kitchens by Emanuel
---
Black Backsplash for Shaker Cabinets and Black Cabinets
Dressed in black from top to toe, this open-plan contemporary kitchen distinguishes itself from the rest of the room. From the black flat-front cabinets to the black countertops, everything feels seamless. The black Escher tile backsplash incorporates geometric forms, and the curved kitchen island deepens the artistic mood of the space. The black floral pattern floor tiles zone the kitchen, separating it from the parquet-coated lounge area. The under-cabinet LED-strip lighting, wall sconces, and flush mounts provide the kitchen with a good lighting system. Diffusing warm and cool lights, these lighting fixtures ensure the kitchen has enough depth and dimension.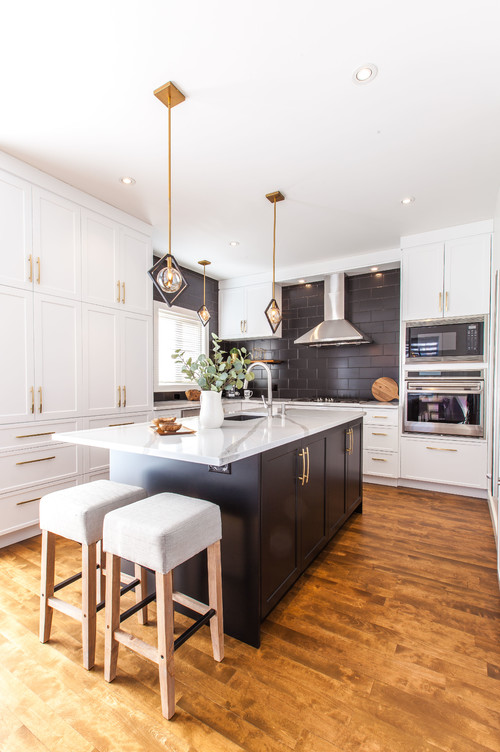 ID# 152815 | Houzz.com – Credit | © KaBé Design
---
Black Subway Tile Backsplash with White Shaker Cabinets and Gold Accents
This transitional kitchen integrates a black island and a black subway tile backsplash to achieve a two-toned effect with white shaker units. Consisting of larger formats of subway tiles, the black tile backsplash also extends up the ceiling, owning the room, so to speak. The gold cabinet hardware, intriguing lighting fixtures, and warm wood flooring round up the overall design aesthetic by bringing warmth and a touch of glam.
Blue Backsplash for Shaker Cabinets
Looking for a sense of serenity? A light blue backsplash is a route to go. However, if you love more dramatic looks, give a chance to dark blue backsplashes. And get them in kit kat tiles to make the design more sophisticated. If you have black shaker cabinets, you can even use black grout between the blue backsplash tiles to retain integrity.
Backsplash for Different Colored Shaker Cabinets
White and gray backsplashes are always a fail-safe option whatever the color is on your shaker cabinets. If you have dark cabinets, then it would be better to pick a light color for the backsplash to achieve balance. And for light shaker cabinets, consider colorful backsplashes to jazz up the look. Or you can also create a white-on-white scheme that is calm and slows the passage of time.
Backsplash for White Shaker Cabinets
While white-on-white designs are still popular, contrasting and colorful backsplash options are also considerable for white shaker cabinets. Depending on the mood you want to achieve, you can choose your backsplash accordingly. For example, for a beach-style kitchen, give a chance to a blue glass subway tile backsplash. Or for a bohemian or eclectic kitchen, match your white shaker units to a yellow square tile backsplash. And you can always add more interest to a kitchen with white shaker cabinets with shelves, glass-front units, and plants.
Backsplash for Dark Shaker Cabinets
To balance out dark shaker cabinets available in dark wood, dark blue, brown, and gray shades, consider light-colored backsplashes. If you wish, you can treat them with a gloss finish to further brighten up the interior. Or just go with glass tiles or glass sheets that already come with a beautiful sheen. To support these light-colored backsplashes, add metallic accents and use golden or chrome fixtures. Or to soften the design, you can add kitchen plants and integrate wood accents.
What is trending backsplash 2023?
From bold patterns to colorful tiles, organic forms, textured splash-backs, and ceiling-height natural stone slabs, trending backsplashes in 2023 have something for everybody's taste. If you can't give up on the classic looks of marble slabs or ceramic and porcelain tiles, they are popular this year too. Additionally, glossy tiles and geometric backsplashes await to energize kitchens, add movement, and capture light.
Backsplash for Light Shaker Cabinets
Coming in muted shades of pink, green, blue, yellow, and many more, light shaker cabinets create a design that grows akin to a dreamland. Why not create your own? Pick one of your favorite colors and paint your shakers to remodel your kitchen. You can go with colorful backsplashes as well. Mermaid tiles, hexagons, subway tiles, or patterned backsplashes can liven up the interior. Or to bring a calm design, light cream backsplashes or marble slabs offer great options to choose from.