15+ Floral Kitchen Backsplash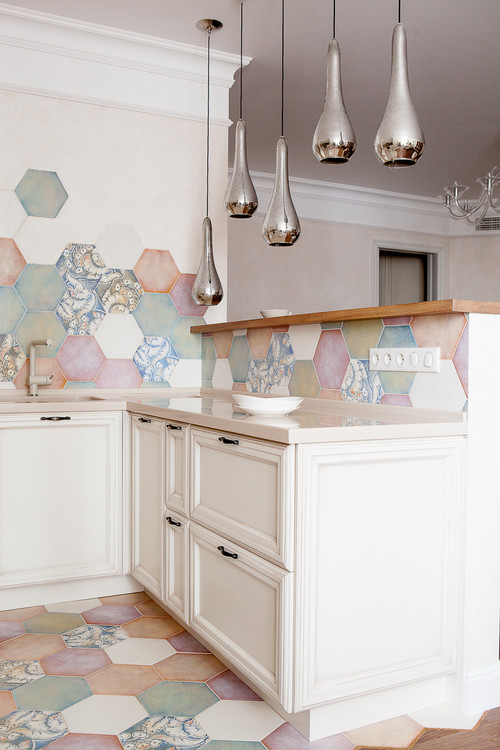 ID# 172304 | Houzz.com – Credit | © Дизайн — бюро Екатерины Колеговой Ecole
---
Floral-patterned Hexagon Tiles with Off-white Cabinets and Metallic Pendants
The gorgeous colors and floral patterns of the hexagon backsplash tiles stand out between the off-white cabinets while the beige countertops and the oil-rubbed bronze hardware perfectly complete the traditional aesthetic of the cabinetry. The flooring in the kitchen is also composed of the same vivid tiles to retain a unified appearance!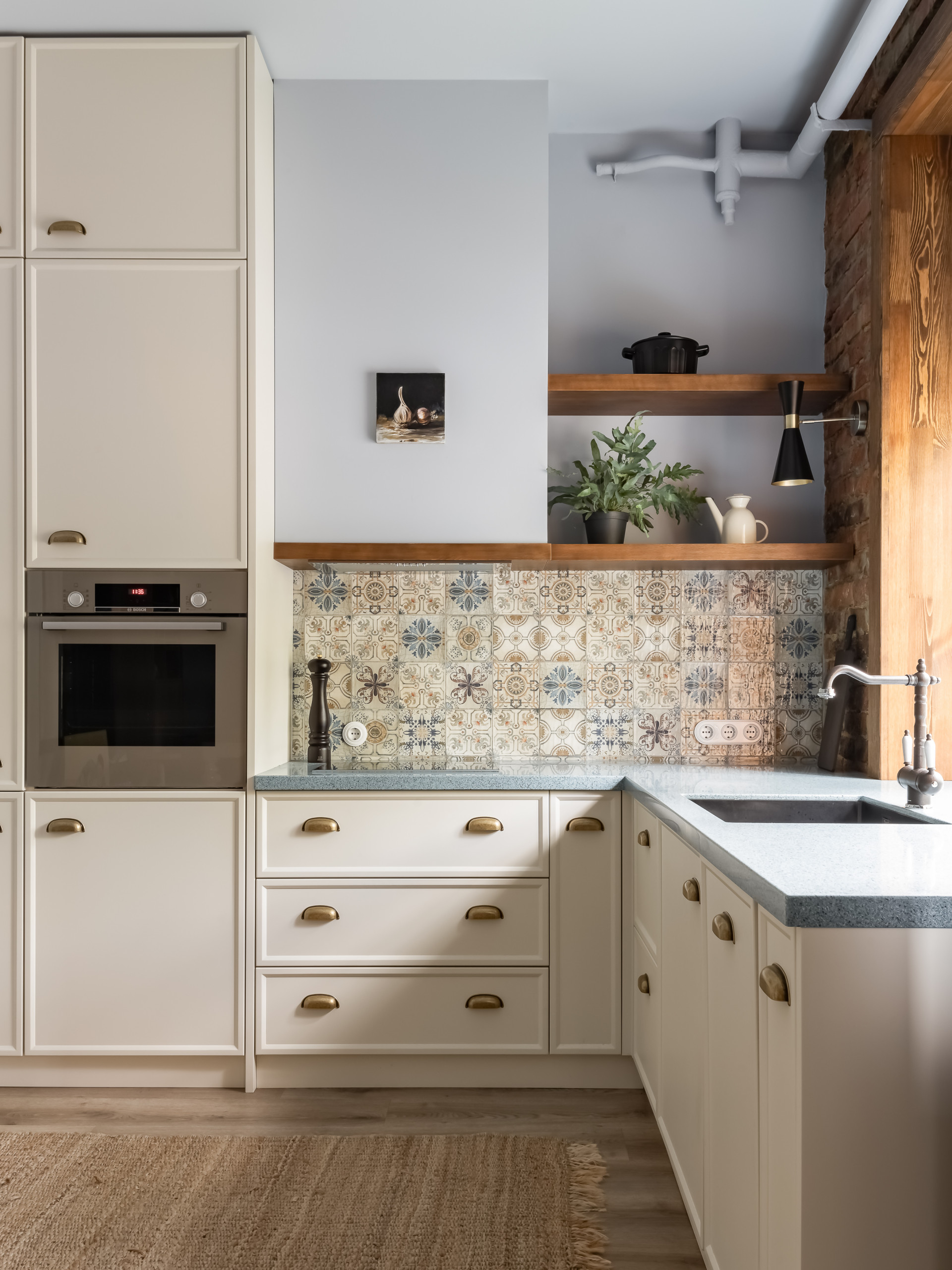 ID# 172310 | Houzz.com – Credit | © Марина Кутепова
---
Colorful Cement Floral Backsplash with Beige Cabinets and Gray Countertops
This contemporary kitchen is made cozier by the warm wood floors! While the white shaker cabinets contrast sharply with the oak flooring, the marble backsplash and its unique design light the entire kitchen with an attractive and clean appearance. To accentuate the modern look, the black cabinet hardware stands out sharply against the white features.
Floral Kitchen Backsplash
Just like the cabinets and countertops, backsplashes are indispensable elements that can tie the overall design together. It is the most important element that determines the character of every style, from modern to classical, from transitional kitchens to industrial styles. It has various alternatives such as marble, ceramic, glass, cement, panel, and wallpaper. They all create different designs from each other. As for floral kitchen backsplash designs, unique spaces can be created with colorful motif tiles or floral designs formed by the combination of pieces. Depending on the type of material, different atmospheres occur. Beautiful designs are created with neutral tones, a soft design, or an explosive effect with vibrant colors.
Dazzling Floral Backsplash Designs for Kitchens
You can successfully create the effect you want in your spaces with many advantageous ideas such as the quality stance of marble, the variety of ceramics in unlimited colors and sizes, and the practical application of wallpaper. So, if you want to learn more about the stunning floral kitchen backsplash ideas, scroll down and find inspirational design ideas!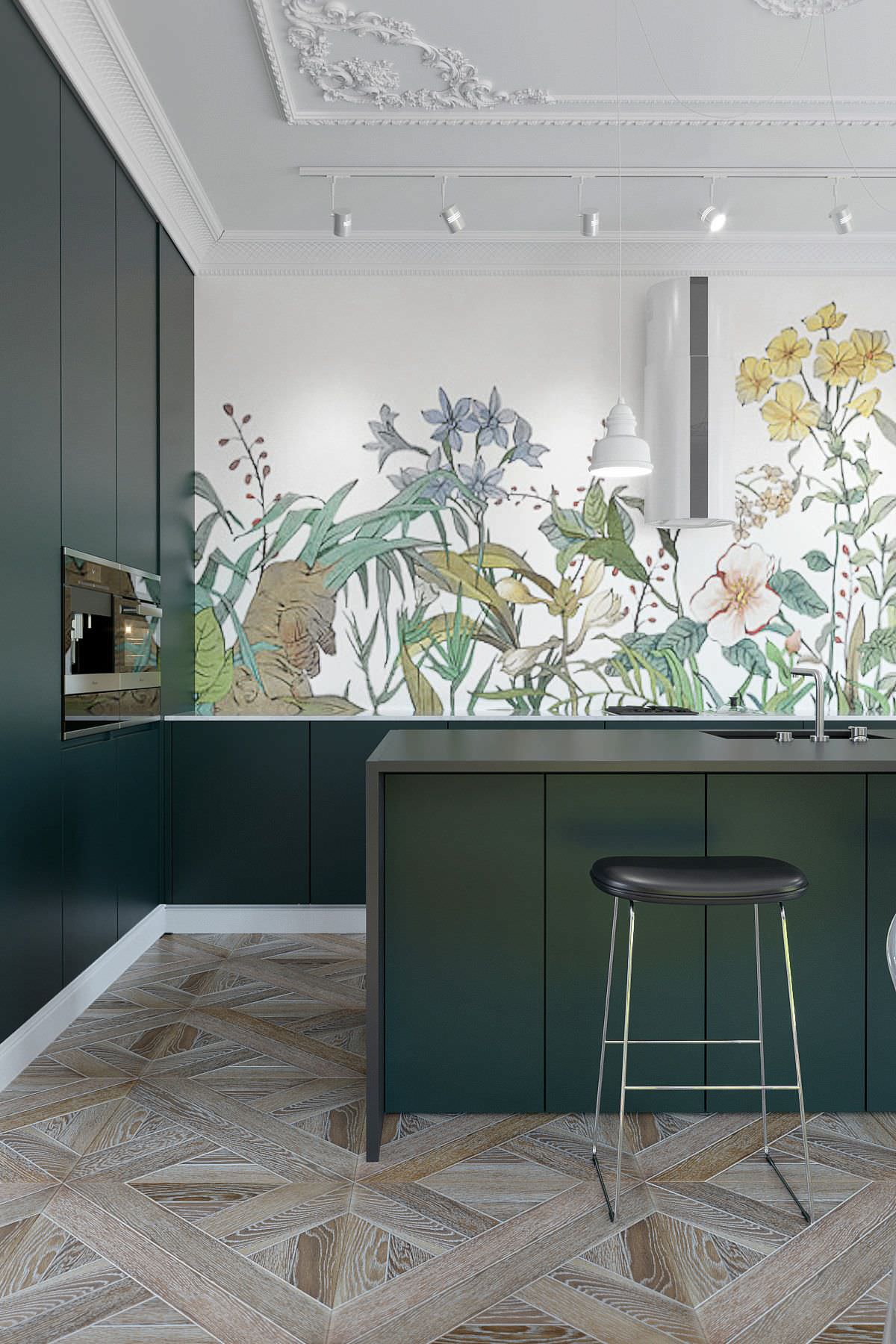 ID# 172301 | Houzz.com – Credit | © Barbara Lbt
---
Green Cabinets with Colorful Floral Kitchen Backsplash and Black Countertops
This modern kitchen, which is embraced by a natural sense, is a visual marvel that will definitely get people talking! The black granite countertops blend seamlessly with the deep green cabinetry to create a foundation that is elegant and opulent. The vivid flower artwork which gives the room an instant jolt of energy, is the real show-stopper, though. Its vibrant hues dance against the background of green, giving the area life and personality. Warm wood flooring gives the kitchen a rustic feel that perfectly compliments the emerald colors while enhancing the natural theme.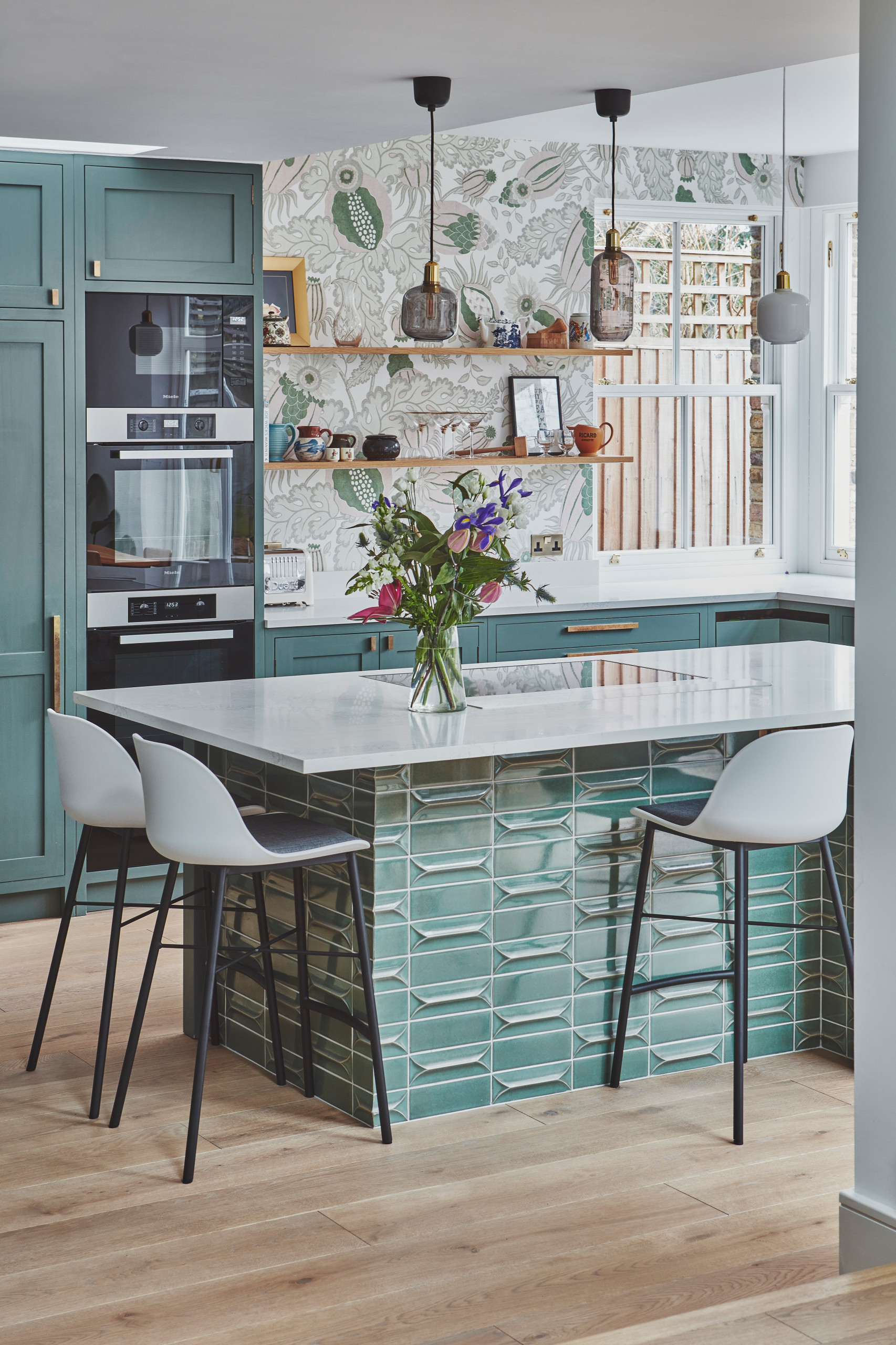 ID# 172302 | Houzz.com – Credit | © Cassidy Hughes Interior Design
---
Modern Kitchen Design with Tiled Island and Wallpaper Backsplash
This contemporary kitchen has a warm, inviting feel and is surrounded by a gorgeous shade of green. The kitchen island's green 3D tiles steal the show and boost the entire design. The tiled island design is complemented by the green kitchen cabinets and the brass hardware gives the space a posh feel. On the other side, the flowery wallpaper backsplash brightens up the space and harmonizes the overall design with the green tones. The area seems open and light when wood floating shelves are used in place of higher cabinets.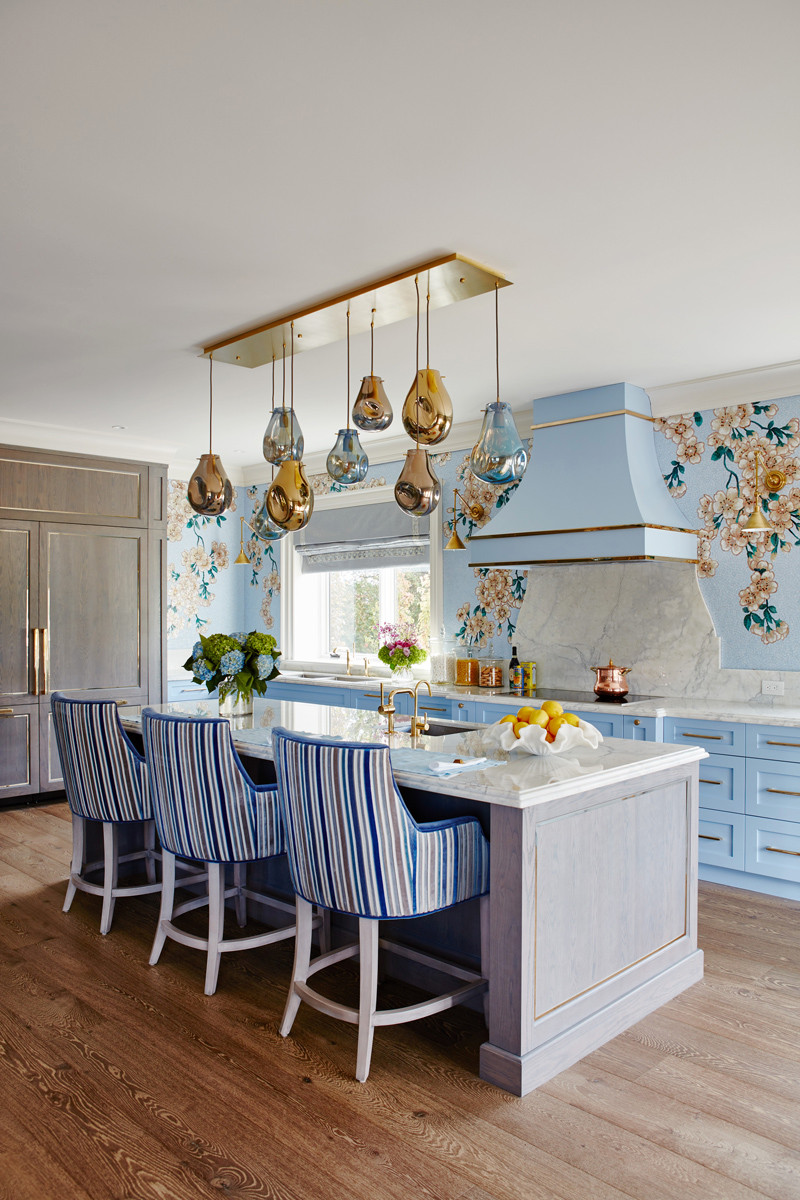 ID# 172303 | Houzz.com – Credit | © M-Squared Contracting Inc.
---
Mosaic Floral Kitchen Backsplash with Blue Cabinets and Brass Hardware
This classic kitchen overwhelms its customers with bright colors while fusing old and contemporary! For instance, the marble backsplash behind the stove provides a soothing counterpoint to the flower patterns of the mosaic tiles that surround the rest of the wall surfaces. On the opposite side, the blue cabinets create the central environment which seems both energetic and peaceful. The room is warm and stylish with the addition of the gold hardware. The centerpiece of the space is a cluster chandelier made out of glass shades that match the room's general color scheme and highlight the island. Each pendant has an adjustable string, allowing owners to arrange them staggered for more visual appeal.
Ceramic Floral Kitchen Backsplash
Ceramics is a type of material that is easy to use and apply. Unique spaces are created in desired sizes, shapes, colors, and patterns. Thanks to the various material qualities, it is possible to find products suitable for every budget in terms of price. In the kitchen, bathroom, and almost all areas, ceramics are used with a beautiful effect.
Ceramic floral kitchen backsplashes, on the other hand, are a type that enlivens the spaces with their colorful alternatives and add movement. It has different beautiful alternatives, whether it is self-patterned or combined to form a flower pattern. Interesting areas can be created according to the area to be applied, the general concept, and the width of the space.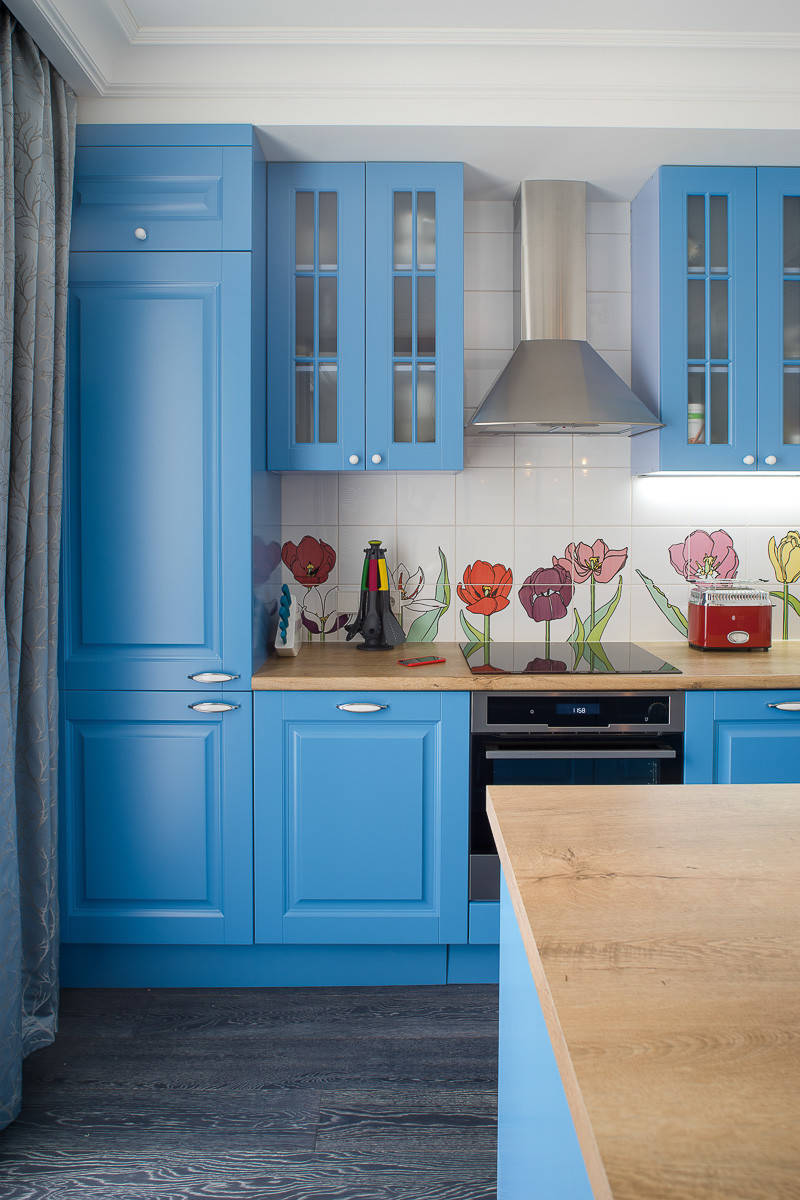 ID# 172305 | Houzz.com – Credit | © архитектурная студия INSCALE
---
Colorful Floral Kitchen Backsplash with Blue Cabinets and Wood Countertops
There are countless possibilities when it comes to using ceramic tiles to make a distinctive backsplash for your kitchen! As you can see in this Scandinavian kitchen, the white ceramic square tiles are adorned with flower patterns that bring a joy and quirky look to the space. The blue kitchen cabinets perfectly complete this unique backsplash design while the wood countertops add a warm touch.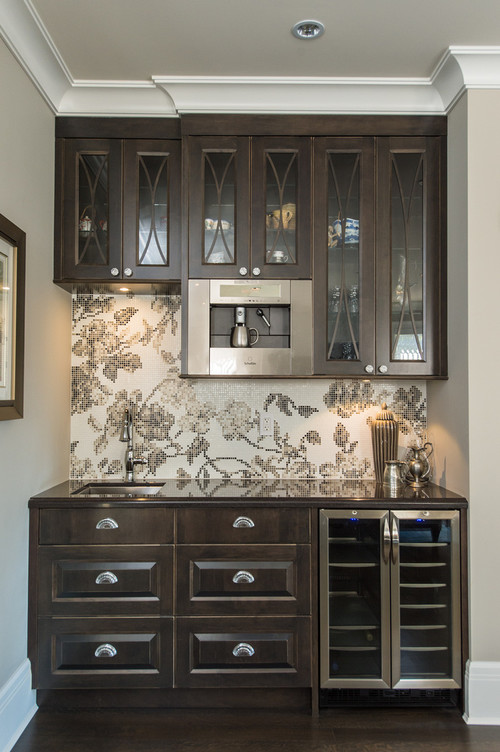 ID# 172306 | Houzz.com – Credit | © Beyond Beige Interior Design Inc.
---
Transitional Home Bar with Dark Wood Cabinets and Mosaic Tile Backsplash
Just like the kitchens, a floral backsplash might be a stunning addition for home bars, as in this example! The flower-pattered mosaic tile backsplash creates a visually pleasing appeal between the dark wood cabinets while the black granite countertops complement the elegant look of the cabinetry. The chrome hardware makes a cohesive final touch that enhances the traditional aesthetic.
Is floral backsplash good for the kitchen?
A flowery kitchen backsplash may be a magnificent improvement to your kitchen, embellished with natural beauty and artistic appeal! Floral patterns go beyond simple adornment to give visual interest and provide a focal point to break up the monotony of basic hues. In the realm of backsplashes, you may discover the ideal material whether you want to add a subtle pattern with delicate flowers or a strong flowery accent wall!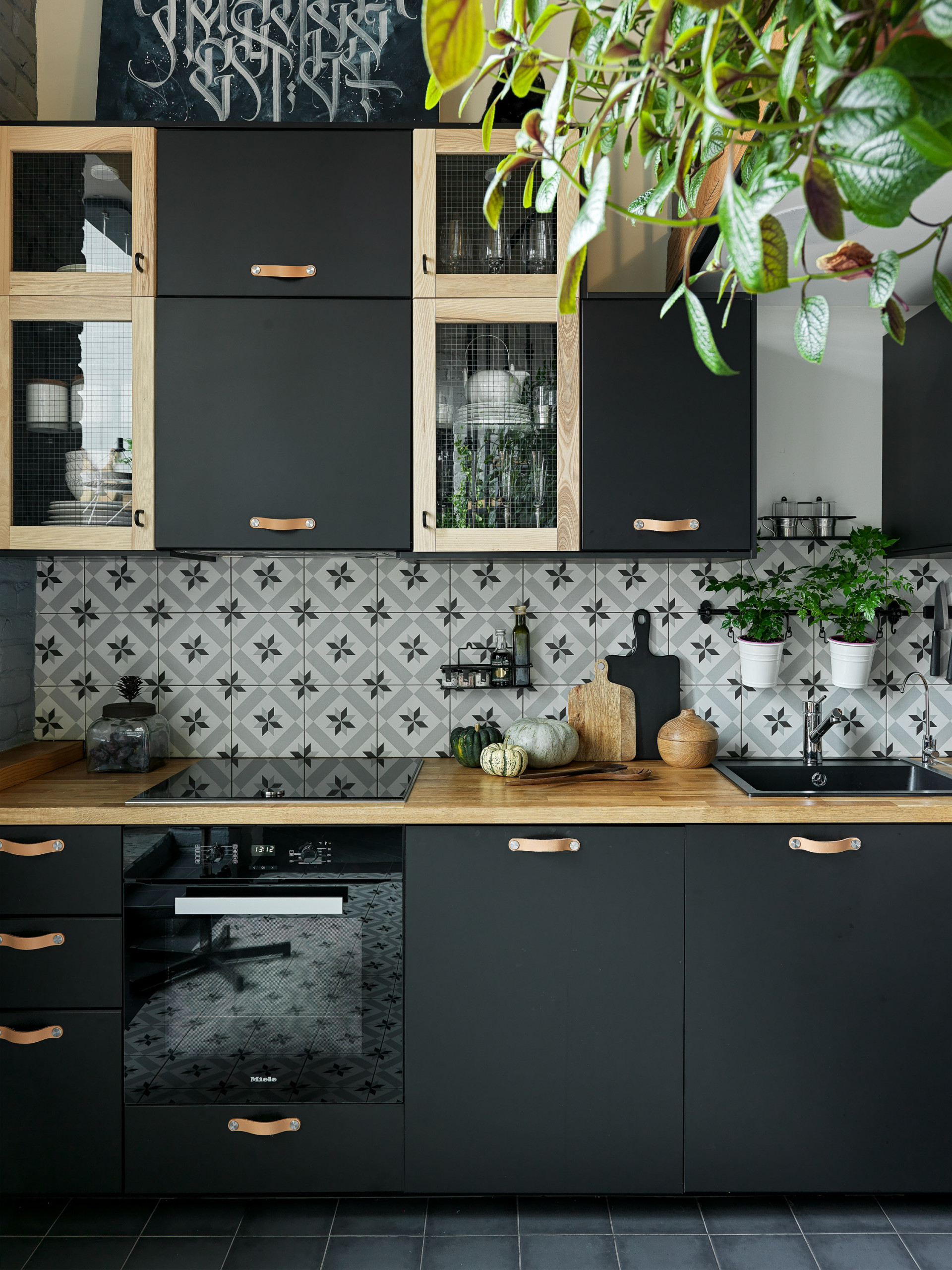 ID# 172307 | Houzz.com – Credit | © Totaste.studio | Виктор Штефан
---
Black Kitchen Cabinets with Wood Countertops and Black Floor Tiles
This industrial kitchen somehow manages to convey a really cozy atmosphere without losing its industrial edge. In this instance, the backsplash tiles with a flowery pattern stand out against the dark cabinets. When combined with a few strategically placed indoor plants, this backsplash creates an incredibly organic atmosphere. An additional layer of organic elements is added by the butcher block counters. An atmosphere that is lighter and livelier is created by the glass-front top units and copper hardware, which balance off the black cabinets. Moreover, streamlined appliances like a drop-in sink and a low-profile stove keep everything well-defined and clean.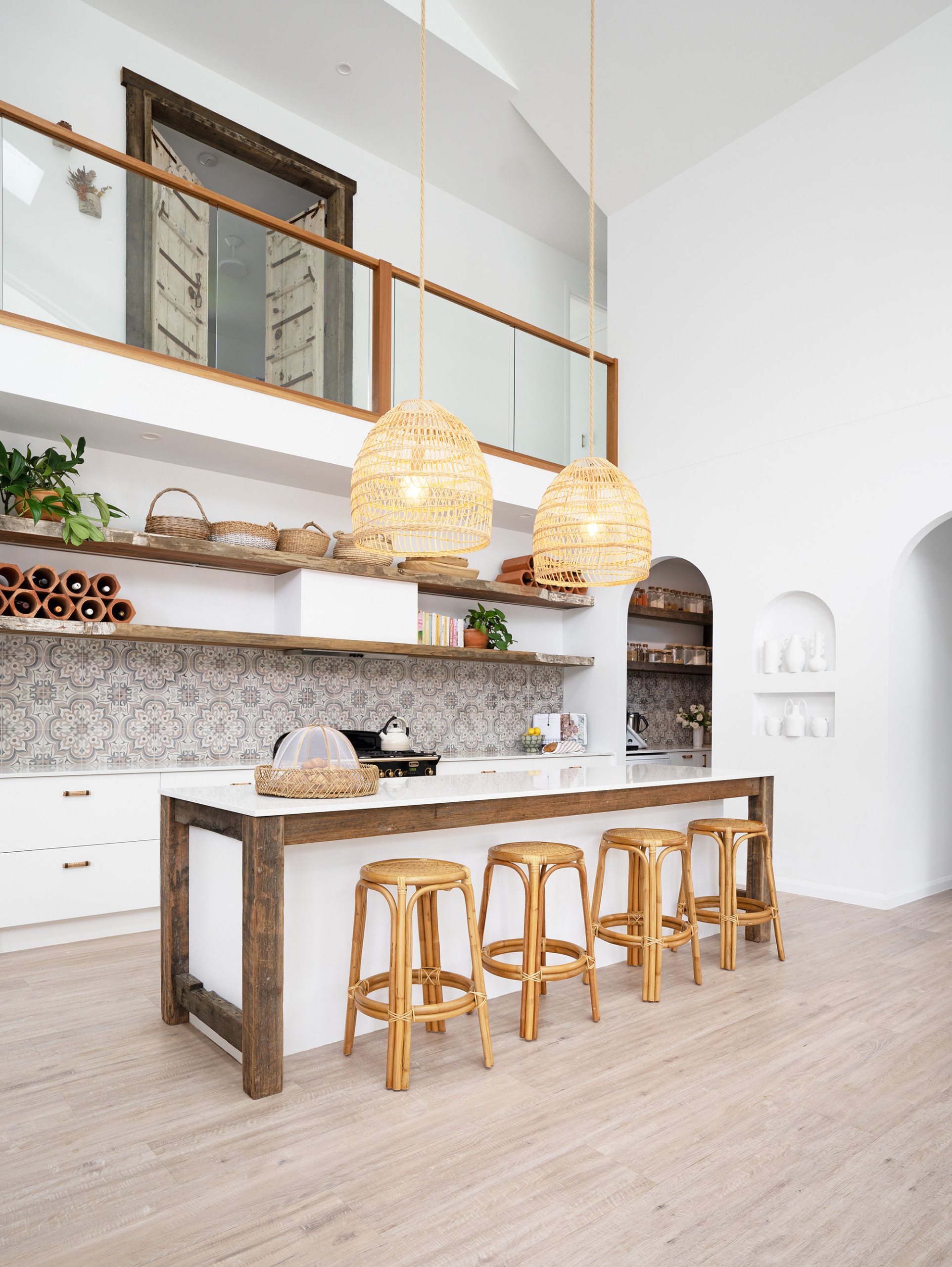 ID# 172308 | Houzz.com – Credit | © Dall Designer Homes
---
Beach-style Kitchen with Wood Countertops and Wicker Pendant Lights
With a hint of Mediterranean flair, this beach-style kitchen's double-volume layout acts as a blank canvas! The background is made soft and inviting by the delicately patterned gray encaustic tiles while the open wicker baskets and linear rustic shelving give the tiles a more approachable feel. The room is punctuated with rattan chandeliers and stools which perfectly encapsulate the essence of Mediterranean and seaside style. Not to add, the area has more depth and intimacy thanks to the arched pathway that leads to a pantry with an arched nook!
Cement Floral Kitchen Backsplash
A cement floral kitchen backsplash will improve the aesthetics of your kitchen with its classic appeal! Cement tiles, which are expertly made and steeped in history, add a touch of creative legacy to your contemporary area. Your kitchen walls will have a distinctive personality thanks to the tale each flower design conveys. Because cement is so durable, this elaborate artwork will endure the test of time, transforming your kitchen into a work of beauty. Your kitchen transforms from a utilitarian place to a blossoming canvas of imagination when delicate blossoms and strong cement interact, uniting traditional and modern design.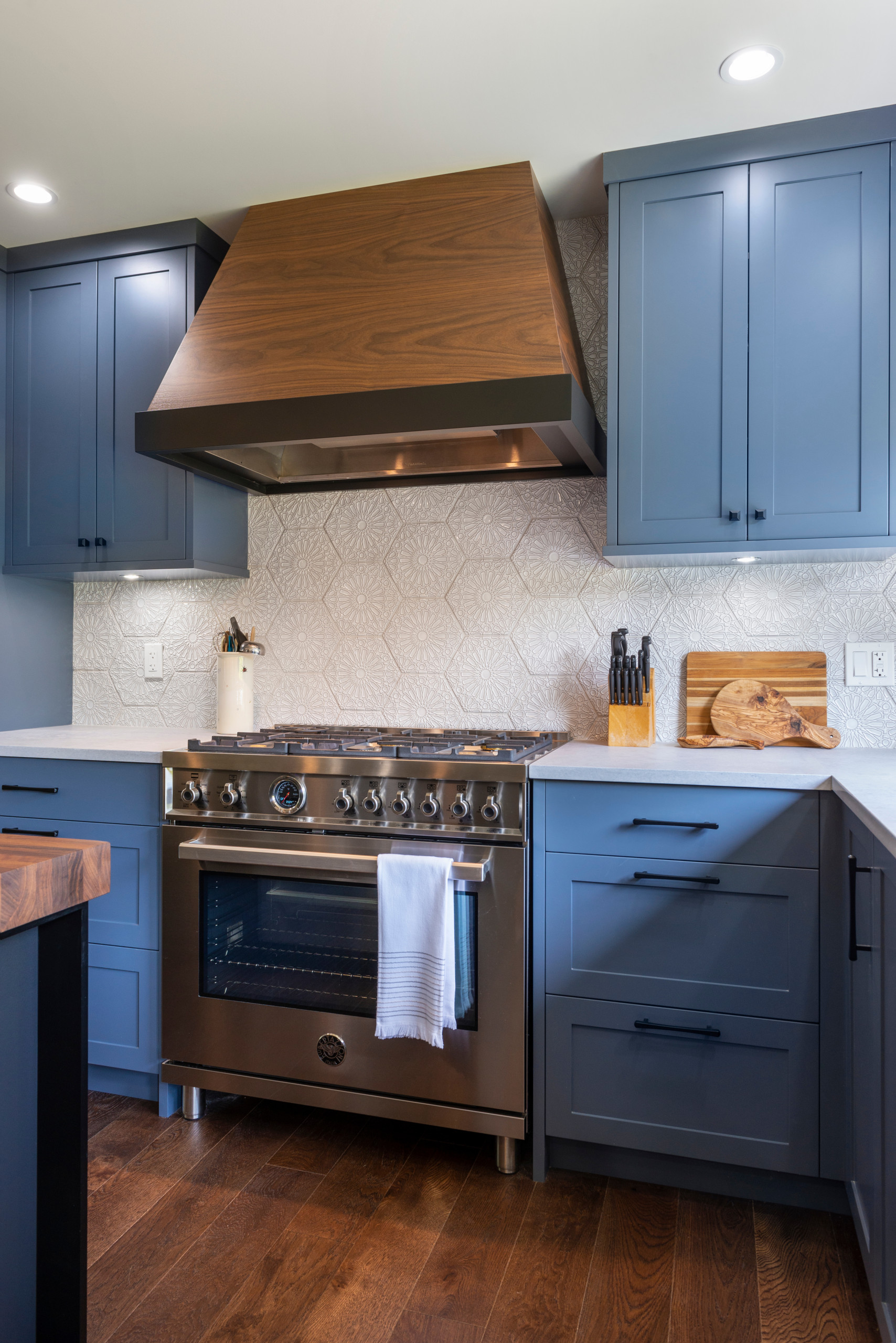 ID# 172309 | Houzz.com – Credit | © Grenor Homes
---
Blue Shaker Cabinets with Floral Kitchen Backsplash and Black Hardware
This transitional room demonstrates how distinctive features may be reframed via a modern lens and express a recently created identity. Examples include the backsplash, countertops, and color schemes. The backsplash is a biophilic design feature, made of white cement hexagons with barely perceptible flower motifs. The hex tiles' honeycomb forms and flowery motifs also imitate outside scenery. With lighting fixtures in a boho style over the island, the kitchen has an intuitively cozy and welcoming feel. Additionally, the kitchen's mood is enhanced by the under-cabinet lighting, which feeds that sense. Wooden accents lessen the prominence of the blue cabinets with their black metal knobs. The wooden range hood trim adds a touch of industrial vibes that are blended with modern and bohemian personality.
What cabinets go with a floral kitchen backsplash?
As with any style, white cabinets take the first place, while sophisticated gray cabinets and fluorescent kitchen backsplashes harmonize. These backsplash options, which have a wide range of colors, are combined with kitchen cabinets in the desired colors and styles according to the shape of the design. Some varieties adapt to every style, from modern to classic, industrial-style contemporary kitchens.
ID# 172311 | Houzz.com – Credit | © Maitland & Poate Ltd
---
Rustic Mediterranean Kitchen with Distressed Cabinets and Patterned Backsplash
This kitchen is the epitome of a Mediterranean design with a rustic flair! The louvered cabinet fronts create a visually pleasing aspect with movement and highlight the distressed kitchen cabinetry. Because of its floral design, the patterned cement tile backsplash gives the movement a natural flow! The room has an elegant touch thanks to the dark counters. The soft and intimate aspect of the light beige walls maintains the cozy ambiance!
Marble Floral Kitchen Backsplash
Marble is a type of quality and solid material. It is the right choice if you want to provide luxurious effects in the applied areas. Unique designs are created by cutting them into desired sizes and shapes. Its maintenance is convenient and practical. As long as you wipe it regularly with a damp cloth, you can easily use it for many years with its brand-new look. Although it is a slightly more expensive product type compared to other types of materials, it is a material that deserves its money thanks to its longevity and durability.
When it comes to marble floral kitchen backsplash designs, cool designs are created with their elegant images. Thanks to its quality material, it puts its signature under successful designs. There are different and useful marble floral kitchen backsplashes with large sizes or mosaic marbles.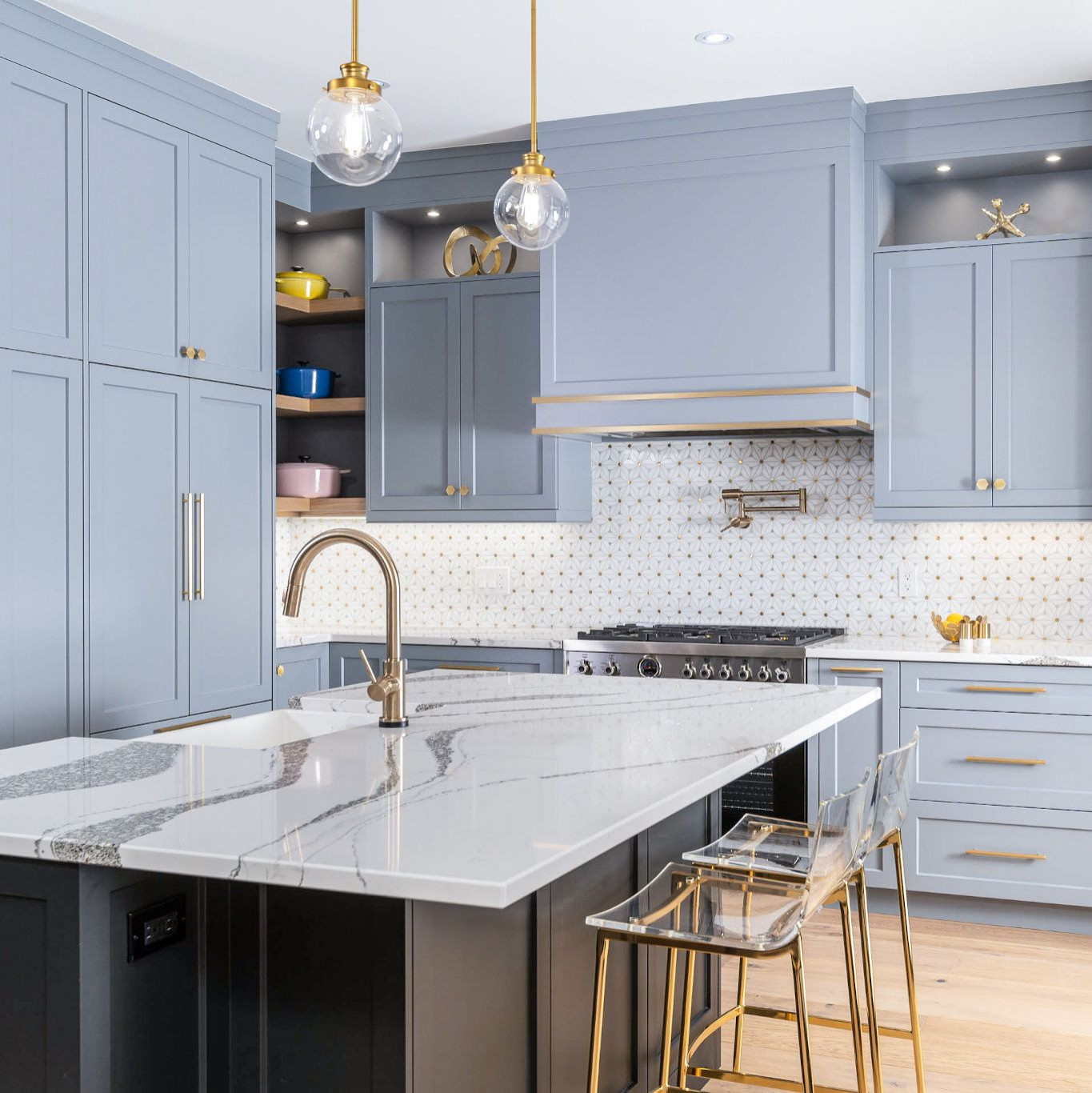 ID# 172312 | Houzz.com – Credit | © Cambria
---
Baby Blue Kitchen Cabinets with White Marble Backsplash and Gold Accents
The transitional kitchen's warm color scheme makes it seem inviting. Brass hardware and textural elements like wooden floating corner shelves and a white marble and gold backsplash with flower motifs enhance the room's neutral color scheme. The golden hue in the backsplash's floral design gives warmth. Shaker-style cabinets in pastel blue give a unified appearance, while brass hardware gives the blue cabinets a glam touch. An undermount sink with a bronze gooseneck faucet is located on the kitchen island. In addition to two clear glass globe lighting fixtures in an industrial design with brass hardware over the island, kitchen cabinet interior accent lighting draws attention to the open shelves where you may show off your expensive goods with pride. This creates a pleasant atmosphere. The fashionable transparent bar stools with brass legs further complement the appearance of the kitchen.
Floral Wallpaper Kitchen Backsplash
Wallpaper backsplashes are very practical to use and cost-effective options compared to other types of materials. It creates beautiful spaces by enlivening your kitchens with beautiful visuals in the shapes, patterns, and motifs you want. They have many alternatives with papers of various qualities. The application is so easy that you can do it yourself very easily. Wallpaper backsplashes are the right choice, especially if you don't want to spend a lot of money because it's not your own home, but you also want to beautify your living space.
Floral wallpaper kitchen backsplashes, on the other hand, color the spaces by providing interesting designs with beautiful motifs. It helps to create successful spaces with softer, simpler models, tropical effects, or lively and interesting areas, suitable for all styles. Since it is produced as a water-resistant material, it can be used with peace of mind, and it can also be wiped against splashes and stains.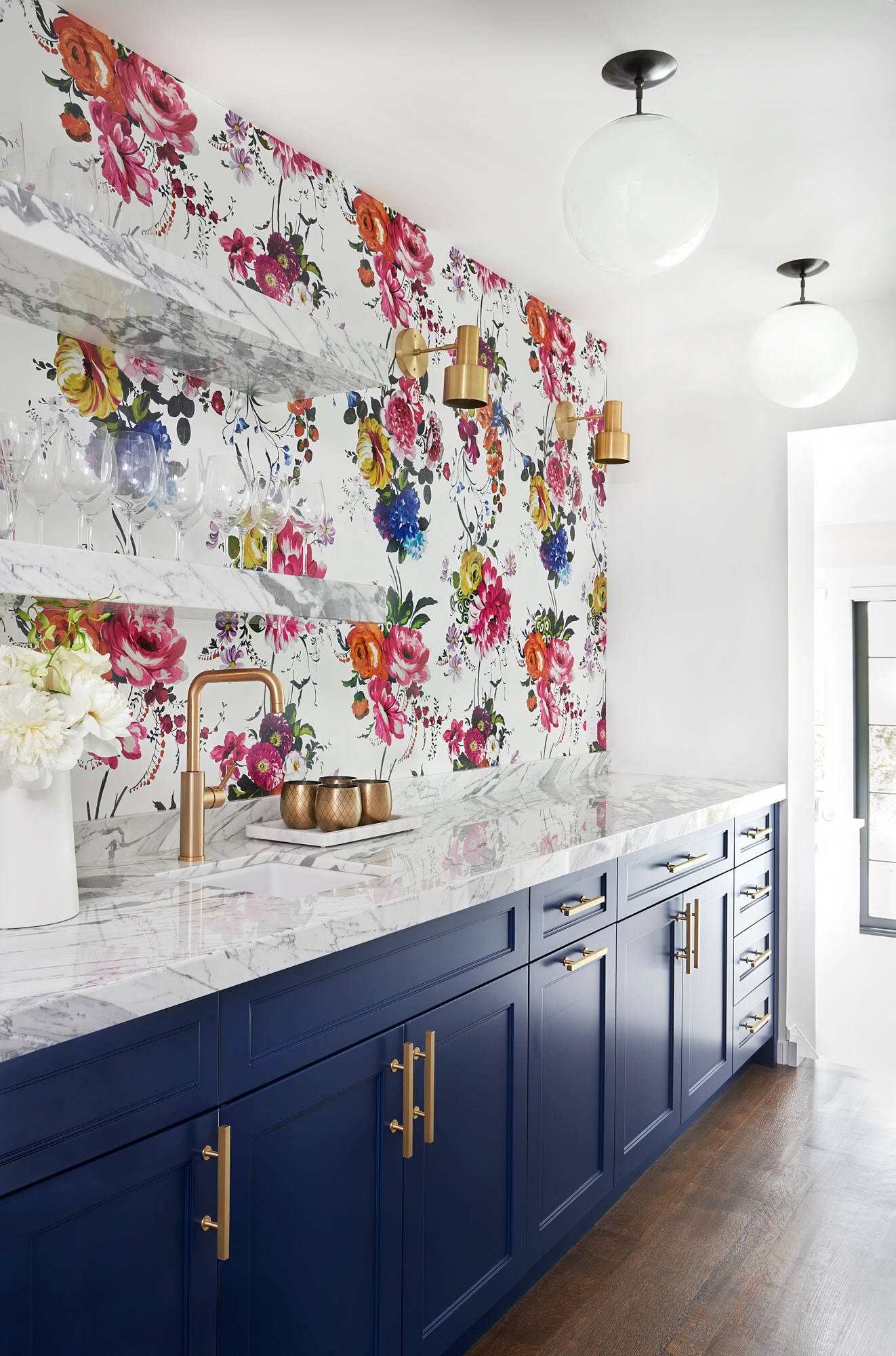 ID# 172313 | Houzz.com – Credit | © Stephani Buchman
---
Navy Blue Kitchen Cabinets with Marble Countertops and Floating Shelves
The blue and white combination is one of the classic color schemes for kitchens but if you want to jazz up a little bit this classic combo, a well-chosen wallpaper might help you to achieve your goal! As you can see in this kitchen, the navy blue base cabinets and marble slabs create a sleek and elegant transitional look. Enriched by vibrant shades, the floral wallpaper backsplash makes an unexpected twist that brings joy to the atmosphere.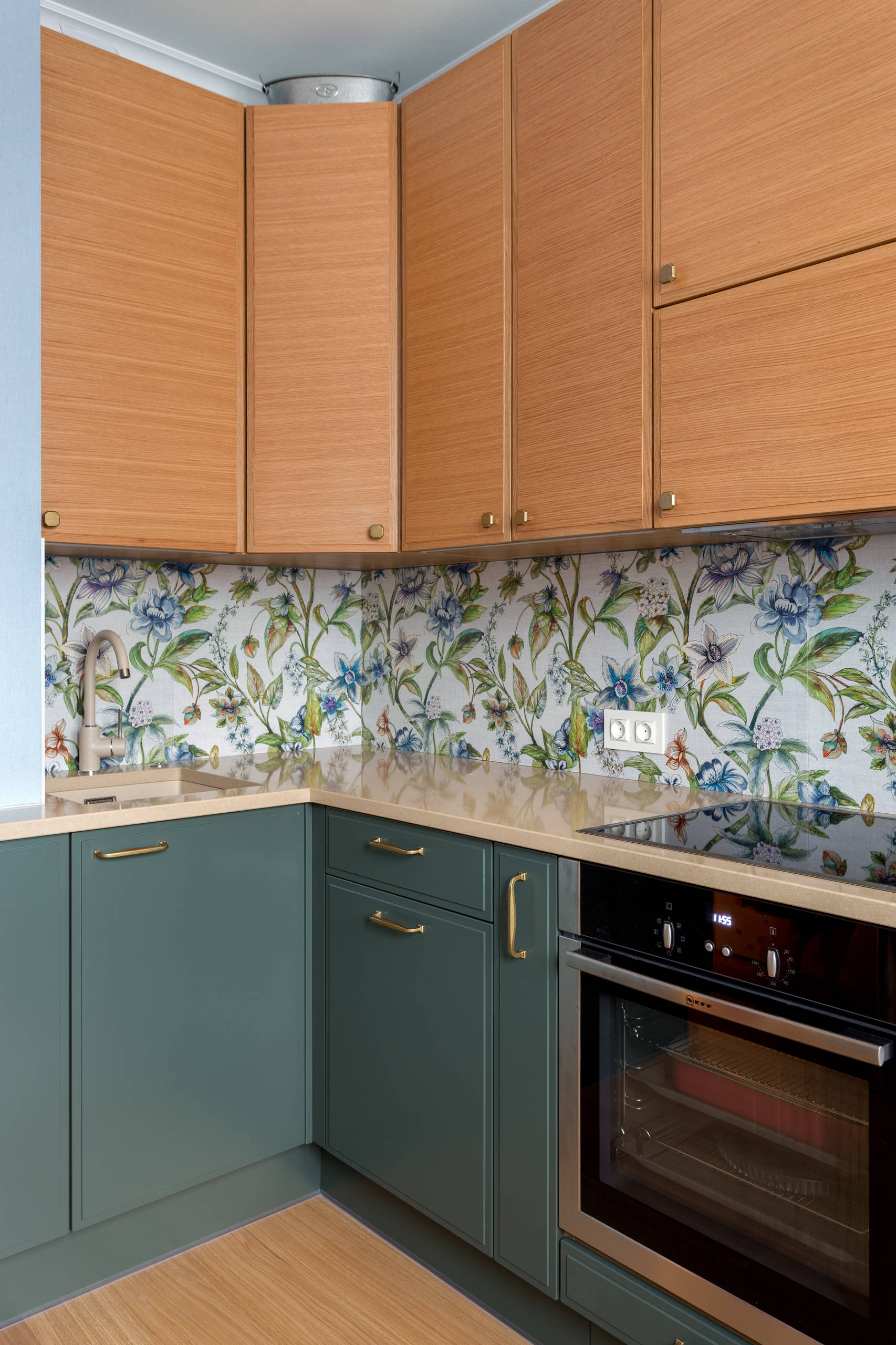 ID# 172314 | Houzz.com – Credit | © PUUSTELLI MOSCOW
---
Two-tone Kitchen Cabinets with Beige Countertops and Brass Hardware
The wood upper cabinets add a beautiful tactile appeal with a natural vibe while the green base cabinets make a clean and elegant basis. The two-tone cabinetry wonderfully complements the flowery kitchen backsplash and the beige counters. The antique brass hardware provides a finishing flourish and a hint of glitz to the design.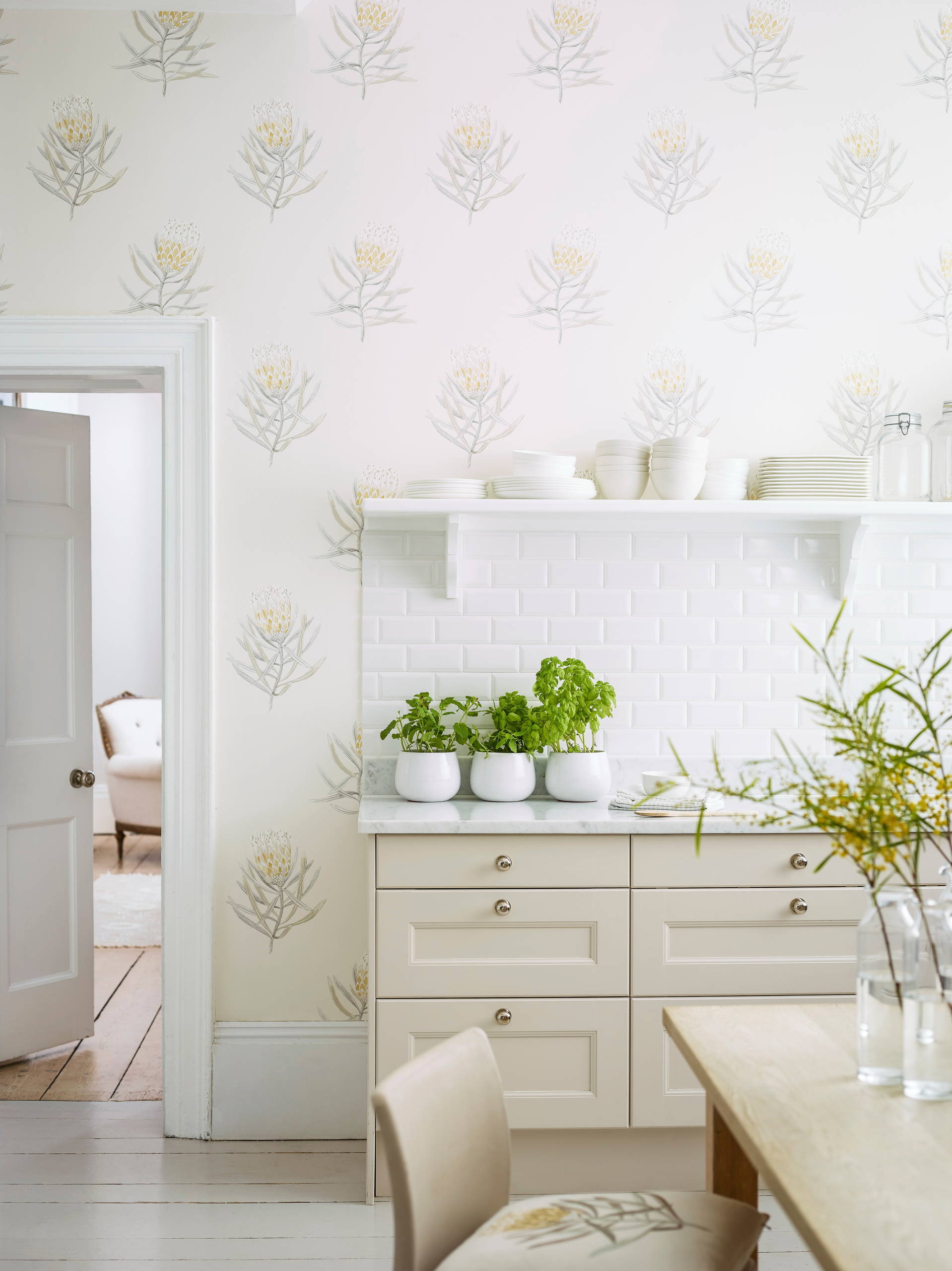 ID# 172315 | Houzz.com – Credit | © Manders
---
Transitional Kitchen with White Subway Tile Backsplash and Floral Wallpaper
The cream wallpaper with its floral pattern softens the overall romantic feel of the space without detracting from the impeccable and uncluttered design. White subway backsplash tile, quartz countertop, and cream shaker cabinets all go well with the wallpaper. The white shelf at the end of the backsplash tile creates the illusion of more space.
Design tip: If you want to use wallpaper, adding a tiled backsplash is a great way to create a protective layer for your kitchen.