31+ Kitchen Island with Seating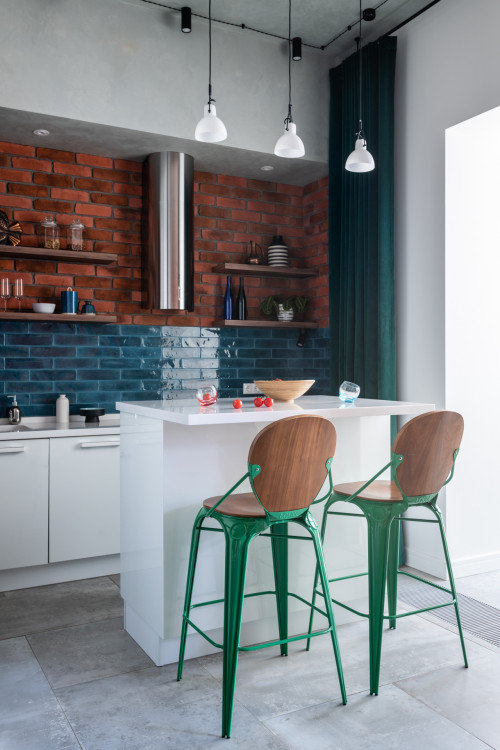 ID# 157809 | Houzz.com – Credit | © Князева Вероника /студия "ProIntDesign"
---
Industrial Kitchen with White Island and White Cabinets
This quite colorful industrial kitchen deviates from other designs with its two statement backsplashes. First, a blue subway tiles backsplash brings vibrant hues. And right above, a faux brick backsplash gives the industrial look, along with a rounded chrome range hood. The floating shelves used in place of upper cabinets provide further accents, freeing up the wall. A white kitchen island paired with industrial stools enjoys this colorful background.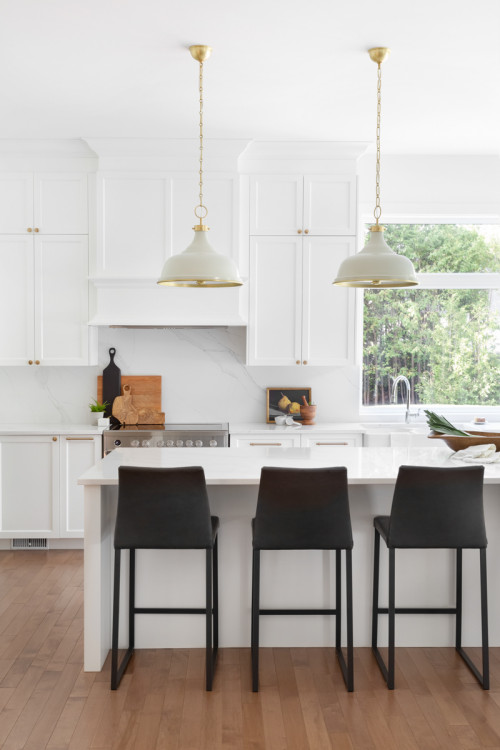 ID# 157831 | Houzz.com – Credit | © Hibou Design & Co.
---
All-White Kitchen with Gold Accents and White Island
This all-white kitchen design feels slightly indecisive, whether it is modern or farmhouse-inspired. But it actually presents both while also offering a good-sized white island that relishes outdoor views through a picture window. To complement the look, the gold accents on the shaker cabinets add a touch of warmth. And black stools inject a dose of modernism.
Kitchen Island with Seating
Kitchen islands are favored by kitchens of all styles. Appearing in various sizes, materials, and designs, they just provide an extra counter space by multiplying what kind of looks and workflow one can achieve with them. And that's just only one side of the coin. On the other side, the kitchen is also a socialization spot where family members and even guests come together. It, in turn, necessitates a kitchen island with seating to create an alternative socialization spot so that while you cook, you can still entertain your guests.
Kitchen island with seating is available in (half)-waterfall, two-tiered, standard, and contemporary styles. They encourage further engagement with kitchens, turning them into a social hub. Especially in an open floor plan, kitchen islands with seating options provide a perfect transition from the kitchen to the lounge area.
Here we have gathered multiple kitchen island ideas with seating options. From country to modern, traditional, and contemporary, you can see them in various contexts. And even better, you can also get familiar with various island sizes. So, read on to explore kitchen island design ideas that will surely fire up your imagination.
How much does a kitchen island with seating cost?
The costs of a kitchen island are heavily dependent on multiple factors, from material to size, design, and functions. Yet to give you a range, store-bought kitchen islands cost between 350 USD and 2000 USD. If you want to add further features such as sockets or integrate sinks and appliances, they would also cost extra money. As for the custom-design ones, their costs can reach up to 4000 USD.
What is the average size of a kitchen island with seating?
The average size of a kitchen island is 80 inches long and 40 inches wide. Yet what is more important is the size of your kitchen and that your island needs to be proportioned to the entire room. Y That's why it is recommended to calculate 10% of the total kitchen area to determine the size of the island. Though there is a more or less standard and a more popular island size, it is best to go with the size that suits your kitchen the most.
Types of Kitchen Island with Seating
When it comes to kitchen island design, popular island types include small, large, narrow, waterfall, and two-tiered islands. In today's market, islands are available in various designs, sizes, and styles, they ensure that there is a perfect style for every kitchen size. Before deciding on it, you need to define your priorities and necessities for your project. Check these different types that will inspire you and help you to find the right type for your kitchen renovation project.
Small Kitchen Island with Seating
Measuring 2 and 3 feet, small kitchen islands can perform the same functions a large island would do. Offering a benchtop, storage, and a maximum of 2 seats, they bring functional benefits. And if you want to make them look larger or more stylish, you can get small waterfall islands.
Can I have a kitchen island instead of a dining table?
As long as a kitchen island has seating, surely, a kitchen island can provide a substitute for a dining table. Plus, it brings more functional benefits, such as storage and benchtop, which couldn't be performed by dining tables. But if you love inviting guests or have a crowded family, a larger island could be better. However, if dining is a family ritual and a more formal activity, an island can't compete against a dining table. But if you have space, you can have both, which gives you alternative dining options.
Modern Kitchen Island with Seating
Modern kitchen islands and in general, modern designs love open spaces, open floor plans, and different socialization points. Thus, modern islands with seating add a high value to such designs.
Two-tiered units, waterfall islands, and islands with cantilevered extensions are only some of the most common modern island designs. Also, the ones with curved edges and ones painted in bright colors fall into this category.
Large Kitchen Island with Seating
Accommodating up to 4 and 5 people, large kitchens need large islands, offering more of everything. Yet, perhaps the best part is that designers can act more flexibly and experimentally while designing them. Since size is not a restriction, designers can be future-oriented and come up with dynamic designs. Gravity-defying islands and two-tiered islands with cantilevered extensions are just examples that are large and modern.
Narrow Kitchen Island with Seating
Not all kitchens are the same size, and neither are kitchen islands. To keep circulation flowing, it is essential to ensure the island and total kitchen area are proportioned to each other. So, just like small and large kitchens, there is also a need for a well-proportioned island in narrow and wide kitchens. Here are some narrow kitchen islands with seating to explore so that you can get a better idea of how they look.
What is the trend for kitchen islands?
As of 2023, on-trend island ideas range from curvaceous island forms to waterfall units, wood and marble-carved islands, and intriguing futuristic designs. Trending island designs are also ready to bring pops of color and pattern to jazz up any kitchen look. As this is the case, experimenting with different materials is very much embraced.
As another cue, you can take sustainability, which brings terrazzo and again natural materials to the forefront. All-terrazzo-clad islands or terrazzo countertops can make a very contemporary addition and give you both color and pattern. Likewise, wooden islands with dramatic marble countertops offer another timeless alternative.
Overall, this year encourages us to think outside the box when it comes to kitchen islands. Thus, feel free to experiment with the forms and materials to constitute a more dynamic look. More importantly, take some risks and push the boundaries of your imagination.
Kitchen Island with Seating and Storage
Besides their aesthetic value, kitchen islands also provide seating, storage, and a benchtop. When needed, they can even do more, serving as very utilitarian design elements. Also, they can be used as secret pantries in your kitchen. You can just store your canned goods, spices, herbs, and unused dishes inside island cabinets.
How to build a kitchen island with seating?
Start by designing your kitchen island. Consider how much seating it should have. Or for example, do you also want it to provide storage or accommodate a sink or dishwasher? Ask yourself these questions for guidance, and come up with a design that will cater to your needs.
For the second step, you can get cardboard to have a better idea of how much space your island will occupy. You can also check whether it interrupts the workflow or not. Keep in mind that 24-48 inches should be left between the counters. And the height of a kitchen island with seating should be 36 inches. Or if you plan to build a two-tiered island, you can raise your counters with a bar counter extension up to 42 inches. Also, for each seat, reserve 24 inches.
Bring Cabinets Together
In the third step, bring together cabinet sides and attach them by drilling pilot holes and recessing screws. The back side of the cabinets also needs to be fastened to each other. Depending on the style of the island, you can add columns. It will also define your legroom. If you want to tuck stools underneath an overhang, 18 inches provides the ideal depth for an island with seating.
If you want to add some decorative pieces, you can use nails and glue. And to cover the sides, you can use shiplap boards, beadboard panels, MDF boards, or even tiles. It is totally up to you. And if you are going to be using reclaimed wood, just sand it down before placing it.
When you are done with the main body, the next step is the installation of a countertop. Timber, marble, and quartz countertops are among the most popular material options. For a cheaper alternative, you can consider laminate countertops. Lastly, depending on the material, you may need to apply a coat of varnish or sealing.
Farmhouse Kitchen Island with Seating
 farmhouse kitchen islands are generally made of natural materials and are recognized by their giant X-details, shiplap details, and open storage. The wood base island with a marble countertop is one of the most common and popular options for interior designers and homeowners. And another option is a blue or green beadboard island topped by a butcher block countertop. Cast-iron lighting fixtures, bronze pendants, and simple wooden stools are the perfect pair for these rich textured island designs. If you like casualness and want to be transported to a bucolic-like setting, give a chance to farmhouse kitchen islands.
How deep is a kitchen island with seating?
Standard kitchen islands should be 42-48 inches deep to provide enough legroom.
Kitchen Island with Sink and Seating
Another advantage of kitchen islands is that they can house a sink, helping with workflow. For kitchens with two sinks, for example, while one is installed on the perimeter counter, the other can be accommodated by a kitchen island. This offers more freedom, especially when more than one person is cooking in the kitchen.
Where can I buy a kitchen island with seating?
When purchasing a kitchen island, seeing the material, color, and style options in place is the best way. Homedepot, Amazon, Wayfair, IKEA, and ETSY are some of the popular options where you can find plenty of different island designs. BEfore purchasing it, do your research, see the options, and compare the prices. After getting a rough idea about the offers on the market, you can decide what suits your kitchen best.
White Kitchen Island with Seating
Among all the colors, white kitchen islands with seating are one of the most popular. They lend brightness and create the illusion of spaciousness. Given islands occupy a good amount of space, getting light-colored ones enables them to lessen their physical burden on the kitchen.