30+ Backsplash for Marble Countertops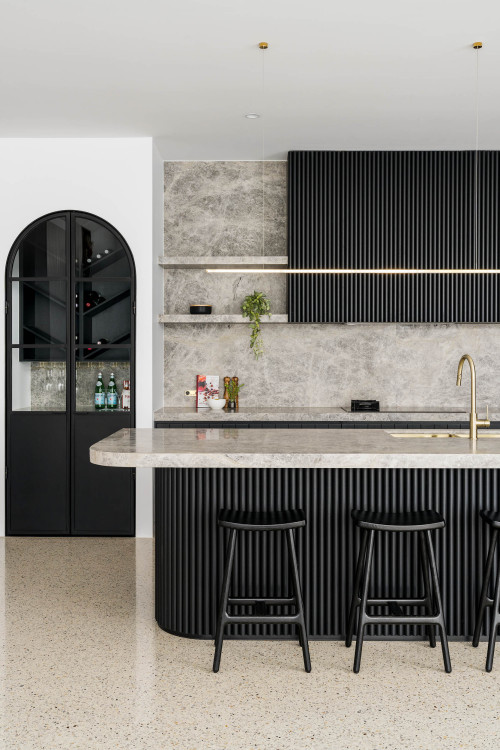 ID# 138701 | Houzz.com – Credit | © First Avenue Homes
---
Marble Backsplash for Marble Countertops and Black Fluted Design Cabinets
Popular both in traditional and modern kitchens, marble slab backsplashes are one of the staple elements of kitchen designs that exude elegance. Here, used with black fluted design cabinets, it brings an upscale and modern edge to this kitchen. Going up to the ceiling and matching countertops, including the island, it dominates the space, while the black cabinets serve as solid touches to anchor the marble. And the speckled-finish concrete floor adds another seamless element for a modern and industrial flair, while the rounded island design and brass touches enrich the overall style, adding warmth.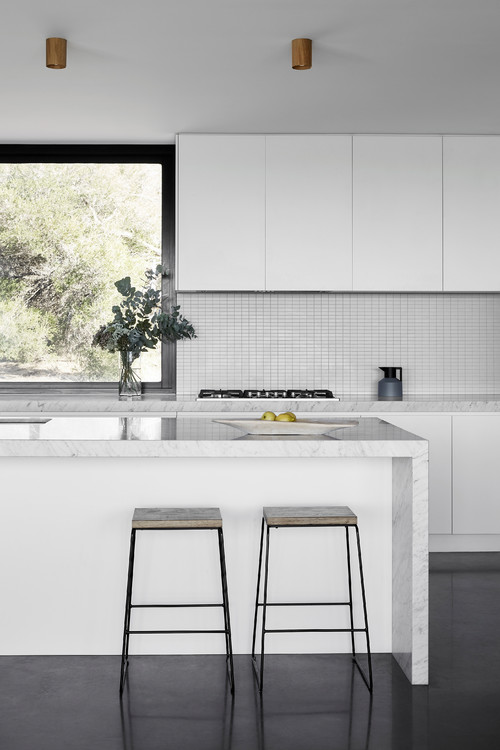 ID# 138720 | Houzz.com – Credit | © Tom Robertson Architects
---
Contemporary Kitchen with Small Tile Backsplash for White Marble Countertops
This detached house in Melbourne is surrounded by beautiful greeneries and stretching landscapes. But inside the house, it welcomes you with a sleek furniture vocabulary rather than something rustic. This contemporary kitchen, for example, employs white flat-front cabinets, white small tile backsplash, and marble countertops to create a basic yet sophisticated look. Right across sits the waterfall island in the center as a space-organizing utility object, paired with basic stools with stencil legs. Facing the picture window, it allows its guests and users to enjoy the outdoor view peeking out behind the window. On the other hand, to keep it all clutter-free, the designer doesn't even integrate any pendant. Rather, they go with cylinder flush mounts that also add a sense of warmth, honoring the island even though they are a bit far away.
Backsplash for Marble Countertops
Having proven itself a classic, marble is a statement material that could be contextualized in traditional, modern, and contemporary kitchen designs. In addition to its high aesthetic value and versatile character, it is also a durable material that can even outlive your house as long as it is maintained properly. In this blog, we will take a closer look at marble countertops and the backsplash options for them. A backsplash for marble countertops can range from ceramic tiles to marble slab, metal, and glass splash-backs. With each material, homeowners and designers can create various and impactful looks easily.
If you are considering a new backsplash for marble countertops for your next renovation project, take a look at these great designs which are centered around the marble countertops. Here, from modern to traditional, you will trace a wide range of looks and styles with marble countertops than bring an upscale edge to any space.
What kind of backsplash goes with marble?
Marble is a classic material yet eligible to be used in modern and contemporary kitchen designs as well. And there are plenty of backsplash material options that pair perfectly with marble countertops. Metal backsplashes, Zellige tiles, glass sheets, ceramic and porcelain tiles, marble slab and tile backsplashes, and window backsplashes could create sophisticated and comforting looks with marble.
Overall, it mainly depends on the impact you are aiming for. For example, if you prefer sleek looks and want your design to be marble-oriented, you can match your countertops with the backsplash for a seamless and more coherent design. Surprising elements like brass, copper, and stainless steel are also some popular options for those looking for something more adventurous and classic.
Backsplash Materials for Marble Countertops
Marble, ceramic, glass, wood, and quartz are some of the backsplash materials that you can pair with marble countertops. It is up to homeowners to mix different materials with marble countertops and just go monochromatic with matching marble backsplashes. Both approaches work well, resulting in impressive looks. But if you want to add more depth and ensure diversity, you can choose ceramic, glass, quartz, and even metal backsplashes to pair with your marble countertops.
Marble Backsplash for Marble Countertops
Marble on marble is something that we see commonly. And marble slab backsplashes are used popularly to create focal points and exude elegance. Especially, the ceiling-height ones provide immersive and memorable looks in contemporary kitchens. But if you would like to layer the walls with more complex patterns, marble is available in different tile patterns and versions as well. From mermaid to chevron, subway, and hexagon especially, each of these patterns suits the marble perfectly, which you can easily couple with marble countertops. The resulting scheme feels luxurious and gains more depth and texture.
Does the backsplash need to match the countertop?
Backsplashes don't necessarily need to match the countertops. Rather, mixing materials and patterns of various sizes add dimension to the space and ensure variety rather than resulting in something monotonic. But for those looking for something more integrated and continuous, there is almost nothing more sophisticated and stunning than a matching marble countertop and backsplash.
Ceramic Backsplash for Marble Countertops
Available at affordable prices and in various designs, ceramics are also easy to clean and maintain. Ceramic subway and square tiles and even geometric patterns can create a well-balanced look with marble countertops. You can even experiment with the various color options of ceramic tiles if you love colorful and dynamic designs.
How do I choose a backsplash for my kitchen?
When choosing a backsplash for your kitchen, there are a couple of factors to consider: budget, overall theme and color palette of the kitchen, and durability. Though tiled backsplashes are popular, and subway tiles are the first thing that comes to mind, there are many other timeless and suitable options for low and high budgets such as marble backsplash tiles, ceramic tiles, or metal sheets. Especially considering how many ceramic tile designs and patterns are available, you can have a wide spectrum of options to choose from. Plus, unlike what is assumed, slab backsplashes are not necessarily more expensive than tiled ones. On the contrary, the tiled versions of natural stones could even cost a lot more.
Secondly, just consider the style of your kitchen cabinets and the overall color scheme of your countertops. Do you want a matching color or something more contrasting? At the end of the day, it is all dependent on you and what you expect to see in your kitchen.
Thirdly, backsplashes are the guards of your walls to protect them from grease, water, and mold. That's why choosing a durable and easy-to-clean material is a necessity, especially if you are an avid cook. If that's also your priority, you can consider glass sheet backsplashes, ceramic and porcelain tiles, window backsplashes, and sealed natural for easy-to-clean backsplash options.
Glass Backsplash for Marble Countertops
Easy-to-clean and eco-conscious material glass backsplash provides a good alternative to ceramic and natural stone backsplash options. Thanks to its translucent finish, it can create a soft and appealing contrast with honed marble countertops. But if you like glossy looks, you can combine glass sheet backsplashes with glazed marble countertops and let lights bounce off around the room.
Metal Backsplash for Marble Countertops
Brass, copper, steel, and bronze are some of the most popular metal backsplashes. And they are as classic as marble, which makes metal a suitable option for marble countertops.
Should the kitchen backsplash be lighter or darker than the countertop?
The answer to this question rather depends on how homeowners feel about this as it is a preference-related aspect of designing a kitchen. But from a broader perspective, to add a sense of quirkiness and drama, darker backsplashes work better with light countertops. Plus, it is much easier to work on light-colored countertops as you can navigate better and easily spot what is where.
But if you want the eye-level portion of the space to look brighter, then a backsplash in lighter shades would be more suitable for you. And you can anchor this light backsplash with the help of dark countertops.
Top Marble Countertop Colors
Gray, black, white, and beige is the most popular countertop colors because they are neutral and easy to match with the overall color palette.
Backsplash for White Marble Countertops
White is the most popular color for marble countertops as it is for any other backsplash material. Featuring variously shaped veins and streaks depending on where they are quarried from, white marble countertops are not just simply white. Rather, each one has its distinguishing feature and pattern. And it becomes an important point when choosing the proper backsplash for them. For example, if the marble countertop has pronounced veins, then it is better to choose something simpler for the backsplash or use the same marble for the backsplash. But if countertops have gentle veins, homeowners can act freer when choosing backsplashes.
Backsplash for Gray Marble Countertops
Gray is the kind of color that you could use anywhere and anytime. It is versatile, sophisticated, gloomy, and neutral. As for gray marble countertops, they go well with gray marble backsplashes, glass sheets of various shades (including yellows, pinks, and oranges), concrete, and mirror backsplashes. But when deciding, don't forget to consider the overall theme of the kitchen and the forms of the veining on the marble to create a well-balanced and curated design.
Is marble OK for kitchen countertops?
Marble is a durable and heat-resistance material, but it doesn't mean that you can just act recklessly. First of all, it is important to avoid placing hot pans on marble countertops. Secondly, since they are porous, the food splatters, and grease can be absorbed when they are not sealed properly, which makes marble prone to harboring bacteria. Thirdly, if they get exposed to anything acidic in the long term, they can get scratched.
When you think about it, the same cons apply to more or less all materials at least all natural stones. And regular cleaning is almost a must to keep the best versions of any countertop. But with marble, things can get a bit more complicated because it is a natural stone and porous. But as long as it is well-maintained and sealed regularly, marble countertops have a long lifespan.
How long does a marble countertop last?
Marble can last for more than 100 years, or, in other words, it can just outlive your house and can be passed down from one generation to another just like terrazzo. But of course, it also depends on how it is used and whether it is sealed annually and properly.