30+ Backsplash for Marble Countertops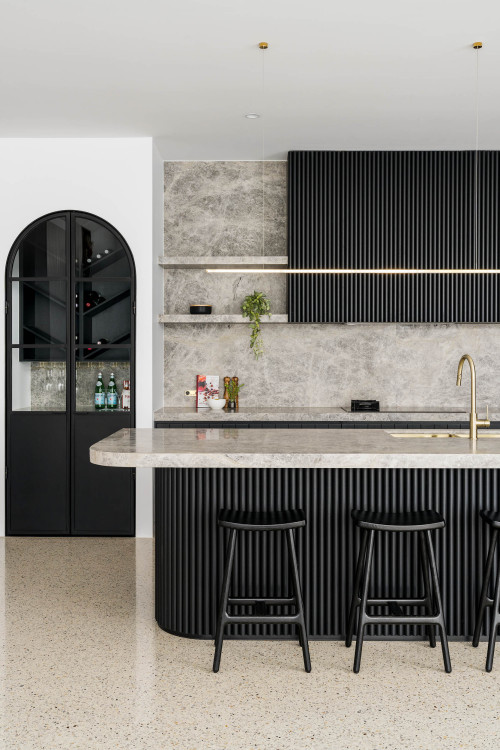 ID# 138701 | Houzz.com – Credit | © First Avenue Homes
---
Marble Backsplash for Marble Countertops and Black Fluted Design Cabinets
Popular both in traditional and modern kitchens, marble slab backsplashes are one of the staple elements of kitchen designs that exude elegance. Here, used with black fluted design cabinets, it brings an upscale and modern edge to this kitchen. Going up to the ceiling and matching countertops, including the island, it dominates the space, while the black cabinets serve as solid touches to anchor the marble. And the speckled-finish concrete floor adds another seamless element for a modern and industrial flair, while the rounded island design and brass touches enrich the overall style, adding warmth.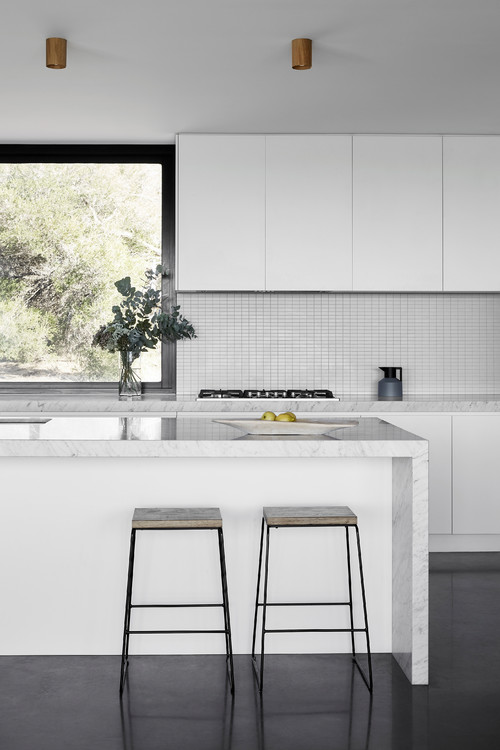 ID# 138720 | Houzz.com – Credit | © Tom Robertson Architects
---
Contemporary Kitchen with Small Tile Backsplash for White Marble Countertops
This detached house in Melbourne is surrounded by beautiful greeneries and stretching landscapes. But inside the house, it welcomes you with a sleek furniture vocabulary rather than something rustic. This contemporary kitchen, for example, employs white flat-front cabinets, white small tile backsplash, and marble countertops to create a basic yet sophisticated look. Right across sits the waterfall island in the center as a space-organizing utility object, paired with basic stools with stencil legs. Facing the picture window, it allows its guests and users to enjoy the outdoor view peeking out behind the window. On the other hand, to keep it all clutter-free, the designer doesn't even integrate any pendant. Rather, they go with cylinder flush mounts that also add a sense of warmth, honoring the island even though they are a bit far away.
Backsplash for Marble Countertops
Having proven itself a classic, marble is a statement material that could be contextualized in traditional, modern, and contemporary kitchen designs. In addition to its high aesthetic value and versatile character, it is also a durable material that can even outlive your house as long as it is maintained properly. In this blog, we will take a closer look at marble countertops and the backsplash options for them. A backsplash for marble countertops can range from ceramic tiles to marble slab, metal, and glass splash-backs. With each material, homeowners and designers can create various and impactful looks easily.
If you are considering a new backsplash for marble countertops for your next renovation project, take a look at these great designs which are centered around the marble countertops. Here, from modern to traditional, you will trace a wide range of looks and styles with marble countertops than bring an upscale edge to any space.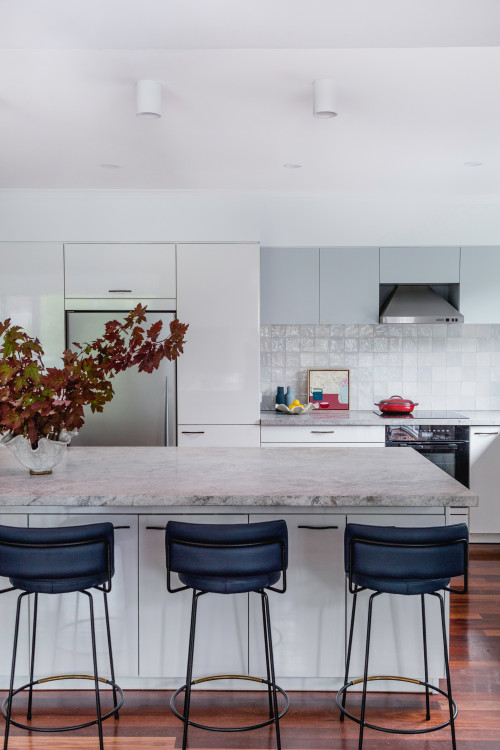 ID# 138702 | Houzz.com – Credit | © Studio Esar
---
White Zellige Tile Backsplash with Marble Countertops and White Cabinets
One of the best ways to match countertops with a backsplash is to define the subtle color variations of the materials and coordinate them accordingly. This modern kitchen in Melbourne chooses a neutral scheme abundant in the shades of white, ivory, and gray introduced by the countertops and backsplash. They are complemented by white flat-front cabinets paired with pale blue upper cabinets and dark blue counter stools. This way, the kitchen color scheme gains a bit more dimension with the shades of blue that instill calmness into the space, while the wood floor finish channels warmth.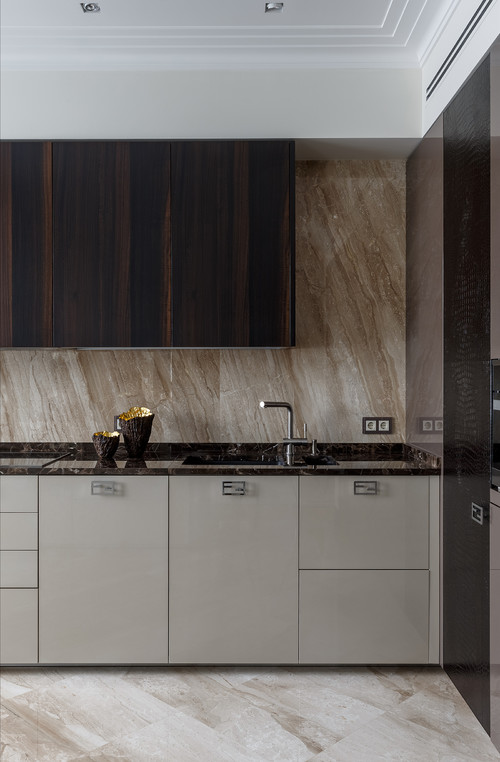 ID# 138703 | Houzz.com – Credit | © AB Architects
---
Black Marble Countertops with Cream Cabinets and Ceiling-Height Backsplash
This dramatic kitchen design owes its opulence to the combination of dark and creamy shades along with the expansive use of marble. From the backsplash to the countertops, and floor tiles, it is all marble that brings contrasting shades together in undulating forms to inject soft aesthetics to offset the black upper cabinets. Overall, this rich marble vocabulary of the kitchen creates a memorable look honored by chrome cabinet handles that also command attention.
What kind of backsplash goes with marble?
Marble is a classic material yet eligible to be used in modern and contemporary kitchen designs as well. And there are plenty of backsplash material options that pair perfectly with marble countertops. Metal backsplashes, Zellige tiles, glass sheets, ceramic and porcelain tiles, marble slab and tile backsplashes, and window backsplashes could create sophisticated and comforting looks with marble.
Overall, it mainly depends on the impact you are aiming for. For example, if you prefer sleek looks and want your design to be marble-oriented, you can match your countertops with the backsplash for a seamless and more coherent design. Surprising elements like brass, copper, and stainless steel are also some popular options for those looking for something more adventurous and classic.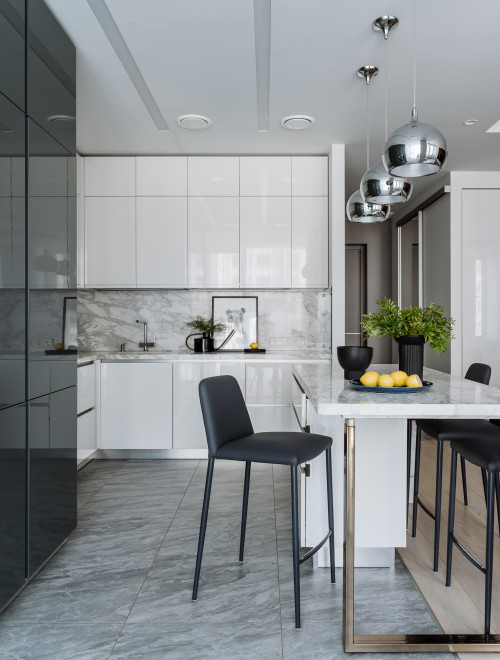 ID# 138704 | Houzz.com – Credit | © Бюро9 – BURO9
---
Matching Marble Backsplash with Countertops and White Cabinets
This contemporary kitchen in Moscow makes for a well-balanced design with white and dark blue cabinets that ooze elegance. The pronounced gray smoky patterns on the white base of the marble backsplash with the matching countertops serve as a visual focal point. The kitchen island mirroring the perimeter counters zones the kitchen, paired with faux-leather dark blue stools conversing with the blue full-height cabinets right in the back. It also helps create a better perception of the space with the gray marble floor tiles that delineate the kitchen.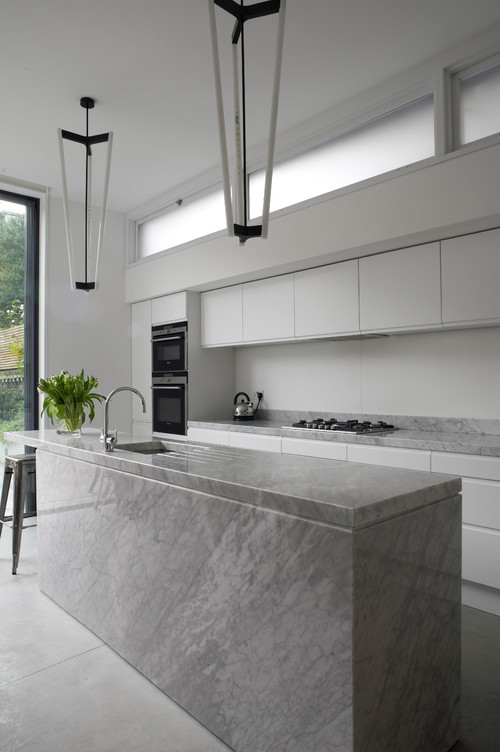 ID# 138705 | Houzz.com – Credit
---
White Quartz Backsplash for Marble Countertops and Marble Island
If you want your marble to be the focal point and a true show stopper, the best thing is to keep the rest monochromatic as in this contemporary kitchen. While going with a galley-style kitchen, white cabinets, and a white quartz backsplash, the kitchen complements these basic pieces with gray marble countertops and a long and linear island unit carved out of gray marble. The clean-line cabinetry and white shades used throughout the space honor the marble slabs, while the marble-sheathed island serves as an anchor for ultra-modern and futuristic lighting fixtures.
Backsplash Materials for Marble Countertops
Marble, ceramic, glass, wood, and quartz are some of the backsplash materials that you can pair with marble countertops. It is up to homeowners to mix different materials with marble countertops and just go monochromatic with matching marble backsplashes. Both approaches work well, resulting in impressive looks. But if you want to add more depth and ensure diversity, you can choose ceramic, glass, quartz, and even metal backsplashes to pair with your marble countertops.
Marble Backsplash for Marble Countertops
Marble on marble is something that we see commonly. And marble slab backsplashes are used popularly to create focal points and exude elegance. Especially, the ceiling-height ones provide immersive and memorable looks in contemporary kitchens. But if you would like to layer the walls with more complex patterns, marble is available in different tile patterns and versions as well. From mermaid to chevron, subway, and hexagon especially, each of these patterns suits the marble perfectly, which you can easily couple with marble countertops. The resulting scheme feels luxurious and gains more depth and texture.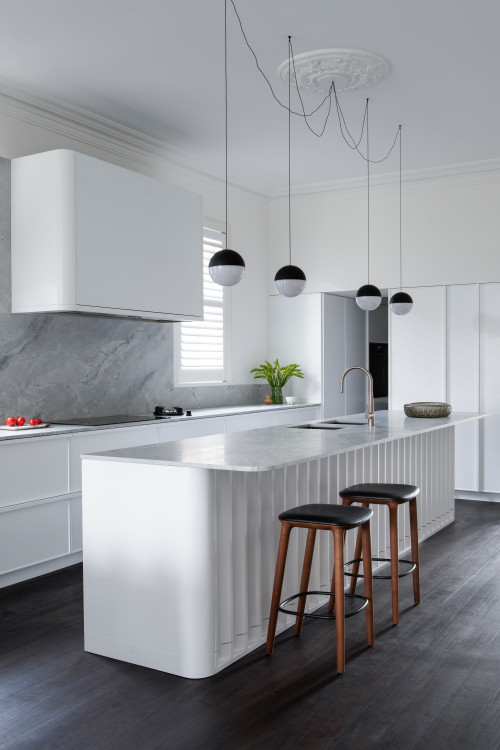 ID# 138706 | Houzz.com – Credit | © Minosa | Design Life Better
---
Marble Backsplash for Marble Countertops and Curved Forms
Abundant in curves and undulating forms, this contemporary kitchen comes with a motto of "Devil is in the detail." From the rounded edges of the range hood and island to the intriguing patterns on the front of the kitchen island, this kitchen is truly filled with little details that also complicate the clean line cabinetry for more sophistication. Yet, it does so without overwhelming the eyes. To complement these eye-popping forms, the soothing gray marble and countertops bring a gloomy edge to the kitchen, while mid-century-inspired orb lighting over the island evokes extra interest.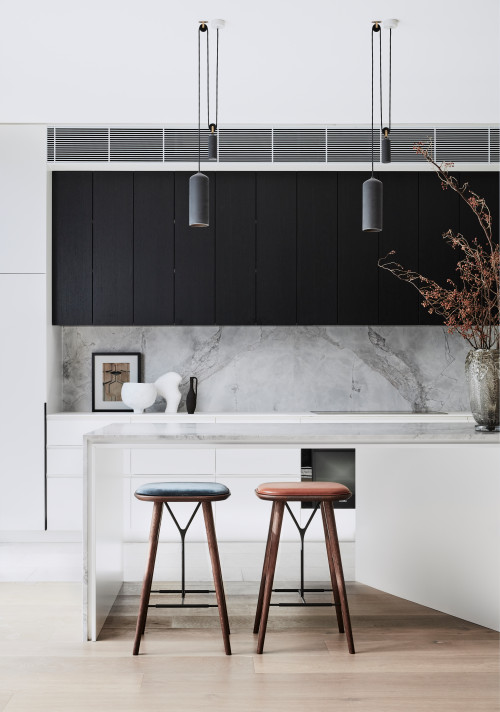 ID# 138707 | Houzz.com – Credit | © Penman Brown Interior Design
---
Gray Marble Slab Backsplash with Two-tone Cabinetry and Colorful Stools
Oozing opulence, this contemporary kitchen lays its foundation on the contrasting shades and the gray marble slab backsplash that deliver calming aesthetics. The slim upper cabinetry looks even slimmer in black shades, making the kitchen look taller. This top half of the kitchen is skillfully contrasted with white base cabinets that make the kitchen feel like floating. The colored stools in shades of red and blue add a splash of color without making it too obvious. And LED pendants over the island add extra dimension overhead without causing any clutter.
Natural Stone Mosaic Tiles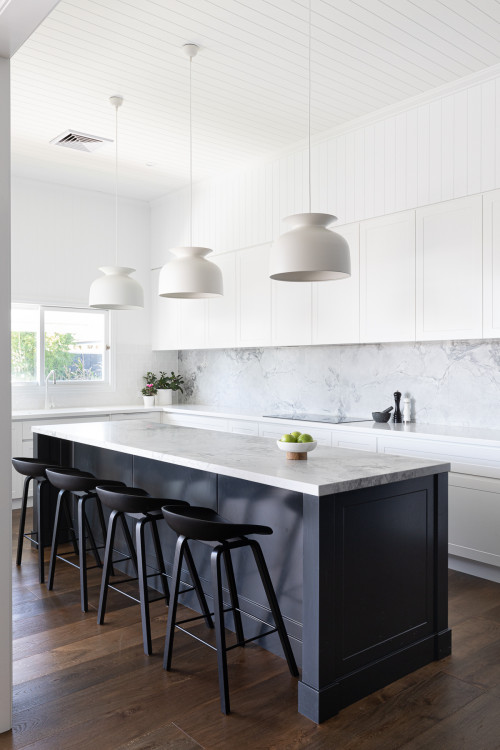 ID# 138708 | Houzz.com – Credit | © Bella Vie Interiors
---
Contemporary Kitchen with Black Island and White Cabinets
This contemporary kitchen is renovated to create an inviting and functional design for a large family. And with decluttered lines and white flat-front cabinets, it suggests cleanliness and tidiness despite the three children living in the house. The black kitchen island is wide enough to offer a hefty benchtop and can pack many people around it for a laid-back eating space. In that sense, it also could serve as a social hub of the house. A trio of oversized white pendants provides enough task lighting for the center to create an efficient working space. The marble countertops and white marble backsplash with gentle veins add movement to the worksurface and the backsplash, pleasing the eyes. Lastly, the wood floor finish adds a sense of warmth, providing the necessary anchor for the whole kitchen design to rely on.
Does the backsplash need to match the countertop?
Backsplashes don't necessarily need to match the countertops. Rather, mixing materials and patterns of various sizes add dimension to the space and ensure variety rather than resulting in something monotonic. But for those looking for something more integrated and continuous, there is almost nothing more sophisticated and stunning than a matching marble countertop and backsplash.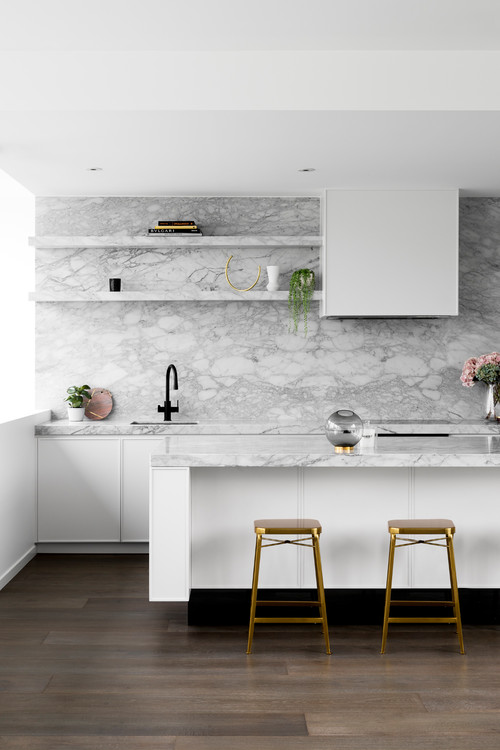 ID# 138709 | Houzz.com – Credit | © GIA Bathrooms & Kitchens
---
Ceiling-Height Marble Backsplash with White Cabinets
The overarching narrative of this contemporary kitchen in Melbourne is without a doubt marble. Used as a ceiling-height backsplash and countertops, it brings comforting aesthetics. Inside dominate the light shades rich in gray and white hues, while flowers and kitchen plants add a ripple of color. The kitchen island elevated on a black platform gives the illusion of floating as if it is suspended in the air. The brass-black counter stools and marble-carved floating shelves evoke extra interest, while the range hood is hidden from the view in a white cabinet, the uniform look is maintained effortlessly.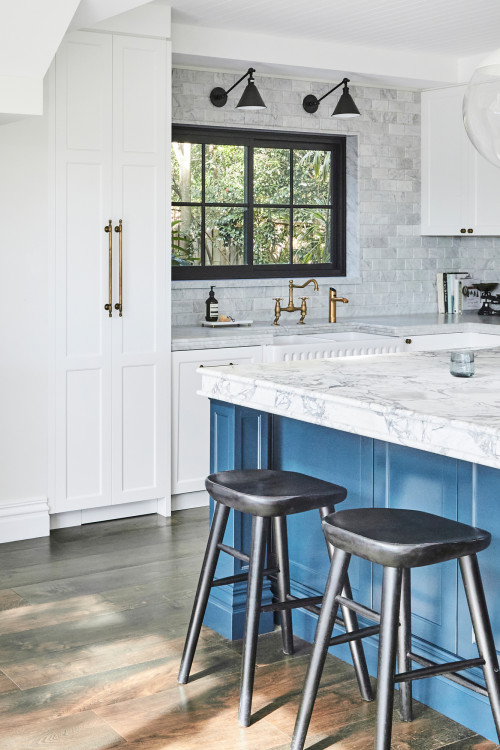 ID# 138710 | Houzz.com – Credit | © Danielle Victoria Design Studio P/L
---
Traditional Kitchen with Blue Island and Brass Hardware
This traditional kitchen design brings familiar elements and patterns together. The marble subway tile backsplash, white shaker cabinets, and a blue oversized kitchen island all give the kitchen a timeless feel while imposing color and movement throughout the kitchen. The marble tile backsplash and countertops create a harmonious look. Also, the marble tiles bring a nice textural look to the cabinetry. The black cabinet handles, black vintage-style wall sconces, fluted butler sink, and antique brass bridge faucet lend enough interest to the design. Yet, of course, the white marble countertops on the island and perimeter counters with bluish gentle veins serve as a centerpiece, stealing the show.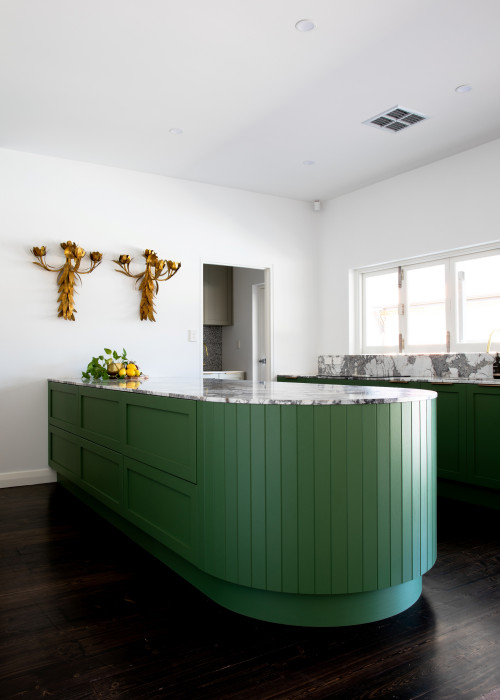 ID# 138711 | Houzz.com – Credit | © Jag Kitchens
---
Curved and Fluted Island with Marble Backsplash for Marble Countertops
The thought-invested color scheme of this contemporary kitchen creates a true statement piece with the rounded kitchen island for the otherwise too-monochromatic home. Paired with honed finish Cote D'Azur marble countertops and the backsplash, this island unit oozes opulence. Its curved form defined by fluted accents and drawers brings not only soft aesthetics and easy safer turns for its users but also great storage solutions. Coming back to Cote D'Azur, this stunning version of the marble with striking white and gray veining is quarried in Turkey, showcasing one of the statement pieces produced by nature. And what complements these stunning pieces are the white walls free of wall units and brass wall decorations that bring the bare, white walls back to life.
Ceramic Backsplash for Marble Countertops
Available at affordable prices and in various designs, ceramics are also easy to clean and maintain. Ceramic subway and square tiles and even geometric patterns can create a well-balanced look with marble countertops. You can even experiment with the various color options of ceramic tiles if you love colorful and dynamic designs.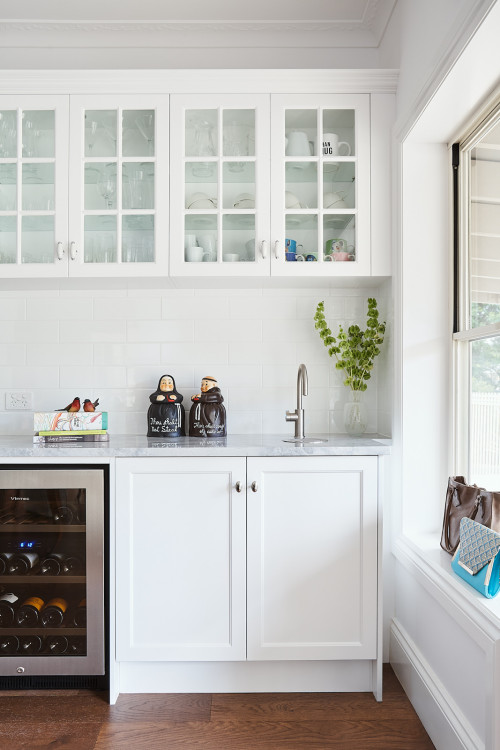 ID# 138712 | Houzz.com – Credit | © Ivy + Piper Pty Ltd
---
White Ceramic Subway Tile Backsplash for Marble Countertops and Display Cabinets
This traditional design home bar has everything that it needs. The white ceramic tile backsplash with marble countertops, display cabinets to exhibit gorgeous glassware, a beverage cooler, and a sink come together to create a self-sufficient home bar. The shaker cabinets keep the overall scheme simpler. The dark wood floor finish adds visual drama, and subway backsplash tile laid in a running-bond style generates movement on the walls.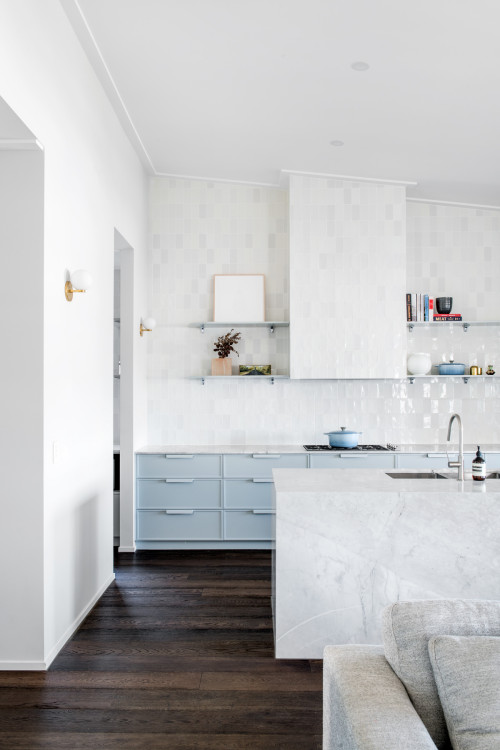 ID# 138713 | Houzz.com – Credit | © Room By Room
---
Blue Cabinets with Ceiling-Heigth Ceramic Tile Backsplash and Marble Island
The vertically stacked ceramic subway tiles going up to the ceiling envelop the range hood on the way to create a uniform look throughout the wall. The glazed finish on these backsplash tiles adds a nice texture and glow commanding attention. Below, the pale blue cabinets topped by white marble countertops deliver serenity, providing a comforting view to look at. Right across, the marble-carved island sits in elegance conversing with the lounge and zoning the kitchen skillfully.
How do I choose a backsplash for my kitchen?
When choosing a backsplash for your kitchen, there are a couple of factors to consider: budget, overall theme and color palette of the kitchen, and durability. Though tiled backsplashes are popular, and subway tiles are the first thing that comes to mind, there are many other timeless and suitable options for low and high budgets such as marble backsplash tiles, ceramic tiles, or metal sheets. Especially considering how many ceramic tile designs and patterns are available, you can have a wide spectrum of options to choose from. Plus, unlike what is assumed, slab backsplashes are not necessarily more expensive than tiled ones. On the contrary, the tiled versions of natural stones could even cost a lot more.
Secondly, just consider the style of your kitchen cabinets and the overall color scheme of your countertops. Do you want a matching color or something more contrasting? At the end of the day, it is all dependent on you and what you expect to see in your kitchen.
Thirdly, backsplashes are the guards of your walls to protect them from grease, water, and mold. That's why choosing a durable and easy-to-clean material is a necessity, especially if you are an avid cook. If that's also your priority, you can consider glass sheet backsplashes, ceramic and porcelain tiles, window backsplashes, and sealed natural for easy-to-clean backsplash options.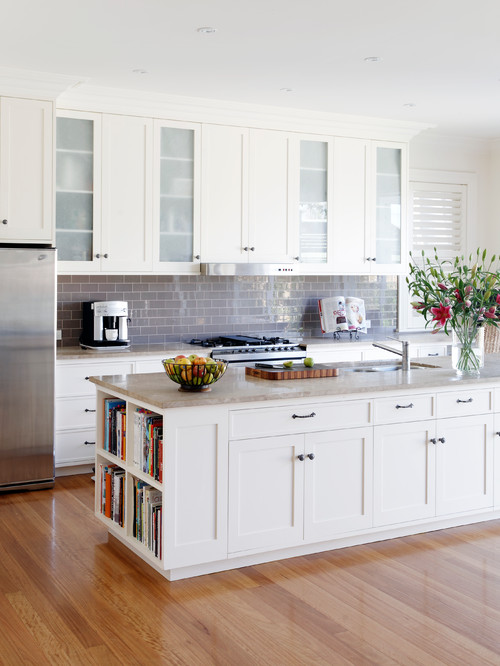 ID# 138714 | Houzz.com – Credit | © Michael Bell Architects Pty Ltd
---
Gray Tile Backsplash with Off-White Cabinets and Beige Marble Countertops
In this transitional kitchen, the off-white shaker cabinets with yellow undertones topped by beige marble countertops get a gloomy touch with a gray subway tile backsplash. These gloss-finish ceramic tiles bring a shimmering effect, coordinating perfectly with the upper display cabinets. The long island running parallel to the counters provides a hefty worktop and plenty of storage space along with open cabinet shelves.
Glass Backsplash for Marble Countertops
Easy-to-clean and eco-conscious material glass backsplash provides a good alternative to ceramic and natural stone backsplash options. Thanks to its translucent finish, it can create a soft and appealing contrast with honed marble countertops. But if you like glossy looks, you can combine glass sheet backsplashes with glazed marble countertops and let lights bounce off around the room.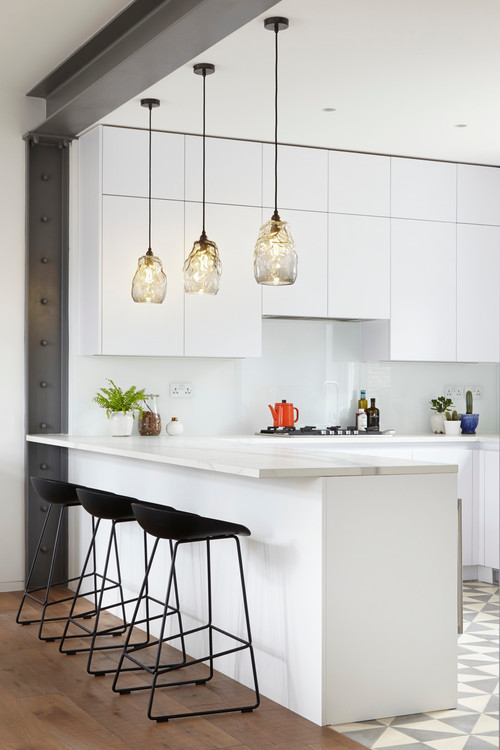 ID# 138715 | Houzz.com – Credit | © RISE Design Studio
---
Glass Sheet Backsplash for Marble Countertops and Geometric Floor Tiles
Nestled in the corner of a London apartment, this contemporary kitchen has an industrial vibe to it thanks to a metal frame. But what lies behind is a contrasting image to the front and a smart twist with white flat-front cabinets and a white glass sheet backsplash that create a seamless look throughout. The white marble countertops play along, while its pronounced veins add movement to the otherwise all-simple look. And to jazz up the design a bit more, geometric pattern tiles clad the kitchen floor, and a trio of irregular smoked glass pendants dropped over the peninsula provide task lighting.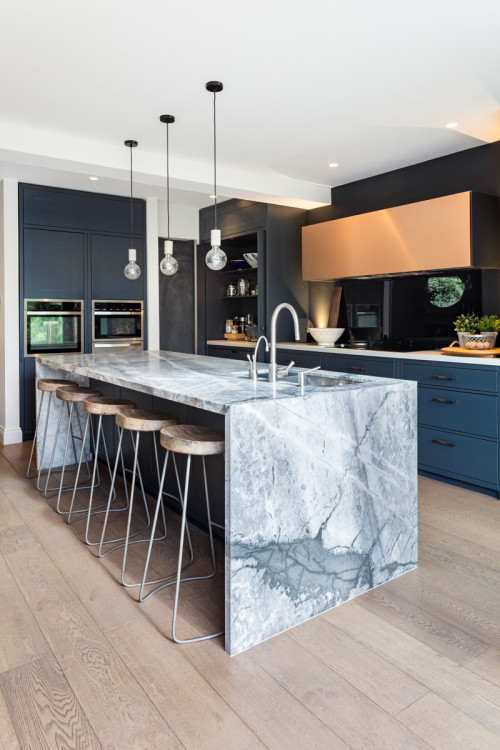 ID# 138716 | Houzz.com – Credit | © Granit Architects + Interiors
---
Marble Waterfall Island and Black Glass Sheet Backsplash for Marble Countertops
The bold color scheme and enriched material vocabulary in this contemporary kitchen are grounded upon dark blue kitchen cabinets, a black glass sheet backsplash, and copper-plated extract. These contrasting material and color repertoire gives the kitchen a festive feel to champion the marble countertops and marble-clad waterfall island. The island is paired with backless stools that can easily be tucked under the island without stealing any space from the central walkway. On the floor, oak timber floors inject warmth and bring much-needed soft shades to the blue-dominant kitchen theme. The light bulbs also used for task lighting over the kitchen island take us back in time, bringing an industrial edge to the kitchen.
Metal Backsplash for Marble Countertops
Brass, copper, steel, and bronze are some of the most popular metal backsplashes. And they are as classic as marble, which makes metal a suitable option for marble countertops.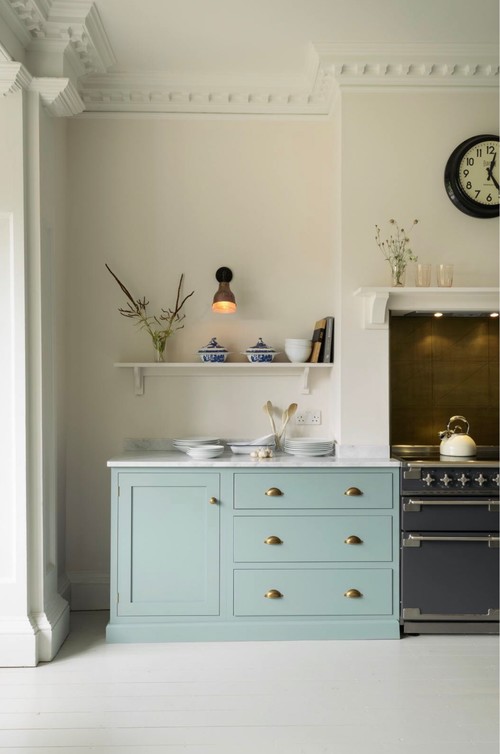 ID# 138717 | Houzz.com – Credit | © Ross Taylor Homes
---
Metal Backsplash for Marble Countertops And Blue Cabinets
This cozy kitchen design is ready to make you feel at home right away. Its soothing and soul-caressing color scheme with pastel blues and light cream walls creates a gentle look. The vintage stove paired with the brass backsplash adds an intriguing touch that is put into dialogue with the cabinets through the antique brass hardware. The Carrara marble countertops, floating shelves supported by brackets, and also a cute wall sconce enrich the design. Lastly, the light-colored wood slats gently lead to the dining space surrounded by glazed windows.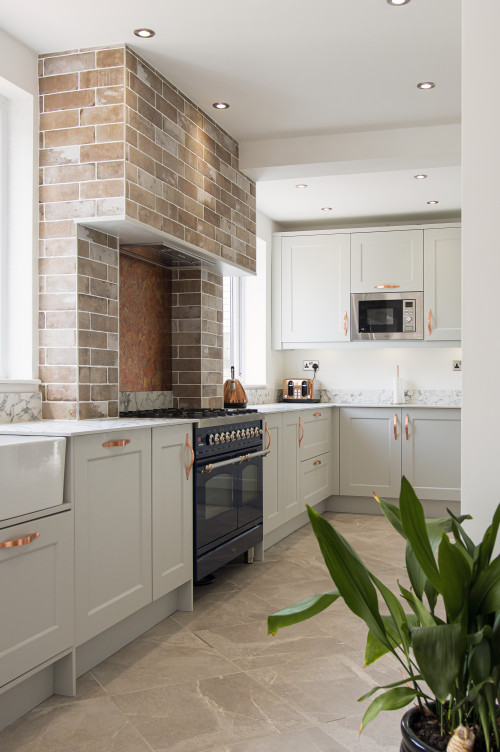 ID# 138718 | Houzz.com – Credit | © Shaun Davies Home Solutions
---
Traditional Kitchen with Light Color Palette and Cream Cabinets
The cream cabinets illuminated by brass handles just bring the right amount of glow to this traditional kitchen to pepper the design. The stunning dark blue stove is treated like a fireplace with brick tiles cladding the range hood, creating a feature wall with a metal stove backsplash. The rest feels complete with marble backsplash running shorter on the walls and enveloping the countertops adding a layer of sophistication. The large format floor tiles in light cream tones streaked with white veins preserve the basic yet ambitious palette of the design. Overhead, the built-in spotlights ensure the entire kitchen is lit evenly to work efficiently and safely.
Design hint: If you would like to add more depth to your kitchen, mixing patterns and tiles of different sizes also can do the work for you.
Should the kitchen backsplash be lighter or darker than the countertop?
The answer to this question rather depends on how homeowners feel about this as it is a preference-related aspect of designing a kitchen. But from a broader perspective, to add a sense of quirkiness and drama, darker backsplashes work better with light countertops. Plus, it is much easier to work on light-colored countertops as you can navigate better and easily spot what is where.
But if you want the eye-level portion of the space to look brighter, then a backsplash in lighter shades would be more suitable for you. And you can anchor this light backsplash with the help of dark countertops.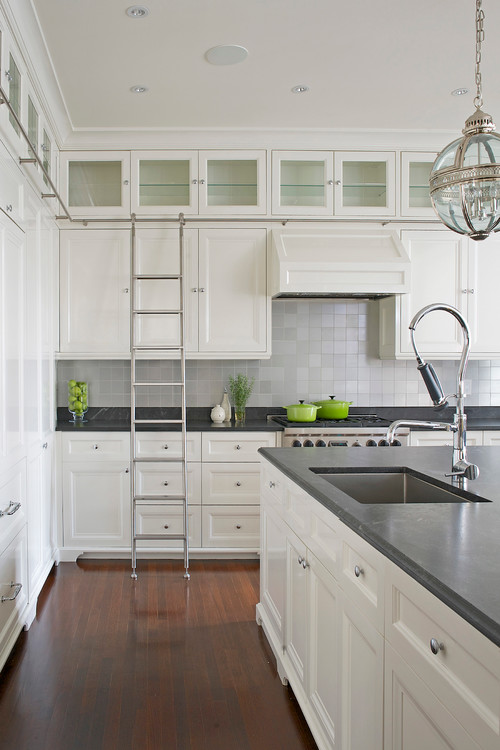 ID# 138719 | Houzz.com – Credit | © Leona Mozes Photography
---
Tiled Metal Backsplash with Black Marble Countertops and Chrome Hardware
This transitional kitchen has a luxurious vibe to it and gains this flair by treating traditional elements like wooden ladders with chrome for a sleeker look. And the rest maintains this vibe with the chrome hardware, the tiled stainless-steel brushed finish backsplash, and the glass shelves in the top display cabinets that continue to modernize the kitchen. The black marble countertops, on the other hand, ground the look, topping the white shaker cabinets. The medium-tone wood floor radiates a sense of warmth, which is also one of the best ways to complete a neutral color palette and make the overall look more approachable.
Top Marble Countertop Colors
Gray, black, white, and beige is the most popular countertop colors because they are neutral and easy to match with the overall color palette.
Backsplash for White Marble Countertops
White is the most popular color for marble countertops as it is for any other backsplash material. Featuring variously shaped veins and streaks depending on where they are quarried from, white marble countertops are not just simply white. Rather, each one has its distinguishing feature and pattern. And it becomes an important point when choosing the proper backsplash for them. For example, if the marble countertop has pronounced veins, then it is better to choose something simpler for the backsplash or use the same marble for the backsplash. But if countertops have gentle veins, homeowners can act freer when choosing backsplashes.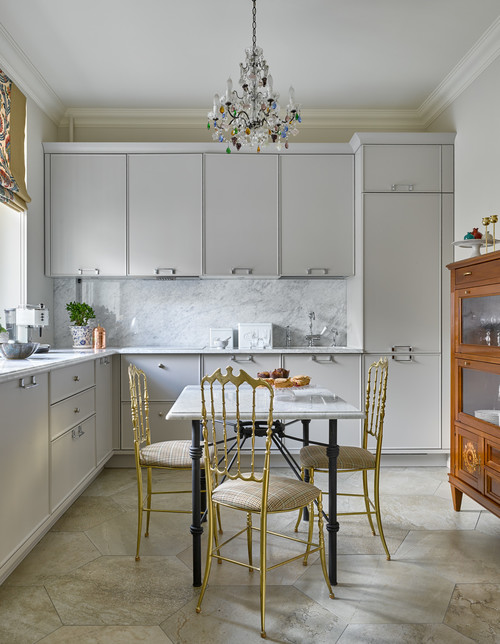 ID# 138721 | Houzz.com – Credit | © Юлия Голавская
---
Light Gray Cabinets with Hexagon Floor Tiles and Chandelier
With this gorgeous chandelier and brass stools, this kitchen surely treats you with luxury. Though, what lies in the back merely consists of modern features, including gray cabinets with chrome hardware and a marble backsplash paired with marble countertops. This cool and sophisticated design just gets a bit spicier with the opulent elements situated in the center. And among this modern lined cabinetry, brass shades on the windows and antique wooden furniture look like an anachronistic couple, not to mention the large-format hexagon floor tiles. Overall, this kitchen feels busy and anachronistic yet one hundred percent interesting.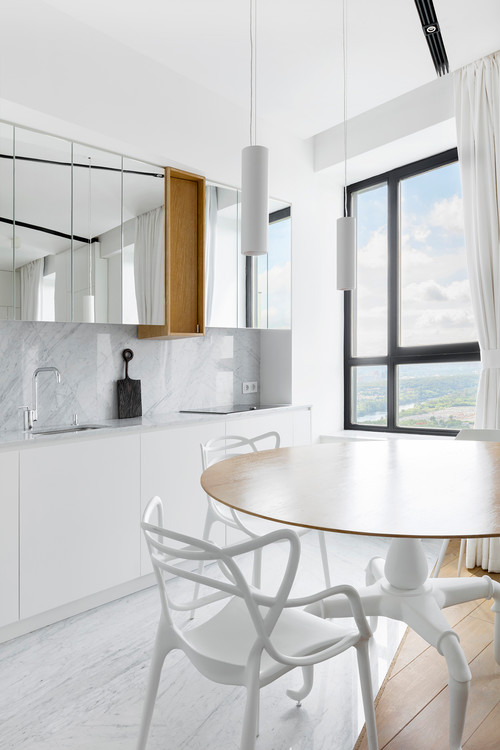 ID# 138722 | Houzz.com – Credit | © Maxim Kashin
---
Mirrored Upper Cabinets with Marble Backsplash for Marble Countertops
This contemporary kitchen in Moscow seems to have a bit of everything. From the mirrored upper cabinets to the marble backsplash, biomorphic form stools, and wood accents, each piece is unique, yet somehow comes together in harmony. Since the kitchen is rather compact, it is wise to use mirrored upper cabinetry and use a white dominant color palette to enhance the openness and spaciousness. The unpronounced veins on the marble create a calm look, which also continues on the floors for a sense of cohesiveness. The round-shaped table with eye-catching stools introduces an informal and laid-back seating area right across the oversized window that also lends an urban city view indoors.
Backsplash for Gray Marble Countertops
Gray is the kind of color that you could use anywhere and anytime. It is versatile, sophisticated, gloomy, and neutral. As for gray marble countertops, they go well with gray marble backsplashes, glass sheets of various shades (including yellows, pinks, and oranges), concrete, and mirror backsplashes. But when deciding, don't forget to consider the overall theme of the kitchen and the forms of the veining on the marble to create a well-balanced and curated design.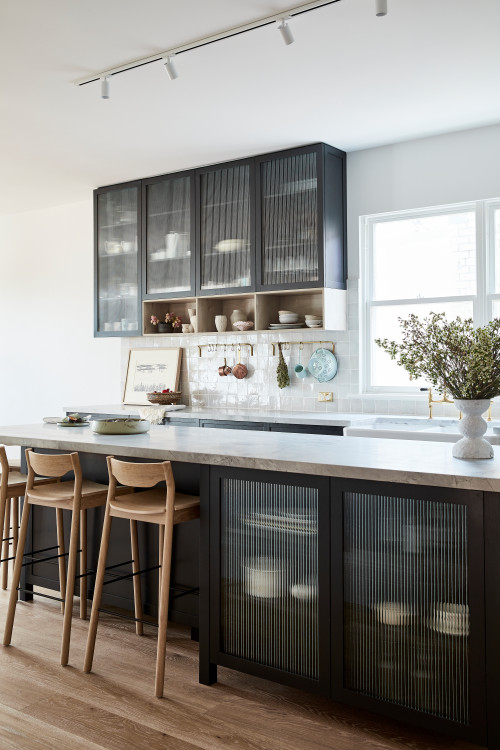 ID# 138723 | Houzz.com – Credit | © Blue Tea Kitchens and Bathrooms
---
Fluted Glass Cabinets with Zellige Tile Backsplash for Marble Countertops
This stylish transitional kitchen is well-appointed with fluted glass cabinets that give the kitchen a cinematic vibe. The white zellige tiles peek out between the cabinets stylized with wall-mounted rails to make room for informal storage and personal touches. Below continues the natural stone marble countertops that harmonize beautifully with the handmade zellige tiles. Also, the wooden cabinet shelves and brass detailing just pepper the design, playing up the stunning marble and zellige applications.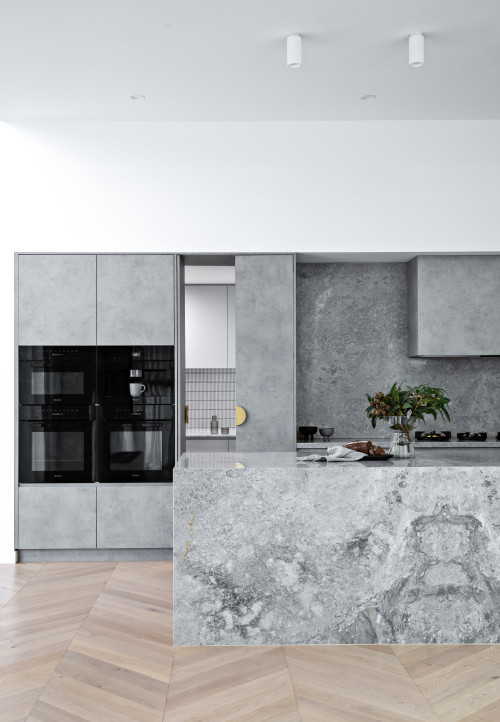 ID# 138724 | Houzz.com – Credit | © Dion Group Projects
---
Concrete Cabinets and Marble Backsplash with Marble Island
This super-contemporary kitchen executes a monochromatic color scheme, employing statement materials like marble and concrete, and uses them extensively. Here, presenting similar textures and patterns, the marble and concrete seem to complement each other harmoniously. The marble-carved island introduces a solid volume to create a better perception of the space. The black built-in appliances and chevron wood floor finish also stand out as complementary elements, bringing contrast, and warmth, respectively.
Is marble OK for kitchen countertops?
Marble is a durable and heat-resistance material, but it doesn't mean that you can just act recklessly. First of all, it is important to avoid placing hot pans on marble countertops. Secondly, since they are porous, the food splatters, and grease can be absorbed when they are not sealed properly, which makes marble prone to harboring bacteria. Thirdly, if they get exposed to anything acidic in the long term, they can get scratched.
When you think about it, the same cons apply to more or less all materials at least all natural stones. And regular cleaning is almost a must to keep the best versions of any countertop. But with marble, things can get a bit more complicated because it is a natural stone and porous. But as long as it is well-maintained and sealed regularly, marble countertops have a long lifespan.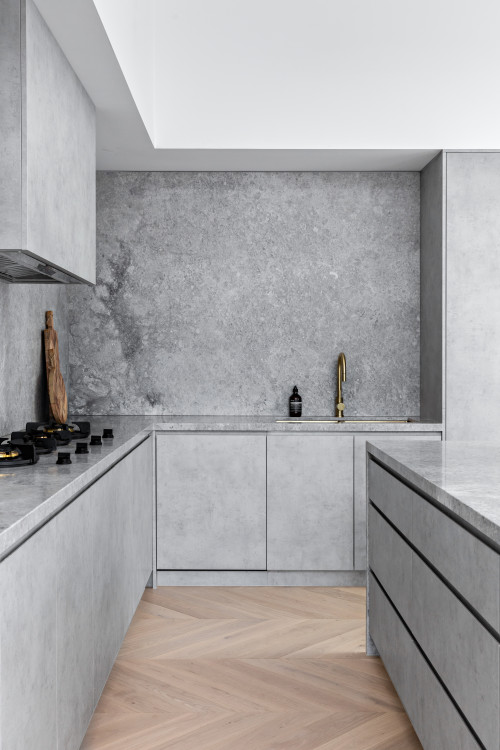 ID# 138725 | Houzz.com – Credit | © Dion Group Projects
---
Modern Kitchen with Gray Marble Backsplash and Concrete Cabinets
Here we have another kitchen that ties together a marble backsplash with concrete cabinets. Reaching the ceiling, the marble creates a seamless look, supported by marble countertops. The antique brass tap also adds an eccentric touch that pops against the all-gray backdrop.This gray kitchen design also serves a modern appeal.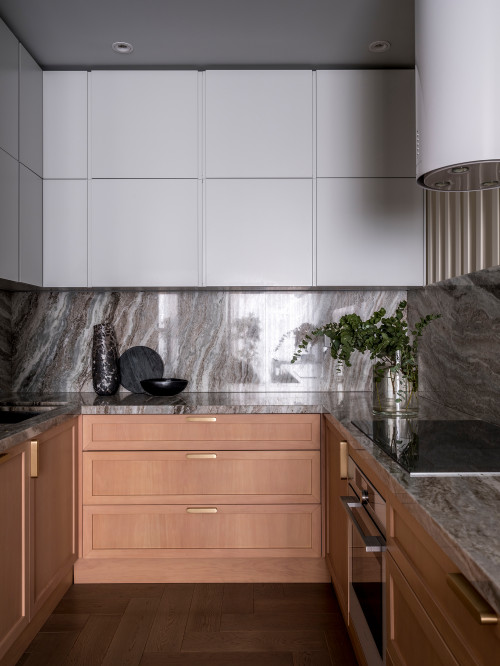 ID# 138726 | Houzz.com – Credit | © Maria Mikena
---
Brown Marble Backsplash with Wooden Cabinets And Brass Hardware
This cozy kitchen design abounds in warming shades. The wooden cabinets paired with brownish marble backsplash and countertops bring an impactful contemporary vibe. And this union feels balanced with white upper cabinets and a white cylinder-shaped range hood. The brass hardware also adds a nice sparkle to the cabinets.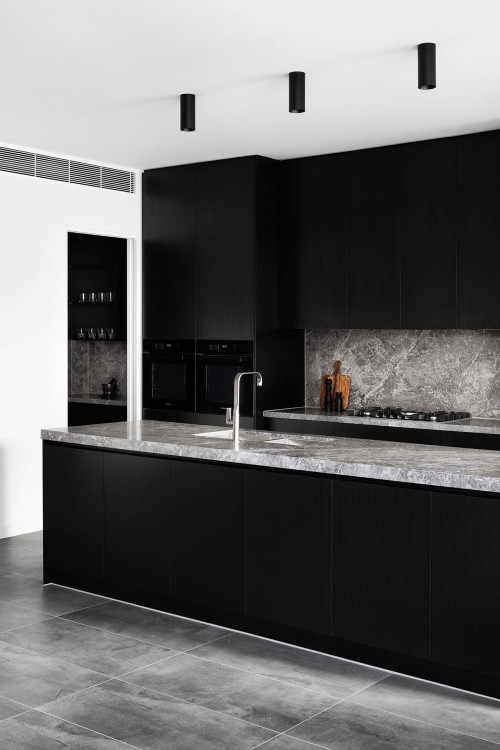 ID# 138727 | Houzz.com – Credit | © C. Kairouz Architects
---
Black Cabinets and Gray Marble Backsplash for Marble Countertops
This dramatic kitchen design is founded upon the black sleek cabinetry and gray marble that creates a timeless union. Black appliances just blend perfectly with the black cabinets, almost feeling camouflaged. The galley-style kitchen island oozes opulence, while dark floor tiles with discolored spots give this contemporary kitchen an industrial edge.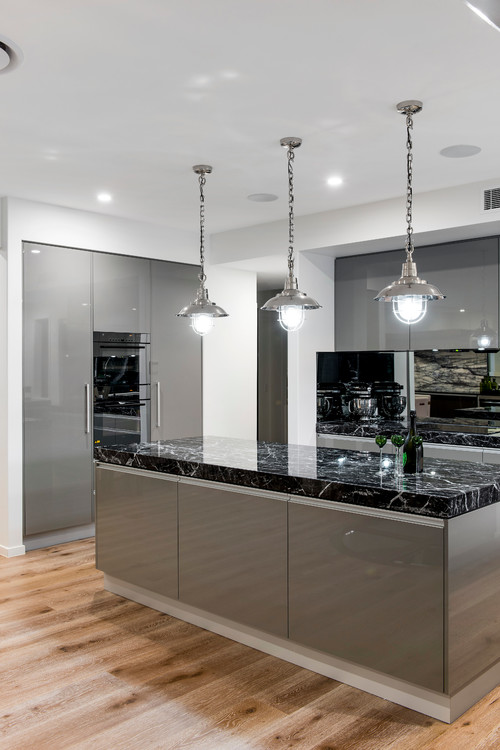 ID# 138728 | Houzz.com – Credit | © Enigma Interiors
---
Glorious Kitchen Design with Gloss Cabinets and Black Marble Countertops
Characterized by gray gloss finish cabinets and a black Grigio Carnico marble benchtop, this contemporary kitchen oozes opulence and a sense of drama. But the thing is how would you complement this ambitious look? If you think using a marble backsplash of the same version as the countertops would be too much for the kitchen, you can go with a black glass sheet backsplash as this kitchen does. This way, you maintain this dramatic and glossy look and introduce a new material that can also coordinate with the glossy cabinets. And what do you think about the spotlights and modern-vintage mixture lighting fixtures? We enjoy how they feel at home, bouncing off around the room thanks to the glazed surfaces.
How long does a marble countertop last?
Marble can last for more than 100 years, or, in other words, it can just outlive your house and can be passed down from one generation to another just like terrazzo. But of course, it also depends on how it is used and whether it is sealed annually and properly.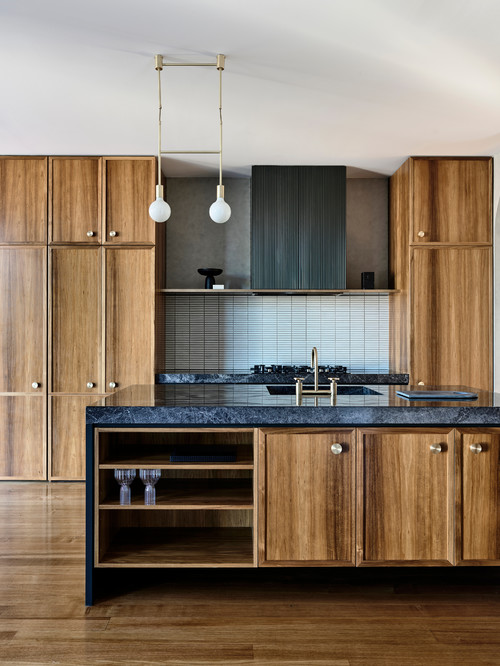 ID# 138729 | Houzz.com – Credit | © Luke Fry
---
Contemporary Kitchen with Kit Kat Backsplash With Black Marble Countertops
There is just something so charming and inviting about this contemporary kitchen. Occupied by wooden cabinets and accentuated by black statement features, it exposes kitchen users to natural shades and plenty of texture. On the other hand, the white horizontally stacked kit kat backsplash stands out, introducing a light shade in sophisticated patterns. The black marble countertops and black fluted design hood provide the kitchen with true statement features, while the brass hardware adds more warmth to them.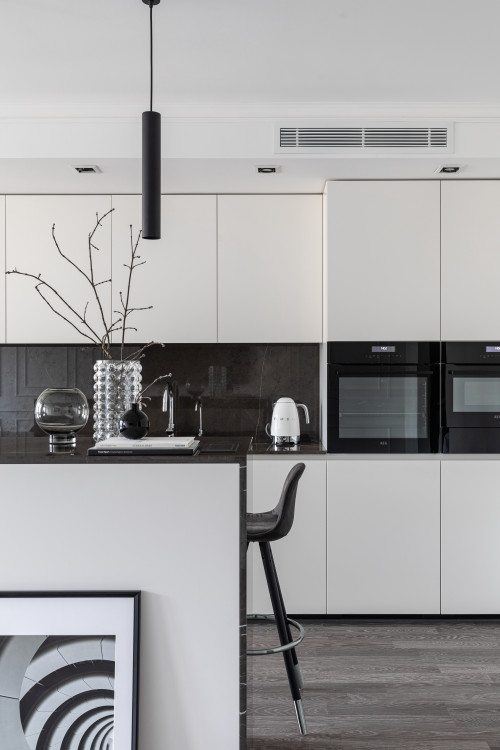 ID# 138730 | Houzz.com – Credit | © Hamiltoun
---
White Cabinets with Black Marble Countertops and Backsplash
This sleek contemporary kitchen places black marble countertops and backsplash in a white-dominant kitchen with white clean-line cabinetry. This way, it makes the black marble the protagonist of the kitchen, while the gloss finish on it glorifies the marble even more. Additionally, the black built-in appliances, a small kitchen island framed by the same marble and paired with LED pendants, and modern stools blend seamlessly into their environment, creating a well-functioning kitchen design.