29+ Dramatic Kitchen Backsplash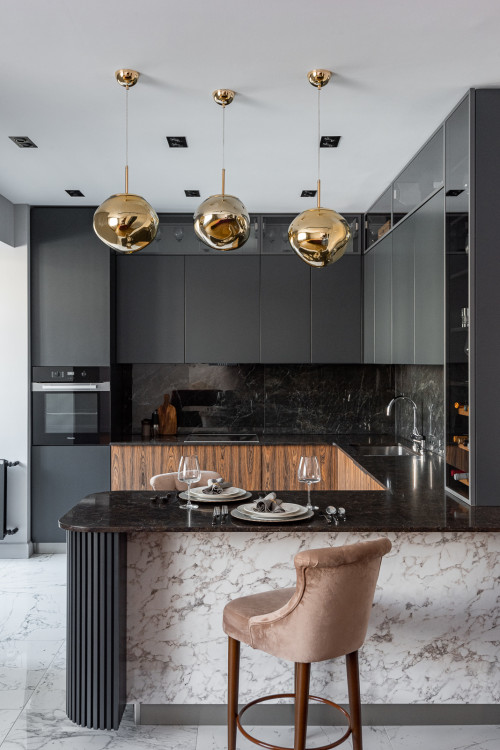 ID# 136808 | Houzz.com – Credit | © Анастасия Габдрахимова
---
Contemporary Black Cabinets with a Black Dramatic Backsplash and Quartz Countertops
The black porcelain backsplash and the quartz countertops complement each other harmonizing with the black flat-panel cabinets. Brass accents and the wood surfaces combine creating an elegant luxury. The black kitchen backsplash adds texture and enhances the expensive look of the environment.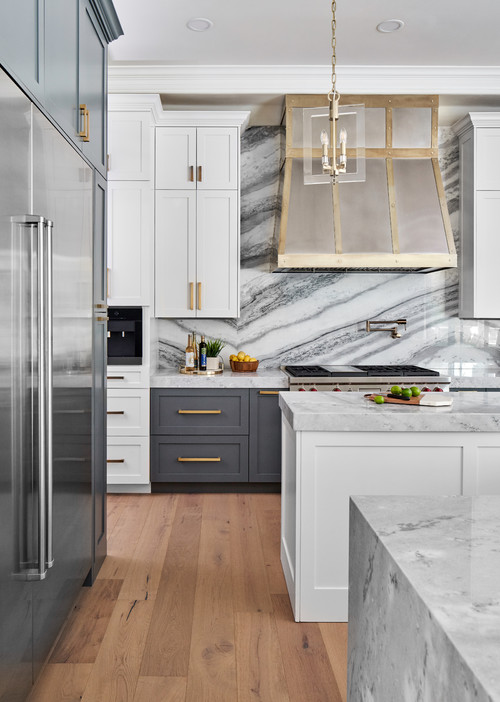 ID# 136827 | Houzz.com – Credit | © Haven Design and Construction
---
White and Gray Shaker Cabinets with Brass Hardware
The magnificent stainless range hood with antique gold banding is the center of attention in this lovely kitchen. The two islands give the room drama and functionality, while the gray and white cabinetry was inspired by the marble backsplash. Countertops made of quartzite are durable and go well with the marble backsplash.
Dramatic Kitchen Backsplash
The three main components you have to work with when designing (or renovating) a kitchen are the cabinets, the worktops, and the backsplash. The majority of the time, your countertops and cabinets will receive the most attention, which makes sense. They are the biggest and most useful objects in your room, after all. But because your backsplash is the finishing touch that will tie your room together, it also merits consideration and care. A dramatic kitchen backsplash can create a striking focal point with a strong statement.
If the term "kitchen backsplash" is unfamiliar to you, don't worry—not it's a very difficult idea. To prevent splashes on your walls from your sink, stove, and/or other appliances, a backsplash is a simple-to-clean surface that is placed behind them. Though a variety of materials can be used to create it, marble or tiles are usually used for the interior. A dramatic kitchen backsplash may give a splash of edgy flare to your room, just like your countertops and cabinets.
Color Options for Dramatic Kitchen Backsplash
Since a backsplash is a design aesthetic in today's world, when you want to design or remodel one of them you will see many color options for dramatic kitchen backsplash designs. A backsplash does not serve to protect your walls from splashes anymore, it acts like a design component in the kitchens.
From black to striking green hues you can find different and eye-catchy color options for dramatic kitchen backsplash designs in the backsplash industry. Ceramic or marble, slab or tile, whether your design is classic or contemporary, there is a perfect fit for everyone with many color options for dramatic kitchen backsplash ideas.
Black Dramatic Kitchen Backsplash
In addition to giving the space a more sophisticated appearance and contributing to the development of contrast or a solemn ambiance, black is a traditional and timeless color that is always in style. An excellent option for a contemporary black kitchen backsplash will bring a stunning accent to a space that is neutral or pastel in hue or will complete a dark room. These aspects will help you to create a perfect black dramatic kitchen backsplash.
Every color scheme you can imagine pairs well with a black dramatic kitchen backsplash, so you may use one in a dark, solemn, bright, or completely neutral kitchen. Black dramatic kitchen backsplashes are most frequently used in minimalist, Scandinavian, contemporary, and industrial kitchen designs. However, by backing it with black appliances, a hood, worktops, or fittings, you can also try it in a rustic, farmhouse, antique, or many other types of kitchens.
How to create a dramatic kitchen backsplash?
The process of remodeling a kitchen is intricate, and several little choices have an impact on the result. A backsplash is one of the most crucial design components since it has such a prominent position in the kitchen. It might be difficult to decide because modern tile comes in so many variations, from natural stone to graphic motifs. To create a dramatic kitchen backsplash you may need to consider two options, whether you will create a focal point only for the backsplash, or you will make the whole cabinetry a focal point.
The first one is easy, use only one color for your cabinetry and countertops design, then choose a striking backsplash design. You can have black cabinets and countertops with a blue diamond glass tile backsplash. It is possible to give a chance to pale blue kitchen cabinets with white countertops and white marble slab backsplash design.
The second one is a little bit harder since you need to incorporate the cabinets, countertops, and backsplash at the same time, even with the smallest details, such as the hardware.

Gray Dramatic Kitchen Backsplash
The center of your home is the kitchen. It provides a place where people may get together to celebrate and talk about changes in life. This space should not be cold or sterile, but clean and welcoming. It might be difficult to create a friendly workplace that is also easy to maintain. You shouldn't have to accept a backsplash composed of less-than-ideal tile because it requires extra work to maintain. What is the solution? Use a gray dramatic kitchen backsplash. In kitchens, you may combine gray dramatic kitchen backsplashes with dark or light hue cabinets to provide a great view with a trendy touch. With its simple design and clean lines, it is warm, welcoming, and spotless—just as a kitchen should be.
One of the neutral colors that may be used in modern or classic designs is gray. You may use it in a variety of ways in kitchens because of how adaptable it is. Additionally, a gray dramatic kitchen backsplash may help you soften the design appearance if you do not want a harsh white perspective or do not want to cover the entire kitchen with a black backsplash. The color gray is also quite helpful if you want a monochromatic picture with a mild complementary tone. To get inspired, scroll down to see the spectacular outcomes of the gray dramatic kitchen backsplash ideas!
Blue Dramatic Kitchen Backsplash
Blue is one of the most popular colors for a reason; it symbolizes boldness and confidence and may either uplift or lower spirits naturally. If there is one thing we can be certain of, it is that there is a perfect shade of blue for everyone. This is why a kitchen is always brilliant when white cabinets or black cabinets are combined with a cool-toned, blue dramatic kitchen backsplash. There are several choices, including a transparent, blue dramatic kitchen backsplash and a bold navy blue backsplash.
You may use warm, blue-green ocean water as inspiration to turn your kitchen into an island paradise, or you could opt for a dramatic blue kitchen backsplash composed of dark blue glass tiles. To add some color to your kitchen, choose a backsplash made of eye-catching blue tiles in the form of penny rounds. The cobalt blue glass tile gives the backsplash wall depth, and the high gloss surface reflects light to provide fluid movement. It may serve as a sizable backsplash wall tile, a cooktop accent tile, and the perfect focal point that won't take over a room. Scroll down to view some of the stunning blue dramatic kitchen backsplash design ideas that we have compiled for you to be inspired by!
What is the most popular backsplash for 2022?
Clear, geometric lines and neutral color palettes make up the foundation of a contemporary kitchen backsplash design, which stands out in 2022 trends. Traditional subway tiles may be stacked to give a room a more contemporary look. For a contemporary look, geometric tiles like triangles or hexagons are ideal!
Green Dramatic Kitchen Backsplash
You may always rely on the green color's charming look and strong durability! Green dramatic kitchen backsplashes can be preferred by both homeowners and interior designers. Whether it has a glossy or matte surface, a green backsplash may go with many different design styles, and the result is great. One method to add vivacious and vibrant sensations to the overall decor of your kitchen is with a green dramatic kitchen backsplash.
A green dramatic kitchen backsplash and white kitchen cabinets are two excellent ways to give your kitchen a more airy, natural feel. Wood countertops may enhance this balance and add to its minimalist charm while also adding fresh naturalness to your Monday mornings. View the amazing green dramatic kitchen backsplash designs by scrolling down!
What backsplashes are out of style?
We can declare unequivocally that backsplashes less than 4 inches are no longer in vogue.
Should backsplash be lighter or darker than countertop?
There aren't really any standards, but a lighter kitchen will frequently have a backsplash that is lighter than the countertop since it tends to seem more open and welcoming. This isn't always the case, though; occasionally, a darker backsplash may look excellent, especially when paired with a light or neutral countertop.
Dramatic Marble Kitchen Backsplash
Allow the chic and polished attitude of marble to breathe new life into your kitchen backsplash. You won't regret this sophisticated addition to your kitchen for a very long time thanks to dramatic marble kitchen backsplash ideas and lovely white and gray swirls. There are marble backsplash solutions to fit every design concept. Which types of designs are your favorites? Modern? Contemporary? Vintage? These ideas for dramatic marble kitchen backsplashes will be useful no matter what design you decide to give your kitchen.
There are so many kitchens online with dramatic marble kitchen backsplash ideas that it's simple to become enamored with the organic material after reading through your listings. Although marble is undeniably beautiful, we'd be derelict if we didn't let you know that it requires some upkeep. In order to prevent scratches, use a cutting board rather than cutting directly on top of marble because it is softer than granite. Since the stone is permeable, spills that aren't cleaned up right away run the danger of altering color. Despite being one of the most expensive materials for backsplashes and countertops, marble may be just as expensive per square foot as high-end granite or quartz in some grades. However, some homeowners like the kitchen's sculptural beauty and ageless elegance that dramatic marble kitchen backsplash designs bring.