40+ Granite Countertop with Backsplash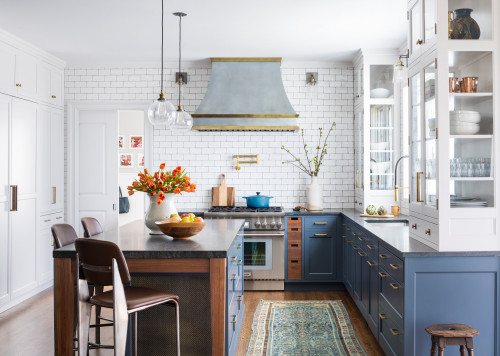 ID# 128704 | Houzz.com – Credit | © Studio Dearborn
---
Blue Shaker Cabinets and Gray Granite Countertops with Backsplash
The harmony of wooden textures and blue color shades is indisputably eye-catching. The gold hardware used for the blue-colored shaker cabinets, on the other hand, completes this harmony and offers a stylish look. Blue-colored shaker cabinets, which integrate with gray granite countertops, bring the design to its final form with white cabinets and a white subway tile backsplash. In this kitchen, which has a bright appearance, the natural look of white cabinets blended with wooden textures and blue color gives a warm atmosphere.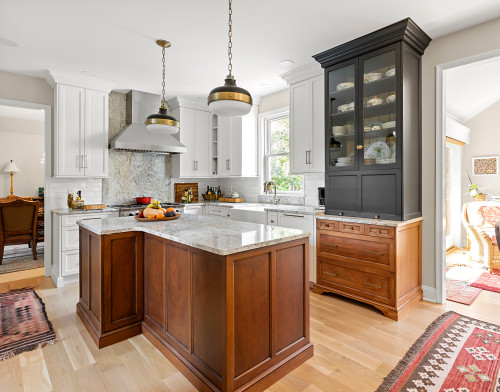 ID# 128721 | Houzz.com – Credit | © Hankins & Associates, Inc. – Kitchens and Baths
---
White and Wood Kitchen Cabinets with Granite Slab Backsplash Behind Stove
There is a beautiful movement in this traditional kitchen that you may like to use in your designs. White kitchen cabinets and wooden cabinets add harmony and gray glass-fronted cabinetry create a soft contrast with them. Wooden floors and wooden cabinets, of course, add a warm and inviting atmosphere. The full-height granite backsplash behind the stove and white granite countertops complement each other with their lovely appearance.
Granite Countertop with Backsplash
Granite countertops are one of the most popular design elements for all kitchen types which are available in many patterns, colors, textures, and shades. From bright whites to sophisticated blacks, granite countertops come in a wide range of color options. These natural slabs have a striking beauty that can instantly change the overall look of a kitchen design. But, how to match granite countertops with backsplash? This is a common question for many homeowners who choose a granite slab for their counters. In this article, we gather different types of tile backsplash ideas that you can find the perfect granite countertops!
After the cabinets, countertops, and backsplashes are the most important design elements that define the overall look. Although you use different materials, colors, and styles, these two elements need to complement each other to create a complete look. When it comes to choosing granite countertops, there are plenty of different backsplash types that you can match with them. Keep reading and find some design tips and tricks about a granite countertop with backsplash ideas!
How To Match Backsplash with Granite Countertop?
Because granite is a natural stone that has natural grains and flecks, it might be hard to find a backsplash material that can complement it. So, what backsplash goes with granite countertops? Granite is a natural material, so, each slab is unique and it is impossible to say what will work and what won't. But in general, if you want to use a granite counter, first choose your granite. This way you can eliminate many backsplash materials and colors.
Once you decide on the granite slab, you need to choose your focal point. Do you want the make the star of your backsplash or your countertop? If you want to make your granite slab is the centerpiece, you can go with a busy granite and a simple backsplash like a classic white subway tile which creates a clean and fresh backdrop. If you want to incorporate some patterns and textures through your backsplash, you can go with a granite slab with less texture.
Also, you can use the same granite material on both the countertop and backsplash. This way you can emphasize the beauty of this natural stone. The other option is matching different natural stones. You can pair your granite slab with a marble backsplash to add more visual interest.
Backsplash Types for Granite Countertops
In today's market, kitchen backsplashes come in a wide range of color, pattern, texture, and style options. From glossy glass tiles to luxurious marbles, from bright whites to dark and dramatic blacks, options are endless. And when choosing the backsplash, you need to complement your countertop to create a completed look. Keep reading to find some granite countertops with backsplash ideas!
Granite Countertops with Tile Backsplash
Tiles are the most popular design elements for kitchen backsplashes. From subways to hexagons, simple whites to patterned ones, backsplash tile come in an endless array of options. But which are the right ones for granite counters? If you are working with a busy granite, using a minimalistic backsplash tile will create a balanced look without overwhelming. If you want to create a timeless look, pair your granite countertops with a subway tile backsplash. Geometrical tiles like hexagons or pickets are great to add a modern vibe. On the other hand, you can create a traditional sense with oriental shapes like arabesque tiles.
Do you need a backsplash with granite countertops?
Although a kitchen backsplash offers a visual impact, the main aspect of it is to protect the walls against water and flood damage. That's why, whether you have a granite countertop or other, you always need a backsplash. Of course, there are other alternatives for a backsplash like wallpapers or wall panels, but using a backsplash will be the best option for all kitchens.
Granite Backsplash with Granite Countertop
Using the same granite material on both backsplash and countertop is a classic way for kitchens. This way you can allow the granite slabs to stand out and make a statement. Also, using contrasting colors for your cabinets and these two features will emphasize them more!
Marble Backsplash with Granite Countertops
Marble and granite are both precious and unique natural stones that can instantly lend sophistication to any space. And when these two beautiful stone meets, the result is undeniably perfect. But, you need to be careful, because both of them have a unique appeal, and finding complimentary colors and textures might be hard. That's why before you decide you can order a sample to find the right match.
Should my backsplash match my countertop?
There is no certain rule that the backsplash should match the countertop. However, these two features work together and your backsplash needs to complement the countertop. You can use matching, mixing, or contrasting colors, textures, and patterns, and create a complementary look!
Brick Backsplash with Granite Countertops
Brick is a very popular design element for both interiors and exteriors, and kitchen backsplashes are one of them. With its striking beauty, a brick backsplash is a great way to create an eye-catching focal point between the cabinets and counters. Pairing a brick backsplash with granite countertops is a great way to create a warm and welcoming atmosphere. These two materials complement each other's naturality!
How much does it cost to install kitchen backsplash?
The cost of a kitchen backsplash can change according to the size of the area, material, and type of the backsplash. In general, the average cost of a backsplash installation is $1000. This price can be lower at $600 and higher at $3000. Of course, there will be a contractor labor fee which is a minimum of $160.
Glass Backsplash with Granite Countertops
With their glossy appeal and durability, glass tiles are the perfect material for kitchen backsplashes. With the wide variety of glass color options and the sleek appeal of these tiles, you can easily combine a glass backsplash with granite countertops!