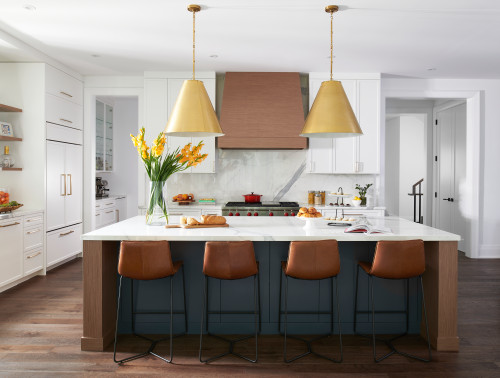 ID# 128102 | Houzz.com – Credit | © Jodie Rosen Design
---
Transitional Kitchen with Marble Slab Backsplash and Wood Range Hood
Brown waterfall of the island and the navy blue part of it v-create lovely contrast with the leather bar stools. White kitchen cabinets and white marble backsplash complete each other, and white marble countertops keep that complete look. The dark wood floor and brown waterfall of the island have their harmony which adds a warm look to the interior.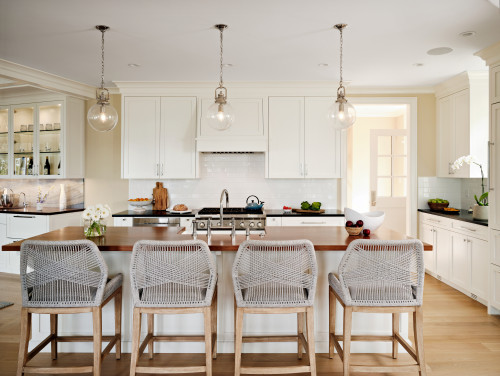 ID# 128129 | Houzz.com – Credit | © William Lee Architect & Associates
---
Beach Style Kitchen with Wood and Black Countertops
Dark wood countertops and light wood floors welcome us warmly in this kitchen. The chairs of the island also contribute to this warm appearance, of course. The contrast of black and white is also used very well in this kitchen. Even though the black color on the counters is dominant, the white subway tiles complete the plain design in a very harmonious way with white kitchens. Glass lighting fixtures also add a different elegance to the environment.
White Backsplash
When it comes to kitchen design, there are too many decisions that you need to consider, and deciding these options might be overwhelming. However, a kitchen backsplash is the most fun and personal decision that you can reflect your style. You can go with a simple design or be bold and make the backsplash the star of the design. Between all these opportunities, the white backsplash is the most classic and timeless option for any kitchen. A white backsplash can work with any color scheme and design aesthetic and add value with its effortless beauty. Here, we gather the trendiest white backsplash ideas. Keep reading and find the latest trends in these inspirational kitchen designs!
For all decades, a white backsplash is the most popular choice for all kitchen types. From classic subway tiles to modern hexagons, from luxurious marbles to glamorous glass, white backsplash comes in a wide range of material, shapes, and style options. You can stick on the classic and use a simple white subway tile backsplash, try different patterns to add visual interest, or use natural stones to lend a sophisticated vibe. Whatever your choice is, a white kitchen backsplash will be the most fail-safe and beautiful option!
White Backsplash Materials
Although a white backsplash has a clean, bright, and simple appeal, you can create different visual impacts by using different materials. Besides the visual beauty, the backsplash needs to protect walls against food and water damage. That's why the structure of the material gains a big role. Different materials have different durability levels. Before deciding on it you need to learn the features of the materials.
White Glass Tile Backsplash
Glass is one of the most popular materials for kitchen backsplash. A glass backsplash can provide durable and easy to clean surfaces which are important features for backsplash. Between the wide range of color options of the glass, a white glass backsplash is a great way to create a clean and fresh look. Also, the reflective surface of the glass can make the space feel larger. So, you can easily use this material in small kitchen designs.
White Marble Backsplash
Marble is a very popular material for interior design projects. From floors to fireplace surrounds, you can use marble slabs or tiles. Kitchen backsplashes are one of the most common areas where marble is used and the sophisticated and luxurious appeal of the white marble backsplash can instantly elevate your kitchen and create a focal point. Also, the natural flecks and veining of marble are a great way to add a textural look with a all-white backsplash.
What color backsplash with white cabinets?
White cabinets are versatile. That means you can pair them with every color. However, if you want to create a timeless look and complete the bright appeal of your white cabinetry, using a white backsplash will be the best option!
White Ceramic Tile Backsplash
With their almost endless style options and affordable price tags, you can see ceramic tiles in many kitchen designs. White is the original color of the ceramic tiles. When the clean and pure look of the white meets with the durability of the ceramic, the result is stylish and functional!
What is the most popular backsplash color for the kitchen?
Today as in the past, a white backsplash is the most popular choice for many homeowners and interior designers. The clean and fresh look of the white tiles can work with different styles, colors, and patterns.
White Brick Backsplash
The original color of the brick is red but the striking appeal of a red brick might not be suitable for your kitchen. And if you still want to use the beautiful rough texture of the brick, you can use the whitewashing method to soften the sharp look. Also, in today's market, brick veneers offer a wide range of color options and you can find a white brick veneer backsplash according to your taste. Brick-veneers are also a popular choice which gives the real-brick look at more affordable prices than real brick.
Tile Shapes and Layouts
White backsplashes are like a blank canvas and they have a simple and minimalistic look. Using different layouts and shapes for these tiles is a great way to add visual interest to your white backsplash!
White Subway Tile Backsplash
The white subway tile backsplash is the all-time favorite for all kitchen designs. With their effortless beauty, subway tiles are great to create a timeless look. Also, the simple appeal of these tiles provides versatility. That means you can pair it with different color schemes, and design aesthetics.
Is white backsplash easy to clean?
A white backsplash is beautiful but will they be a pain to keep clean? You might think that it is impossible to keep white for long, but it is not true. In fact, just like the other colors, you can keep your white backsplash clean with a regular cleaning routine. But if you are looking a less maintenance, some materials like glass, ceramic, and porcelain tiles, offer surfaces that are easier to clean.
White Herringbone Tile Backsplash
The herringbone pattern resembles a fishbone. It is created with classic rectangular tiles made of porcelain, ceramic, glass, or stone. The simple twist on the classic tiles makes a big impact on kitchen designs. So, a white herringbone tile backsplash can create an attractive focal point in your kitchen!
White Hexagon Tile Backsplash
Hexagon tiles become a very popular design element for kitchen backsplashes in recent days. The sleek geometrical shape of the hex tiles is great to make a modern touch to your design. And a white hexagon tile backsplash provides a clean backdrop with a nice touch of texture.
How to clean a white backsplash?
When it comes to cleaning the white tiles, the first thing that you need to do is plan a regular cleaning routine. You can do this cleaning with warm water, dish soap, and a microfiber cloth. Also, you need to wipe down the tiles after cooking immediately.
What color grout with a white backsplash?
Besides its waterproof function, grout also makes a final touch to the appearance of the backsplash. If you want to create a more textural look, you can pair your white tiles with darker grouts like gray or black. This way you can perfectly emphasize the pattern of your tiles. On the other hand, if you want to create a pure and fresh look, white grout is the best option for the white backsplash.