39+ White Brick Backsplash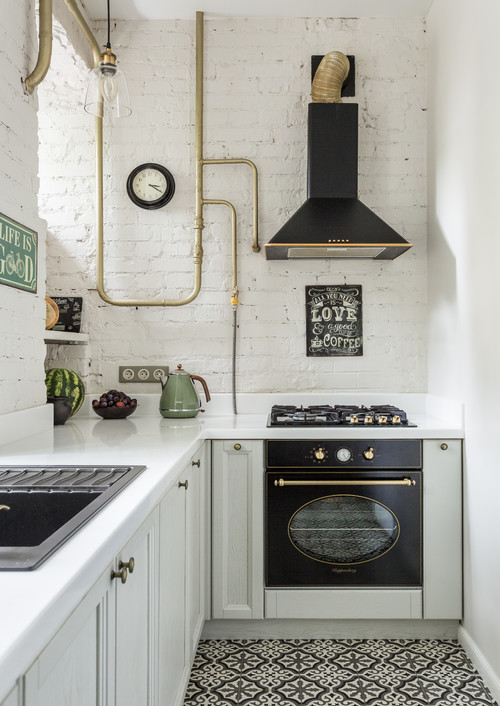 ID# 128805 | Houzz.com – Credit | © Проект на Таганке
---
Industrial Kitchen Design With White Brick Backsplash and White Kitchen Cabinets
Brick texture is one of the favorite materials of industrial kitchen design. We are very likely to see it anywhere indoors. As in this kitchen, using light colors in small spaces makes the interior both spacious and bright. For this reason, white brick walls, which also serve as a backsplash, white countertops, and white kitchen cabinets, create a bright and clean image. On the other hand, Black vintage appliances add a stylish look to the design by increasing the movement in the environment with the brass pipes on the wall.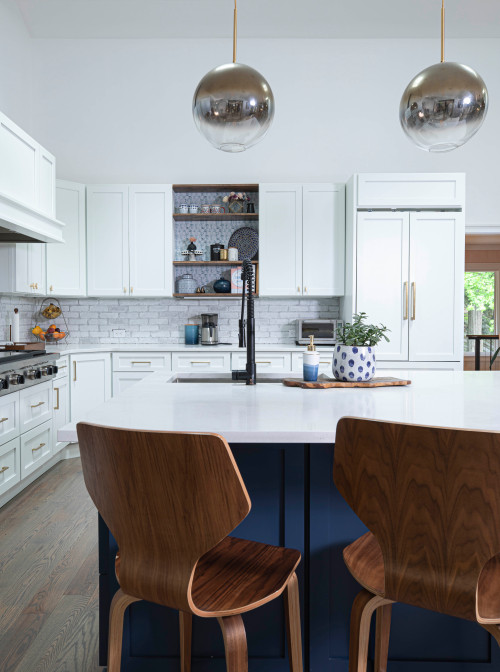 ID# 128824 | Houzz.com – Credit | © August Interiors
---
White Brick Veneer Backsplash and White Kitchen Cabinets in A Farmhouse Kitchen
The best thing about white kitchens is that they can easily match with most materials and colors. The harmony created by the elegant handles with the wooden textures completes the design with the bright appearance of the white kitchen cabinets. White shaker cabinets and white brick veneer backsplash make a perfect match. You can use this match to create a stylish farmhouse kitchen design.
White Brick Backsplash
Brick is a durable material that is used both for interior and exterior applications, and it is one of the most popular materials for kitchen backsplashes. From exposed brick walls to brick-look tiles there are plenty of ways to incorporate this material into your kitchen design. When it comes to brick, the red brick backsplash is the first thing that comes to mind. However, the bold and strong appeal of a red brick may not be suitable for all design aesthetics. At this stage, the white brick comes into play. White brick allows you to keep the textural look with a softer appeal which can be incorporated into different kitchen types. So, if you want to learn more about the white brick backsplash, scroll down and find some stylish design ideas that will inspire you!
Backsplashes are important design elements for kitchens that bring together all elements. And, when it comes to the backsplash, it needs to provide both durability and visuality. White brick backsplashes offer a clean and fresh look that is perfect to achieve a "shabby chic" style. But also, it can be a perfect addition to a modern kitchen design. Besides its visual impact, brick is also a durable material that is perfect for kitchen backsplashes. However, real bricks required sealing, due to their porous surfaces. That's why brick veneers or brick-look tiles are a perfect alternative for many homeowners and interior designers. So, with its striking appeal, whether it is a real brick wall or brick veneers, a white brick backsplash might be the one for your kitchen. Keep reading and find more information and beautiful designs for a white brick backsplash!
Is a white brick backsplash a good idea?
Yes, white get dirt more, but with a regular cleaning routine and right maintenance, a white brick backsplash will be a perfect addition for your kitchen!
Types of White Brick Backsplash
Brick is a beautiful material that has a striking appeal, and so does a white brick. And there are brick types that you can use in your kitchen backsplash. Solid bricks are harder to install but you can't beat their strength and durability. And, it can cost way more expensive. That's why brick veneers or brick look tiles are a popular alternative for real white bricks. Also, brick comes in different shades, hues, and finish options. This variety allows you to reflect your style and taste!
Real White Brick Backsplash
A real white brick backsplash is a great way to create a clean and fresh look with the lovely rough texture of a brick! Some bricks are purely white and some ones have a more antique look. You can contact your brick supplier and find the different options.
White Painted Brick Backsplash
As we mentioned, the red brick has a very strong appeal that may not match your interior décor. But if you have already an existing brick wall, whitewashing or painting is a great way to remodel older red brick kitchen backsplash and give them a softer look. If you want to create a shabby chic look with the warmth of pretty red brick, you might think about a whitewashed look. On the other hand, if you want to create a clean and fresh look, a solid white painted backsplash will be a perfect option.
White Brick Veneer Backsplash
Yes, real bricks have a stunning appeal which lends a wonderful historic look. But actual extruded bricks are both harder to install and have higher price tags. That's why brick veneers are a popular choice for many homeowners. A brick veneer is the easiest way to achieve the real brick texture with way more affordable prices. They are lighter than real ones and they require less maintenance. Unlike the real bricks, you do not have to seal a white brick veneer backsplash. Also, the other important benefit of these materials is that they come in a wide range of color options. So, you can easily find the white shade that you want!
White Brick Look Backsplash
There are different ways to achieve a brick look for your backsplash. Brick veneers are one and the most favorite of them. On the other hand, you can create a white brick look backsplash with tiles. In today's market, backsplash tiles come in a wide range of pattern and texture options. These tiles can not reflect the rough texture of the brick as brick veneers but they can give the effect.
How to clean white brick backsplash?
Due to uneven surfaces, a real white brick backsplash is harder to clean than other materials. Also, brick is porous so you need to avoid some cleaning products which include undiluted acids, otherwise, these products can cause permanent damage to the brick. You can prepare a mix with two tablespoons of cream of tartar and water. Apply it to brick, wait 10 minutes and wipe down with warm water and a soft cloth. If you have a brick look backsplash, warm water, and a microfiber cloth will be enough for regular cleaning.
Rustic White Brick Backsplash
Brick has already a rustic vibe but solid white brick backsplashes give a more modern look than a rustic appeal. That's why, to achieve a rustic look, the whitewashing method will be the best option!
Antique White Brick Backsplash
If you want to create a rustic or vintage appeal, an antique white brick backsplash will be a better option than crisp whites. Antique white is a great way to create a warm and welcoming atmosphere. You can complete this warm appeal with other neutral shades to create a balanced look!