37+ Backsplash for Busy Granite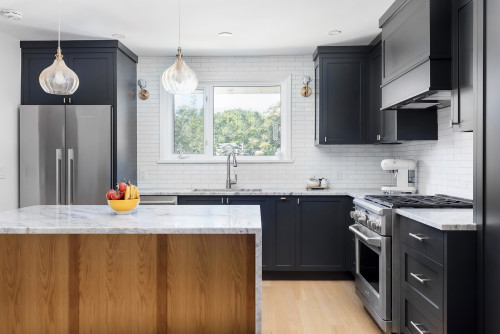 ID# 128409 | Houzz.com – Credit | © Devix Kitchens
---
White Subway Tile Backsplash for Busy White Granite Countertops and Black Kitchen Cabinets
Black shaker cabinets, white backsplash, and busy white granite countertops offer a transitional contrast. Thanks to the daylight illuminating the environment with the help of white colors, black cabinets are further highlighted. The wooden island and the waterfall help the busy white granite to create a natural and warm look together with the wooden floor.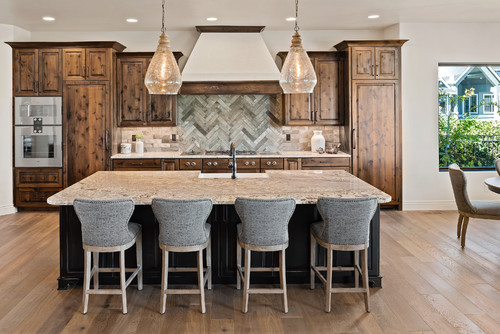 ID# 128425 | Houzz.com – Credit | © Gina Roberts-Wagner
---
Dark Wood Kitchen Cabinets with Gray Ceramic Backsplash Tile
Although the patterns of the wooden cabinets add a bit of a rustic feel, the lighting also provides a warm and friendly look. You can feel the natural touch from the gray ceramic backsplash tiles, wooden cabinets, and floors, and finally busy beige granite countertops.
Backsplash for Busy Granite
When it comes to designing a kitchen, granite countertops are classic. Granite is available in different patterns, colors, textures, and shades that give a luxurious feel. Thanks to its natural flecks in colorful shades of reds, golds, creams, rusts, and silvers, granite countertops have characteristic appeals, and some of the types of granite, in which these flecks are more intense, provide a busy appearance. Because of this dominant look, choosing a backsplash for busy granite countertops might be tricky. In this article, you will find some design tips and tricks, and stylish and trendiest backsplash ideas that you can match with your granite slabs!
How do you compliment something so busy without overwhelming? If you are working with a busy granite, this question might be bothering you. When using intense patterns on your counter, like busy granite, it is harder to find a matching backsplash tile. Using a clean and simple backsplash is the safest way to create a stylish design with busy granite slabs. This way you can bring a fresh look and balance the busy appeal of these beautiful stones. Of course, you can also use more detailed backsplash tile, but this complex appearance might be overwhelming. So, there are different options. Keep reading to find some inspirational backsplash ideas for your busy granite countertops!
What kind of backsplash goes with busy granite?
Using simple and minimalistic looks for your backsplash will make the countertop is the centerpiece of your design. Whether it is a classic white subway tile backsplash or white marble backsplash, white is the fail-safe color option for this busy appeal. Also, you can complement the natural flecks and grains with matching colors. For example, if you have brown granite with gold and gray touches, you can use neutral-colored tiles to create a completed look. You can also give a visual interest to your backsplash with different tile layouts and shapes like herringbone, chevron, hexagon.
On the other hand, you can also use some patterned tiles but if it does not fit the look of the granite, it can break your whole design. That's why going with a clean backsplash will be the best choice. The other option is using the same granite material for both counter and backsplash. This way you can create a continuous look and emphasize the impact of this beautiful stone.
Backsplash for Top Busy Granite Colors
If you want to use a busy granite counter for your kitchen design, choose the granite slab first. This way, you can eliminate many backsplash choices and ease the process for you. And to find the right busy granite, you need to consider different colors. From sophisticated blacks to bright whites, busy granite countertops come in a wide range of color options.
Backsplash for Busy White Granite
White is the most common color for all kitchen features. Because granite is an igneous rock, there is no pure white granite in nature. A white granite counter comes with mostly gray and black flecks and can brighten up your kitchen with its fresh appeal. It can work with any other color. You can complete this bright look with a light-colored backsplash, complement the flecks and grains with black or gray tiles, or can even add a splash of color like blue or green. Here are the top white busy granite colors:
Arctic White Granite
Alaska White
Kashmir White
Delicatus White
Ice White
Alps White
Oyster White
Backsplash for Busy Black Granite
When the sophisticated appeal of the black meets with the beauty of the granite, the result is undeniably perfect! You can create an accent wall with a black backsplash or create a contrasting look with light-colored tiles and black busy granite! Here are our most popular granite countertops in black:
Black Galaxy
Cosmic Black
Ubatuba Granite
Orion Granite
Silver Pearl
Is busy granite outdated?
Granite is a trendy material for kitchen countertops for a long time. In recent years, quartz and marble countertops have disrupted granite's popularity. However, none of them can beat the durability of granite. That is why granite is still maintaining its place in the trend lists and that's not ending anytime soon!
Backsplash for Busy Brown Granite
You might think that brown granites are outdated. In general, you may be right but with the right approach, a busy brown granite will be the star of your kitchen! You can pair the warm look of brown granites with a beige backsplash and natural wood kitchen cabinets. Also, you can complement the gold flecks of brown granite with some brass accents! Here are the popular busy brown granite colors;
Namibian Gold Granite
Desert Brown
Almond Gold Granite
Backsplash for Busy Beige Granite
Just like the brown ones, beige granites also provide a warm appeal for kitchens. To complete this warmness, you can use a neutral color scheme for your kitchen. A white or beige backsplash will be a failsafe option for these stones. Also, white cabinets provide a perfect base for busy beige granites. Here are the best beige granite color options;
Delicatus Cream
Giallo Vicenza
Backsplash for Busy Gray Granite
Gray is a sleek and elegant color and gray granite can deliver a dedicated sheen to kitchens. Thanks to its versatility, a buy granite countertops can easily work with different color schemes. But if you want to create a timeless appeal, pairing a white backsplash will be the best choice! Here are the top busy gray granite colors;
Azul Celeste
Azurite Granite
Rocky Mountain
Silver Cloud
White Storm
Simple Backsplash for Busy Granite
As we mentioned before, finding the right backsplash for busy granites might not be easy. But to avoid an overwhelming appearance, using a simple backsplash might be the best choice. A white subway tile backsplash is the most classic option for all kitchen types which attracts with its effortless beauty. So, it might be a good choice to create a timeless look without overwhelming.
Modern Backsplash for Busy Granite
Clean and straight lines are the main aspects of the modern style. So, using a modern backsplash is a great way to balance the powerful look of a busy granite. Also, some of the busy granites might look outdated. Pairing them with modern lines is perfect to catch the trends!
How do I choose a backsplash for busy granite?
When choosing a backsplash for busy granite, first you need to define the granite that you want to use. Otherwise, it might be harder to find a busy granite that fits your backsplash. After determining the granite, you need to consider the different materials and colors of the backsplash tiles. You can complement your granite slabs by using same-colored tiles or create a contrasting look with contrasting colors. On the other hand, you can also use the same material on your backsplash and countertops.