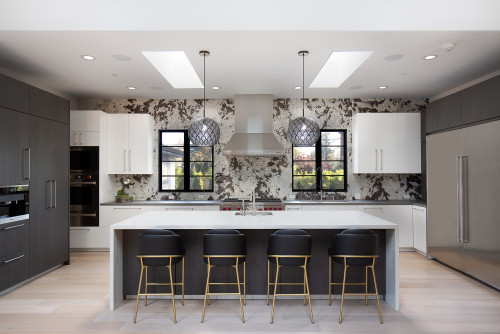 ID# 127901 | Houzz.com – Credit | © Lucile Glessner Design
---
Contemporary Kitchen with Gray Granite Backsplash
As in marble backsplash, you can feel the naturality with granite stone backsplash. It is installed as a single wall and this takes all the attention. The match of the dark grey color and the pattern of the granite stone creates a beautiful harmony, and this continues with the dark grey countertops. It is nice to have a natural material when you want to add natural vibes into your very modern kitchen. Plain kitchen cabinets create this modern look and stainless steel appliances keep this modernity.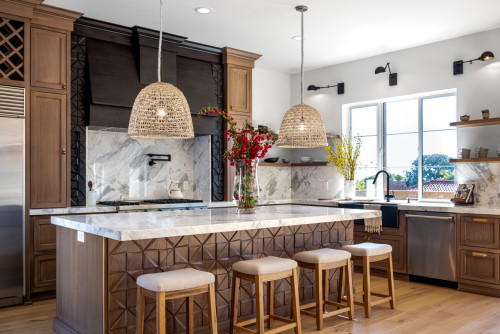 ID# 127923 | Houzz.com – Credit | © Carlos Architects, Inc.
---
Luxurious Mediterranean Kitchen with Gray Granite Backsplash
Look at those wooden patterns! They create a brilliant effect on this kitchen. The warm and welcoming look is look perfectly made by wooden cabinetry, the wooden ornaments of the hood wall, and the lovely grey granite backsplash with granite countertops. Black farmhouse sink, its black tap match harmoniously to the wooden cabinets. Basket-like pendant light adds a Mediterranean atmosphere with the help of wooden ornaments of the furniture.
Granite Backsplash
Granite is one of the most popular materials for kitchen countertops but did you consider using granite also as a backsplash? Just like the countertops, granite is a common material for kitchen backsplashes. Whether it's a 4-inch backsplash or full-height slab, a granite backsplash can instantly lend sophistication and create a striking focal point between the kitchen cabinets. If you are looking for more information about granite kitchen backsplashes, keep reading and find some stylish design ideas that will inspire you!
Generally, granite backsplashes are cut from the same slab as the countertop. Using the same material on both surfaces is a great way to create a continuous look and this way, you can emphasize the impact of these beautiful natural stones. On the other hand, you can use a different material for your countertop to make the granite backsplash the centerpiece of your design. Besides its undeniably beautiful visual impact, granite is one of the most durable materials among the other natural stones. It's heat resistant and stain-resistant and provides easy-to-clean surfaces. However, the biggest disadvantage of a granite backsplash is that is a porous material that requires regular sealing. Otherwise, food and water spills can cause permanent damages. So, granite backsplashes have their pros and cons, but they are absolutely timeless, stylish, durable, and they will definitely add value to your design project!
Can granite be used as a backsplash?
Just like the subway tile backsplash or glass tiles, granite is also a popular and common material for kitchen backsplashes. Its durability and beautiful appeal make the granite a perfect backsplash material!
Top Granite Backsplash Colors
In today's market, granite backsplashes come in a wide range of color options from bright whites to sophisticated blacks. You can complete your white kitchen design with a bright white granite backsplash and add a nice textural look or go with bolder colors like black or brown to make a statement!
Black Granite Backsplash
Black is a bold and elegant color that can add a dramatic effect to any design. A black granite backsplash is great to emphasize this drama and create a striking focal point for your kitchen. If you want to make your backsplash the centerpiece of your kitchen you can use light-colored cabinets like white. On the other hand, pairing your black granite with black cabinets will give you an elegant and dramatixìc appeal.
How to install granite slab backsplash?
If you are working with a granite slab, probably your stone supplier will do the installation process but if you want to do it yourself, you need to use stronger backer material to secure the slab. Granite slab installation is similar to tiles for a slab installation you need to handle one large piece instead of individual tiles. For installation you need;
Caulk Gun
Construction Adhesive
Waterproof Clear Silicone Caulk
Caulk Tool (optional)
Pre-Cut Backsplash and Sidesplash
Before the installation, you need to ensure that the back of the backsplash and the wall are both clean. Sand the area with sandpaper to create a uniform surface. Then vacuum the area with a sponge. Apply construction adhesive with the caulk gun behind the granite slab and set the granite slabs in place. Press slabs against the wall to ensure good adhesion. Once the slab is set, apply the silicone where the backsplash and countertop meet to prevent water from seeping.
White Granite Backsplash
Granite is a natural material that is quarried from different countries. Because it is an intrusive igneous rock, there is no pure white granite in all of nature. But there are mostly white options like Colonial White or Pitaya White. The striations, flecks, and variations of white granite also add character and interest to the design.
How thick is granite backsplash?
Generally, the thickness of a granite backsplash is 1.25 inches but this thickness can be changed according to the type of the granite.
Brown Granite Backsplash
You might think that brown granite is outdated, but with the right approach, a brown granite backsplash will be a stylish addition to your kitchen design!
Beige Granite Backsplash
Incorporating warm shades like beige into your design is a great way to soften the look and create a warm and welcoming atmosphere. You can pair your beige granite backsplash with light, medium to dark-colored kitchen cabinetry!
Gray Granite Backsplash
There is no doubt that gray color has an elegant look and thanks to its versatility, it can go well with different color schemes. With its beautiful striking flecks, a gray granite backsplash can deliver a delicate, silvery sheen to any space!
How to cut granite backsplash?
When it comes to cutting granite, to prevent chopping, you need to use a wet saw with a diamond blade. Mark the backsplash where the cut should be, place the granite on the wet saw table, and make sure the blades meet with the marks. Move the blade slowly toward granite and cut the stone. This way, you can achieve the best results.
Full Granite Backsplash
Using the granite as a full slab backsplash is a great way to make a bold statement! Besides its visual impact, full granite backsplash slabs provide easy-to-clean surfaces which is an ideal option for any kitchen. Unlike the 4-inch height backsplash, full slabs will come at a higher cost but the beauty and durability of these slabs can be well worth it. Also, using full-granite slabs is a great way to eliminate grout lines.
Granite Backsplash And Countertops
Thanks to their wide variety of color, texture, and pattern options, granite backsplashes easily work with different countertop materials. However, using the same stone material also on your countertop is a great way to emphasize the impact of this beautiful stone material. Also, using matching granite countertop and slab or tile backsplashes will help you to create a continuous look!
How to clean grease off granite backsplash?
Granite has an easy-to-clean material. That's why warm water and gentle dish soap can be enough to clean grease on the granite.