51+ Luxury Modern Kitchen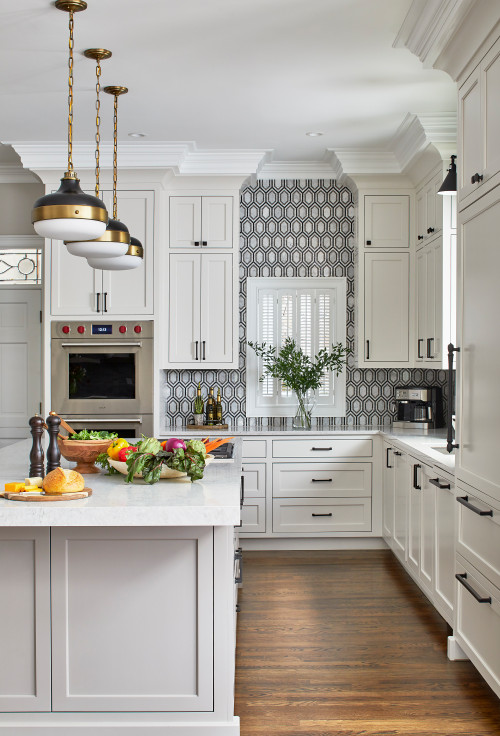 ID# 113731 | Houzz.com – Credit | © Kandrac & Kole Interior Designs, Inc.
---
White Kitchen with Marble Backsplash and Sophisticated Details
This kitchen is quite luxurious with sparkling marble backsplash and whites. White cabinets gain a clean and sophisticated look with their black handles. The patterned black and white marble backsplash adds sparkle to the white quartz countertops and plain cabinets. The dark wood floor brings out this luxurious white kitchen. The white island with white quartz countertops is highlighted by large, bright, sophisticated pendant lights.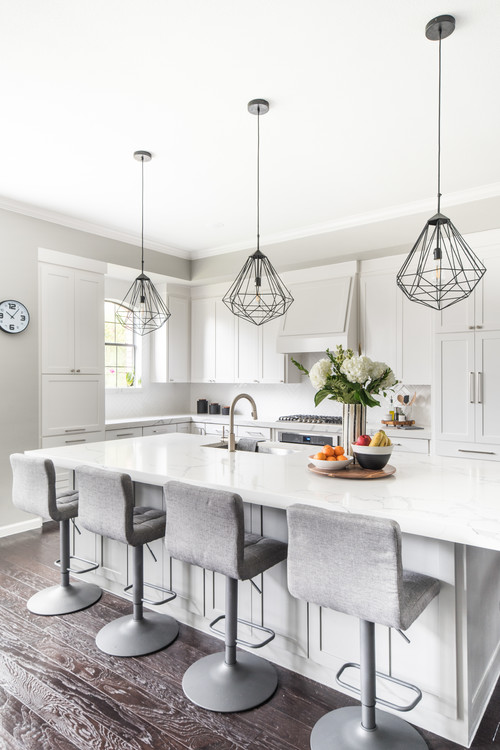 ID# 113708 | Houzz.com – Credit | © Spruill Remodel
---
Luxury Modern Kitchen Design with Gray and White Tones
The gray and white hue looks smooth from head to toe in this luxurious kitchen! White color scheme; The white cabinets match the herringbone all-white backsplash, while the slightly patterned quartz countertops look elegant with simplicity. Combined with a marble-like quartz countertop, the white island shapes the kitchen with its elegant veined organic pattern. The dark wood floor displays the charm of contrast with its color and texture. Gray barstools and subtle metal black lightings are the finishing touches of a luxury kitchen.
Functional, Stylish, and Inspiring Luxury Modern Kitchen Design Ideas!
Luxury kitchen designs can combine many different styles and easily combine elegant, stylish features, design, and function with usability and everyday life. It features innovative storage functions that minimize the amount of surface area and create a long-lasting sense of luxury with a flawless appearance. Whatever theme you want to realize with your design, here are some of the features you need to add to create luxury modern kitchens.
Reflect your personality with simple details and modern trends.
Whether it's the heart of every home or the most important element, a luxury kitchen can add incredible value to a home. Kitchen cabinets, countertops, and backsplash combine many shapes, materials, colors. Luxury kitchens are not specifically defined by style, so combining your personality with your kitchen is totally fine. With warm tones, simple design, and sustainable materials, you can design a kitchen that embraces today's modern design trends, while feeling warm and inviting. Quartz countertops are good for durability, traditional granite or marble countertops offer a classic, high-end look, and wooden countertops are warm and great for meal preparation. Take advantage of our design ideas to decide which design best suits your needs.
You can find kitchen designs with the elegance of marble, wood details, metal accents, marble-granite countertops, and natural material ideas or quartz countertop ideas, contrasting and harmonious shades, suitable for every style.