39+ Interior Design Trends 2023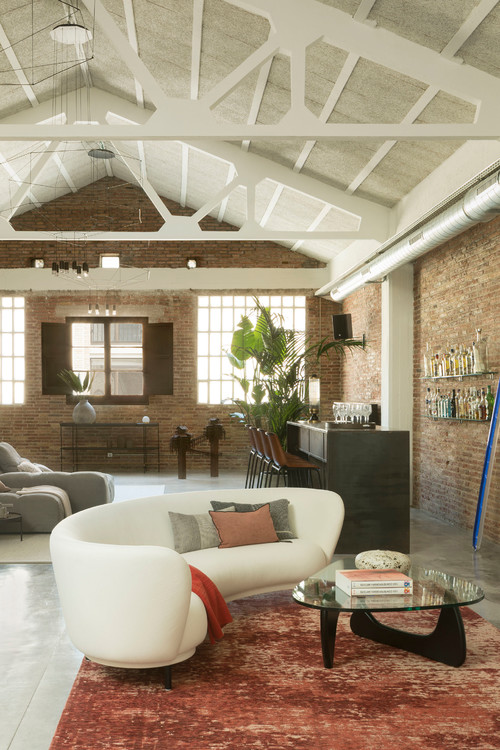 ID# 154804 | Houzz.com – Credit | © The Room Studio
---
Industrial Living Room with Interior Design Trends 2023
Nestled under a vaulted ceiling, this industrial living room enjoys its high-ceilinged space. Overhead, the fully exposed white-washed beams deliver a freshened vibe instead of rustic, while the brick walls keep enough raw texture intact. Along with the poured concrete, the room respects its industrial setting and makes it homier with a soft sofa and a red carpet. And behind the laid-back couch is a dry bar with green plants positioned by the windows to get spoilt by sunlight. A daybed also finds a cozy spot for itself, creating another seating option within the same room.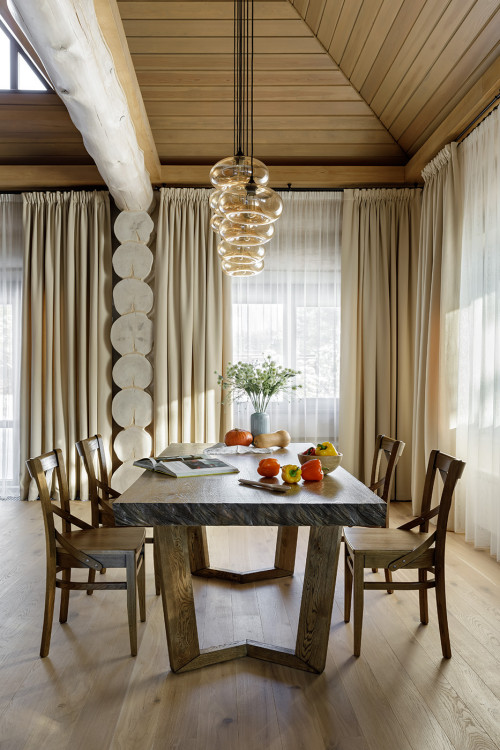 ID# 154829 | Houzz.com – Credit | © Setus Design
---
Modern Rustic Style Dining Room with Marble Countertop and Wood Ceiling
Modern and rustic sometimes goes hand in hand, which refers to more civilized and refined forms of natural elements. And this rustic dining room is an ultimate example of it. Nestled under a wood-clad ceiling and interspersed with floor-to-ceiling windows, this room presents an eye-appealing design. The exposed wood beam transforming into the round and identical wood pieces on the wall makes for a smart wall accessory and explores the core of wood pieces. A wood dining table topped by a dramatic marble countertop and wood stools creates a texture-rich eating space. Underneath, again, lies a wood floor coating that delivers further warmth. And overhead, a yellow glass clustered pendant adds a nice statement feature that matches the warming wood shades.
Interior Design Trends 2023
Interior design trends 2023 are all about unpredictability with a focus on the uniqueness of spaces. But how do you accomplish that? This year promises sophisticated juxtapositions of warm and soft palettes and natural materials as the main home definers. Though less is still more, bold colors and patterns make the rooms lean into more maximalist looks as well. Incorporating bold statement pieces into interior spaces is a great way to catch the trends! Natural color schemes and earth tones that impart calming effects to spaces and users continue to take their place while we still reflect on the pandemic-induced times.
In other words, whether you are looking for something minimalist and sustainable or want to act more adventurous, interior design trends 2023 offers both. Here we compiled a list of interior design trends. The following categories show how to align rooms with 2023 looks without costing you a fortune. From large rug ideas to wallpaper designs, raw materials, oversized pendants, and more, here you find it all!
What are decorating trends for 2023?
From large rugs to textured pillows, oversized pendants, plants, art prints, and biomorphic accessories, decorating trends for 2023 are various. Oscillating between maximalist and minimalist looks, home design trends for 2023 also focus on sustainability. Many interior designers and homeowners start to use sustainable materials.
Earthy Tones
Earthy tones are the new fashion in home design, giving birth to natural designs that impart calmness to indoor life. So, if you are fond of earthy tones, you will like this year a lot. So, get ready to embrace wood textures. Antique wood consoles could be repurposed in kitchens as an island, for example. Or green shaker units with gold hardware could be your new kitchen look. You can also get accessories carved out of wood and rugs or pillowcases in earthy shades.
Textured Tiles
Fashionable looks lie in textured tiles in 2023. Coming in a wide array of printed versions, as handmade tiles with uneven edges, textured tiles will give your rooms a new look. From kitchen backsplashes to bathroom floors and fireplace surrounds, we will see bold and eye-catching patterns of tiles. Whether you are looking for color or pattern, check out the textured tiles and see what they have got for you.
What is the color trend for 2023?
Warming wood shades, earthy hues, and saturated colors such as deep forest green, reddish brown, and jewel tones belong to the trending color palette for 2023. Lavender, turquoise blue, sundial, magenta, and orange shades enrich this color list too. So, get ready for vibrant and lively colors that will redefine the mood of your home!
Curves and Arches
The soft aesthetic features improve the mood of the space and its users, which explains why we need them more and more. Suggesting a sense of fluidity and reminding us of biomorphic forms, curves and arches have become popular in 2022 across the world. And this year they are still with us. Curved-cased openings, arched built-in cabinets, arched windows, or curved accessories are ready to colonize our homes.
Are accent walls in style 2023?
Eccentric and stand-out pieces that celebrate authenticity and individuality are celebrated in 2023. Thus, accent walls are also very much welcome. Whether it is created with wallpaper or slatted wood pieces, feature walls are a way to transform a bare wall into something more fun and characteristic.
Oversized Pendants
Though in some designs, lighting fixtures are taken for granted, recently they have become a star for new designs. And homeowners have started to act more adventurous when it comes to lighting fixtures. They see them as investments or opportunities to make statements instead of considering them clutter-makers. And oversized pendants are one of those lighting fixtures if you want to go bold. Caged pendants, intriguing biomorphic forms, and sputnik-inspired fixtures, starburst chandeliers, and many more. All can be gathered under the category of oversized pendants, with which you can make true statements.
Mid-Century Décor
Originally dating back to the 1950s and 60s, the mid-century modern movement offered back then what we expect still today in terms of interior design. Its tenets overlap with the ones of minimalism and contemporary styles that prioritize simplicity and functionality. So, keep the following motto in mind: "Form follows functionality." And let it guide you when picking up your mid-century décor.
Are white walls in style for 2023?
White walls are still in style for 2023, opening up the interiors and encouraging rooms to feel larger. They also create the perfect canvas for lighting conditions and decorations. If you want to avoid their too-white look, 2023 gives you plenty of accent options. Bring in art, intriguing wall sconces, or some authentic pieces to decorate your white walls. This way, you can kill two birds with one stone.
Raw & Natural Materials
This year designers focus on the uniqueness of the spaces that can be established with raw and natural materials. Leather, solid wood, dramatic marble, and textiles are some of these natural and raw materials. The organic cotton used for pillows, blankets placed on sofas, and sheepskin is some popular examples from living rooms and kitchens.
What is the kitchen trend for 2023?
From dark wood cabinets to bold patterns, textured tiles, rugs, and oversized pendants, the kitchen trends for 2023 focus on energic and statement looks. Additionally, nature-inspired designs with earthy hues and beadboard panels are also popular. With such soft and warm palettes, you can inject calmness into your kitchen.
Aside from those, tiling kitchen islands is another way to have fun. Feel free to integrate daisy and star patterns while tiling the islands' front panels. Similarly, get kitchen plants that boost your mood and energy. And bring art too into your kitchen, which will elevate your kitchen's artsy mood instantly. These kitchen decor ideas 2023 will transform your kitchen!
Modern Rustic Style
If you love textures and rustic looks, it is time to integrate them into your home. Today, modern rustic designs have more refined forms that suit today's contemporary aesthetics without compromising approachability. Though it sounds oxymoronic, this style works in any space, making any space feel warm and intimate yet never pretentious. Modern rustic style encompasses brick feature walls, rock backsplashes, exposed beams, and clean-lined wood pieces. Accessories such as wicker baskets, stools, rugs, and wood pillows enrich the repertoire of modern rustic designs. Also, don't skimp on ceilings that can be clad in wood and ornamented with ceiling beams. Salvaged logs, likewise, and repurposed items add wonderfully to the overall modern rustic aesthetic.
Warm and Soft Palettes
Warm and soft palettes draw cues from nature and mimic an outdoor life indoors. To achieve that in your own home, utilize wood cabinets and integrate light brown, taupe, and white in different saturations. Also, focus on creating more minimalist and sustainable designs with warm palettes, which is the trending look of 2023.
Large Area Rugs
This year large area rugs are popular to add soft texture and comfort underfoot. They are mainly used to zone living rooms and make them feel extra laid-back. If you wish you can use them to introduce patterns and let rugs declare their own uniqueness.
Wallpaper Designs
Available in a wide range of patterns and colors, wallpaper designs are the best way to bring color and pattern to your home. Used almost in every room, including wet areas like kitchens and bathrooms, they help homeowners make the interior cozy. In addition to their attractive and stylish appeals, wallpapers are one of the most affordable ways to bring a fresh look too dated spaces.
What interior design trends are out?
All-white looks, rattan chairs/beds, and neutral color schemes of whites and grays are not as popular as they used to be. Nowadays they are replaced by more warm and natural palettes and earthy hues.