23+ Kitchen Coffee Bar Ideas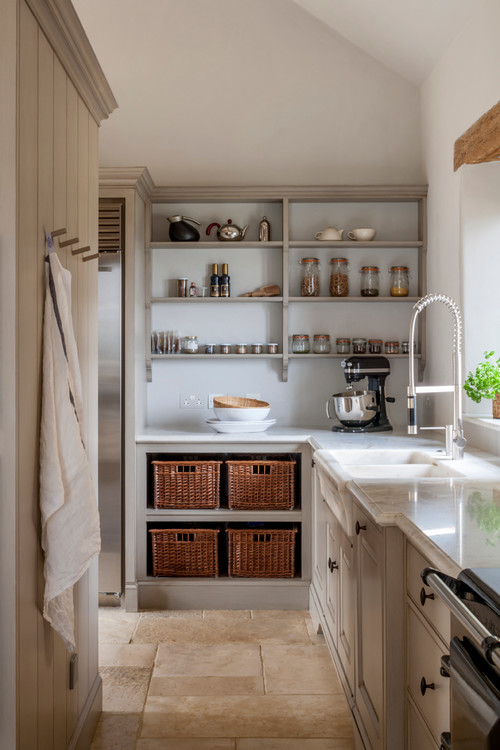 ID# 163402 | Houzz.com – Credit | © Stone Age
---
Farmhouse Kitchen with Open Shelving and Decorative Baskets
Using open shelving and some decorative baskets is a great way to create a visual appeal space if you want to design a coffee station. In this farmhouse kitchen, the open shelves provide a visually appealing look and display the beautiful kitchen ware. Decorative baskets in the base open cabinets add a nice texture while helping the space keep clutter-free.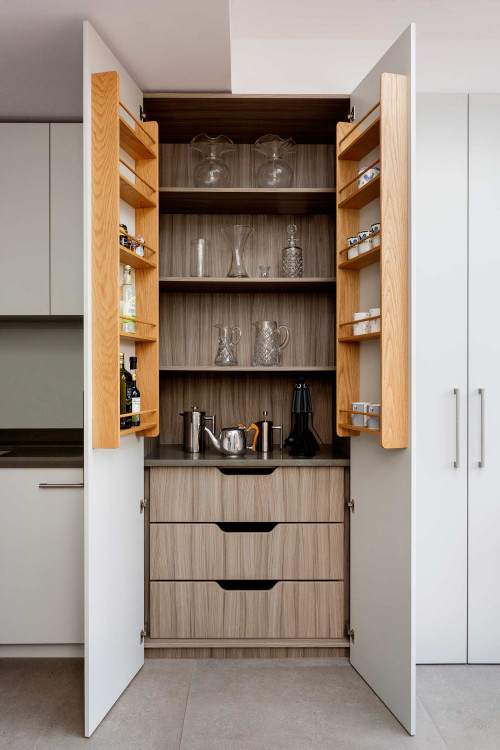 ID# 163411 | Houzz.com – Credit | © HUX London
---
Hidden Coffee Station Behind Gray Flat Panel Cabinets
When you enter this modern kitchen and you'll discover a coffee oasis hidden behind elegant light gray cabinetry. The stylish wooden shelves and drawers offer plenty of storage options to showcase your coffee-loving essentials, including mugs, brewing equipment and supplies! The inside of the cabinets is adorned with cunning spice racks that not only optimize space but keep your spices in order and within reach. The light gray cabinets not only provide a chic look for your kitchen but their clean lines and the modern design also elevate the space with a touch of refinement.
Kitchen Coffee Bar Ideas
If you're anything like us and hurry into the kitchen every morning to prepare a hot cup of coffee, you might need a nice kitchen coffee bar ideas arrangement in your life. Sure, putting a coffee maker next to the rest of your kitchen appliances will suffice, but if you're serious about your morning brew, you deserve to carve out an aesthetically pleasing nook to display all of your coffee-making supplies (think: adorable mugs, drink stirrers, bottles of flavored syrup, and whatever else elevates your cup of java to the next level!). With these kitchen coffee bar ideas, you can make your daily cup of coffee even more memorable.
Stylish Coffee Stations
There are DIY projects that suit each kitchen décor style, including rustic, modern, and more, that will help you to personalize your area. These kitchen coffee bar designs are also fantastic for entertaining visitors. There are dozens of design ideas for inspiration, whether you want a coffee station for your kitchen counter or a separate area for it. A delicious cup of coffee never goes out of style, but a kitchen cabinet full of coffee pods, syrups, and cups do. Set up one of these kitchen coffee bar ideas to simplify your morning routine. It's as straightforward as it sounds: Carve off a spot in your house (a kitchen cabinet, countertop, pantry, or bar cart) and stock it with everything you'll need to make the perfect morning coffee, midday pick-me-up, or late-night cocktail.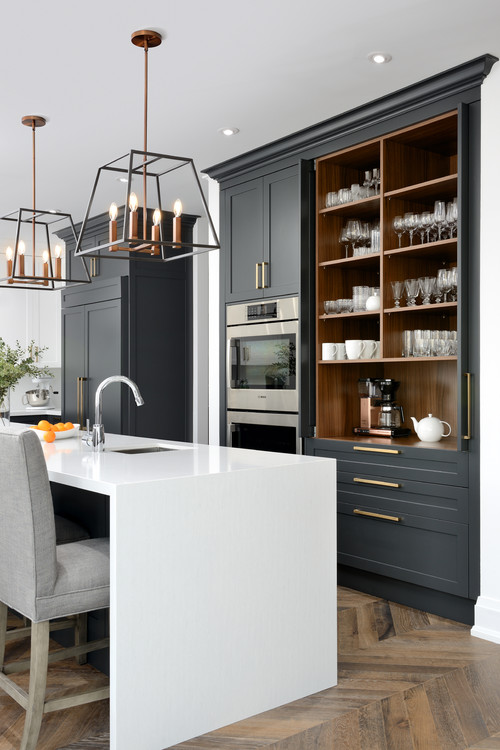 ID# 163401 | Houzz.com – Credit | © Yorkville Design Centre
---
Kitchen Coffee Bar Ideas with Dark Gray Shaker Cabinets
This transitional kitchen features a magnificent dark gray shaker cabinet design that adds a classy and fashionable touch to the space! The timeless shaker style is attractive, and the wooden interior walls of the cabinets provide a warm and inviting ambiance in the coffee bar area. Open cabinets wonderfully display your glassware collection and the warm golden tones of the hardware add a premium atmosphere and a striking contrast to the dark gray cabinets.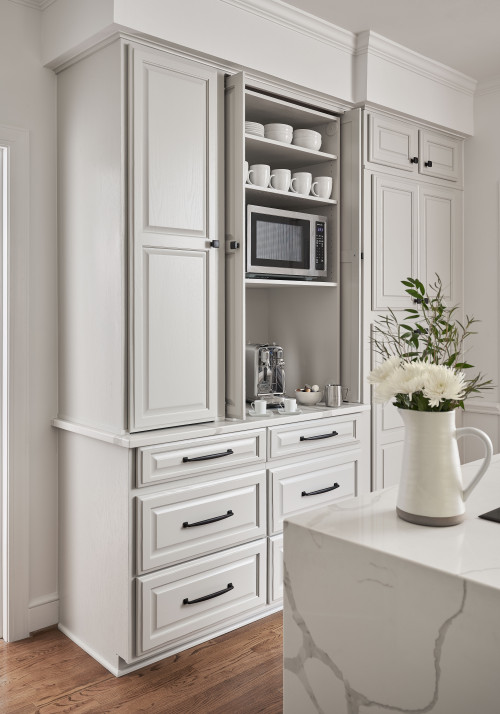 ID# 163403 | Houzz.com – Credit
---
Hidden Kitchen Coffee Bar Ideas with Gray Raised Panel Cabinets
If you want to create a coffee bar in your kitchen but worrying about dust or dirt, hidden coffee bars might be perfect for you. In this traditional kitchen, the small coffee bar is hidden behind the light gray kitchen cabinets. The raised panel style of the cabinets serves the timeless beauty of the traditional style. The bronze hardware perfectly completes this style.
How do you make a coffee bar in the kitchen?
Do you have a little kitchen area that is seldom used? It's time to assign that area a function. Because they are practical, useful, and adaptable, in-home coffee bars have become more and more popular. Here are some recommendations to help you change part of your kitchen into a coffee bar.
Choose the Ideal Location for Your Kitchen Coffee Bar
A successful coffee shop requires a few essential components, such as:
Cups and more coffee supplies kept in an adjacent cupboard
A coffee machine outlet that is easily available
A prep/serving area and enough counter space to accommodate the coffee maker
These characteristics will provide the groundwork for your coffee shop, but these extras can elevate it to the next level:
A lot of illumination, such as under-cabinet lights
A little refrigerator for creamers
Filtered water in a little sink for the coffee maker
Decorating spaces
You can create a colorful, functional kitchen coffee bar whether you have a tiny area to work with or a complete counter with enough for two coffee pots.
Put Your Cabinets in Order to Make Room for Your Coffee Bar
Ideally, your coffee bar will be surrounded by higher or lower cupboards that you may utilize to keep supplies and mugs organized. You could wish to rearrange your cabinets for a smoother flow if there are currently other goods there. The good news is that by moving your coffee supplies, you'll free up space in your kitchen for these moved things as you probably store them elsewhere.
Make a Statement with your Décor Items
Coffee bars provide you the chance to give your kitchen some individuality. The coffee bar can be a little more relaxed if the majority of the space is neutral and formal. A layer tray filled with sugar, pods, and miniature seasonal decorations is one option. You can have a unique hand towel or some straightforward artwork that goes with your theme. Make this zone unique without hesitation. It could end up becoming your favorite component of the kitchen!
Keep in mind that the coffee bar's foundation should still have a neutral appearance. In this manner, if you decide later that a coffee bar is not what you want, you may change the use of the area. Play around with temporary accents, but take caution when choosing your tile, finishes, and countertops.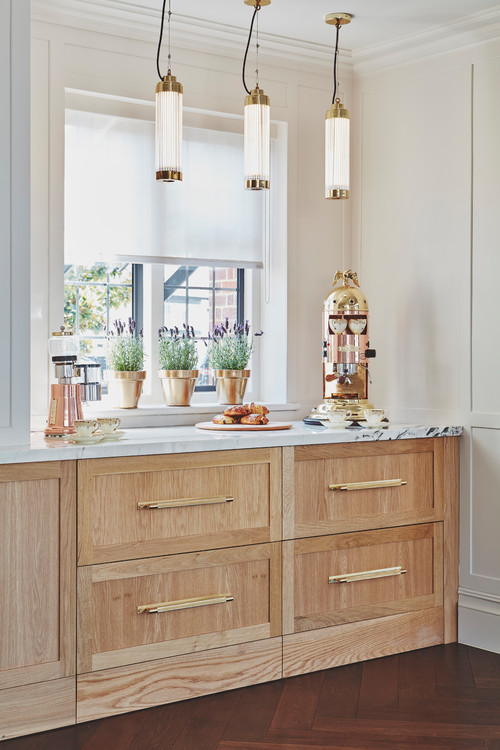 ID# 163404 | Houzz.com – Credit | © Naked Kitchens
---
Walnut Cabinets with Quartz Countertop and Gold Handles
This pattern filled in complex elements, never fails to delight and inspire wherever you look in the space! Its distinctive island which built from rich walnut adds a touch of elegance that is difficult to overlook. And what about that empty counter area next to the big window? It has been transformed into a coffee shop with every detail considered to maximize its potential! A beautiful gold coffee machine adds a touch of glamor and indulgence to the whole design, completing the opulent emotions!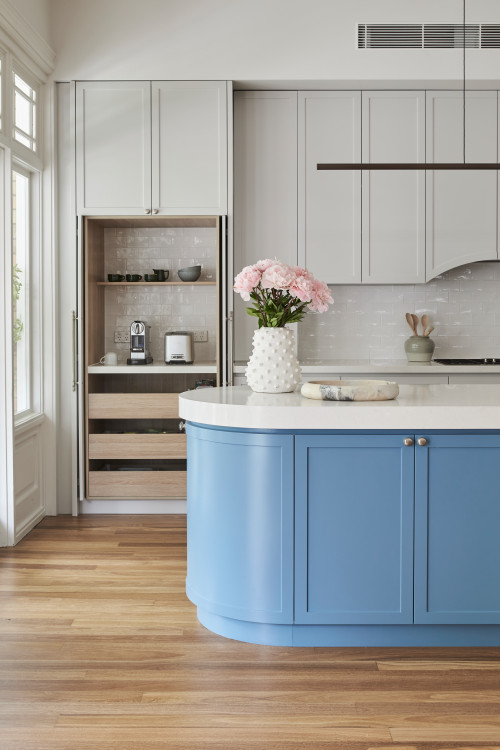 ID# 163405 | Houzz.com – Credit | © Danielle Victoria Design Studio P/L
---
Gray Kitchen Cabinets with Subway Tile Backsplash and Blue Island
Adorned with shelves and drawers, this hidden coffee station offers both style and functionality! On the other hand, the light gray shaker cabinets create a clean and sleek appeal in this kitchen. The white quartz countertops complete this clean look while the glossy white subway tile backsplash adds a fresh touch. These subway tiles are continued at the back of the coffee station. With its lovely blue shade, the kitchen island takes the stage and makes a statement.
Where do you put coffee bar in kitchen?
It may be in your kitchen eating area or the space between the kitchen and main living area. It is advisable to place the coffee bar away from the major kitchen work areas. A coffee bar may be created to have a furniture-like appearance to have its very own unique appearance while yet seeming connected to the rest of the kitchen.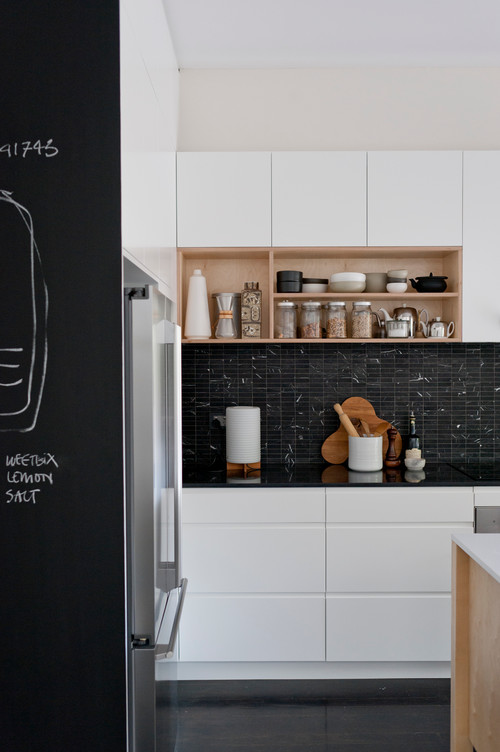 ID# 163406 | Houzz.com – Credit | © ANNA CARIN Design
---
White Cabinets with Black Marble Backsplash
If you are a coffee lover and want to create a coffee bar in your kitchen but don't have enough space, you can evaluate the corner sides of your counter space! Here, the coffee-making materials are placed on the open shelves that create a visually pleasing look. The white kitchen cabinets provide a clean and plain appeal while the black marble backsplash creates a focal point by contrasting cabinets. The wood open shelves soften this sharp contrast and bring warmth to the atmosphere.
Design Styles for Kitchen Coffee Bar Ideas
The noise and steam of the espresso machine, the lovely scent of steaming cups of coffee, and the total warm, unobtrusive ambiance are all pleasures to be relished at any time or place. So why shouldn't that space be your very own little sanctuary? These kitchen coffee bar ideas and designs are akin to a wine collector's cellar. The in-home coffee bar is a bistro unlike any other, with state-of-the-art equipment, top-shelf beans and blends from across the world, and all the café accessories the discriminating soul could wish for.
Your kitchen coffee bar may be created to meet your space and sensibilities, either opulent or subdued, with anything from antique cart types to full-scale counters and café seats, as well as repurposed bookcases and pantry areas. Your kitchen coffee bar may be as simple or as elaborate as you want it to be with the different design styles for kitchen coffee bar ideas, just like the perfect cup of coffee.
As we spoke about the different design styles for kitchen coffee bar ideas, you may wonder what they can be. Various design styles contain rustic, modern, and others. If you like to use rough natural surfaces from nature you can have a rustic kitchen coffee bar, or if you like plain and sleek looks you can search for modern kitchen coffee bar ideas. Scroll down to see what are the different design styles for kitchen coffee bar ideas.
Modern Kitchen Coffee Bar Ideas
When it comes to decorating your house, it's exciting to look at the best kitchen coffee bar ideas available. A kitchen coffee bar is a modern addition to any living room that can make a home seem warm and inviting while also providing much-needed refreshment. Since we mentioned that a kitchen coffee bar is a modern addition, you may want to search for modern kitchen coffee bar ideas.
Having a room where people may enjoy a nice cup of espresso together, whether formal or casual, can make any residence the neighborhood's favorite. Since the design industry has various styles, modern kitchen coffee bar ideas can suit you well if you like open spaces, minimalist features, and simple color palettes. Sleek cabinets are the main design elements that you have in modern kitchen coffee bar ideas. Plain countertops such as marble, quartz, or granite can be useful. A modern backsplash design will be fantastic to complement all of these aspects. Let's check some of the modern kitchen coffee bar ideas to get inspired by!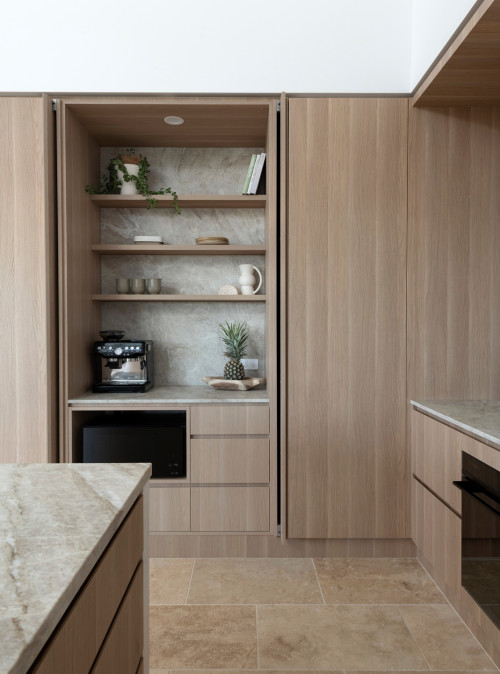 ID# 163407 | Houzz.com – Credit | © Big House Little House
---
Modern Kitchen Coffee Bar Ideas with Marble Backsplash
In this contemporary kitchen, the light wood cabinets serve a sleek and elegant appeal with their flat panel door style. The handless design enhances modernity without sacrificing functionality! The coffee bar is hidden behind these cabinets. The gray marble slabs are used for the coffee station's backsplash and countertop while incorporating the natural beauty of the marble adds a dose of luxury!
How do you make an inexpensive coffee bar?
Of course, do-it-yourself projects and clever material and space designs can be the solution to make an inexpensive coffee bar. If you have any place on the counter and in the cabinets you can just arrange them to make a built-in kitchen coffee bar. You may need to build and design a new one if you do not have any space and want any built-in kitchen coffee bars, then you need to think about stylish and inexpensive ideas according to your budget. There are tons and millions of DIY projects that you can easily apply in your kitchens. Here is some advice:
You can buy bar tables or bistros from second-hand stores and use them as a counter
Find shelves or racks, or do them yourself!
An outlet is a must so find a wall to place your kitchen coffee bar
You can buy décor items from 1 dollar stores such as mugs, plates to serve, etc.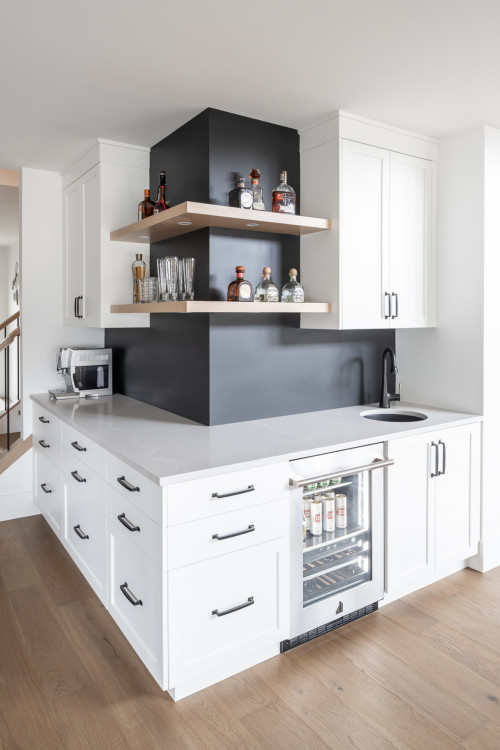 ID# 163408 | Houzz.com – Credit | © KC Interior Design
---
White Shaker Style Cabients with Black Wall Paint and Corner Shelves
The corner of this white contemporary kitchen is dedicated to a coffee station which fits the overall design and makes it useful and elegant for socializing. White shaker cabinets provide a classic look and the white countertop gives enough of workspace! The contrast between the black and white wall paint creates a focus point. The corner shelves give visual interest to the overall aesthetic, and the black hardware compliments the black walls wonderfully.
What should be included in a coffee bar?
To have any items firstly you need a space and if you arranged any space for your coffee bar let's check some of the essentials that should be included:
Coffee beans
Coffee maker
8 or 10 coffee mugs
Coffee grinder
Napkins
Spoons
Creamer
Sugar and bowl
Biscotti
Cinnamon
Bowls or canisters to store
Tray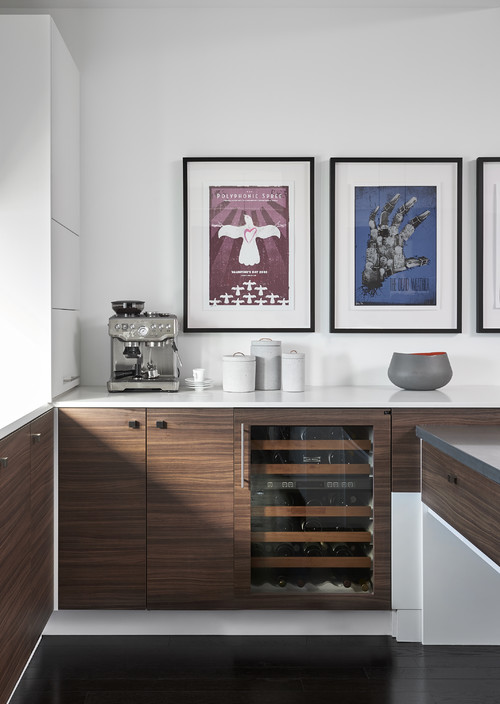 ID# 163409 | Houzz.com – Credit | © Shirley Meisels
---
Modern Kitchen with Dark Wood Cabinets and White Countertops
Consider adding artwork into your kitchen's coffee bar to create a magnificent focal point! Consider this modern kitchen with its lovely dark wood cabinetry. The framed artworks prominently placed behind the coffee bar add visual intrigue that enriches the entire design, while a pristine white tabletop contrasts with the dark tones of the cabinets.
Built-in Kitchen Coffee Bar Ideas
Coffee drinkers abound, and devoting a place in your house to this popular beverage may be a genuine conversation starter. A coffee bar may celebrate one's love of the beverage while also providing a warm, inviting location to relax and converse with others, which is ideal for genuine enthusiasts. On a chilly winter evening, inhaling the powerful fragrance of coffee or sipping a mug of hot chocolate is such a soothing sensation. Having the time to prepare coffee provides some individuals with a feeling of routine and sets the tone for the rest of their day. Why not get inspired by built-in coffee bar ideas in the comfort of your very own house if you're the first one to grab a cup of joe in the morning or during a midday slump to wake up?
Because it's close to a sink and other appliances, your kitchen is one of the most ideal places to set up built-in kitchen coffee bar ideas. This may be accomplished by gathering all of your cups, coffee machine, and essential accessories in one location, preferably one with a cabinet or shelf as well as counter space. Instead of hiding your coffee machine, cups, and condiments behind cupboards, display them to make this place feel like your own personal café. To reproduce the intimate coffee shop vibe, use a huge chalkboard to put out a personalized beverage menu.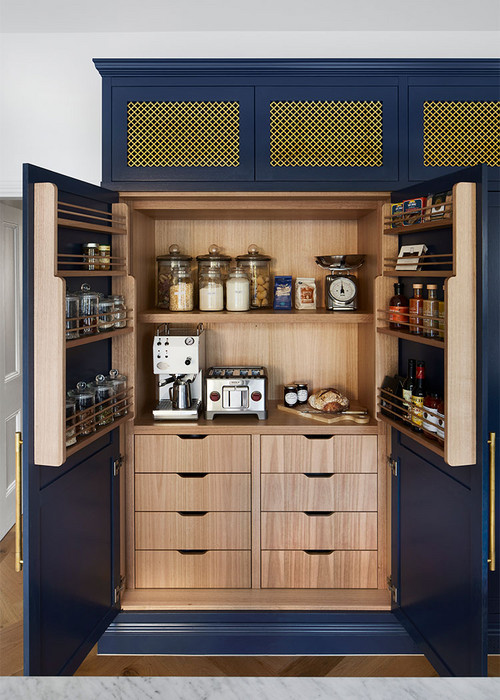 ID# 163410 | Houzz.com – Credit | © In Residence – Kitchen, Bathroom, Hardware
---
Navy Blue Cabinets with Built-in Kitchen Coffee Bar Ideas
Enriched by navy blue cabinets and warm wood accents, this dream culinary have is, an epitome of timeless splendor! Savor a delightful coffee experience from the comfort of your home in this transitional kitchen. The pièce de résistance? A built-in coffee bar, meticulously designed to cater to your caffeine cravings. Everything you need is within reach, from shelves to drawers to make storing your favorite mugs, coffee beans, brewing accessories and more a breeze. The navy blue cabinets add depth and richness to the kitchen, not just on the visual front but also as a practical storage solution!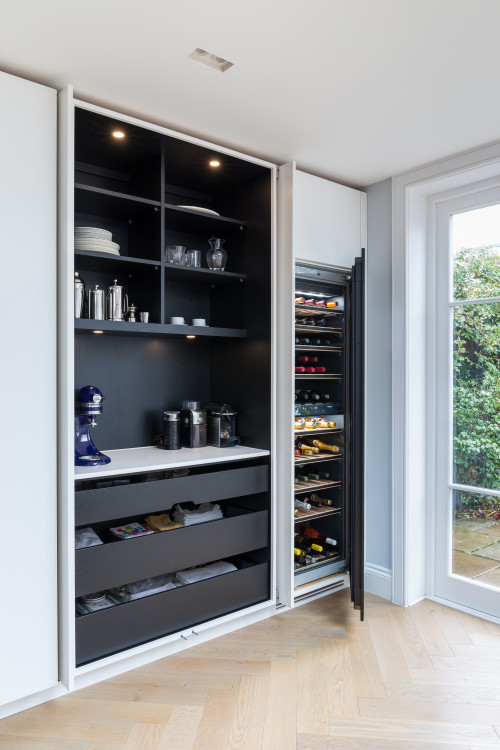 ID# 163412 | Houzz.com – Credit | © Sola Kitchens
---
Black and White Modern Kitchen Design with Wood Flooring
The cabinets are cleverly constructed with plenty of storage for both food and appliances that allow for a neat and easy-to-access arrangement! The white cabinets appear clean and simple, but as you open them, the dramatic black coffee bar steals the show and becomes the focal point of the area.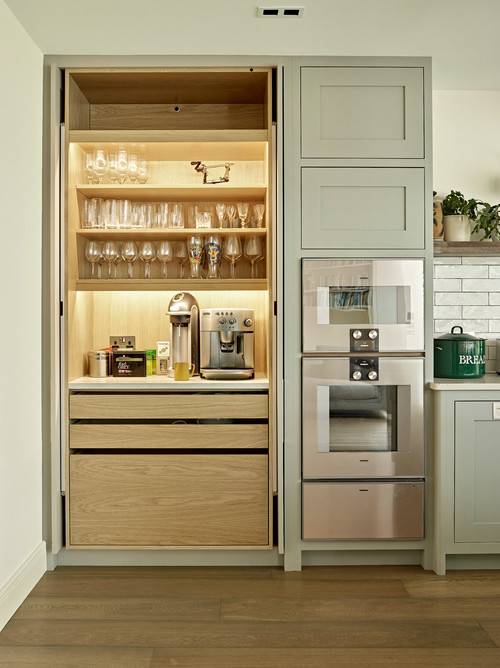 ID# 163413 | Houzz.com – Credit | © Brayer Design
---
Kitchen Coffee Station Behind Pocket Doors
Behind the sleek pocket doors lies the covert coffee station, a haven devoted to your caffeine cravings. With a subtle glide, the doors unveil a flawlessly crafted area that harmoniously blends practicality and aesthetics while the interiors of the muted cabinets are adorned with delicate wooden accents to create a cozy and welcoming ambiance. The strategically positioned LED lights illuminate this extraordinary coffee escape!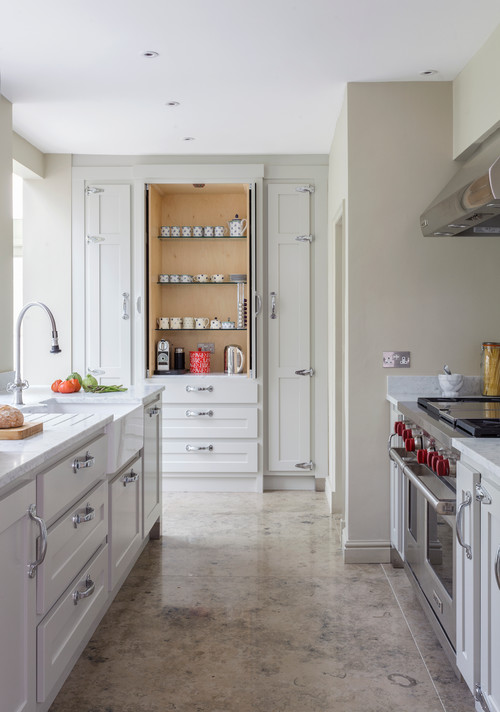 ID# 163414 | Houzz.com – Credit | © Stephen Graver
---
White Transitional Kitchen Design with Quartz Countertops
The kitchen is cleverly designed to incorporate a discreet built-in coffee bar, nestled charmingly within the cabinets. The white cabinets enhance the brightness of the room to create a spacious and welcoming ambiance while the secret of this stunning kitchen lies behind the cabinet doors, where you'll discover a hidden gem—the built-in coffee bar perfect for satisfying your caffeine cravings!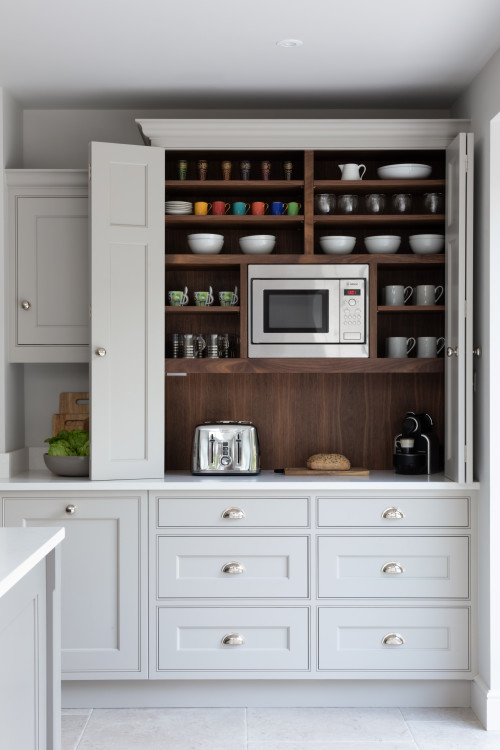 ID# 163415 | Houzz.com – Credit | © Tulip
---
Traditional Kitchen with Gray Shaker Cabinets and Chrome Hardware
Elevated by a soft, warm color scheme, this kitchen exudes an inviting sense of comfort and tranquility!! Yes, the elengant appeal of the gray cabinets is so beautiful but the real game changer in this kitchen is the hidden coffee station that designed to cater to your coffee desires. The white countertops offer a clean and luminous surface while the chrome hardware adds a subtle touch of refinement to complete the look!
Small Kitchen Coffee Bar Ideas
These coffee bar ideas for tiny spaces may be appealing if you have a small kitchen but a huge love for coffee. Like any other room in the house, it doesn't matter how big it is; what matters is what you do with it. Additionally, there are many clever small kitchen coffee bar ideas for much smaller spaces, even if you may have been looking at fantasy coffee stations that occupy an entire countertop. We're confident you'll be able to fit in a corner that's dedicated to your preferred beverage thanks to these imaginative small kitchen coffee bar ideas.
Once you've found the greatest coffee machine, consider the other ingredients you'll need to prepare your coffee, such as attractive coffee cups, sugar, elegant spoons, or even chocolate sprinkles. Also, make sure these items have a fashionable home close by. We've gathered some of the greatest designs now available for you to pick from if you're seeking small kitchen coffee bar ideas. Without further ado, continue reading. This list has items for you, no matter what your home's feel is.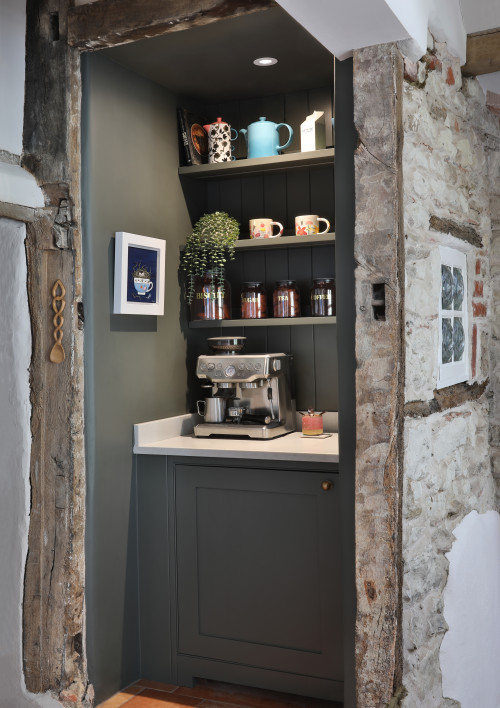 ID# 163416 | Houzz.com – Credit | © Higham Furniture
---
Small Kitchen Coffee Bar Ideas with Rustic Details
This cozy nook serves as a coffee station that allows family members to prepare their hot beverages without impeding the flow of the busy kitchen! Boasted by a generously sized coffee machine like this, there's no concern about monopolizing precious countertop space in the primary kitchen area. The addition of a charming tongue and groove back panel infuses a hint of tradition while a single spotlight provides the necessary illumination for this otherwise dim alcove.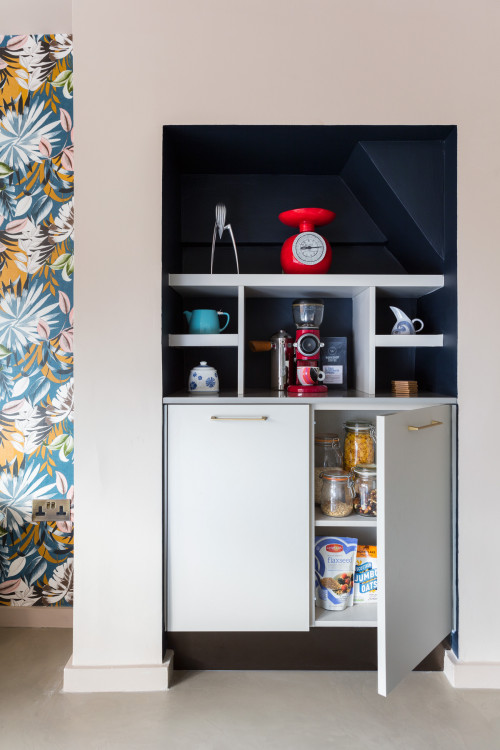 ID# 163417 | Houzz.com – Credit | © Scavolini Store West Hampstead by Multiliving
---
Small Built-in Coffee Station with Black Painted Walls
This compact coffee bar has a modern atmosphere thanks to the sleek cabinets with smooth surfaces and open shelves while the bold black wall paint creates a striking contrast with the white finishes that lend depth to the area!! This modest nook, adorned with bright furnishings, provides a practical spot that elevates the kitchen.
How deep should a coffee bar be?
To ensure effective operation, the excavation for the specified area should be at least 16 inches deep and 2 feet broad. Feel free to expand the measurement as far as you like! The size of the excavated space is ultimately decided by the user's wish ,and suitability for the intended usage!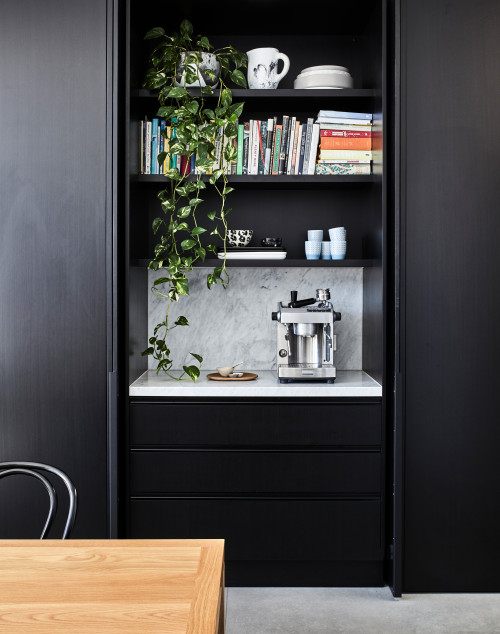 ID# 163418 | Houzz.com – Credit | © Nexus Designs
---
Modern Black Cabinets with Marble Backsplash and Countertop
The black cabinets conceal a secret jewel behind elegant pocket doors: a sleek and functional built-in coffee bar that will delight coffee enthusiasts! Slide the doors open to reveal a thoughtfully designed area dedicated to the art of coffee-making. The marble countertop which is rich in natural veins and patterns, is particularly eye-catching and adds an undeniable feeling of luxury to the coffee bar!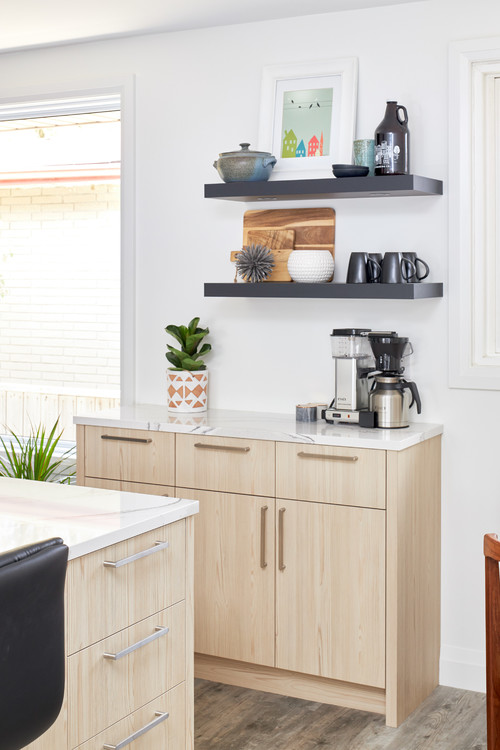 ID# 163419 | Houzz.com – Credit | © Paragon Kitchens
---
Wood Cabinets with White Countertop and Black Floating Shelves
A space dedicated solely to beverages is an absolute must-have! This area offers a convenient place for your everyday coffee brewing needs with sleek and open black shelving for displaying all your adorable mugs. The wooden cabinets with a pristine white countertop furnish ample storage for all your coffee essentials to ensure a clean and organized space.
Backsplash Ideas for Kitchen Coffee Bar
If you've been staring at the same four walls and cabinets for months, you might be looking for some design ideas to spice things up. The same is probably true for your kitchen coffee bar because we've all spent more time brewing coffee in your kitchen. Since the kitchen has some design elements such as cabinets, walls, countertops, floors, and a backsplash you can think of the same elements for your kitchen coffee bar idea. The backsplash is for protecting your walls from splashes and moisture and is a perfect aesthetic part of the well-designed kitchen. For this reason, while you are designing a kitchen coffee bar, backsplash ideas for kitchen coffee bars take an important role.
Naturally, creating such a unique space is not a simple feat. There are other specifics, such as the type of material and color you will employ. The backsplash is one of these particulars. Choosing from the backsplash ideas for kitchen coffee bar ideas becomes crucial when building a coffee bar to suit your taste. Let's look at the possibilities for our backsplash ideas for kitchen coffee bars as there are many options for materials such as marbles, granites, glass, or bricks when designing your kitchen coffee bar.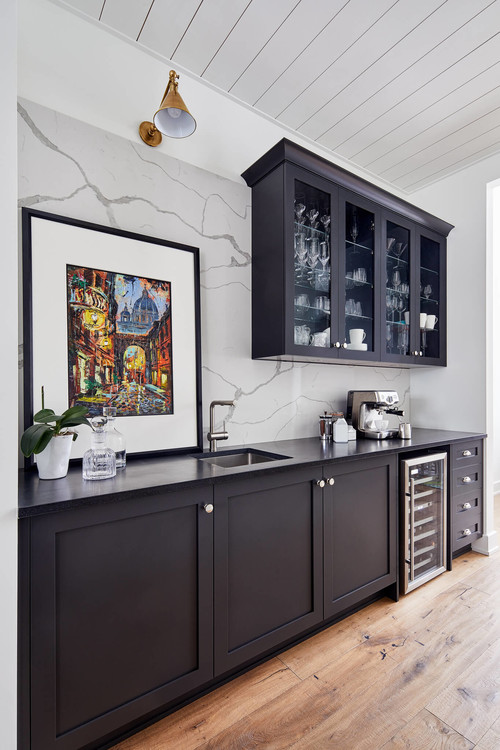 ID# 163420 | Houzz.com – Credit | © Astro Design Centre
---
Luxurious Coffee Bar Design with Dark Grey Cabinets
In this large coffee bar, the custom dark grey island, almost black makes a contrasting statement in the space, yet with the white perimeter and natural light – the space is still bright and beautiful. The large quartz slab as a backsplash, creating a nice textural look behind the cabinets. The brushed nickel hardware completes the bright appeal of the marble-look quartz. The large painting makes a beautiful final touch, creating a focal point.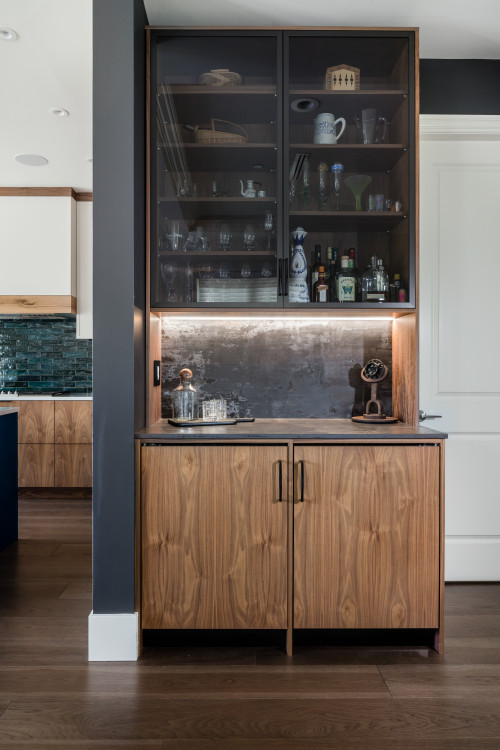 ID# 163421 | Houzz.com – Credit | © Designs by KS
---
Wood Base Cabinets with Glass Fronted Upper Cabinets
The coffee station is unquestionably the prominent feature in this expansive kitchen which beckoned all caffeine enthusiasts with its dedicated room for all things brew-related! The warm wood base cabinets offer a natural touch of beauty that pervades the area, heightening the pleasant mood. The sleek glass fronts on the top cabinets add an elite feel that flawlessly balances visual intrigue with elegance while the transparent nature of these cabinets allows you to see your meticulously collected collection of excellent coffee accessories.
How tall should a home coffee bar be?
The typical range is 36 to 42 inches, with 36 inches being the most typical for Americans of normal height. The recommended range for wheelchair users is 33-34′′, while exceptionally tall people or those who have back problems would choose to put the station at the higher end of the range to prevent bending.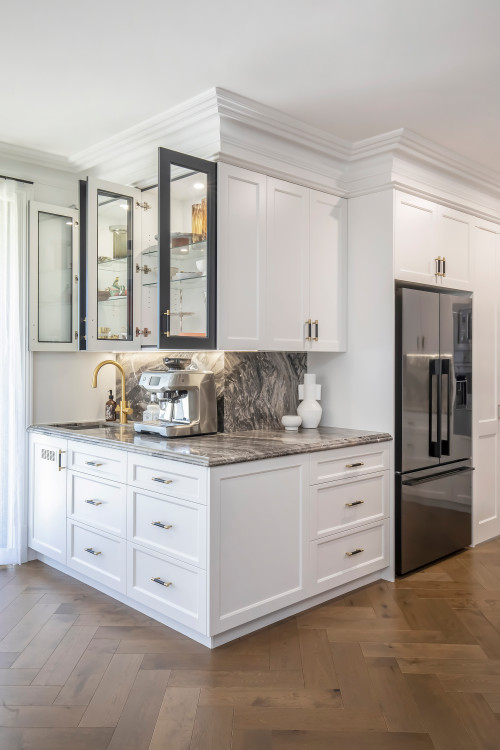 ID# 163422 | Houzz.com – Credit | © Live by the Sea
---
Luxurious Kitchen Coffee Bar Ideas with Granite Backsplash
Adorned with crisp white shaker cabinets, this corner space of the kitchen serves as a coffee station! The gray granite backsplash and countertops stand out between the cabinetry and create a focal point. The brass hardware and faucet perfectly complete the luxurious design while the glass fronted upper cabinets enhance the visual interest.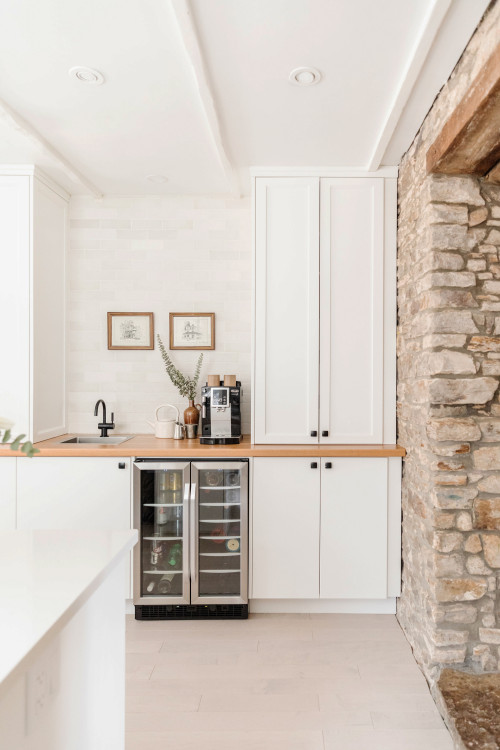 ID# 163423 | Houzz.com – Credit | © Neilson Design Studio
---
Crisp White Kitchen Cabinetry with Wood Countertop and Black Knobs
The spotless white shaker cabinets are definitely the coffee bar's biggest draw. Their pristine and clean appearance sets the tone for a great coffee experience while the hardwood countertop provides a touch of comfortable texture and the ideal amount of warmth. The modern gray subway tiles in the backdrop add a clean and polished air to the area that nicely compliments the overall design! A variety of beautiful black knobs adds a sense of modern flare to the entire design, upping the elegance factor.