24+ White Subway Tile Backsplash with White Countertop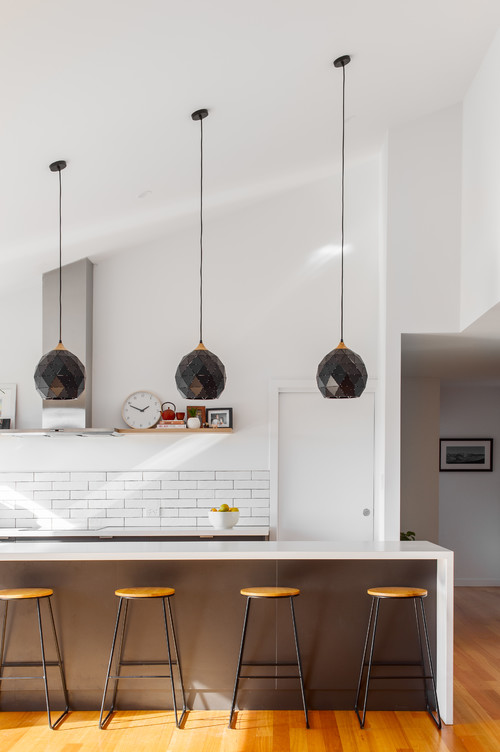 ID# 147903 | Houzz.com – Credit
---
White Subway Tile Backsplash with Waterfall Island and White Countertop
This contemporary-minimalist kitchen is visited by streaming lights that give the kitchen extra charm and allure. The black base counters occupy a large portion of the space, forming an L-shape for a solid base. At the far wall, the white subway tiles characterize the walls, extending 8 inches or so. Above, the stainless steel is fully exposed rather than hidden and is accompanied by a linear timber shelf used to keep some accessories for extra interest. The white waterfall island introduces a sense of flow. The backless stool tucked into the island doesn't steal from the walking space. And the black pendants are dropped down all the way to provide task lighting, highlighting the kitchen's high ceiling.
ID# 147923 | Houzz.com – Credit | © Western Cabinets
---
Window Backsplash with Concrete Floor and Floating Shelves
When you have such a beautiful view, go with a window backsplash that delivers abundant natural lights and amazing landscape views- as showcased by this loft kitchen. Here, the window backsplash serves as the protagonist of the design while also coming as an easy-to-clean functional option. It is accompanied by a white subway tile backsplash so that it remains the centerpiece. In the rest of the design, the white cabinets colonize the interior, warmed up with gold hardware and timber floating shelves. Likewise, the orange island stools pop against the white background. The seamless poured concrete gives the kitchen an industrial edge, bringing the outdoor life indoors.
White Subway Tile Backsplash with White Countertop
Needless to say, designing a kitchen requires several decisions regarding color coordination, cabinet style, and getting the right complementary fixtures. And if you want to keep it simple and create a fail-safe option, consider a white subway tile backsplash with white countertop. Not only that this combination provides you with many design possibilities but also ensures timelessness.
Available in a wide range of materials, white countertops and subway tile backsplashes feature a high potential to give the kitchen a plethora of design options. Whether you go with marble, glass, granite, or ceramic, each white material is unique in its own right, thus leaving a different impact on the kitchen. To give you a better idea about how white kitchens can offer a wide array of looks, in this round-out we have inspiring designs centered around a white subway tile backsplash with white countertop; so, just keep reading to discover some innovative ways to build your own dream kitchen!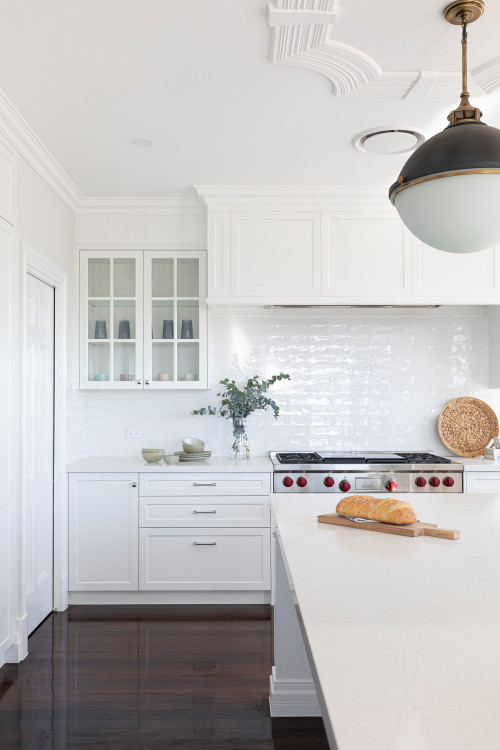 ID# 147901 | Houzz.com – Credit | © Popham Interiors
---
White Subway Tile Backsplash with White Countertop and Display Cabinets
Even though you have an all-white monochromatic scheme, you can spice up its look easily with a few touches. This modern kitchen, for example, gives not only the subway tile backsplash but also the floor a gloss finish. Both the white ceramic tiles and dark wood floor shine together, letting light travel around the room effortlessly. The display cabinets also support them, while the dominant white scheme expands the impact of lights. Half-white and half-black globe lighting fixtures tap into the spirit of mid-century modern designs, overhanging the island to stylize the kitchen.
What kind of backsplash looks good with white countertops?
Let's first start by saying that white countertops don't necessarily have to be matched with white backsplashes. Considering that today's technology offers almost limitless design opportunities available in a wide range of materials and colors, you may also go for something more colorful and tactual.
From window backsplashes to wood panels, glass sheets, whitewashed stone splash-backs, and geometric tiles, you have a plethora of design options. Metal backsplashes are also helpful to create glamorous looks that ensure longevity. And if you want to invigorate your white countertops, feel free to use colorful backsplashes. Geometric tile backsplashes such as hexagons and Escher tiles provide a perfect backdrop for that. And with a multi-colored palette, they can even make the background feel 3-dimensional while adding depth. Plus, in 2023 kitchen trends, more colors are expected to be part of kitchen designs. So, get yourself ready for it.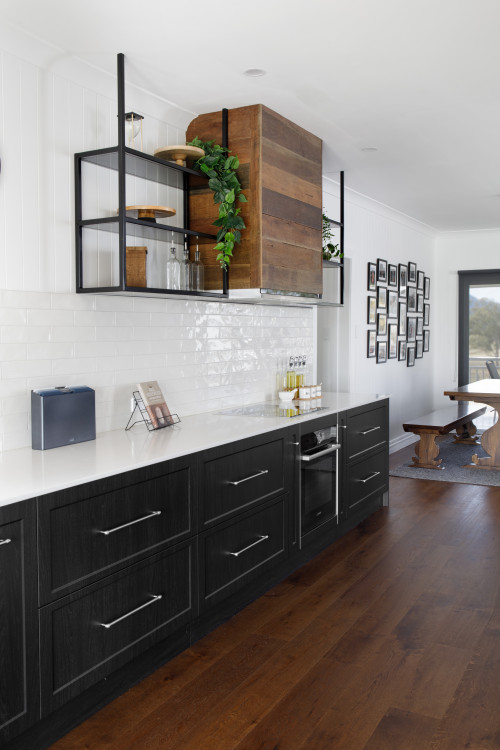 ID# 147902 | Houzz.com – Credit | © New Leaf Design Studios
---
Industrial Kitchen with Black Cabinets and Wood Range Hood
This I-shaped industrial kitchen balances white and dark shades to perfection without forgetting to warm them up with warming shades. While the black base counters anchor the design, the white subway tile backsplash laid in an offset pattern illuminates the kitchen. Its satin finish distinguishes the tiles from the white-painted walls. Overhead, the shiplap board range hood and black suspended shelf make the kitchen industrial to the core. The white countertop, chrome cabinet pulls, and kitchen plant pack the kitchen with style.
White Subway Tile Backsplash Materials
Among the most popular white subway tile backsplash materials, we can count ceramics, porcelain, marble, and glass. Each option is heat resistant and durable. Except for marble, other materials are also low-maintenance, thanks to their pore-free surfaces. As for the marble, since it is a natural stone, it is porous and thus, prone to staining and etching unless it is sealed annually. But it can compensate for it with its unmatchable beauty and elegance. As such, it is generally used to make luxurious statements and bring the kitchen a high-end feel.
White Ceramic Subway Tile Backsplash with White Countertop
Since ceramic is a low-maintenance material and a practical option, not to mention its affordability and high customizability, it is widely preferred by homeowners. As for the white ceramic subway tile backsplashes, they register clean looks, providing neutral setups for other colored and metallic additions to feel at home. And if you want to give them a modern twist, you can stack the subway tiles vertically or horizontally and lay them in herringbone and chevron patterns.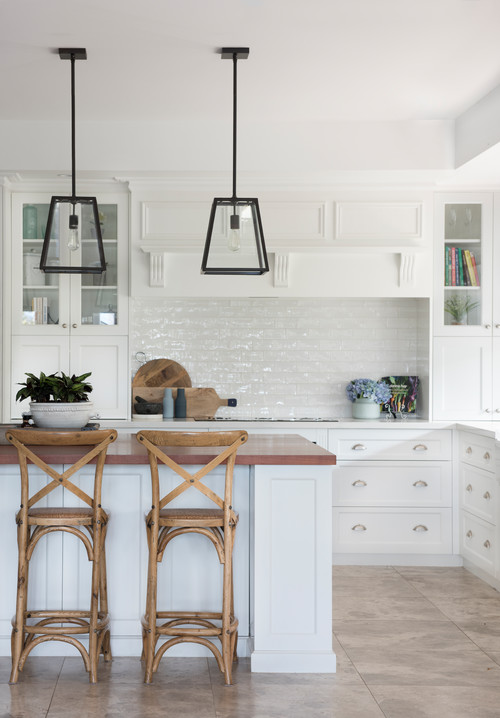 ID# 147904 | Houzz.com – Credit | © Challis Builders
---
White Subway Tile Backsplash with White Island and Caged Pendants
This white modern kitchen draws on its farmhouse roots, which is most evident in the black caged pendants and butcher block-topped island. This way, the monochromatic color scheme is broken up and added warmth. By contrast, the white shaker cabinets give the kitchen a classical spin. The chrome cup pulls puncture the design; wood spindle-like stools and beige-gray ceramic floor tiles further radiate warmth. And among the further enriching elements, we can count the display cabinets, millwork on the range hood panel, and satin finish on the white subway tile backsplash. Altogether they give birth to a functional, warm, and classical look defined by traditional finishes.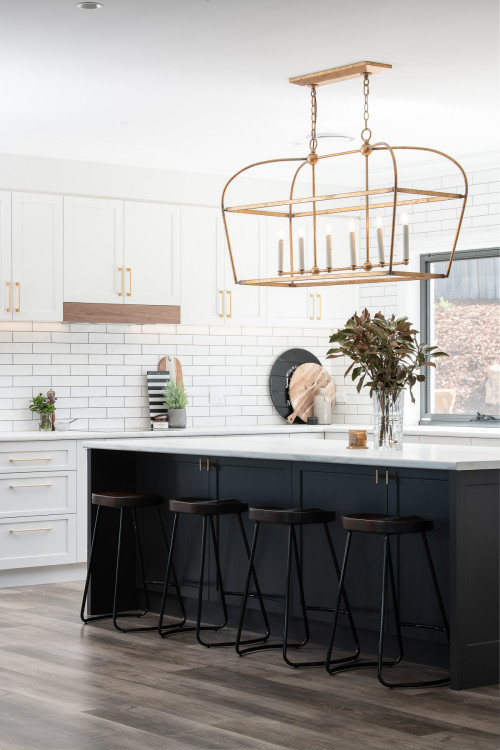 ID# 147905 | Houzz.com – Credit | © Prime Design Tasmania Pty Ltd
---
Black Island with White Shaker Cabinets and Brass Hardware
If you have a white-dominant kitchen, with a few design tricks, you can give it a whole fresh look. This country kitchen, for example, abounds in warming shades and metal touches that give life to the white subway tile backsplash. And the black island creates contrast, placed vertically to the stove zone at the heart of the kitchen. It is also anchored to the design with a gold caged pendant that brings an old-world charm and is punctuated by gold hardware that pulls the space together. In the rest of the design, the white shaker cabinets and white countertops define the largest portion of the space. And on the floor, the laminated parquet flooring adds further warmth, building a sense of visual drama.
Should the backsplash be lighter or darker than the countertops?
Generally, light backsplashes and light countertops are used together to create an efficient and safe working environment. It is mainly because, in kitchens that don't receive enough sunlight during the day, the darker backsplash and countertops make it harder to work efficiently. The same goes for small kitchens as well. Thus, in such kitchens, it is better to use dark cabinets to anchor the look and white countertops and white backsplashes to brighten up the interior. But if your kitchen is well-lit and vast enough, feel free to make any combination you like. When you keep the backsplash lighter, countertops can serve to anchor them. Yet with the backsplash that features a darker shade, you can add more depth to the background.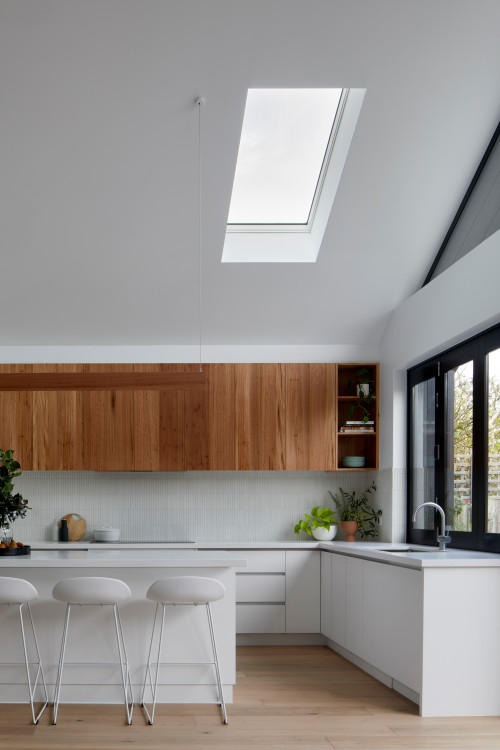 ID# 147906 | Houzz.com – Credit | © Demardi
---
White Subway Tile Backsplash with White Countertop and Wood Upper Cabinets
Nestled under the sloping ceiling, this Scandinavian-contemporary kitchen is awash with white elements. Yet what we love most is here the matt vertically stacked tile backsplash. It keeps the kitchen in line with a contemporary look and brings a sense of order while extending the kitchen on the vertical axis. Also, the use of small tiles feeds the sophisticated feel of the kitchen while the white grout between the tiles almost makes them feel seamless when looked at from a certain distance. They are flanked by hardware-free and flat-front timber and white counters. This white and wood combination results in organic modernism honored by a visual scheme that flows purely. The timber version of the linear lighting fixture and the kitchen plants take the design to the next level while contributing to the biophilic aesthetic of the kitchen.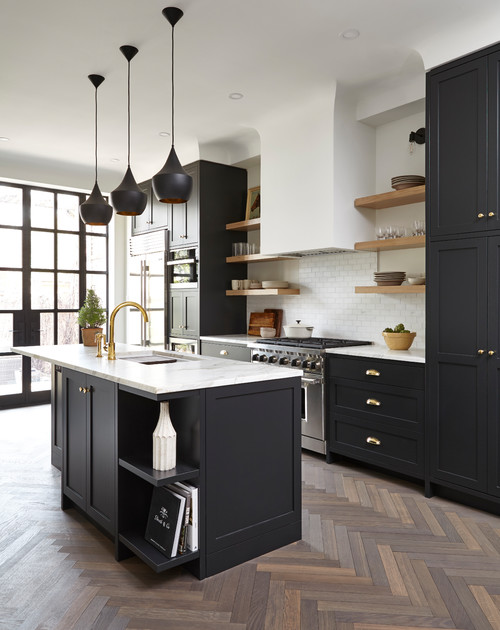 ID# 147907 | Houzz.com – Credit | © South Park Design Build
---
Black Cabinets and White Subway Tile Backsplash with White Countertop
In this transitional kitchen in Toronto, a striking focal point is deftly established with a subway tile backsplash and timber floating shelves that sandwich the white range hood fixture. Here, an all-time favorite backsplash and natural vibes come together, giving birth to timelessness. The kitchen island runs parallel to the perimeter counters configured in an I-shape. A trio of black pendants overhangs it, bringing an elevated edge to the kitchen and drawing eyes upward. The gold-yellow faucet, and rosy gold pulls and knobs add depth and dimension. Through small details, they bring the design to life. The herringbone hardwood tiles with gray undertones resonate with the overall color scheme and bring the space together.
Can you do a white backsplash with white cabinets?
A white backsplash pairs well with white cabinets, creating a seamless look and harmonizing with them beautifully. This couple pays off well especially in small and compact kitchens with low ceilings. But it comes with a lot more benefits than that. Since all-white looks create a blank canvas of sorts, you can easily color them with stools, hardware, lighting fixtures, and wood accents. And when you get bored of the look, you can just change them up with new ones without costing you a fortune and creating a big mess.
Also, a white backsplash allows you to play with tile and layout options. By stacking the ceramic subway tiles in your way, you can create intriguing backgrounds. To make them pop, you can use a different grout color, such as gold, black, or beige. In other terms, you can have fun with a white backsplash and white cabinets, too. All you need to do is to fire up your imagination.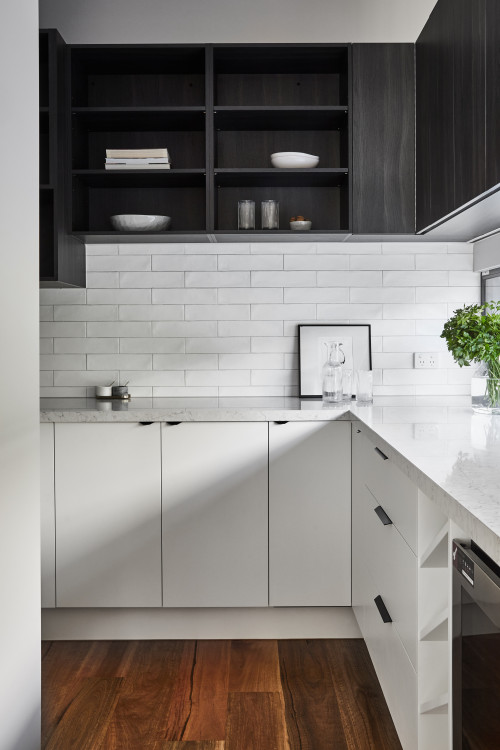 ID# 147908 | Houzz.com – Credit | © Sherbrooke Design and Construction
---
White Subway Tile Backsplash with Quartz Countertops and Wood Floor
This contemporary kitchen offers the best of both worlds by dividing its volume into two via black and white shades. While the top half is characterized by black upper cabinets, the base counters are kept white. And in between, the handmade white ceramic subway tile backsplash is laid in an offset pattern to give the kitchen movement on the horizontal axis. The quartz countertops dotted with feathery patterns complement the white-and-black scheme harmoniously. The kitchen plant and medium wood floor finish deliver a breath of freshness and warmth, respectively, to bring the contrasted kitchen scheme to life.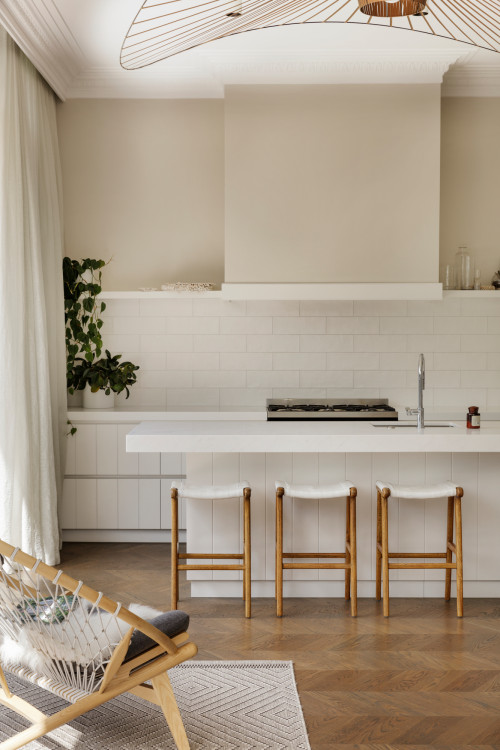 ID# 147909 | Houzz.com – Credit | © Black Box Architects
---
Beadboard Cabinets and Island with White Backsplash and Cream Walls
If you are determined about keeping all kitchen elements white, try something different with the top walls- as showcased by this contemporary kitchen in Auckland. Here, the cream-painted far wall envelops the kitchen with warmth, making the interior look sophisticated and approachable all at once. To accompany it, the beadboard cabinets and V-groove island, though white, still contribute a pattern to the overall design aesthetic. Likewise, the subway tile backsplash laid in a running-bond pattern contrast the vertically lined counters for a sense of playfulness. In the rest of the design, the white countertops and chrome faucet keep things sleek, sticking to the ideals of minimalism. Overhead, the undulating form of the oversized lighting fixture makes a strong visual statement. Along with it, the kitchen plants, wood chevron floor, and wood legs of the stools inject further warmth, creating a biophilic design.
PS: Take note of this design as it already displays and gives clues about what will be trending in 2023 as well.
White Marble Subway Tile Backsplash with White Countertop
An upscale material marble is an amazing option if you are fond of luxurious looks. Capable of elevating any look easily, a white marble subway tile backsplash is used not only to clad the walls but also countertops and range hoods. This way, you can make marble the protagonist of the kitchen easily and establish a continuous look. Plus, just because it is white doesn't mean that it has one look. Since it is a natural stone, it features different striations and streaks, depending on where it is quarried from. Carrara, Arabesque Statuaria, and Calacatta are the most popular ones, punctuating the design with bluish, feathery, pronounced, gray, brown, and old veining. And finally, in terms of functionality, they are heat-resistant and very durable with a long lifespan.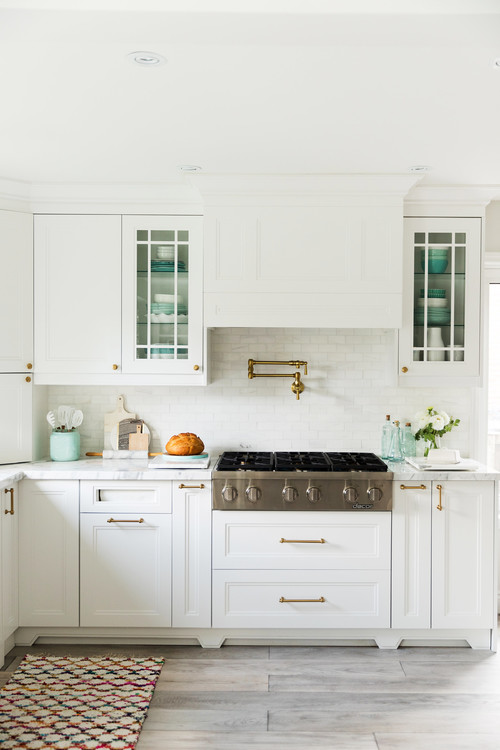 ID# 147910 | Houzz.com – Credit | © Simply Beautiful Eating
---
White Subway Tile Backsplash with White Countertop and Colorful Runner
What is used on the kitchen floor is as important as other design elements. Here, for instance, the colorful diamond pattern runner adds a cozy and homey vibe, protecting the floor from water splashes and partially coating the white-gray laminated flooring. The rest is outfitted with white shaker cabinets and upper display shelves that expose the beautiful blue kitchenware behind the glass cabinet doors. The hood is concealed deftly to preserve the clutter-free look, while the white subway tile backsplash gives the kitchen a classical spin. The aged brass hardware punctuates the cabinets, lending warmth to the otherwise too-white kitchen.
Should the backsplash and countertop be the same color?
Backsplash and countertops could be the same color, but this is not a must. If you wish, you can also use contrasting shades and coordinate two light colors together. For example, light gray and white work well together. Cream backsplash with butcher block countertop and white backsplashes with black countertops create eye-catching looks. You can also go with darker backsplashes and keep the countertops white. This way, you can add more depth and dimension to the background.
However, if you prefer an achromatic look, then it would be better to match your backsplash to your countertops. And to jazz up this look, you can add pops of color through complementary elements and design supporting fixtures such as pendants, lighting fixtures, bar stools, salvaged rugs and woods in farmhouse kitchens, and suspended shelves in industrial kitchens.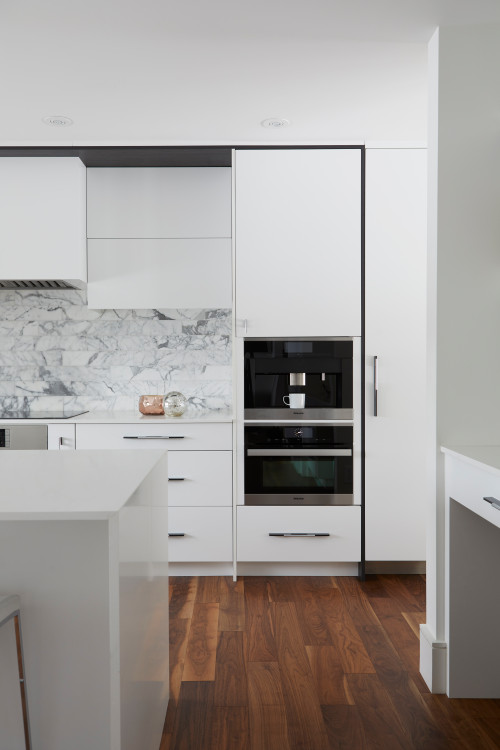 ID# 147911 | Houzz.com – Credit | © BiglarKinyan Design Planning Inc.
---
White Cabinets and White Subway Tile Backsplash with Sleek Appliances
Displaying what mid-century minimalism is all about, this contemporary kitchen is also the ultimate embodiment of elegance. Treating subway tiles with a classic finish with marble not only honors the marble but also makes it the protagonist of the kitchen. In the rest, the white flat-front cabinets envelop the backsplash to ensure that the marble backsplash shines. Additionally, the chrome hardware and built-in appliances support the sleek profile of the kitchen along with the low-profile hob. Lastly, the floor coating pays homage to the mid-century modern kitchens' love for wood, delivering an instant warmth to break up the monochromatic look. The final product feels classic, elegant, and modern without compromising its functionality.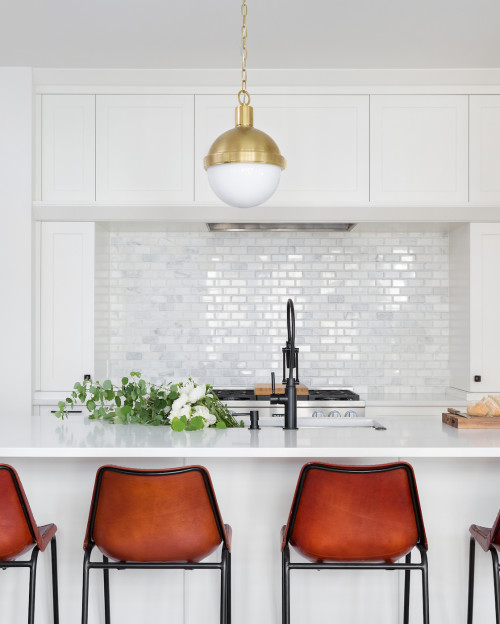 ID# 147912 | Houzz.com – Credit | © Reena Sotropa In House Design Group
---
Transitional Kitchen with Marble Backsplash and Orange Stools
Using complementary elements to add pops of color to the kitchen is one of the most entertaining parts of designing, and this transitional kitchen just knows how to nail it. Here, the mid-century-inspired half-gold orb lighting fixtures and orange bar stools pop against the white background, enlivening the interior. The white marble subway tile backsplash and white shaker cabinets provide a blank canvas that oozes elegance in the background. The white island unit mirrors the perimeter counters, creating a continuous look and letting its complementary elements do the speaking.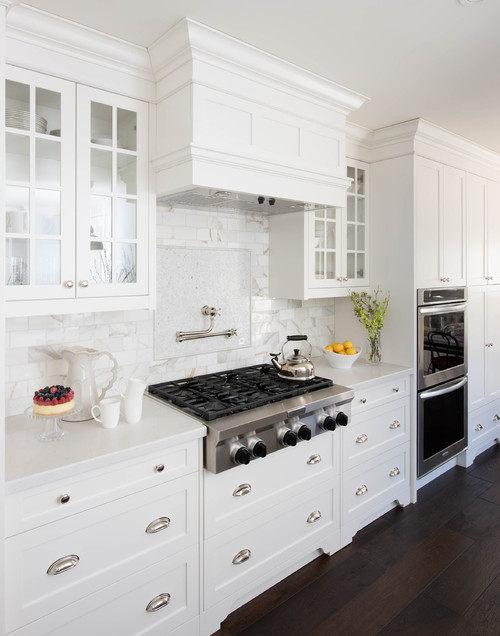 ID# 147913 | Houzz.com – Credit | © Monochromatic Kitchen with Display Cabinets and Chrome Hardware
---
Monochromatic Kitchen with Display Cabinets and Chrome Hardware
In this monochromatic transitional kitchen, there are not one but two types of backsplashes that follow the traditional kitchens' design guide. First, this kitchen uses a marble subway tile backsplash as the main splash-back that adds a bit of dimension with feathery striations to the backdrop along with white display cabinets. Secondly, the stove zone is punctuated by a small subway tiles backsplash laid in a herringbone pattern that gives the kitchen a traditional spin. And the rest is characterized by the white shaker cabinets topped by white quartz countertops that further enhance the openness of the kitchen. The chrome hardware accentuates the design; the dark wood floor finish creates visual drama.
What colors go well with white subway tile?
White subway tiles are an all-time favorite and classic finish. Thus, they welcome different colors and patterns. But it also depends on the material of the white subway tiles. For example, for the marble subway tiles, you can take note of the color of the striations and use them in the rest of the kitchen. If marble is marked by blue streaks, you can go with dark blue cabinetry to provide an anchor for the backsplash.
From dark brown counters to white oak cabinetry, white, dark blue, green, black, yellow, and gray cabinets, white subway tiles go with a wide range of colors. But to take a better decision, focus on the kitchen and check how much natural light it gets. This can guide you on whether you should get light or dark-colored cabinets. Also, feel free to use metallic accents, such as chrome, gold, brushed nickel, and stainless steel. Additionally, for warm touches, you can employ wood that makes the kitchen immediately cozy and intimate.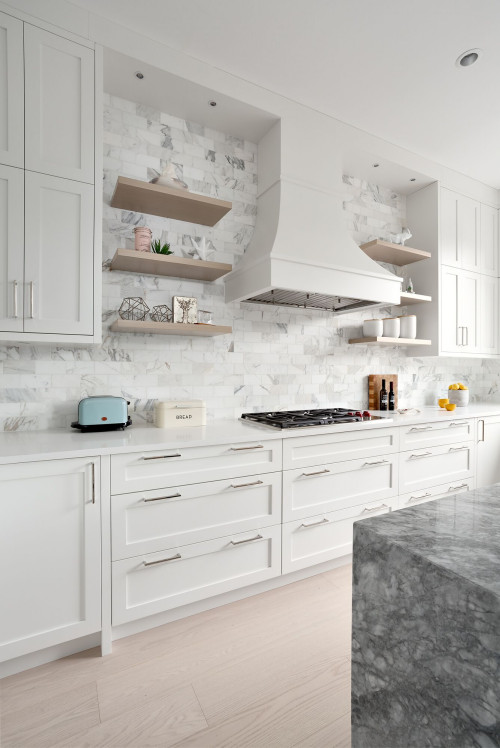 ID# 147914 | Houzz.com – Credit | © Kitchen Art Design
---
Marble Island with Marble Backsplash and Oak Floating Shelves
The dark gray marble-topped waterfall island bridges the gap between classic and contemporary in this transitional kitchen, posing a contrast to the white background design. Here, the main food-prep and cooking zone lay its foundation on white shaker joinery, a ceiling-height white marble tile backsplash, and oak floating shelves that create an effortless focal point. The bulky traditional range hood also contributes to the classic feel of the kitchen. The subtle color and textures propose little vignettes without leading to big design moments. Overall, it features a balanced color and material coordination with a designer look.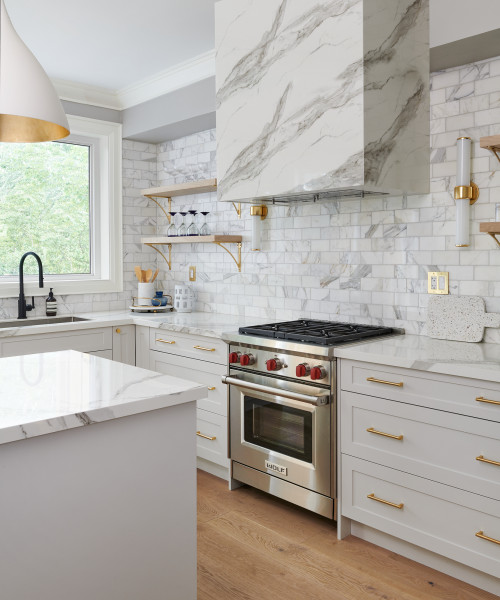 ID# 147915 | Houzz.com – Credit | © Homekin
---
Calacatta Marble Backsplash and White Cabinets with Gold Hardware
This luxurious kitchen design is well-appointed with a Calacatta gold marble backsplash. Not only that it clads the walls but also the countertops and range hood to create a seamless look. And it is further punctuated by gold hardware and brass-detailed sconces, making the design extra glamorous. By contrast, the timber floating shelves bring a calming effect to downplay the brass and bold streaks on the marble. Also, their symmetrical placements on the wall offer extra comfort for the eye, while white shaker cabinets let marble speak volumes of luxury.
White Countertop Material Options
The most popular white countertop material options include marble, quartz, laminate, and granite. Each comes with its own unique aesthetic value and creates an efficient working space, making it easier to spot what is on the countertops thanks to their white shades. Also, don't worry, not all of them are pure white. They feature speckled, tumbled, and polished finishes, which ensure there is enough variety even with the white countertops.
White Subway Tile Backsplash with White Marble Countertop
White-on-white especially pays off well when you get both of them in marble. You can use this combination in traditional, modern, and mid-century kitchens to delivering an instant high-end feel. Additionally, marble countertops provide a classic and timeless finish while oozing sophistication.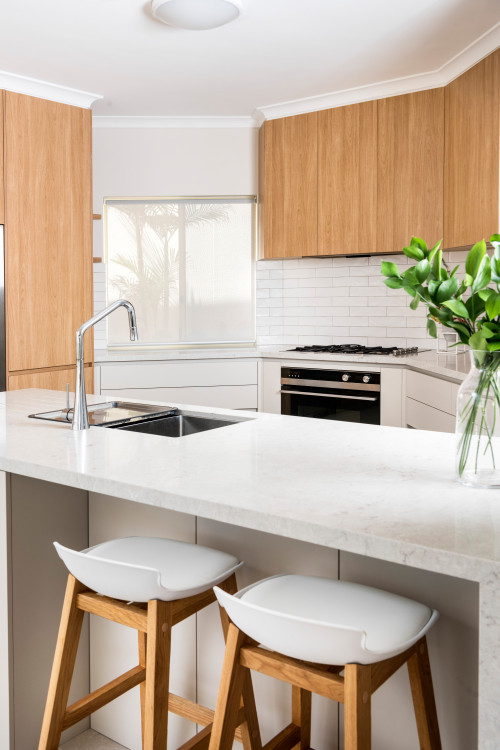 ID# 147916 | Houzz.com – Credit | © Western Cabinets
---
Scandinavian Kitchen with White Subway Tile Backsplash and White Countertops
This U-shaped Scandinavian kitchen with diagonal turns features an intriguing geometry, defined by two-tone joinery. This wood and white cabinet combination gives it a Scandinavian edge, while the cabinets' flat-front refined style preserves the kitchen's sleek profile rather than surrendering to the rustic flairs. The white subway tile backsplash creates a clean look and is paired with white quartz countertops. Together, they provide a perfect canvas for the cabinets to do all speaking. Sleek appliances, chrome hardware, and green leaves in a glass vase pack a punch to finalize the solid and warm aesthetic look of the kitchen.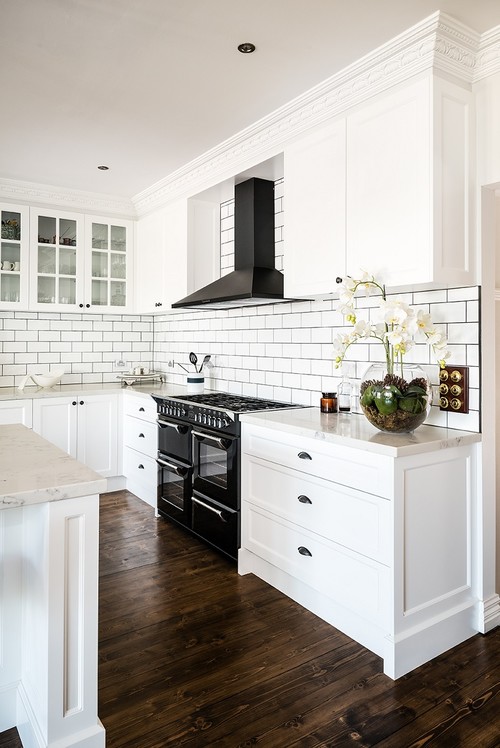 ID# 147917 | Houzz.com – Credit | © Castella
---
White Display Cabinets with White Subway Tile Backsplash with Black Grout
Subway tiles are a failsafe option, no matter how you pair them. The grout color also serves as another important detail that gives the subway tiles a whole fresh look. Here, this traditional kitchen, for example, uses black grout between the tiles that emphasize the pattern itself. This way, the tiles get more connected to the black appliances and black knobs and pulls that puncture the cabinets. In the rest of the design, the display cabinets let lights bounce off around the room, and the dark wood floor finish creates visual drama to anchor the design.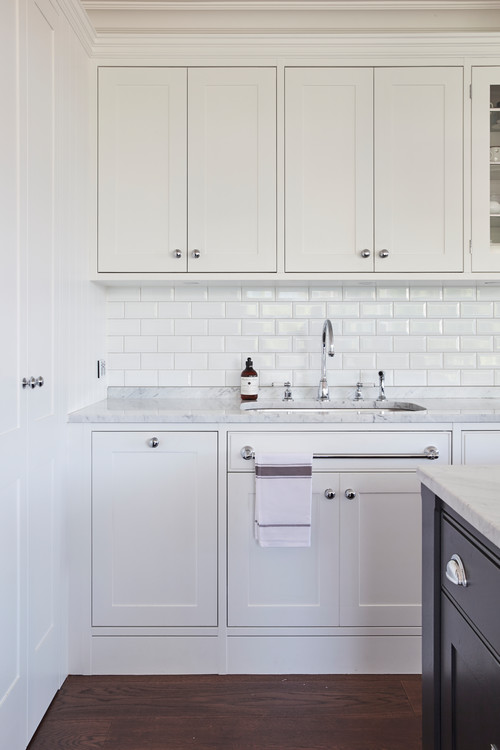 ID# 147918 | Houzz.com – Credit | © Provincial Kitchens
---
White Shaker Cabinets with Black Island and Chrome Knobs
Here we have another traditional kitchen with an achromatic color scheme finished with soft and clean lines. Designed to be practical and comfortable, it mainly consists of white shaker cabinets, a white subway tile backsplash, and white countertops. The chrome knobs and plumbing fixtures add a sense of glow to make the shakers look more stylish, while the black island brings a striking contrast, paired with larger chrome cup pulls. This way, the island attracts all attention to the center, while medium laminated parquet flooring brings the right amount of warmth to make the design feel cozier and less distant.
White Subway Tile Backsplash with White Quartz Countertop
The engineered quartz countertops, unlike natural stones, are pore-free, which makes them a low-maintenance material. They are easy to clean and don't harbor bacteria. In aesthetic terms, they feature granite and marble effects in addition to their pure white versions. As such, you can create a variety of looks with white quartz countertops that inject optimism into the kitchen easily. When it comes to their combination with white subway tile backsplashes, they are suitable for all kitchen types, from traditional kitchens to transitional and modern kitchens.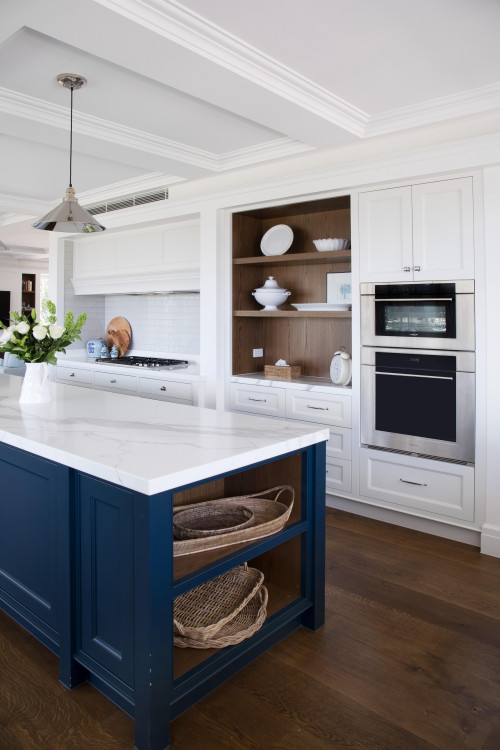 ID# 147919 | Houzz.com – Credit | © Wyer + Craw
---
White Subway Tile Backsplash with White Countertop and Blue Island
Taking cues from farmhouse designs, this country-style kitchen goes with open cabinets that exhibit wickers and white stunning pieces that pop against a wood background. It is inserted in an alcove in this combined-concept room, fitted with white shaker cabinets and a white subway tile backsplash. The blue island running parallel to the counters helps it define its zone, demarcating the kitchen from the lounge and serving as a half-wall of sorts. And its blue shade adds a splash of color to add a new dynamic. A duo of stainless-steel pendants overhangs the island, synchronizing with the stainless-steel appliances and chrome knobs. Lastly, the lightly streaked white quartz countertops top both the island and perimeter counters to tie the design together.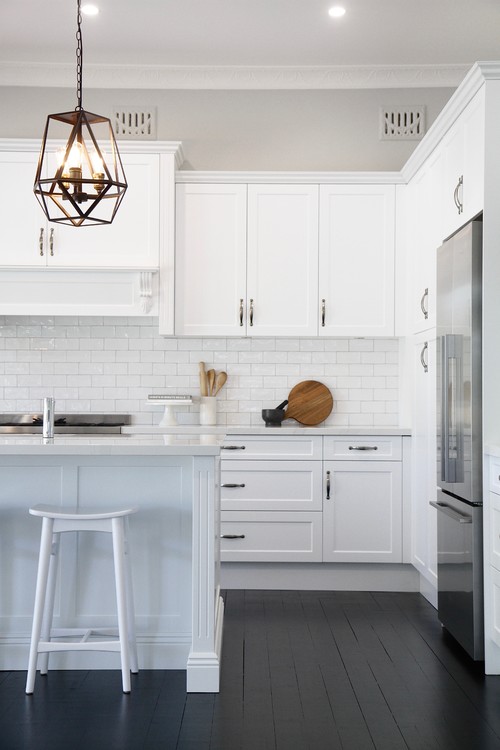 ID# 147920 | Houzz.com – Credit | © Integriti Projects
---
Achromatic Kitchen with Quartz Countertops and Stainless Steel Appliances
In this achromatic kitchen, the shaker cabinets feature cleaner lines that keep them in line with a contemporary look. The white quartz countertops and white subway tile backsplash add further neutral elements that create a simple yet stylish environment. The black country-style pendants and brushed nickel arch cabinet pull add further interest to the design, while the corbels on the range hood give the kitchen a classical spin. On the other hand, the stainless-steel appliances give the kitchen a modern feel and a high-end look to contrast the classical vibes.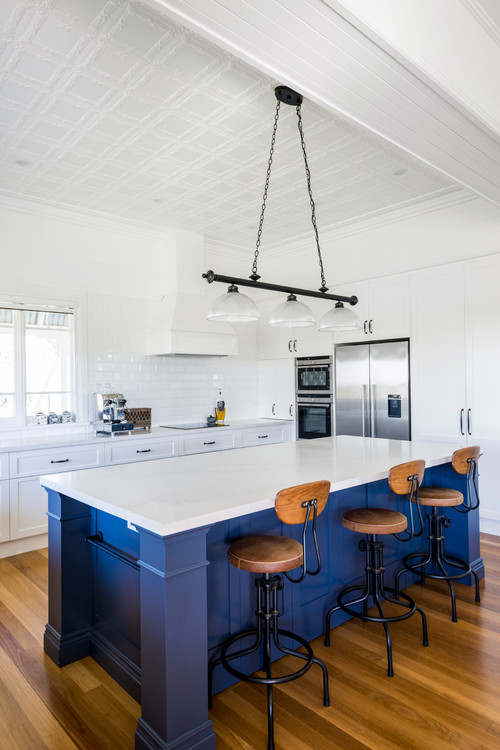 ID# 147921 | Houzz.com – Credit | © Germancraft Cabinets
---
Blue Island with White Shaker Cabinets and Wood Stools
One of the best ways to add a new dynamic to any kitchen is to incorporate a colorful island unit- as this kitchen does. Here, the blue island not only adds a pop of color but also provides a hefty worktop for a more functional design. In the background, the white subway tile backsplash and white countertops provide a neutral backdrop for the island to remain the centerpiece of the kitchen. Overhead, a cluster of lighting fixtures anchors the island to the kitchen; the wood stools and the bulky range hood make the kitchen grow akin to traditional kitchens. By contrast, the sleek appliances modernize the kitchen instantly.
White Subway Tile Backsplash with White Laminate Countertop
One of the most affordable options, white laminate countertops have evolved. And now, they offer better quality, longer durability, and many different finishes that even mimic natural stones. If you are on a limited budget, this is the countertop to go for. Even though they don't give the upscale look a marble would, they offer a clean and neat look that pairs perfectly with white subway tile backsplashes.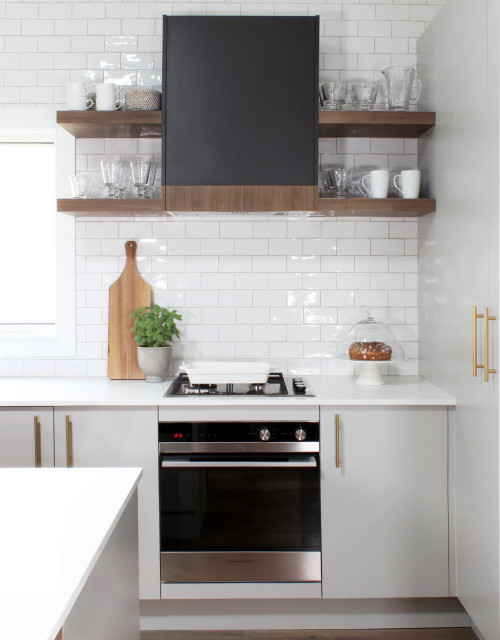 ID# 147922 | Houzz.com – Credit | © Kathryn Bloomer Interiors
---
White Subway Tile Backsplash with White Countertop and Timber Floating Shelves
In this contemporary kitchen, the subway tiles are given a rustic twist with dark wood floating shelves that flank the hood. These shelves are a strategic decision to keep the most needed glassware at homeowners' fingertips for convenient access. Plus, this way, the kitchen gains new momentum, packing a punch of style without causing any visual confusion. In the background, the gloss finish on the subway tiles makes the backdrop glow. The flat-front cabinets and laminate countertops ensure a sleek look, while the gold hardware further accentuates the cabinets and channel warmth.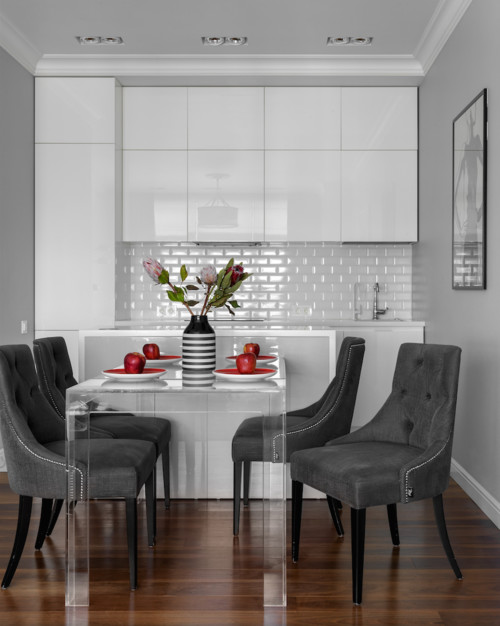 ID# 147924 | Houzz.com – Credit | © in[ex]terior by Solnyshkova
---
Small Kitchen with Gloss Cabinets and Transparent Table
This small kitchen uses gloss-finish white flat front cabinets to create the illusion of a larger space. The subway tile backsplash builds upon this brightness while also adding movement with its running-bond layout. Here, also, a small island provides an extra worktop and is adjoined to a transparent dining table that offers an intriguing eating space. The table is paired with gray extra comfortable dining chairs for a luxurious feel, while the monochromatic wall-mounted print deepens the artistic mood of the kitchen.