13+ Black and White Cabinets with Gold Hardware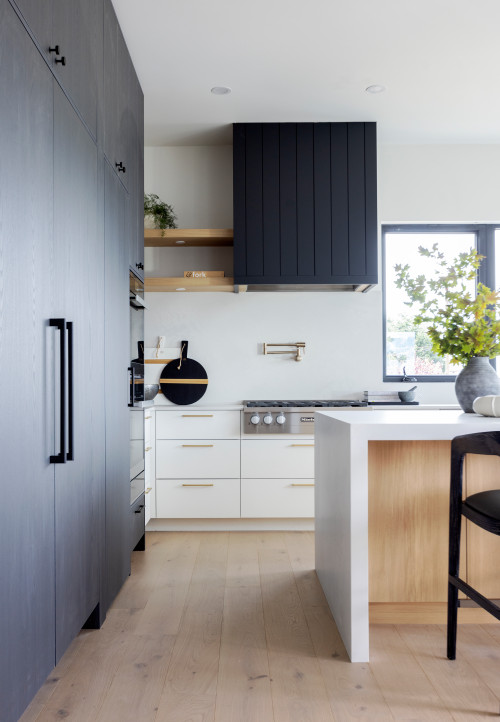 ID# 147703 | Houzz.com – Credit | © Synthesis Design Inc.
---
V-Groove Hood with Timber Floating Shelves and Gold Hardware
Drawing on farmhouse kitchen designs, this contemporary kitchen in Vancouver knows how to handle the space and combine two different styles without sacrificing the modern aesthetic mood. To achieve that, it starts by using flat-front cabinets and employs a color-blocking technique. For example, the full-height cabinets come in dark blue shades, while the perimeter counters are white. This color blocking makes the kitchen feel more spacious and modern. And in the rest of the design, upper wall units are traded with the V-groove hood and timber floating shelves to open up the space. The white countertop of the island falling over the edges create a waterfall effect to put different elements into dialogue. Likewise, the light wood floor finish and the island's wood base coordinate with each other. The gold hardware punctures the space.
Design hint: If you allocate one of the walls of your kitchen to full-height cabinets, just forgo the upper wall units to open up breathing space. This way, you won't also have to worry if you have enough cabinets or not.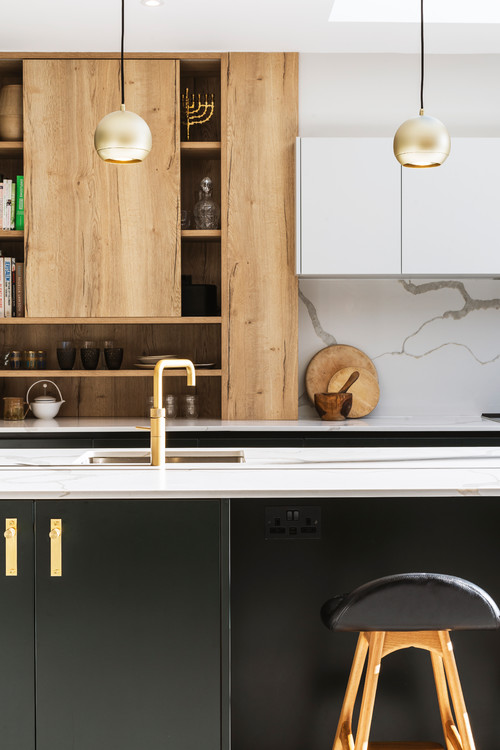 ID# 147711 | Houzz.com – Credit | © A2studio
---
Scandinavian Kitchen with Quartz Backsplash and Three-Tone Joinery
Looking for ways to develop a new design approach with white and black cabinets and experience how a Scandinavian kitchen looks and feels at the same time? Well, this Scandinavian kitchen is filled with answers and design tips that will surely satisfy you. First, by following a set of conventions for a well-balanced look, it goes with black base cabinets to anchor the look and white upper units to brighten the top half up.
And to take this look to the next level, it also integrates bespoke wood cabinetry with open shelves that bring the design to life. The white marble-look quartz backsplash, again, indicates the designers' aim for a more practical material palette without compromising the aesthetic value. As a pore-free and low-maintenance material, engineered quartz saves homeowners from annual sealing (which would be required by natural stones). As for the final touches, the gold globe pendants, gold cabinet hardware, and faucet add a touch of glamor to celebrate the wood, white, and black union.
Black and White Cabinets with Gold Hardware
The best part of the hardware is that it is easy to replace without creating a big mess and spending fortunes. And this would be just enough to give your kitchen a new and completely fresh look. But let us warn you about this: you may never want to change your gold hardware. It is warm and glowing, and it can be at once casual and luxurious, which is mostly dependent on the overall setup of the kitchen. And when it comes to black and white cabinets with gold hardware, gold hardware-when used as a third element- makes a great difference and breaks up the monotonic look of white-and-black color schemes.
Recently, gold has had an ever-growing popularity and has been used extensively both in quick revamps and top-to-toe kitchen renovations. Coming in the form of cabinets, islands, ceilings, floor accents, appliances, and many more, gold is available in many different structures. But if you are after a look that doesn't make the gold the protagonist of the design but rather a complementary feature, gold hardware still can do a lot for you. First, it establishes a glam aesthetic, imbuing the kitchen with opulence. Secondly, it adds a warm touch, which especially serves well with black-and-white combinations. Here are over 10 design projects that show you how to combine black and white cabinets with gold hardware. Take a closer look at them and steal some inspiration before you start to renovate your kitchen.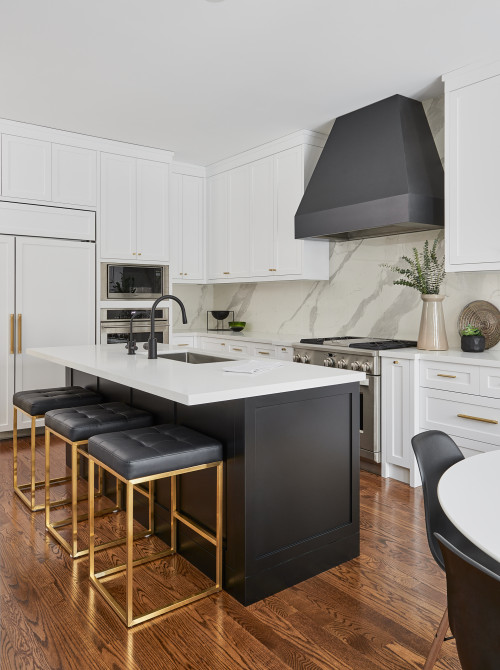 ID# 147701 | Houzz.com – Credit | © rtg designs
---
Black and White Cabinets with Gold Hardware and Quartz Backsplash
Contrasting schemes that engage with black and white shades always pay off well-as showcased by this transitional kitchen. Here, the white perimeter shaker counters define the far walls, creating an L-shape to integrate the corner into the design. Between the cabinets, a marble-look white quartz slab backsplash characterizes the wall, whose black pronounced stains coordinate with the black island. Topped by pure white quartz countertops, the island creates a focal point, sitting in an open conversation with the black range hood. The gold hardware used on the cabinets and for the bar stool legs adds a touch of glamour and warmth to coordinate the island with the rest of the kitchen. The medium-tone hardwood floor finish emanates further warmth to support the gold accents. The integrated sink and clean lines modernize the kitchen, while the bulky hood dressing and shakers keep the kitchen in line with traditional looks.
What is gold hardware?
Gold hardware refers to cabinet handles that are yellow and metal. And it provides a great element to inject warmth and glam into any kitchen. More, it goes well with all kitchen designs. But if yellow gold is not your thing, you can consider gold hardware with cooler rosy undertones that deliver a warm feel. You can pair them with pink accessories that pair well with the gold hardware. Additionally, brushed and polished finishes also change how gold hardware feels and visually impact the kitchen. As for the antique ones, they suit rustic and farmhouse kitchens perfectly. This finish is also rich in terms of undertones and texture.
In terms of shape and size, the gold hardware is available in a wide range of formats and forms, from cute knobs to bar pulls, hexagons, and more geometric forms. Especially, if you love contemporary looks, futuristic designs strengthened by intriguing geometric forms keep the kitchen in line with contemporary designs.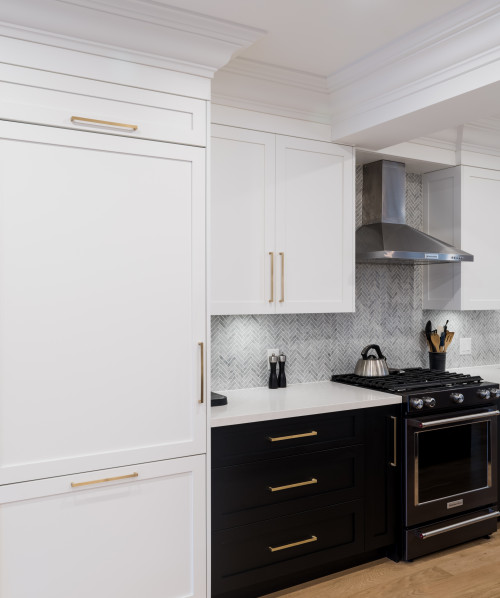 ID# 147702 | Houzz.com – Credit | © Davisville Kitchens
---
Herringbone Tile Backsplash with Gold Hardware and White Cabinets
The halfway-splitting technique is worth considering if you want to go with a two-tone joinery as this transitional kitchen does. Laying its foundation on a white-and-black scheme, the transitional kitchen asserts a solid aesthetic. It prefers upper wall units to be white to encourage spaciousness and brightness. By contrast, the base counters are kept black to anchor the look. The white quartz countertops and gray herringbone mosaic tile backsplash make transitioning easier between the two opposite characters of white and black. The black stove oven and stainless-steel hood harmonize with the rest of the design harmoniously, while gold hardware delivers warmth to break up the white-black color scheme and channel a sense of glam.
Types of Gold Hardware
Cabinet hardware is not only for aesthetics but also for functionality. It helps you keep your cabinets clean and free from any dirt and fingerprints. This way, you can also ensure the longevity of your cabinets in the long term. Plus, gold hardware makes it easier for you to open and close the cabinets, making the design more ergonomic. Of course, the size and shape of the hardware serve as a determining factor at this point. For example, pulls are better with drawers, making it easier to open them, while on the other hand, knobs suit the cabinets more. Or you can also install pulls vertically on the standard cabinet doors to allow an easy grab. When it comes to its aesthetic benefits, hardware is available in a plethora of styles, ranging from pulls to knobs, square or curved forms, and geometric shapes such as hexagons.
The same goes for gold hardware as well. With the right shape and size types, you can create expressive looks with it to make them speak the same language as the rest of the kitchen design.
Black and White Cabinets with Gold Pulls
Gold pulls, when compared to knobs, are larger and better at making strong visual statements. In contemporary kitchens, they are sometimes oversized and kept as long as the cabinet itself to highlight the clutter-free cabinet lines. As for the farmhouse and country kitchens, they also love oversized gold pulls. But rather than sleek linear ones, they go with ones that get larger and curvier in the center, so-called arch pulls. In addition to those, some of the most popular ones are also cup pulls, T-bar pulls, and English rope-style pulls. In terms of size, again, they come as small, medium, and large-sized pulls. While the small pulls measure 3-4 inches, the sizes of medium ones range from 4 to 8 inches.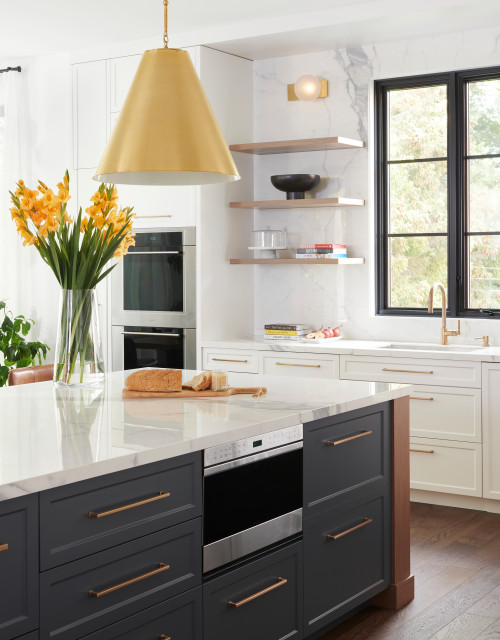 ID# 147704 | Houzz.com – Credit | © Jodie Rosen Design
---
Black and White Cabinets with Gold Hardware and Marble Backsplash
The timber floating shelves and gold hardware make this contemporary design more punctuated, healthier, and approachable. Not only that they add a sense of wellness but also bring warmth out of the main white-black color scheme. And they are accompanied by a white marble slab backsplash and two-tone joinery- white and black- that make the kitchen more practical. The marble itself taken up to the ceiling takes advantage of the lack of upper cabinets, providing a heat-resistant and elegant background. The multi-functional island is given another duty to host an oven, paired with a duo of oversized gold pendants. They are at once stylish and simple. Plus, the windows are left untreated strategically to benefit from charming garden views.
Design hint: The best part of the marble countertops is that they can even outlive your home, thanks to their long lifespan. But they do so only on one condition: as long as they are maintained and sealed properly.
Black and White Mosaic Tiles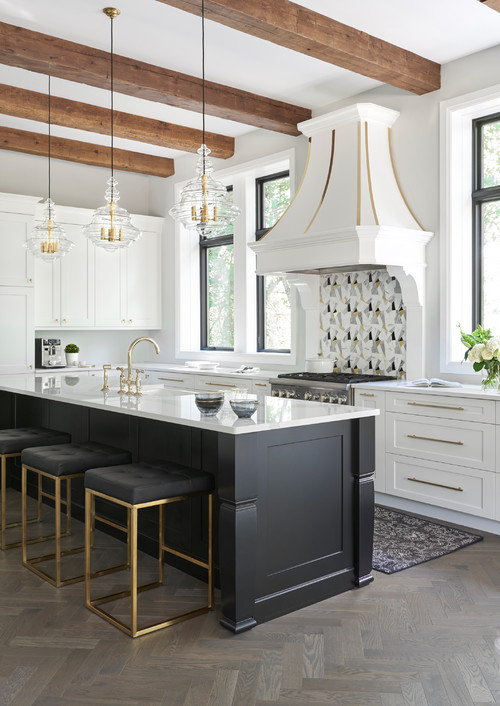 ID# 147705 | Houzz.com – Credit | © Stephani Buchman Photography
---
Luxury Kitchen Design with Exposed Wood Beams and Gold Accents
Featuring a genteel atmosphere, this luxury transitional kitchen cordially welcomes its users, mainly fitted with white and black cabinets. To introduce a second color, it uses its galley-style kitchen island that paints a contrast to the white base counters. The bulky range hood adds an old-timey charm without feeling rustic. Rather, it builds onto the already-present luxurious look with its gold stripes that accentuate the form of the hood. Overhead, the exposed wood beams create a more intimate atmosphere, while the glass pendants add a stylish look, overhanging the island. Assisted by bar stools, the black island occupies the heart of the space, creating a social hub of sorts for family members and guests to gather around over conversation. Finally, the traditional runner and patterned stove backsplash further the traditional look of the kitchen, taking the design to the next level.
Will gold hardware go out of style?
Gold hardware seems to be part of our home designs in the long term. Considering that it accomplishes so many things at the same time and has proven itself to be versatile, we can't just get enough of it. First, it fosters a lively ambiance. Secondly, it can be used in luxurious and casual kitchen designs. Thirdly, it channels warmth and offsets the cool tones dominating the entire room. And especially if you go with the ones that age naturally over time, then you can also enjoy its aged look that starts to feel more nostalgic over time.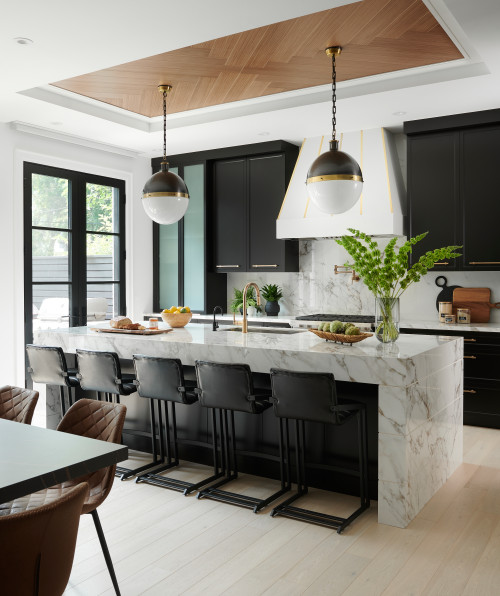 ID# 147706 | Houzz.com – Credit | © Jodie Rosen Design
---
Contemporary Kitchen with Marble Backsplash and Countertops
Before starting to design a kitchen, the key part is to explore the space and make the design live up to its fullest. Secondly, it is important to coordinate the materials accordingly so that it won't lead to any visual confusion. Here, for example, this chic open-plan kitchen appropriates the transitional vibes in a contemporary context. And it makes the marble slab backsplash the protagonist of the kitchen, utilizing it both as a backsplash and countertop. The black flat-front cabinets ensure that the design flows with clean and decluttered lines. Their gold pulls resonate with the brownish-gold striations on the marble, while the thick marble waterfall countertop of the island makes a strong visual statement. The mid-century-inspired orb lighting echoes the color palette, while the pure black stools blend harmoniously with the black base of the island. Let alone the ceiling design that mimics laminated parquet flooring, drawing eyes upward.
Black and White Cabinets with Gold Knobs
From mushroom knobs to square, hive, and hexagons, gold knobs can be in a wide range of patterns! And if you want something more eye-catching, more intriguing ones are also available in the market. As for the sizes, 1 inch knobs are considered small, while 1 to 1.5 inch ones are medium size. If you have larger drawers, then you need two gold knobs.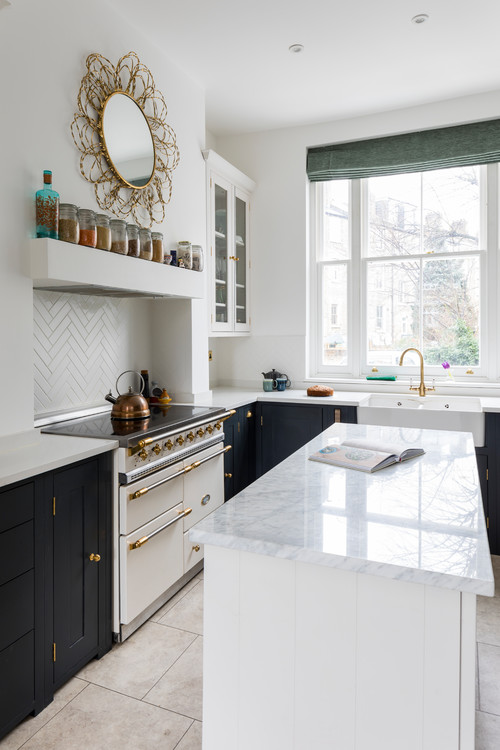 ID# 147707 | Houzz.com – Credit | © Woods of London ltd
---
Black and White Cabinets with Gold Hardware and Butler Sink
This transitional kitchen fleshes out with a butler sink, antique gold hardware, and an intriguing mirror design reminiscent of flowers, which make the design more expressive. As such, it draws mainly on country and farmhouse looks that bring an aura of unpredictability with them. Though most such kitchens look rustic, this one manages to look stylish, modern, and practical, thanks to the modernized version of shaker cabinets. In addition to those, the white display cabinets are anchored to the kitchen with dark base counters that lend solidity and strengthen the white additions. The white herringbone tile backsplash marks the stove zone that is kept minimalist and accompanied by a shelf-like addition to store jars. Additionally, the intimate distance between the island and perimeter counters makes it feel cozier, while the antique finish of gold knobs gives the kitchen a lived-in feel and a soft aesthetic.
Does gold hardware look good on black and white cabinets?
Gold hardware pairs perfectly with black and white cabinets. As the black-and-white combination creates a contrasting scheme that feels timeless, gold hardware would only do them a favor, making this contrasting theme more approachable and look healthier. Depending on the cabinet types, you can accentuate white and black cabinets with all sorts of gold hardware types, be it a pull or a knob. A
All in all, since gold is a warm shade, it creates a well-balanced look with neutral colors like black and white. Plus, you can also benefit from gold hardware to punctuate dark green, blue, gray, yellow, and pink cabinets.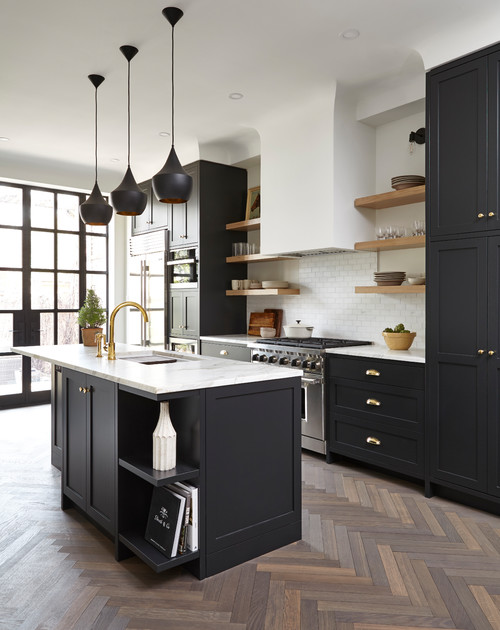 ID# 147708 | Houzz.com – Credit | © South Park Design Build
---
Transitional Kitchen with Timber Floating Shelves and Subway Tile Backsplash
Elevate the white and black cabinet combination with gold hardware. This transitional kitchen, albeit featuring a larger space, reserves a much smaller spot for itself to minimize the walking time between the different kitchen stations. And to further define the kitchen, it employs a custom kitchen island with an open cabinet shelf for extra interest. A trio of modern black pendants overhangs the island to draw attention to the heart of the space, offering a farmhouse approach to the modern. In the background, the white subway tile backsplash stretches from the countertop to the range hood, creating a basis for a timeless aesthetic. Additionally, the timber floating shelves provide a calming contrast to the overall black-and-white color scheme along with the whitish-gold cabinet hardware.
Design hint: If you want to create a sense of visual interest, go with different cabinet handles. Here, the small knobs and the larger ones are used together for standard cabinets and drawers, respectively.
Is gold hardware in Style 2022?
Warm metallic shades are still popular and in style in kitchen designs, be it farmhouse, contemporary, modern, beach-style, or transitional. In other words, gold hardware suits all kitchen looks. And just because it is gold doesn't mean that it is only used to ooze opulence and add a luxurious feel. They serve to support the casual feel of the kitchens as well. Especially the oil-rubbed and antique gold versions give the kitchen a lived-in feel, which especially suits the farmhouse and country looks. You can pair them with forest and emerald green cabinets to downplay and calm down their dark green shades.
Complement with Other Fixtures
Gold cabinet hardware can also be put into dialogue with complementary gold accents. For example, gold lighting fixtures, wall sconces, gold range hood fixtures, stove knobs, and plumbing fixtures. Even gold leg stools can serve as tiny and nuanced details, contributing big to the overall feel of the kitchen and elevating it significantly. Gold-made kitchen islands can make truly statement additions that can bathe the kitchen in luxury and opulence.
But there are a couple of things you need to pay attention to retain the sleek and modern look. For example, if you want to create diversity and include hardware of various sizes and shapes, surely you can do that. But don't overcomplicate it or overdose on it. For example, use pull bars for drawers and knobs for standard cabinets. Curb your enthusiasm to mix too much. This way, you prevent any potentially chaotic and messy look but keep the look in line with modern looks and thus, in style.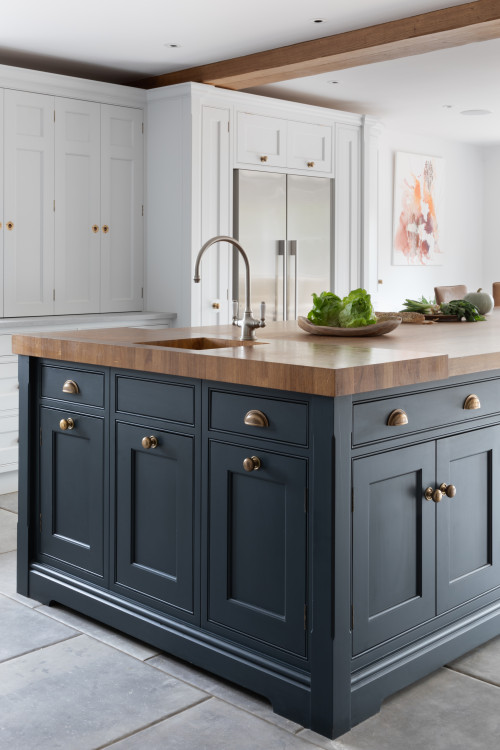 ID# 147709 | Houzz.com – Credit | © Tulip
---
Dark Island with Butcher Block Countertops and Gold Knobs
The compelling design of this traditional kitchen is mainly built upon the island unit that consists of dark shaker cabinets and butcher block countertops. It feels like a pure farmhouse element that nails that bucolic feel. The gold knobs of various sizes give the island a warmer and healthier look with a blushed-cheek effect. In the rest of the space, the exposed beam on the ceiling and white full-height cabinets take their place, creating a natural and canvas-like setting for the island to stand out. On the floor, the weathered-looking floor tiles complement the overall feel perfectly, adding to the lived-in feel of the kitchen. By contrast, the stainless-steel faucet and bridge give an instant modern treatment, leaving the kitchen with a modern farmhouse look.
Black and White Cabinets with Gold Knobs and Pulls
If you can't decide whether to use knobs or pulls, why not use both? You can use pulls for drawers and save gold knobs for the standard cabinets. Doing so also creates extra visual interest, making the design more expressive and intriguing. Plus, each cabinet size demands a different scale and form of hardware. In other words, the use of various hardware types also brings functional benefits, making it possible to come up with more ergonomic designs.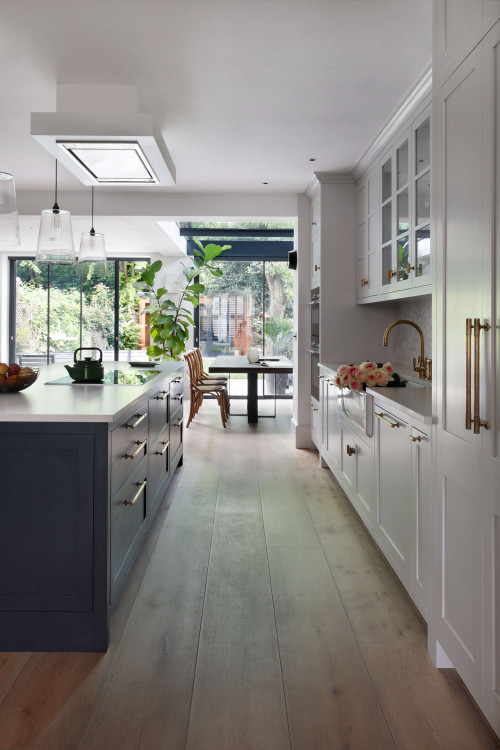 ID# 147710 | Houzz.com – Credit | © Catherine Wilman Interiors
---
I-Shaped Open-Plan Kitchen with White Countertops and White Cabinets
I-shaped kitchens offer the perfect cabinet configuration in open-plan kitchens like this one. Here, for instance, the far wall is outfitted with white shaker cabinets and glass-front upper wall units. The full-height versions are used at the ending points of the kitchen to give a better definition of this combined-concept room. Likewise, a kitchen island is incorporated into the design to demarcate the kitchen from the lounge, dividing the open floor plan into different functions.
The island also accommodates the low-profile hob, paired with a skillfully hidden range hood that doesn't steal anything from the clean look of the kitchen. On the floor, the wood planks extend horizontally running parallel to the I-shaped layout rather than cutting it vertically. This way, the kitchen feels extended and roomier than it is. The rest is fitted with white countertops, gold hardware, and a butler sink that enhance the lightness and brightness, while further stylizing the kitchen at the same time.
Modern Black and White Cabinets with Gold Hardware
Modern cabinets refer to clean line shakers and flat-front cabinets that are very minimalist and only consist of slab fronts with no millwork or any other ornate detail. Championed for their sleek look, modern cabinets ensure decluttered setups that can be taken to the next level with gloss and high-gloss finishes to create a glittering effect. To balance it out, you can go with brushed gold hardware that especially works better with modern black and white cabinets that deliver strong contrasts. Or to support the glamor, polished yellow gold hardware can make the kitchen pop easily.
Since modern cabinets are generally flat-front, they can be accentuated with gold hardware to give them a sense of movement. Doing so also makes the design much more intimate and approachable. Thus, don't refrain from using the third color and material especially if you plan to use it only for small elements like cabinet hardware. Cabinet handles don't necessarily lead to any visual clutter when you use them with a certain consistency. But just don't use too many different cabinet hardware together, especially in modern kitchens fitted with modern cabinets. It might end up looking chaotic and messy. And finally, as for the hardware type, modern cabinets particularly like oversized brass pulls that are almost as wide as the cabinets themselves.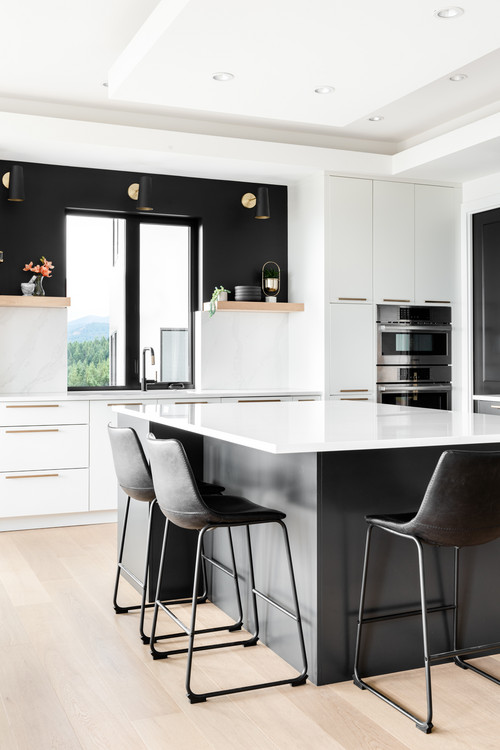 ID# 147712 | Houzz.com – Credit | © Thomas and Birch – Kitchens and Living
---
Modern Black and White Cabinets with Gold Hardware
The black and white color palettes always result in a winning combination-as proven by this contemporary kitchen one more time. To start with, here, the white flat-front cabinets with built-in appliances create intriguing boxy patterns, which highlights the contemporary character of the design. To make a difference, the timber floating shelves split the sink station into two. The white slab backsplash is topped by black-painted walls punctuated by a trio of black tracking spotlights. This way, the sink zone makes a strong visual statement. And it is accompanied by another black-and-white combination, which is the island. Placed at the center, the island unit creates a sociable spot for guests and family members to entertain themselves and grab a cup of coffee for an informal gathering.
Overhead, the white false ceiling turns this central zone into an intimate space. Gold hardware punctuates the cabinets to add movement and color them. On the floor, the light wood floor provides a lighter look, which serves the space much better than a darker floor would do.
Black and White Shaker Cabinets with Gold Hardware
All-time favorite shaker cabinets are one of the fail-safe options in kitchen designs. Generally made of solid wood, plywood, and MDF, typically white shaker cabinets consist of a flat central panel and square edges with minimal detailing or simple trim on the edges. To put it differently, it features two rails, two stiles, and a center panel, thus the resulting scheme resembles a box shape. This simple-detailed version of the cabinets suits every kitchen design. Even contemporary kitchens prefer to use their painted ones to enliven the space.
And when they come in black and white shades that never go out of style, they make a great couple. By using a third element like gold hardware, you can make the white and black shaker cabinets more expressive. Additionally, gold hardware brings the warmth out of these neutral shades and gives them a fresh and healthier look.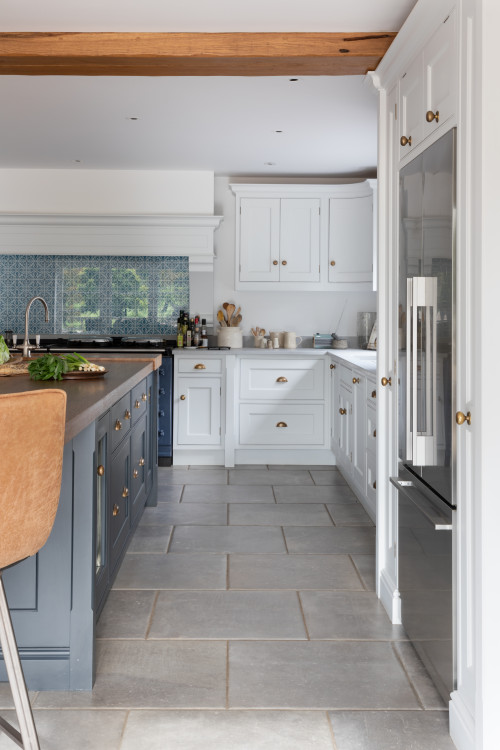 ID# 147713 | Houzz.com – Credit | © Tulip
---
Black and White Cabinets with Gold Hardware and Butcher Block Countertops
This vast country kitchen is ready to seduce its users with its curved corner cabinets, the exposed wood beam, and the pristine white range hood dressing. This enchanting trio constitutes that farmhouse look masterfully, which is supported by warming wood shades, a clean look, and non-rectilinear soft aesthetic features. Adding to them are also the Mediterranean-style polished blue backsplash and a dark island unit topped by butcher block countertops. This way, the kitchen additionally gains a pop of color and a new dynamic. To finalize the look, the weathered-looking light gray stone-look floor tiles emanate cool vibes, building onto the already existing narrative.
What goes with gold hardware?
As mentioned before, gold hardware suits all kitchen types and can be paired with different finishes, which makes it a fail-safe option to use. Additionally, it can serve the space for different purposes. For example, in monochromatic kitchens, it spices up the look while adding a playful contrast. And in contrasting color schemes, it softens the strong contrasts such as dark gray-white, black-white, and dark brown-white. Especially in kitchens with dark and light earthy shades, it comes as a celebration of natural color scales while honoring them by asserting a glam aesthetic. Apart from those, gold also pairs perfectly with blue, pink, beige, espresso, and green cabinets. Also, for a regal and oriental ambiance, consider orange and red to pair with gold.
Besides those, feel free to integrate other gold features in different zones of the kitchen to pull the space together. This way, you also build a more purposeful look with a high level of consistency. To name a few, gold farmhouse sinks, including the hammered versions, gold-frame mirrors /paintings/ prints/, gold lighting fixtures, gold chandeliers / linear lighting fixtures, stools, and even islands can be paired with gold hardware. Gold accessories distributed here and there, again, can orchestrate a union with gold hardware. And what about gold range hoods and gold cabinets? If you love gold, don't shy away from using it extensively.
In other words, when you use gold hardware, you can use this as a chance to incorporate vintage elements into your kitchen- since they go well together. And if you love luxury looks, you can consider getting chandeliers to hang over the island (E.g., sputnik lighting fixtures)
Backsplash Options
As for the backsplash, if you have a white tile backsplash, you can sprinkle some gold tiles as well to make your background pop. Or better, you can use gold grout between the tiles that emanates warmth. In so doing, you also create a non-conventional background, given that the most preferred grout colors are white, gray, and black.
As for the materials, wood and marble couple perfectly with gold hardware. Some marble types feature brownish, light beige, and gold veins, which you can honor with gold hardware. But if you prefer to keep things downplayed, then wood is a true game changer. You can benefit from wood floating shelves, exposed beams, butcher block countertops, and even wood panel backsplash to create a calming contrast to the gold hardware. Yet since both have warming shades, they go well together. Especially in modern, Scandinavian, organic modern, and beach-style kitchens, wood and white two-tone joinery, and gold hardware team up perfectly, whose final product feels charming, texture-rich, and natural.