36+ Kitchen Decor Ideas 2023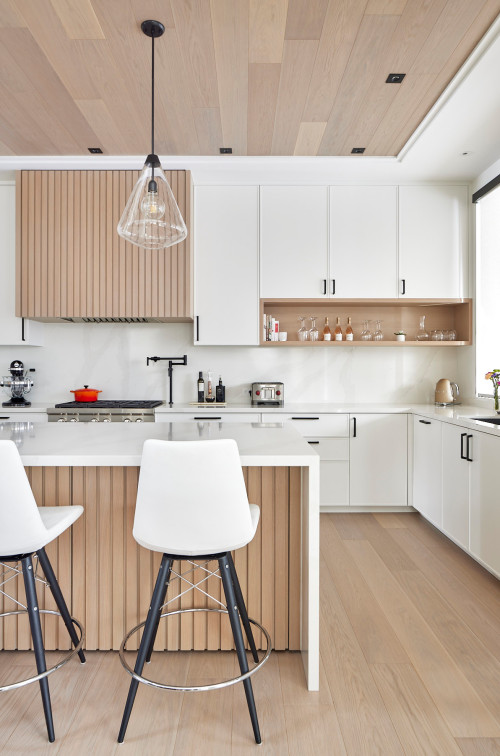 ID# 154901 | Houzz.com – Credit | © New Age Design
---
Kitchen Decor Ideas 2023 with Fluted Wood Designs and Glass Pendants
It is no secret anymore that textured surfaces have now become a fad as of 2023. And this contemporary kitchen exemplifies it perfectly. Featuring a fluted design wood island and range hood, this kitchen makes a strong visual statement. The wood-clad ceiling and floor also envelop the room with a sense of warmth, ensuring there is enough texture. A warm and soft palette accompanies the abundant use of wood. And for a final touch, glass pendants overhanging the cascading island give the design a contemporary upgrade.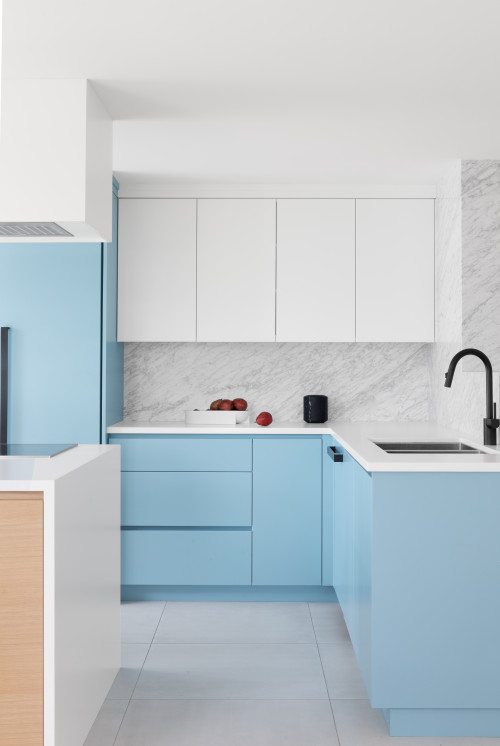 ID# 154921 | Houzz.com – Credit | © PlaidFox Studio
---
Marble Slab Backsplash with Soft Blue Cabinets and White Countertops
This colorful and serene kitchen design owes its peaceful mood to its soft blue cabinets, white upper cabinets, and a marble slab backsplash. Featuring gentle and feathery bluish striations, this seamless marble creates a practical backdrop that is easy to clean and grout-free. Likewise, the engineered white quartz countertops provide another seamless and also pore-free material. As such, this kitchen offers a user-friendly environment, filled with convenient and practical materials. To complement their clean line profile, an integrated sink adds a sleek and modern detail. 
Kitchen Decor Ideas 2023
Kitchen décor ideas 2023 range from bold colors to patterned accent tiles, kitchen plants, statement lighting, and textured backsplashes. In other words, this is the year to think outside the box and encourage your kitchen to feel special and unique. All you need to do is to act adventurous and experiment with tiles and materials by mixing and matching them. Also, care about the individuality of each addition and keep that uniqueness maintained in the overall kitchen design.
If you love earthy shades and pops of colors and patterns, you are going to love this year for sure. Kitchen décor ideas 2023 serve to create dramatic spaces abounding in intricate details. Here we gathered kitchen designs replete with statement moments. Sometimes it is the lighting fixture, the charming earthy shades, or eye-catching backsplashes that elevate the design aesthetic. To get a better idea, take a look at these designs and glean some information about how to create your kitchen moments.
What Are the New Kitchen Decorating Trends For 2023?
From earthy shades to terrazzo tiles, patterned backsplashes, and dramatic marble slabs, kitchen decoration trends promote thinking outside the box. 2023 will be the year to create textured-rich designs complemented by warm and soft palettes. A variety of different materials and patterns will come together to give birth to immersive looks.
Earthy Shades
Consisting of a rich palette of browns, beiges, greens, and sandy hues, earthy shades create an outdoor feel indoors. They are best complemented with antique brass hardware, wood cabinets, and reclaimed islands. For a more colorful addition, you can also incorporate kitchen plants to invite a breath of fresh air. And to create a focal point, use V-groove cabinetry or a shiplap ceiling that suits kitchen themes with earthy shades.
Terrazzo Tiles
Dramatic stone slabs surely are popular. Yet there is also a new candidate competing against them, which is terrazzo. Featuring colorful chips of various sizes, terrazzo tiles are best to bring a contemporary voice to any space. Used as a backsplash, floor coating, and countertop, they can create cohesive designs easily. Also, by serving as a practical option, they offer an easy-to-clean and durable surface. That's why they are preferred confidently in high-traffic areas.
What are the kitchen trends for 2023?
Wood cabinets, earthy shades, and rustic features such as wood beams take the forefront in 2023. Statement lighting fixtures, plants, patterned tiles, handmade tiles, dramatic stone slabs, and glossy tiles further enrich this list. Accent chairs can be incorporated to introduce color and pattern to liven up the overall design aesthetic. Coffee bars and butler's pantries are regaining their popularity, creating little design moments at home. It, in turn, means that you have more chances to introduce patterns and textures. Even if you are not into big changes because it is too much work and costs a lot, doesn't worry. A few small touches such as getting oversized pendants can feel more than enough.
Modern Lines
To ensure the relevance of design in the long term, it is better to stay loyal to modern lines. Best introduced by flat-front cabinets, linear lighting fixtures, wire stools, and waterfall islands, modern lines create soft and decluttered looks. As such, they offer everything that contemporary kitchens stand for which are form, functionality, minimalism, and calmness. When achieved, it truly feels satisfactory. Especially given that kitchens tend to get messy in the first few seconds of the cooking process, it is strategic to keep the design modern and clean-lined in the first place.
Diversify Materials
Mix and match materials and textures that will give you more sophisticated and interesting designs. For example, you can pair wood cabinets with a marble backsplash and a glass pendant. A copper or steel farmhouse sink, again, can enrich the material vocabulary of a kitchen. Depending on the style you aim for, you can gather relative materials together. For example, for a more Mediterranean look, utilize wood beams, terracotta floor tiles, and cast-iron lighting fixtures. In modern kitchens, you can use two types of backsplashes. For example, a marble slab stove splash-back can be combined with a ceramic subway tile backsplash. This kind of diversity is very much celebrated this year. So, feel free to experiment with materials.
What is the color trend for 2023?
In 2023, more brave color palettes will be dominating our homes. Earthy shades and colors of magenta, lavender and peach pink are the most popular ones. In addition to them, designs that celebrate green hues are still an ongoing theme. Also, impactful orange and red shades are popular choices among interior designers and homeowners.
Marble Effect
A high-end material, marble, as of 2023, is still a sought-after material. Used as a backsplash, countertop, and to clad a range hood fixture, it is used in a myriad of ways. And thanks to its dramatic veining, it can elevate the overall aesthetic design of the room instantly. Given that marble slabs/ tiles are expensive, today's market offers great substitutes. For example, those low on budget can get porcelain tiles that mirror marble patterns skillfully at more affordable prices. And those looking for more practical options with no sealing requirements can go for
marble-effect quartz slabs.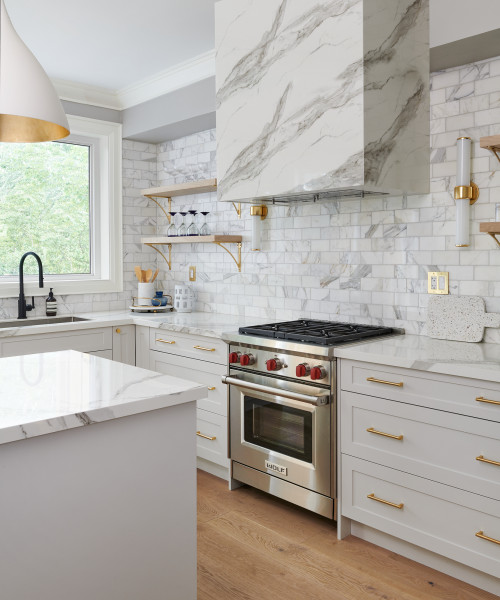 ID# 154920 | Houzz.com – Credit | © Homekin
---
Kitchen Decor Ideas 2023 with Marble Backsplash and White Cabinets
As classic and timeless finishes, marble backsplashes maintain their popularity in 2023 too. Here, dramatic Calacatta marble is used in abundance, cladding the entire wall, range hood, and countertops. Plus, it is also used in two different versions. While the hood fixture is enveloped in its slab version, the natural stone backsplash comes in subway tiles. This way, a sense of visual diversity is created, supported by wood floating shelves that add further accents. In the rest, gold hardware punctuates the white shaker cabinets. And gold-touched wall sconces and modern lighting fixtures take the aesthetic value of the design to the next level.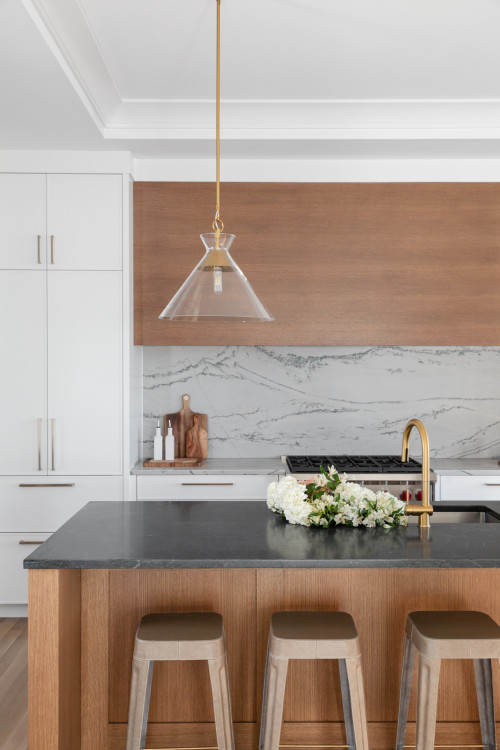 ID# 154922 | Houzz.com – Credit | © Reena Sotropa In House Design Group
---
Two-Tone Flat-Front Cabinetry with Marble Backsplash and Gold Hardware
To avoid all-white kitchen looks, you can always create a two-toned effect. This modern kitchen, for example, goes with wood cabinets and a wood base island to enrich the color and material palette. The glass pendants with gold accents, a gold faucet, and gold cabinet handles spice up the otherwise too-simple flat-front cabinets. Also, in the background, a marble effect slab backsplash adds a sense of quirkiness, offering a visual idyllic comfort. To ensure visual diversity, the island differentiates itself with a dark gray countertop rather than purely mirroring the perimeter counters. The backless industrial-style stools adopt a natural color palette to blend into the surrounding. Plus, they are strategically tucked into the island not to steal any space from the central walkway.
Coffee Bars
For some, it is a luxury, and for others, it is a necessity. Yet this year, coffee bars are a trending option. If you have empty corners, you can transform them into little coffee bars by reclaiming an old cabinet. You can also installl open shelves on the wall to exhibit your beverages. And add another aesthetic value to your otherwise empty walls with these floating shelves. For a luxurious feel, use glass shelves with gold brackets.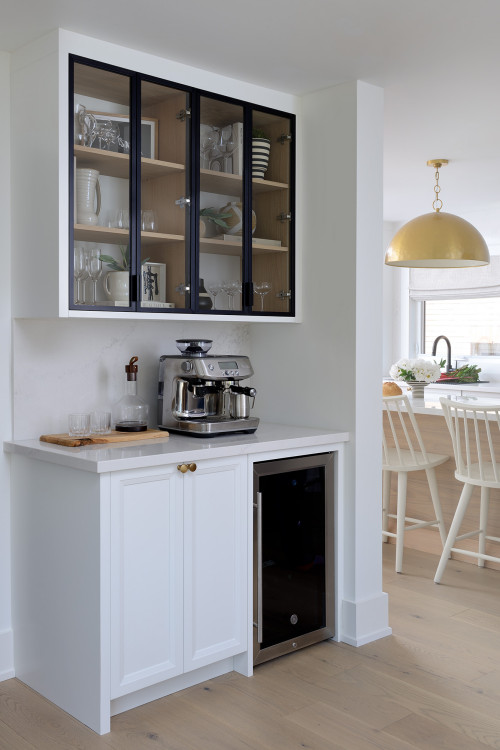 ID# 154923 | Houzz.com – Credit | © Michelle Berwick Design
---
Kitchen Decor Ideas 2023 with Coffee Bars in Scandinavian Home
This Scandinavian home gets to enjoy the feeling of owning a coffee bar. Featuring both a beverage cooler and a coffee machine, it lets homeowners refreshen themselves with hot and cold drink options.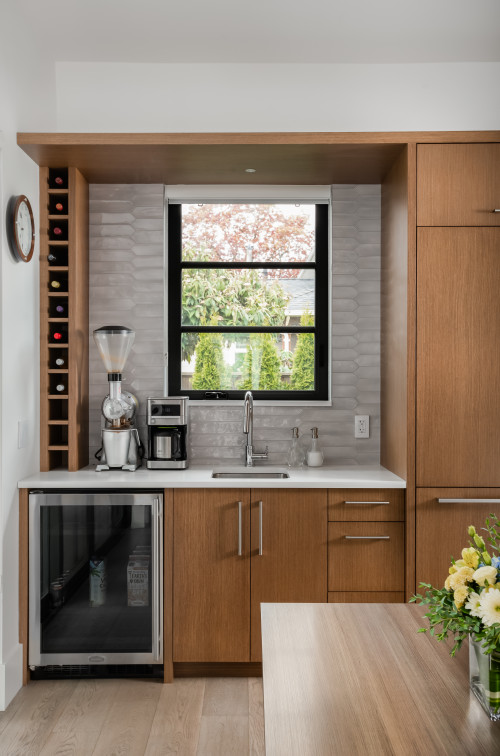 ID# 154924 | Houzz.com – Credit | © SGDI – Sarah Gallop Design Inc.
---
Wet Bar with Wood Cabinets and Wine Rack
Blending with the rest of the kitchen seamlessly, this wet bar is characterized by a geometric picket tile backsplash and wood cabinets. Boasting a warm and neutral color scheme, it keeps itself in line with the recent kitchen trends.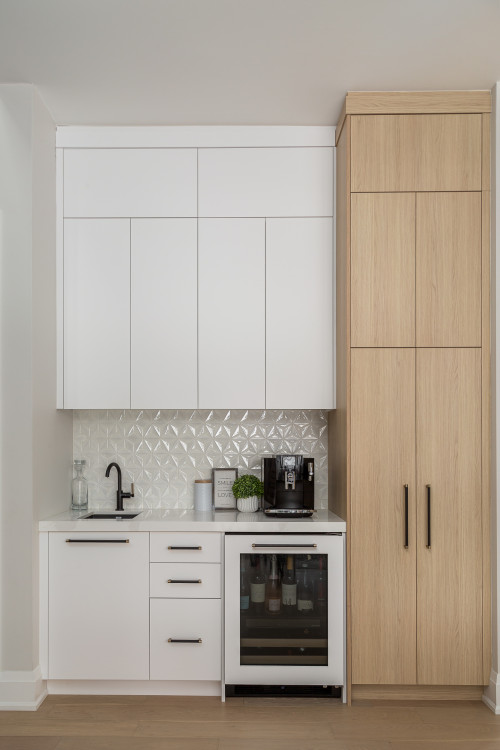 ID# 154925 | Houzz.com – Credit | © Olympic Kitchens
---
Wood and White Cabinets with Geometric Tile Backsplash
To elongate your home bar, use slimmer cabinets- as displayed by this contemporary home bar. Here, the juxtaposition of wood and white cabinets ensures visual diversity. And their slim profile makes this part of the home feel higher than it is. To jazz up the design, the kitchen also uses a geometric tile backsplash and treats it with a polished finish.
Patterned Backsplash Tiles
Patterned backsplash tiles suit Mediterranean-inspired and country kitchens best. But recently even the most minimalist designs such as contemporary and Scandinavian aesthetics prefer patterned tiles to evoke interest. Available in a wide range of patterns and colors, patterned backsplash tiles are the new favorites in 2023.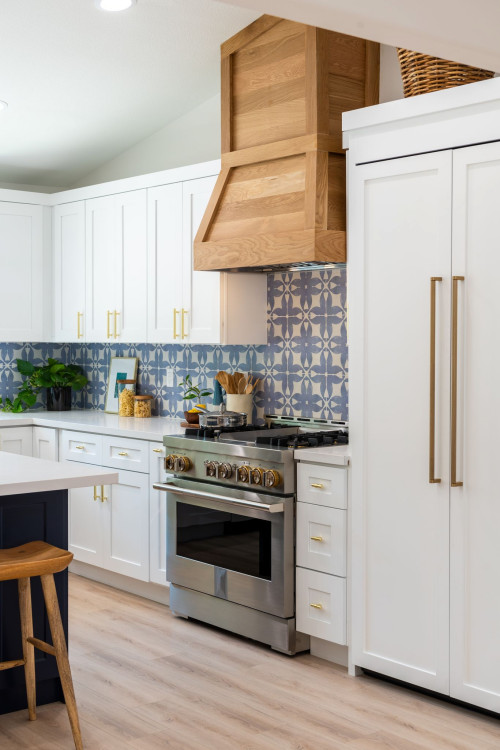 ID# 154926 | Houzz.com – Credit | © LIVDEN Designs
---
White Cabinets with Blue Patterned Backsplash Tiles and Wood Range Hood
Patterned backsplash tiles are having a moment of their own this year for sure. And here, they are ready to make the space live up to its full potential. Featuring blue floral patterns, this bold kitchen backsplash serves as a true statement piece. The white shaker cabinets accompany it to match the white base of the tiles. The wood range hood fixture with gold hardware brings in warmth and a combination of different textures. The dark blue island, a wicker basket kept on the cabinet, and wood stools further the earthy and warm textures. The resulting scheme is well-balanced, colorful, and calm all at once.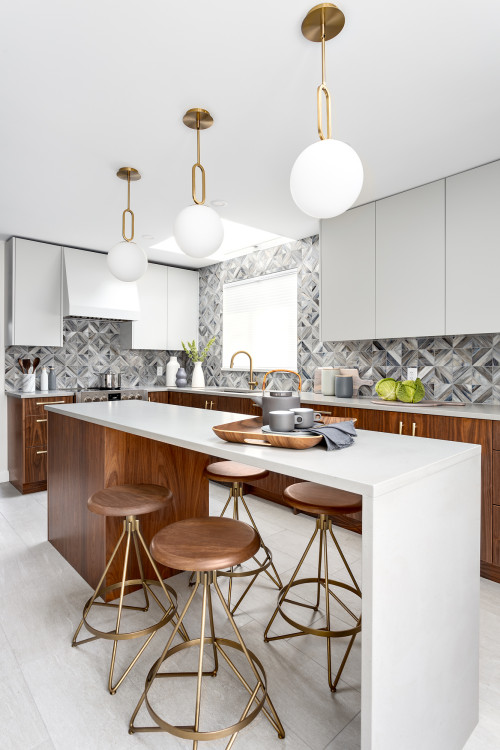 ID# 154927 | Houzz.com – Credit | © Simply Home Decorating
---
Contemporary Kitchen with Kitchen Decor Ideas 2023 and Statement Backsplash
Patterned square tiles come together and form diamond patterns in this contemporary kitchen. With a mixture of black and white shades, they make a strong visual statement. The off-white cabinets bring a calming contrast, while wood base counters inject a healthy dose of warmth. The kitchen island positioned in the center of the room creates a social hob that demands attention. A trio of globe-shaped pendants with gold hardware overhang the island that offers a benchtop and seating spot. If a kitchen is not restricted to cooking and food preparation, then you are going to love this layout. Here, you can hang out with your guests and enjoy a couple of drinks over a conversation.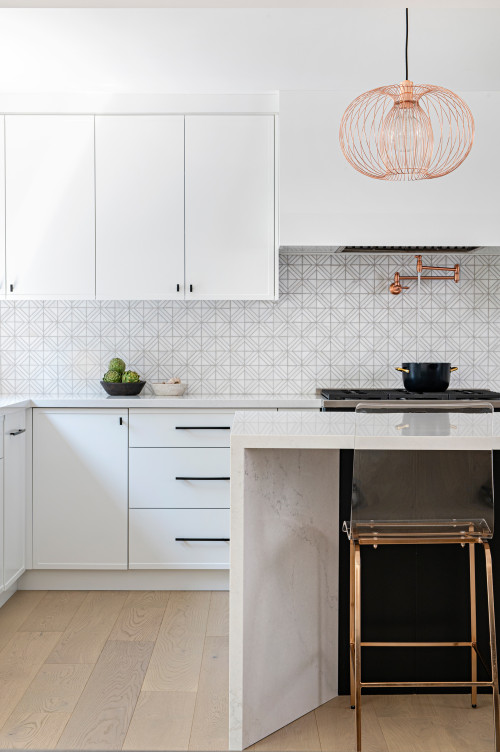 ID# 154928 | Houzz.com – Credit | © Michelle Berwick Design
---
Diamond Tile Backsplash with White Cabinets and Copper Fixtures
In this contemporary kitchen, a diamond tile backsplash brings subtle patterns that still evoke interest. The white flat-front cabinets and white countertops accompany it for a seamless and harmonious look. The copper pot filler and lighting fixture above the island add a touch of metal and warmth to break up the all-white color scheme. Transparent stools with brass legs, black cabinet hardware, and the intriguing form of the island bring more character into the room. The final product, though mainly tranquil, is kept awake with colorful touches and metallic finishes.
Statement Lighting
Lighting fixtures are an amazing way to make a bold statement overhead and add intrigue to any space. Though mostly, they come as pendants in kitchens to overhang a kitchen island, it is important to realize other options, too. Sometimes a duo of wall sconces, countertop lamps, and flush mounts are enough to command attention. But if you have high ceilings, the best way to show off is by using pendants. Just let them drop down over the islands or a dining area. And choose a biomorphic statement lighting fixture that acts like a sculpture. From caged pendants to modern chandeliers, vintage lighting fixtures, drum pendants, and linear lighting fixtures, today's market offers a wide range of designs.
Plus, lighting fixtures are, again, one of the best ways to mix metals, textures, and shapes. Given that this year also embraces a diversity of materials, a statement lighting fixture offers you the best of both worlds.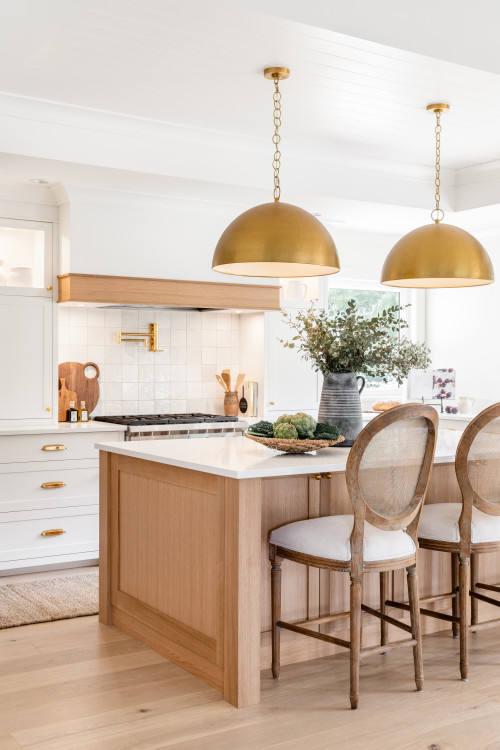 ID# 154929 | Houzz.com – Credit | © Jenny Martin Design
---
Kitchen Decor Ideas 2023 with Statement Lighting and Wood Island
Here we have another transitional kitchen that abounds in natural textures and presents a warm and soft palette. For example, a white square tile backsplash with subtle tonal variations captures a sense of calmness. The wood trim of the hood, a white oak island, and classical stools wrap the kitchen with layers of warmth. A patterned runner adds comfort and softness underfoot. Yet aside from those, a duo of brass semi-globular lighting fixtures creates a unique visual focal point. Matching the gold hardware and pot filler, they also create a continuous look between the perimeter counters and the island.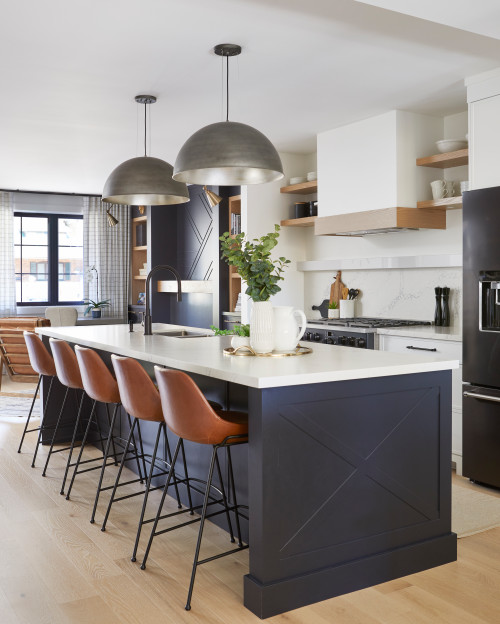 ID# 154930 | Houzz.com – Credit | © Eurodale Developments Inc
---
Dark Island with Timber Floating Shelves and White Countertops
This rather casual-looking transitional kitchen benefits from a high-contrast color scheme warmed up with wood accents. First, without a conspicuous display of wealth, it sticks to modern lines and farmhouse details. For example, X-patterns on the island with timber floating shelves create purposeful randomness. The white countertop injects optimism while a marble-effect slab backsplash brightens up the interior. The faux leather orange stools and a duo of oversized pendants pair perfectly with the island. These eye-catching pieces of furniture turn the island into a visual focal point.
Are white kitchens out of style 2023?
All-white kitchens are not as popular as they used to be. Rather, this year, kitchens look more colorful, championing textures and warmer color palettes. Thus, gold accents, warming wood shades, runners, and colorful additions form part of kitchen designs more and more. And in doing so, they encourage homeowners to think outside the box. In other words, rather than sticking to all-white and failsafe color themes, homeowners are encouraged to act adventurous. And of course, they can experiment with patterns and colors as much as they wish.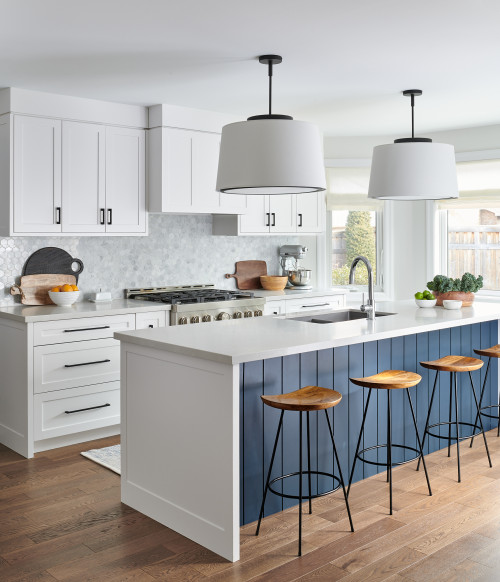 ID# 154931 | Houzz.com – Credit | © Erin Interiors
---
Marble Hexagon Tile Backsplash with Blue Island and Statement Lighting
If you want to make a statement with lighting fixtures, either go with an eye-catching material or choose something oversized. This transitional kitchen prefers the second option. It employs a pair of white oversized pendants, whose black hardware offers a perfect match to the hardware on the white shaker units. In the rest, the blue V-groove island doesn't skimp on adding texture. And it sits in harmony with the blue marble hexagon tile backsplash. The engineered wood floor coating brings the right amount of warmth, pairing with the minimalist wood stools.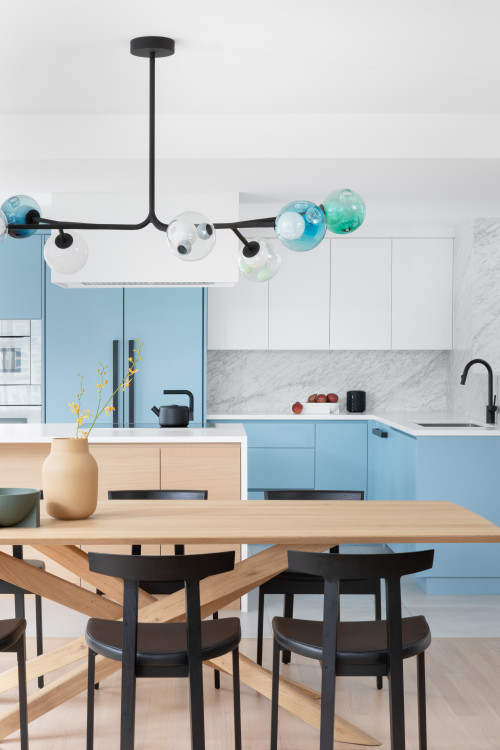 ID# 154932 | Houzz.com – Credit | © Radomski Consulting Ltd.
---
Blue Cabinets with Colorful Glass Statement Lighting Fixtures and Wood Table
The incorporation of a wood table with timber stools and a marble stone backsplash allows a sense of connection outward. Especially the feathery veining on the marble slab injects softness that suits the muted blue cabinets. This soft color palette is also delicately furthered with the overarching presence of modern lines introduced by flat-front cabinetry. To champion this harmonious whole, a sputnik-inspired lighting fixture with blue glass globe shades forms integral of the design, instilling serenity in the room.
What is the color trend for kitchen cabinets in 2023?
The color trend for kitchen cabinets in 2023 encompasses light/dark wood, warm neutrals, pinks, and deep forest green shades. In other words, this is the year to embrace earthy shades and calming neutrals.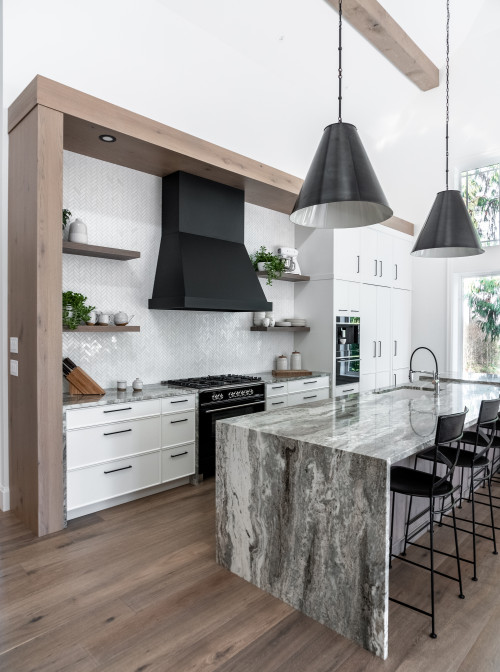 ID# 154933 | Houzz.com – Credit | © TYCON Building Solutions
---
Kitchen Decor Ideas 2023 with Statement Lighting Fixtures and Wood Beams
Blessed with a high ceiling and expansive windows, this transitional kitchen makes use of its large space to the fullest. And to do so, it benefits from oversized pendants dropped down all the way to anchor the island to the room. Topped by a dramatic marble countertop, this cascading island adds a sense of flow. Behind, the white perimeter counters and a black range hood fixture enjoy its little home defined by wood panels. The same wood beams are also mounted on the vaulted ceiling. They draw eyes upward and further attention to this stunning double-volume space.
Butler's Pantries
Butler's pantries, considered back kitchens, are where appliances, gadgets, chinaware, and cooking messes are kept out of sight. But this doesn't mean that they look cluttered. With loads of shelving and smart cabinet designs, they can easily turn into a paradise for storing stuff. For example, a mirror, statement wallpaper, a rolling ladder, a statement backsplash, or a blackboard can make fun additions to it. Especially as 2023 is the year when we will be seeing them more and more, it is important to take a look at the pantries as more design opportunities.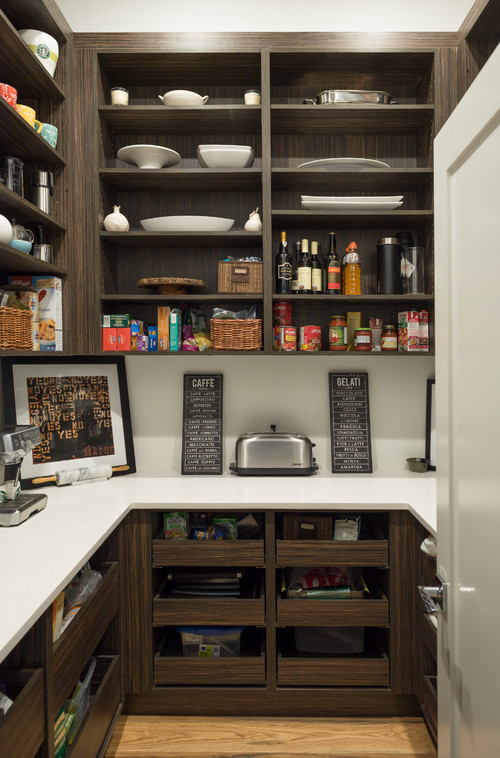 ID# 154935 | Houzz.com – Credit | © Full House Renovations
---
Kitchen Decor Ideas 2023 with Butler's Pantries
This well-organized pantry offers the perfect space to store anything a home cook would need. The drawers easily glide outward with a single pull and push movement. Overhead, the cabinet shelves, again, allow for the practical placement of kitchenware, glassware, sauces, and many more. If you have any space to keep it, get a rolling ladder to reach the upper shelves more conveniently. Plus, a rolling ladder can add to the aesthetic value of the pantry.
What makes a kitchen timeless?
To make a kitchen timeless, you need to pay attention to materials, their longevity, and smooth traffic flow. To start with, for example, wood cabinets, ceramic subway tiles, and marble backsplashes are the key elements to make a kitchen timeless. They are durable and classic and have withstood the test of time for years.
Secondly, sticking to modern lines is important, which foregrounds form and functionality. So, stay away from ornate designs that might feel overwhelming in the long term.
Thirdly, choose complementary features wisely. They are as important as the main bones of the kitchen. For example, glass globe lighting fixtures and chrome /nickel cabinet hardware are classic and timeless features. They never feel outdated.
Last but not least, the layout is also important. It should ensure that the kitchen enjoys smooth human traffic. Additionally, the cabinets should provide ample storage and plenty of benchtops.
When all those criteria are met, there is no reason for a kitchen to go outdated. Just stick to failsafe options and ensure that your kitchen gives you an efficient working space.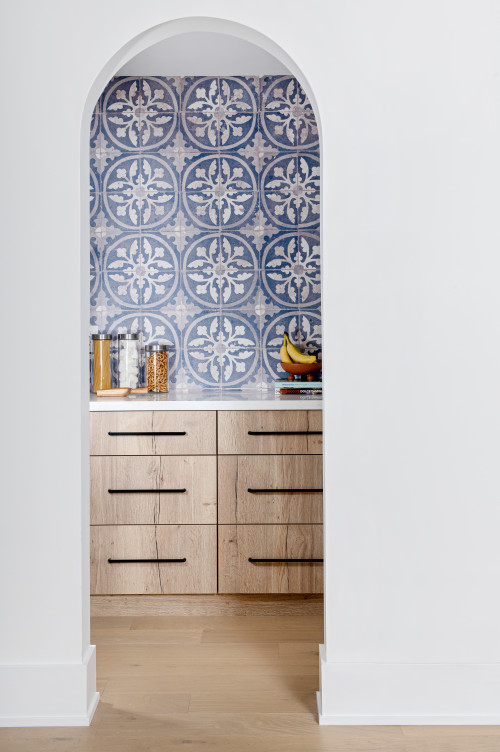 ID# 154936 | Houzz.com – Credit | © Michelle Berwick Design
---
Patterned Tile Backsplash for Kitchen Decor Ideas 2023
This cozy butler's pantry peeks out behind the curved cased opening. It is outfitted with wood cabinets consisting of drawers that allow for better organization. They are topped by white countertops. And overhead, instead of upper wall units, a blue patterned tile backsplash reaches up to the ceiling. Injecting a healthy dose of color, it makes a statement with its eye-catching Mediterranean-inspired patterns. Overall, this butler's pantry has 3 on-trend elements: wood as a natural and texture-rich element, patterned tiles with bold colors, and a curved doorway that lets users in.