23+ Kitchen Backsplash Accent Tile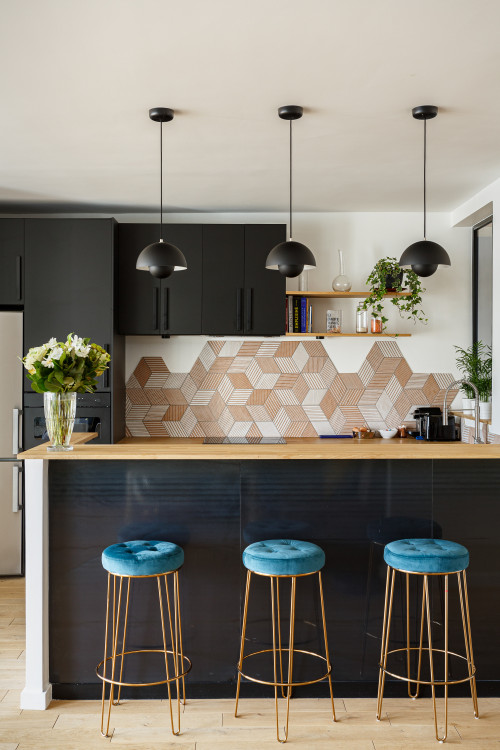 ID# 139415 | Houzz.com – Credit | © Mon Concept Habitation
---
Modern Design Style with Black Cabinets and Wood Countertops
Thanks to the backsplash design industry and innovations, you can create endless combinations with the backsplash tiles. While the black flat-panel cabinets and the light wood butcher block countertops provide a minimalistic design look the backsplash tiles increase this look with movement. The contrast between the black and white is balanced by the neutral colors such as wood countertops and the beige backsplash tiles.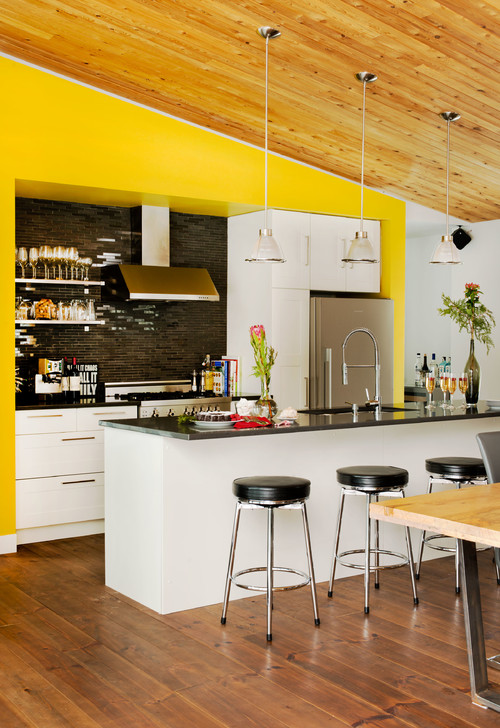 ID# 139427 | Houzz.com – Credit | © Atelier BOOM TOWN
---
A Burst of Yellow with a Kitchen Backsplash Glass Accent Tile in Black Color
The vibrant yellow wall paint draws attention, indeed. The light wood ceiling and the yellow wall complement each other creating an energetic atmosphere with summer vibes. The white kitchen cabinets and the black countertops bring a striking contrast while the black glass tile backsplash complements them with an elegant look.
 Kitchen Backsplash Accent Tile
The area behind a range, a tiny gap between worktops and cabinets, or even an entire wall can be covered with tile backsplash ideas in kitchens. Regardless of how they are included, they stand out in a kitchen design. Tile may be spectacular in a brilliant hue or classically elegant and subtle when used as wall décor. It blends nicely with kitchens that have both rustic and modern aesthetics, as well as any other style in between, and is extremely adaptable. If you're still not satisfied, you may also choose a kitchen backsplash accent tile design because there are so many possibilities accessible in the tile market.
If you want to try something different with your tile game in the kitchen, kitchen backsplash accent tiles are a terrific approach to finishing the design. They are intriguing and stylish, and if you're doing a mosaic, the selection is unbeatable. Create the ideal tiled space. Using kitchen backsplash accent tiles is a fun way to show off your sense of style in your kitchen design project. You may customize any project you have in mind with the various design options now on the market, including mosaic designs and many others like marble, glass, subway, hexagon, and many more. A range of materials, including porcelain, ceramic, glass, natural stone, and metal, can be used to create decorative items. Scroll down to see some lovely kitchen backsplash accent tile designs for the kitchen.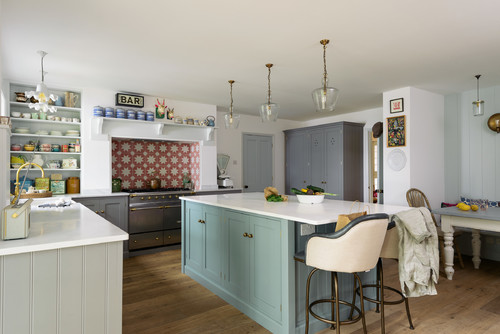 ID# 139410 | Houzz.com – Credit | © deVOL Kitchens
---
Contemporary Kitchen with an Orange Color Kitchen Backsplash Accent Tile Design
The orange ceramic accent tile backsplash behind the stove draws attention since it creates a pop of color with a dynamic appeal between the greys and whites. You can see the smooth color transition from gray to light blue that looks eye catchy. However, the patterns of the kitchen backsplash accent tiles stand out filling the kitchen with movement.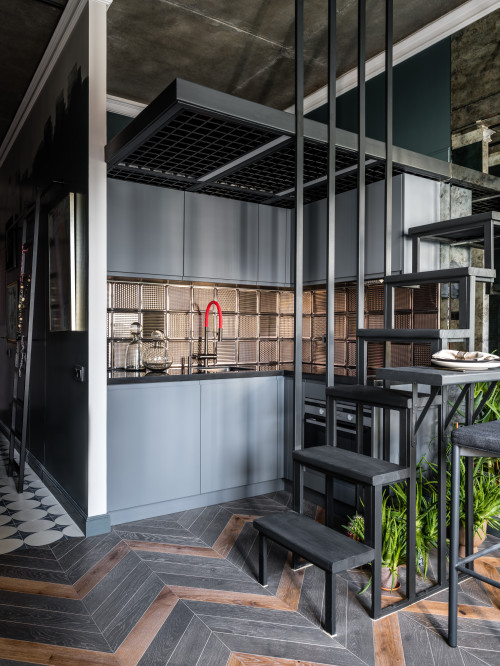 ID# 139411 | Houzz.com – Credit | © Зуева Анна
---
Small Cabinetry Design with Dark Colors And Gray Countertops
The loft design look of this contemporary kitchen welcomes you with a serene atmosphere thanks to the greenery. The dark gray countertops complement the gray flat-panel cabinets which are designed handleless to prevent any busy look in this small kitchen. The metallic backsplash tiles and the charcoal iron structure complement each other with an industrial design style touch.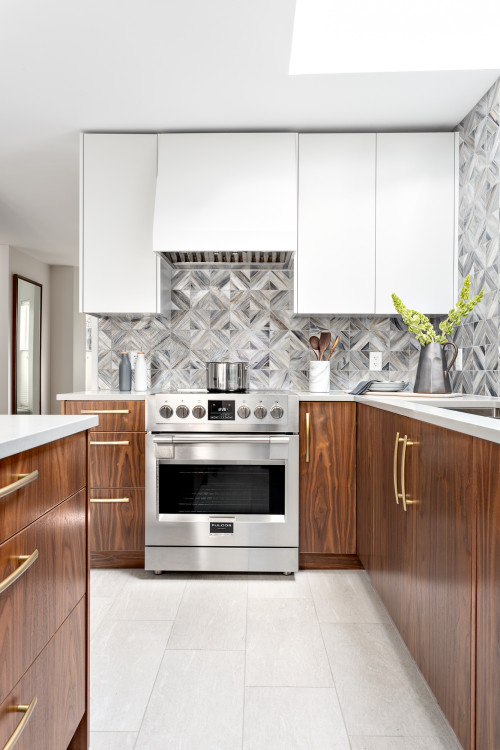 ID# 139412 | Houzz.com – Credit | © Simply Home Decorating
---
Medium Tone Wood Cabinets with White Quartz Countertops and Glass Kitchen Backsplash Accent Tiles
The medium-tone wood cabinets and the white uppers provide a fresh harmony adding a natural touch to the kitchen. The wood texture of the cabinet fronts also provides a warm atmosphere with a familiar appeal. The white countertops, white flat-panel uppers, and white floor tiles bring a cohesive look enlightening the kitchen's overall appearance. The glass tiles of the backsplash create an illusion and a unique pattern harmonizing the stainless steel appliances.
What is an accent tile?
Accent tiles may be used to add color or pattern to any room, link several regions of the same picture, and break up the design pattern of a tile arrangement. Additionally, accent tiles may be used to make borders or liven up a space. Utilizing accent tiles in various colors, borders may be made.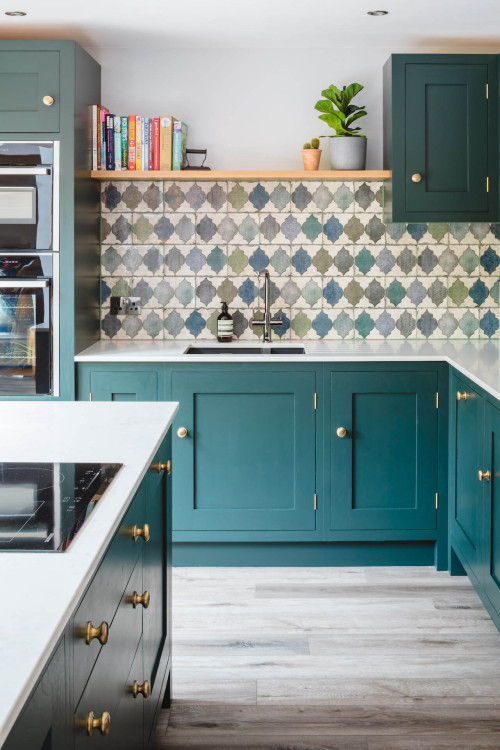 ID# 139413 | Houzz.com – Credit | © Sustainable Kitchens
---
Green Shaker Cabinets and White Quartz Countertops with Brass Hardware
The warm and lovely welcoming atmosphere of the kitchen greets you! The contemporary design style does not have to be dark and cool, you can create energetic vibes with a familiar appeal, as in this contemporary kitchen design. The green shaker cabinets and the white quartz countertops create such a fresh harmony while the colorful backsplash design boosts the dynamic vibes of the entire kitchen providing a focal point.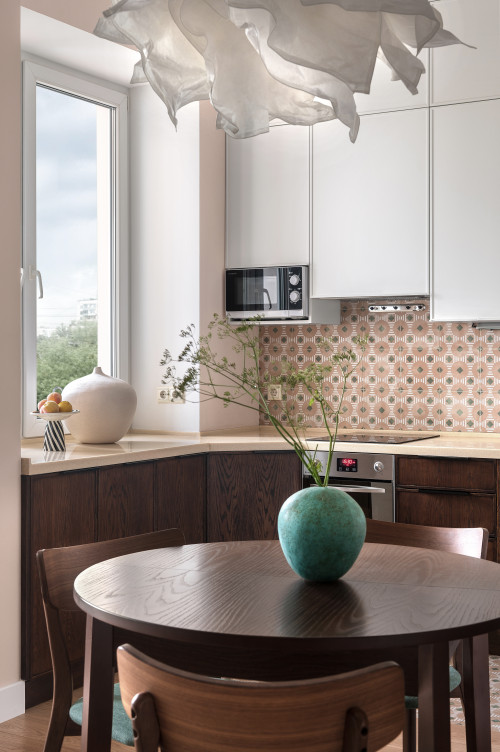 ID# 139414 | Houzz.com – Credit | © aminteriors
---
Eclectic Design with Beige Countertops and Kitchen Backsplash Accent Tiles
Thanks to the full-height window design this kitchen has such beautiful daylight! The dark wood flat-panel cabinets and the dining table with chairs create a cohesive appeal contrasting with the light blue accents of the kitchen. The beige solid countertops and the wood cabinetry complement each other and harmonize with the ceramic backsplash tiles.
Material Options for Kitchen Backsplash Accent Tile
Kitchens may be made cozy and inviting with movement by including accent tiles for the backsplash and applying balanced design concepts. By utilizing a range of hues, textures, and patterns, a space that might normally be chilly may appear warm, calm, and indicative of its warm design. You might be interested in finding out more about the material options for kitchen backsplash accent tile ideas if you want to create a warm and modern touch. The best and simplest material to use when creating a backsplash is tile and you will be amazed by its endless material and design options while deciding on your kitchen backsplash.
You have a wide variety of tile materials to choose from for kitchen backsplash accent tile designs, including ceramic, glass, and cement tiles. However, you may decrease these effects by choosing the best material options for kitchen backsplash accent tile ideas. Your kitchen's overall design, including the worktops, cabinets, and backsplash, may have an impact on how it is designed. To learn more, click here!
Kitchen Backsplash Ceramic Accent Tile
In the design sector, ceramic tiles are arguably the most well-liked and sought-after building material. Finding, setting up, cleaning, and maintaining them are all simple processes. Ceramic tile is sturdy, reasonably priced, and simple to install. Additionally, it comes in a huge variety of designs, colors, and textures. One of them is a kitchen backsplash ceramic accent tile, which not only enhances the appearance of your kitchen design but also protects your walls from unattractive and perhaps damaging food spills. A kitchen backsplash ceramic accent tile design may play a functional defensive role in addition to adding a lot of aesthetic appeals, color, and personality to your kitchen design.
According to many homeowners, a kitchen backsplash ceramic accent tile design is the best surface to experiment with new patterns, colors, and designs. Ceramic tile is one of the kitchen backsplashes' most adaptable solutions. It is available in an almost infinite number of shapes, colors, forms, and sizes, and can be purchased online or in person at virtually any home improvement company. In addition, several specialty stores for ceramic tile may fulfill any demands for a specific form, color, or texture. The sort of ceramic tile you're seeking may be found among the many alternatives. Below is one of the stylish suggestions for a kitchen backsplash ceramic accent tile that we love to share with you.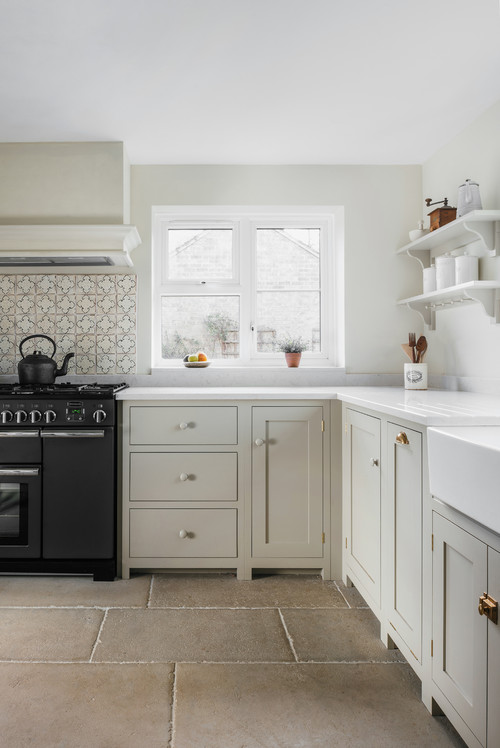 ID# 139416 | Houzz.com – Credit | © Maciek Platek – Interior and Architecture
---
Traditional Design with a Kitchen Backsplash Ceramic Accent Tile Design Behind the Stove
The matte white color shaker cabinets and the white countertops complement each other enlightening the kitchen's environment. The beige hood and the accent ceramic tiles behind the stove add movement and an elegant appeal to the all-white kitchen design with the black appliances. The beige stone tile floors and the patterned ceramic backsplash tiles bring a cohesive appeal to the kitchen.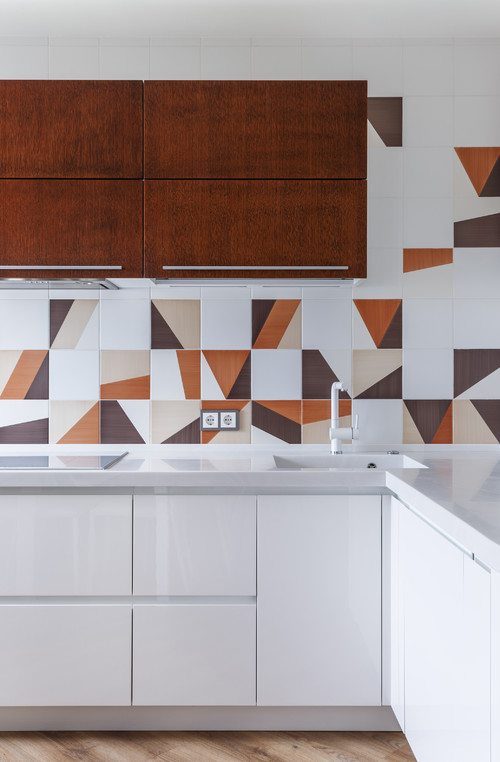 ID# 139417 | Houzz.com – Credit | © Дизайн-студия "Инстильер"
---
Contemporary Flat-Panel Cabinets with White Countertops
The medium-tone wood upper cabinets and the white base cabinets complement each other with natural harmony. Thanks to the multicolored ceramic backsplash design, the wood uppers, white countertops, and white base flat-panel cabinets have a unified and balanced harmony. With the mismatched pattern design of the ceramic backsplash tiles, there is a stylish flow with geometrical shapes in the kitchen.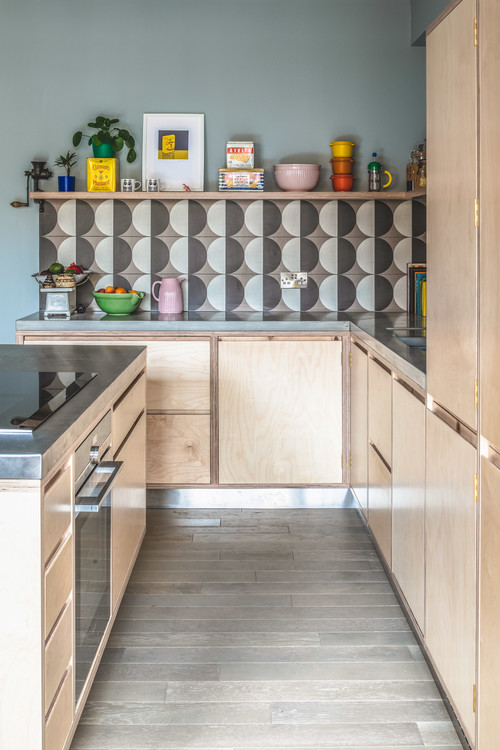 ID# 139418 | Houzz.com – Credit | © Sustainable Kitchens
---
Light Wood Flat-Panel Cabinets with Stainless Steel Countertops and a Kitchen Backsplash Ceramic Accent Tile Design
The gray and the beige harmony is achieved by the light wood cabinets, stainless steel textures, kitchen backsplash ceramic accent tiles, walls, and floors. The neutral colors provide an elegant appeal. The recessed brass handles of the light wood flat-panel cabinets increase the luxurious design look of the kitchen. The circular pattern of the ceramic backsplash tiles brings an organic flow to the kitchen.
Where do you put an accent tile in a kitchen backsplash?
Accent tiles are some of the ideal design elements for your kitchen backsplash since they may serve as a focal point and have a chic appearance. They are available in a few different forms!
1-Create a Border
Long and rectangular accent tiles look great as borders around the margins of the backsplash. These borders can be either right up against the backsplash's edges or a few inches inside. The border's width can range from one tile wide to as broad as you like, and it can run either along the top or bottom of the backsplash or both. A different option would be to position the border accent tiles in the center of the backsplash. This works particularly well if you have subway tiles that are horizontally aligned with the countertop.
2-Provide a Focal Point
The vast space in the kitchen backsplash above the stove provides design choices for accent tiles to be used as the kitchen's main point. A mural made of hand-painted tiles could depict a local view or a fictitious holiday location with mountains and vineyards. For a more modern look, arrange tiles in an abstract pattern that are different from the backsplash in terms of material or color. Use the same backsplash tiles from the kitchen but arrange them in a different pattern for something a bit more understated. You might choose to surround this space with additional accent tiles.
3-Incorporate with the Patterns
You may fully incorporate accent tiles into the design by including them in the backsplash pattern. To make room for a tiny square tile in an accent color, arrange four square tiles in the backsplash diagonally. Bright colors may be subtly incorporated into a monochrome backsplash by sprinkling a few colored accent tiles across it. A cheap method to include the work of craftsmen in a classic kitchen is to intersperse a few pricey hand-painted tiles among normal ceramic tiles.
4-Add Contrast Through Texture
In place of color, the texture is a quick and undetectable approach to provide distinction in accent tiles. Whether you set smooth, glazed tiles up against rough, unglazed ones or use glass tiles as a border, tiles with various surfaces create contrast. While using mirrored tiles in the backsplash pattern in a small kitchen subtly makes the room feel larger, you can create subtle accent border tiles in a metallic backsplash by switching the direction of the grain of brushed metallic tiles.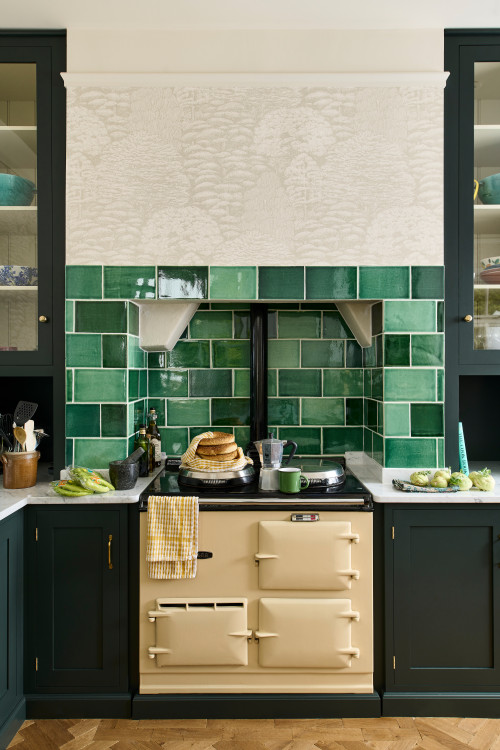 ID# 139419 | Houzz.com – Credit | © deVOL Kitchens
---
Traditional Design Style with Green and Black
Using green undertones for the black kitchen cabinets provides perfect harmony with the green subway tile backsplash design. The white marble countertops enrich the kitchen with an expensive appeal while the green ceramic subway tile design and the beige stove pop up with a harmonious appeal and classy look.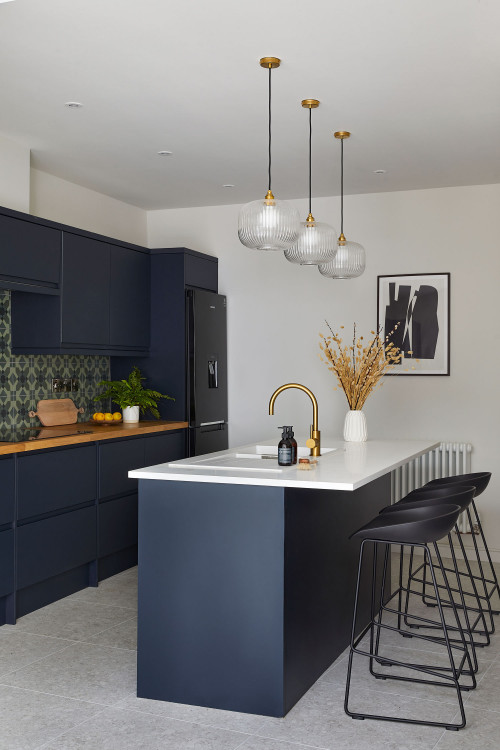 ID# 139420 | Houzz.com – Credit | © Studio Rey
---
Contemporary Navy Blue Flat-Panel Cabinets with a Kitchen Backsplash Ceramic Accent Tile Design
The navy blue flat-panel cabinets and green ceramic backsplash tiles combine stylishly with the wood countertops. The white worktop of the island enlightens the dark kitchen cabinetry with the white interior design of the kitchen. The brass tap and other accents harmonize with the wood worktops putting a harmonized and luxurious look.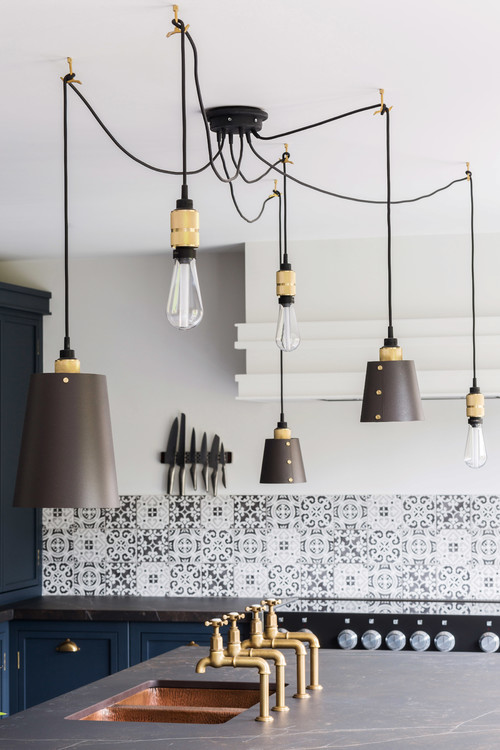 ID# 139421 | Houzz.com – Credit | © burlanes interiors
---
Industrial Design Style with a Striking Black and White Contrast
The black countertops and the black and white ceramic backsplash design complement each other providing a striking contrast that combines with the dark navy blue shaker cabinets. The brass accents shine and put a luxurious touch to this industrial design style kitchen. Thanks to the patterns of the ceramic backsplash tiles there is an eye-catchy look.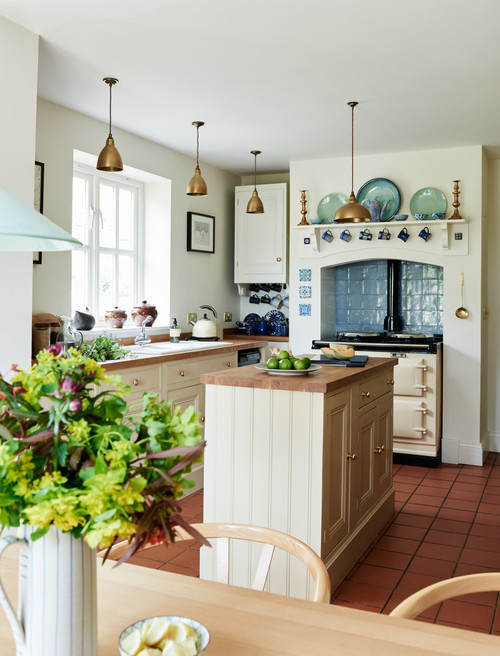 ID# 139422 | Houzz.com – Credit | © Bretton Studios
---
Country Design Style with Wood Countertops and a Kitchen Backsplash Ceramic Accent Tile Design in Blue
The terra cotta kitchen floor tiles and the wood countertops complement each other standing out between the white cabinetry design. Having brass accents is a good idea to create an expensive look, also they harmonize with the wooden surfaces easily. The blue ceramic backsplash design creates an aesthetic contrast with the brown surfaces such as the floors and the countertops.
Kitchen Backsplash Glass Accent Tile
Due to its contemporary and elegant appearance, glass is one of the tiles that is used in homes the most frequently nowadays. You have greater creative flexibility and adaptability since kitchen backsplash glass accent tiles are so adjustable and provide so many alternatives. Contrary to popular assumption, glass is extremely robust, waterproof, and easy to repair. With all these benefits, installing a kitchen backsplash glass accent tile should be a no-brainer. The appearance of your kitchen may be considerably altered, adding aesthetic value while withstanding daily usage.
An excellent option to give your kitchen color and style is a glass tile backsplash. Additionally, the tiles may be arranged in virtually endless ways, bringing even more unique style and aesthetic flair. The arrangement you select is ultimately entirely up to you because glass tile is offered for backsplashes in practically every pattern, from rectangular subway tiles to mosaic and penny designs. Glass sheets or "slabs," which resemble stone slabs, are also an option to enhance the simple and contemporary appearance. Scroll down to see some stylish kitchen backsplash glass accent tile designs.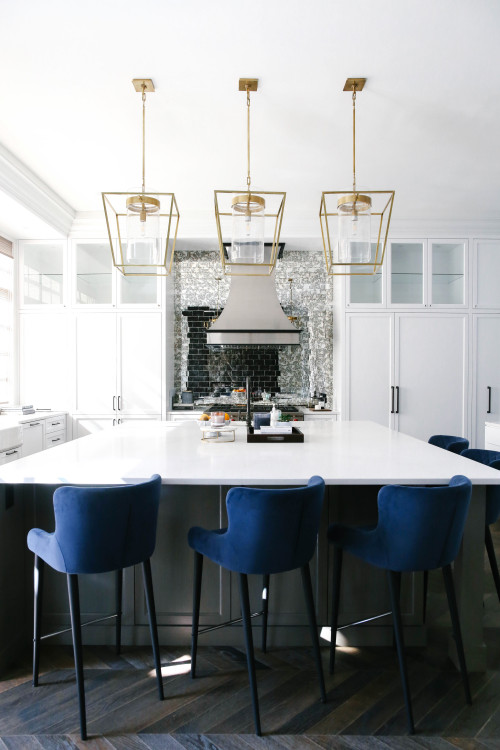 ID# 139423 | Houzz.com – Credit | © Amanda Hamilton
---
White Shaker Cabinets and Countertops with a Kitchen Backsplash Glass Accent Tile Design
The sparkle of the kitchen backsplash glass accent tile draws attention creating an elegant focal point design. The white shaker cabinets and countertops enlighten the kitchen and the dark décor colors of the kitchen. The black hardware of the white shaker cabinets adds a classic look while the brass details enrich the environment with a luxurious feel.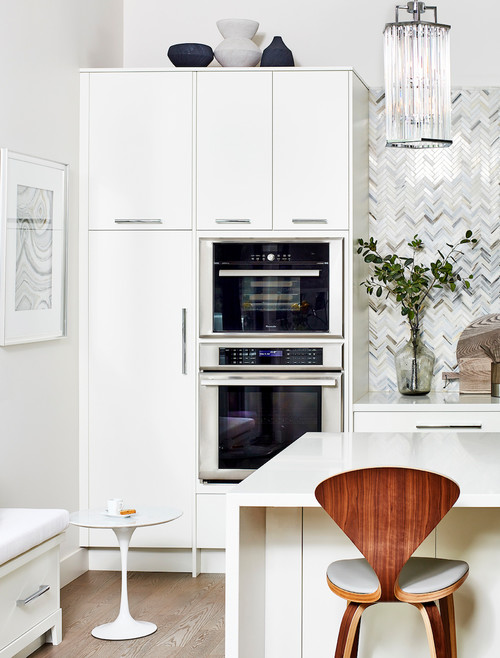 ID# 139424 | Houzz.com – Credit | © Lauzon Wood Floors
---
White Flat-Panel Cabinets and Granite Countertops with a Lovely Zigzags of the Herringbone Pattern
The white flat-panel cabinets, chrome hardware, stainless steel appliances, and white granite countertops provide a classic all-white kitchen look while the herringbone glass tile backsplash design changes the atmosphere with a geometrical flow. The gray hues of the glass backsplash tiles harmonize with the stainless steel and the chrome textures increasing an elegant appeal in the kitchen.
Are accent tiles out of style?
Accent tiles are timeless since fresh trends may be created by fusing various styles with various materials. They may create a distinction by fusing both modern and traditional styles with countless material combinations.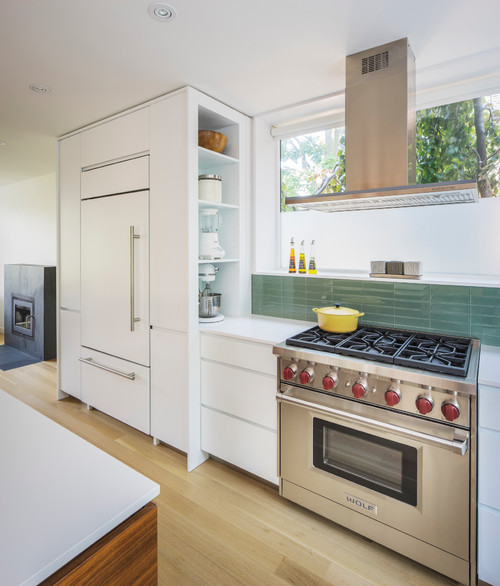 ID# 139425 | Houzz.com – Credit | © Kyra Clarkson Architect
---
Contemporary Design with White Flat Panels and a Kitchen Backsplash Glass Accent Tile in Green Color
Having paneled appliances is a great idea if you want to create a unified cabinetry design, as in this contemporary design style kitchen. The white quartz countertops complement the white flat-panel cabinets while the green glass backsplash tiles provide a minimalistic look with their stacked layout. The stainless steel appliance modernizes the kitchen cabinetry design with its stylish appeal.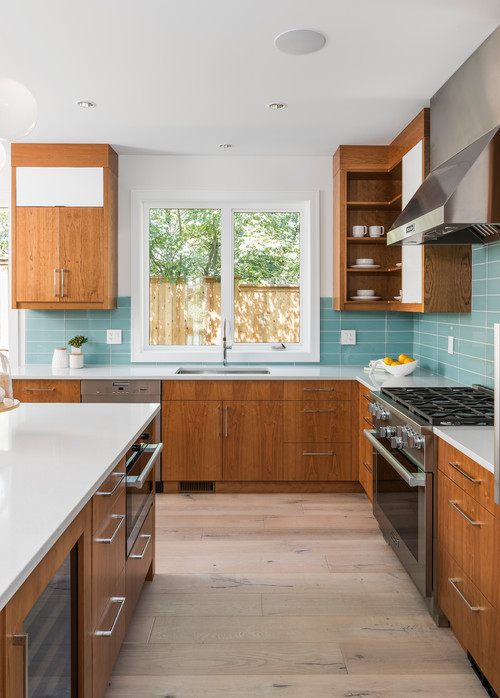 ID# 139426 | Houzz.com – Credit | © Harbour City Kitchens
---
Beachy Vibes for a Contemporary Design with Wood Cabinets and White Countertops
The aesthetic contrast between the brown and blue is well achieved in this kitchen with the medium-tone wood flat-panel cabinets and the light blue glass tile backsplash design. The stacked layout of the backsplash tiles provides a symmetrical look and unified appeal. The white grout of the backsplash matches the white quartz countertops complementing the wood cabinetry design with harmony.
Kitchen Backsplash Cement Accent Tile
Despite its small size, the backsplash wall makes a big impact and won't overshadow the rest of the kitchen. Backsplashes commonly employ small to medium-sized ceramic, porcelain, glass, or cement tiles. They are designed to act as a sturdy, water-repellent barrier between the kitchen wall and all of the problems that can occur when cooking. The virtually limitless variety of colors, sizes, shapes, and patterns that are offered allows backsplash tiles to provide style while also shielding the wall from rust and water damage. One of the designs available in this enormous range of hues, dimensions, shapes, and patterns is the kitchen backsplash cement accent tile design.
While ceramic tile is perhaps the kind you are most familiar with, we would like to draw your attention to another kind of tile that is just as lovely but offers a lot more advantages. Cement tiles are created using a long-lasting mixture of mineral powder, cement, sand, and color pigment, unlike ceramic tiles, which are prepared using a different procedure. When properly maintained, cement backsplash tiles are water- and stain-resistant. For your kitchen backsplash, cement tiles provide essentially endless design possibilities. Examining the possibility of a kitchen backsplash cement accent tile design is one of them, so keep reading to learn more!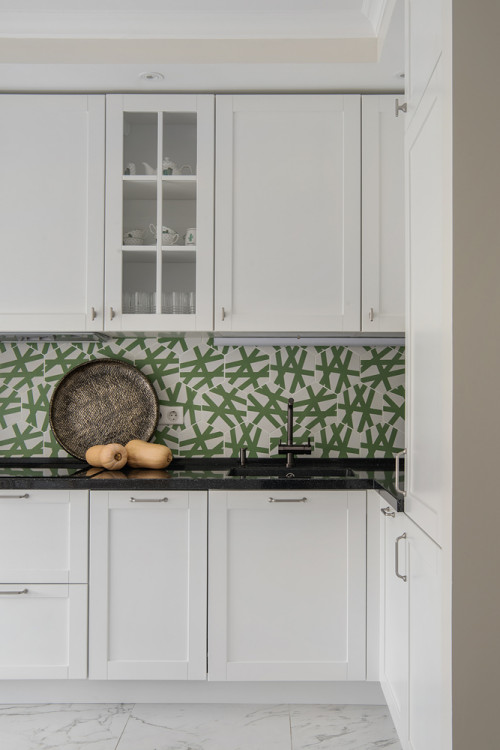 ID# 139428 | Houzz.com – Credit | © Мила Колпакова
---
Eclectic Design with a Kitchen Backsplash Cement Accent Tile Design for White Shaker Cabinets
The white shaker cabinets and the black countertops create the classic contrasting look. However, this classic appeal is changed with the kitchen backsplash cement accent tile design. The green and white patterns of the backsplash tiles add such a lovely and joyful atmosphere to the kitchen with its unique pattern. The chrome hardware does not draw attention which helps the backsplash to stand out.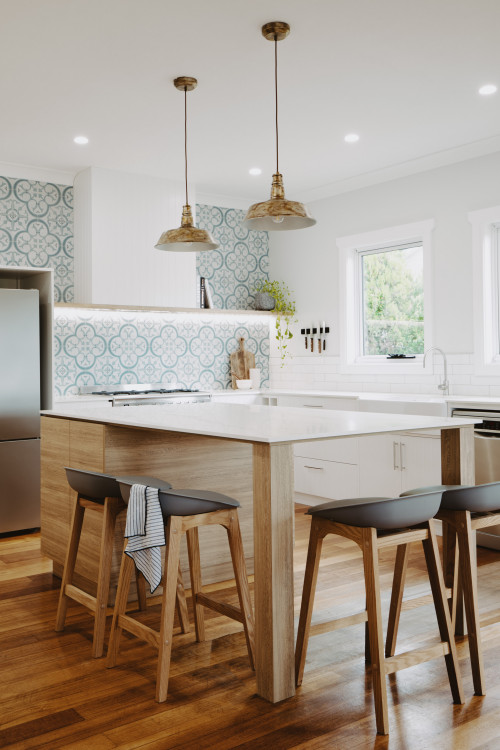 ID# 139429 | Houzz.com – Credit | © Lydia Maskiell Interiors
---
Contemporary Design with Blue Floral Patterns and White Cabinets
Creating a niche for the fridge is a great idea! You can even hide it with a wall cover. The blue and white floral patterns of the ceramic tile backsplash create such an elegant and aesthetic contrast with the light wood surfaces. The white countertops and the white kitchen cabinets enlighten the environment while the floral pattern kitchen backsplash design adds a fresh feel with an organic flow.
How do you install an accented tile?
While installing an accented tile you will need a couple of pieces of equipment, such as;
–Tiles
-Thinset mortar
-Grout
-Sealer
-Tile Spacers
-2" Square Towel
-Rubber Grout Float
-Sponge
-Wet Tile Saw
-6' Level
-4" Paint Roller and Tray
-Clean Rag
-Tape Measure
Make sure the wall is prepared by covering it with drywall or cement backer board.
Consider the tile's orientation and any specific ways you want the pattern to appear on your wall when you plan your tile placement.
Apply mortar to the tile's back with your trowel, scrape it on the wall with the trowel's notched edge, and then install the tile. Utilize spacers between tiles as you go along the floor to complete the first row.
As you go up the wall, use your tile saw to notch the tile as necessary.
After giving the mortar 24 hours to cure, take out all of the spacers.
Using a roller to apply the sealer and a clean towel to remove it after a few minutes, seal the tile in 5′ chunks. Give the sealant 24 hours to dry.
By pressing grout into the gaps between the tiles with a grout float and then removing the excess with a damp sponge, you may fill the grout lines.
After the grout has dried for 24 hours, reseal it.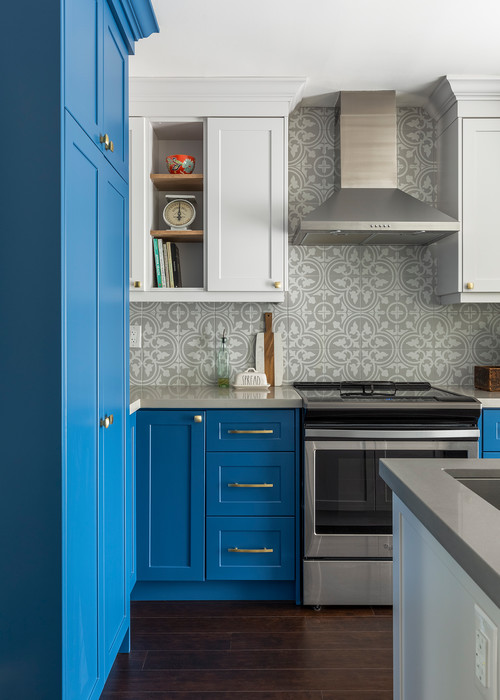 ID# 139430 | Houzz.com – Credit | © Urbanest Construction
---
Blue Shaker Cabinets and Gray Countertops with a Kitchen Backsplash Cement Accent Tile Design Idea
The lovely combination of blue and gray welcomes you with an elegant look. While the chrome hardware gray countertops, and stainless steel appliances provide a cohesive look with a modern appearance, the floral patterns of the gray cement tile backsplash add an organic flow to the kitchen. The dark wood kitchen floors and the blue shaker cabinets create an aesthetic contrast that complements the kitchen with a final touch.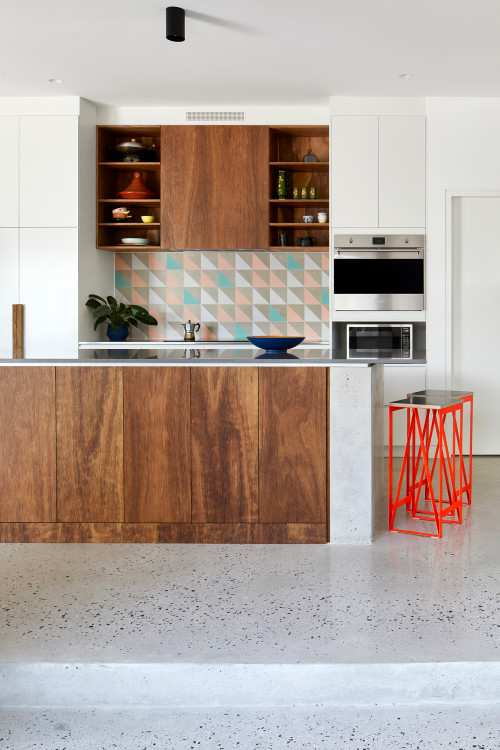 ID# 139431 | Houzz.com – Credit | © Poly Studio
---
Colorful Patterns with White and Wood Flat-Panel Cabinets
If you want to spice up the plain look of a contemporary design kitchen, colors and accent tiles are perfect for this role. The colorful cement tile backsplash and the vibrant red hue of the stools create a dynamic atmosphere with a joyful feel. The wood and white flat-panel cabinetry design provide a stylish and elegant view. The colors boost the general energy of the kitchen's atmosphere.
How do you end a tile accent wall?
There are numerous options available to guarantee a seamless and elegant transition from the tile to the wall or ceiling. The tile edges may be finished in 4 simple ways.
1-Edge Caulking
The most straightforward and economical option is this one. The margins of some porcelain tiles, tumbled stone, and mosaics are better suited for this treatment. Consider the tiles from the side. Do they appear to be finished or unfinished? If everything appears to be in place and grout, you may add a small bead of caulking to the edge to make a neat, watertight seal. Selecting one of the other options listed below is advised if the edges are raw.
2-Tile Moldings
There are frequently easily available matching tile moldings made of porcelain and natural stone. These thin, ornamental moldings can be used to transition between different tile kinds or from tile to drywall. They offer a smooth, unbroken transition that perfectly completes the project. If the tile you've chosen doesn't have moldings, you can choose a complementary tile or one that contrasts to add some extra zing to the room.
3-Metal Edges
Metal edges come in a variety of designs and finishes. When you want a smooth and modern transition from one surface to another, you may use them both indoors and outside as flooring for stairs, bathrooms, and accent walls. Metal edges are becoming in popularity and produce a really attractive appearance. Occasionally, homeowners will select a metallic hue that matches a sink faucet or shower head. For instance, polished chrome edges might be utilized for cohesion and beautiful sense if your bathroom has polished chrome fixtures.
4-Have a Bullnose Edge
Although difficult, this is not impossible. If you choose a tile without a corresponding bullnose or don't like the concept of utilizing metal edges or other moldings, you may construct your bespoke bullnose edges from the tile you chose, or you can ask the installer to do so. But only solid-throughout natural stone and some porcelain tiles may be used for this. To give the edge of the tiles a rounded appearance before installation, grind, sand, and polish it. For the greatest results while doing it yourself, make sure to practice often.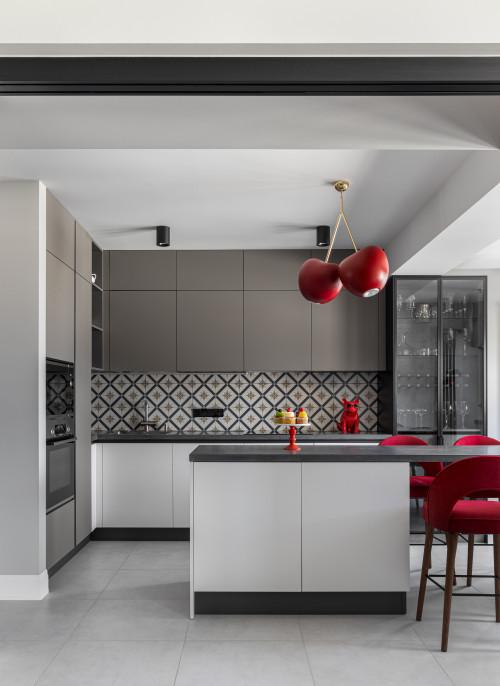 ID# 139432 | Houzz.com – Credit | © Ирина Чернейкина
---
Contemporary Cabinets with a Kitchen Backsplash Cement Accent Tile Design
While the gray and white color palette of the cabinets creates a monochromatic design look, the pop of red color brings a lovely atmosphere to the kitchen. The geometrical patterns of the cement tiles add movement to the gray and white color flat-panel cabinets. The dark gray countertops and the gray flat-panel uppers complement each other. The backsplash design harmonizes with both the upper and base cabinets.