38+ White Kitchen Cabinets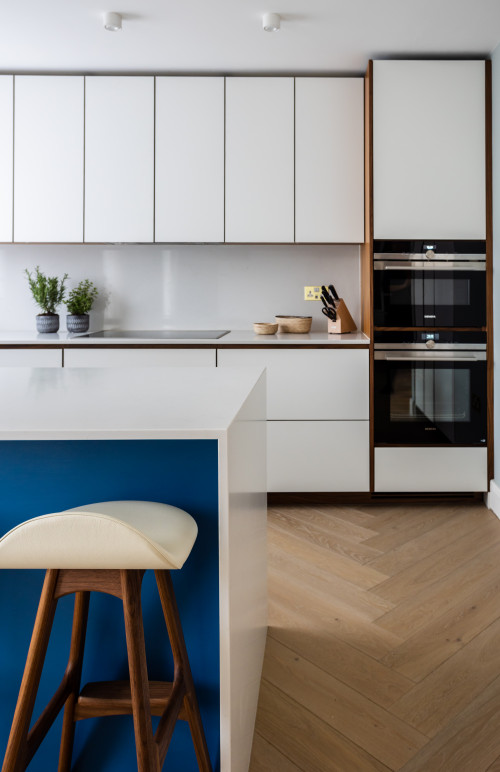 ID# 126104 | Houzz.com – Credit | © Sola Kitchens
---
Scandinavian Kitchen with Blue Island with Herringbone Flooring
A stylish, functional, and sociable kitchen! The combination of matte white laminate cabinetry, herringbone flooring, and blue kitchen island work together in perfect harmony. The vibrant color of the sapphire blue island adds to the composition helping uplift the calm white and warm wood tones.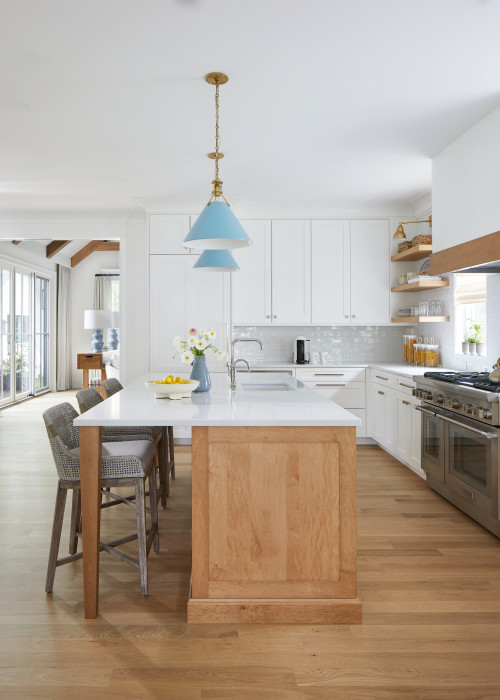 ID# 126135 | Houzz.com – Credit | © Ellie Mroz Design
---
White and Wood Kitchen with Glossy Gray Modern Backsplash
Natural textures of the wooden features and crisp white color of the cabinets perfectly blend in his farmhouse kitchen and offers a balanced look. The gray backsplash makes a modern touch and adds freshness to the kitchen with its glossy finish. Blue pendant lights bring joy to the atmosphere.
White Kitchen Cabinets
While there are tons of different and inspiring colors for kitchen cabinets, there's no arguing that white kitchen cabinets never go out of style and are the best choices to create a clean and bright look. If you are looking for some inspirational ideas, below you can find the best white kitchen cabinets for every style!
From modern to authentically antique, white kitchen cabinets have always been the most popular option for kitchens. They are like a black canvas and there are endless ways to design a white kitchen cabinet by using different materials, styles, and finishes. The plain look of the white cabinetry offer opportunities for mixing different colors, textures, and patterns. As the simplicity of white is attractive, on the other hand, from hardware to the backsplash, from door style to countertop there are plenty of ways to pop up white kitchen cabinets. This roundup of the most popular types of white kitchen cabinets will help you to find the right design for your style!
Are white kitchen cabinets out of style?
White is the all-time popular color for kitchen cabinets and white kitchen cabinets will probably never go out of style. So the answer is no. The classic and bright look of the white kitchen cabinets is great to create a timeless appeal for kitchens.
What is the most popular shade of white for kitchen cabinets?
Just like the blue, green, or gray, white also come in a wide range of shades from warmer yellow notes to cooler hints of greige. It might be tricky to find the right shade for you. Here are a few of the best white paints for kitchen cabinets.
Benjamin Moore – White Dove: This soft yet bright white is classic for kitchens. Dark gray or black accents will be a perfect match!
Benjamin Moore – Simply White: This classic paint color offers a crisp and clean look for the kitchens.
Benjamin Moore – Chantilly Lace: This crisp white color evokes images of pure silk, soft linen, and simpler times. It is perfect to create a timeless appeal!
Polar White – Behr: This cool shade of white has a fresh, brightening effect. The clean and clear look of the Polar White can help you to create a more spacious atmosphere.
Sherwin-Williams – Pure White SW 7005: This white color is in line between warm and cool. It can be drawn in any direction you want according to the color palette you use together.
How do you pick the best shade of white for your kitchen cabinets?
White kitchen cabinets are an all-time favorite, but what is the best shade of white for your kitchen? Choosing the best white paint color for your home isn't always simple. Some yellow, some gray, some peach, some blue, and so on. Because different white hues have warm and cool undertones, you need to consider all elements together. These different undertones might not be obvious when you look at the white paint on its own. That's why you can choose the paint color for your cabinets after deciding on the other elements like a countertop, backsplash, hardware. Another important consideration is lighting. Color can look different under fluorescent lighting at the showrooms which they were likely initially selected. That's why before deciding the color you need to check it under natural light.
If you are painting your existing cabinets, you also need to consider the cabinet material. Cabinets can be made of different wood species and each wood has a different undertone. So, finish samples are very important. Order a sample from the manufacturer and apply it to a small portion of your cabinets then you can see what you think before making a huge decision.
Off White Kitchen Cabinets
Bright white cabinets are great for kitchens but if you are looking for something warmer with a bit of vintage charm, off-white will be a perfect choice for your cabinets. The difference between the regular white and off-white is different undertones. Off-white can be with a greyish or yellowish undertone. If you are looking for a bit cooler look, a grey undertone tends to look neutral and cool. On the other hand, the yellow undertone has a warmer appearance.
Antique White Kitchen Cabinets
Antique White is a soft and warm off-white with light, gray, caramel white with a bronze undertone. And antique white kitchen cabinets are often found in traditional kitchen designs and they offer an elegant ambiance. Also, they can feel warmer than regular white. Rubbed oil bronze or brass accents and granite countertops work well with this warm shade of white.
White Dove Kitchen Cabinets
White Dove is one of the most popular paint colors by Benjamin Moore which is a creamy, soft white with warm undertones. It is not too white and perfectly balanced without going too grey or beige. Thanks to its classic and versatile appeal, white dove kitchen cabinets offer a timeless look!
White Gloss Kitchen Cabinets
If you want to create a bright and spacious atmosphere, there is no better option than white gloss kitchen cabinets. The shiny surfaces of the glossy cabinets reflect light, creating the illusion of more space. Glossy finish generally works well with contemporary and modern styles.
Cabinet Styles
When designing a kitchen, the door styles of the cabinets are one of the most important things that affect the overall look. Shaker, raised panel, handleless. All of them are beautiful but which one is the right choice for your kitchen?
White Shaker Kitchen Cabinets
With their classic and simple look, shaker-style cabinets are a popular trend in kitchen renovations. Shaker cabinets include flat paneled doors with rail frames. This simple and functional aesthetic of these cabinets can look both traditional or contemporary and white color is the best and most popular choice for this cabinet style.
What color hardware for white kitchen cabinets?
Black, silver, and brass hardware are the most popular options for white kitchen cabinets. You can create contrast with black, or add sparkle with brass or silver!
White Raised Panel Kitchen Cabinets
Raised panel cabinets are one of the more formal designs. Different from the shaker cabinet doors, raised panel doors have a central panel that is slightly higher than the outer frame. Because these cabinets have a more detailed and formal appearance, they are the more suitable choice for traditional kitchens. And if you want to combine this stunning appeal with a bright color, white raised panel kitchen cabinets are the way to go!
How to clean white kitchen cabinets?
Yes, the clean and fresh look of the white cabinets is perfect but this fresh look can go out over time. To maintain full cleanliness you need to clean your cabinets with a damp cloth just after you finish cooking. For some of these heavier stains, you can use an all-purpose cleaner or you can create a cleaning solution with one cup of vinegar, one tablespoon of baking soda, and two cups of warm water. You can clean your cabinets with this solution at least once a month to prevent stains.
White Flat Panel Kitchen Cabinets
Flat-panel doors also called slab doors, looks exactly how it sounds. They consist of a single, smooth piece of wood, plywood, or MDF. This basic and simple look provides to creates a clean and fresh aesthetic in kitchens. Because they have a minimal aesthetic, they are generally used in modern and contemporary style kitchens. White is the perfect color to enhance this minimalist style!
What color goes with white kitchen cabinets?
White cabinets are like a black canvas that can work with every color. If you want to emphasize your white cabinetry, pair them with dark colors like black or brown and create a contrasting look. If you want a more bright and fresh look, light shades like light gray or blue will be a perfect match. Also, you can add some natural elements like wooden shelves or leather chairs to make the atmosphere warmer.
Cabinet Styles
Cabinets are the backbones of the kitchens and they define the overall look of the kitchens. So, it is an important decision to choose the right cabinet. Modern, farmhouse, rustic, or traditional, what kind of look do you want?
Modern White Kitchen Cabinets
Clean and straight lines, geometrical shapes, and neutral color palettes are the essentials of the modern style. You can create an all-white kitchen for a timeless look or combine your modern white kitchen cabinets with natural textures and pops of color to make an inviting and seamlessly functional space!
Rustic White Kitchen Cabinets
Rustic style has an undeniable charm and is full of character that can bring a casual and welcoming atmosphere to any kitchen. To give a more rustic appeal for your white cabinets, instead of regular white, you can use off-white with a yellow undertone like antique white!