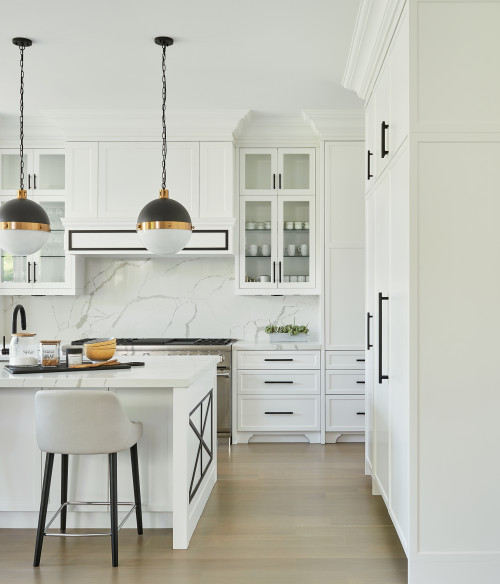 ID# 114427 | Houzz.com – Credit | © Shari Lerner Interior Design
---
Luxury Kitchen with White Gray Countertops and Black Touches
This elegant kitchen uses a variety of textures and decorations to create an unforgettable aesthetic. With the beautiful shade of white gray stone slab backsplash, white cabinets with black handles work great and match with the white gray marble kitchen countertop. The light wood floor becomes the hot spot for the cool-toned white theme. The island with a white gray marble countertop is complemented by gray barstools. The brass detailed pendant lighting adds a burst of energy.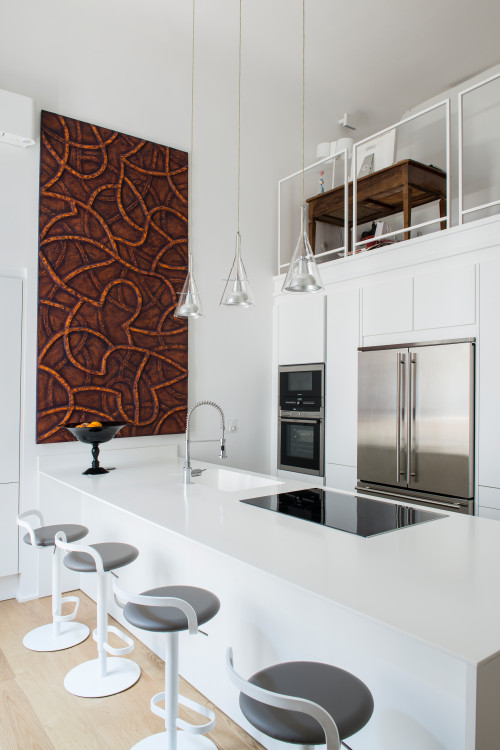 ID# 114408 | Houzz.com – Credit | © Gemma Radicchio
---
Colorful Details and Wooden Floor in Contemporary Kitchen
White dominates this contemporary kitchen, while the wooden floor and table inject the perfect balance of warmth and color. While the white kitchen cabinets are simple and stylish, the white laminate countertop also forms a peninsula. White painted walls keep the clean look, while large dark painting adds a burst of color. The warm wooden floor warms the whites, and the stainless-steel appliances compliment it nicely. Triple cone-shaped glass pendant lamps and white gray barstools are very stylish.
All-White Kitchen a Good Idea? 38 Sensational Plans that are Clean and Bright
Having an all-white kitchen is always a classic and clean look. Create bright and airy kitchens that are sophisticated or attractive according to your own style. Decorating an all-white kitchen can be fun. We've put together some of the most incredibly gorgeous design ideas that are totally stylish and elegant! Let's have a look!
Bring Various Textures and Surfaces Together in White Kitchens
There is nothing cleaner or livelier than the pure white kitchens. In the white kitchens, you can opt for an all-white look where white cabinets are combined with the lightest tone of white tile, white walls, and marble or composite kitchen countertops. But if you need to add warmth – or if you want to add personality to your space, using wood or strong color flashes will add vitality to the look. Combine a variety of textures and finishes to make the space have character and feel inviting. All in all, they create an airy space that allows you to use a wide variety of kitchen design ideas to keep everything fresh. Be inspired by our all-white kitchens to create the kitchen of your dreams.
In addition to the all-white scheme from the floor to the walls, cabinets, and countertops, details such as gray and beige-toned countertops or backsplashes, simple chrome handles, wood or gray floors are popular choices to add a hint of color without breaking the 'colorless' scheme.