24+ White Subway Backsplash with Black Countertop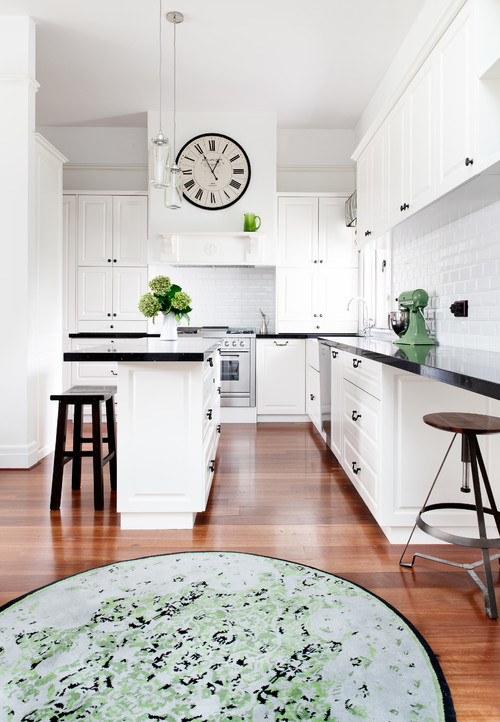 ID# 148301 | Houzz.com – Credit | © Three Little Pigs Colour & Design
---
Kitchen Design With Black Countertops Combining White Subway Backsplash With White Cabinetry
The kitchen design evokes a sense of tranquility with its masterful use of just three colors! The abundant use of white on the background creates a welcoming space that seamlessly integrates with the black and wood texture. The embossed white cabinets and subway backsplash lend a simpler aesthetic while still offering depth with the black countertops and cabinet handles. You can't help but feel a sense of warmth with the wooden parquet floor, which is then brilliantly combined with warm tones to make the raw look in the black and white areas feel more natural and comfortable.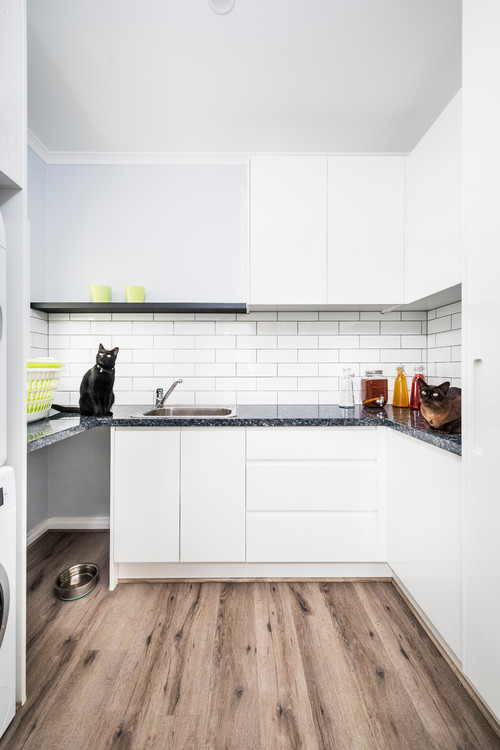 ID# 148316 | Houzz.com – Credit | © Smith & Smith Kitchens
---
Modern Kitchen Design With White Subway Backsplash and Black Granite Countertops
The modern kitchen design, which has a great look with a white subway backsplash, combines white cabinets with black granite countertops. Explaining the harmony of white backsplash and black in simple language, the kitchen creates a clear visual with the moving natural wood texture on the floor. The kitchen, which has a plain and simple design, provides a stylish and useful space by taking strength from simplicity. This type of kitchen is both pleasing to the eye and meets the needs of the users.
White Subway Backsplash with Black Countertop
Imagine transforming your kitchen or bathroom into a stylish and sophisticated space simply by choosing a classic and timeless design. A white subway backsplash with black countertop can do just that, creating a striking visual impact that adds depth and dimension to the room. The clean and crisp white tiles add a sense of freshness, while the dark black countertop offers a touch of drama and sophistication.
The versatility of the white subway tiles allows them to blend seamlessly with various design styles, making them the perfect choice for any modern or traditional setting. From ceramics to marble backsplash, you can find different material alternatives for subway tiles. Ultimately, incorporating a white subway backsplash with a black countertop can elevate the aesthetic of your space and create a stunning focal point that anyone will admire!
Timeless Elegance of Black and White
These subway tiles are truly a feast for the eyes – with their classic, elegant design, they'll leave you feeling chic and sophisticated every time you step into the space. Not only that, but these tiles are also incredibly easy to clean, making them the perfect pick for busy homeowners who don't have time to fuss over maintenance. And paired with a black countertop, the contrast creates a stunning, evergreen look that's both stylish and practical.
You'll never have to worry about stains or scratches with this resilient countertop – it's built to handle daily use without showing any signs of wear and tear. Trust me, upgrading your space with white subway tiles and a black countertop is a surefire way to elevate your home, making it feel truly special every time you step inside.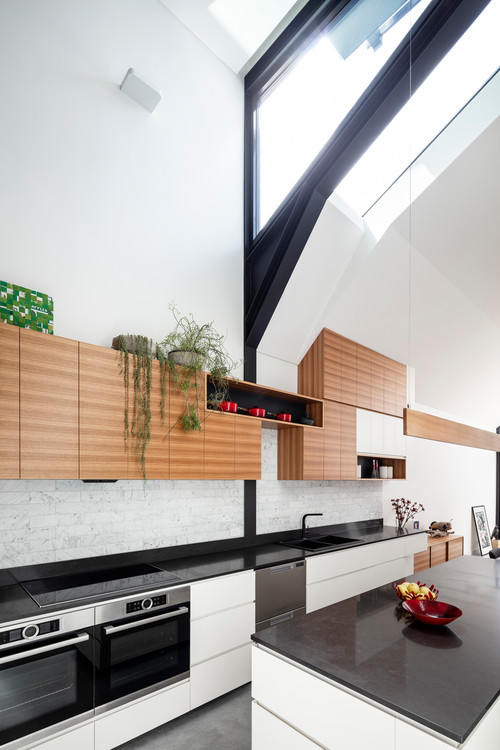 ID# 148302 | Houzz.com – Credit | © anderson architecture
---
Contemporary Kitchen Design With White and Wood Cabinets
As you enter the kitchen, you'll be greeted by the contemporary and sleek lines of the white subway backsplash that exudes a sense of minimalism! The modern touch will sweep you off your feet and leave you impressed. The black countertops are perfectly paired with the backsplash, creating a visual contrast that adds to the beauty of the design. Every step closer will reveal the fine details of the micro-concrete application on the floor. The calming atmosphere of the space draws your attention to the cabinets and the backsplash, making you feel at home instantly. The marble texture of the white subway backsplash adds a natural feel, giving off both a transitional and active vibe that will make your time in the kitchen more enjoyable.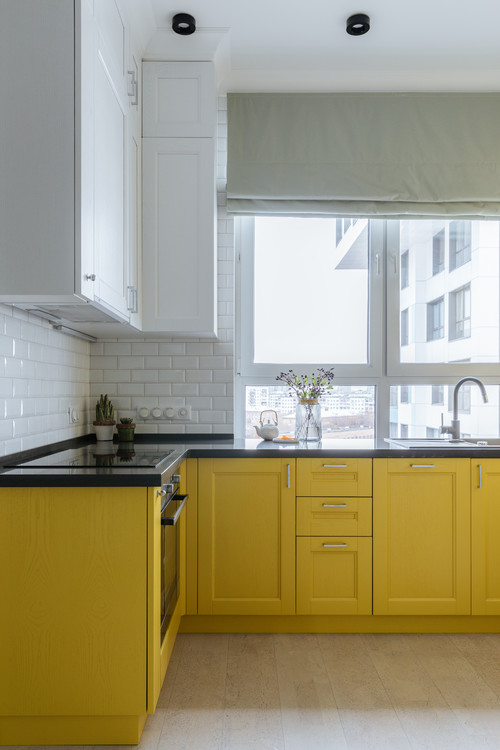 ID# 148303 | Houzz.com – Credit | © Tatiana Fursova
---
Kitchen Design With Yellow Cabinets Reflecting The Effect of White Subway Backsplash and Black Countertop
The kitchen is a masterpiece of design, standing out from other kitchens with its cheerful yellow cabinet! Every detail in this kitchen has been thoughtfully crafted to achieve visual harmony with stark contrasts. Black countertops and white subway backsplash add a touch of sophistication, while white and yellow cabinets emphasize linear spaces in different locations, making the kitchen appear more organized and spacious.
The yellow and white color scheme makes a bold statement in the room, highlighting the simple and elegant wood texture on the floor. The designers have chosen to keep the rest of the kitchen uncomplicated, with plain white and black spotlights providing clean illumination. They have strategically incorporated functional elements into the design without sacrificing style. The end result is a kitchen that exudes warmth, welcoming everyone to gather and enjoy good food and company.
Should the backsplash be lighter or darker than the countertop?
When it comes to choosing the backsplash and countertop combination, there's a lot of room for personal expression. Each option can bring a unique color and texture to your space, but there aren't any hard and fast rules dictating which one should be a light or dark shade. While traditionally the backsplash was lighter in color than the countertop, as design trends evolve, anything goes. Ultimately, it's up to you to choose the combination that makes you feel happy and inspired in your home!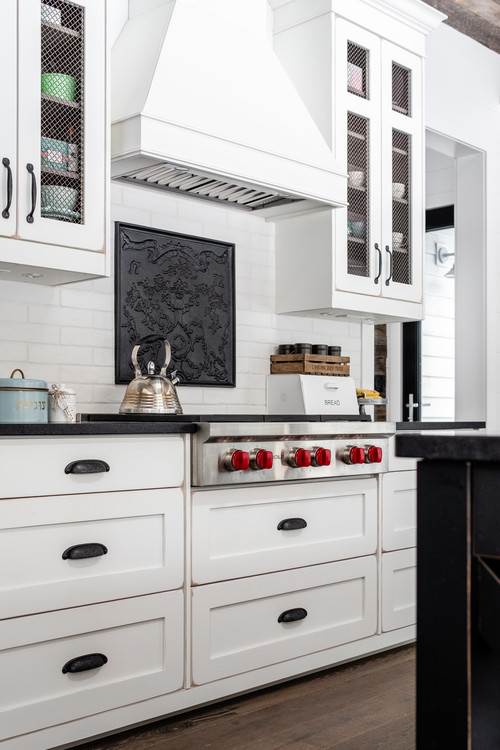 ID# 148304 | Houzz.com – Credit | © Hickory Lane Kitchens
---
Traditional Kitchen Design With Black Tin Backsplash
The expert combination of these colors in different textures creates a deep and active ambiance that draws you in. Unlike fixed colors that can easily get dull, the kitchen's textured design keeps things interesting and engaging. The ample storage space, with its large drawers and traditional handles, not only makes the area more lively but also adds a homely touch.
The design is also permeable, thanks to its countertop cabinets and wire cabinets that allow you to showcase your favorite kitchen items. The black tin backsplash behind the stove is not just functional but also contributes to the overall look and feel of the space.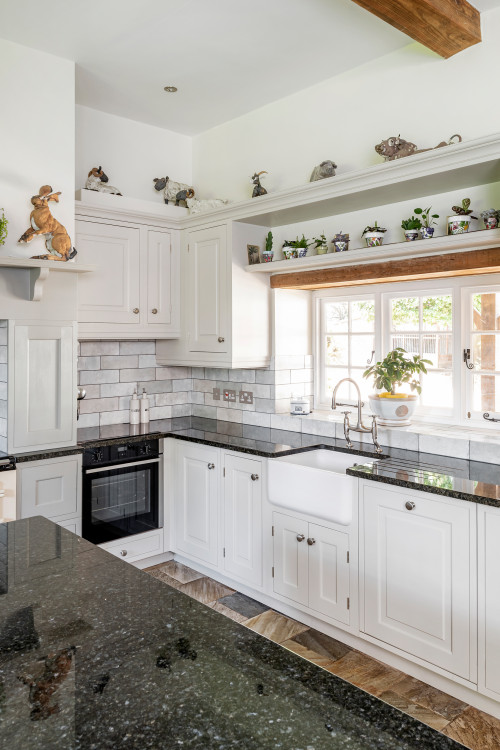 ID# 148305 | Houzz.com – Credit | © Shaker & May
---
White Farmhouse Kitchen with Granite Countertops
The use of a black countertop and white subway backsplash in a country-style kitchen design establishes a harmonious relationship that creates a warm and inviting atmosphere. The bright and airy kitchen, filled with natural light, incorporates wood, white, and black textures in a composition that exudes warmth and coziness. The white stone-look backsplash adds a touch of country charm to the kitchen, seamlessly blending with the white country-style cabinets and black countertop to create a visually stunning contrast.
What backsplash is on trend in 2023?
In 2023, backsplash trends may include patterned tiles, geometric shapes, metallic finishes, natural stone, and monochromatic tiles. Patterned tiles like Moroccan or encaustic designs can add personality, while geometric shapes create a modern touch. Metallic finishes like copper or brass add glamour, and natural stone brings timeless elegance. Monochromatic tiles in shades of gray or navy offer a sleek and contemporary look. Ultimately, it's important to choose a backsplash that reflects your personal style and complements your overall design vision.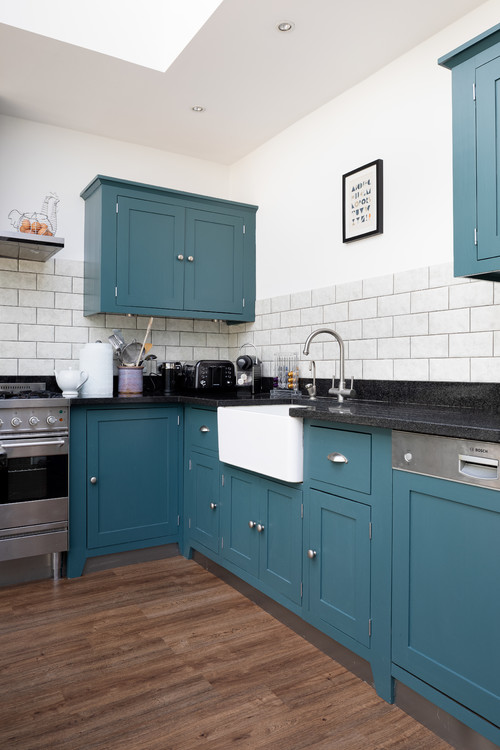 ID# 148306 | Houzz.com – Credit | © Proud Interiors Limited
---
Blue Shaker Cabinets with Chrome Hardware and Farmhosue Sink
The traditional kitchen design, which draws attention with its blue cabinets, stands out with its white subway backsplash and black countertops. It creates a more transitional and comfortable design by softening the strong tones of blue together with dark and light textures. While the white ceiling and walls above the backsplash are preferred to soften the heavy colors in the space, the wood texture on the floor is used to reveal the blue cabinets even more. While a wide usage area is achieved with the white Italian-style washbasin, solutions are offered to the user thanks to the abundant storage space in the cabinets.
Black Countertop Materials for White Subway Tile
White subway tile is the ultimate design chameleon, with the power to transform any space and ignite boundless creativity. Its effortless ability to effortlessly harmonize with black countertops is truly exceptional, making it the go-to choice for every decor from trendy to classic. What's more, pairing white subway tiles with sleek black countertops creates an alluring visual contrast, allowing other materials such as marble, granite, porcelain, and glass to stand out and express themselves. With its unparalleled adaptability to diverse textures and colors, subway tiles effortlessly combine with black countertops to provide inviting, long-lasting spaces imbued with personality and sophistication.
White Subway Backsplash with Black Marble Countertop
Materials combined with black marble should be both special and beautiful. In this way, while a special material such as black marble stands out, it brings quality and elegance to the space and the area where it is used. Black marble is a material that is difficult to find and used in private areas as a high-priced material, and it is a material that should be considered when combined. Timeless materials such as the white subway backsplash are a great material that harmonizes with black marble.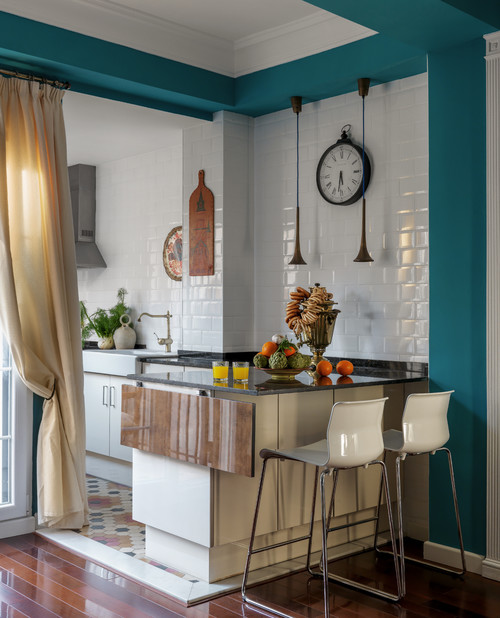 ID# 148307 | Houzz.com – Credit | © Ольга Комарова
---
Small Transitional Kitchen Design With Beige Peninsula
The stunning kitchen design boasts a captivating contrast of black marble and white subway backsplash, highlighted by striking blue columns and beams! The white cabinets perfectly complement the special materials in the space. Brown ceramic and hexagonal tiles on the floor seamlessly integrate with the design, creating a harmonious balance of varying colors. Boldly painted blue carrier elements bring a unique tone, infusing the kitchen with dynamic energy. This eclectic blend of styles creates an inviting and relaxing atmosphere, complete with the elegance of black marble and the charm of white subway tile.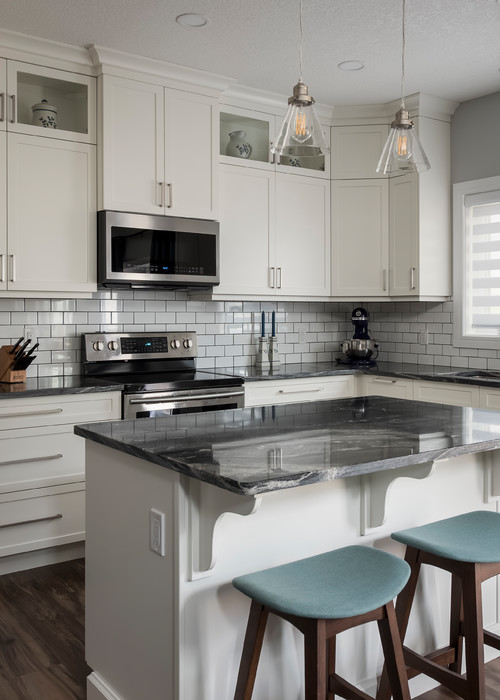 ID# 148308 | Houzz.com – Credit | © Mel Kat Designs
---
Contemporary Kitchen Design With Marble Countertops
The kitchen design is simply stunning, with its white cabinets and matching white subway backsplash. Topped with sleek black marble countertops, this kitchen exudes quality and style. The combination of calm black and white tones is not only nice to look at, but visually arresting as well. With its contemporary design, this kitchen is a harmony of modern lines and timeless materials. It strikes a balance between black and white, adding black touches to complements the white background. The wooden textured floor and kitchen furniture in harmony create different textures within the space, making the kitchen come alive. Altogether, this kitchen is the epitome of a perfect balance of modern design and timeless elegance, and will definitely satisfy your aesthetic needs
Is subway tile Still in Style in 2023?
Subway tile is like a chameleon that effortlessly blends in with any design and era. It has a magical quality that endears it to every kitchen, whether new or old. It's as though subway tile intrinsically understands the needs and desires of homeowners and has evolved to suit them perfectly.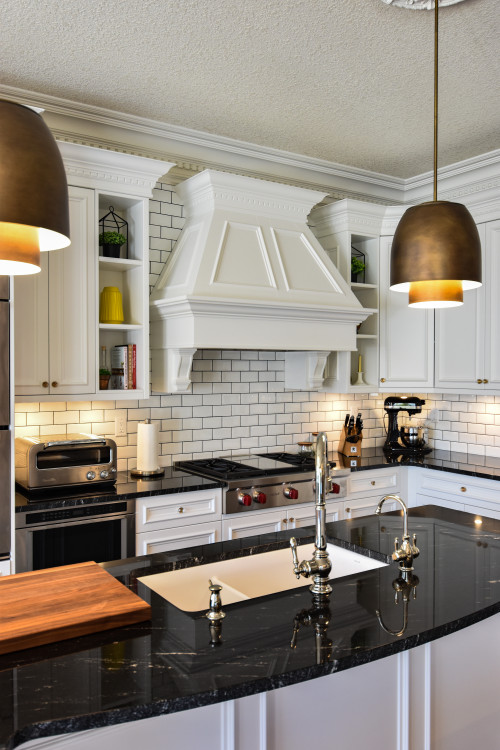 ID# 148309 | Houzz.com – Credit | © Scott Arthur Millwork & Cabinetry Ltd
---
White Subway Backsplash and Black Marble Kitchen With Traditional Lines
The black marble and white subway backsplash materials beautifully intertwine, resembling precious pearls, to create a stylish and welcoming space. A traditional aesthetic is maintained with saturated lines and ample storage space, while quality materials amplify the clarity and sharpness of the area. Warm tones that illuminate the white cabinets offer a cozy and inviting atmosphere, perfect for creating fond memories with loved ones. The shiny texture of the black marble brings brightness and life into the space, inducing a sense of visual appeal that adds to the overall charm. Pendant lighting in earth tones infuses a harmonious blend of warm and cold elements, grounding the atmosphere and engulfing you in serenity. This kitchen not only offers a warm environment but also exudes elegance and refinement, making it a truly remarkable space.
Does white subway tile go with everything?
The enduring versatility of white subway tile never ceases to amaze, effortlessly adapting to various textures and hues. It's no surprise that this timeless material continues to make an appearance, defying the test of time and always staying on-trend. Its unwavering ability to blend in and complement any design palette and decor personality makes it a dependable and sought-after choice year after year.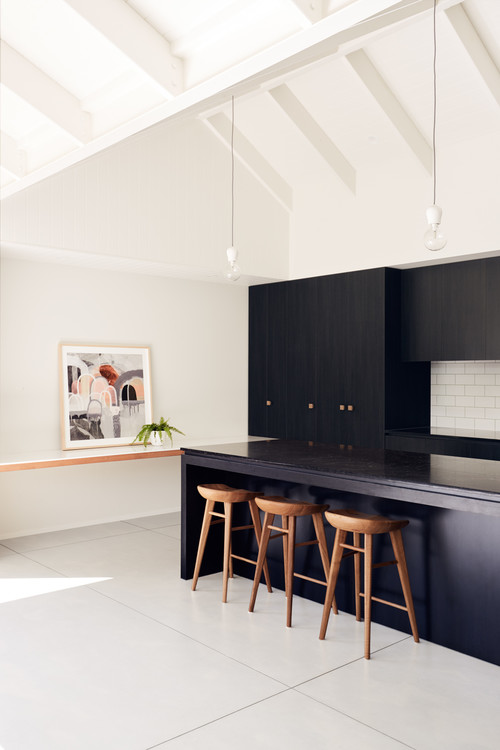 ID# 148310 | Houzz.com – Credit | © MANI ARCHITECTURE
---
Contemporary Kitchen Design That Showcases Black Marble and Cabinets, Subway White Backsplash Like Pearls
As you step into this kitchen, you'll be hit with a sense of boldness and strength. The contemporary design features a sleek black frame and a stunning white subway backsplash, truly a jewel in the space. Surprisingly, the designer has managed to combine such a bold design with simple materials, achieving a distinctive look that is sure to impress. The black cabinets stand tall and monolithic, with a matching countertop that bleeds into the white subway backsplash. The contrast between these elements creates a beautiful composition that is a treat for the eyes. To further enhance the visual appeal of the space, the ceiling has been painted white and the floor is finished with plain ceramic tile.
White Subway Backsplash with Black Quartz Countertop
Indeed, the harmony of the designs formed with black quartz with the white subway backsplash is one of the choices that ensure the integration of visual quality with the material. With the natural texture and durability of quartz, subway tile, which is a timeless material, offers a wonderful combination and offers pleasant and stylish environments. In this way, spaces carry higher quality materials to calm and timeless designs, creating useful and long-lasting spaces.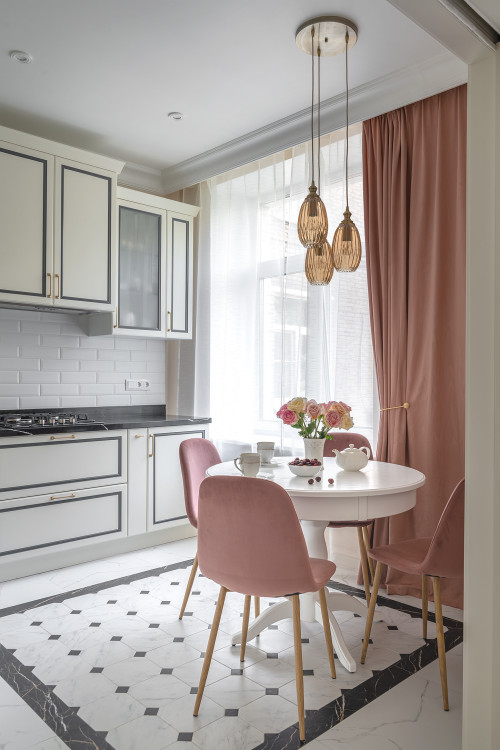 ID# 148311 | Houzz.com – Credit | © Alisa Kashcheeva
---
Black and White Kitchen with Pastel Pink Accents
As you step into the kitchen, your eyes are immediately drawn to the intricate design of the black quartz and white subway backsplash! The tan shaker style cabinets emit a cool black and white vibe that contrasts perfectly with the patterned ceramics on the floor. Traditional effects are evident throughout the kitchen, contributing to a cozy and welcoming atmosphere. Compared to the black-and-white color scheme, the pink-toned furniture adds a touch of warmth and softness to the kitchen, making it a pleasant space to spend time in.
What colors go well with white subway tile?
As someone who adores white subway tiles, I understand the excitement of pairing them up with all sorts of colors and textures. It's truly remarkable how they blend so well with any design. However, it's crucial to choose thoughtfully to ensure a cohesive and delightful outcome. Don't forget, these beautiful subway tiles set your creativity free, letting you explore bold designs and combinations that stay relevant, no matter the era or trend.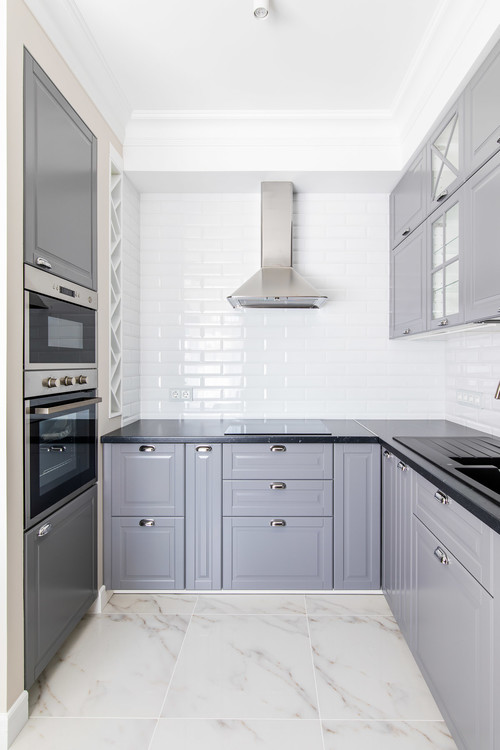 ID# 148312 | Houzz.com – Credit | © Артём Брук
---
Gray Raised Panel Cabinets With Stainless Steel Appliances
As you enter the kitchen, you'll notice its modern lines that radiate simple yet elegant vibes. The white subway backsplash teamed with quartz countertops creates a visually pleasing and user-friendly space. The clever use of smart solutions in small spaces ensures a high-quality cooking experience. The quartz countertops offer multiple practical features whilst the subway backsplash material's ability to move adds an extra level of convenience. The marble-textured white tile floor pairs with the natural stone texture to create a warm and inviting atmosphere. The gray cabinets provide a touch of clarity, while the simple handles are reminiscent of times gone by. Altogether, this kitchen design expertly blends the past and present, leaving you feeling at home in a comfortable yet sophisticated space.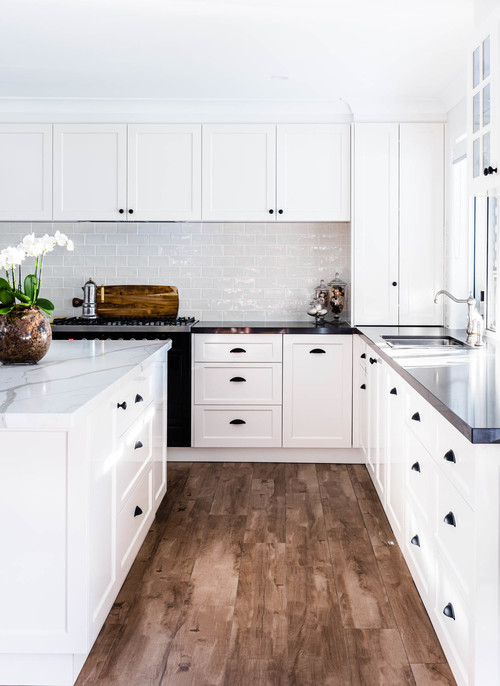 ID# 148313 | Houzz.com – Credit |© Spencer Constructions (QLD) Pty Ltd
---
White Farmhouse Kitchen with Black Accents
White farmhouse kitchen design, in which white cabinets are used together with black countertops and white subway backsplash, offers a spacious, comfortable, and inviting space with its large areas. Working areas created with a black quartz countertop provide a more pleasant space by establishing a black-and-white balance with the white stone on the island. The wood texture on the floor is trying to create a more natural living space by adding warmth to the kitchen that receives natural light. The use of white cabinets with black handles is a smart choice to match the general tones of the kitchen. While adding movement to these white and black areas with the white subway backsplash, it provides a more profound space with its reflective texture.
Are black countertops good for the kitchen?
Black color always brings the feeling of elegance and luxury to spaces. Although the use of black as a countertop material gives great results visually, the standards of use may change depending on the characteristics of the material to be used. For this reason, when choosing, the usage characteristics together with the texture and color should be examined.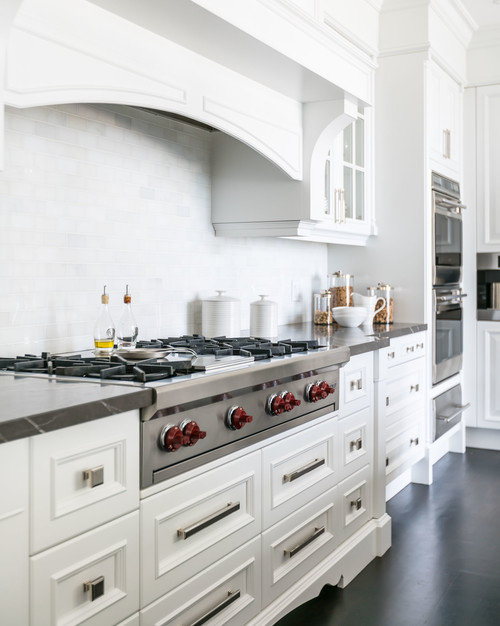 ID# 148314 | Houzz.com – Credit | © Jodi Fleming Design
---
White Subway Backsplash and Black Quartz Harmony In Traditional Kitchen
As you walk into the kitchen, you're greeted by the perfect mix of classic and contemporary styles! The white subway backsplash exudes a welcoming and homey vibe, while also showcasing a modern aesthetic. And the black quartz countertops are simply elegant and sophisticated, adding a touch of class to the overall look. As your gaze shifts from the backsplash to the countertop and back again, you can't help but feel drawn in by the beauty of the harmonious design. The integration of these two elements creates a cohesive and timeless atmosphere that enhances the quality of the space.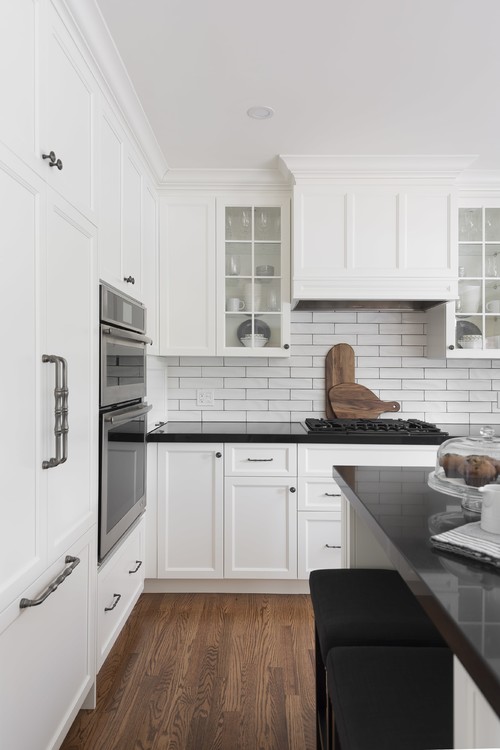 ID# 148315 | Houzz.com – Credit | © Monarch Kitchen Bath & Home
---
White Shaker Cabinets with Chrome Hardware
The white cabinets, fashioned to perfection, blend seamlessly with the sleek lines of the space. The white subway backsplash and black quartz countertop meet in a visual masterpiece, each element complementing the other with perfect harmony. The wood-textured flooring offers a soft contrast to the black and white theme, creating a tranquil and inviting atmosphere. The interplay of the colors results in a realistic, natural ambiance that doesn't compromise its high-quality appearance!
White Subway Backsplash with Black Granite Countertop
The white subway tile, which adapts to every material, has great harmony with the black granite, the easy cleaning of both materials and the natural texture of the granite and the plain texture of the subway tile allows for calmer and more comfortable designs by adapting to each other both visually and in use. When the visual quality of the kitchens formed with granite and subway tile and the material qualities come together, the spaces rise to the next level and create more quality and useful areas.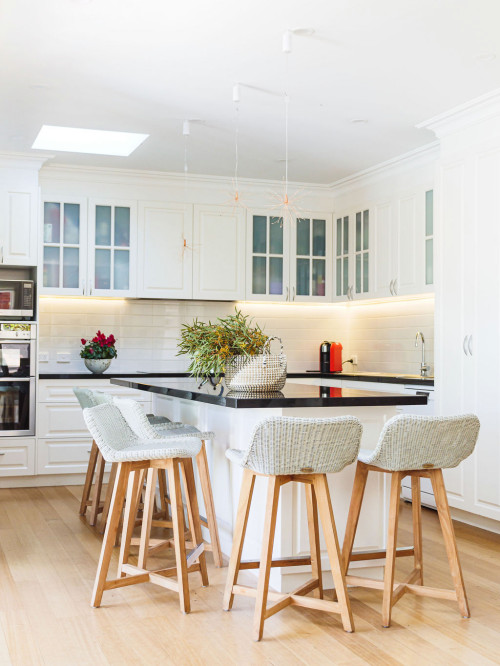 ID# 148317 | Houzz.com – Credit | © Green Room Interiors
---
Black Granite and White Subway Backsplash Effect In White Kitchen
The white cabinetry and black granite countertops create a beautifully balanced palette, while the white subway tile backsplash ties the entire space together. But the real magic happens when you notice the warm textures that bring the kitchen to life. The wooden floors add a natural, cozy touch that perfectly complements the calm atmosphere of the design. With plenty of counter space provided by the granite, you'll have everything you need to prepare your favorite meals. And with ample storage space offered by the white cabinets, you'll never run out of room for your kitchen essentials. This kitchen truly has it all – spaciousness, warmth, and functionality. You'll feel right at home from the moment you step inside.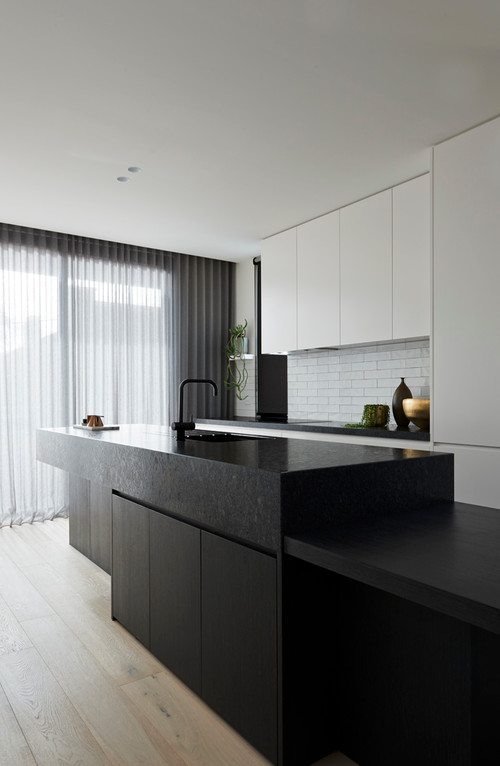 ID# 148318 | Houzz.com – Credit | © S&K Group
---
Statement Maker Black Island Design with Granite Countertop
The sleek and modern lines of the white and black cabinets perfectly complement each other, creating an eye-catching contrast that's hard to resist. The plain wood texture on the floor ensures a seamless and effortless transition between black and white, while the island is the crown jewel of the space, with its spectacular use of granite. Creating a sense of spaciousness, this kitchen cleverly integrates with simple textures, further emphasizing the exquisite and elegant design. The white subway backsplash is the star of the show, standing out and drawing attention to the most important elements in the room!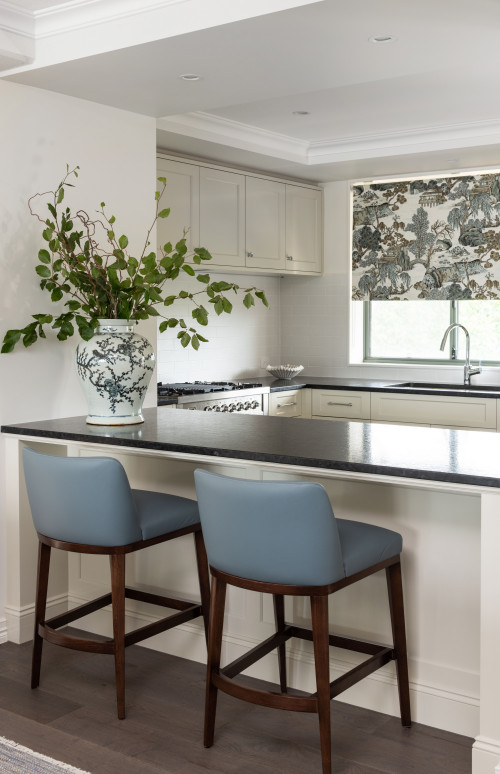 ID# 148319 | Houzz.com – Credit |© Highgate House
---
Cream-Toned Open Concept Kitchen With Blue Chairs
Wow! The designers truly nailed it with their choices for the kitchen. The white subway backsplash and black granite countertops make for a quality and stylish combo that's both practical and beautiful. And the cream cabinets just blend in so perfectly with the white background. The coordination between black granite and white subway backsplash is seamless, creating the most stunning focal point. And the best part? It's not just visually pleasing – the functionality is also top notch. With ample storage areas and workspaces, this kitchen design was crafted with care and attention, resulting in a space that's welcoming and highly practical.
Do black countertops make a kitchen look smaller?
The color black can have understated and nuanced impacts in narrow or petite spaces. Although it may not appear diminutive outright, a visual compressing effect can be produced in elongated or sparse areas. Alternatively, black surfaces may be favored to simplify the perception of vast expanses. It is important to consider the intended usage of black in a given area in order to create a desired illusion.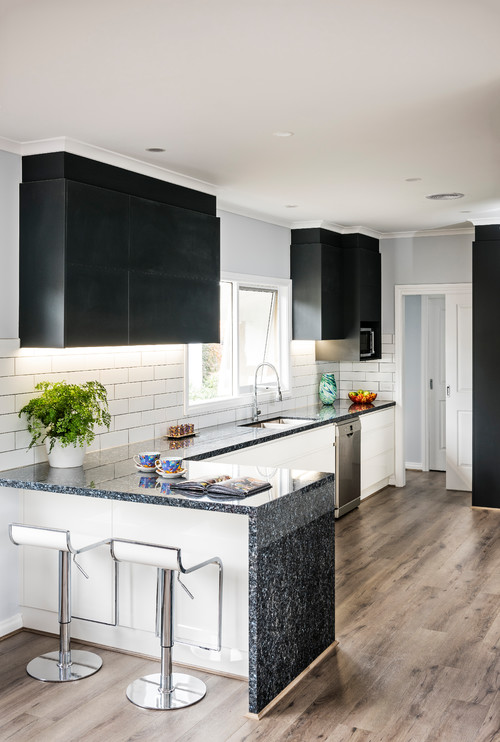 ID# 148320 | Houzz.com – Credit | © Smith & Smith Kitchens
---
Black and White Cabinetry with Wood Flooring
The moment you set foot in this kitchen, you'll feel a sense of depth that invites you to stay. Deep black upper cabinets stand proudly atop the countertop. The black granite countertop effortlessly stretches across the island and down to the floor, creating a seamless design that is both cohesive and awe-inspiring. And the white subway backsplash perfectly complements the entire look, giving it a simple yet refined touch that's sure to leave you breathless. It also perfectly completes the sleek appeal of the white flat panel cabinets!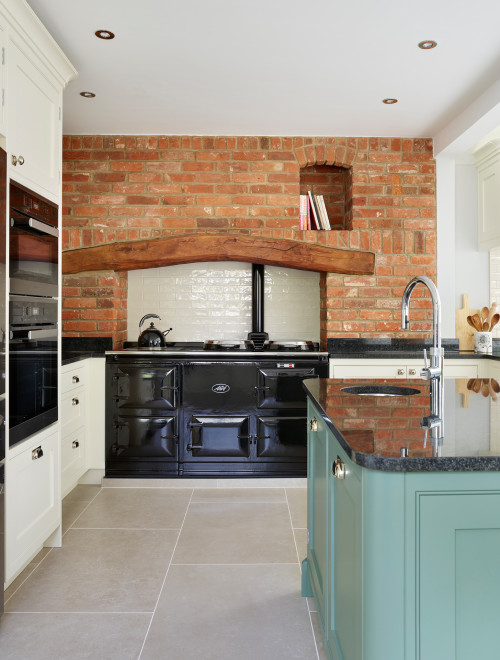 ID# 148321 | Houzz.com – Credit | © Davonport Kitchen & Home
---
Country Style Kitchen Design With Exposed Brick Walls
The kitchen design will transport you to a countryside haven with its charming style, boasting a breathtaking sight with a white backsplash and black granite! The combination of white and green cabinets weaves together various textures, embracing a cozy and welcoming ambiance. The spacious and comfortable aura, coupled with simple yet distinctive hues, is sure to evoke feelings of tranquility and bliss. The sparkling subway tiles hint at the cooking hub, while the black granite exudes sophistication in every nook and cranny, leaving you enthralled by its elegant and delightful setting.
White Subway Backsplash with Black Laminate Countertop
Laminate countertops are one of the materials that are always found in kitchens with their affordable price and varieties in different textures and colors. Black laminate countertops are very successful in adapting and providing freedom to dazzling designs with their structure suitable for almost every style and design. White subway backsplash and black laminate countertops are among the combinations that are both affordable and visually pleasing.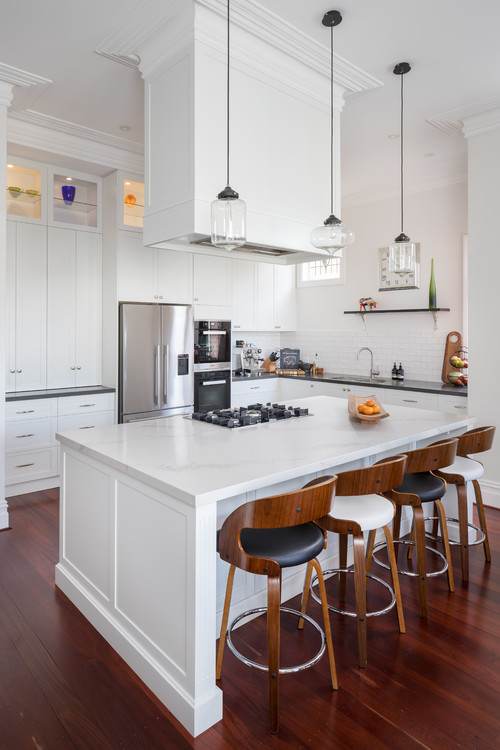 ID# 148322 | Houzz.com – Credit | © Kitchen Capital
---
Traditional White Kitchen Design With Glass Pendants
The breathtaking kitchen aesthetic transports one to a world of opulence and elegance. The black laminate countertop married with the white subway backsplash creates a simplistic yet chic ambiance. An abundance of storage space is provided by the pristine white cabinets and furniture. The marriage of different textures in the backsplash and countertop infuses personality into the white kitchen, preventing it from being mundane. Glass pendant lighting perfectly completes the spacious atmosphere. The designer chairs contribute to an overall grandeur, making this kitchen the perfect space for any occasion.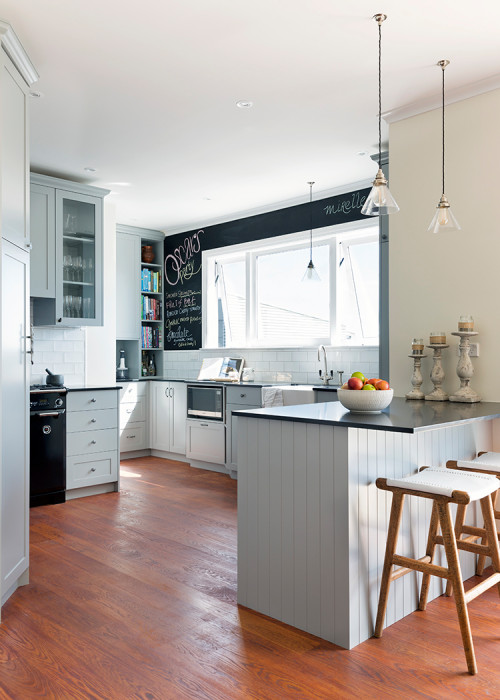 ID# 148323 | Houzz.com – Credit | © The English Tapware Company
---
Gray Cabinets with Chalk Painted Walls 
The kitchen design with light grey shaker cabinets and black countertops creates a wonderful composition. This design, which is in perfect harmony with the warm-toned wood on the floor, creates softer transitions by using different textures together with opposites. The white subway backsplash visually supports the space by explaining it more clearly.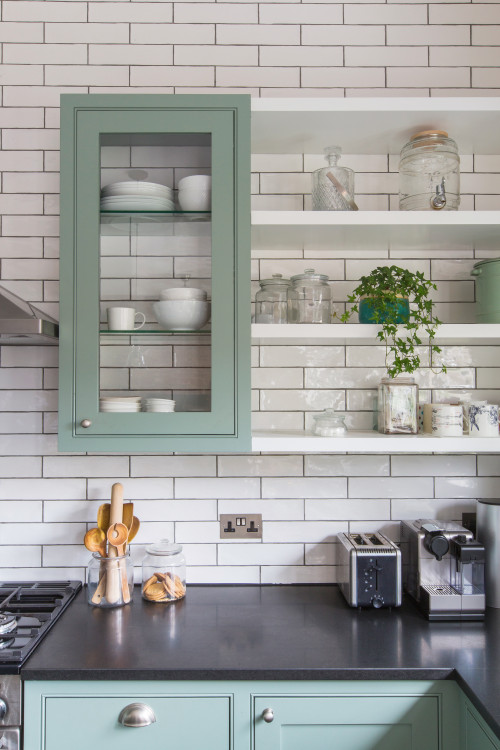 ID# 148324 | Houzz.com – Credit | © My-Studio Ltd
---
Sage Green Cabinetry with White Floating Shelves
This kitchen creates a wonderful atmosphere with its green shaker style cabinets! It offers a wonderful visual feast with its black countertop and white subway backsplash. Bringing natural feelings to the kitchen with green cabinets, the color scheme creates a spacious and comfortable space. The kitchen, with its eclectic atmosphere, functionally interprets the space where emotions are at the forefront.