24+ White Subway Backsplash with Black Countertop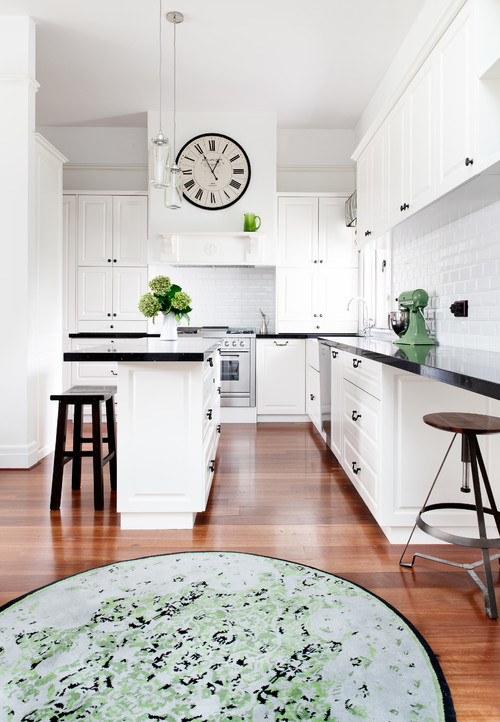 ID# 148301 | Houzz.com – Credit | © Three Little Pigs Colour & Design
---
Kitchen Design With Black Countertops Combining White Subway Backsplash With White Cabinetry
The kitchen design evokes a sense of tranquility with its masterful use of just three colors! The abundant use of white on the background creates a welcoming space that seamlessly integrates with the black and wood texture. The embossed white cabinets and subway backsplash lend a simpler aesthetic while still offering depth with the black countertops and cabinet handles. You can't help but feel a sense of warmth with the wooden parquet floor, which is then brilliantly combined with warm tones to make the raw look in the black and white areas feel more natural and comfortable.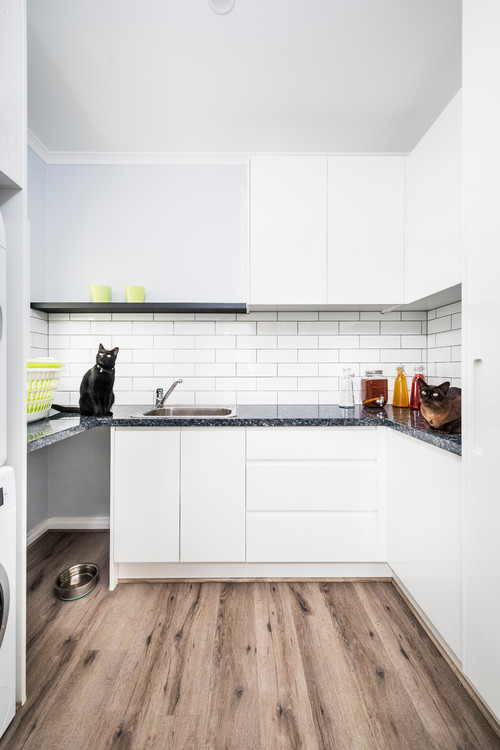 ID# 148316 | Houzz.com – Credit | © Smith & Smith Kitchens
---
Modern Kitchen Design With White Subway Backsplash and Black Granite Countertops
The modern kitchen design, which has a great look with a white subway backsplash, combines white cabinets with black granite countertops. Explaining the harmony of white backsplash and black in simple language, the kitchen creates a clear visual with the moving natural wood texture on the floor. The kitchen, which has a plain and simple design, provides a stylish and useful space by taking strength from simplicity. This type of kitchen is both pleasing to the eye and meets the needs of the users.
White Subway Backsplash with Black Countertop
Imagine transforming your kitchen or bathroom into a stylish and sophisticated space simply by choosing a classic and timeless design. A white subway backsplash with black countertop can do just that, creating a striking visual impact that adds depth and dimension to the room. The clean and crisp white tiles add a sense of freshness, while the dark black countertop offers a touch of drama and sophistication.
The versatility of the white subway tiles allows them to blend seamlessly with various design styles, making them the perfect choice for any modern or traditional setting. From ceramics to marble backsplash, you can find different material alternatives for subway tiles. Ultimately, incorporating a white subway backsplash with a black countertop can elevate the aesthetic of your space and create a stunning focal point that anyone will admire!
Timeless Elegance of Black and White
These subway tiles are truly a feast for the eyes – with their classic, elegant design, they'll leave you feeling chic and sophisticated every time you step into the space. Not only that, but these tiles are also incredibly easy to clean, making them the perfect pick for busy homeowners who don't have time to fuss over maintenance. And paired with a black countertop, the contrast creates a stunning, evergreen look that's both stylish and practical.
You'll never have to worry about stains or scratches with this resilient countertop – it's built to handle daily use without showing any signs of wear and tear. Trust me, upgrading your space with white subway tiles and a black countertop is a surefire way to elevate your home, making it feel truly special every time you step inside.
Should the backsplash be lighter or darker than the countertop?
When it comes to choosing the backsplash and countertop combination, there's a lot of room for personal expression. Each option can bring a unique color and texture to your space, but there aren't any hard and fast rules dictating which one should be a light or dark shade. While traditionally the backsplash was lighter in color than the countertop, as design trends evolve, anything goes. Ultimately, it's up to you to choose the combination that makes you feel happy and inspired in your home!
What backsplash is on trend in 2023?
In 2023, backsplash trends may include patterned tiles, geometric shapes, metallic finishes, natural stone, and monochromatic tiles. Patterned tiles like Moroccan or encaustic designs can add personality, while geometric shapes create a modern touch. Metallic finishes like copper or brass add glamour, and natural stone brings timeless elegance. Monochromatic tiles in shades of gray or navy offer a sleek and contemporary look. Ultimately, it's important to choose a backsplash that reflects your personal style and complements your overall design vision.
Black Countertop Materials for White Subway Tile
White subway tile is the ultimate design chameleon, with the power to transform any space and ignite boundless creativity. Its effortless ability to effortlessly harmonize with black countertops is truly exceptional, making it the go-to choice for every decor from trendy to classic. What's more, pairing white subway tiles with sleek black countertops creates an alluring visual contrast, allowing other materials such as marble, granite, porcelain, and glass to stand out and express themselves. With its unparalleled adaptability to diverse textures and colors, subway tiles effortlessly combine with black countertops to provide inviting, long-lasting spaces imbued with personality and sophistication.
White Subway Backsplash with Black Marble Countertop
Materials combined with black marble should be both special and beautiful. In this way, while a special material such as black marble stands out, it brings quality and elegance to the space and the area where it is used. Black marble is a material that is difficult to find and used in private areas as a high-priced material, and it is a material that should be considered when combined. Timeless materials such as the white subway backsplash are a great material that harmonizes with black marble.
Is subway tile Still in Style in 2023?
Subway tile is like a chameleon that effortlessly blends in with any design and era. It has a magical quality that endears it to every kitchen, whether new or old. It's as though subway tile intrinsically understands the needs and desires of homeowners and has evolved to suit them perfectly.
Does white subway tile go with everything?
The enduring versatility of white subway tile never ceases to amaze, effortlessly adapting to various textures and hues. It's no surprise that this timeless material continues to make an appearance, defying the test of time and always staying on-trend. Its unwavering ability to blend in and complement any design palette and decor personality makes it a dependable and sought-after choice year after year.
White Subway Backsplash with Black Quartz Countertop
Indeed, the harmony of the designs formed with black quartz with the white subway backsplash is one of the choices that ensure the integration of visual quality with the material. With the natural texture and durability of quartz, subway tile, which is a timeless material, offers a wonderful combination and offers pleasant and stylish environments. In this way, spaces carry higher quality materials to calm and timeless designs, creating useful and long-lasting spaces.
What colors go well with white subway tile?
As someone who adores white subway tiles, I understand the excitement of pairing them up with all sorts of colors and textures. It's truly remarkable how they blend so well with any design. However, it's crucial to choose thoughtfully to ensure a cohesive and delightful outcome. Don't forget, these beautiful subway tiles set your creativity free, letting you explore bold designs and combinations that stay relevant, no matter the era or trend.
Are black countertops good for the kitchen?
Black color always brings the feeling of elegance and luxury to spaces. Although the use of black as a countertop material gives great results visually, the standards of use may change depending on the characteristics of the material to be used. For this reason, when choosing, the usage characteristics together with the texture and color should be examined.
White Subway Backsplash with Black Granite Countertop
The white subway tile, which adapts to every material, has great harmony with the black granite, the easy cleaning of both materials and the natural texture of the granite and the plain texture of the subway tile allows for calmer and more comfortable designs by adapting to each other both visually and in use. When the visual quality of the kitchens formed with granite and subway tile and the material qualities come together, the spaces rise to the next level and create more quality and useful areas.
Do black countertops make a kitchen look smaller?
The color black can have understated and nuanced impacts in narrow or petite spaces. Although it may not appear diminutive outright, a visual compressing effect can be produced in elongated or sparse areas. Alternatively, black surfaces may be favored to simplify the perception of vast expanses. It is important to consider the intended usage of black in a given area in order to create a desired illusion.
White Subway Backsplash with Black Laminate Countertop
Laminate countertops are one of the materials that are always found in kitchens with their affordable price and varieties in different textures and colors. Black laminate countertops are very successful in adapting and providing freedom to dazzling designs with their structure suitable for almost every style and design. White subway backsplash and black laminate countertops are among the combinations that are both affordable and visually pleasing.