38+ White Cabinets with Marble Backsplash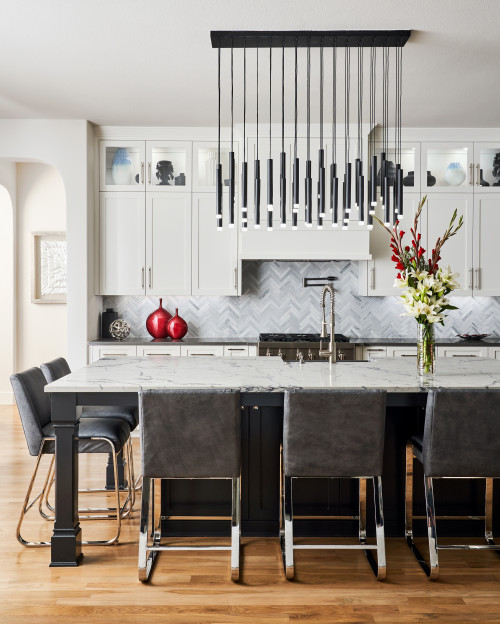 ID# 130813 | Houzz.com – Credit | © Wesley-Wayne Interiors, LLC
---
White Cabinets with Marble Backsplash and Gray Countertops
You can never go wrong with a monochrome color scheme! These colors are perfect to give a timeless look to your design without sacrificing being stylish. Here, the simple look of the white kitchen cabinets is spruced up by the marble herringbone backsplash tiles. The gray countertop of the base cabinets complements the gray shades of the marble while the white quartz countertop of the black kitchen island completes the luxurious feel of the marble. The custom black lighting fixture above the island makes a modern twist against the traditional style.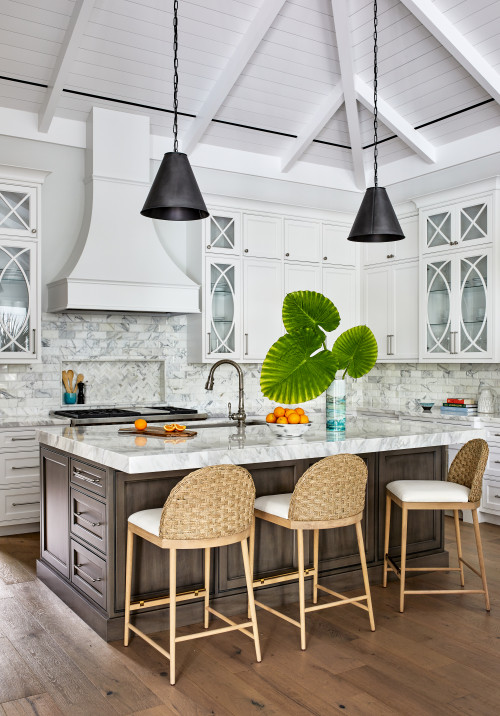 ID# 130833 | Houzz.com – Credit | © Stephanie Bradshaw
---
Bright White Kitchen Design with Dark Wood Island and Flooring
Natural textures of the marble and the wood, give a warm and welcoming feel to this white beach-style kitchen. The marble subway tile backsplash creates a focal point between the cabinetry while adding a modern touch against the traditional cabinets. The rattan counter chairs complement the naturality of the dark wood kitchen island and the wood flooring. The beautiful details of the glass upper cabinets add a character.
White Cabinets with Marble Backsplash
Are you looking at the definition of the timeless? Here is the answer: white cabinets and marble backsplash. These two design elements are one of the most classic and popular options for all kitchen types and when the clean and fresh look of the white meets with the luxurious sense of the marble, the result is undeniably perfect! In this article, we gather stunning white cabinets with marble backsplash ideas. Scroll down and find different approaches and see how to combine these elements to incorporate your design project!
The pure and clean look of the white cabinets acts as a black canvas that can work with every color scheme. That means you can pair them with classic white subway tile backsplash or create contrast with darker shaded tiles. However, if you want to add a luxurious feel to your white cabinetry, you can invest in marble backsplashes! Whether it is tiny marble tiles or a giant marble slab, the beautiful natural look of the marble will be a perfect addition to the pureness of the white cabinets.
What color countertop for white cabinets and marble backsplash?
Because of their clean and sleek appeal, white kitchen cabinets can work with all color schemes. On the other hand, if you are pairing your white cabinets with a marble backsplash, these options are narrowing down a bit. Of course, the color of your marble plays a huge role. Using complementary colors for backsplash and countertop is always a good choice to create a completed look. For example, if you have a white marble with gray veins, you can use a white or gray countertop. Also, you can pair your white marble with a black countertop to create a contrasting look. Another great option is using the same marble material for both backsplash and countertops.
White Cabinets with Marble Tile Backsplash
In today's market, marble material comes in two different backsplash forms: tiles and slabs. For all material options, tiles are the most common and classic backsplash materials and the same is true for marble. Thanks to the wide variety, from classic subway tiles to modern hexagon tiles, you can incorporate marble into your kitchen in different shapes and layouts. Each tile shape and layout offer different visual impacts. On the other hand, white kitchen cabinets provide a clean frame for the marble tiles and these tiles are a great way to spruce up the white cabinets!
White Cabinets with Marble Subway Tile Backsplash
Just like the white cabinets, subway tiles are also classic for all kitchen types. These two classic beauties can create your dream kitchens and give a timeless elegance. Yes, white ceramic subway tiles will never go out of style, but if you want to add a dose of texture, you can consider using a marble material for subway tiles. So, if you are looking for the most common and timeless backsplash with a luxurious sense for your white cabinets, there is no better option than marble subway tiles. Also, marble subway tiles come in different size options. 3×6 is the traditional size of these tiles but you can give a more modern look with larger tiles like 6×12, 4×8, or 10×20 inches, or you can create a more dense pattern with smaller tiles such as 2×4 or 1×2 inches.
Is marble good for a kitchen backsplash?
Absolutely yes! Marble is a very popular material for kitchen backsplashes for hundred of years and it still remains its popularity in recent days. A marble backsplash brings a classic luxury feel and can instantly elevate to any kitchen. You may worry about its porous surface. Yes, it is the biggest disadvantage of the marble but with regular sealing and cleaning, you can easily maintain the stunning luxurious appeal of the marble.
White Cabinets with Marble Herringbone Tile Backsplash
The herringbone backsplash consists of rectangular tiles, just like the subway tile. But to create a herringbone pattern, these tiles are laid in a pattern that reminiscences the fishbone. This tiny twist on the classic tiles offers eye-catching appeal for kitchen backsplashes. Basically, you can create a herringbone pattern with any rectangular tile and marble is one of the most beautiful options. With the eye-catching layout of the herringbone and the one-of-a-kind appeal of the marble, you can instantly elevate your white kitchen cabinets!
White Cabinets with Marble Chevron Tile Backsplash
With their sleek beauty, chevron tiles can instantly spruce up your kitchen walls between your white cabinets, especially if there is marble! Chevron tiles are composed of a variety of materials from ceramic to glass, but the luxurious beauty of the marble fits so well with this pattern and these beautiful tiles never go out of style. It is a similar pattern with herringbone but, for a chevron pattern, the ends of rectangular tiles are cut at a 45-degree angle which creates a continuous zigzag pattern. This zigzag pattern with a marble texture is a great way to add interest to your kitchen design!
Is marble backsplash hard to keep clean?
You do not have to worry about the cleaning of the marble. Yes, it is a porous material and it can absorb liquids but sealing provides an easy to clean surface for the marble. For a daily cleaning routine, warm water, dish soap, and a microfiber cloth will be enough. For more stubborn stains, you can prepare a mix with baking soda and water. But you need to be careful not to use abrasive cleaning products. These products can create permanent damage on the marble surfaces.