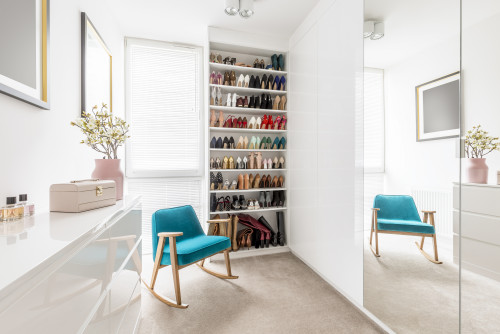 ID# 103308 | Houzz.com – Credit |  © OC Closet Organizers
---
Contemporary Walk-in Closet with Shoe Cabinets
İn this contemporary closet, everything is hidden in the cabinets which makes the area look tidy. The white color adds a more clean look to the interior. Different colored shoes on the open shelves pop against the bright whites and add visual interest to the room. The blue swinging chair and the beige carpeted floor add some coziness to the design.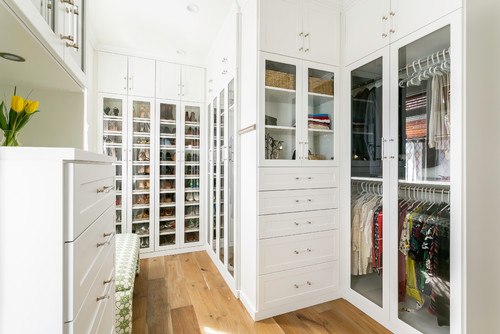 ID# 103306 | Houzz.com – Credit | © Charleston Home + Design Mag
---
White glass-front shoe cabinets
Tidy room is created with the help of white colour. Glass-front cabinets are useful as in open cabinetry to find your belongings quickly. Shaker cabinets are complete the design. This room is luminous and spacious with white colour usage and medium tone brown floor.
Storage For Your Shoes
All of us like shoes, right? I mean having plenty of shoes, sneakers, flip flops, heeled shoes, etc. helps us to complete our look. Fashion offers a variety of shoe designs and some of us have lots of them. Okay, that is nice to have them but how about the storage? Where will you store them? In the entrance? Hallway? Yes, we need storage to put them in. White shoe cabinet is there for help.
Protectors Of Our Feet Has A Place
Time is changing and so our clothes and shoes. As time went by our houses changing according to innovations as the fashion changes. Once upon a time maybe people had one or two shoes but at the moment they have lots of them. It is a problem to store them because they are in small pieces if we compare them with another belonging at the house.
White shoe cabinets can provide different usage ways and can be very helpful for storage. They became part of the furniture in the house design and according to design style, their appearance varies. Speaking of design for shoe cabinets their colors matter also. They can be in different colors or textures but white color –as always- is in the first place while trying to choose a style. Because it can go together with every color and every texture or pattern. There is an endless combination.
Let's see the place of the protectors of the feet!