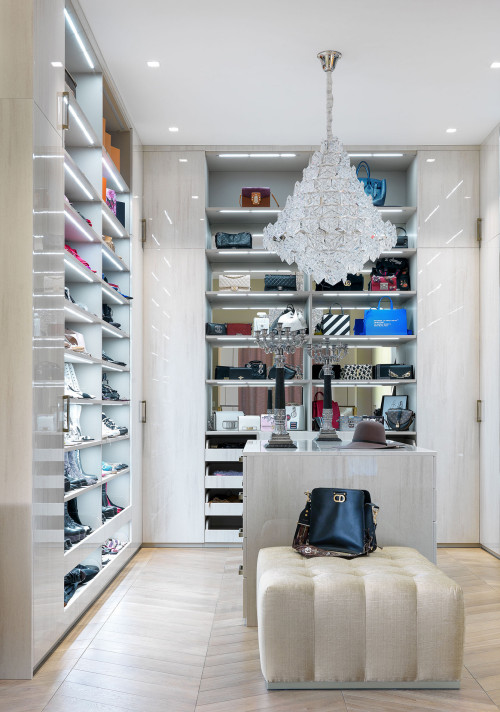 ID# 159306 | Houzz.com – Credit | © Красюк Сергей
---
Contemporary Design with a Glass Chandelier
This contemporary open closet design is sleek and modern, featuring light wood chevron floors and light wood glossy flat-panel cabinets with minimalistic black hardware that create a clean and streamlined look. The shelves with mirror backsplashes add a touch of glamour while also providing functionality, and the glass chandelier provides a statement-making centerpiece to the room. A light wood island adds additional storage space and doubles as a workspace. Spotlights throughout the closet provide ample lighting, making it easy to see and access your wardrobe.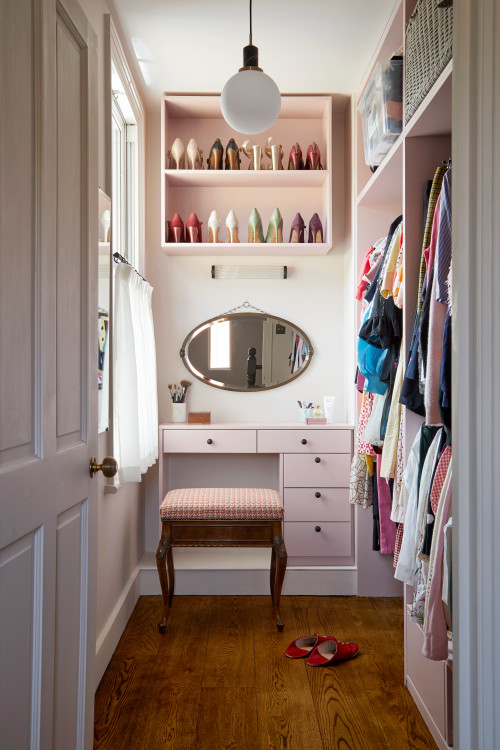 ID# 159313 | Houzz.com – Credit | © Eleanor Horwell Design
---
Dressing Room with a Powder Pink Cabinetry
This traditional dressing room has a charming and feminine design that exudes elegance and sophistication. The powder pink cabinetry structure adds a soft and romantic touch to the room, while the medium-tone wood floors ground the space with warmth and depth. A small make-up desk with a vintage mirror and a vintage piano stool reupholstered with a rich Dedar fabric is the centerpiece of the room. The vintage-inspired details add a touch of nostalgia and timelessness to the space, making it feel like a place to escape and indulge. The white walls create a clean backdrop that highlights the intricate details of the cabinetry and furnishings. A window with a white cafe curtain lets in natural light, creating a soft and inviting atmosphere.
Open Closet Ideas
In today's modern interior design, open closet ideas have become increasingly popular, as they offer a practical and innovative approach to storage solutions. The beauty of open closets lies in their ability to showcase your wardrobe and accessories in an organized and stylish way while providing a unique design element to your space. One of the most favored open closet ideas is the use of exposed clothing racks or floating shelves to beautifully display your favorite clothing items, shoes, and accessories. This not only facilitates easy access to your belongings but also makes getting dressed in the morning an effortless task. Another fantastic idea is the use of open shelving to create a minimalist and functional closet space, where every piece of clothing, shoe, and accessory is neatly organized and displayed.
Whether you are looking for an open closet to fit in your bedroom, walk-in closet or dressing area, its versatility can seamlessly blend with various room styles! This will give you a personalized solution that will cater to your individual needs and preferences. Open closets not only offer a practical storage solution but also provide an aesthetically pleasing look that is perfect for homeowners who prioritize both style and functionality in their home design. Scroll down and learn more about the open closet ideas and how to organize them!
How do you make an open closet look good?
An open closet can be a stunning addition to any room when it's organized and aesthetically pleasing. Improving the appearance of your open closet is simple when you follow these tips:
-Keep it neat: Keeping your open closet tidy is the first step. Arrange your items in an orderly fashion, and use baskets or containers for smaller items.
-Add decorative touches: You can enhance the look of your open closet by adding decorative touches like plants or framed art. This will give your closet an inviting feel.
-Use matching hangers: Using matching hangers maintains a cohesive look in your open closet. You could use hangers with similar color or style.
-Organize by color: Organizing your clothes by color elevates the look of your open closet and helps you find things quickly.
-Showcase your favorite pieces: Highlight your favorite clothing pieces or accessories in your open closet. Doing so will add character to your space.
-Install proper lighting: Good lighting in your open closet is essential. Consider adding spotlights or LED strips to make your space look its best.
-Use decorative storage solutions: For smaller items, use decorative storage solutions like woven baskets or stylish storage boxes. This will help you stay organized while maintaining a chic look.
Is open closet a good idea?
When it comes to incorporating an open closet into your living space, it's important to weigh the pros and cons before jumping in. OHaving an open closet can give a room a sleek and modern aesthetic. Rather than hidden away behind closed doors, your wardrobe can be put on display for all to admire. This can also create a sense of accessibility, making it easier to see and grab the items you need.
Additionally, an open closet can make organization a top priority. Since your clothes will be in full view, you'll be more inclined to keep everything neat and tidy. Plus, finding your favorite t-shirt or pair of pants is a breeze when everything is out in the open.
When determining whether an open closet is right for you, it's important to consider your personal style and living situation. By carefully weighing the pros and cons, you'll be better equipped to make an informed decision.
Modern Open Closet
Modern open closets embody a sleek and practical style, providing ample storage solutions while showcasing your wardrobe in a fashionable yet functional manner. These closets traditionally feature a neutral color palette and clean lines, with open storage systems that offer accessibility and organization. Light wood materials, such as oak or walnut, are a popular choice for modern open closets, adding a comforting touch to the space. Streamlined flat-panel cabinets with minimalistic matte black or chrome hardware offer a contemporary appearance. Open shelves and hanging rods are also present, allowing for organized and easy accessibility to your clothing and accessories.
In addition to the storage components, lighting is also a noteworthy aspect of modern open closets. Spotlights or LED strips can spotlight favorite wardrobe items, while elegant glass chandeliers or pendant lights add a touch of opulence to the room. Mirrors can also be incorporated into the design, providing functionality for dressing and grooming while also visually creating the illusion of a larger space.
How do you organize an open closet?
Discover the secrets to unlock a delightful and imaginative process in organizing your open closet. With these helpful tips, you can efficiently make the most out of your storage space. First things first, let's tackle the clutter. By sifting through your belongings, you can easily decide which pieces to keep, donate, or throw away. This step will pave the way for keeping your preferred items neatly in place. Once you have identified the clothes you wish to keep, it's time to categorize them. Grouping them into categories such as shirts, pants, and dresses, and further sorting them by color will make it effortless to find your favorite pieces in seconds. Don't forget to make use of bins and baskets to organize your smaller items such as scarves, socks, and underwear. This smart strategy ensures that everything has its own designated spot for ease of access.
Maximize every bit of space in your open closet by installing shelves and racks. This is a perfect solution for keeping your shoes, handbags, and other accessories organized in one place. With everything in its own neat arrangement, maintaining the tidiness of your open closet will take only a few minutes of your day. By putting your clothes back in their designated spots, you will always have a well-ordered space to welcome you each and every time.
Small Open Closet
When designing a small open closet, it's essential to maximize every inch of space. This can be achieved through efficient storage solutions such as shelves, hanging rods, and pull-out baskets. It's also important to use vertical space and uniform hangers to create a streamlined look and maximize storage.
Proper lighting is key in a small open closet. Adequate lighting not only makes it easier to find and choose clothes, but it can also make the space feel larger and more inviting. Consider adding task lightings, such as under-cabinet or in-closet lighting, and a statement pendant or chandelier for added style. Lastly, incorporating design elements such as light-colored walls and floors, mirrors, and a few decorative pieces can help make a small open closet feel more spacious and inviting. With these tips and ideas, you can transform even the smallest of closets into a functional and stylish wardrobe room.
How do you store clothes in an open wardrobe?
Storing clothes in an open wardrobe can be a great way to keep your clothes organized and easily accessible. Here are some tips on how to store clothes in an open wardrobe:
Use hanging space: Use hanging space to store clothes that are best kept on hangers, such as jackets, dresses, and dress pants. Group clothes by category and color for ease of use.
Fold clothes neatly: For items like t-shirts, sweaters, and jeans, fold them neatly and stack them on shelves or in baskets. Fold them in a consistent size and shape to create a uniform look.
Use drawer dividers: If your open wardrobe includes drawers, use drawer dividers to keep smaller items organized, such as socks, underwear, and belts.
Store shoes on shelves: Use shelves to store shoes, keeping them in pairs and grouping them by style or color.
Use storage boxes: For seasonal items like scarves, hats, or gloves, use storage boxes or baskets to keep them organized and out of sight when not in use.
Keep it tidy: To maintain a neat and organized open wardrobe, regularly go through your clothes to declutter and keep everything in its designated place.
Open Hallway Closet
When it comes to keeping our homes organized, closets play a vital role, not just in terms of tidiness but also in aesthetic appeal. However, not all homes provide sufficient room for dedicated closet spaces. This is where open hallway closets come in – they offer an excellent solution for those who need to maximize their available space. The design of these closets fits seamlessly into an entryway or hallway while providing ample storage space. This is made possible by the use of open shelves, hanger rods, and baskets, which make it simple to arrange and access your belongings. With an open design, you can easily see all the items you have stored in the closet, which can be an effective way to reduce clutter and maintain an orderly space.
How can I make my closet look luxurious?
Looking to upgrade your closet and give it a luxurious feel? Here are a few tips to make it happen! First and foremost, good lighting is key. For a bright and inviting space, consider installing a chandelier, pendant lights, or recessed lighting.
When it comes to materials, opt for high quality options like solid wood shelving and drawers, marble or quartz countertops, and plush carpeting or area rugs. These touches will add to the overall luxurious vibe of your closet.
Don't forget about decorative elements! Small touches like a large mirror, artwork, or wallpaper can transform your closet into what feels like a boutique.
For a polished and organized look, use uniform hangers in the same color and style. Velvet hangers are a popular choice for creating a cohesive look.
To really show off your most prized possessions, strategically display items like shoes, handbags, and jewelry using glass display cases or shelves equipped with built-in lighting.
Last but not least, keep your closet organized and tidy. Everything should have a designated place to maintain that luxurious feel.
What are the disadvantages of open wardrobe?
An open wardrobe may seem like an alluring option to some, but it comes with its own set of drawbacks to carefully consider. Take a look at a few possible disadvantages of choosing an open wardrobe:
Loss of privacy: Since an open wardrobe does not have doors, others can easily catch sight of your wardrobe's contents, causing some discomfort or uneasiness.
Accumulation of dust and debris: An open wardrobe is more prone to accumulate dust and debris due to the lack of doors or other coverings. This can mean more cleaning duties for those striving to maintain a well-presented wardrobe.
Limited storage space: Compared to a closed wardrobe, an open wardrobe may not be able to provide an ample amount of storage space. Hence, people with vast wardrobes may struggle to store all their belongings in an open wardrobe without cluttering it.
Visual clutter: While an open wardrobe can visually enhance a room, it can also cause visual clutter if disorganized or messy.
Inadequate clothing protection: An open wardrobe does not present the same level of protection for clothing as a closed wardrobe. This means that clothing may be susceptible to damage from sunlight, moisture, or other environmental factors.
Open Bedroom Closet
Open bedroom closets have gained popularity in recent years as a fashionable and practical storage solution for modern homes. They provide easy access to your wardrobe while also allowing you to display your clothing and accessories like a stylish boutique. One of the significant advantages of an open bedroom closet is that it motivates you to be more organized. Since your clothes and accessories are on display, you tend to keep them neat. Additionally, with everything in plain sight, finding the item you need becomes effortless, making dressing up in the morning a breeze. Another benefit of an open bedroom closet is that it can create an illusion of a larger space, especially in smaller bedrooms where space is limited.
With no bulky doors, you can open up the room and create a spacious feel. When planning to design your open bedroom closet, consider choosing a color scheme and style that complements the rest of your bedroom decor. Also, think about the type of storage you require. Do you need more space for shoes or clothes? Or are you collecting handbags? Ensure your open closet provides enough room to accommodate all your belongings in an organized manner.
Open Shoe Closet
As a true shoe enthusiast, a shoe closet that's open is a home necessity. It's trendy and fashionable, and it allows you to showcase your collection while keeping things organized. When it comes to creating your ideal open shoe closet, you have various options to consider. One prevalent design involves using shelves to exhibit your shoes, with each pair having its own reserved spot. An alternative option is utilizing transparent acrylic shoe boxes, ideal for keeping your prized possessions free from dust and neatly arranged. You can take it a step further by adding seating or a bench to your open closet design, providing a convenient spot to slip on and off your shoes.
Do walk-in wardrobes need ventilation?
Yes, walk-in wardrobes do require ventilation. Proper ventilation can help prevent moisture buildup, which can cause mold and mildew to form on clothing and other items. It can also help reduce odors and keep the air fresh.
There are several ways to ventilate a walk-in wardrobe. One option is to install a ventilation system that pulls in fresh air from outside and exhausts stale air. This can be especially important in larger walk-in wardrobes or those located in areas with high humidity.
Another option is to install a window or skylight that can be opened to allow fresh air to circulate. If this is not possible, consider installing a vent or exhaust fan to help move air in and out of the space.
Regardless of the ventilation method used, it's important to keep the wardrobe clean and free from clutter to allow for proper airflow. Additionally, items like shoes and jackets should be aired out regularly to prevent moisture buildup and odors.
Overall, proper ventilation is an important consideration when designing and maintaining a walk-in wardrobe.