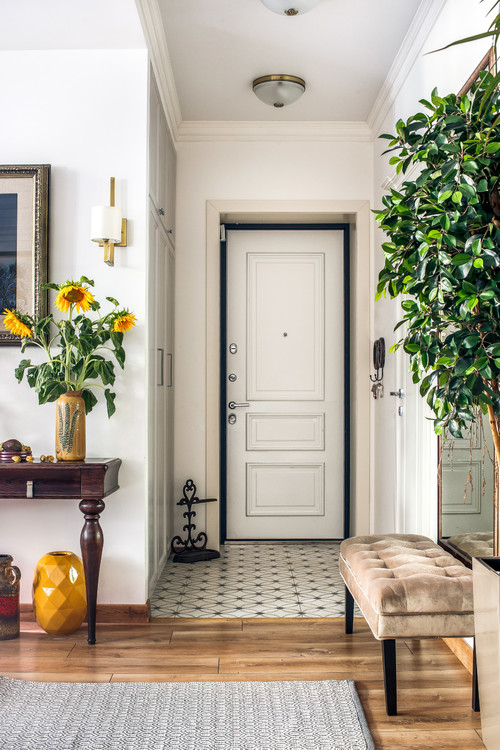 ID# 164806 | Houzz.com – Credit | © Борисова Ольга
---
Black and White Patterned Entryway Tile Ideas
You can accent your entryway and create a visual feast with patterned floor tile like this! Using these tiles only for the entrance increases their effect and pulls attention through the door.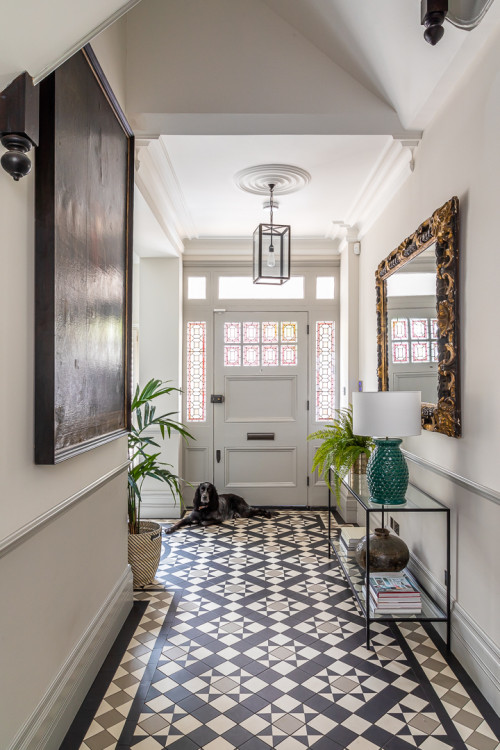 ID# 164816 | Houzz.com – Credit | © London Mosaic
---
Entryway Floor Tile Ideas for Transitional Design Style with Patterns
As in this transitional design style entryway, patterned floor tiles can be used to produce attractive and welcoming aesthetics! The patterned floor tiles give this entryway a fashionable flow, and the picture frames on the white walls and the floor tiles combine to produce a cohesive appearance.
Entryway Tile Ideas
Your entryway has the opportunity to create a lasting impression at the first glance into your house. Installing tile can provide a fashionable look while also providing the resilience needed to withstand significant foot activity. The tile is perfect for an entryway since it is stylish, durable, and easy to maintain. For this reason, you may want to search for entryway tile ideas and find a large of alternatives for them. You can make an informed selection and safeguard your property using materials such as porcelain, ceramic, and slate.
Porcelain, slate, ceramic, and more!
All entryway designs must be able to withstand the heaviest traffic region of the house while also making a nice first impression on your guests. In busy areas of the home, flooring is always where wear and tear are most visible, so it's worth investing in some outstanding entryway tile ideas to help keep this crucial area running while also being hardwearing and elegant. Tiles are resistant to seasonal wetness and filth, and they are simple to clean, which is always a plus in a busy family. Whatever the size of your entryway—whether it's a little vestibule or a large foyer—these clever entryway tile ideas can help you create a more useful and elegant space.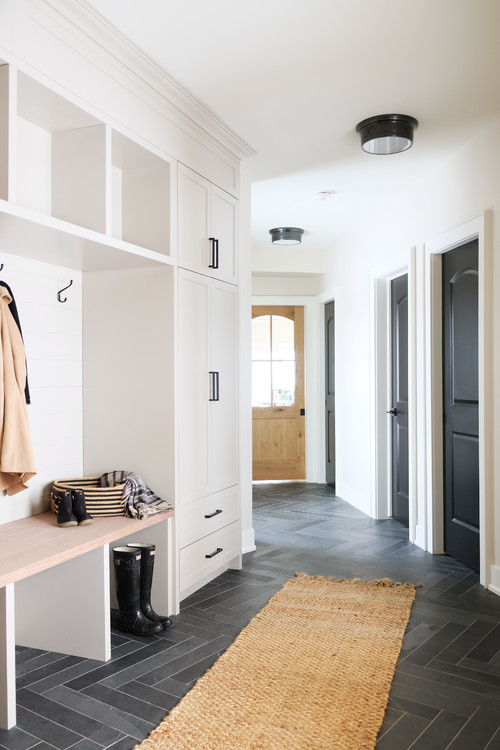 ID# 164801 | Houzz.com – Credit | © Alair Homes Bradford
---
Farmhouse Entryway Design with Slate Herringbone Floor Tiles
This farmhouse entryway is elevated into a sophisticated and modern design with layers of warm whites and a natural slate stone floor!! The white shaker-style closet doors create a timeless appeal and functional storage space for this entry. The eye-catching fishbone pattern of the herringbone floor tiles makes a charming final touch.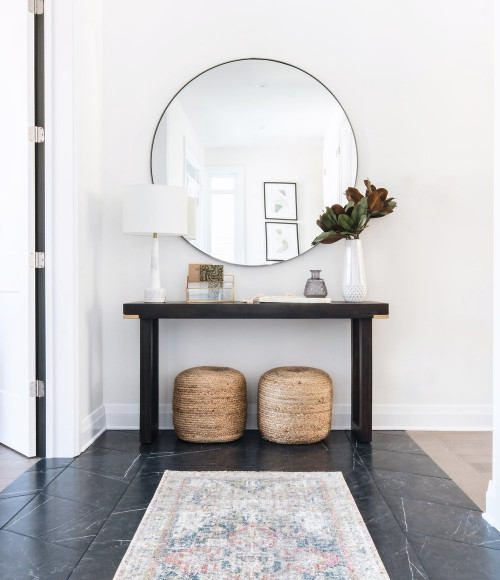 ID# 164802 | Houzz.com – Credit | © The Design Chaperone
---
Black Marble Entryway Tile Ideas with Large Round Mirror
The rich and deep appeal of the black marble floor tiles gives depth and visual intrigue to this modern foyer and instantly enhance the overall look! The rest of the space is designed in a minimalistic and naive style. The black console, braided poufs and immense round mirror contribute to the overall elegant aesthetic.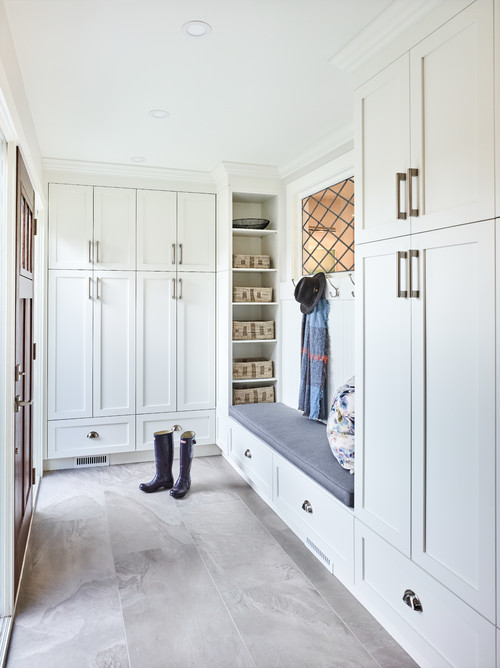 ID# 164803 | Houzz.com – Credit | © Form Collective
---
Transitional Entryway with White Shaker Cabinets
With its numerous white shaker cabinets, this transitional entryway offers plenty of storage space without sacrificing style!! The clean and sleek appeal of the shaker cabinetry also serves a timeless appeal. The open shelves and the built-in bench with a gray cushion maximize the functionality of this room. For a final touch, the light gray floor tiles soften the crisp white domination and add a nice texture with their natural stone look.
What type of tile is best for the entryway?
Porcelain floor tiles are an excellent choice for the hallway since they are incredibly durable and do not need continuous care such as sealing, waxing or polishing!! They are water and stain-resistant, making them simple to maintain clean and look wonderful. Also, porcelain tile is tougher and more stain-resistant than ceramic tile.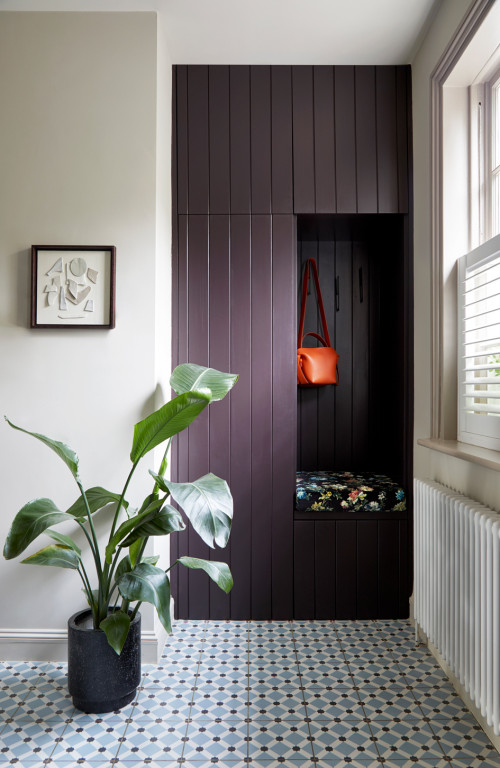 ID# 164804 | Houzz.com – Credit | © A New Day – Interior Design Studio
---
Tongue and Groove Built-in Closet with Multicolored Floor
In this transitional hallway design, the tongue and groove paneling of the cabinets is painted in a deep black tone against soft-colored walls, providing a beautiful focal point. Despite its little built-in coat storage, the floor-to-ceiling design and seating space maximize its use. The multicolored floor tiles provide an unexpected twist and joy to the environment as a finishing touch!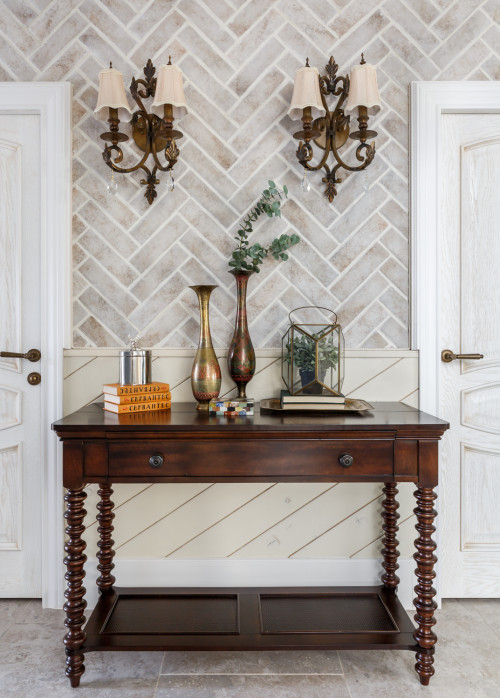 ID# 164805 | Houzz.com – Credit | © Дарья Варламова
---
Eclectic Hallway Design with Antique Console Table
A herringbone pattern will be a great choice for your entrance tiles if you are looking for an eye-catching design! The gray stone herringbone wall tiles in this unusual entrance provide a dramatic backdrop for the old wooden console. The gorgeous fishbone design is highlighted by the white grout. The wall-mounted sconces match the console's historical look and provide visual interest.
Modern Entryway Tile Ideas
Your entryway sets the tone for the rest of your house and ifyou want your home to have a modern feel, it should be obvious from the minute you step in the door! You may rely on the modern entryway tile ideas to help you make a lasting first impression. However, you may consider what are modern entryway tile ideas and how you can arrange them for your entryways!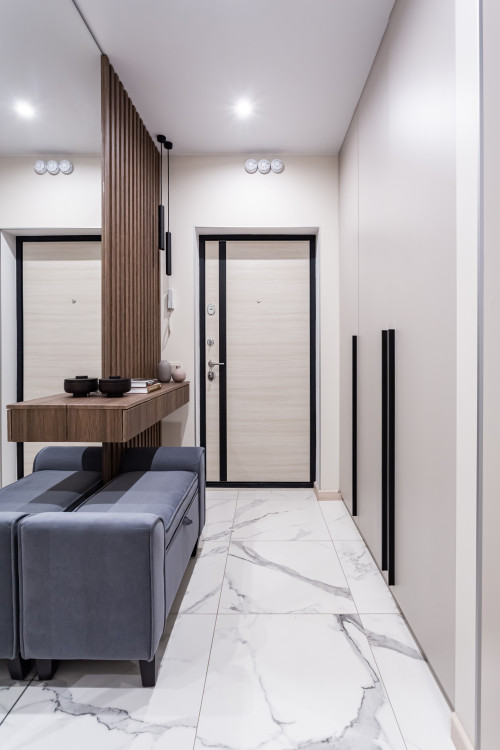 ID# 164807 | Houzz.com – Credit | © Марина Светлова
---
Contemporary Entry with Marble-Look Porcelain Flooring
If you love the luxurious sense of marble but are looking for a more affordable option, then marble-look porcelain tiles will help you to make your dreams come true!! In this contemporary hallway, the porcelain floor tiles showcase modern elegance with their marble-look texture. The modern design of the wood console and the gray sofa perfectly complete this elegant look. The large frameless mirror creates a visual illusion and brings depth to the space.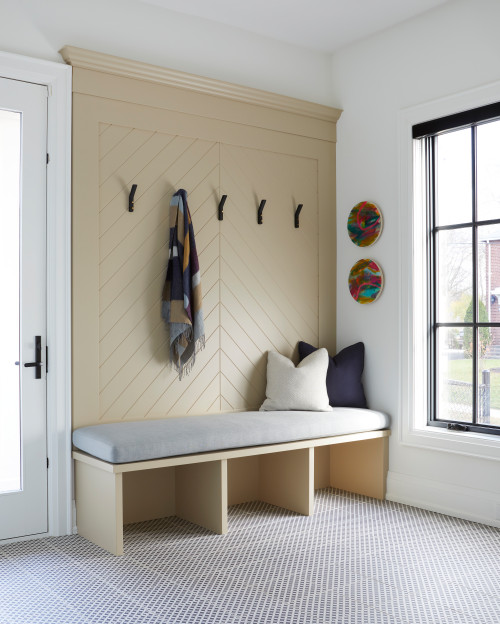 ID# 164808 | Houzz.com – Credit | © Designtheory Inc.
---
Multicolored Ceramic Floors for a Transitional Entry Design
The diagonal lines of the back panel of the entryway furniture create a stylish look with a contemporary touch. The simplicity of the wood furniture blends with the white walls and keeps the fresh look of the interior. The multicolored ceramic floor tiles bring movement to the interior with their penny-round patterns.
Should you put tile in the entryway?
Tiles are an excellent choice for entryways since they are attractive, durable and simple to maintain!! Whether it is a natural slate tile or patterned ceramic, a well-chosen tile design can easily enhance your entrance and add value to your home.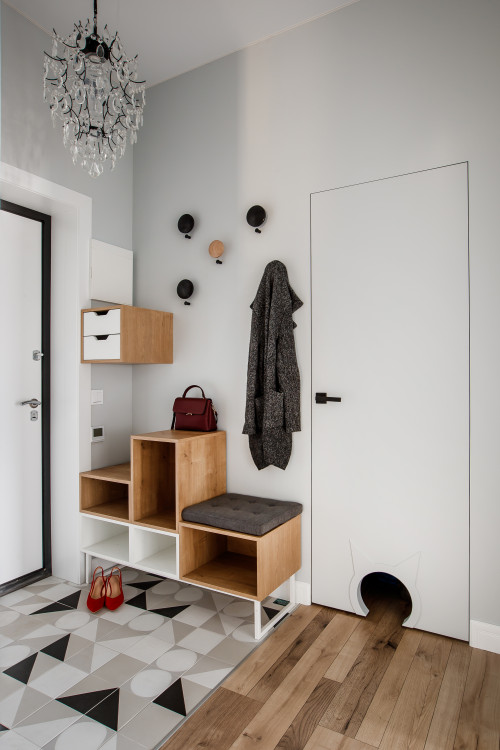 ID# 164809 | Houzz.com – Credit | © studia33 Ивлева Валентина
---
Scandinavian Hallway with Multicolored Floor Tiles
Small but fashionable and practical! This little entryway design mixes functionality and aesthetics. While the neutral color palette and minimalist aesthetic mirror the Scandinavian design style, the smart accents in this entrance create a cheerful and joyful ambiance. The sleek design of the coat rack gives lots of storage space with its open cupboards, resting area, and wall-mounted unit. The area is visually interesting because to the colorful floor tiles.
Design tip: Using wall-mounted hangers is a great way to create an open and airy feel for small spaces.
Small Entryway Tile Ideas
If you have a small entryway, you may believe that keeping it basic and generic is the best way to go. After all, your visitors will only go a few steps from the entrance to the dining room or living area. A little space, however, does not imply a limited influence. Because the foyer sets the tone for the rest of the house, it should be a welcoming, warm greeting for all visitors. Use this room to introduce yourself and the personality of your house with small entryway tile ideas that will make your guests take notice of this often-overlooked location.
You may think that since you have a small entryway there are fewer alternatives that you can use, however, do not afraid and check the small entryway tile ideas which you can inspire from.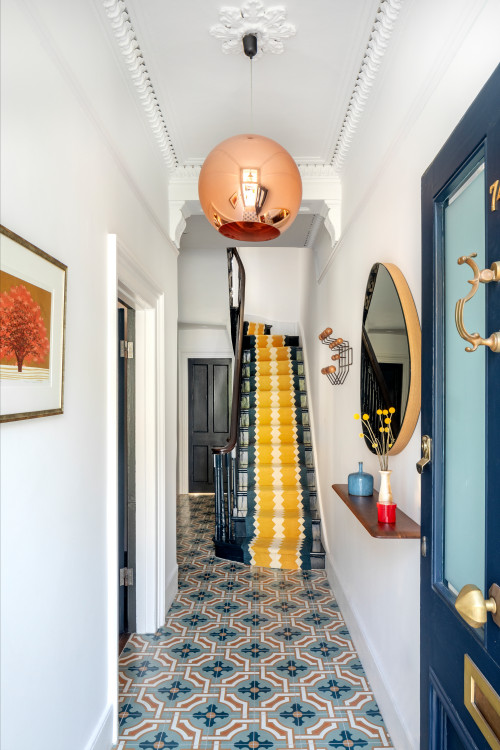 ID# 164810 | Houzz.com – Credit | © Ben Sage Photography
---
Small Entryway Tile Ideas with Patterns and Colors
Working in small spaces doesn't mean that you can not use vibrant colors or patterns. On the contrary, incorporating different patterns can add dimension to your room and make the space feel larger. In this eclectic space, since the white color brightens up the environment the patterns and the color fills the interior with energetic vibes. The dynamic welcoming look meets the guests with a stylish look! The floor patterns have an eye-catchy look with the harmony between the doors and the stair carpet.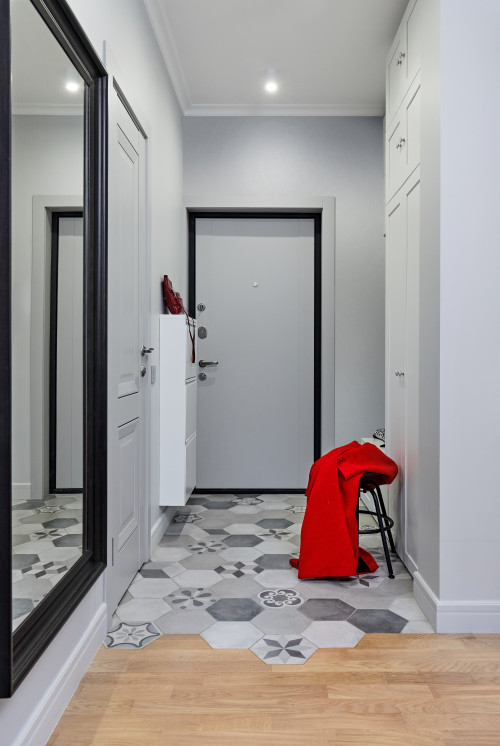 ID# 164811 | Houzz.com – Credit | © Каралкина Марина
---
Transitional Hallway with Multicolored Hex Flooring
This transitional style entryway has an eye-catchy look thanks to the hexagon floor tiles. The gray hues of the tiles harmoniously blend with the light gray walls of the entryway and bring movement to the interior with a contemporary touch. Using white cabinetry is a good choice to make the room look bigger.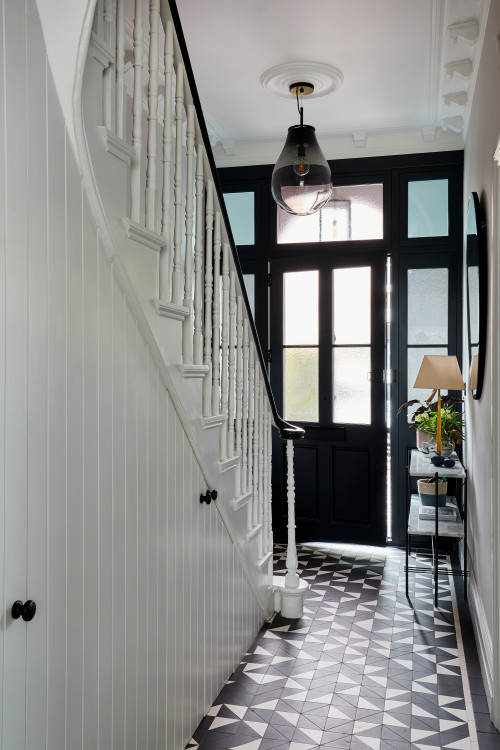 ID# 164812 | Houzz.com – Credit | © Imperfect Interiors
---
Monochrome Entry Design with Glass Pendant Light
The black paint emphasizes the vast dimensions of the front door and surrounds this entry hallway while the modern stained glass panels provide a softness. The geometric black and white tiled floor is evocative of a Victorian tiled corridor but in a more modern manner. And the paneling beneath the stairs is a modern v groove design that has been utilized to create covert shoe and coat storage. The black glass pendant light and the small console make a cohesive final touch and complete the timeless aesthetic!
How do you tile an entryway?
To tile an entryway there are a couple of steps you need to follow and apply.
Firstly, Look for high areas, depressions, fractures, and other flaws in the entrance slab. Mark the flaws with a 4-foot level as you work in portions. Roughen smooth surfaces, fill depressions, and level high areas.
The next step is applying the membrane. An isolation membrane should be applied to each fracture in the slab. Apply the glue using a roller, let it cure (as directed by the manufacturer), and then cover it with the membrane. The third is setting the layout. Dry-lay tiles to test your arrangement, avoiding using small cut tiles. Then, using a chalk line as a reference and as many layout lines as the design requires, snap a reference and as many layout lines as the pattern requires. Begin troweling the thinset on the first row of field tiles closest to the entryway.
Then you can start to lay the tiles.
On the layout lines, place the field tile first. You'll finish the edge tile last. As you continue, place spacers between each tile and use a straightedge to ensure that the parts are straight. If they aren't, make the necessary adjustments before the thin-set dries. Using a tool knife, remove any extra mortar from the joints as you proceed. The fifth step is laying the edge tile. It's time to install the edge tile after the mortar under the field tiles has dried. As needed, mark and cut the tile. To cut edges a completed look that matches the rest of the tile, round them with a masonry stone. Spread mortar and place tile, spacing them out with spacers as needed. Clean the seams and caulk the wall junction once you've completed laying the edges. As the caulk dries, smooth it out with your finger.
Now you can apply grout. Allow the edge tiles to cure before grouting. With a grout float, force grout into the joint, let it cure for a few minutes, then scrape the excess off the surface. To avoid scratching the new tile, make sure to use the tool recommended by the manufacturer. Remove the grout from the surface and use cloths to remove the haze. Allow drying. Lastly, install the threshold. Install the threshold now if it didn't need to be installed before the tiling. If required, cut the threshold to suit the doorway and install it using the manufacturer's suggested fasteners.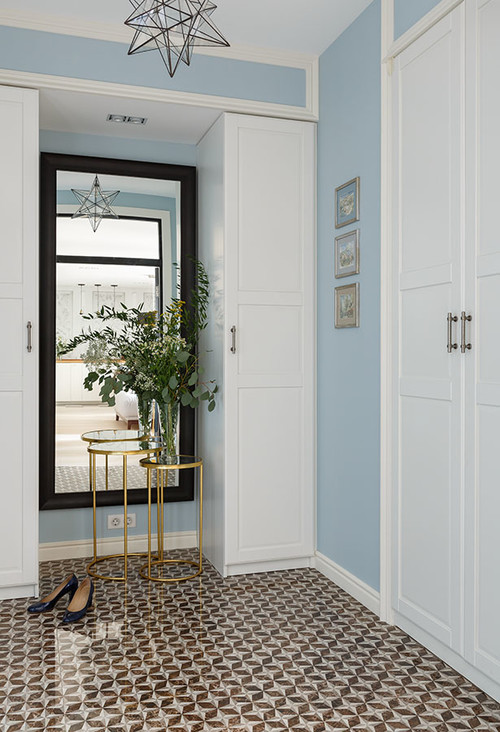 ID# 164813 | Houzz.com – Credit | © K-studio Interior Design
---
Black and White Entryway Tile Ideas with Pastel Blue Walls
The black and white patterned floor tiles create an eye-catching appeal and add dimension to the space!. The pastel blue wall paint softens the strong and sharp look of the tiles. The white raised-panel closet cabinets serve a timeless elegance while the brass details of the nesting tables add a dose of glamour to the space. For a final touch, the black frame of the mirror complements the floor tiles, also creating a focal point.
Large Tile Entryway Ideas
You shouldn't judge a book by its cover, but we think it's acceptable to assess a house by its entrance in many circumstances. Whether you live in a huge mansion or a little apartment with a nook at the entrance, your home's entryway is the first thing visitors see when they walk in and the sight that greets you every day. So make it a memorable one! And if you have a large entryway, you are lucky! You have enough place to search for large tile entryway ideas to have different designs!
A foyer is a great place to not only put some useful furniture and accent décor but also to set a mood or make a dramatic statement. The entry allows designers creative flexibility, whether it exudes a more conventional atmosphere of hospitality and comfort or a louder statement to generate excitement or curiosity. To design a foyer, tiles have an important role! Sometimes to do these you may need a larger space, if you have one, you can search for the large tile entryway ideas to create bold or simple designs according to your taste.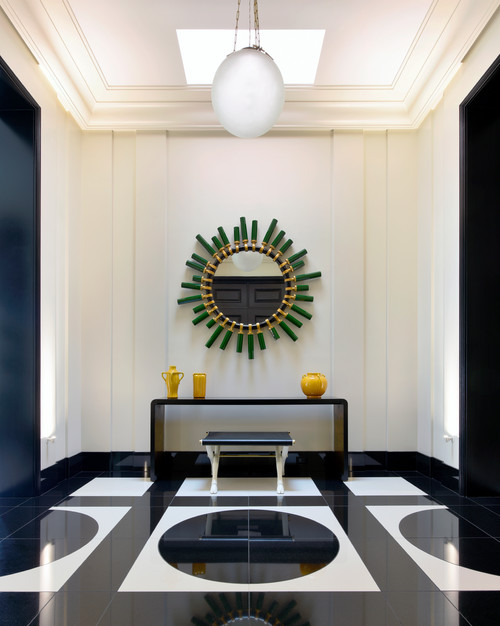 ID# 164814 | Houzz.com – Credit | © Andre Godin Design
---
Black and White Large Entryway Tile Ideas with Round Mirror
The contemporary hallway is engulfed in the timeless beauty of the black-and-white color scheme, providing a really luxurious experience!! The foyer makes a big statement with enormous black and white floor tiles that create a visually appealing look. The shiny sheen of these floor tiles complements the bright and fresh white walls well. A circular mirror with a distinctive and beautiful frame provides a dramatic focal point in this magnificent area to add a last touch of appeal.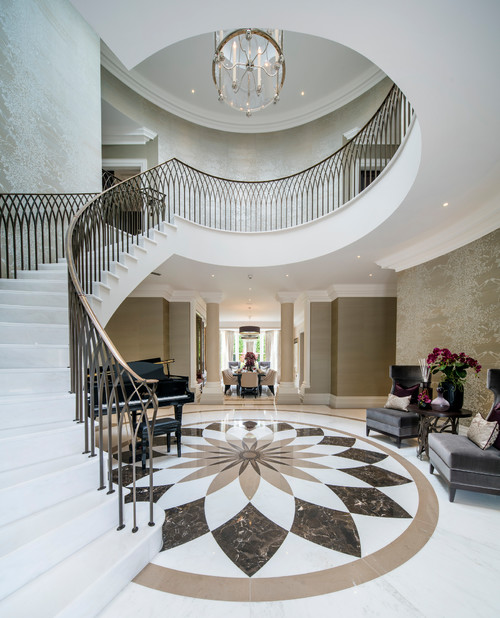 ID# 164815 | Houzz.com – Credit | © Alexander James Interiors
---
Luxurious Grand Entrance with Flower Shaped Marble Tiles
The entrance to this exquisite property is nothing short of grandeur that features opulent furnishings that exude luxury! Within this lavish hallway, the flower shaped pattern of the expansive marble floor tiles commands attention as a remarkable centerpiece, while the opulent design of the grand staircase seamlessly complements these tiles. Amid this opulence, gray velvet armchairs, a piano, and a sparkling crystal chandelier come together cohesively and together they add the final touches that elevate the ambiance to new heights of sophistication.
Entryway Floor Tile Ideas
When you think about high-traffic areas in your house, the kitchen is probably the first thing that comes to mind. If you have a large family with children and dogs, the den or family room may be a high-traffic space. Of fact, few areas are subjected to more abuse than your entryway. After all, it is how the majority of visitors, including your family and friends, will enter and depart your property. Since the entryway is one of the most stepped parts of your house the floor has an important role here. If you will go with tiles, you may search for the entryway floor tile ideas to start creating a stylish and beautiful design for your first impression place of the rest of the house.
That is why it is critical to select from entry floor tile ideas that will withstand heavy use day in and day out, week after week, and year after year. The good news is that you don't have to sacrifice style for longevity if you pick the proper tile and make wise installation decisions. Continue reading to discover more about entryway floor tile ideas that can withstand a lot of wear while still looking like a million bucks with minimum upkeep.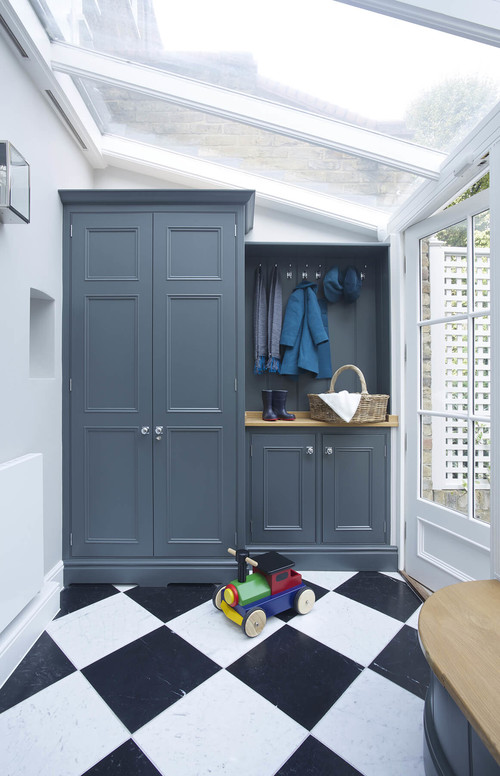 ID# 164817 | Houzz.com – Credit | © Lewis Alderson & Co.
---
Dark Gray Tall Cupboards with Checkered Floor Design
Because of its ageless beauty, checkered floor tiles remain a popular choice for entryways and in this entryway these black and white tiles provide a trendy and timeless appearance with a touch of retro vibes!!! The eye-catching checkered pattern of the tiles adds depth and complexity to the room while the dark gray paint chosen on the tall cupboards compliments the sophisticated look of the tiles well.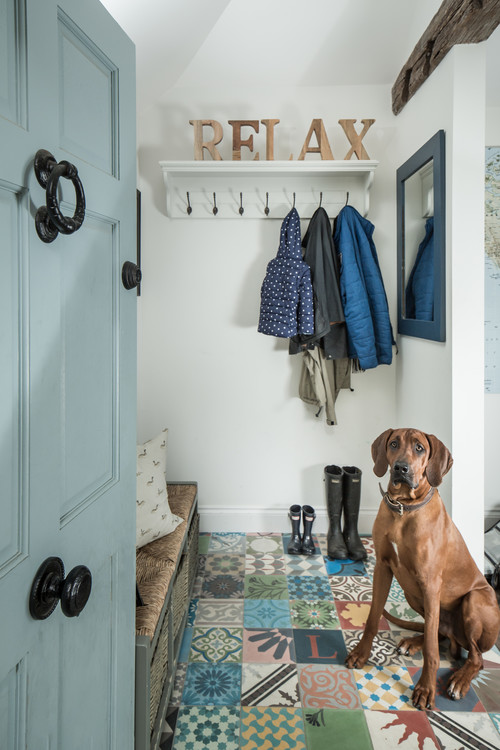 ID# 164818 | Houzz.com – Credit | © W Design Studio London
---
Farmhouse Entrance Design with Colorful Floor Tiles
These patchwork floor tiles are a statement maker!! With their eye-catching patterns and lovely color combination, these floor tiles instantly transform this otherwise dull space into a stylish design. The wall-mounted hanger provides a storage space without overwhelming while the wooden best-poke bench complements the vintage flair of the tiles.
Tile Materials for Entryways
The first thing guests see when they arrive at your house is the entryway, and it sets the tone for the remainder of the house. Lovely tile walls and flooring in the entry hall may pique your interest in the rest of the house, and with the range of tile materials for entryways available, you can simply create a beautiful and welcoming foyer. For entrances, a wide variety of flooring alternatives are available, allowing you to experiment with different colors, designs, patterns, and textures across a variety of materials such as porcelain, ceramic, and slate.
A beautifully tiled entrance quickly lifts a property to an exclusive territory, evoking old-world grandeur rarely seen today. There is a limitless array of tile materials for entryway alternatives to pick from, with every budget and area in mind, ranging from contemporary influences to nouveau chic patterns. To say nothing of the aesthetic beauty that is the hallmark of artisanal tiling, well-choose tile materials for entryways may lighten an otherwise dark entryway or lend depth to a limited room.
Ceramic Tile Entryway Ideas
A tiled hallway is the ultimate combination of functionality and style and It's no wonder why it's a popular choice for revamping your home quickly with a modern and elegant look and feel! When it comes to decorating your hallway, selecting finishes that are easy to maintain and visually stunning is crucial and that's why ceramic tiles are an ideal option with their vast range of design possibilities. In todays market, ceramic tiles come in a wide range of style options that allows you to decorate your dream space. Besides their apperance, the biggest advantace of these tiles if their durability and low maintenance.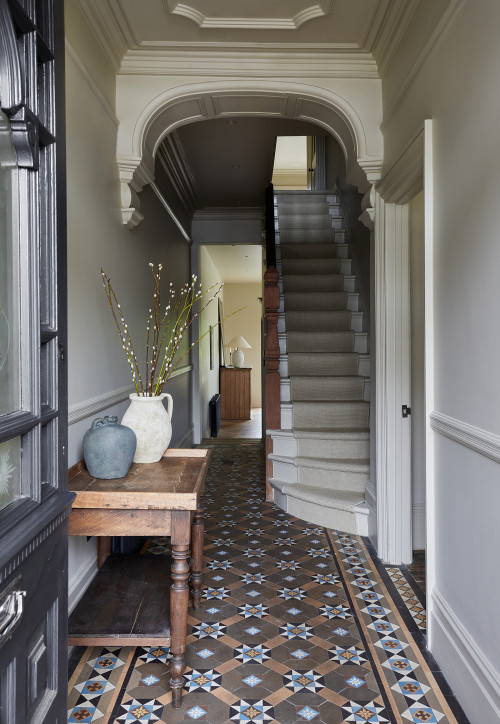 ID# 164819 | Houzz.com – Credit | © studio.skey
---
Patterned Ceramic Tile Entryway Ideas for a Traditional Entry
With its patterned floor tiles and ceiling moldings, this historic doorway appears straight out of a Victorian film! The ceramic floor tiles' striking patterns provide movement and beauty to the whole space. The light-colored walls and stairs stand out against the dark floors. For tiny entrances, don't be afraid to use dark colors; with white walls and ceilings, the doorway may have a contrast and a vivid look!!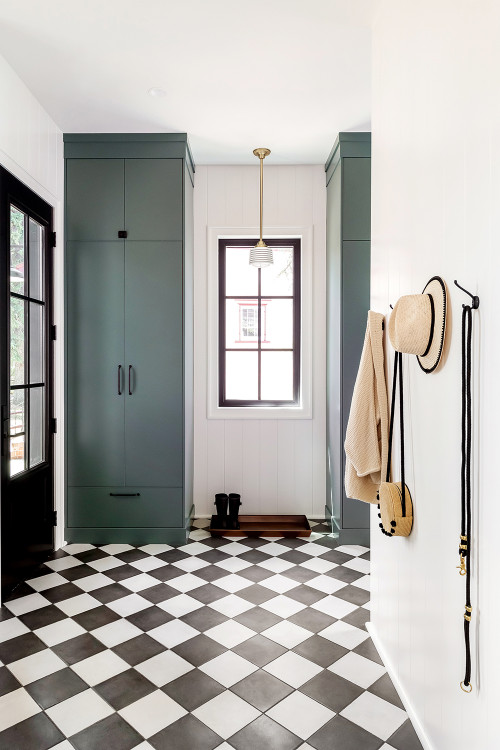 ID# 164820 | Houzz.com – Credit | © Maison Design+Build
---
Black and White Ceramic Tile Entryway with Green Flat-Panel Cabinets
You can add colors to your black and white ceramic floor tiles in your entryways. The black frames of the door and the window keep the black-and-white concept and the black hardware joins them while the dark green flat-panel cabinets bring a contemporary appeal. The naturality fills the design thanks to the green cabinetry.
What color tile hides dirt?
Tiles in medium or dark tones cover dirt better than pale tones. Ceramic tile with a matte surface is a cost-effective choice that effectively hides dirt. When your tile is wet, this finish will make it considerably less slippery. The greatest option for disguising dust, debris and grime is a medium shade of highly patterned matte tile in a medium pattern.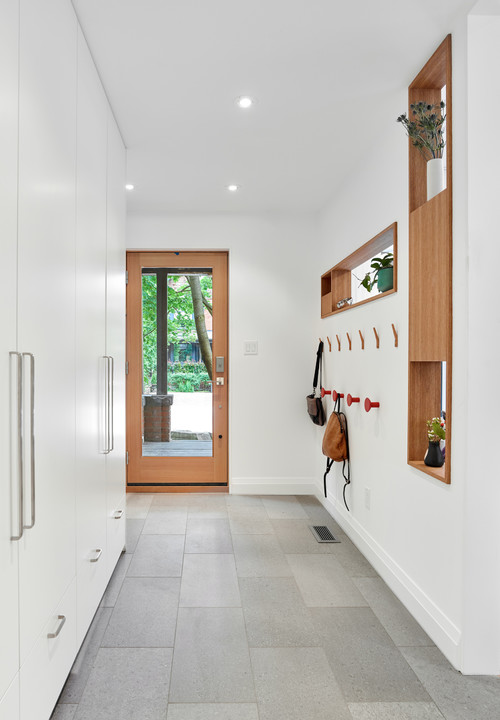 ID# 164821 | Houzz.com – Credit | © Wanda Ely Architect Inc.
---
Minimalist Hallway Design with Buil-in Closet
Did you realize that even a minimalist design approach may have a significant influence on a space? This entrance is an excellent example!! Here, the built-in white closet cabinets give lots of storage space while maintaining a clutter-free appearance. The built-in niches on the right side are framed with wood to give visual flair. The wall-mounted hangers enhance the minimalist look while also serving an additional purpose.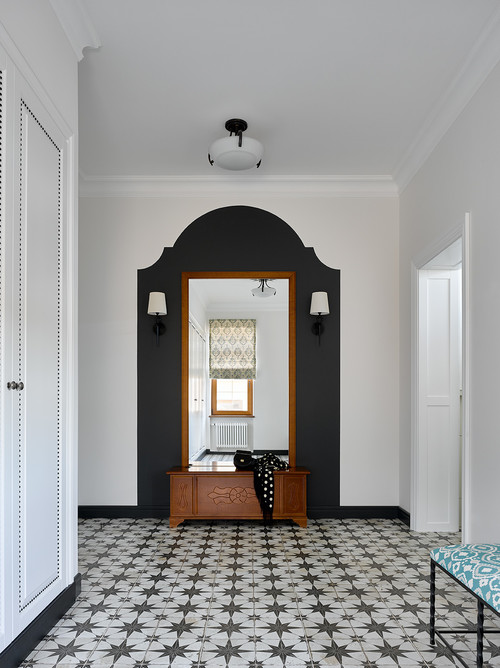 ID# 164822 | Houzz.com – Credit | © Lavka-Design
---
Star Patterned Entryway Tile Ideas with Antique Console
This entrance is a wonderful illustration of how well-chosen floor tiles can completely transform the entire look!! The star-patterned monochromatic floor tiles take center stage here, creating a visually appealing appeal for this modern design. The arched-shaped wall paint stands out against the white wall and draws attention to the antique oak console and enormous mirror.
Porcelain Tile Entryway Ideas
Tile's long-lasting resilience makes it an ideal choice for entryways and foyers. Installing a material like porcelain is a wise choice that will keep your flooring attractive and useful for many years. Porcelain tiles are one of the most long-lasting flooring alternatives available. It can endure many factors and strains since it is a sturdy and thick tile. Porcelain tile is durable enough to be utilized in commercial settings like restaurants and hotels. They're recognized for being extremely sturdy and able to withstand considerable foot traffic as well as ordinary wear and tear. You can search for porcelain tile entryway ideas for your hallways to create durable and stylish looks.
Porcelain tiles are more resistant to liquid penetration due to their density. They are also stain-resistant and do not harbor bacteria or mildew. Because there is daily activity in the entryway, these are crucial factors to consider when selecting new flooring. On top of all of these advantages, porcelain tiles are simple to clean and maintain. It will never need to be sealed to keep its waterproof qualities. Furthermore, porcelain tiles do not require refinishing or polishing. Let's look at some of the stylish examples of porcelain tile entryway ideas.
How do you make a small entryway look bigger?
Figuring out what to do with an entryway, especially one that is dark and small, is one of the most challenging architectural tasks. Despite establishing the aesthetic tone for the rest of your house, small entryway concepts are sometimes disregarded. But, regardless of size, a mix of functional storage and design know-how may transform this normally transitional area into an inviting spot to linger.
There is a couple of ways that can help you to make a small entryway look bigger.
1- Have mirrors. Reflective surfaces are your best friend when it comes to expanding your visual area. To broaden your sightlines, consider placing one huge mirror or a group of mini mirrors in the hallway's middle.
2- Make use of cubbies. Add a wall of cubby holes to a tight doorway if you need additional space for shoes, hats, and bags.
3- Use illumination. Any space, but especially a tiny corridor, may be made or broken by lighting. In general, the more light there is, the larger a space appears, so utilize it liberally. Because track lighting allows you to custom-target the deepest and darkest regions of the space, it's a particularly suitable answer for this style dilemma.
4- Have light colors for the walls. To keep your hallway feeling open and bright, paint it a light hue. But don't think you have to go with white – any light hue can suffice, especially if the paint has a bit of gloss to reflect all of the light we just spoke about.
5- You can add colors to your trim. The color trim you pick, in addition to your wall color, may help to open up your area.
6- Incorporate molding into your design. Molding, whether on the ceiling, the baseboard, or both, is a great method to create a sense of additional space. This feature helps to define the area and give it a polished and professional appearance.
7-You can use some artwork. Artwork may also help you expand your visual horizons, but only if it's done appropriately.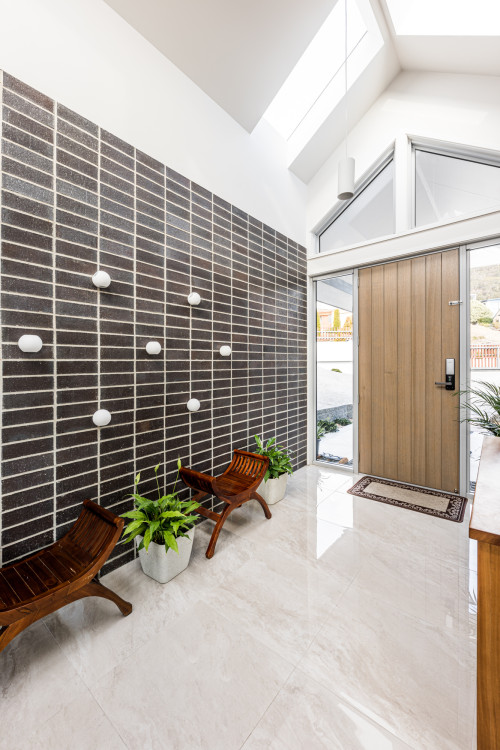 ID# 164823 | Houzz.com – Credit | © Kunama Architects
---
White Porcelain Tile Entryway with a Fresh and Clean Look
The mix of black tiles on the walls and white grout creates a visually pleasing contrast that complements the white porcelain tile floors in the entryway in this modern design. Side windows installed on the main entry give an open sense in the foyer while wooden accents add a touch of natural beauty to the interior!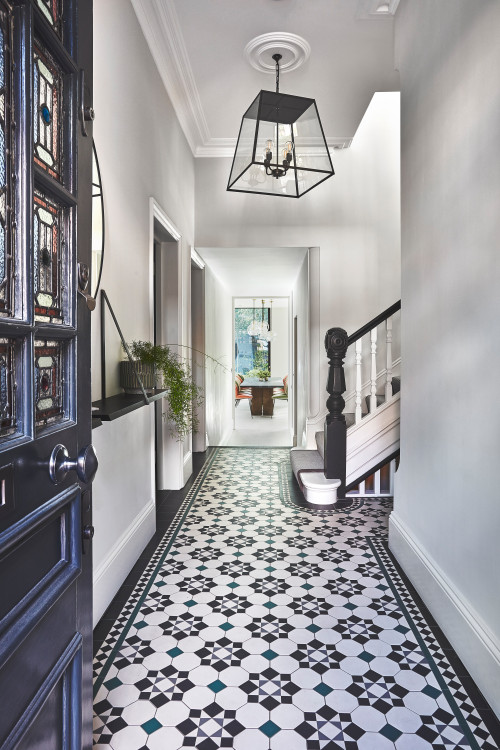 ID# 164824 | Houzz.com – Credit | © London Mosaic
---
Floral Patterns for a Stylish Black and White Contrast of a Hallway
Thanks to the black and white contrast this entryway has a striking look. The floor patterns of the porcelain floor tiles soften this strong contrast and bring movement to the interior. The black door, black details, and the black balustrades of the stairs create contrast with the white walls and ceilings. This stylish contrast blows up thanks to the floral patterns of the porcelain tile floors.
Slate Tile Entryway Ideas
If you're searching for a flooring choice that isn't easily damaged by water, you may have already concluded that inorganic solutions are the way to go. Inorganic flooring is often built from materials that were never derived from plants. That entails some sort of the greatest kind of tile flooring. Ceramic and porcelain tile floors are quite widespread, but slate floor tiling is gaining popularity among those looking for a more distinctive design. So, you can consider slate tile entryway ideas for your entryways!
That velvety shine, those smooth rippling patterns, and the brilliant colors of the slate tiles create an elevated aesthetic like no other. It invites visitors to remove their shoes and experience the natural luxury that slate provides. Slate is a kind of metamorphosed rock that developed on the seafloor. The natural process of crushing the rock beneath tons of water and minerals present at the sea's bottom creates a material that is robust enough for most flooring applications. There isn't much you can do to abuse this flooring material that hasn't already been escalated. You may want to use this perfect material for your hallways and look for slate tile entryway ideas!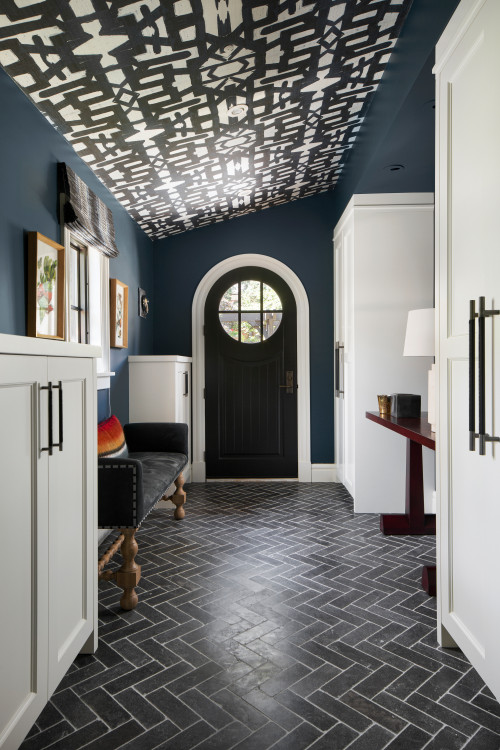 ID# 164825 | Houzz.com – Credit | © Empire Custom Homes
---
Slate Tile Entryway Ideas with Black Color and Herringbone Pattern
What an eye-catching and sophisticated design!! This transitional entry welcomes you with a one-of-a-kind design and boosts the home's value. The black herringbone slate tile floor dominates and adds movement to the space. The black flooring's white grout matches the white furniture and draws attention to the magnificent fishbone pattern. While the dark blue walls add to the melancholy ambiance, the black and white striped ceiling offers visual appeal.
Are tiles good for the hallway?
Tiles for the hallway are an excellent choice since they are available in a wide range of colors and designs for the walls and floors!! Tiles may complement any architectural scheme and create a welcoming atmosphere in both small corridors and vast entry halls.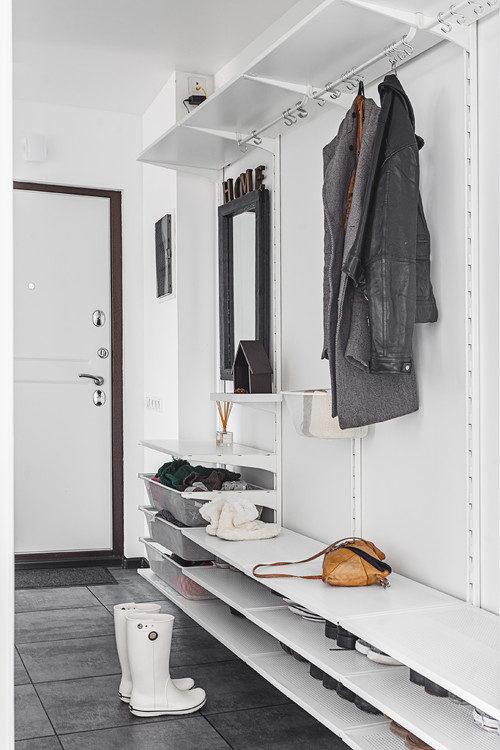 ID# 164826 | Houzz.com – Credit | © Красюк Сергей
---
White Hallway Design with Dark Gray Flooring
This Scandinavian entrance provides a useful space thanks to its adjustable shelf system. Despite the presence of open storage, the inclusion of shelves, drawers and baskets creates a clutter-free appearance. The color white dominates the area, creating a bright and airy impression. The dark gray slate tiles on the floor stand out against the white dominance and add to the overall appearance.