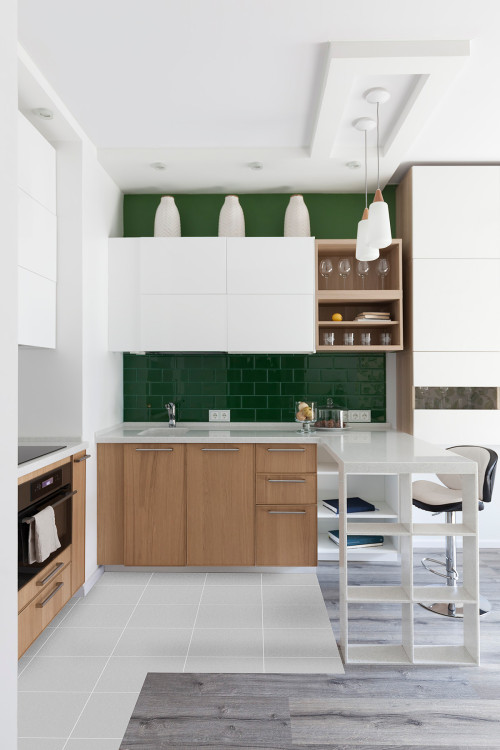 ID# 161301 | Houzz.com – Credit | © YU Dsgn Галкина Юлия и Беляева Юлия
---
White and Wood Cabinets with Light Gray Kitchen Floor Tiles
In this open plan space, the green subway tile backsplash adds a pop of color and a modern touch to the space. The combination of white and wood cabinets creates a sleek and stylish look and balances the contemporary design with warmth and natural elements. The white countertop and peninsula offer a clean and crisp surface for food preparation and dining. Light gray floor tiles define the limits of the kitchen and add a subtle contrast.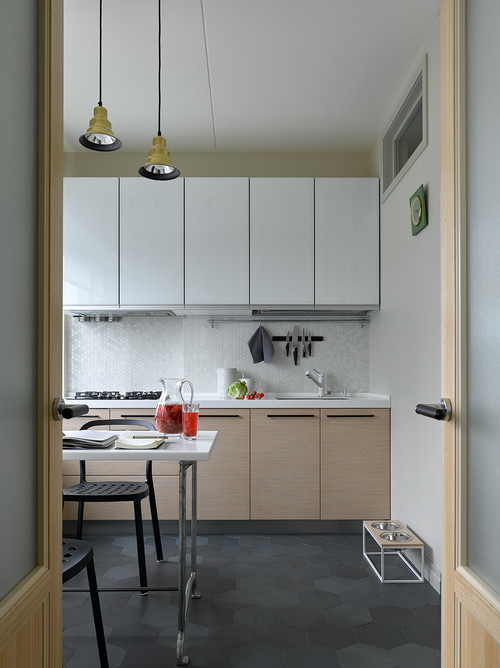 ID# 161321 | Houzz.com – Credit | © Юлия Голавская
---
Modern Kitchen Design with Black Kitchen Floor Tiles and Light Color Cabinetry
The light wood flat-panel base cabinets and the black kitchen floor tiles catch the ultimate harmony together. Their harmony is boosted by the black hardware that is used only for the base cabinetry. The white countertops and the white backsplash complement the wood base cabinets harmoniously. The white upper cabinets join this harmonious look with their plain design.
Kitchen Floor Tiles
Are you looking for kitchen floor tiles ideas and inspiration? Choosing a floor treatment for a utilitarian place such as a kitchen or utility room might be difficult. Choosing kitchen flooring that is hard-wearing, resilient, and simple to maintain is essential, but you also want flooring that looks fantastic. So, if you are searching for the right tile flooring for your kitchen, scroll down and check these design possibilities that will inspire you!
Tiles are at the top of the list in terms of both style and functionality. Kitchen floor tiles choices abound, whether they're traditional porcelain tiles in an exquisite pattern, rustic country-style flagstones, or punchy terrazzo tiles that provide a vibrant splash of color. The color and pattern you choose will also have a huge influence on your kitchen. Choose strong colors and busy patterns if you want your flooring to stand out, or neutral tones and subtle patterns if you want your flooring to blend in.
Tiles are the most popular flooring elements!
You're looking for kitchen floor tile ideas and you're feeling a little overwhelmed. We don't blame you — tile is having a real fashion moment and is now available in more forms, sizes, colors, and finishes than ever before. Because the kitchen is a space in the house that not only sees a lot of foot traffic but also the odd nasty mishap, tile is one of the greatest alternatives for kitchen flooring. Kitchen floor tiles are more durable than hardwood, vinyl and laminate, and they are also more waterproof and simpler to clean!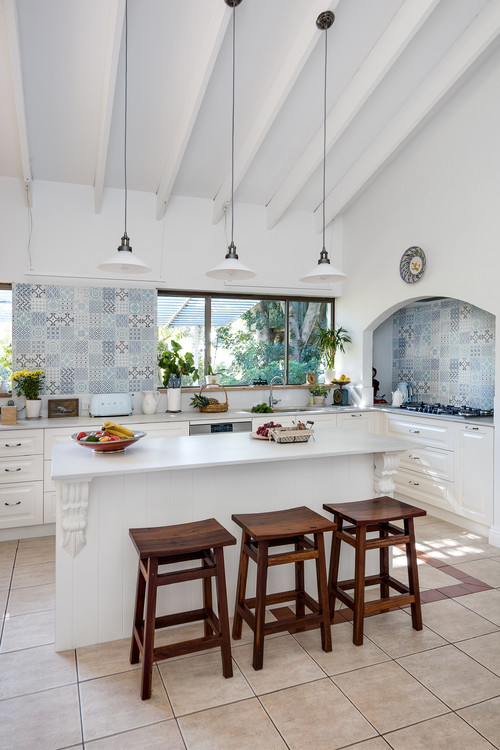 ID# 161302 | Houzz.com – Credit | © Trager Kitchens and Interiors
---
Farmhouse Kitchen with Blue and White Backsplash
Welcome to this charming farmhouse kitchen where elegance meets practicality. The raised panel cabinets in pristine white offer a classic and enduring appeal that is sure to stand the test of time. The light gray countertops provide a clean and neutral work surface, ideal for food preparation. The backsplash with a blue and white Mediterranean motif creates a striking focal point, infusing the space with a touch of color and pattern. The fresh and coastal-inspired feel is a result of the perfectly balanced combination of white cabinets and the unique backsplash. The wooden stools add warmth to the overall farmhouse aesthetic, bringing a natural element to the kitchen. Finally, the subtle and earthy tone of the beige floor tiles resonates with the complete design, promoting a cohesive and harmonious atmosphere.
How much does it cost to tile a kitchen floor?
The typical homeowner spends $1,672 on their tiling job, which ranges from $825 to $2,520. Tile flooring installation costs between $10 and $15 per square foot on average. However, it depends on the material and if the patterns will be a custom design, get ready to pay more.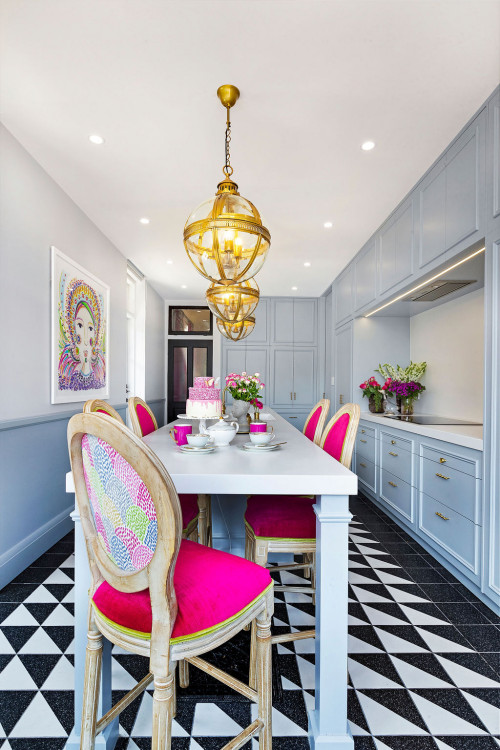 ID# 161303 | Houzz.com – Credit | © Sartorial Interiors
---
Eclectic Kitchen with Pastel Blue Cabinets and Pink Chairs
This eclectic kitchen features pastel blue cabinets that bring a playful and refreshing vibe to the space. The same-colored wainscoting adds a touch of charm and character to the walls, creating a cohesive look. A large white dining table serves as a central focal point in the kitchen and provides ample space for gathering and entertaining. The pink chairs surrounding the table add a pop of contrasting color, creating a fun and eclectic atmosphere. The black and white kitchen floor tiles add a bold and graphic element. Globe pendant lights with gold details add a touch of glamour and sophistication to the space and create a unique and eye-catching lighting feature.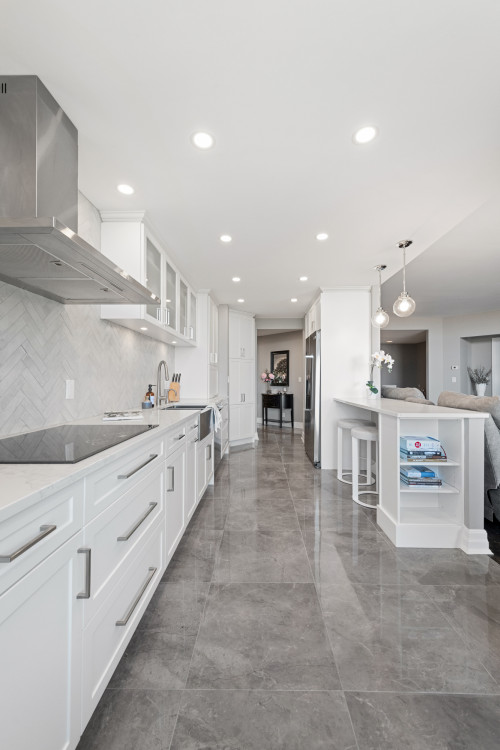 ID# 161304 | Houzz.com – Credit | © Essence Designs
---
Contemporary Gray and White Kitchen with Stainless Steel Appliances
This kitchen exudes a contemporary aesthetic with its sleek and clean lines. Featuring white shaker cabinets and countertops, the space has a fresh and timeless appeal! For added sophistication and durability, the porcelain floor tile sport a dark gray marble-like finish. The herringbone backsplash adds a bold and eye-catching pattern. With the stainless steel appliances and brushed nickel hardware, the space boasts modernity and practicality while lending itself to the overall color scheme in an effortless fashion!
Tile Materials for Kitchen Floor
When it comes to purchasing kitchen flooring, you have a plethora of alternatives. It's common to feel overwhelmed by the sheer volume of options accessible. In some areas of your house, you may have only one option, such as wood or one-run carpet. When it comes decorating your kitchen, though, you must consider considerations other than appearances. Not only should your tile materials for the kitchen floor look fantastic, but they should also be able to withstand the rigors of daily use as well as the ever-present threat of humidity, moisture, and water. Then you must decide on color, texture, and so on because the floor and wall colors are essential for connecting the space. Without assistance, you may wind up with a disjointed kitchen.
Begin your search by limiting your options to flooring types. Though tile is not your only option, it is unquestionably one of the finest (not to mention, most popular). Most people select tiles because they are simple to clean, especially in the kitchen, where cleanliness is critical. You'll want to select a tile that won't stain easily, so research the cleaning needs before making your final decision on the floor tile. To do this, when you search for the tile materials for kitchen floors, you can find out ceramics, marbles, vinyl floor tiles, slate, stone, or terracotta tiles. Scroll down to see how these tile materials for kitchen floors can bring different design aspects.
Ceramic Kitchen Floor Tiles
The phrase "ceramic tile" refers to a wide variety of manufactured hard tiles formed from pressed and burnt clay. There are various subcategories of "ceramic tile," ranging from somewhat soft and porous terra cotta to very hard porcelain tiles created from fine clays burned at extremely high temperatures. Ceramic tile is a suitable flooring option for any area, from the kitchen to the bedroom, due to its hardness and water resistance. Ceramic kitchen floor tiles ideas are timeless options for your kitchen designs. They not only look nice and clean, but they are also incredibly simple to maintain and long-lasting. The flexibility of tiles nearly assures that you'll discover a style that complements your ceramic kitchen floor tiles ideas.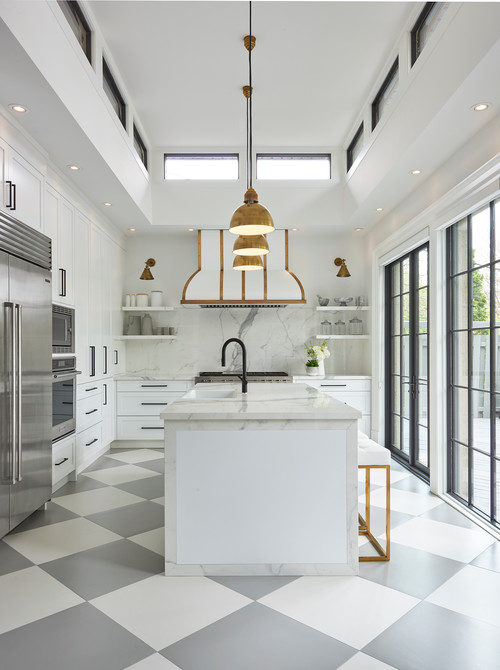 ID# 161305 | Houzz.com – Credit | © Jordyn Developments
---
White Shaker Cabinets with Checkered Kitchen Floor Tiles
From the white shaker cabinets, delivering a timeless look, to the striking contrast provided by the black hardware and window trim, every detail has been carefully considered. The checkered floor infuses the space with a charming and nostalgic vibe, elevating the overall design with a visually appealing pattern. The large kitchen island serves not just as a focal point, but also as a practical space for meal prep and gathering with loved ones. Open shelves add a touch of warmth and showcase chic dishware and accessories, while carefully placed wall sconces and pendant lights showcase all the space has to offer. The oversized range hood adds its own air of sophistication, creating an accent wall with a marble slab backsplash. And to top it all off, gold accents in the hardware and fixtures add an unmatched touch of elegance and glamour.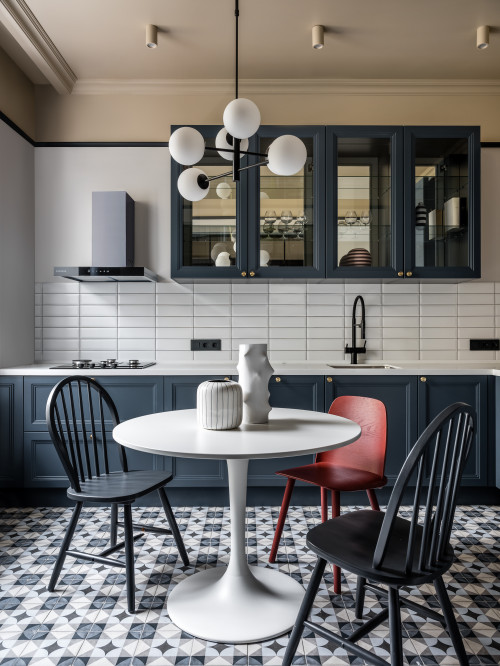 ID# 161306 | Houzz.com – Credit | © Зуева Анна
---
Patterns for a Contemporary Design Kitchen with Gray Cabinets
The dark gray cabinets and the gray and white patterned ceramic kitchen floor tiles complement each other stylishly. Using a white ceramic tile backsplash and white quartz countertops is a good choice to brighten up the dark gray color kitchen cabinets. The floor tiles bring a dynamic look with movement to the kitchen.
How to clean kitchen floor tile grout?
The first step is to clean the area around the grout by vacuuming, dry mopping, or wiping it down. Apply a paste of water and baking soda to the filthy areas, then fill a spray bottle with equal parts warm water and vinegar (another fantastic cleaner you already have at home).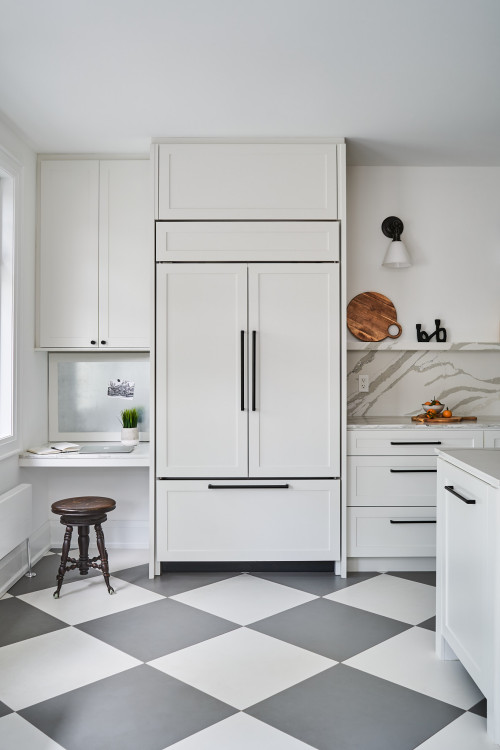 ID# 161307 | Houzz.com – Credit | © Alair Homes Forest Hill
---
Transitional Kitchen with Marble Backsplash and Countertop
This stunning kitchen area boasts a perfect balance between modern and timeless design elements. The white shaker cabinets deliver a timeless look that seamlessly blends with any decor style. The sleek black hardware accents add a dash of modernity and contrast, creating a strikingly beautiful visual. The luxurious marble backsplash and countertop serve as a statement piece, exuding elegance and sophistication that elevates the overall aesthetic. The playful gray and white checkered floor tiles instill a charming, nostalgic vibe while adding a visually stimulating pattern that adds personality to the space.
Marble Kitchen Floor Tiles
When you design your kitchens you can consider marble kitchen floor tiles for your kitchens. Marble is one of the most gorgeous kitchen flooring materials available. It is extracted from the belly of a mountain in large slabs of stone, which are then cut down and polished into the individual tiles, slabs and mosaic sheets used in typical building operations, such as floor and wall tiles and countertop slabs. Marble is one of the greatest natural stones kinds for the cooking area because of its high durability, hardness, ease of washing, sleek gloss, classiness and aesthetic appeal. You can have stylish and elegant designs with kitchen floor tiles!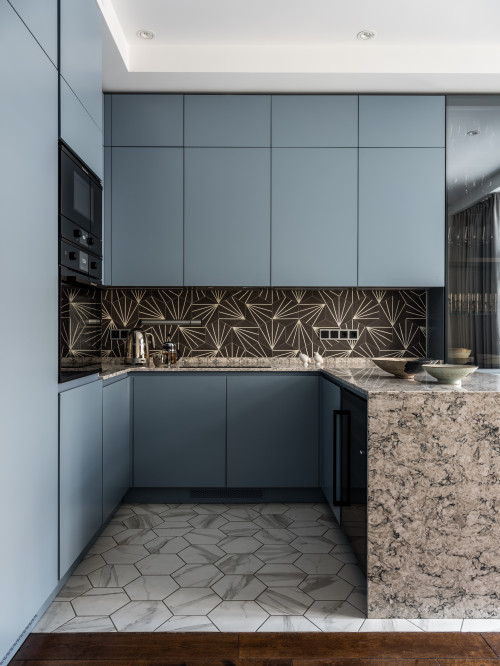 ID# 161308 | Houzz.com – Credit | © PLANKA
---
White Marble Kitchen Floor Tiles with Hexagon Patterns and Gray Flat-Panel Cabinets
The hexagon shape is the best friend of the contemporary kitchen design. The gray flat-panel cabinetry and the white hexagon shape marble kitchen floor tiles complement each other in a monochromatic look. The brown granite countertops and the waterfall of the peninsula create harmony and add texture to the space. The natural look of the kitchen marble floor tiles is boosted by the brown granite countertops.
ID# 161309 | Houzz.com – Credit | © ZED Studio
---
Statement Maker Kitchen Island with Breakfast Bar
In this contemporary kitchen, matte black cabinets take center stage, creating a sleek and modern look. The white quartz backsplash provides a crisp and clean contrast against the dark cabinets while the gray granite countertops add a touch of sophistication. The focal point of the kitchen is the statement maker island with a breakfast bar which serves as a functional and stylish centerpiece for the room. The beige marble kitchen floor tiles add a touch of elegance and warmth to the design, creating a harmonious blend of contemporary and timeless elements.
How to tile a kitchen floor?
First of all, to tile a kitchen floor you need some equipment which are;
Your tiles
Adhesive
Grout
Protective floor covering
Large bucket
Small bucket
Water
Sponge
Pencil
Sugar soap
Spirit level
Tape measure
Tile spacers
Protective gloves
Notched trowel
Grout float
Timber baton
Tile cutters
Screws
Drill and mixer attachment
Caulking gun and silicone sealant
Tiling a kitchen floor involves several steps to ensure a successful installation:
Prepare the surface: Ensure that the subfloor is clean, dry and level. If needed, remove any existing flooring and repair any cracks or imperfections in the subfloor.
Plan the layout: Measure and mark the center of the room to determine the starting point for the tiles. Lay out the tiles dry, without adhesive, to determine the best arrangement and make any necessary adjustments.
Apply adhesive: Mix and apply tile adhesive or thinset mortar to a small section of the subfloor using a notched trowel. Start from the center and work towards the edges.
Lay the tiles: Place the tiles onto the adhesive, pressing them firmly into place. Use tile spacers to maintain consistent spacing between tiles. Cut tiles as needed to fit around edges and obstacles.
Allow for curing time: Allow the adhesive to cure according to the manufacturer's instructions before proceeding to the next steps.
Grout the tiles: Once the adhesive is fully cured, remove tile spacers and apply grout between the tiles. Use a grout float to spread the grout over the tiles, then wipe away excess grout with a damp sponge.
Seal the grout: After the grout has dried, apply grout sealer according to the manufacturer's instructions to protect it from stains and damage.
Finish the edges: Install edge tiles or trim pieces along the edges of the floor to provide a clean and finished look.
Clean up: Clean the tiles and remove any adhesive or grout residue from the surface of the tiles.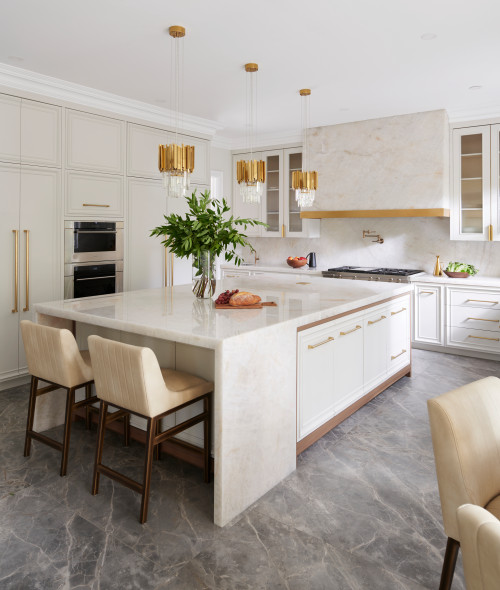 ID# 161310 | Houzz.com – Credit | © avenue design inc
---
Luxury Kitchen with Off-White Cabinets and Marble Range Hood
Step into the epitome of extravagance in this breathtakingly luxurious kitchen design! The off-white shaker cabinets emanate an ageless charm, offering abundant storage space and a traditional appearance. The marble backsplash and the range hood add lavishness with their innate veining. The enormous kitchen island serves as the centerpiece and boasts additional storage cabinets for practicality. The gray marble floor tiles bring about a sense of drama and contrast to the design. The gold accents incorporated throughout the kitchen exude a touch of glamor and magnificence.
Vinyl Kitchen Floor Tiles
Kitchens are community meeting places where families assemble to begin or finish their day, where guests are entertained, and where some of us now work as a result of the epidemic. Because there is so much activity in one location, your flooring must be both durable and gorgeous! There are several flooring solutions available for the kitchens; however, vinyl kitchen floor tiles can handle heavy foot traffic and moisture resistance while still giving on-trend looks. Unlike previous generations of vinyl items, the current renditions are fashionable and diverse, available in nearly every color, texture, style, and pattern imaginable.
This resilient flooring is a popular choice for kitchens since it is a flexible and cost-effective solution. Vinyl kitchen floor tiles are available in a variety of colors and designs that resemble hardwood floors, porcelain, and stone. The suppleness and warmth of the surface make it comfortable to stand on, and dishes, cups, and glasses seldom shatter when dropped. Unlike the dated flooring of previous generations, today's vinyl kitchen floor tiles have richer textures and colors for a more realistic look, due to advancements in the surface's rotogravure (engraving) technique. You may get vinyl kitchen floor tiles with slate, leather, or even wood textures.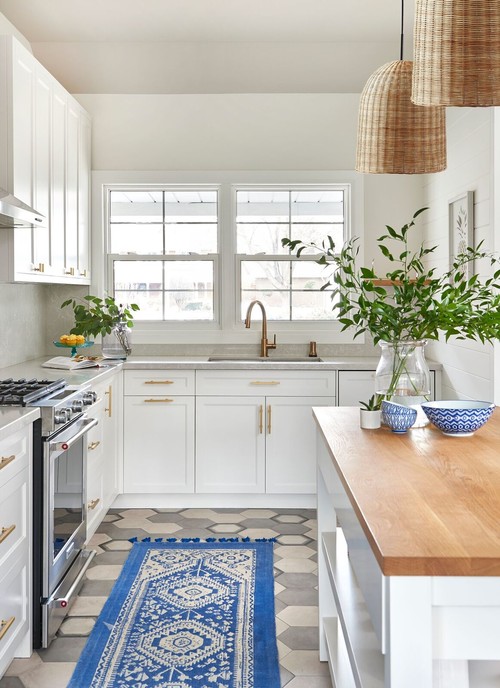 ID# 161311 | Houzz.com – Credit | © Carriage Lane Design-Build Inc.
---
Vinly Kitchen Floor Tiles with Hexagon Pattern
This transitional kitchen design features timeless white shaker cabinetry, offering a classic and versatile look. The L-shaped layout maximizes functionality and efficiency, providing ample counter space for meal preparation and cooking. The gray countertop adds a touch of sophistication and complements the white cabinetry beautifully. The vinyl kitchen floor tiles with a hexagon pattern add visual interest and a touch of modernity to the space.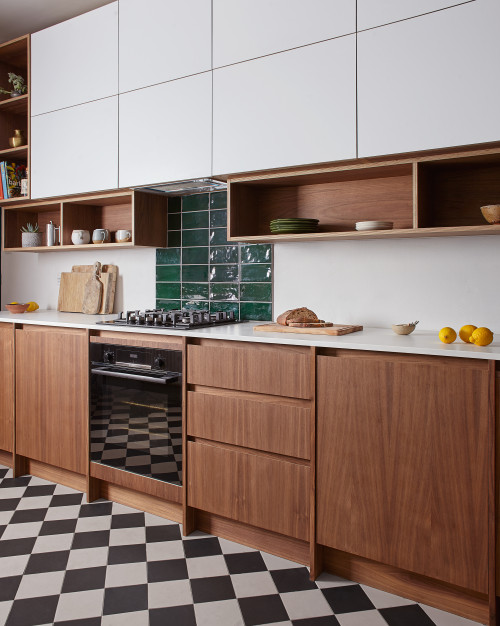 ID# 161312 | Houzz.com – Credit | © Green Bird Workshop
---
White and Wood Cabinets with Green Backsplash Behind Stove
Introducing a stylish kitchen design that seamlessly blends white and wood cabinets, resulting in a cozy ambiance that entices you to cook up a storm. The vibrant green backsplash, which has a glossy finish, positioned behind the stove, captures your attention and elevates the kitchen's modern feel. Furthermore, the black and white vinyl tiles on the floor incorporate a charming and playful touch of retro style into the overall aesthetic.
Slate Kitchen Floor Tiles
Slate kitchen floor tiles—thin, uniform-cut pieces of metamorphic rock—rank high on the wish list of flooring options due to their natural texture, extraordinary strength, stain resistance, and combination of brilliant colors. However, as a hard flooring product, this sought-after substance isn't appropriate for many homes. If you're thinking of putting slate floors in your kitchen, bathroom, mudroom, or patio, read our guide beforehand so you know what to expect from the material.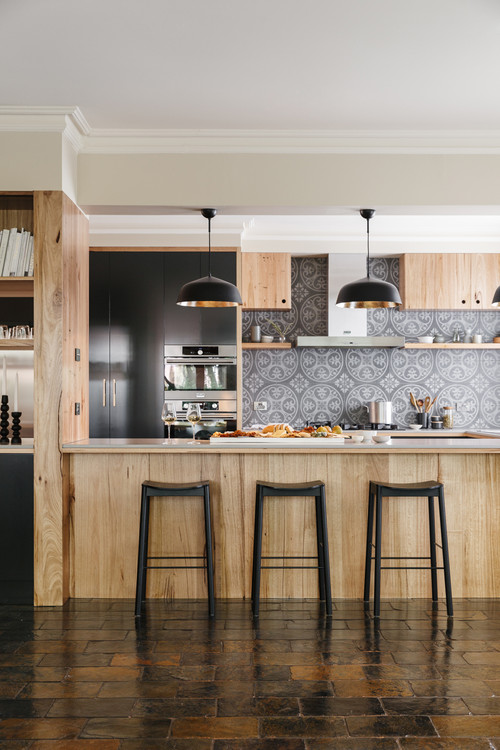 ID# 161313 | Houzz.com – Credit | © Space Craft Joinery
---
Modern Kitchen with Gray Patterned Backsplash Tiles
The slate floor tiles in this contemporary kitchen design emanate a natural and rural essence with their earthy tones. The light wood cabinets imbue the space with a warm and inviting ambiance that creates a cozy atmosphere. To add a touch of grace and refinement, the gray backsplash donning a damask pattern beautifully contrasts with the rustic slate floor tiles and light wood cabinets.
How to clean the kitchen tile floor?
Fill a bucket halfway with boiling water, 1/2 cup vinegar, and 1/2 tablespoon dish soap. If you use too much soap, the soapy residue may diminish the appearance of your flooring. Before mopping, rinse the mop head under hot running water to eliminate any residue from the last time it was used. Soapy water should be used to clean the tile flooring.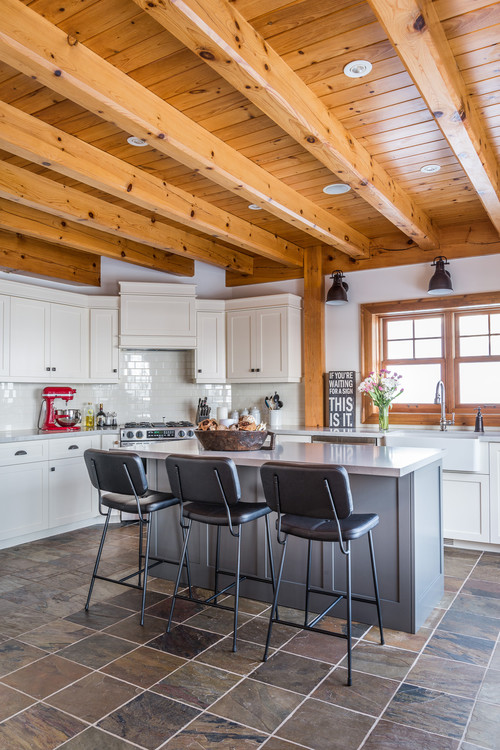 ID# 161314 | Houzz.com – Credit | © Cassis Design Studio with Urban Rustic Living
---
Rustic Kitchen with Gray Island and Black Chairs
This kitchen design exudes a charming and welcoming vibe with its rustic wood ceiling adorned with exposed beams. To amplify the natural theme, the slate floor tiles contribute an earthy and distinctive touch to the space. The white cabinets emanate a crisp and pristine feel, balancing out the darker hues of the wood ceiling and slate floor tiles. Adding a contemporary flair, the gray island paired with black chairs offers a functional and stylish seating area.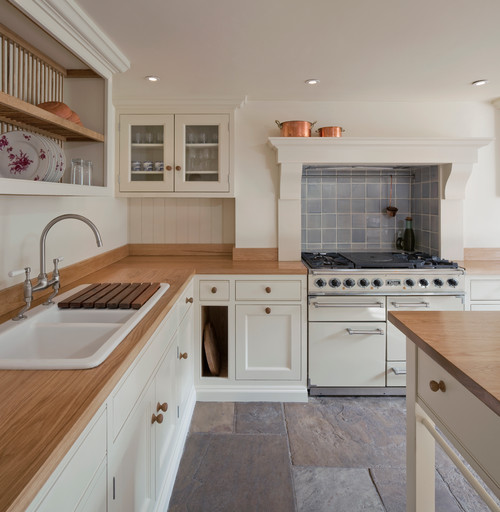 ID# 161315 | Houzz.com – Credit | © Jack Trench Bespoke Kitchens & Furniture
---
Farmhouse Kitchen with Gray Square Tile Backsplash
In this farmhouse kitchen design, the off-white cabinets exude a charming and timeless appeal, reminiscent of traditional farmhouse style! The wood countertop adds warmth and natural beauty and creates a welcoming atmosphere. The gray slate floor tiles add a rustic touch, providing durability and practicality for a busy kitchen. The gray square backsplash behind the stove adds a subtle yet stylish accent.
Terracotta Kitchen Floor Tiles
Terracotta, among the earliest subgroups of clay ceramic tiles, is an Italian term that translates as "baked earth." These tiles are created from a porous, easily-molded clay enriched with high iron concentration, giving them a distinct reddish/brown tint. In comparison to other ceramic tiles, terracotta kitchen floor tiles are both more affordable and more readily accessible. Their popularity is largely due to their attractive shades of natural hues which evoke a sense of earthiness.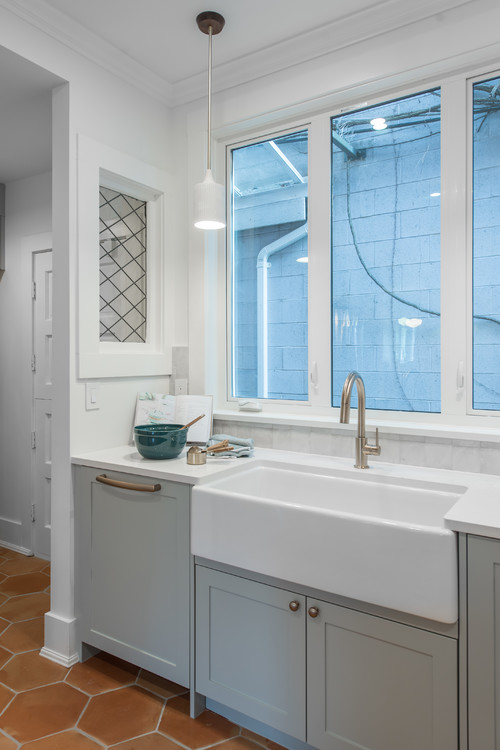 ID# 161316 | Houzz.com – Credit | © JJ Interiors
---
Hexagonal Terracotta Kitchen Floor Tiles
In this farmhouse kitchen design, the terracotta hexagon floor tiles bring a warm and rustic vibe to the space, adding texture and interest. The light gray shaker cabinets provide a classic and timeless look while the white countertop and farmhouse sink add a fresh and clean aesthetic. The large window behind the sink allows for plenty of natural light and creates a bright and inviting atmosphere.
What size tiles are best for a small kitchen?
When it comes to small kitchens or those with limited space, opting for smaller tiles is a wise choice. Tiles that measure 12×12 inches or even 10×10 inches are much more visually understated compared to larger 18×18 inch tiles that can overwhelm the space. For those who seek something even more unique, there are 6×6 inch tiles to consider.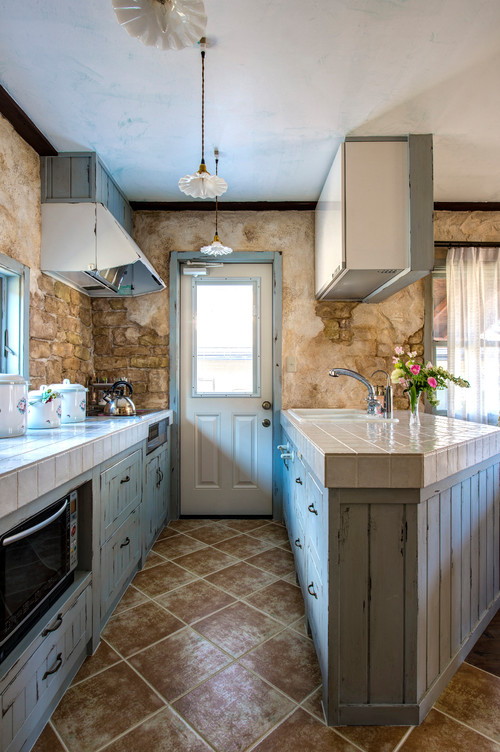 ID# 161317 | Houzz.com – Credit | © 有限会社グリーンアンドハウス
---
Rustic Kitchen with White Tiled Countertops
Step into this charming rustic design style where the natural stone walls create a cozy and warm ambiance complemented by the gray cabinets. Contrasting against the darker hues of the cabinets and walls, the white tiled countertops add brightness to the room while also bringing out the beauty of the stone. The terracotta tiles of the flooring imbue the kitchen with a rustic charm, lending texture and character to the space.
Stone Kitchen Floor Tiles
Selecting the perfect kitchen flooring requires careful consideration of multiple factors. Naturally, durability and ease of cleaning rank high on most homeowners' priority lists, particularly in high-traffic areas such as the kitchen. That's the reason why you should seriously consider using stone kitchen floor tiles! For centuries, these tiles have intrigued those looking for something truly extraordinary for their homes. The uniqueness of stone kitchen floor tiles lies in the fact that no two tiles are alike. One of the reasons why stone kitchen floor tiles are considered such a luxurious option is because of the materials they are made from. You can choose from richly veined marble tiles, rugged and rustic sandstone tiles, or polished and glossy granite tiles, to name a few. The options are endless, making this a truly exquisite choice.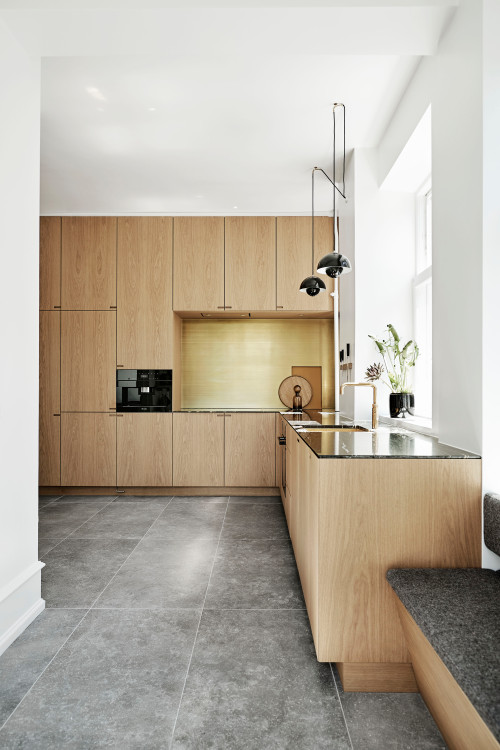 ID# 161318 | Houzz.com – Credit | © Nicolaj Bo™
---
Gray Stone Kitchen Floor Tiles with Wood Flat-Panel Cabinets
This contemporary kitchen welcomes you with its sleek and plain appeal. The flat-panel wood cabinets and the black countertops complement each other creating a natural atmosphere. The gray stone kitchen floor tiles join between these natural materials. The copper backsplash and the brass faucet harmonizes with the wood cabinets and the black naïve handles put a minimalistic touch that blends with the black countertops.
Tile Color for Kitchen Floors
Since tile options can have a large variety of color options, you can always have the stylish tile color for kitchen floors. If you want an endless and timeless appeal with a fresh look you can trust white tile color for kitchen floors. On the other hand, it is possible to create highly sophisticated appeals with the black tile color for kitchen floors. You can bring the naturality and an aesthetic appeal with the gray color when you combine it with wooden cabinetry. And finally, there are patterned kitchen floor tiles that can bring dynamic and elegant appeal to the kitchen at the same time. Let's see some of the stylish examples of the tile color for kitchen floors.
White Kitchen Floor Tiles
Transforming the outlook of your living space is always a thrilling experience and white kitchen floor tiles can make it all the more delightful! These tiles hold a marvelous ability to create an illusion of spaciousness reflecting light and emitting an uplifting essence into your home. Don't be quick to dismiss this aesthetic option as dull or uninteresting though!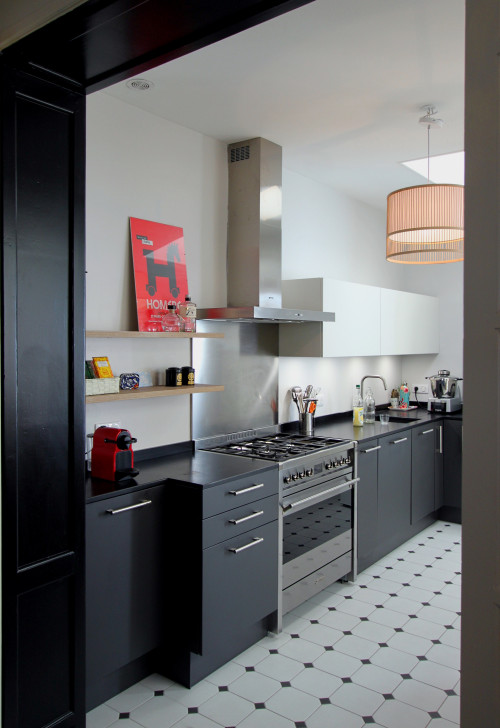 ID# 161319 | Houzz.com – Credit | © Ronan Cooreman Architecte d'intérieur
---
White Kitchen Floor Tiles with Black Flat-Panel Cabinets and Black Countertops
The white kitchen floor tiles and the black flat-panel kitchen cabinets create a stunning contrast together. The black countertops complement the black cabinetry with a plain appeal. Using chrome hardware is a good choice to harmonize them with the metallic backsplash and stainless steel appliances.
How do I choose kitchen tiles?
When choosing kitchen tiles, consider factors such as the purpose of the tiles (floor, backsplash, countertop), style and aesthetics, budget, material and durability, size and layout, practicality, samples and testing, and personal preference. Think about the overall style and aesthetic of your kitchen, set a budget, and consider the durability, maintenance requirements, and suitability of the material. Consider the size and layout of the tiles, their practicality for your kitchen needs, and obtain samples to test in your space. Ultimately, choose tiles that align with your personal preferences and style. Consulting with tile experts or design professionals can provide valuable guidance in choosing the right tiles for your kitchen.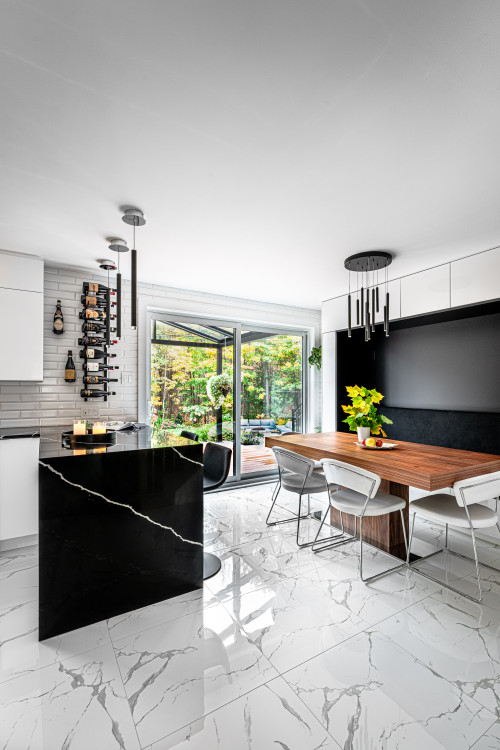 ID# 161320 | Houzz.com – Credit | © KFantazy
---
Contemporary Kitchen Design with White Cabinets and Black Countertops
The white flat-panel cabinets and the white kitchen floor tiles are divided by the black countertops and the waterfall of the peninsula. White porcelain tile floors and the black quartz countertops create a natural appeal with stylish contrast. The white veins of the black countertops blend with the white floor tiles.
Black Kitchen Floor Tiles
The resurgence of black kitchen floor tiles is one trend that has caught the eye of many homeowners. While some may feel that black tiles are boring or plain, this couldn't be further from the truth! Black tiles come in an array of materials and shapes and are just as unique as the kitchens they are used in. So if you're looking for an eye-catching flooring option, perhaps it's time to consider the timeless appeal of black kitchen floor tiles!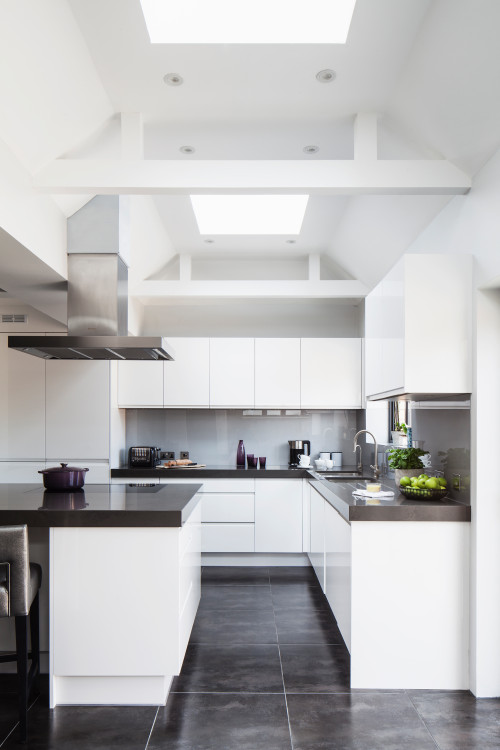 ID# 161322 | Houzz.com – Credit | © The Kitchen Store
---
Black and White Contrast of a Bright Contemporary Kitchen Design
This bright and airy kitchen has a fresh look thanks to the white flat panel cabinets and the white glass backsplash! This clean look has a sleek contrast with the black countertops and the black kitchen floor tiles. Using white grout is a good choice to increase the contrast with the white cabinetry.
Gray Kitchen Floor Tiles
The kitchen is a vital room in the house. We dine and drink there, make many wonderful experiences with our loved ones, and develop recipes that have been passed down through generations. It's no surprise that so many people desire to upgrade their kitchens. Gray kitchen floor tiles have been a fashionable style in recent years. There's a reason for this: gray is a highly flexible and timeless color that can complement any kitchen environment.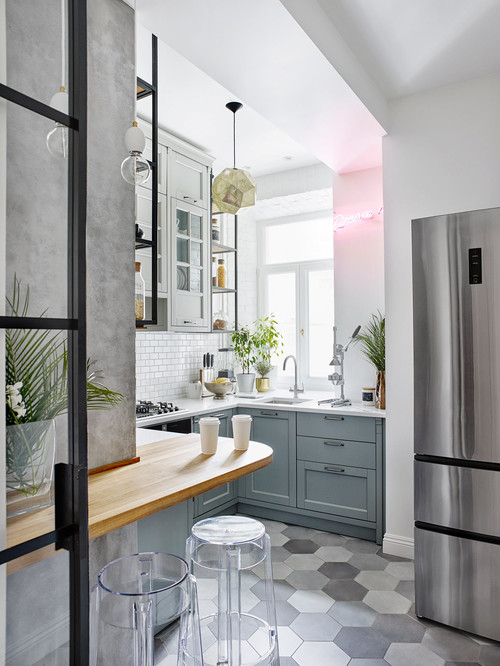 ID# 161323 | Houzz.com – Credit | © Anna Kolpakova-Sanasaryan
---
Hexagon and Subway Tiles for a Scandinavian Design Kitchen with Shaker Cabinets
The hexagon floors create a stylish movement with their different gray hues. The gray shaker cabinets and the stainless steel appliances complement the gray kitchen floors with a modern appeal. To brighten up the gray kitchen cabinets it is a good choice to use white countertops with a white subway tile backsplash.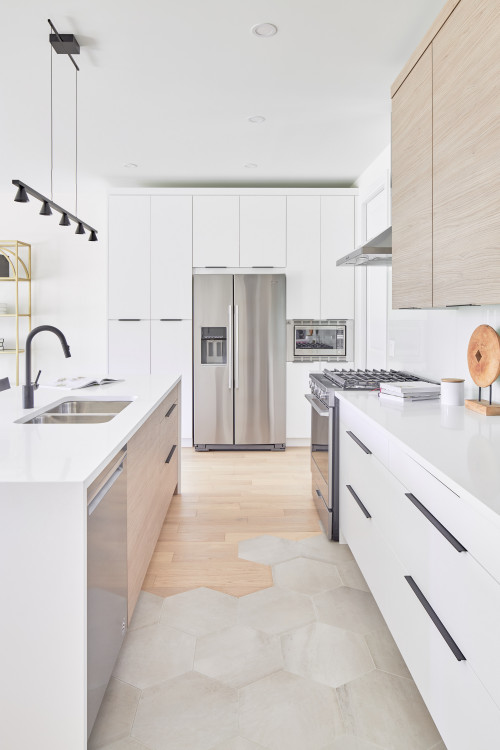 ID# 161324 | Houzz.com – Credit | © Silvergate Homes Ltd.
---
Gray Kitchen Floor Tiles with White Flat-Panel Cabinets and Black Hardware
Step into this modern kitchen and appreciate its minimalist charm. The elegant gray hexagon floor tiles complement the stunning kitchen cabinet design flawlessly. sleek white flat-panel cabinets paired with black hardware create a chic and trendy contrast. The overall contemporary effect is sure to impress any guest.
Patterned Kitchen Floor Tiles
Using the correct floor finish, you can easily transform the entire look of your kitchen! They are a great addition to any kitchen. Patterned kitchen floor tiles have been popular for some years and aren't going away anytime soon. There is a design for every kitchen, from those with a vintage vibe to modern geometric tiles or delicate marble to vivid pattern clash!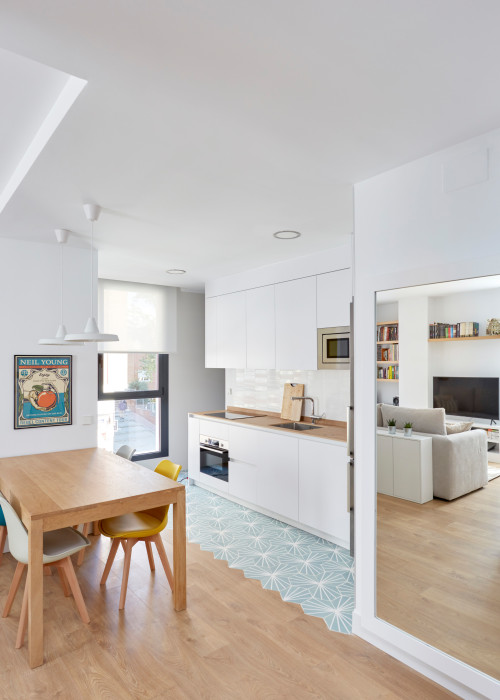 ID# 161325 | Houzz.com – Credit | © Leticia Yagüez Estudio
---
Patterned Kitchen Floor Tiles with White Cabinets and Granite Countertops
The blue and brown contrast fills the entire kitchen with natural vibes as if nature itself sat in the kitchen. The blue and white patterned kitchen floor tiles bring a fresh look and harmonize with the white flat-panel cabinets. The granite countertops and the wood flooring match stylishly increasing the naturality of the kitchen atmosphere. Thanks to the white cabinetry, white walls and ceiling, and the white backsplash, the kitchen has a bright view.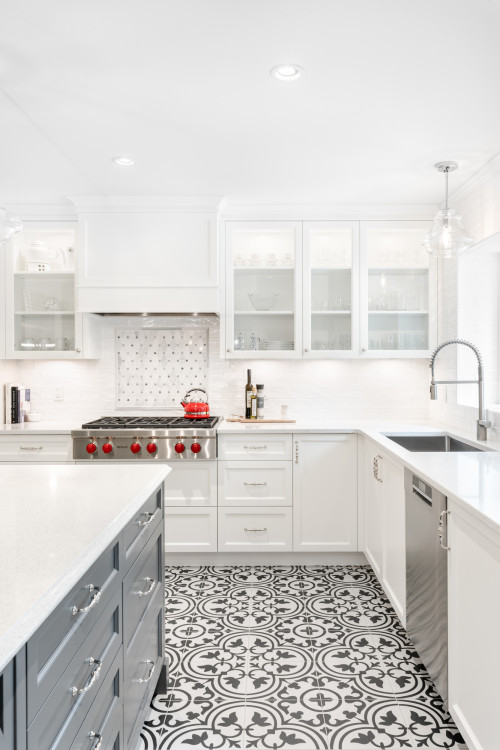 ID# 161326 | Houzz.com – Credit | © MAC Renovations LTD.
---
Transitional Kitchen with Marble Mosaic Behind the Stove
In this transitional kitchen, the white shaker cabinets provide a classic and timeless look! The white subway tile backsplash adds a clean and fresh backdrop while the marble mosaic tiles behind the stove add a touch of elegance and sophistication. The black and white patterned floor tiles make a strong statement, adding visual interest and style to the space.
Checkered Kitchen Floor Tiles
Checkered kitchen floor tiles never go out of style. They are timeless, and they add a touch of retro charm to your kitchen space! The classic pattern consists of square tiles in contrasting colors such as black and white or gray and white. Using these tiles creates an aesthetically pleasing design that adds depth and visual intrigue to your kitchen's flooring. You can achieve this pattern using ceramic, porcelain or vinyl tiles, all of which are durable and easy to clean – perfect for kitchen use.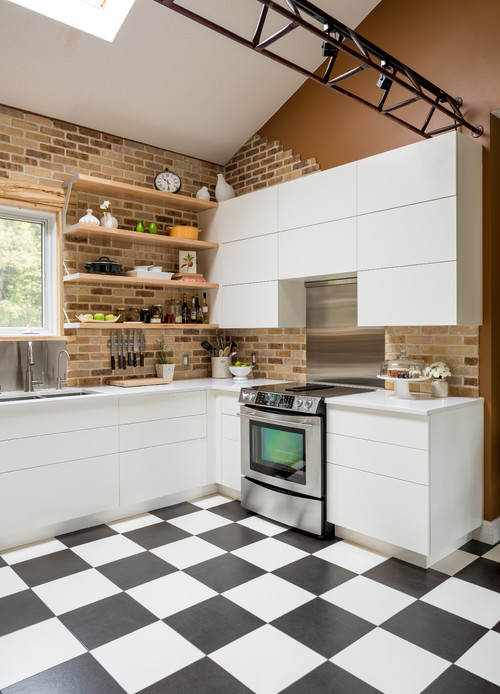 ID# 161327 | Houzz.com – Credit | © Paragon Kitchens
---
Industrial Kitchen with Modern White Cabinets
Step into a classic kitchen where sophistication and timelessness merge. Against a backdrop of black shaker cabinets, black and red checkered floor tiles boldly carpet the floor, reminiscent of vintage kitchens. The checkered tiles imbue a touch of nostalgia and charm to the ambiance while the black granite countertop ensures durability and a sleek surface for food preparation. A window behind the sink allows natural light to seep in.
Are tile kitchen floors outdated?
Tile kitchen floors are a classic and versatile choice that remain popular among homeowners. With a wide range of tile options available in various materials, finishes, and designs, tile floors can fit different kitchen styles. They offer durability, easy maintenance, and resistance to moisture, making them a practical choice. Whether tile kitchen floors are considered outdated or not depends on personal preference and the overall design vision for your kitchen. Choose flooring that complements your style and meets your practical needs, regardless of trends.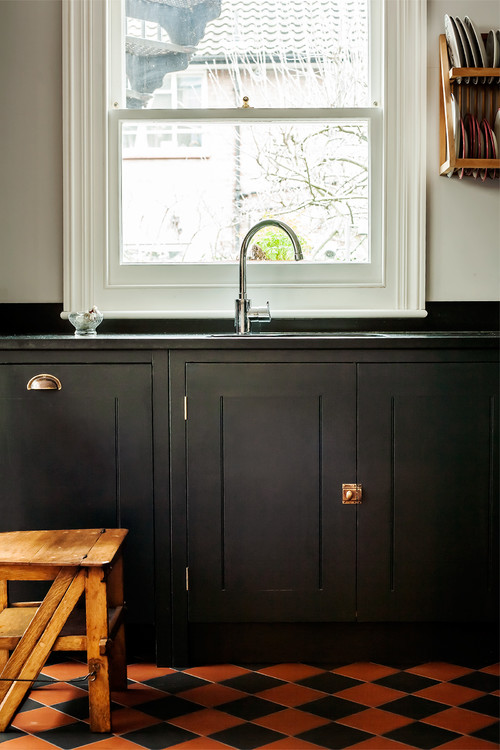 ID# 161328 | Houzz.com – Credit | © British Standard by Plain English
---
Traditional Kitchen with Checkered Floor
The classic and sophisticated look created by the black shaker cabinets is simply timeless. But wait, there's more! The floor tiles in black and red checkered patterns infuse a touch of boldness into the space, reminding you of the vintage kitchens that you adore. The nostalgia and charm that comes with these checkered tiles are just perfect for you. Meanwhile, the black granite countertop ensures durability, and it's a sleek surface for food preparation. And oh, the window behind the sink allows natural light to flood the kitchen.