37+ Subway Tile Layout Options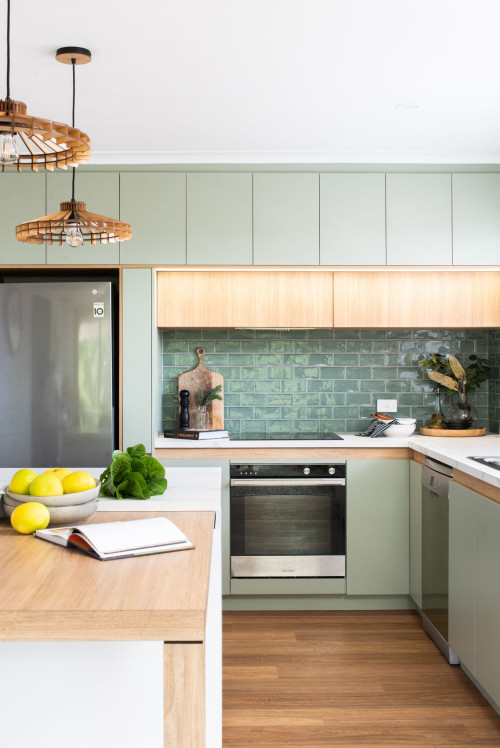 ID# 143105 | Houzz.com – Credit | © Lydia Maskiell Interiors
---
Natural Kitchen Design with Two-tone Cabinets and Green Backsplash
Two-tone cabinets can serve different purposes while ensuring diversity. Here, for instance, the combination of wood and green creates a nature-inspired look. Adding to that is also the green subway tile backsplash that additionally brings a subtle touch of shine with a satin finish on the tiles to build extra interest. Aside from those, the white countertops and the island that mirrors the perimeter counters define the rest of the space, while boho-style eccentric pendants draw eyes up.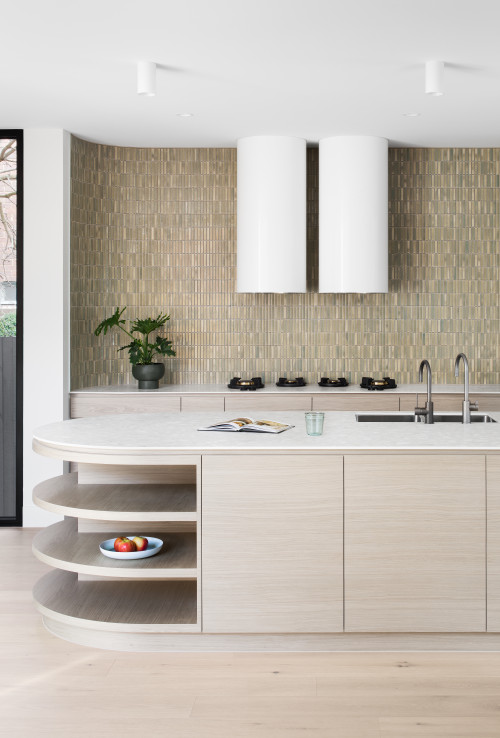 ID# 143120 | Houzz.com – Credit | © Bryant Alsop Architects
---
Kit Kat Mosaic Tile Backsplash with Earthy Color Palette and Rounded Island
This ultra-modern contemporary kitchen features a sense of earthliness with light and dark sandy shades that soften its contemporary character. Here the light wood veneer cabinets team up perfectly with the ceiling-height kit kat mosaic tile backsplash. The rounded range hoods also match the undulating form of the island which creates a continuous design for an integrated visual scheme.
Subway Tile Layout Options
Subway tiles are timeless and versatile, going well with all sorts of design styles. But sometimes we all need a change and start looking for alternatives even if we don't really want to be too adventurous. And subway tile layout options give us a chance to do something different with something that we are already familiar with. Only with a few layout tricks, we can give the subway tiles a different form.
Different Subway Tile Layout Options to Make a Twist on a Classic Pattern
Offering herringbone, chevron, basketweave, and stacked layout options, subway tiles have established a newfound identity for themselves, which helps them preserve their popularity and make them compete with the currently on-trend geometric pattern backsplashes. In this blog, we have gathered 30+ design projects with a focus on the various subway tile layout options that will sparkle your imagination and demonstrate how you can create different designs with subway tiles.
What Are the Different Ways to Lay Subway Tile?
Herringbone, chevron, running-bond or off-set, and basketweave are the most popular ways to lay a subway tile. In addition to those, you can also stack them vertically or horizontally, which is nowadays an on-trend look.
Classic Subway
The running bond, also known as off-set, is one of the most popular patterns for subway/metro tiles. In this layout option, the rows of tiles are laid on a horizontal axis at a 50-percent offset. In other words, it is ensured that each tile joint aligns with the center of the tile placed above and below it. But how much the tiles are offset varies as well. For example, some are one-third and one-fourth offset, which again provides different looks. This offset pattern in general is used in all kitchen designs, including modern and traditional kitchens. However, recently, the subway tiles are stacked rather than laid in an off-set pattern to establish a more modern look.
How do I choose a subway tile pattern?
In todays market, you can find different subway tile layout options. When choosing a subway tile pattern, what you can do is first decide what kind of impact you desire. For example, if you want to play safe and go with a classic look, you can lay subway tiles in an offset or running bond pattern. However, if you are into geometric patterns, herringbone and chevron will give you what you want. But in case you want to create a modern and on-trend look with subway tiles, then stacking them either horizontally or vertically would be a great option.
Additionally, you can also lay subway tiles in different patterns in the same kitchen. For example, traditional kitchens generally go with a subway tile backsplash in an offset pattern. But to create a focal point and highlight the stove zone, they also add a herringbone pattern right above the stove.
Horizontal Stacked
Another way to lay the subway tiles is to stack them horizontally. This is especially helpful if you want to expand the kitchens visual scheme on the horizontal axis. Using small subway tiles or kit kat mosaics for the horizontal layout creates a sophisticated and texture rich background. You can use a contrasting grout and tile color to highlight this eye-catching pattern.
What is the best spacing for subway tile?
The most common size spacers measure 1/8-inch, 1/16-inch, and 3/16-inch, but which one you should be using depends on the size of the subway tiles. 
Are subway tiles out of style in 2022?
Subway tiles continue to be popular in 2022 yet only with one difference. Considering how geometric patterns have grown to be more popular in 2022, subway tiles' layout options got also modern to compete with the on-trend looks. That's why stacked subway tiles, herringbone, chevron, and basketweave pattern subway tiles are more popular nowadays.
Vertical Stacked
Vertically stacked subway tiles are popularly used in kitchen and bathroom backsplashes, especially in modern and contemporary contexts. Since they provide a clean look that feels in order, this layout option is associated with clutter-free looks in a way, which also helps the kitchen look taller. Especially if you take the vertically stacked subway tiles up to the ceiling, they will give your kitchen extra height. To support this look, you can prefer floating shelves instead of upper cabinetry that block a large portion of the kitchen walls.
Can you do herringbone with subway tile?
Subway tiles can be laid in a herringbone pattern. All you need to do is to lay subway tiles in a straight or 90-degree angle herringbone pattern. To put it differently, you can lay one tile vertically and the other one perpendicular to it. By repeating the same pattern, you can cover the whole application area. But you can also lay them diagonally to add more movement and evoke extra interest.
Herringbone
To lay the subway tiles in a herringbone pattern, you place them perpendicularly or at a 90-degree angle to each other. But there is more than one way to lay them as they can be laid at different angles (straight, diagonal, etc.), which results in different impacts. Yet, in all versions, your kitchen walls gain a sense of movement that demands attention. So, if you want to generate a sense of movement, a herringbone pattern is a reliable option.
How big should grout lines be for subway tile?
Just like the spacing, how big the grout lines should be for subway tiles depends on the size of the tiles. But the look you aim for is also a determining factor at this point. For example, large grout lines are considered to look more modern. If you are going to use a statement grout color like gold and pink or make a contrast with black or white grout, it would be better to use a big spacer to create a bigger grout line. To create a bigger grout line, you can use 1/4 and 3/16-inch size spacers.
Additionally, if your subway tiles are handmade, you can consider leaving more space between the tiles to account for the irregularities. Apart from those, if you don't want grout lines to be too visible, you can use small spacers.
Can you stack subway tiles vertically?
Subway tiles can be stacked vertically and horizontally depending on the look you aim for. The stacked versions look very trendy and contemporary, introducing a sense of order and clarity to the space. If you stack them vertically until the ceiling, you can also elongate the kitchen on the vertical axis and give the kitchen extra height.
Chevron
Even though chevron tiles are confused with herringbone, there is a big difference between the two patterns. Chevron patterns are laid at a 45-degree and look like zig-zags. It provides sophisticated looks that go well with any kitchen design. And if you love colorful touches, you can combine different color subway tiles and lay them in a chevron pattern to create an eye-popping backsplash.
Basket Weave
Basketweave subway tiles offer another alternative to chevron, herringbone, and stacked subway tiles. They look elegant and stylish and are not very common. So, if you are looking for something less typical and less traditional, basketweave subway tiles are the route to go. Plus, these tiles especially look good in small kitchens.
How to install subway tile backsplash?
To install a subway tile backsplash, you can start by measuring the application area and ordering the right amount of supply. If you want to play safe, you can order some extra in case something goes wrong.
Preparation
Before starting to lay the tiles, first, clean the wall surface and make sure that there is no bump. If there is any, you can use sandpaper, and after sanding, don't forget to clean the wall with a soft cloth and remove the residual dust.
The next thing is to cut cardboard of the same size as the backsplash area or any material strong enough to hold up the weight of the tiles. You can lay the tiles on this cardboard to see how they fit just to get a more solid idea about how they will look on the wall. This way, you also see how much you need to cut the tiles that will be placed on the edges. You can also mark the electric layouts on the cardboard and lay the tiles accordingly.
Cutting Tiles
To cut the tiles, you can use a wet saw for cleaner edges. After you are done cutting and your little trial of tile design on the cardboard, you can spread the tile adhesive. To leave even gaps between the tiles, you can benefit from the spacers. Once you are done and the mortar is fully cured, you can remove the spacers.
Now it is time to apply grout. You can get a premixed one to make it simpler for you or just mix it yourself. While applying the grout, just move the float diagonally at a 45-degree angle and make sure that the grout fills the gaps. Clean the excess grout with a damp sponge before it dries. And use a soft cloth to dry the tiles and remove any possible dust and grout.
The last thing you need to do is caulk the gap with a caulk gun between the countertops and backsplash to prevent water or any other liquid spills from seeping through this joint.