34+ Waterfall Kitchen Island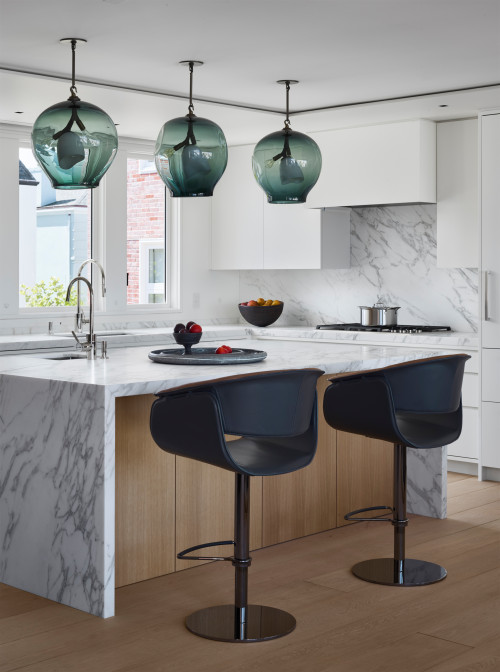 ID# 134504 | Houzz.com – Credit | © Ann Lowengart Interiors
---
Bright Kitchen with Marble Slabs and Dark Blue Glass Pendants
In a modern look, usually, a contrast is utilized to create that wow effect due to the usual lack of textures and ornaments. The overall light look in this kitchen is created by the white flat-panel cabinetry with hidden hardware, light wood floors, white walls and ceiling, and a large amount of daylight. While these elements are set against, beautiful dark glass light pendants, and black leather furnishings. To complete this look, the marble waterfall countertop is perfect. The highly textured marble has unusually dark veins for the material creating a dialogue between the elements of the kitchen. It is always good to match your backsplash and countertops to the island for a cohesive feel.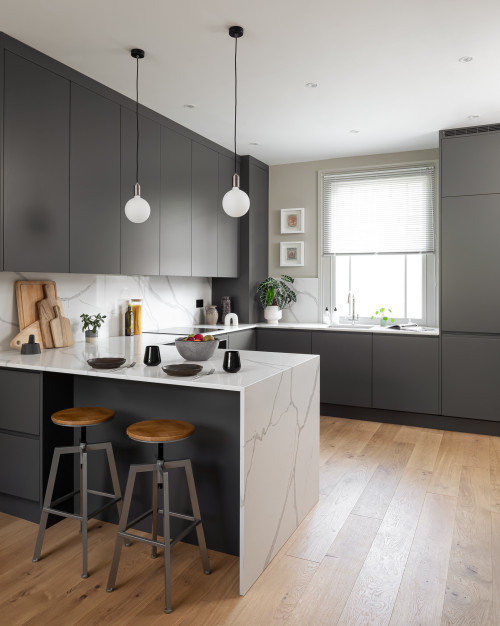 ID# 134532 | Houzz.com – Credit | © John Lewis of Hungerford
---
Sharp Clean Grey Kitchen with Quartz Island and Backsplash
Not breaking the sharp clean lines of the space, the island in this space is pushed up against the wall and follows the counter space on the side. All the surfaces in the space are continuous; with the quartz single slab backsplash and countertops, and stone grey cabinetry that is seamlessly installed. The hidden hardware further emphasizes the sharp lines. The matte grey is balanced by the marble-like texture of the Corian quartz countertop, and a touch of warmth is added to the wood. Adding circular furniture such as the globe pendants and round stools will soften up some of the sharp turns.
Waterfall Kitchen Island
Having an island in your kitchen is great for the extra counter space, but it can do so much more! When picked right, an island can become the focal point of your kitchen, making it perfect as an entertainment space. You can add elements such as a bar or extra cabinetry for even more functionality. When picking an island for your kitchen, you can either choose the standard design or the waterfall design. A standard design island features a single slab that is placed upon the cabinets and stops at the edge. On the other hand, in the waterfall design, the slab continues down the sides and meets the floor. So, if you want to learn about this waterfall countertop trend, scroll down and find these stunning waterfall counters that can add a dramatic look to your kitchen!
A waterfall countertops design usually features a stone countertop such as quartz, marble, or granite, and tends to be more expensive than the standard design due to more material used. The costs also add up due to the detailed craftsmanship needed. However, whether it is a natural or engineered stone, a waterfall island is no doubt a show-stopper and will be worth every penny you invest! In this article, we gathered a selection of kitchens for you that features the marvelous waterfall island for you to determine if it is your cup of tea!
What is a waterfall kitchen islands?
Differing from the single slab standard design islands, a waterfall kitchen island's countertop continues down the sides of the island. This type of island shows off the texture of your material while creating a cohesive surface and also further protects the cabinetry below.
Waterfall Kitchen Island Materials
What surface material is right for my island?
When choosing a surface material for your waterfall island, it is important to consider both the cost and the style of kitchen you would like to achieve. As the waterfall kitchen uses the material not just on top but also on the sides of the island, the material cost increases. Additionally, a waterfall island requires a skilled professional to get the continuation of the material texture and the joints just right. As it costs a lot more than the standard island and also considering the extraordinary design, usually waterfall islands become the focal point of a kitchen.
That's why when choosing the material, you should also consider how much it fits into your design. Generally, these islands are made of stone, but in some cases, you can also choose unique materials such as wood. Read on to learn more about just how you can use different materials to create your waterfall kitchen island.
Quartz Waterfall Kitchen Island
Quartz is an engineered type of stone that is great as countertops as it is almost 100% non-porous and is very durable. It also comes in many different varieties and can even be installed seamlessly allowing you to pick exactly what you want for your space. One thing to keep in mind is that even though quartz is usually cheaper than natural stone, it can add up if you request a custom design. With a waterfall island, however, as the standard design only calls for a couple of slabs, you may be able to save money by opting for this material.
What is most important when designing a kitchen island waterfall edge?
When designing a waterfall island the most important thing is the joints. The joining edge of the top and sides are crucial for a perfect end look and there is very little room for error. Consequently, it is always good to rely on a professional when building a waterfall island for your space.
Along with this, what material you choose for your island is also very important. As the island will be showcasing a lot of the material, it is vital that you pick one that suits your overall design. You can go with a tone that matches your color palette or opt for something crazy and opposing to contrast and create a focal point.
Are waterfall kitchen islands expensive?
Generally, the cost of a waterfall island's material will be the same per square foot, of course, you will be using more of the material cost will be higher than going for a standard design countertop. Along with this, you will also need to invest in a skilled professional for the best manufacturing so yes, waterfall islands can get expensive. But seeing how gorgeous they are, it is definitely worth it!
Marble Waterfall Kitchen Island
Marble is a material that requires no introduction. Wherever it is set, no matter the style, it will instantly add a luxurious feel. Though marble can get expensive, it is always a worthy investment. And what better way to show off your material choice than a luxurious waterfall island sitting right in the middle of your space?
Wood Waterfall Kitchen Island
We are used to wood on countertops but on a waterfall island? Now that is new! An unorthodox choice compared to the usual stone islands, a wood island can really create the warmth you are looking for. However, it is important to keep in mind that wooden countertops require a little more maintenance than their stone peers, so make sure to inquire about the regulations before selecting your wood. You can also choose to pair your wood island with a stone one and keep the wood in the less used areas for less wear. Keep reading to learn just how cozy a wood island feels in a space!
Concrete Waterfall Kitchen Island
A very popular choice in contemporary houses, concrete can do the same trick for your kitchen. The cloudy texture adds an air of grunge to your kitchen breaking the usual soft look. However, beware of the maintenance required for a concrete countertop. As it is more porous than the traditional stone countertops, concrete countertops should absolutely be sealed. And even then there isn't a holy grail sealant for concrete, requiring you to keep to a regular maintenance schedule. So if you are a busy bee, you may want to opt for a stone counter. But, we guarantee that a concrete countertop's trendy and elegant look will be worth the extra care!
Are waterfall kitchen islands out of style?
The apple of the eye of any contemporary kitchen, waterfall islands aren't going anywhere anytime soon. Along with their ability to add instant texture to the space, they also add functionality. The extra protection over the cabinetry below is just the cherry on top. With how clean they look, waterfall islands seem to be here to stay for now.
Modern Waterfall Kitchen Island
Waterfall islands are generally placed in kitchens with a modern style. This is due to their clean look with sharp directionality and their ability to showcase solid fields of material inherent to a contemporary style. We gathered below a couple of contemporary kitchens that utilize a waterfall island beautifully to inspire your next renovation project! For more inspiration on modern kitchens, check out our article: "Modern Kitchen Backsplash Ideas (Contemporary Design Style!)".
How much waterfall kitchen island?
Though installation charges are the same as standards, the manufacturing is where the waterfall islands get expensive. Because the slabs are cut with CNC machines for the perfect fit, you may have to pay as much as $2,000 extra. Your material choice is also a factor. If you go with a natural stone like granite, you will also need to add in the costs for resealing once or twice a year. However, you can save on this cost if you opt for a quartz island instead.
Small Waterfall Kitchen Island
The general thought is that to have an island, you need a big kitchen. This cannot be further from the truth. An island is a great tool that will enhance the functionality of your kitchen. It can become a seating area, extra counter space, or even extra storage… Thus, an island is always a good investment no matter the size of your space! On top of this, a waterfall island will create less clutter visually in the space due to its continuous material and keep your kitchen spacious. Keep reading to see how you can elevate your small kitchen with a waterfall island!
How to build a waterfall kitchen island?
A waterfall island, differing from a standard island design, has three different slabs that are joined together. For the perfect joints, you will need your island to be fabricated. Each slab is cut with a computer numerical control laser cutter, CNC, to ensure a precise joint. You should rely on a professional fabricator for this job. If you can you should shop around the find the right one for you before deciding. The right fabricator will determine the thickness of the top slab the same as the sides. You should also avoid overcomplicating the slab design to ensure a clean waterfall look and avoid any fabrication mistakes or additional upcharges.
Granite Waterfall Kitchen Island
Being heat and scratch-resistant, granite has been a favorite among homeowners for a long time. Not only it is durable, but granite countertops are also so visually appealing that they will instantly elevate any design. There are many colors and types to choose from when it comes to granite, so you won't have a problem picking the best option for your space either. Read on to see the selection of granite countertops we chose for you!