49+ White Bathroom Backsplash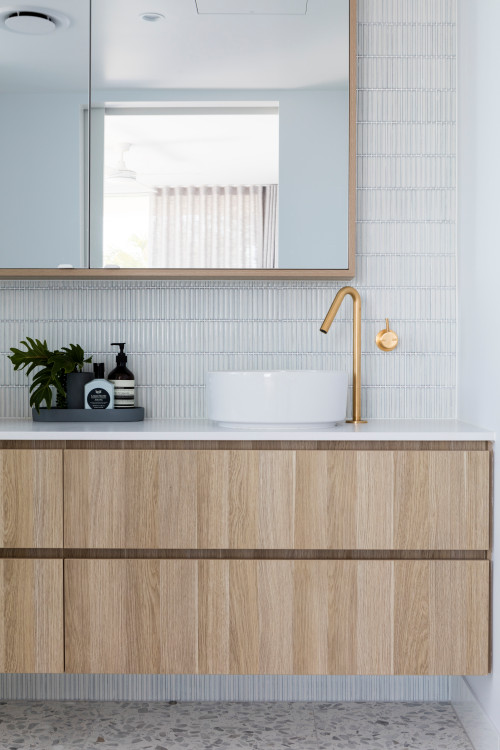 ID# 134601 | Houzz.com – Credit | © zooi design
---
Gorgeous Bathroom with Coastal Style White Backsplash
This gorgeous bathroom really catches the eye proving that for a glamorous design you don't need over-the-top materials. A simple yet well-chosen material palette will get you far. Here, the unique delicate pattern of the backsplash takes the main stage. It gives the space a breezy and fresh feeling. The countertop is solid white, a great backdrop for the backsplash. A little sparkle is added with the golden deck-mounted faucet and wall-mounted soap handle. The vessel sink looks expensive and modern. To complete the beach-style bathroom, terrazzo floors and light oak vanity are added. A pro tip is, if you also have a floating vanity, you can choose to extend your backsplash all the way to the floor for a cohesive design.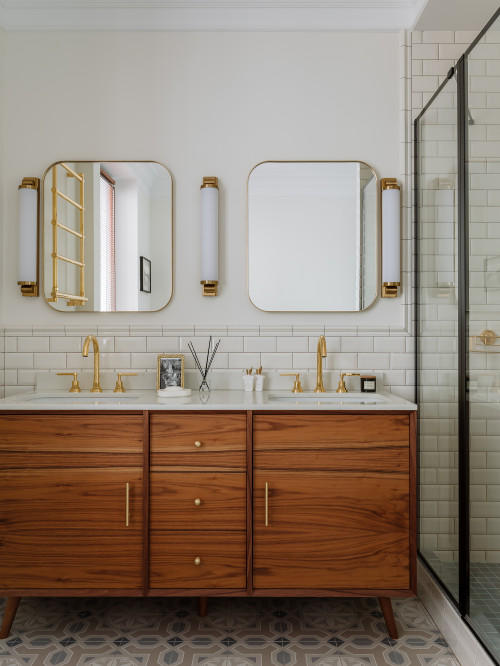 ID# 134625 | Houzz.com – Credit | © Татьяна Красикова
---
Cozy Cream Bathroom with Moroccan Style Floor
In this transitional bathroom, all is kept simple and cozy. The cream subway tile backsplash continues onto the shower unifying the space. Bullnose trim is used at the edge of the backsplash for a clean finish. The square mirrors with rounded corners and the knotty bright wood floating vanity complete the look. The white countertop is simple and is thinner than usual matching the framing of the vanity. The warm colors of the bathroom call for the golden hardware used. Finally, for just a bit of playfulness, Moroccan-style flooring is added. The minimal and pastel nature of the space is just the best for a homey bathroom.
White Bathroom Backsplash
Tiles are a big deal when it comes to your bathroom. Covering up almost all of your walls, you would want just the right one for the perfect bathroom. If you are overwhelmed by the number of options to choose from, playing it safe with the classics may help you out. But don't worry, just cause it is a classic does not mean an all-white backsplash is boring by any means. A white bathroom backsplash is versatile, comes in many different shapes, sizes, textures, and patterns, and will leave your bathroom looking clean and effortless.
From playing with the grout color to choosing an unusual Arabesque shape, you can really go in any direction. A white backsplash will also help you if you have a small footprint, giving a spacious feeling. If this excites you, read on to check out our selection of beautiful white backsplashes that can inspire your next design project! And remember, whatever you go with, a white backsplash will not let you down!
Do you need a backsplash on a bathroom vanity?
A backsplash is needed in almost any space that is categorized as a "wet space" in your home. A wet space is a room that is exposed to water or stains and is tiled in order for easy maintenance. Just like your kitchen, maybe even more so, you would need a backsplash to catch any water droplets or soap stains to avoid mold or bubbles in your plaster walls. Thus, if your bathroom vanity sports a sink or a faucet, you will be better off by protecting your walls against water damage with a backsplash. And why not add a bit of fun to your bathroom anyways?
White Backsplash Materials
Once you decide to use a white backsplash in your bathroom, next is to select what material you would like to go with. From marble to glass, there are so many options. Each of these options offers you a balance of shimmer, texture, and pattern that will beautify your space if chosen well. To help you out, we listed different white backsplash materials and gathered inspiration for your next project!
White Marble Bathroom Backsplash
Marble is a timeless and failproof material, no matter if you choose a single slab or a small tile version. Each of these methods will yield a result that highlights a different characteristic in the material and will no doubt become the focal point of your space. Marble also fits a variety of styles, making it a default option to consider no matter what design you are going for.
How tall should a bathroom backsplash be?
The standard height for a backsplash is 3-4 inches. This height will ensure your backsplash functions properly. However, for more aesthetic solutions you can choose to tile your backsplash all the way up to the ceiling or even the whole wall. This way you can not only create a cohesive space and a focal point, but you can also protect the rest of your bathroom from the water steam inside.
White Glass Tile Bathroom Backsplash
Glass tiles are the first step in creating the aesthetic bathroom of your dreams! Due to the high amount of options, you will find one that fits just what you have in mind. Not to mention, glass tiles will catch whatever amount of natural light you receive – generally pretty low in a bathroom – and add a shimmering brightness to your space. Glass tiles are also stain-resistant and non-porous, so they won't harbor any bacteria or germs giving you a hygienic bathroom. A white glass tile backsplash will also look great in your kitchen! To learn more about how to check out our article: "White Glass Tile Backsplash Pure White & Glamorous Glass".
White Ceramic Tile Bathroom Backsplash
The budget-friendly option of backsplash materials, ceramic tiles are nowhere near limited. From different tile shapes to colors, to finishes, you will find the perfect match for your project. Ceramic tiles are also durable, less likely to chip and break during installation, and are easy to maintain; so you really get a return on your investment! Read on to find out just how you can use this material in your bathroom.
Is white backsplash good for bathrooms?
White backsplash may not be the most unique solution out there, but it offers the most variety out of any other backsplash options meaning you can create cost-effective designs. Along with this, a white backsplash is basically a blank canvas that you can build on to achieve any style of bathroom from traditional to contemporary. Finally, generally, the smallest square footage is left for the bathrooms – unless it is a master – and not much daylight is let in. In this case, a white tile backsplash will ensure that your space feels bright and spacious.
How to install a bathroom backsplash?
Installing a bathroom backsplash is basically the same as installing a kitchen backsplash. Making sure everything is sealed and caulked is the biggest priority to avoid any water leakage. You should always start by making sure your walls are even and smooth, so your tiles will adhere without a problem. Once you have that covered, you should lay out your design before application to ensure that your design fits exactly the way you imagined onto your wall space. Make sure to account for any outlets and light switches.
Next, mix and apply your adhesive to the wall, some tile types may require you to work in batches or back butter instead of applying the mortar directly to the wall, so make sure to check in with your tile manufacturer for the best installation method. Once the tiles are on the wall, let the tiles set for 24 hours, and then apply your grout lines by feeding the slots with the rubber float at a 45-degree angle as you apply, covering any seams in the application. Scrape away any excess grout, then let it set. Once the grout is hard enough, clean the surface of any leftover grout with a damp sponge. Finally, make sure to caulk any edges of the tiles to seal in the backsplash. And Voila!
Tile Types
The materiality of the tiles is important, but you should also consider what type of tile you are going for. From an Arabesque tile in a traditional bathroom to a sharp subway tile in a contemporary space, you can really go any direction with a white backsplash. You should also keep in mind the size of your tiling. The smaller you go, you more you will be able to create a pattern that reads like one, yet if you have a unique tile shape or texture, going for a larger size will flaunt it better. To keep you from being overwhelmed, we gathered a few inspirations for you to choose from!
White Subway Tile Bathroom Backsplash
You cannot go more classic and timeless than a white subway tile backsplash! This style will fit with really any bathroom design and will act as the perfect backdrop for other design features. You can also choose to up play your white design by choosing a darker contrasting grout color or a textured tile type.
White Herringbone Tile Bathroom Backsplash
Herringbone, still a pattern composed of subway tiles, is a more dynamic alternative to the classic design. When you would like to avoid a complex tile style but still want to accentuate your backsplash, herringbone is a great choice! You can choose to tile vertically or horizontally, either stacking them or miter joining them. There is really no right or wrong!
White Chevron Tile Bathroom Backsplash
Technically a cousin of the herringbone, the chevron-style backsplash is a little sharper and less dynamic than the former. This style is great when you want to create a continuous wave pattern and you can even choose to highlight certain rows of tiles for a unique design.
White Hexagon Tile Bathroom Backsplash
Hexagon's unique shape can really bring out your backsplash, instantly elevating your bathroom. The angular edges can aid in custom edges, the wide surface showing off any material you opt to use. The style offers less harsh than 90-degree angles but still yields visual precision. You are probably familiar with the equilateral honeycomb hexagon tile, but there are other unorthodox options such as the picket tile. Read on to discover how hexagon tiles may elevate your bathroom!
White Penny Tile Bathroom Backsplash
Literally penny size, the penny tile backsplash creates a non-obtrusive texture in your bathroom. You can play around with the grout line color, try to highlight certain tiles for a pattern, or even create a custom design by tiling them like a mosaic. Due to their small nature, the personalized design allows you to use this backsplash in any style of kitchen. Though the installation of penny tiles may look daunting, don't fear! Many stores sell penny tiles in squares or sheets, allowing you to adhere to a whole patch at once.