47+ MODERN BATHROOM BACKSPLASH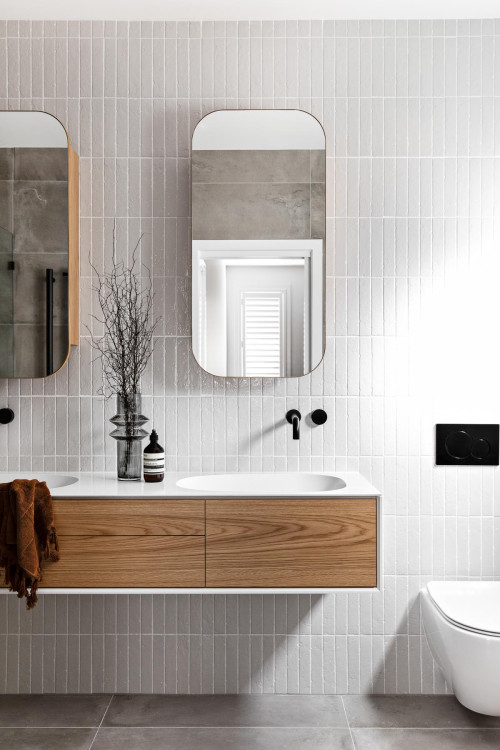 ID# 132501 | Houzz.com – Credit | © Hemma Interiors
---
Light Gray Modern Bathroom Backsplash and White Countertops
The biggest advantage of wall-mounted vanities is that you can easily clean the floors. Having a modern appeal is a plus. The vertical-lined patterns of the backsplash ceramics make the interior look higher. The white countertops framing the wood cabinets add a modern appeal with the mirrors. The rounded corners of the mirrors soften the geometrical look and put a stylish look to the atmosphere.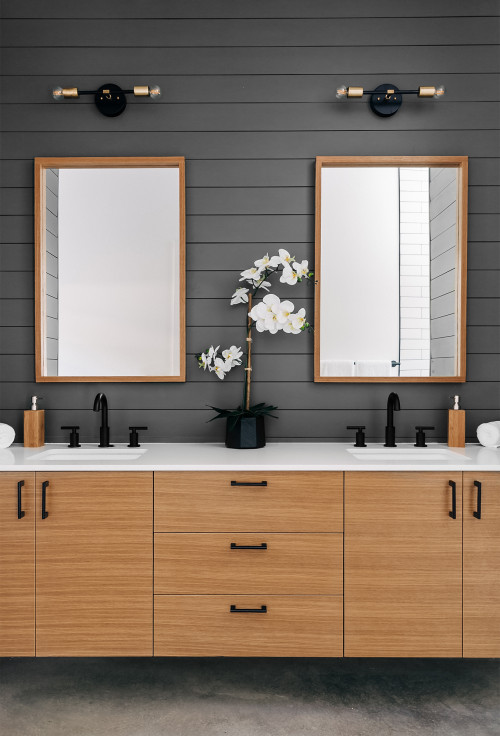 ID# 132525 | Houzz.com – Credit | © QuarterLab Design Build
---
Wood Flat Panels and Black Hardware with Wood Frames and Gray Harmony
Thanks to the gray wood backsplash the light wood frame mirror and the floating vanity have a striking look. With the contrast of the white countertop and the black faucets, the stylish look pushes the limits. It is a good idea to use black hardware to increase the movement of the interior.
Modern Bathroom Backsplash
Like other rooms of the house, bathrooms are one of the places that excite us about design. Bathrooms are the areas where we rest with long showers and sometimes prepare in a hurry, so it is understandable to want them beautifully designed. Backsplashes are one of the design elements for the bathrooms. They can protect your walls from water splashes as the kitchen backsplashes. If you like simple and plain designs a modern bathroom backsplash is a perfect fit.
You can achieve stylish and sleek looks with a modern bathroom backsplash. You can use bold colors or neutral colors. It is possible to have sharp contrasts between the colors. The materials also can change the atmosphere, the wood materials can add warmth, the stone can bring a natural aspect. You can choose many colors of materials for modern bathroom backsplash ideas according to your design style and taste.
Tile Materials for Modern Bathroom Backsplash
Since the technology provides many tile material options, you can lose yourself in this endless alternative sea. Tile materials for modern bathroom backsplashes can change many things such as bringing a warm look or natural atmosphere. You can choose some of the tile materials for a modern bathroom backsplash such as marble, ceramic, or wood tiles and surfaces. Modern design style can help you to create simple lines and go with geometrical shapes with a sleek look. Their durability and maintenance are other facts that you should think about. According to these criteria, you can choose your materials.
Modern Marble Bathroom Backsplash
Marble backsplashes can provide durability and are heat resistant. The ability to be visually appealing is a plus. They offer elegance for the bathrooms and the natural look of these stone materials brings a stylish appeal. They are available in many forms such as slabs or tiles. With these, you can create simple and stylish views with a modern marble bathroom backsplash.
How do I choose the bathroom backsplash?
It is necessary to follow a few steps to choose the bathroom backsplash. First of all, by determining your design taste and which design style you will go with, you will reduce the endless sea of options a little bit. After deciding on these, the second most important thing is the circulation area in the bathroom. So, what will be where? Do you want to see the toilet door or the shower when you enter the bathroom? Or the bathroom counter? The tile sizes will change according to space planning and the storage that you will need for the bathroom.
Do you need to use large cabinets or drawers, or do you want to use only a countertop? Whatever color tone and material you have decided to go with, you are now ready to decide on the bathroom tiles. If you want to create a focal point, then you can use a sharp contrast, if you want harmony you can use natural elements with neutral colors. The backsplash can be any material and color but firstly you should think about these steps to decide.
Modern Ceramic Bathroom Backsplash
Ceramic materials can offer strength, aesthetic look, and durability. Since the ceramic material is the most famous for floors, walls, and backsplashes of the bathrooms, you can create an endless combination with a modern ceramic bathroom backsplash. Dozens of color and pattern alternatives can help you to find your perfect design. Bright or dark, airy or serene, the ceramic material can create such atmospheres.
Modern Wood Bathroom Backsplash
You do not have to use tiles for a backsplash, there are other alternatives such as using wall paint or wood backsplash! If you like the modern design style you can go with a modern wood bathroom backsplash. It is possible to use painted wood backsplash or original wood patterns for the backsplash. If they are properly sealed and maintained, they can help you to create modern and natural looks for the bathrooms. A wood backsplash is a perfect material for do-it-yourself projects. You need a few working types of equipment to make your design!
Tile Styles for Modern Bathroom Backsplash
The first thing to design a place is to know which design style you will go with. If you are certain about this, the second phase is to decide what colors you will be using. Tile styles for modern bathroom backsplash can be in any color which is parallel to your design taste. It is possible to create contrasts, harmonious looks, natural views.
You can use white with wood vanities to have a warm and inviting atmosphere, the blue is helpful when you want a fresh look, the black can be a creator for a masculine and serene view, gray can add a sleek look with brass materials.
Modern White Bathroom Backsplash
Sometimes bold colors can fade in time according to design trends. However, white is a timeless and neutral color that you can use anytime and with any material and color. You can use a modern white bathroom backsplash with wood vanities, or create contrast with black materials. If you have a small space it is better to use white color thanks to its bright look the space will have a wider and spacious look.
Are 4-inch backsplashes outdated?
A 4-inch backsplash is a budget-friendly solution for the countertops, so anyone may want to use it. According to this, they will be always timeless. However, trends and styles change, materials change, so if they are used extraordinarily with new materials and modern styles, they can not be outdated. On the other hand, if they are used in a normal way they will be always outdated.
Modern Blue Bathroom Backsplash
Blue is the color of freshness, sea, and sky, it refers to peace and purity. You can combine them with wooden surfaces which brings an amazing view. The stone materials such as white marble or granite will be perfect fits with the blue backsplash. If you like an eye-catchy look for your bathrooms, you can use a modern blue bathroom backsplash. The serenity and energy can be both in the same area!
Modern Gray Bathroom Backsplash
If you like a sense of calm and conformity gray can provide them with a warm look. The hues of the gray color can change any atmosphere with a different meaning, lighter gray tones can bring a fresh and stylish look, darker tones can add serious, warm, neutrality. These depend on the materials that you will combine with gray color. You can use a modern gray bathroom backsplash with wood countertops which can provide a Scandinavian appeal, or you can use a dark gray backsplash with white marble countertops or white vanities to create a sleek and smooth contrast.
What backsplash is out of style?
Since fashion harmonizes the old with the new, the design styles can do the same. However, there are some out-of-style backsplashes such as 4" classical granite backsplashes, the all-around tiles, old-style glass backsplashes, neutral mosaic tiles, etc. The technology and the design industry offer new designs, always. The new patterns are winning ones, so you can use all-around tiles if you want, but you can not find the 2012 product. They do not sell it anymore, so you can create a new twist to out-of-style looks.
Modern Black Bathroom Backsplash
Black is a bold color that you can create stunning views with it. The dramatic and strong style statement of the black can bring a sophisticated look to your bathrooms. A modern black bathroom backsplash can create sharp contrasts with white, you can accentuate it with gold elements and bring a luxurious look. Black is one of the timeless colors that you can use always. With a modern black bathroom backsplash, you can achieve a stylish and sophisticated look.
What backsplash looks modern?
Simple and plain backsplashes are always modern and can help you to gain a stylish look.