36+ Picket Tile Backsplash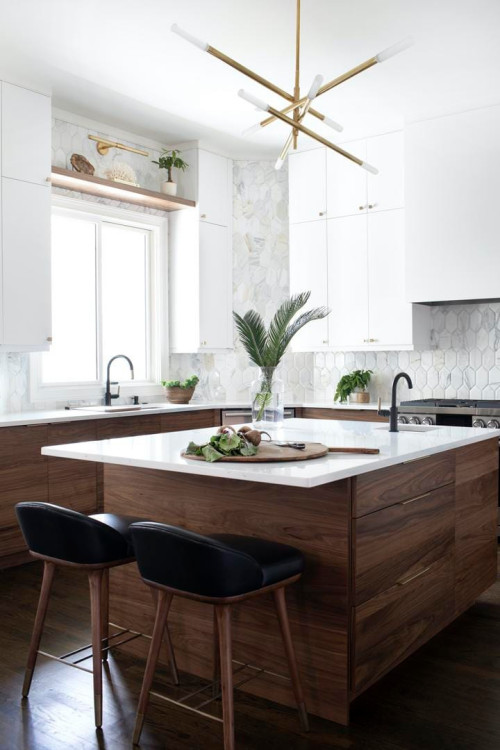 ID# 127602 | Houzz.com – Credit | © HanStone Quartz by HYUNDAI L&C USA, LLC
---
Two-tone Kitchen Cabinetry with Marble Backsplash and White Countertops
In this interior design, the elongated hexagon shape of the marble tiles gives a unique and personalized look. Also, the full-height installation of the marble tiles emphasizes their impact. The white upper cabinets create a clean and fresh look while the wood perimeter cabinets and the island serve a warm yet elegant look. The white countertops create a continuous look with the backsplash and upper cabinets.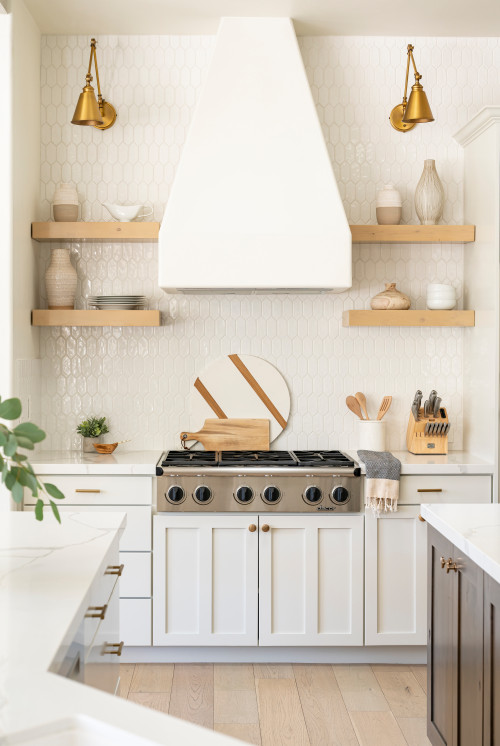 ID# 127634 | Houzz.com – Credit | © Designs by Priya
---
Transitional Kitchen with Full-height Picket Tile Backsplash
This transitional kitchen gives a warm and welcoming feel! White shaker cabinets are paired with Premium Natural quartz countertop, brass hardware, and white elongated hexagon tiles. Wooden floating shelves enhance the warmness of the atmosphere while brass sconces complement the hardware.
Picket Tile Backsplash
You might see these tiles in many different kitchen designs but what are picket tiles? Picket tiles are inspired by a classic hexagon silhouette which elongated in the center and slimmer for a modern and elegant look. These elongated tiles are a great way to create timeless and unique appeals. You can go with white pickets to create a clean and fresh backdrop or make a statement with bolder colors or patterns. Whatever your choice is, the effortless beauty of a picket tile backsplash will elegantly transform your kitchen. Scroll down and find some inspirational design ideas!
Picket tiles come in three main layouts which are braided, vertical, and horizontal. Braided tiles have an organic look that provides unique and shooting results on backsplashes. The horizontal installation gives a classic yet modernized effect. The vertical installation is a great way to make the room feel higher than it is. Besides these layout options, this elongated shape is available in a variety of sizes and colors from luxurious marble to classic ceramics. So, if you are looking for a creative alternative for classic subway tiles, a picket tile backsplash might be the right option for you. Keep reading to learn more about these elegant tiles and find some inspiration for your design project!
Tile Colors
From bright whites to serene blues, picket tiles offer a variety of colors. To help get you inspired to try something new, we've put together four different color options for a picket backsplash.
White Picket Tile Backsplash
If you are looking for an alternative to white subway tile backsplash, but want a unique look, white picket tile backsplash might be a perfect option for you. White pickets are a great way to give an elegant look with effortless beauty!
Black Picket Tile Backsplash
If you want to add a sense of drama and create a striking focal point, try picket in black. A black picket tile backsplash can instantly elevate your design. You can emphasize the black tiles with white grout and pair them with white kitchen cabinets to create contrast! On the other hand, you can use all-black features to create a sleek and dramatic look!
Gray Picket Tile Backsplash
From light grays to almost blacks, gray picket tile backsplash come in a wide range of shades and hues. Thanks to this variety, gray pickets can work with almost every color scheme and design aesthetic. You can complete the neutral look of gray with other neutral hues like blacks or browns or pair them with white accents to create a bright appeal.
Blue Picket Tile Backsplash
When the serene feel of the blue meets with the unique shape of a picket tile, the result is just perfect! You can use a braided picket tile pattern to give a wave effect or create a sleek modern look with a vertical layout. Also, you can complete the beachy feel of the blue with crips whites and some wooden textures!
How do you install a picket backsplash?
Before the installation process, you need to measure the backsplash area and define how many tiles you need. After the calculations, it's time to prepare the walls. You need to clean and sand the walls for the best result. After sanding, remove all the electrical switches and define the boundaries with painter's tape. For the final part before the installation, lay down the tiles on the counter and define the layout of the tiles.
Now, you can start the installation part. Apply the mortar with a V-notch trowel in small sections. Then stick the tile on the mortar. Do these steps until cover the all backsplash area. Insert the spacers per tile side and wait overnight to dry. After the overnight takes out the spacers and wipe down the tiles with warm water and a cloth. After the installation, apply the grout with a float at a 45-degree angle. Wait until all grouts dry and wipe the tiles with a wet sponge. If you are using natural stone tiles, you also might need to seal them to avoid staining.
Tile Sizes
Just like the other tile options, picket tiles also come in different sizes. This difference provides different visual impacts. For example, smaller tiles are great to add a slight texture without overwhelming. Larger tiles will create a sleek backdrop and provide a beautiful textural backdrop!
Small Picket Tile Backsplash
Small picket tiles offer a nice and slight textural look. With different colored pickets, you can create stunning mosaic appeals!
Large Picket Tile Backsplash
Larger tiles like 3×12, 2×8 are perfect to create a sleek elegant look. Also, larger tiles give a more modern look for kitchens!
Tile Materials
Different materials provide different impacts and all of them have different features. When choosing a backsplash material, you need to give importance to its durability because, besides its visual impact, the primary aspect of a backsplash is protection. That's why material choice is one of the most important points that you need to decide. Natural stones like marble require more maintenance but their stunning appeals are unique. Glass or ceramic tiles provide a more durable surface than natural stones and these tiles also have more affordable price tags.
Ceramic Picket Tile Backsplash
With their different color, texture, pattern options, and affordable prices, ceramic tiles are one of the most popular materials for many homeowners and interior designers. You can find different color options for a ceramic picket tile backsplash from bright whites to dark and dramatic blacks. This endless variety offers to make a personal touch to your design projects.
Which way do you lay picket tiles?
As we mentioned before, you can lay the picket tiles in tree different layout. The straight vertical layout is a great way to make the room look higher and it can give a more modernized effect. The straight horizontal pattern looks like a classic subway tile backsplash with an added accent. And the braided pattern has a more shooting effect.