30+ White Cabinets with Gray Countertop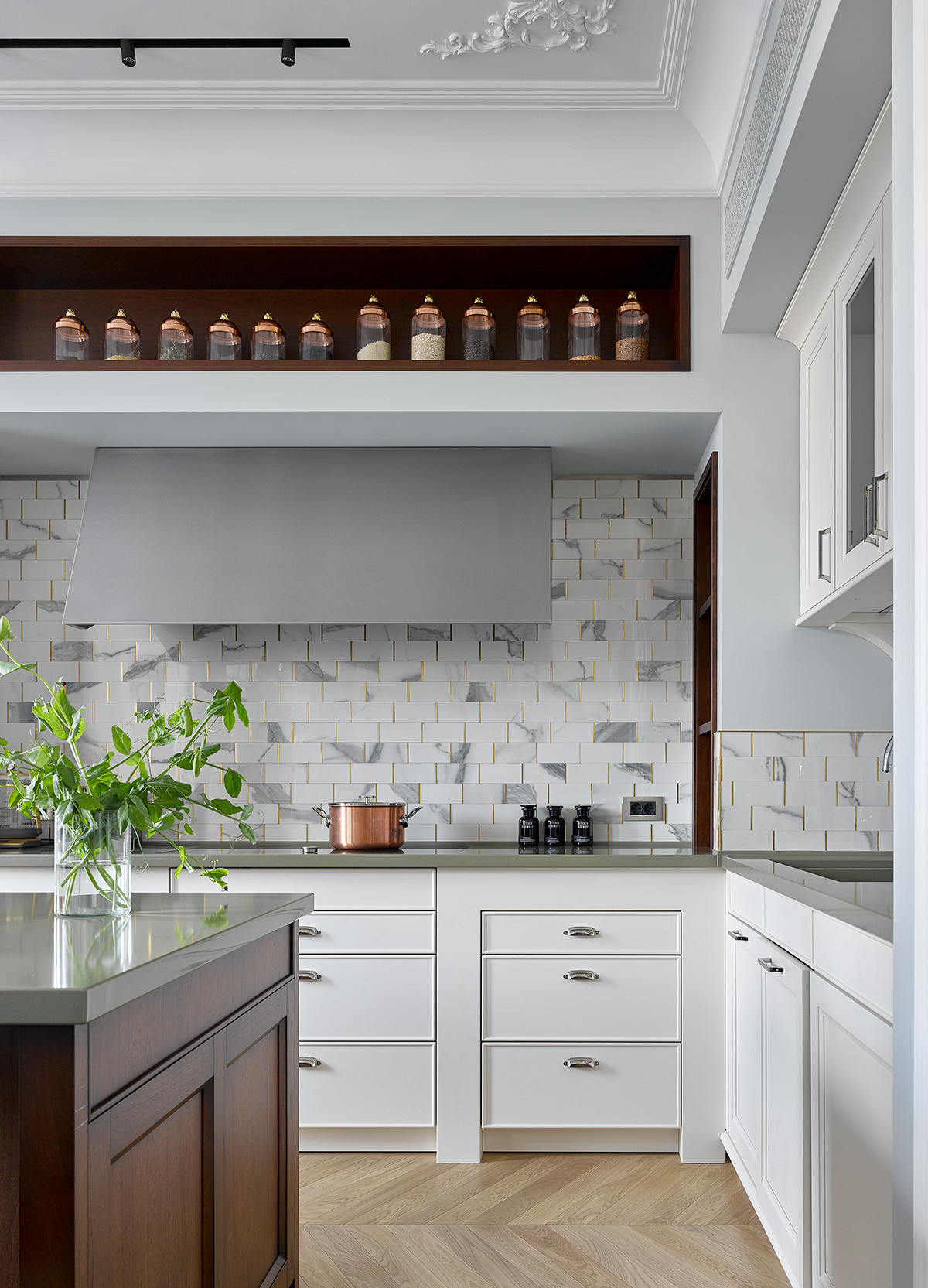 ID# 171604 | Houzz.com – Credit | © MARION STUDIO
---
Marble Subway Tile Backsplash with Gold Accents
If you are looking for an eye-catching element to enhance your white cabinets and gray countertops, then you will love this backsplash! Enriched by gold accents, this marble subway tile backsplash creates an art-like piece above the countertops, bringing a sense of opulence. The combination of white cabinets and grey quartz countertop provides a classic yet stylish appeal while the gray range hood enhances the contemporary aesthetic. For the upper level, the recessed niche provides a storage space for the jars which creates a visually pleasing look.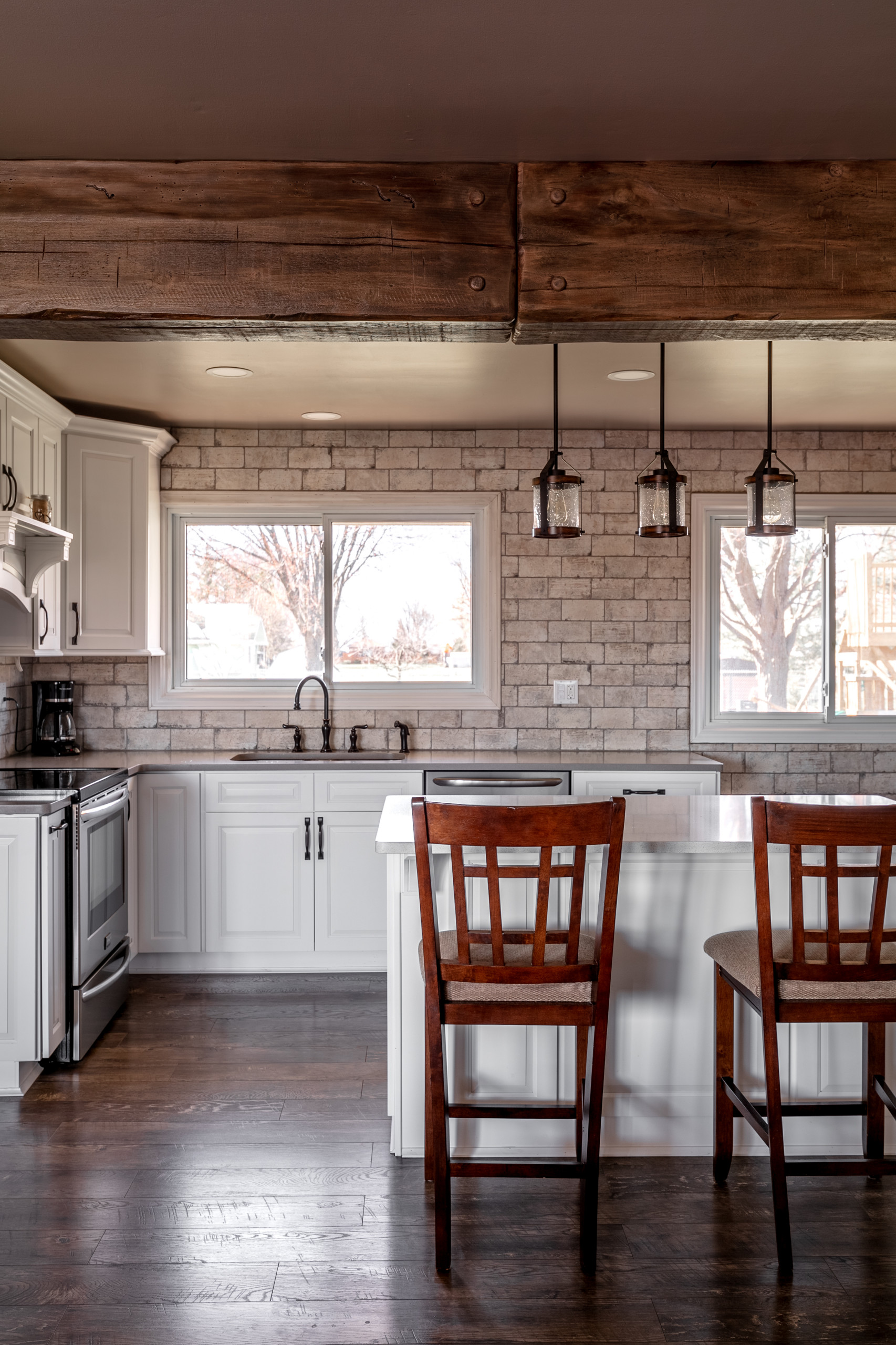 ID# 171625 | Houzz.com – Credit | © Decor Innovation Designs
---
Rustic Kitchen Design with Full-height Subway Tile Backsplash
The fresh palette of whites and use of honed marble as a backsplash unpack a sense of serenity. Though white, this rustic kitchen is imbued with warmth while a muted and neutral base encountering wood flooring at the ground level ensures connectivity throughout. The raised-panel cabinets introduce a sense of formality without applying any restraint. The honed marble full-height backsplash feeds the rustic flair within the space and adds a sophisticated look. Gray countertops ensure a smooth transition between the lower cabinets and the backsplash.
White Cabinets with Gray Countertop
One of the most convenient options and safe choices to apply to the kitchen is white cabinets with gray countertops! Both have rich categories with subtle tone variations, different styles and patterns. This sort of flexibility allows homeowners to create different moods and come up with various looks with these two elements, ranging from rustic to modern, retro and traditional!
Create a Timeless Appeal with Gray and White Combination
In other words, by benefiting from the white cabinet door styles and gray countertop materials, you can achieve kitchen designs that fall into the categories of contemporary, farmhouse, traditional,  and more! This is one of the biggest advantages that white cabinets with gray countertop offers. If you are ready, let's start discovering some design ideas regarding this beautiful couple!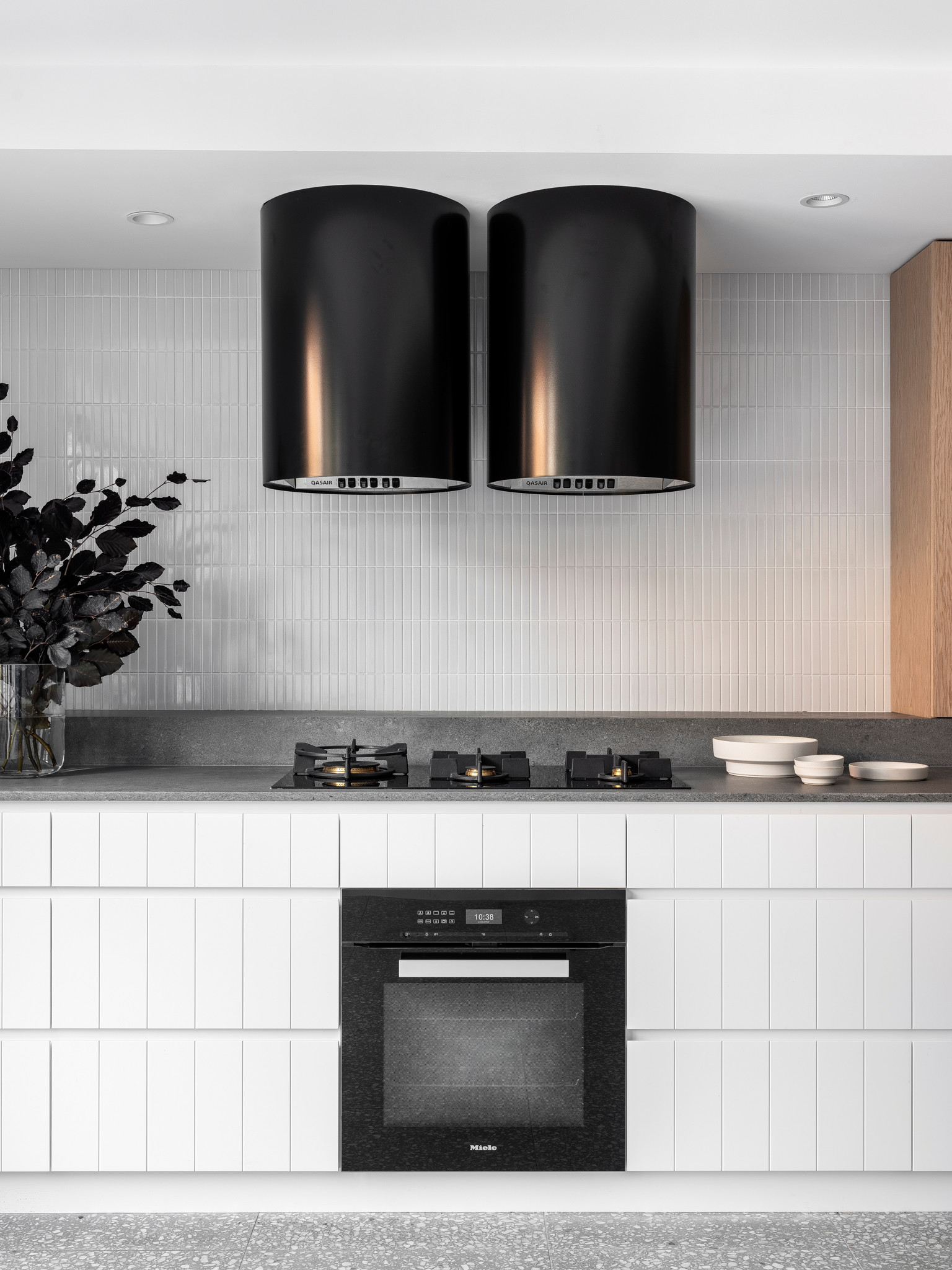 ID# 171601 | Houzz.com – Credit | © Josephine Hurley Architecture
---
White Cabinets with Gray Countertop and Kit Kat Tile Backsplash
This beautiful kitchen is brought together with smooth transitions between the kitchen's upper and lower levels! Expressive material options, ranging from quartz countertops to terrazzo flooring, play out throughout the space. The tongue and groove white cabinets alleviate the interior design, injecting a sense of lightness. In addition to the white, the gray countertops, likewise, radiate friendliness and freshness without installing any cold vibes. With its speckles and patterns, they also bring visual interest and make for a stylish design without overpowering any other element. Also, the terrazzo floor tiles add another layer of texture while the white Kit Kat tile backsplash complements the bright appeal of the cabinetry. Last but not least, the circular range hoods make a cohesive final touch that enhances the modern aesthetic.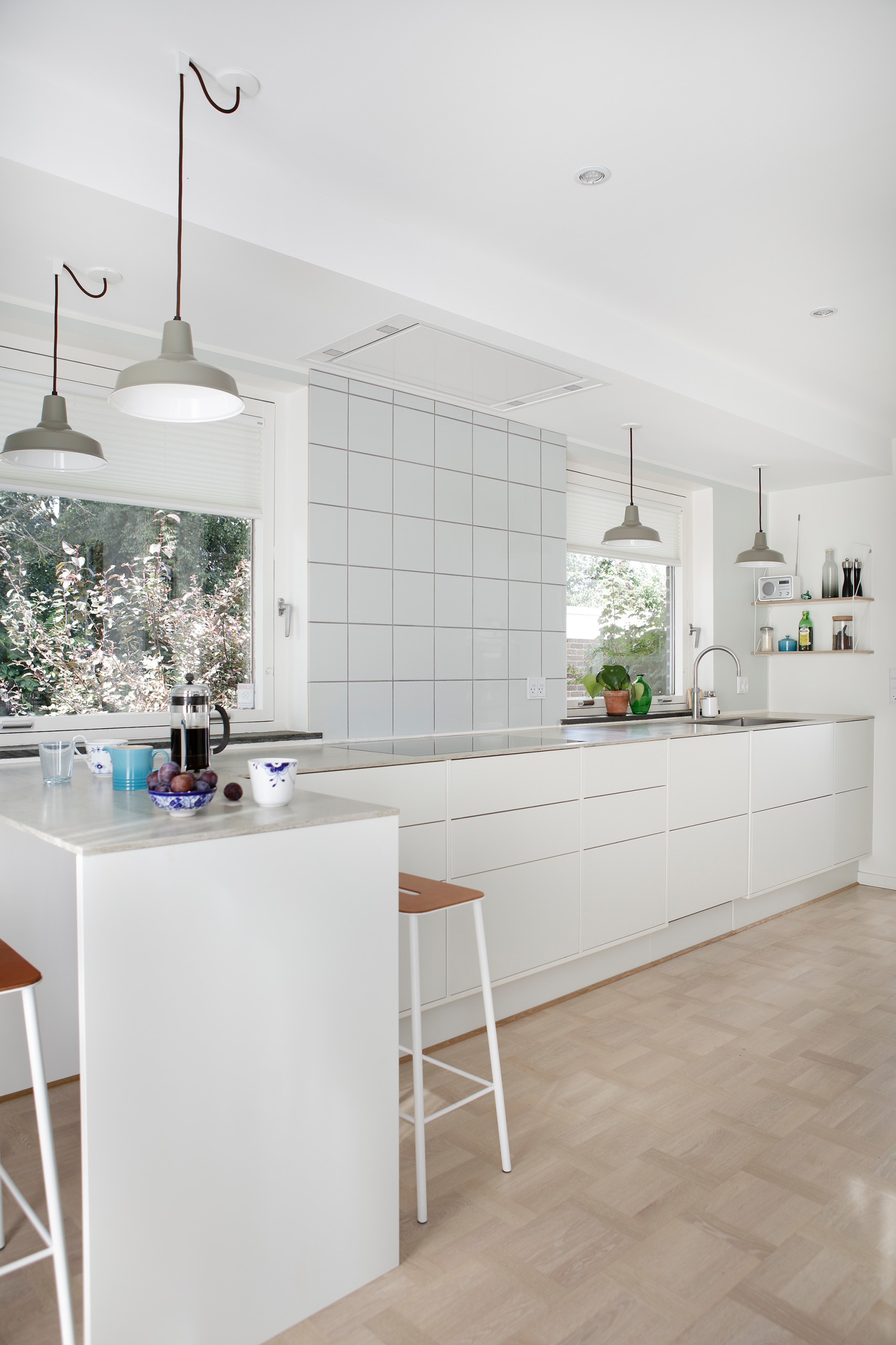 ID# 171602 | Houzz.com – Credit | © The Sweet Spot
---
White Cabinets with Gray Countertop and Square Tile Backsplash
The all-white kitchen offers an expansive space for each element to fit in while the untreated picture windows allow an intimate connection with the outdoor space! Inside, the kitchen has wood flooring to establish a connection with the garden through natural elements. The white-gray palette provides an idyllic comfort, getting dressed in different moods in response to the surrounding context. The large-format square tile backsplash provides a compact and textured wall surface between the windows. Coupled with stainless steel appliances and quartz gray countertops, the kitchen establishes a visual connection between different elements through its color and material palette!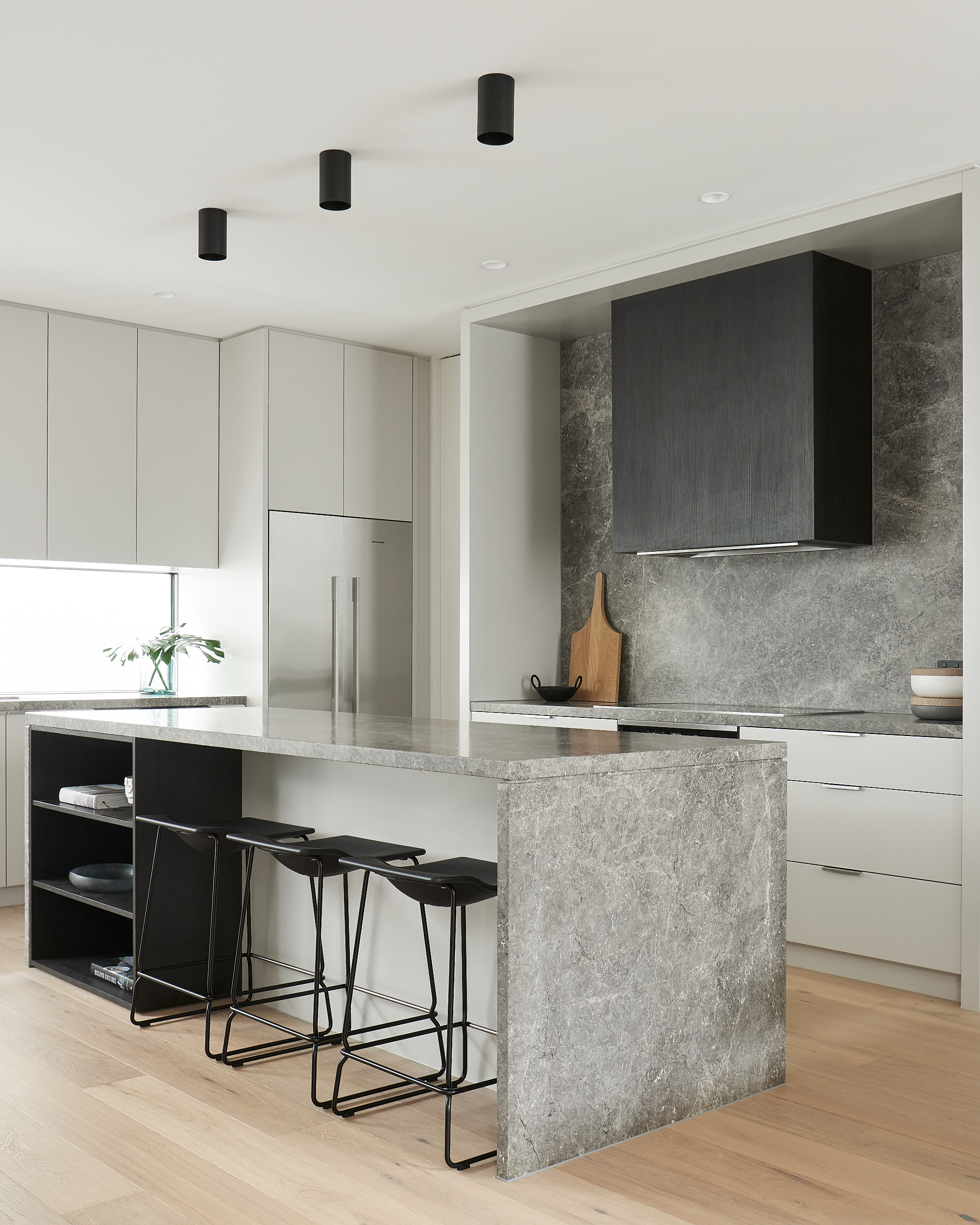 ID# 171603 | Houzz.com – Credit | © S&K Group
---
Ceiling-height Backsplash and Waterfall Island with Gray Marble Countertops
The white-black palette of the kitchen is softened with gray countertops that play an elementary role in this design!
The ceiling-height backsplash stands out as a piece of art, defined by an outer layer of a white cabinet frame. The black range hood dressing accentuates the marble backsplash while the flat-front white cabinets offset the black color's dramatic effect. The kitchen island is topped with a marble countertop falling over the edges and running towards the engineered wood flooring. Its black display shelf brings integrity and ties the island to the back of the kitchen. If you want to keep the monochromatic color palette intact without any animating color, wood flooring can be integrated to add some warmth as is here.
What color backsplash goes white kitchen cabinets with gray countertops?
White kitchen cabinets with gray countertops can be paired with white and gray backsplashes. Marble and granite offer the most unique combinations. They can even combine both colors thanks to their veins and subtle hues. If you want to introduce a bold color to the space, for instance, in mid-century kitchens, a blue backsplash can be combined with white cabinets and gray countertops.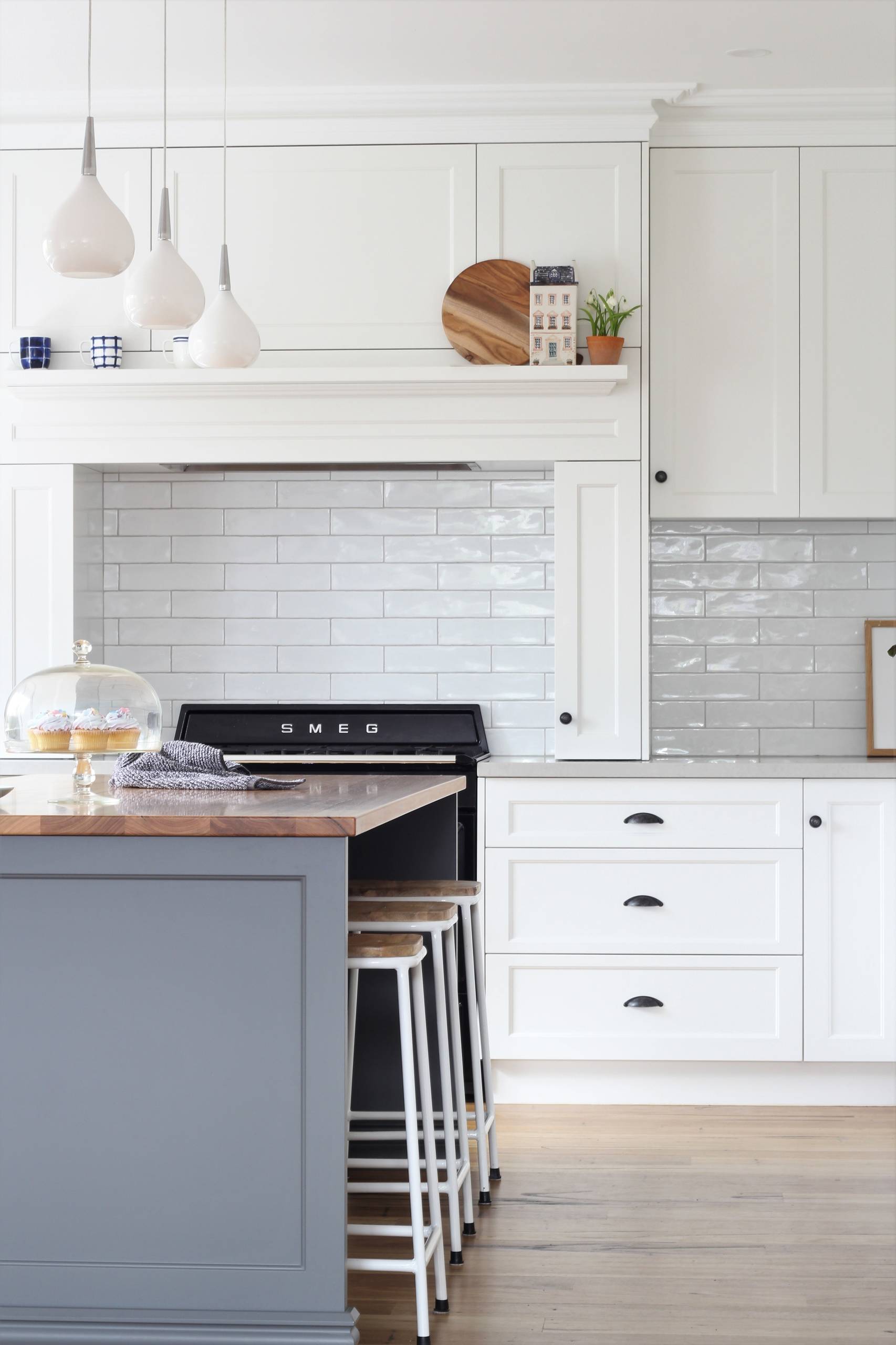 ID# 171605 | Houzz.com – Credit | © My Beautiful Abode
---
Farmhouse Kitchen with White Subway Tiles and Gray Island
At first sight, the minimalist and monochromatic scheme of this farmhouse kitchen feels provoking and also stunning! The white shaker-style cabinets and white subway tile backsplash provide a clean and bright backdrop while the light gray countertops and the oil-rubbed bronze hardware complete this classic combination. At the center of the room, the gray island with a butcher block countertop offers a laid-back dining zone and creates a socialization space.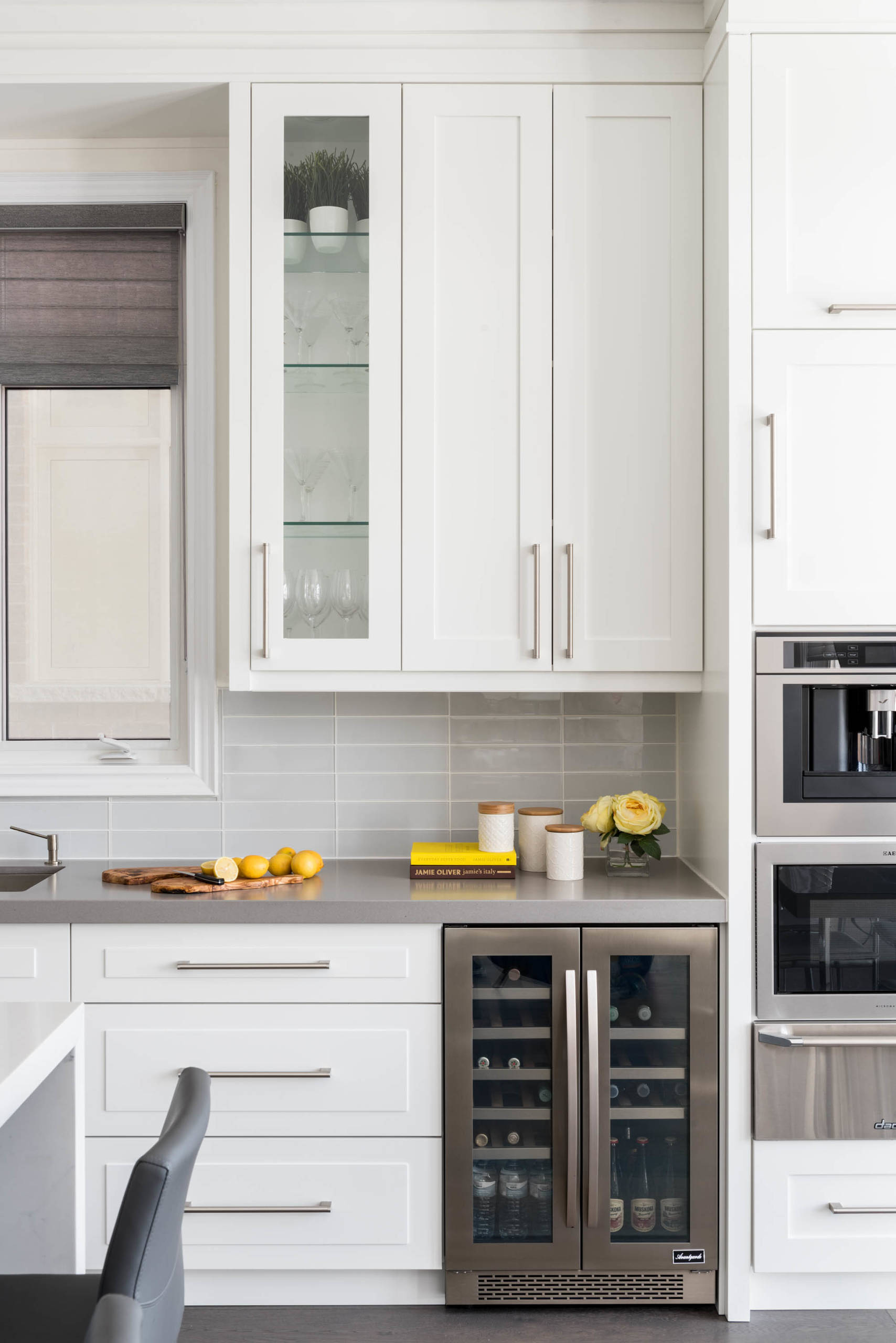 ID# 171606 | Houzz.com – Credit | © Dvira Interiors
---
White Cabinets with Gray Countertop and Stacked Subway Tile Backsplash
The kitchen's colors are assured to have a refreshing palette to feed on the sunlight directed from the outdoors. Grays and whites encase the kitchen beautifully! Adorned by a crisp white color, the white kitchen cabinets serve as the backbone of this transitional design. The glass stacked subway tile backsplash adds a nice textural look between the cabinets and gray countertops. The use of glass for the backsplash adds a non-porous element and eco-friendly element. To catch a consistency with elemental forms, quartz and glass form harmonious integrity as pore-free surfaces while the gray countertops also help stainless steel appliances feel at home.
Gray Countertop Materials
Granite, quartz, concrete, and marble are the most popular countertop materials to choose from! For those looking for a natural stone, granite and marble countertops exemplify the most fanciful options. They are experts at achieving a sophisticated look. Rather than being simply gray, with brownish, whitish and darker hues and patterns, they stand out as a piece of artwork. However, as they are porous, they require sealing and more delicate routines for cleaning. If you want something that requires easy maintenance, gray quartz and concrete are other options you can consider!
White Cabinets with Gray Marble Countertops
Marble countertops though strong in texture with a high-level durability feature a delicate look, achieving stylish designs effortlessly. While gray marble offers a neutral backdrop, it also makes a visual statement and white cabinets bring out the charm of the gray countertops.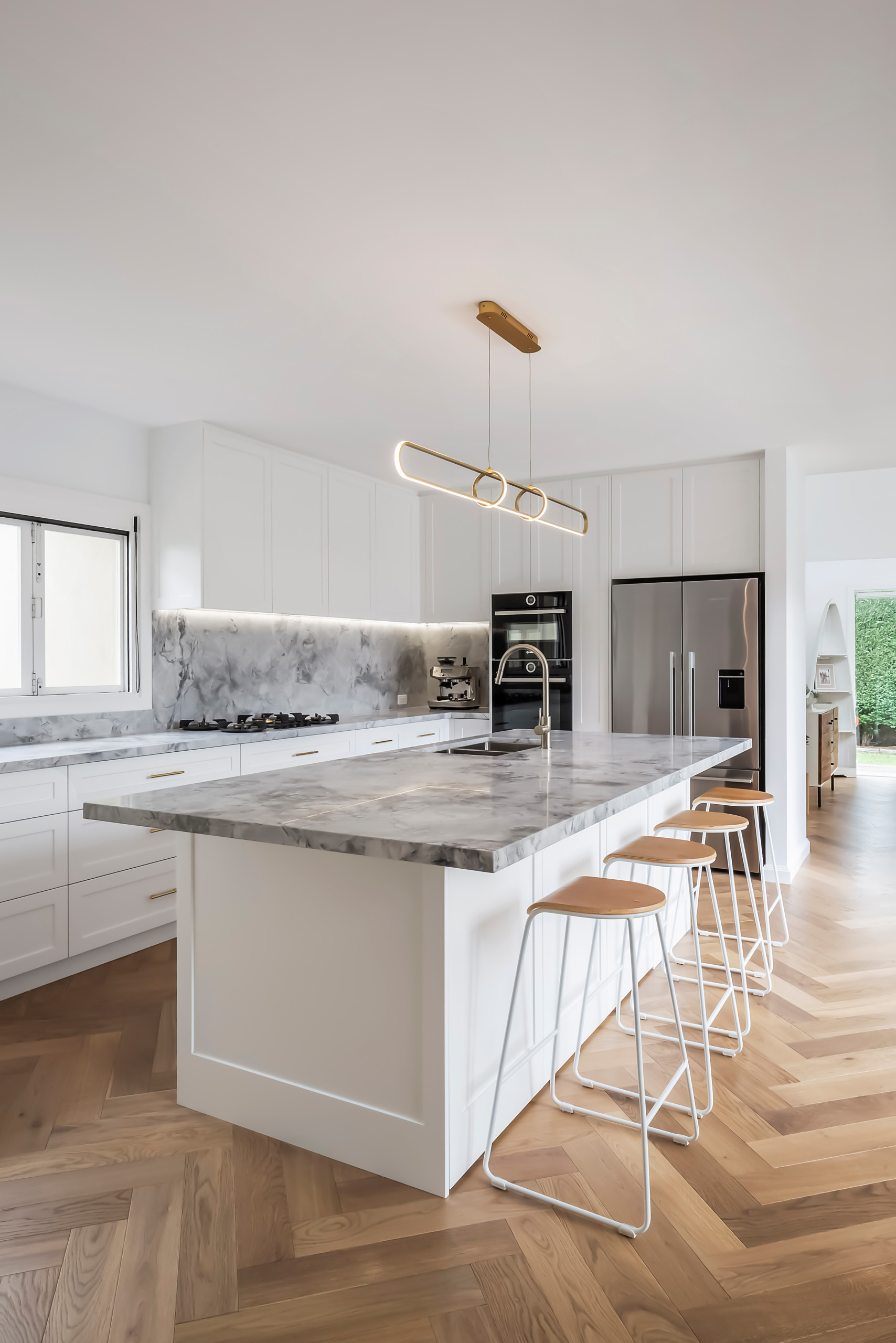 ID# 171607 | Houzz.com – Credit | © Northern Beaches Kitchens and Bathrooms
---
White Cabinets with Gray Countertop and Marble Backsplash
For those looking for a stunning piece and seamless look, large-format slab natural stones are excellent options. Especially when combined with white slab-front cabinets, they come with no visual intervention and take center stage! In this kitchen, coastal and contemporary design tools are used to achieve an impactful look. For instance, to conceive beach vibes, the pared-down look is incorporated, enveloped by minimalist and contemporary touches such as slab-front cabinets. The wood counter stools carry minimalist silhouettes into the kitchen, while herringbone wood flooring lays warmth coursing through the floor under the feet. A gray marble backsplash and countertops elevate the look of the kitchen immediately.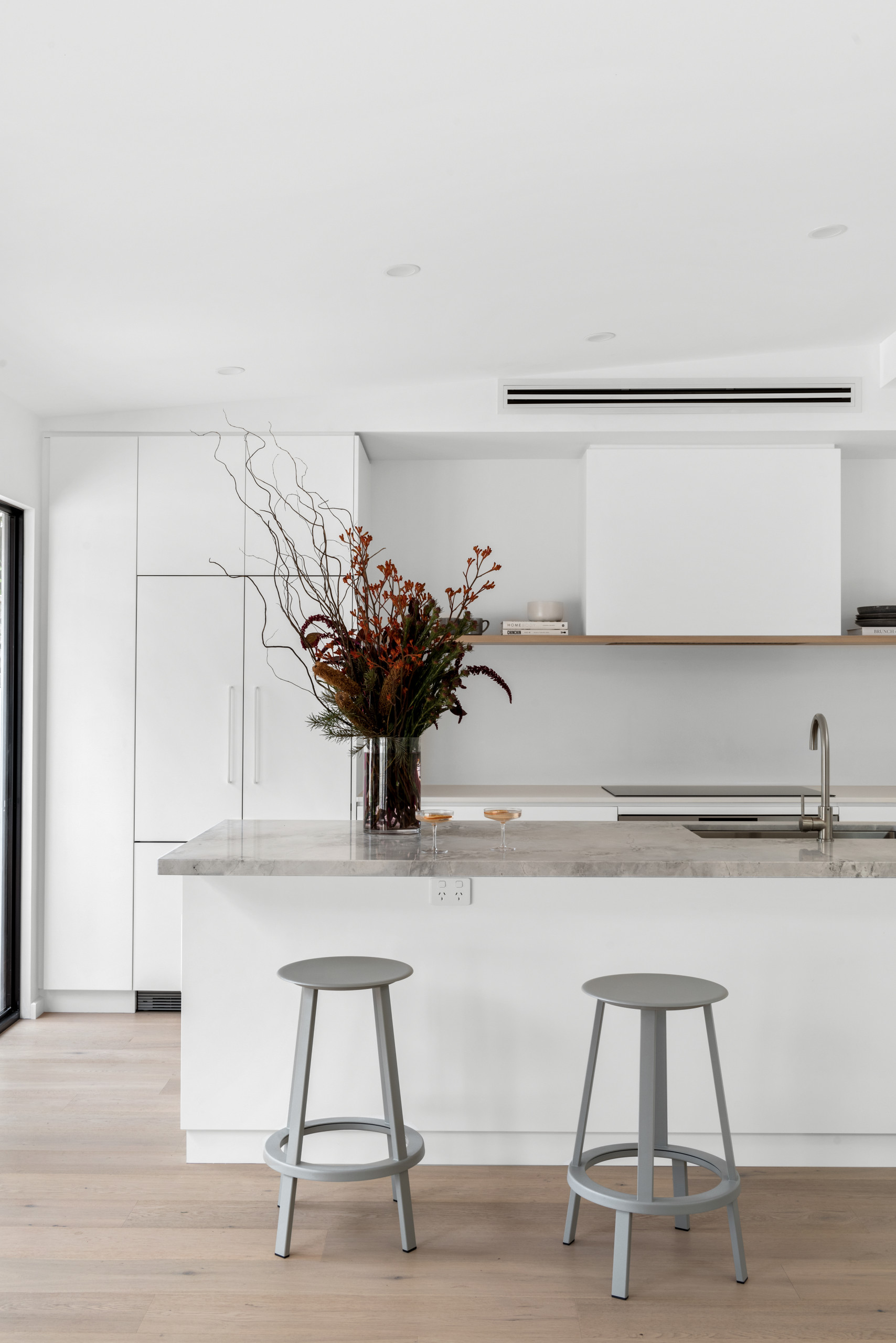 ID# 171608 | Houzz.com – Credit | © Matthew James Interiors
---
Modern White Kitchen with Oversized Island and Gray Counter Stools
The robust design of this contemporary kitchen makes a strong impression, especially with the presence of the oversized island! The recessed slab-front cabinets offer a seamless look at the back, almost camouflaged, blending perfectly with the white walls and white backsplash. Flanked by wood floating shelves, the white range hood completes this sleek look while the marble-topped kitchen island sits confidently, making a statement. It is complemented by the backless gray counter stools that break up the monotony of the monochromatic palette. Light-tone wood flooring with inherent stains adds much-needed warmth to orchestrate organic feelings.
Are white cabinets a good choice?
White cabinets offer you a blank canvas to decorate as you wish. They can be adjusted to any design theme. To capture a sense of freshness and lightness, they emit the perfect vibes for the kitchen. Every style, be it contemporary, modern, mid-century, beach-inspired, or transitional, employs white cabinets to define its parameters with additional accents. But the main bones of the kitchen remain to be the white cabinets.
Secondly, white cabinets create a sense of spaciousness, making the kitchen look wider and taller. For the overhead cabinets especially, you can take them up to the ceiling to make your kitchen taller. With white walls, they blend perfectly and almost look camouflaged. They also refract the light beautifully and know how to make use of the light directed from the outdoors.
Thirdly, they can easily be complemented with any hardware, including brass, chrome, nickel, and copper finishes, catching various rhythms with each one. When you have white cabinets, upgrading the look of your kitchen gets easier. Even if you change the hardware and choose a different type of handle, it will make a huge difference. And, of course, they are always on-trend and will never go out of style.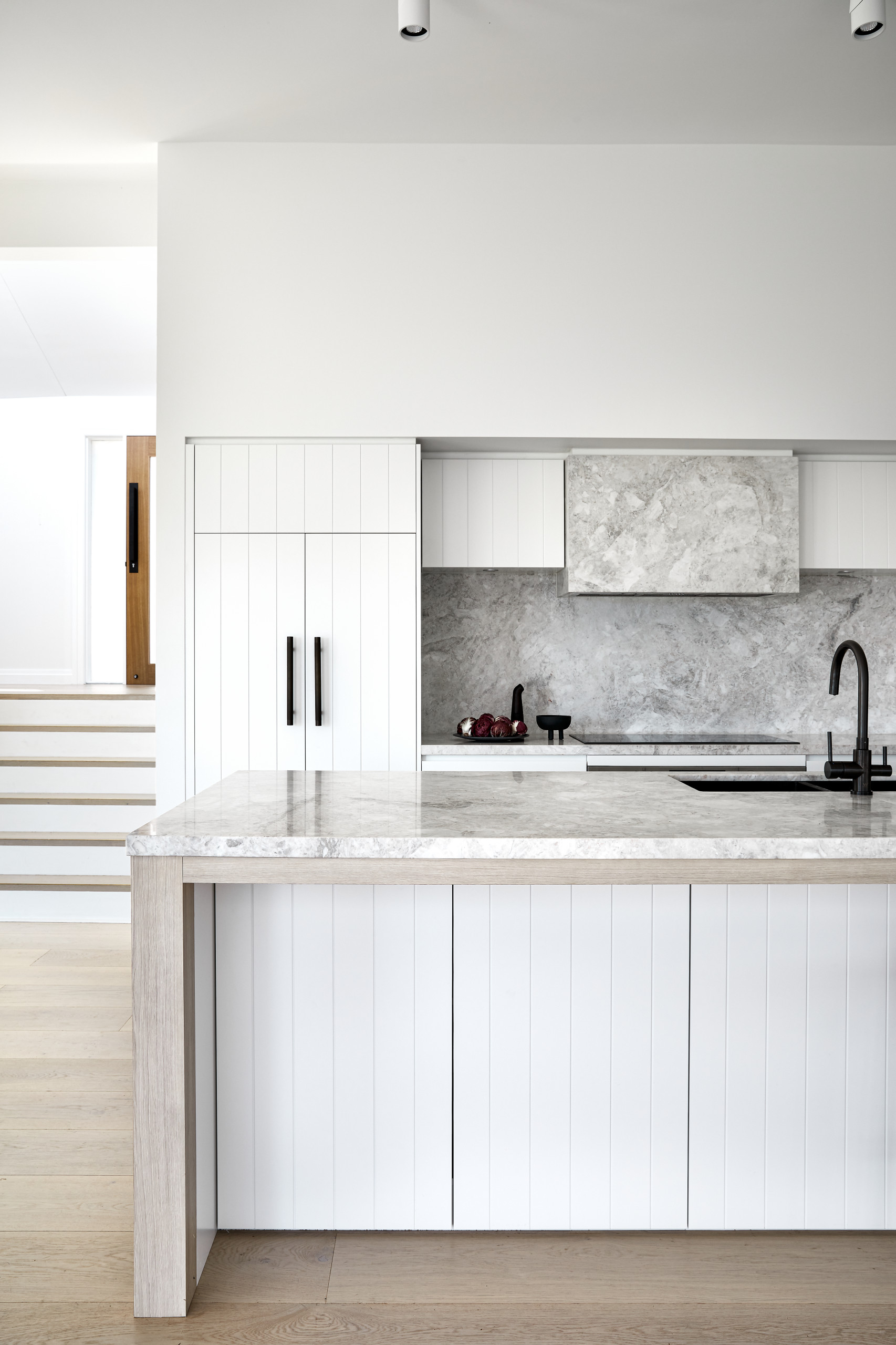 ID# 171609 | Houzz.com – Credit | © Covemade.
---
Beadboard Cabinets and Marble Backsplash with Black Hardware
Responsive to its surrounding context, this open-plan kitchen employs a monochromatic color palette to offer smooth transitions between different parts of the home. Natural stones and light timber accents make sure to evoke tactile feelings. The white beadboard paneled cabinets curate a rhythmic movement to add depth and layer. The gray marble backsplash exudes elegance, while black accents, plumbing fixtures, and hardware, are added to gesture the space. To highlight the contemporary nature of the kitchen, preferring long and linear cabinet handles serves as a well-considered addition.
White Cabinets with Gray Granite Countertops
Granite countertops offer one-of-a-kind upscale looks. As they are natural stones, every single slab features an unmatchable unique look. Plus, they can easily fit into any setting. For instance, you can combine them with white raised-panel cabinets to create a classic look. To see some examples, check below!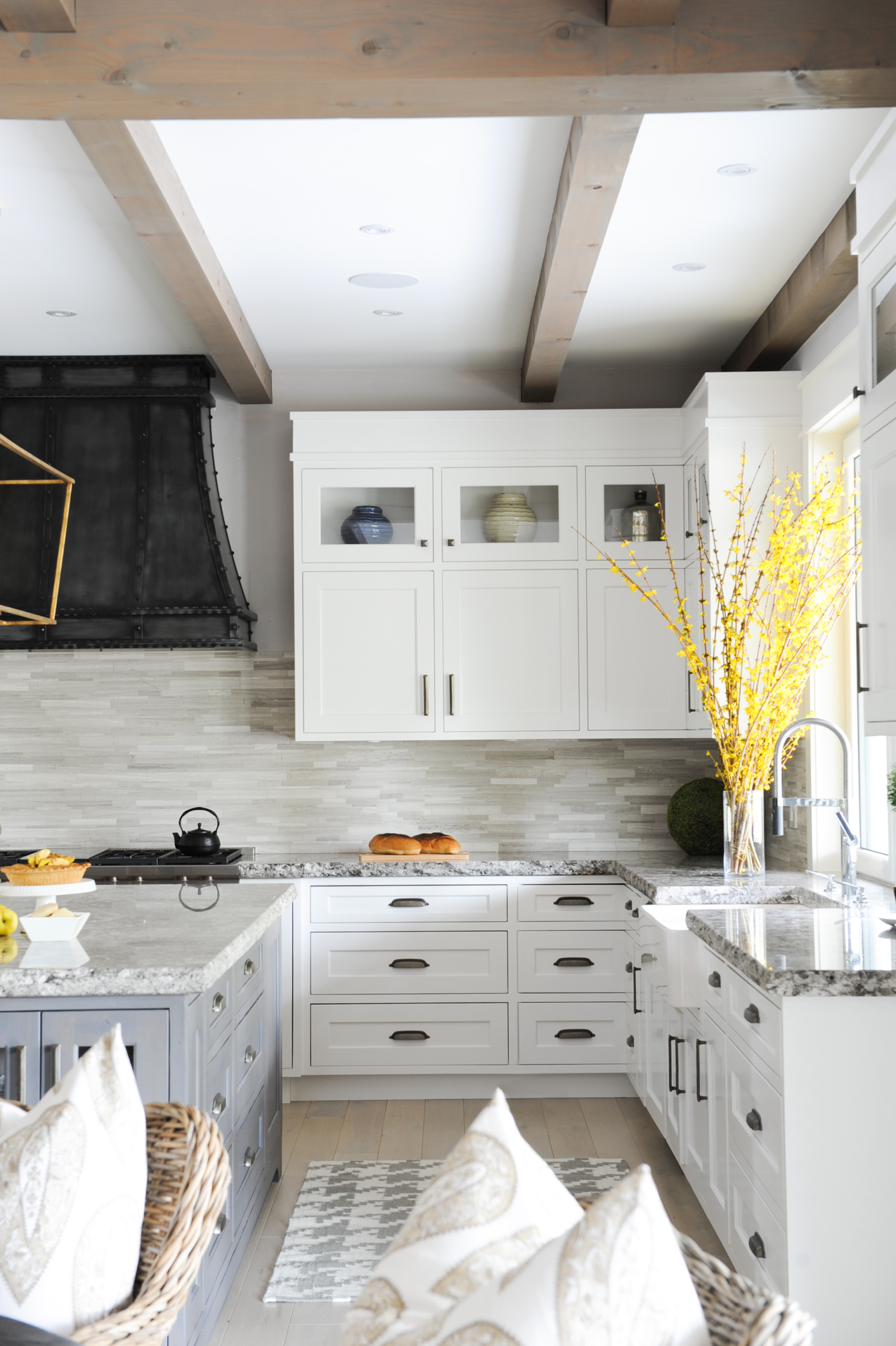 ID# 171610 | Houzz.com – Credit | © PlaidFox Studio
---
Shaker Cabinets with Black Range Hood and Subway Tile Backsplash
As gray is a versatile color, it can easily adjust to the different moods aimed at kitchen designs! Combined with beige subway mosaic backsplash, wood flooring and white shaker cabinets, the gray countertops suggest a pared-down look. The use of granite also adds organic beauty to it, giving the countertops a natural appeal. The beige-colored subway tile backsplash adds a neutral effect while the white shaker cabinets take up to the ceiling to maximize the storage space in the kitchen, offering a blank canvas for other elements to blend harmoniously.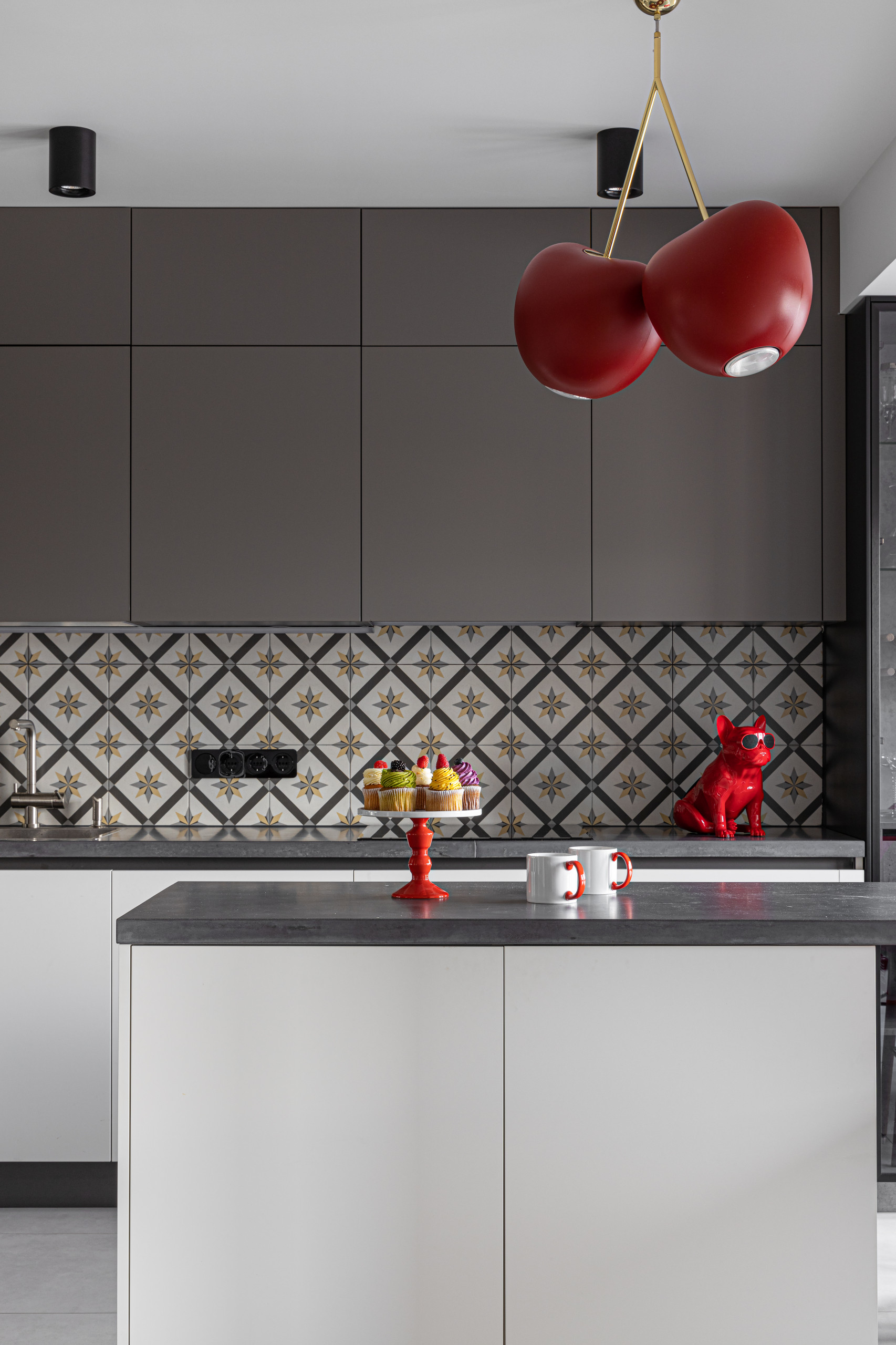 ID# 171611 | Houzz.com – Credit | © Ирина Чернейкина
---
White Cabinets with Gray Countertop and Red Accents
The red touches add instant pops of color and animate the kitchen slightly without going too bold! With a closer look at every single element, gray ceiling flat panel cabinets suggest a casualness of everyday life with a humble look while the gray granite countertops communicate a sense of luxury. The white base cabinets bring a bright look between the dark gray features to create a spacious atmosphere. Mirroring the white cabinetry, the kitchen island brings a sense of order and integrity, blending with the rest cohesively. To evoke more excitement in the space, the patterned backsplash tiles add a sprinkle of glam to the otherwise neutral and organic kitchen.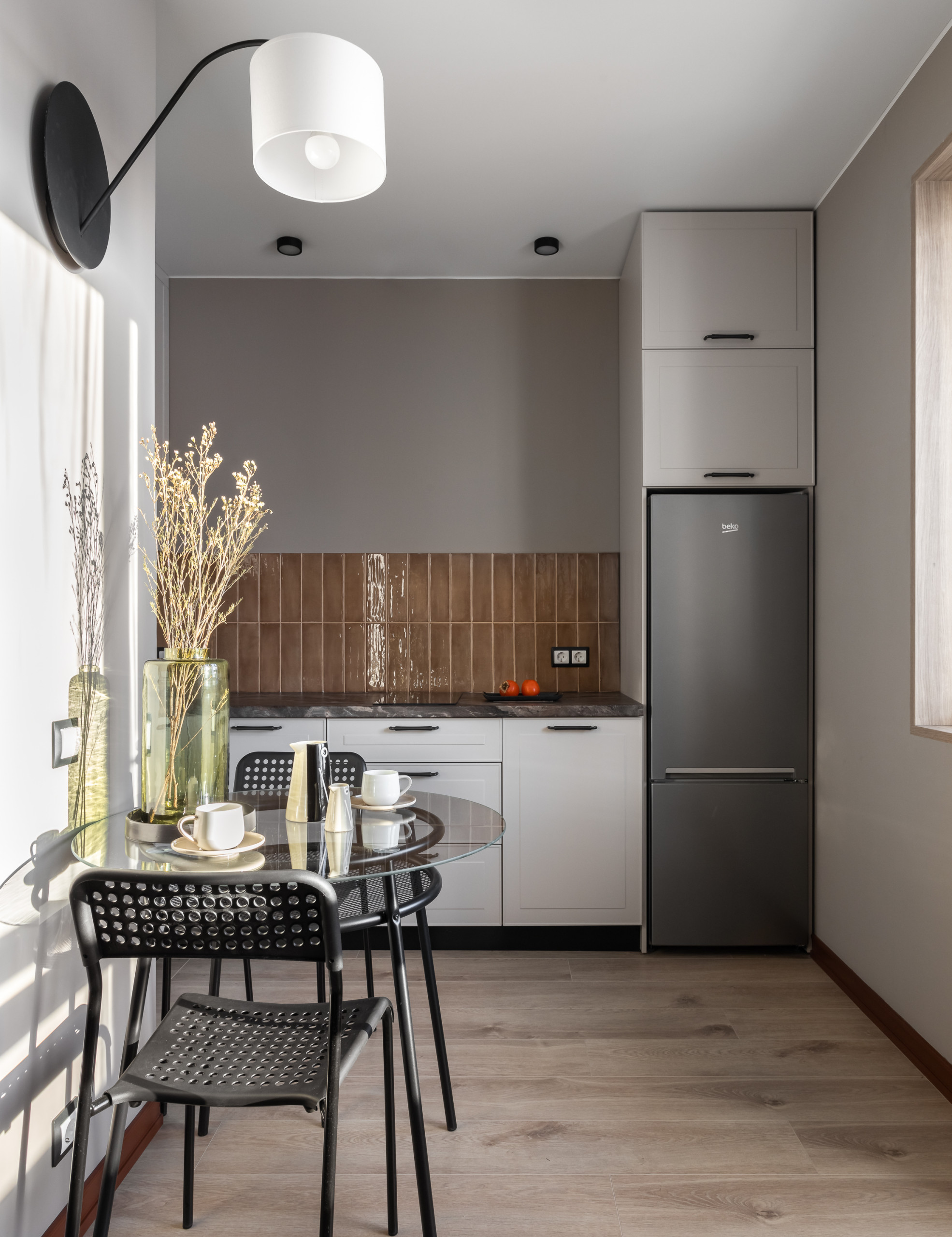 ID# 171612 | Houzz.com – Credit | © olga busorgina
---
Small Contemporary Kitchen with Beige Stacked Backsplash Tiles
If you want to keep things simple, achieve a seamless look, and have the budget, granite lends depth to the kitchen and makes a visual statement! In this small contemporary kitchen, for instance, the neutral colors allow different corners to flow into each other with a sense of legacy. Topped by granite countertops, the white shaker cabinets provide a clean and classic foundation while the black hardware and stainless steel appliances perfectly complete this timeless appeal. The beige stacked tile backsplash breaks the monochrome color scheme to add warmth to the atmosphere.
White Cabinets with Gray Quartz Countertops
Let's first dive into the world of gray quartz countertops to see their design options with white cabinets. To start with, pure gray quartz, as the name suggests, is purely gray, offering a homogeneous look. Unlike pure quartz, sparkling gray quartz incorporates glass chips for a sparkling effect. Marble-looking gray quartz is a great substitute for the more expensive and porous marble nature stones. In creating sophisticated looks, it is as efficient as a marble countertop. Also, the quartz featuring veins breaking up the monotony of the gray color even dares to look like Calacatta marble.
All these options suggest that gray quartz countertops create various eye-appealing designs with white cabinets that adjust their character while complying with the briefs the gray countertops propose.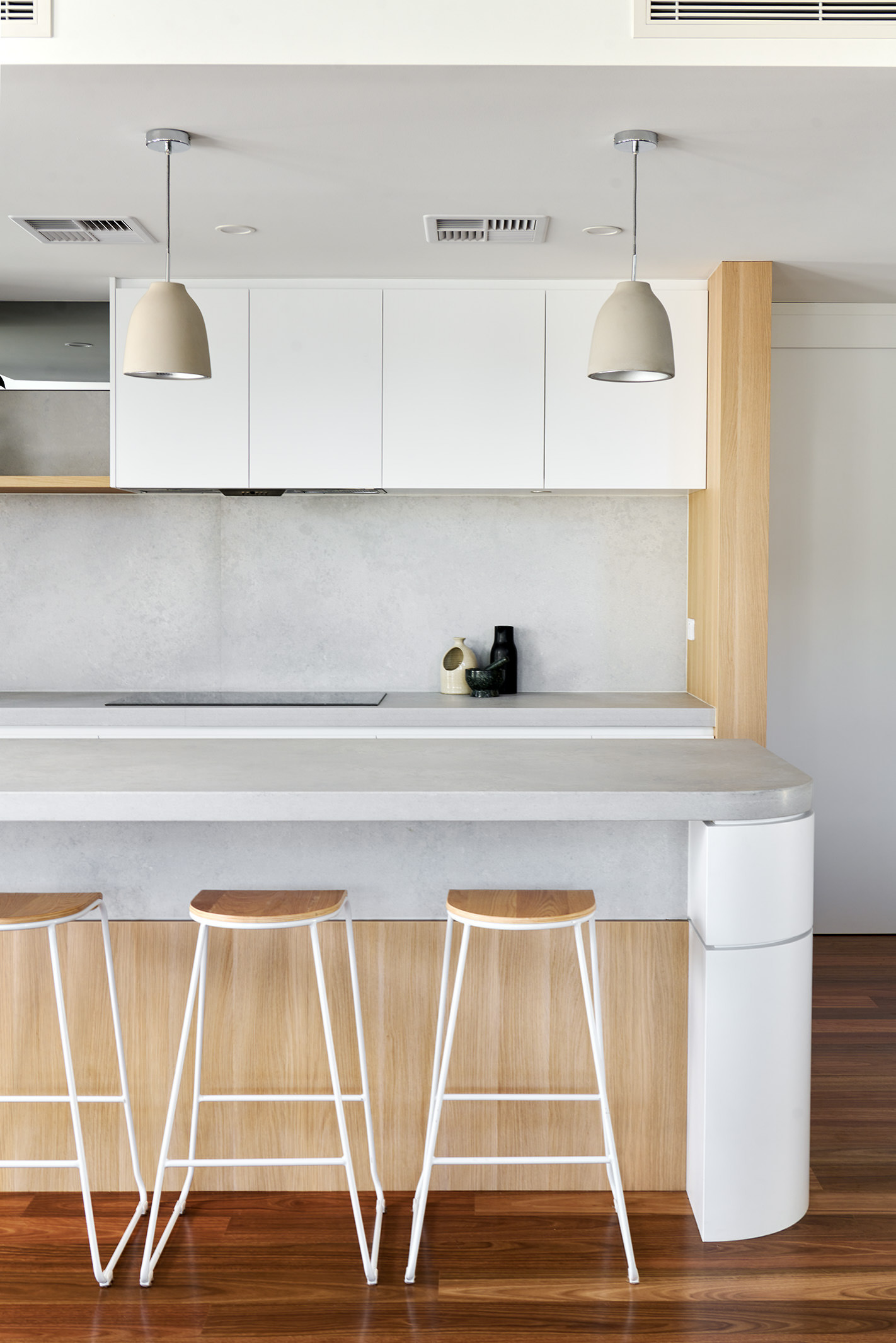 ID# 171613 | Houzz.com – Credit | © Western Cabinets
---
White Cabinets and Island with Oak Treatments and Gray Quartz Countertop
Delicate yet strong, distant yet approachable, the minimalist and soft imprint of the kitchen showcases a refined language, quoting the Scandinavian architectural design! Oak treatments and engineered quartz with human imprint combine layers of texture with non-porous skins. At the back wall, oak treatments frame the white flat-panel cabinets. They cover half of the island's front bottom in the middle, which brings order and integrity. The matte finish of the quartz countertop supports the neutral look, while the gray backsplash blends perfectly with the rest. The kitchen island's curved legs and edges break up the monotony of perpendicular lines and emphasize the soft and gentle character of the kitchen. It also brings a sense of futuristic dynamic, while wood flooring instills warmth underfoot.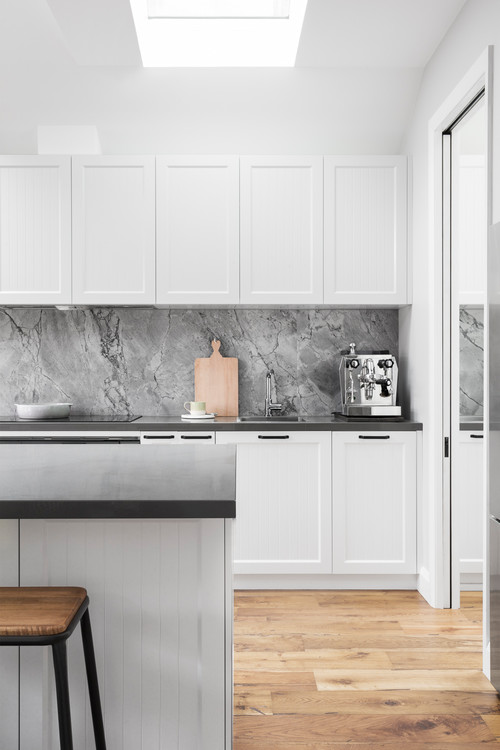 ID# 171614 | Houzz.com – Credit | © GIA Bathrooms & Kitchens
---
White Cabinets with White Countertop and Marble Backsplash
This contemporary kitchen is a well-coordinated articulation of neutral tones and timber accents. The white shaker cabinets create a continuous look with white walls, while black hardware punctuates their presence. The marble slab backsplash paired with dark gray quartz countertops expresses a sense of sophistication without overpowering other elements.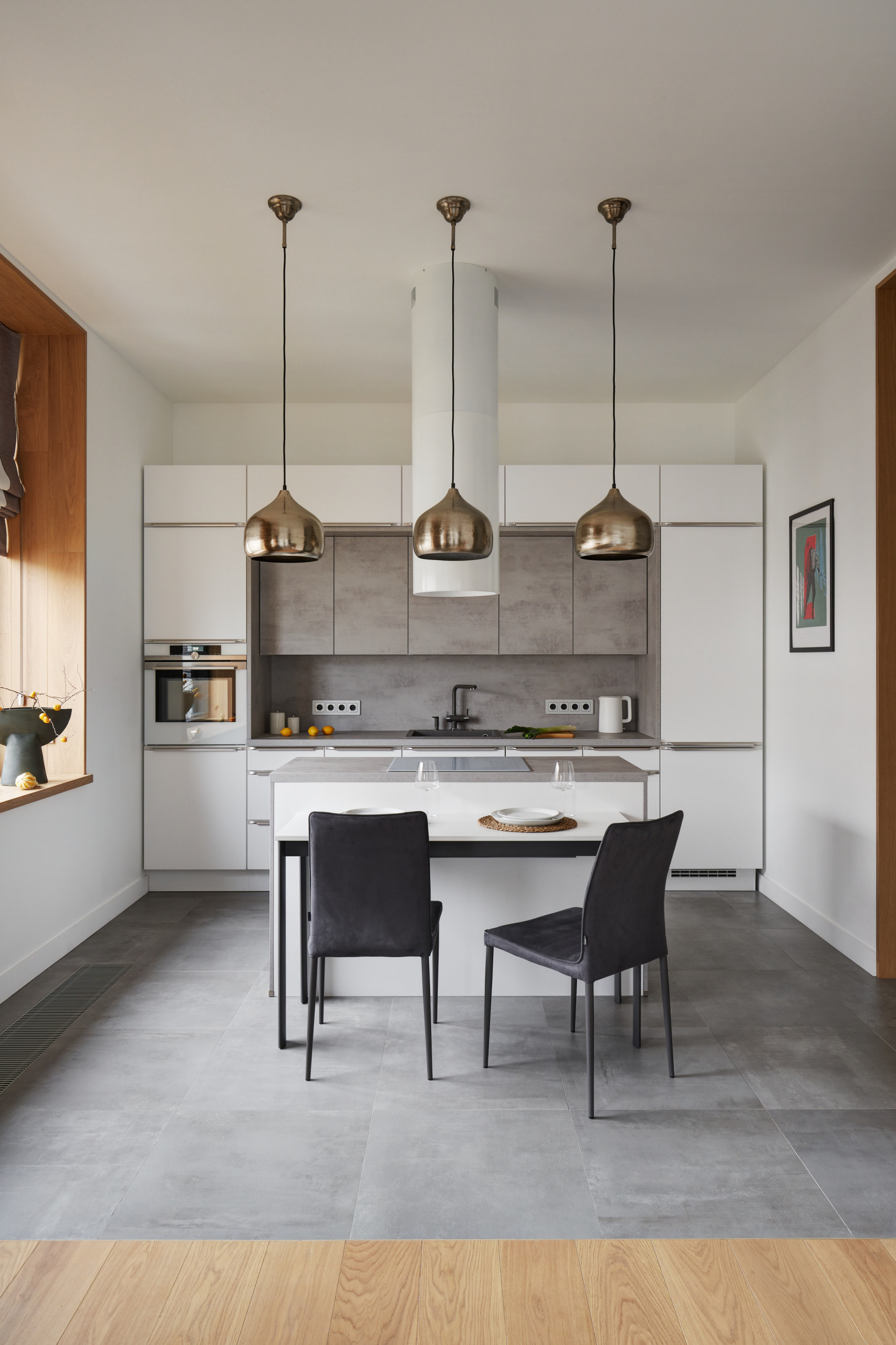 ID# 171615 | Houzz.com – Credit | © Artzona
---
Modern White Kitchen with Large-format Gray Floor Tiles
Simple but intriguing! The crisp white, gray, and black offer eye-catching combinations favored in modern kitchen designs and this one benefits from all of them! The gray quartz backsplash, countertops and gray cabinets in the middle define the back of the kitchen with a sleek and modern look. Paired with white flat-panel cabinets, all these elements with their sleek look and clean lines incorporate a more contemporary look. Topped with gray quartz countertops, the white island's extension houses black counterchairs that blend perfectly with gray floor tiles.
White Cabinet Door Styles
Among the most popular cabinet door styles, we can count the shaker, beadboard-paneled, raised-panel, recessed-panel, and slab-front cabinets. Each one of these cabinets is associated with a certain style. For instance, raised-panel cabinets are a staple element in traditional kitchens, while shaker cabinets fit into any context. Slab-front cabinets mostly colonize contemporary, modern, and Scandinavian-style kitchens, while recessed-panel cabinets are found in transitional, beach-style, and modern kitchens. Just like shaker cabinets, recessed panel cabinets are also used prevalently within many kitchen designs. Of course, it doesn't mean that there are rules of thumb to be followed strictly as the design is a matter of personal interest and taste.
Also, we shouldn't forget about the display cabinets. They create visual interest and offer glimpses into the cabinets themselves. They are also the perfect spots to exhibit your favorite items and project your personality.
White Shaker Cabinets with Gray Countertops
Shaker cabinets with a simple trim on the edges are more like a universal face of the cabinet world that fits into any setting and adjusts to any design. They feature a modest and neutral look. Especially, if you want a shiny backsplash, white shaker cabinets are an excellent addition to neutralize the glam.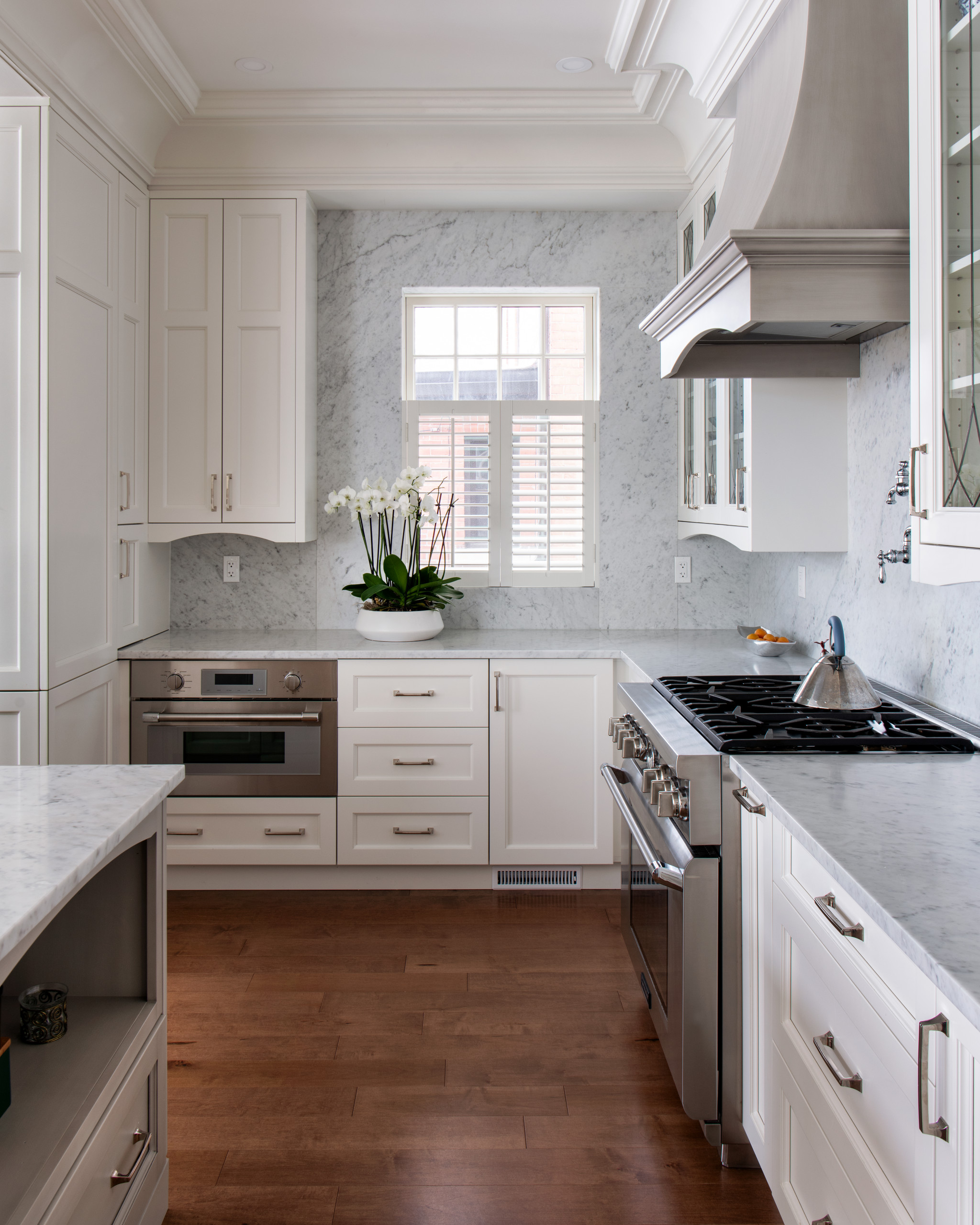 ID# 171616 | Houzz.com – Credit | © The Cabinet Connection
---
White Cabinets with Gray Countertop and Wood Flooring
The gray and white palette navigates you in this traditional kitchen! The shaded window lets an abundance of natural light internally. In addition to daylighting, the monochromatic kitchen scheme is illuminated with a full-height marble backsplash and countertops to add a glam look while off-white shaker cabinets are there to balance the eye-popping backsplash. Chrome finish hardware and stainless-steel appliances blend in perfectly! The medium-tone wood flooring adds much-needed warmth to the kitchen as one last touch.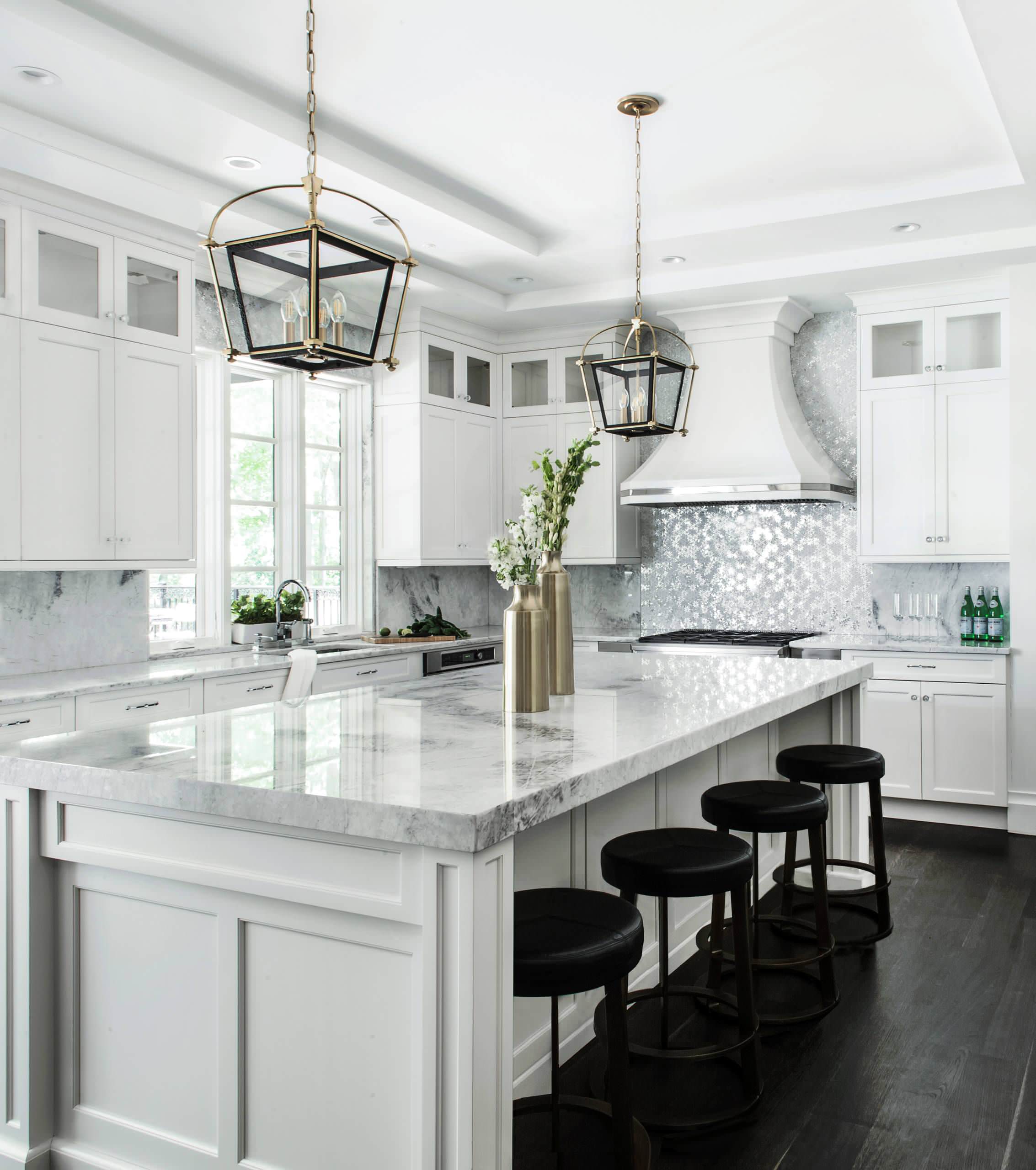 ID# 171617 | Houzz.com – Credit | © Highview Kitchen Ltd
---
Display Cabinets with Glossy Backsplash and Gray Countertops
The eye-catching glass and metal mosaic tile stove backsplash stand out between white shaker cabinets, whose reflection even falls across the island countertop and sets a playful scene. White shaker cabinets topped with display cabinets are a staple element in transitional kitchens. Instead of injecting colors, this kitchen makes use of a glamorous backsplash to animate the interior space! To create diversity and eschew inserting the kitchen into a glossy scheme, a stone slab backsplash is used to accompany the work surfaces. The book-matching countertops with gray veins tie together every element. Caged pendants, black backless counter stool, and black flooring ground the kitchen's look with a stylish finish.
Are white cabinets hard to keep clean?
The major concern regarding the white cabinets is the cleaning process. As white shows the grease, stains, dirt, and fingerprints, yes, things get messy. In such situations, you can use white cabinets as overhead cupboards, while the base cabinets can feature another color that hides the stains. From a different perspective, they also encourage you to clean cabinets more frequently, which will postpone their aging.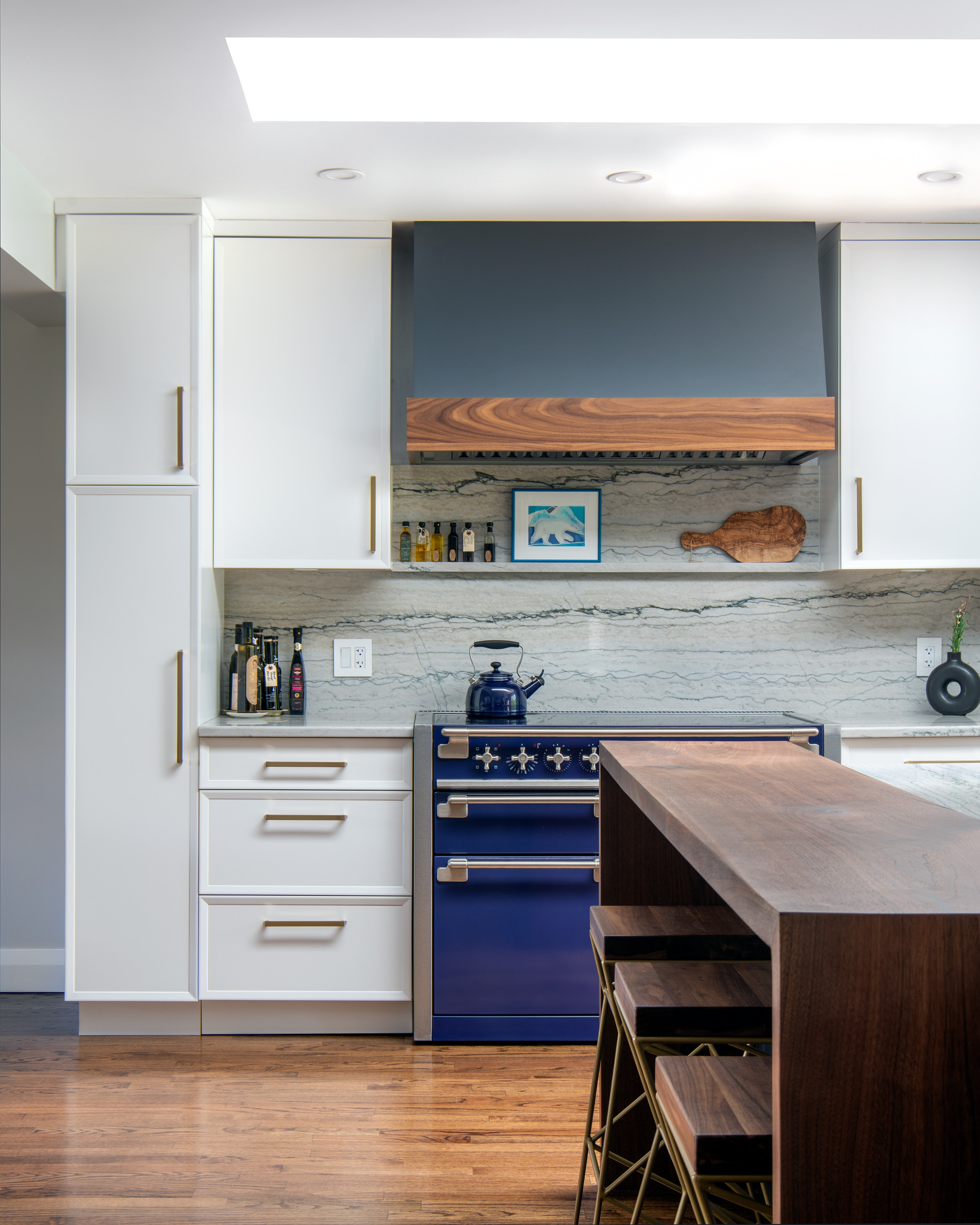 ID# 171618 | Houzz.com – Credit | © The Cabinet Connection
---
Farmhouse Kitchen with Black Pendants and Blue Island
The navy blue stove and range hood inject a dose of color while creating contrast against the white dominant color scheme that evokes a lived-in look and feel. The wood floor coating with a pared-down look reinforces this suggestion. Gray marble backsplash with beige veins and gray marble countertops bring a natural look and soothing energy. Featuring cold tones and dramatic contrasts, the kitchen's overall scheme lends a sophisticated look to the space with a sense of rawness!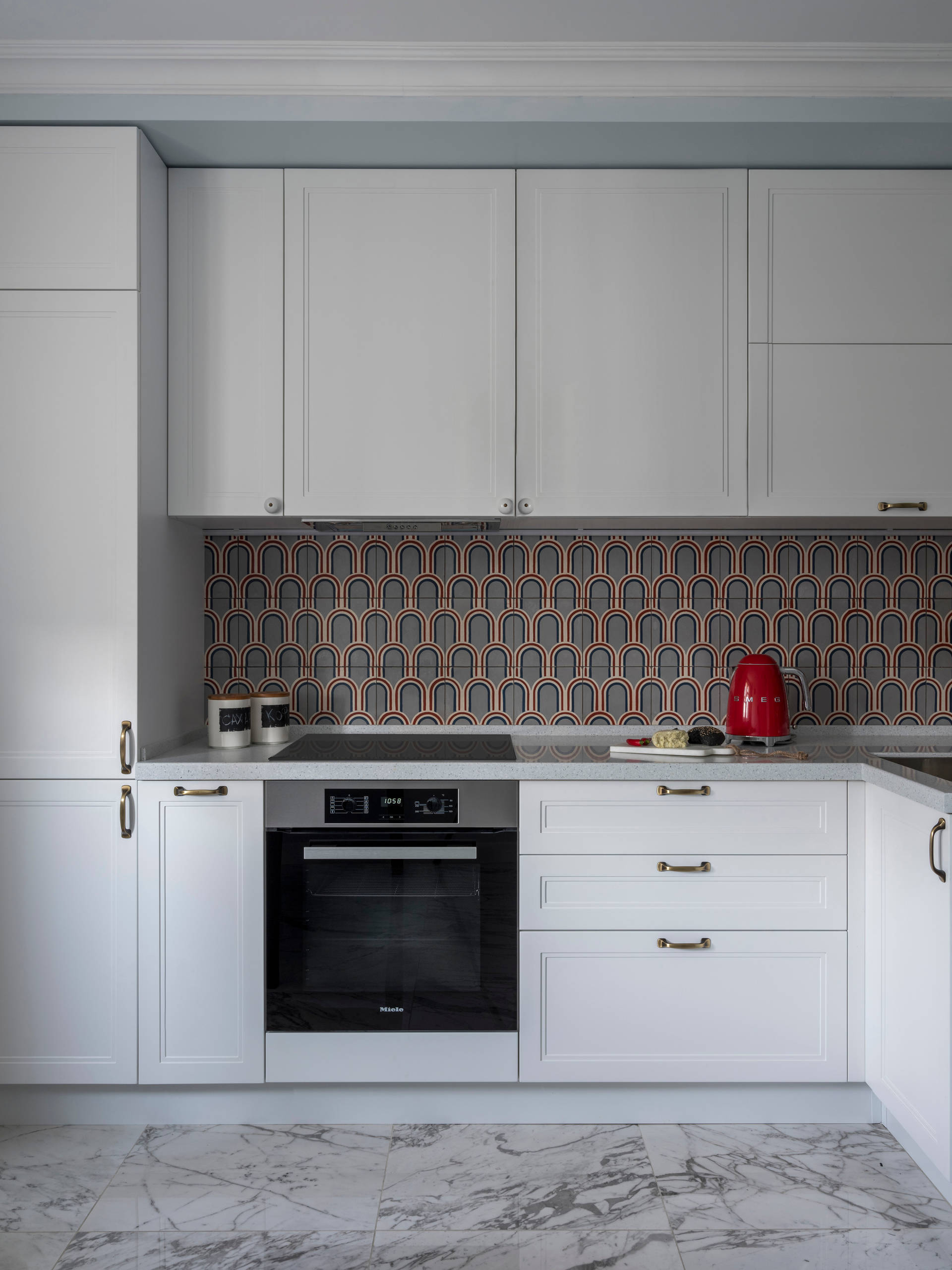 ID# 171619 | Houzz.com – Credit | © Мила Колпакова
---
Patterned Backsplash Tiles with Light Gray Countertops and Brass Accents
White cabinets' timeless beauty and simple lines lay the groundwork for the canvas. The backsplash becomes a piece of art by adding character. The walls are covered in multicolored ceramic tiles, each of which tells a distinct narrative. They invite touch and appreciation with their complex designs which provide depth and texture. The use of brass hardware creates a link between the modernism of the white cabinets and their historical appeal while luxury foundation is laid by the cool to the touch and exquisite-looking marble floor tiles.
White Flat-Panel Cabinets with Gray Countertops
The minimalist and simple look of white flat-panel cabinets suits the neutral gray countertops. They make a great pair as both suggest a sense of less is more philosophy and are direct to the point.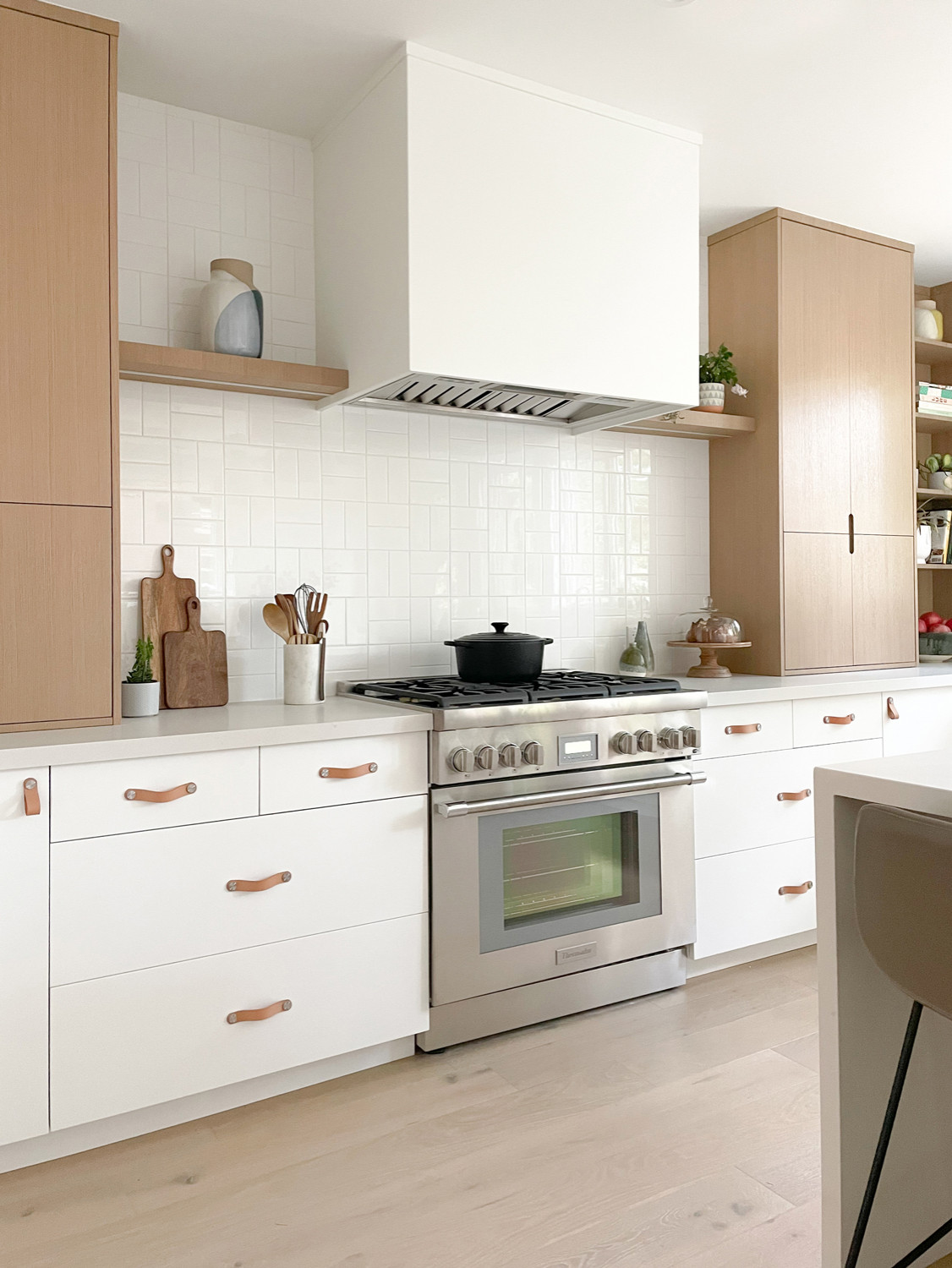 ID# 171620 | Houzz.com – Credit | © Four Blocks South
---
Two-tone Cabinetry with Gray Countertops and Basketweave Backsplash Tiles
The lightness of the white is caressed with a touch of warmth in this modern kitchen. The wooden textures are applied both as a floor coating for a sense of warmth underfoot and on the upper level with light wood cabinets. Basketweave tile ceramic backsplash harmonizes beautifully with cabinets, while light gray countertops bring a subtle tonal variation. The matte finishes emphasize the kitchen's neutral balance and natural beauty. Open shelving and wood floating shelves allow spaces for personal touches.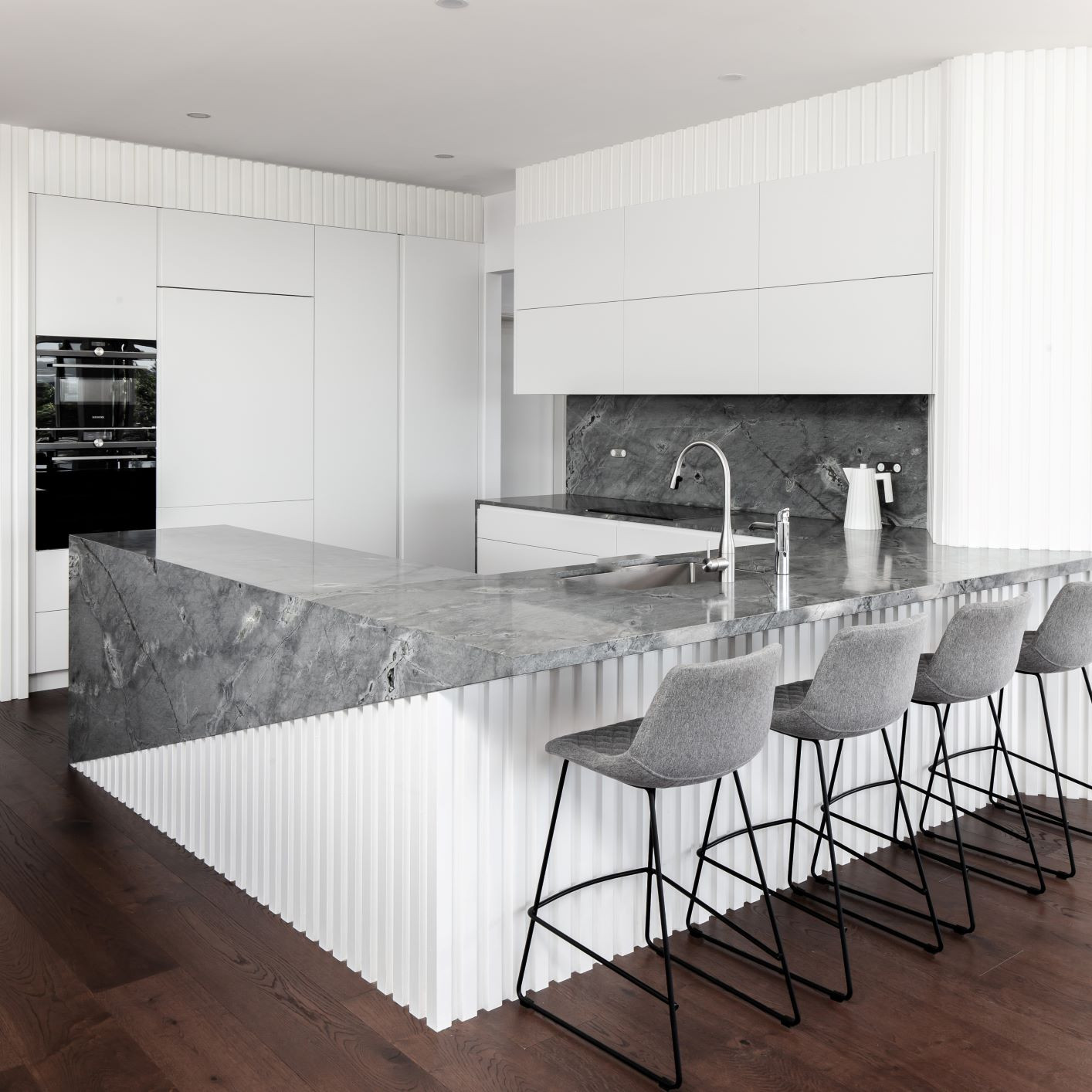 ID# 171621 | Houzz.com – Credit | © Avant Stone
---
White Kitchen Cabinets with Gray Countertop and Granite Backsplash
This contemporary kitchen benefits from highly textured surfaces and natural materials to compromise the absence of any bold colors. It is mostly for your tactical senses. This U-shaped main kitchen zone feels compact with floor-to-ceiling white flat panel cabinets with inset black appliances. Its main part with stove and prep zone also presents a uniform look with granite countertops and white flat-panel cabinets. The clever application of the granite countertop as a large slab format contributes to a sophisticated look. It extends to serve as a peninsula, accompanied by modern design gray cushioned counter stools.
Do white-painted cabinets yellow over time?
Unfortunately, yes, unless you pay attention to certain factors that make them turn yellow over time. One of the factors is sunlight which causes yellowing. To prevent the sunlight from reaching your cabinets, use shades and cabinets. It is also recommended to use the range hood frequently.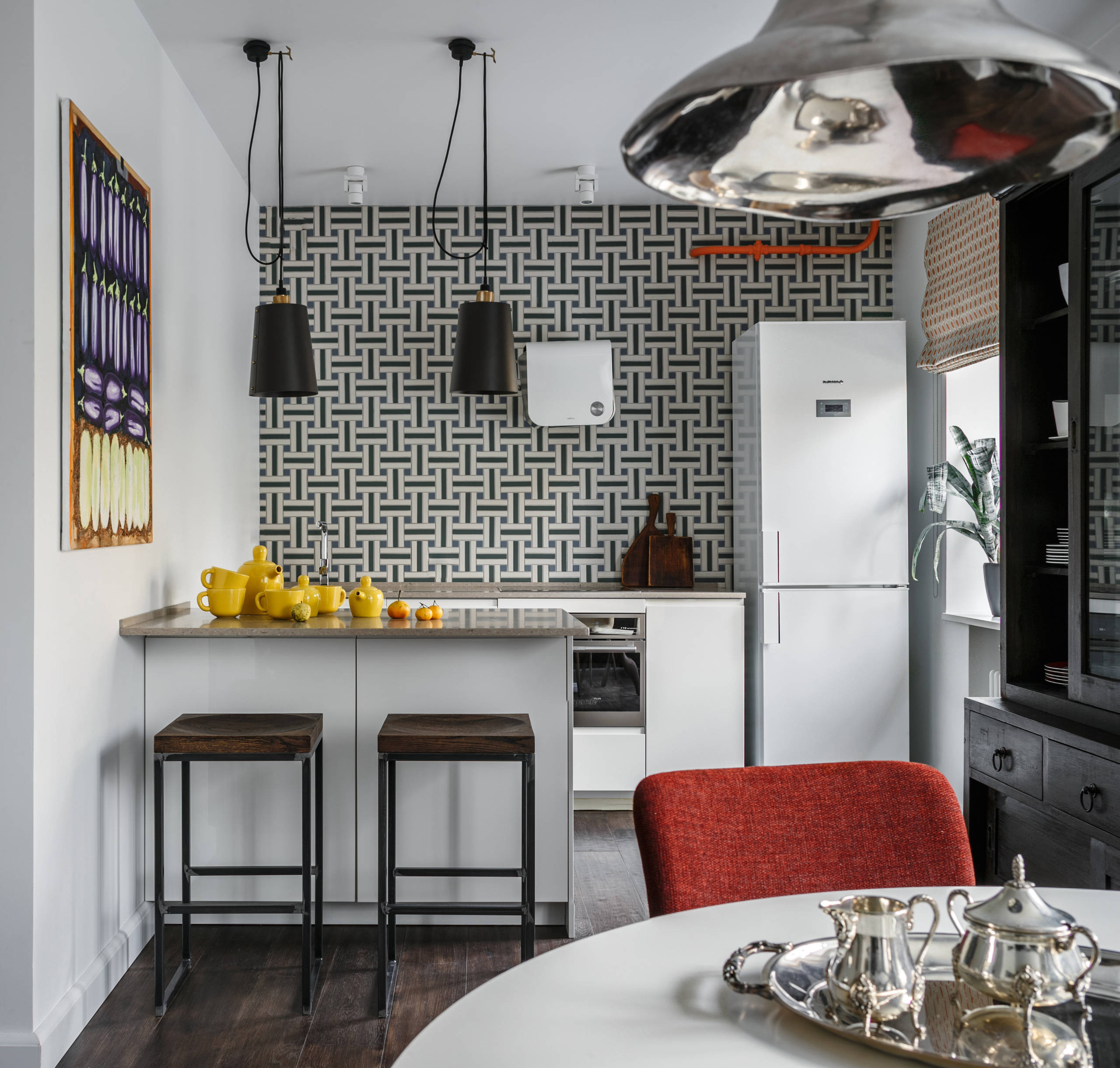 ID# 171622 | Houzz.com – Credit | © STUDIO8
---
Small Open-concept Kitchen with Full-height Backsplash Tiles
Wow… Laid in a basketweave pattern, these multicolored backsplash tiles create an eye-catching accent wall in this small kitchen! The white flat-panel cabinets provide a plain and sleek appeal that allows the backsplash tiles to be the star of this show. The Black pendant lights above the peninsula perfectly complete the contemporary aesthetic while the dark wood floor and gray granite countertops bring a rustic flair that add warmth to the atmosphere.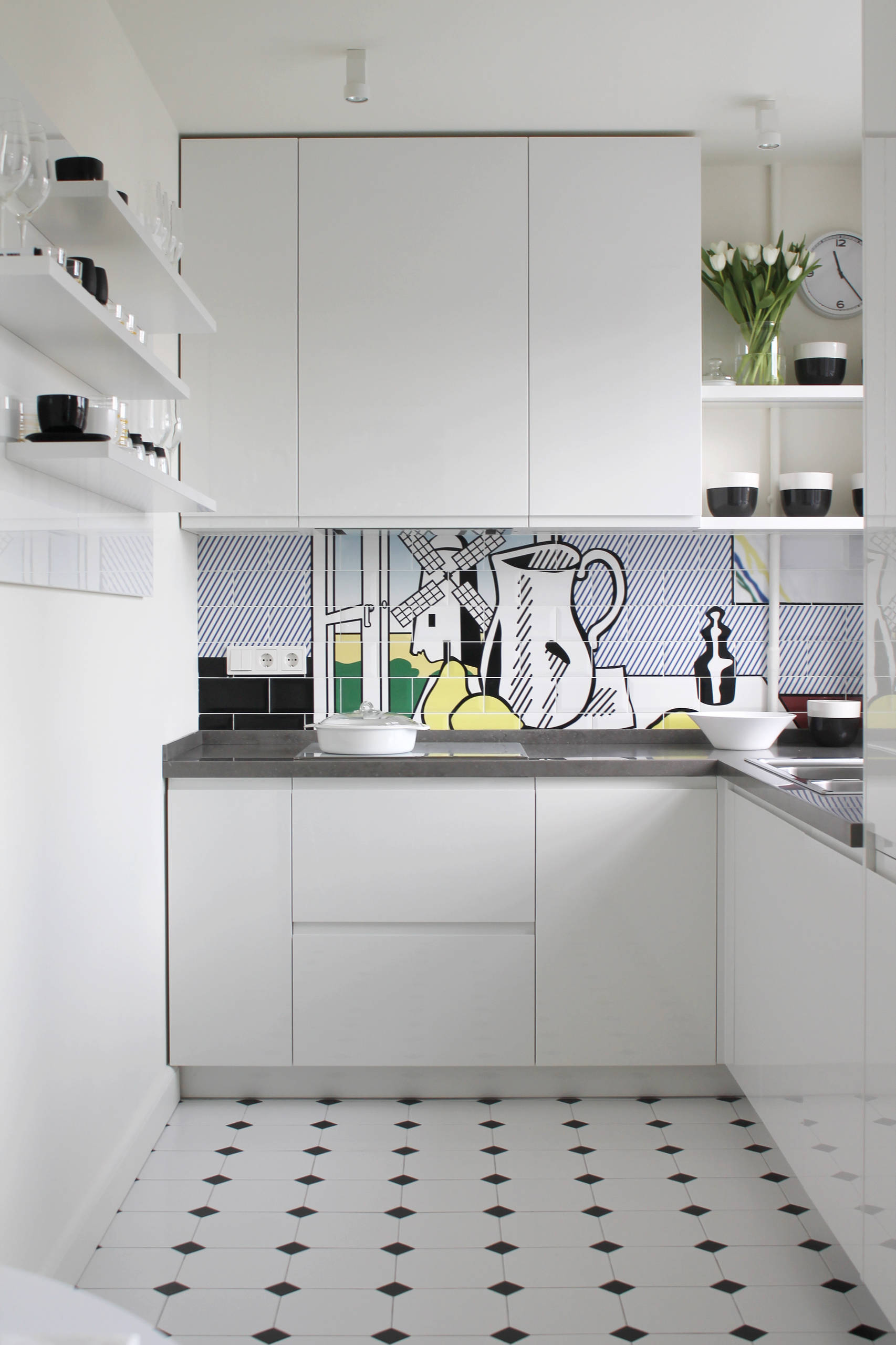 ID# 171623 | Houzz.com – Credit | © Юлия Кирпичева
---
White Cabinets with Gray Countertop and Patterned Backsplash Tiles
The backsplash tiles in this little kitchen really stand out and give the otherwise plain white kitchen a unique look! The cheerful backsplash's unique pattern gives the room a bunch of character. The practical l-shaped design effectively utilizes the available space. White floating shelves provide more space for storage and displays while maintaining a modern, organized appearance. The black and white floor tiles create a strong contrast and a graphic element when put along with the white cabinets and dark gray countertop.
White Raised-Panel Cabinets with Gray Countertops
Raised-panel cabinets are a classic element employed mostly in traditional kitchen designs. Though they are considered out of style, with the right combinations they create stylish and eye-appealing looks.
First of all, contrary to the casualness of the shaker cabinets, they present a formality and a sense of discipline. One advantage of them is that they come with various options for molding and rail. Depending on the material of the gray countertops, you can recreate the traditional vibes these cabinets emit while morphing them into something more exciting. Their combination with gray countertops can enforce the distant and solitary look of the kitchen or on the contrary, alleviate the formality. It is all about how you combine them with which materials.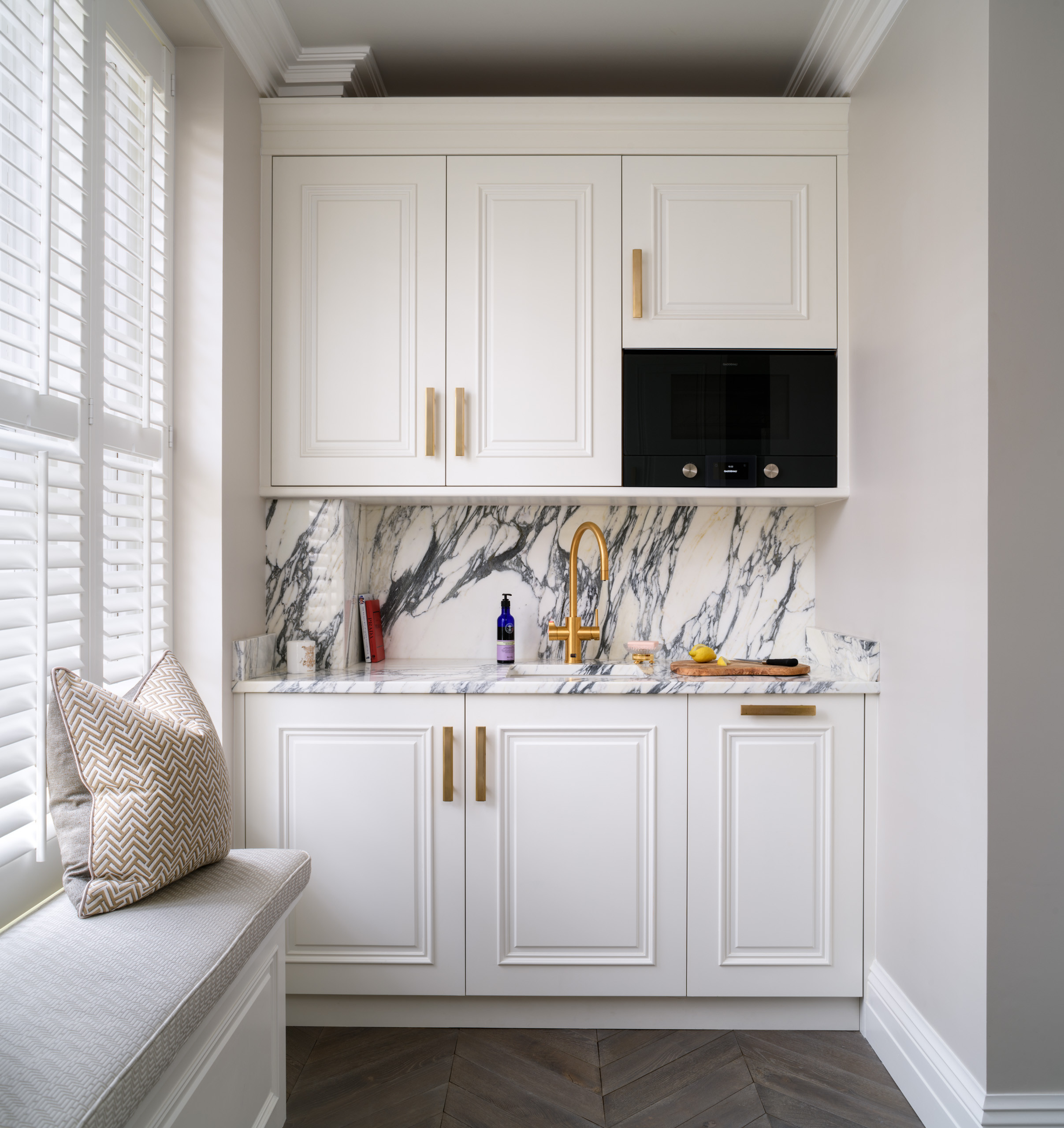 ID# 171624 | Houzz.com – Credit | © Harriet Hughes Interior Design
---
Contemporary Kitchenette with Dark Wood Chevron Flooring
This contemporary kitchenette employs a rich repertoire of classical elements to enrich the space texture-wise! The raised-panel doors are in synchrony with the cabinets, blending cohesively. The use of eye-catching marble slabs as a backsplash and countertop is a luxurious twist that adds visual interest to the background, while polished brass faucets and hardware create a glossy effect. This inspiring transitional kitchen helps you visualize a monochromatic kitchen design with exciting touches.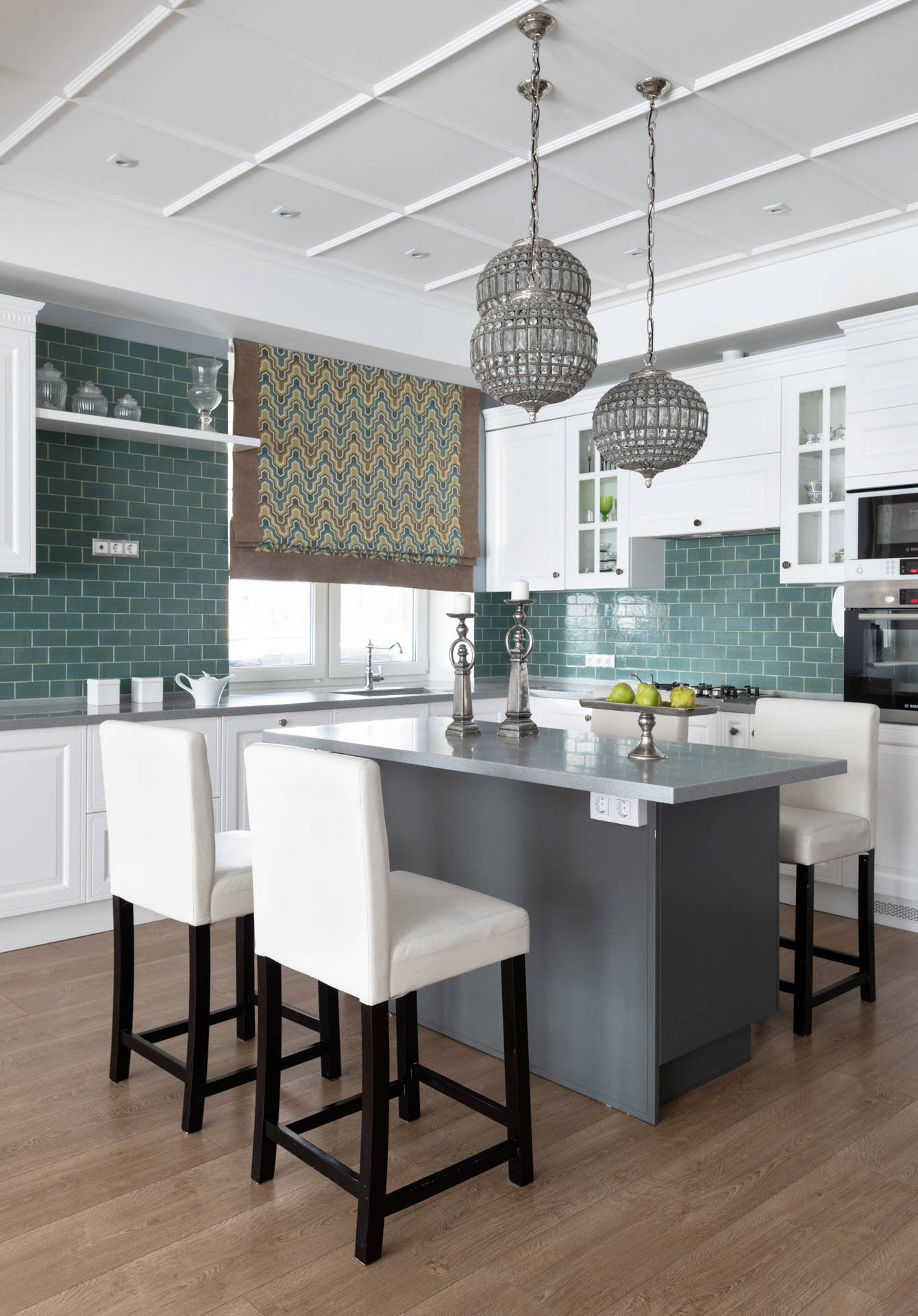 ID# 171626 | Houzz.com – Credit | © Анна Крапивко
---
Blue Subway Tile Backsplash Design with White Grout
The gray and white combination is classic and timeless but if you want to jazz up a little bit this combo, adding a pop of color will help you to achieve your goal! The blue subway tile backsplash makes an unexpected twist in this transitional kitchen and enhances the gray and white color scheme. The white grout of the tiles complements the crisp white cabinets while the patterned curtain adds another layer of texture that creates a welcoming atmosphere.
Modern White Cabinets with Gray Countertops
Modern cabinets are generally thought of as flat-front or slab-front door cabinets with their simple minimalist forms. It is indeed the geometric form that serves as their distinctive feature. Coming in various sizes, they are close to the square and rectangular forms at most. Contemporary, Scandinavian, and modern kitchens use these cabinets as a staple element in most cases to emphasize their function-oriented and minimalist architectural approach. The infusion of modern white cabinets with gray countertops highlights this mindset as this combination creates a monochromatic look with a sense of formality.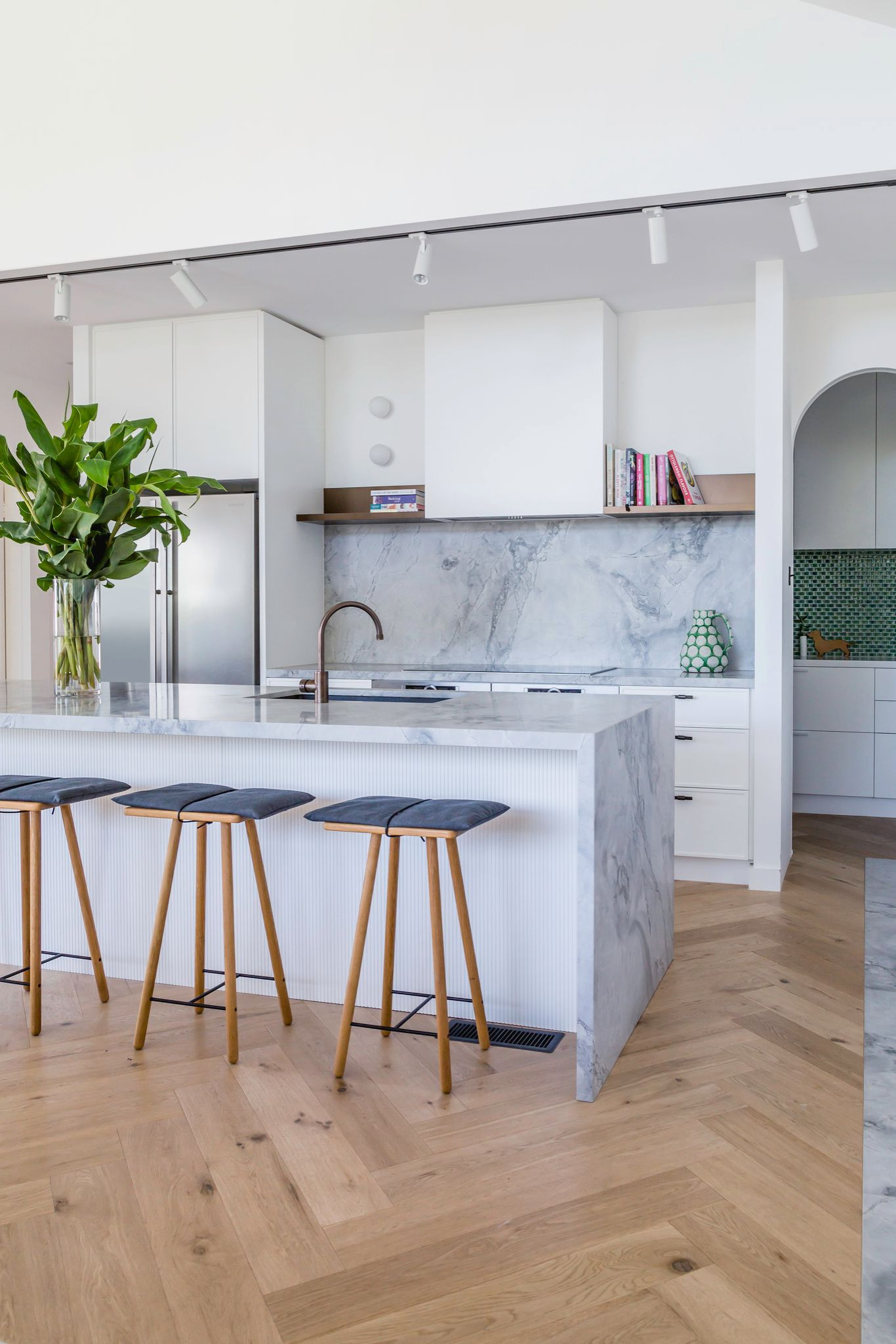 ID# 171627 | Houzz.com – Credit | © Picchio Interiors
---
White Cabinets with Gray Countertop and Marble Backsplash
The marble slab backsplash, white slab-front cabinets, and a waterfall island unfold a narrative of neutrality. Also, bringing a sense of flow with the island countertop falling over the edges, the interior design of the kitchen suggests a sense of fluidity that captures the gist of contemporary architecture. Gray marble countertops provide such neutrality that the stainless-steel appliances just feel at home and relevant in this context.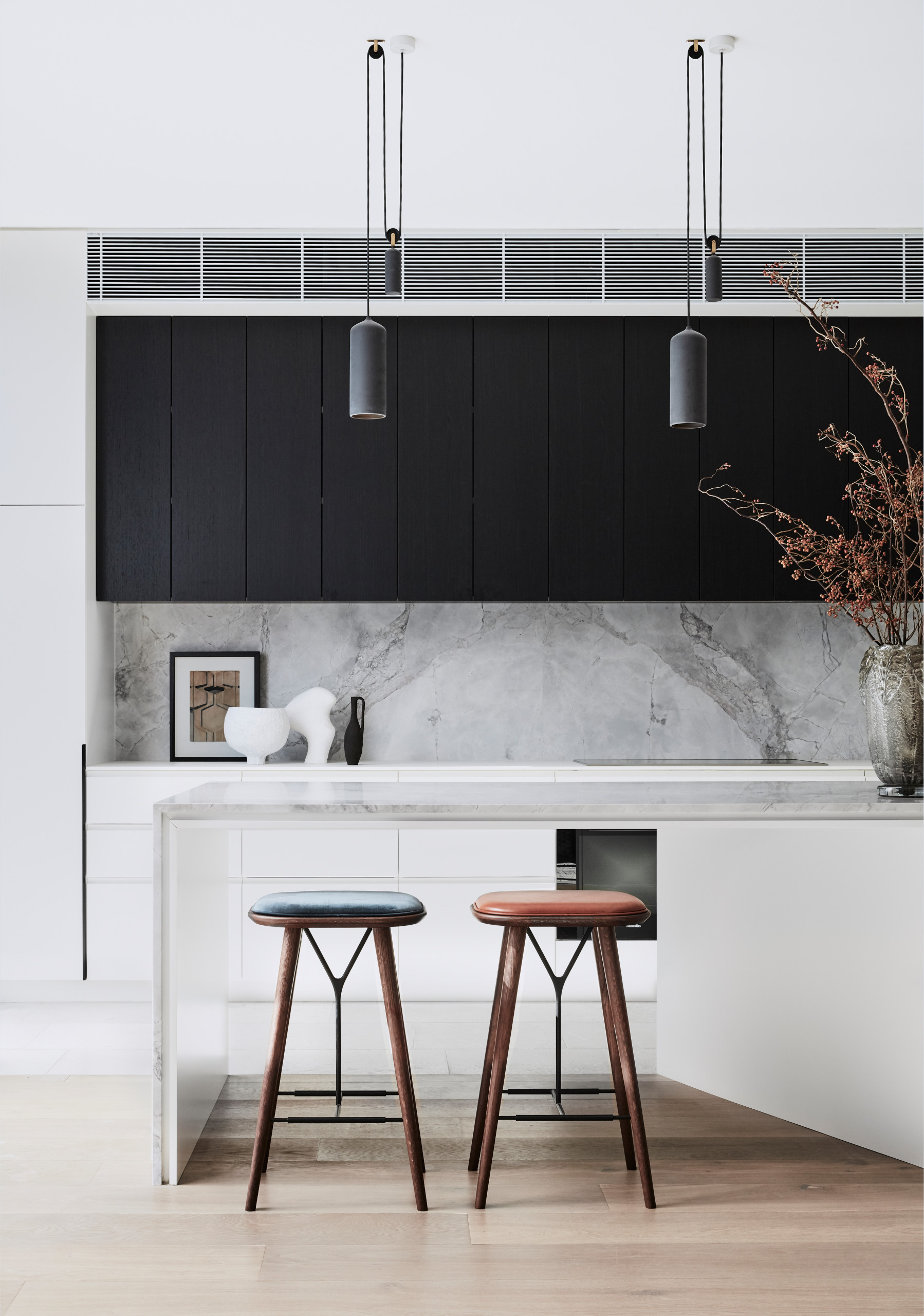 ID# 171628 | Houzz.com – Credit | © Penman Brown Interior Design
---
Black Overhead Cabinets with Marble Backsplash and Multi-colored Counter Stools
The overarching narrative of the kitchen is built upon the coexistence of black and gray. The black flat-front overhead cabinets ground the look, while the gray marble backsplash offers a smooth transition towards the white base cabinets. The preference for white on the lower level adds a sense of lightness to alleviate the human traffic flow. The light-tone wood flooring harmonizes beautifully with the white cabinets to reinforce the lightness. As for the backsplash, the use of natural stone adds an inherent beauty and texture. The gray marble backsplash continues as countertops mirrored in the kitchen island as well. Bringing counter stools of different colors to accompany the island is a great design idea to widen the color scale. The intriguing anatomy of the island also evokes visual interest and introduces a different rhythm with a diagonal orientation.
How to clean white kitchen cabinets?
Vinegar and baking soda mixed in water, dish soap, soft clothing and an all purpose cleaner are some of the alternatives to clean white kitchen cabinets and protect their beauty in the long term. Remember to stay away from abrasive cleaners that might damage the paint on the cabinets!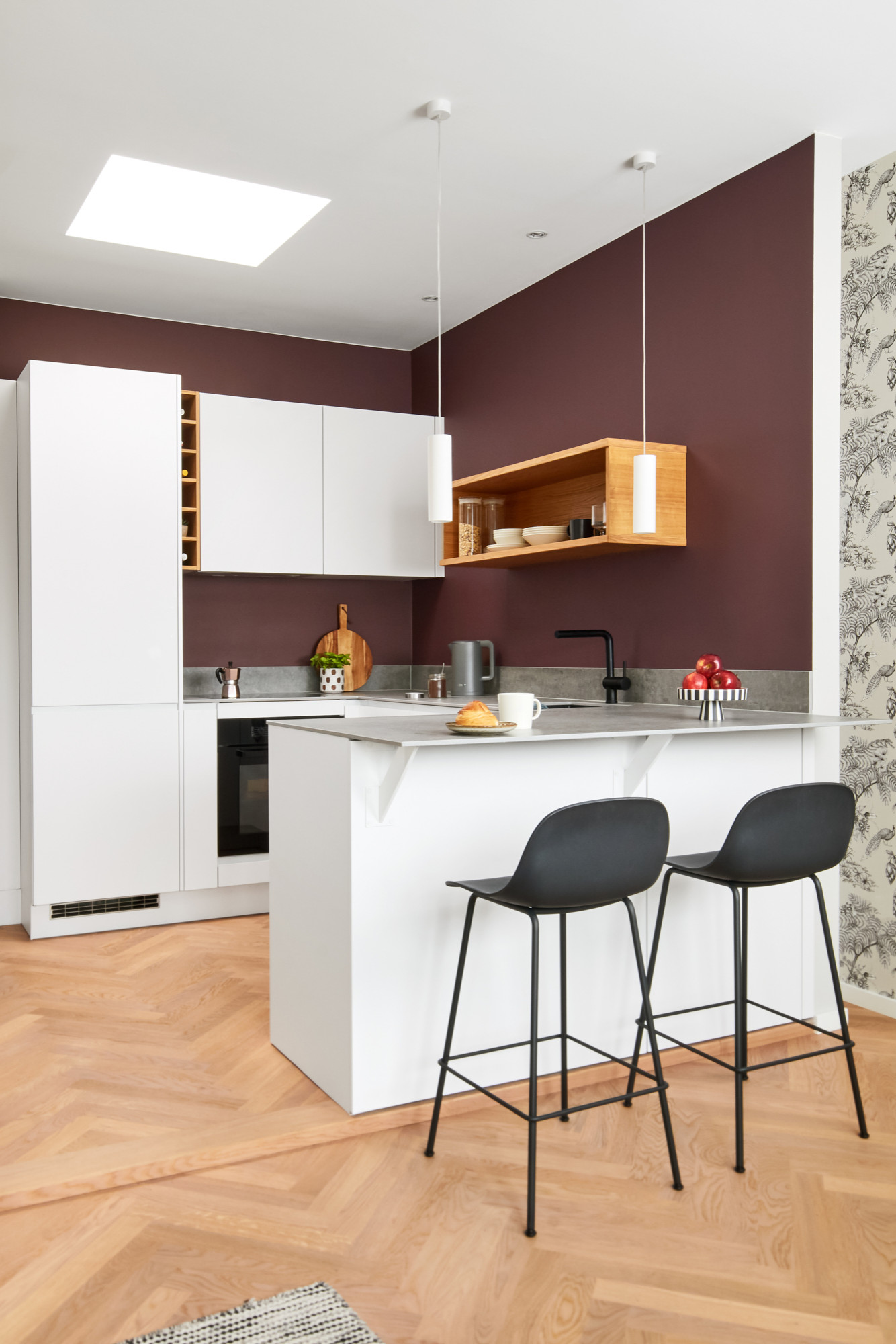 ID# 171629 | Houzz.com – Credit | © Kathy Kunz Interiors
---
Open-concept Kitchen with Burgundy Walls and Wood Floor
The immaculate white canvas is represented by the sleek flat front cabinets. Enter the daring choice of burgundy wall paint which adds depth and drama to the area. This bright color, like a splash of red wine on a blank canvas, transforms the area into a personal statement. The gray countertops and 4-inch backsplash, with their muted tones, elegantly match the cabinetry's understated refinement. They create a harmonic combination of hues by bridging the gap between the powerful burgundy and the pure white. The wood open shelves and flooring anchor the space, offering a tactile warmth that contrasts the brilliant crimson.
Can you pair white cabinets with gray countertops?
Yes, absolutely! Indeed, they make a perfect couple together! Gray is a versatile and neutral color that creates different moods in the kitchen. White on the other hand, has the flexibility to match various designs of gray countertops. As mentioned before, cabinet door styles play an important role in this design process!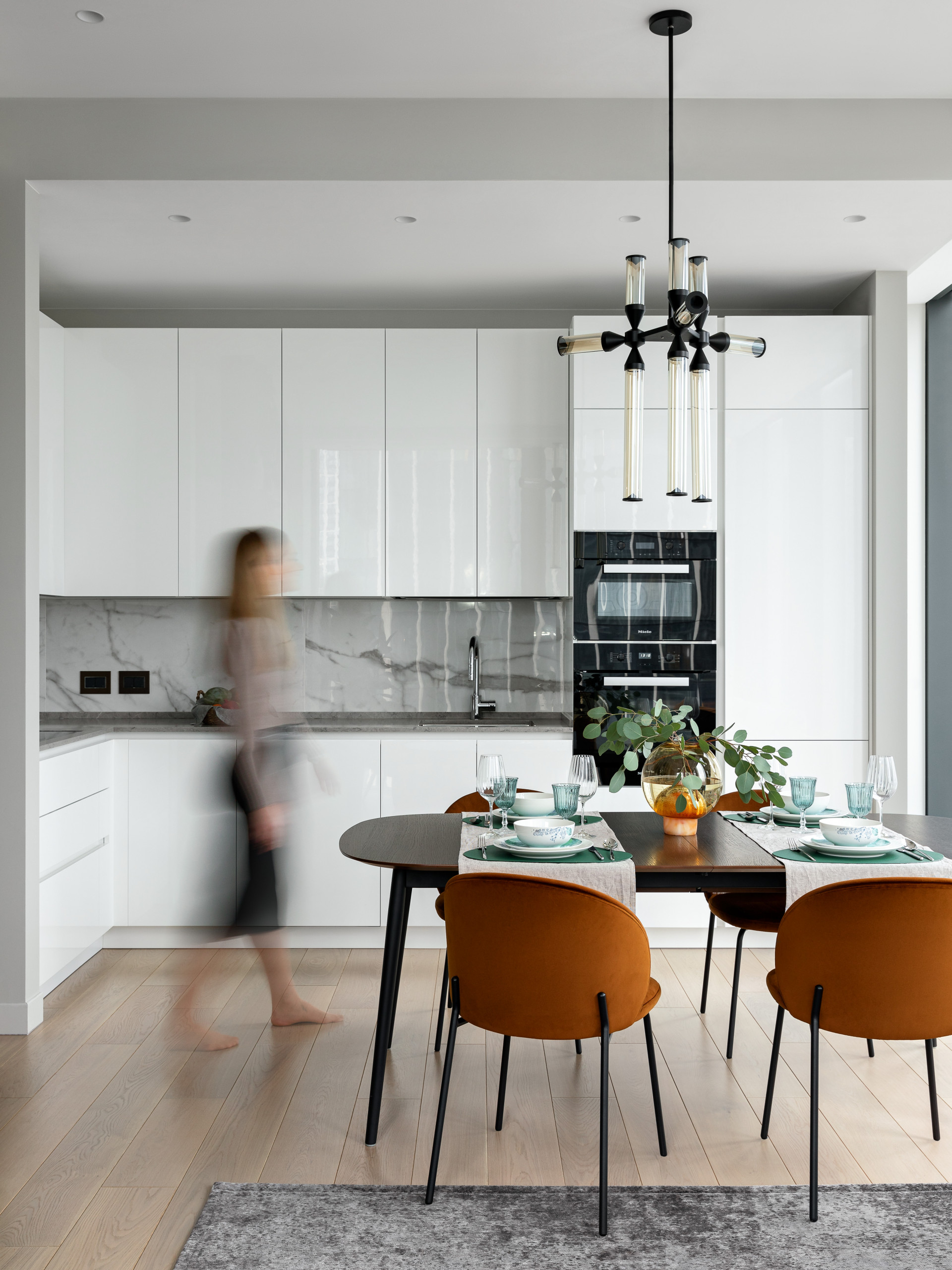 ID# 171630 | Houzz.com – Credit | © Maxim Maximov
---
Lacquer White Cabinets with Gray Countertop and Porcelain Slab Backsplash
Large-format porcelain slabs are a fantastic option if you want to add the opulent charm of marble to your kitchen but the price tags are a bit out of your financial range. As you can see in this contemporary kitchen, the backsplash is a porcelain slab with a marble texture that sticks out in between the lacquer cabinets to create an eye-catching focal point. The black stainless steel appliances add contrast and help to further the modern style while the gray countertop gives the backsplash a unified appearance.
What countertop goes well with white cabinets?
White is always a safe choice, which you can combine with various countertops. Depending on the impact you aim for your kitchen, there is a comprehensive catalog of which materials and colors can be coupled with white cabinets. For a Scandinavian or a farmhouse kitchen, butcher blocks are perfect. To add more depth and versatility with a punch of seriousness, gray soapstone is excellent. White-on-white is another strategy that you can apply for a seamless look while experimenting with natural and engineered stones. For a more optimistic and joyful look, gray quartz countertops add a different dynamic.
This blog was a focused guide on the combination of white cabinets with gray countertops. But there are a bunch of other blogs of ours with a specific focus on white cabinets with different material and color options, ranging from butcher block to black quartz, white marble, white granite, etc. Please don't forget to check out them as well to see what other options and creative design ideas are out there, waiting to be discovered.