46+ Full-Height Backsplash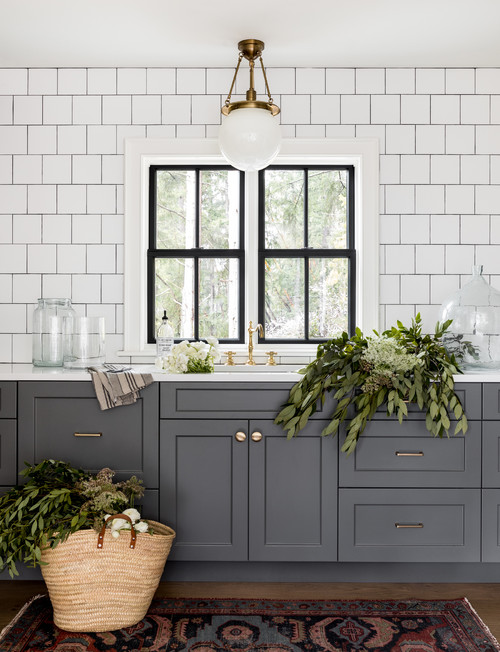 ID# 131903 | Houzz.com – Credit | © Marianne Simon Design
---
Gray Cabinets with Full-height Backsplash and Gold Accents
The furniture-like gray cabinets are in complete harmony with the white square tiles laid in a running-bond style. This full-height backsplash achieves a brick look while modernizing it at the same time. While the above-counter level of the kitchen features contrasting colors, the base gray cabinets offer a mixture of both to add more versatility and a sophisticated look. The golden faucet sits between the two windows and accents the white countertops while bringing warmth and a splash of colors, supported by the bronze hardware on the cabinets. The ceiling lamp leaves you with an impression of a magic ball that adds a fantastic charm to the kitchen. Medium-tone wood flooring is partially coated with a running-style rug that features ornamental and local characters.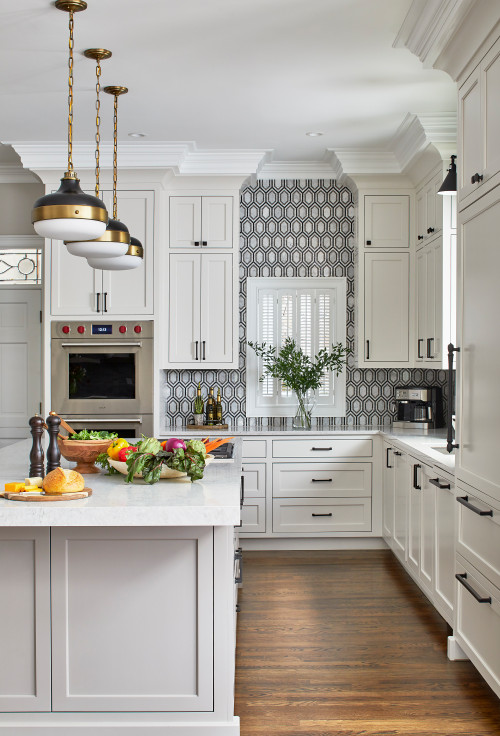 ID# 131928 | Houzz.com – Credit | © Kandrac & Kole Interior Designs, Inc.
---
Modern Kitchen with White Cabinets and Hexagon Backsplash
The kitchen's inviting atmosphere springs from its white recessed panel cabinets and white quartz countertops that offer a blank canvas in their minimalist style. The white-black elongated hexagon pattern backsplash is the statement-making piece. Black hardware punctuates the cabinets, while the globe-shaped pendants with brass accents anchor the island.
Full Height Backsplash
Before explaining what a full-height backsplash is, first, let's discuss what a standard backsplash means. Well, a standard backsplash measures 4 inches, starting right above the countertop surface. However, in the modern design aesthetic, backsplashes continue till the ceiling to create a more impactful look! Full-height backsplashes, also known as ceiling height backsplashes, coat the area between the countertop and upper cabinets or they can go all the way up to the ceiling. If you want to find more inspiration about the full height backsplash ideas, keep reading and find stunning and inspirational design projects!
These backsplashes are especially favored in remodeling and renovation projects, which suggests that they are very trending. We all know how important a backsplash is both for functional and aesthetic purposes. Plus, they are one of the most defining features of the kitchens as they provide a background theme for other elements to fit in. Now imagine that they go all the way up and how impactful that will be. The full-height backsplashes are especially popular in contemporary, modern, and mid-century modern kitchens, where the tiles and giant slabs of marble, granite, and quartz dress the wall beautifully and communicate a sense of elegance.
Full Height Tile Backsplash
Full-height backsplashes can be divided into two categories: slab or single piece backsplashes and tile backsplashes. Even though both are impactful in creating expressive backsplash designs, there are some distinctive features to distinguish them. For instance, the latter is made of separate tiles. Thus, it allows using different grouts, various patterns, and shapes, including 3D designs. In other words, you can easily create any impact you want to achieve for your kitchen with full-height tile backsplashes.
Full Height Subway Tile Backsplash
Subway tiles suit every theme and style, while they add a timeless and classic look at the same time. They can be stacked vertically, horizontally, and even diagonally to achieve different effects to improve the overall look of the kitchen.
What is a full-height backsplash?
A full-height backsplash also referred to as slab backsplash, unlike the standard versions, can go all the way up to the ceiling or stretch between the top of the countertop and the bottom of the upper cabinets. They are perfect options if you want to make a statement with your backsplash.
Also, if you find the upper cabinets overwhelming but also don't yield for empty dull wall surfaces, you can prefer a full-height backsplash that will elevate the overall look of the kitchen immediately and create eye-appealing wall surfaces.
Full Height Herringbone Tile Backsplash
Herringbone tiles date back to Ancient Rome, where they were used to construct the roads to increase their resistance, firmness, and durability. Having been named after the herring fish due to tiles' resemblance to the bone structure of the fish, they also have an interesting story.
They are laid at a 45-degree angle, which gives them these unique forms that look like a fishbone. Even though they are classic in their nature and favored as floor covering, they have made an entrance to the world market as backsplash tiles. Very much welcomed by transitional kitchens that combine modern and traditional, herringbone tile backsplashes have become the symbol of this transition as they gain a modern character while maintaining that classy look.
Full Height Hexagon Tile Backsplash
Hexagons, also known as honeycomb tiles, feature a very intriguing geometric shape and refer back to nature and bee life. Thus, when you integrate them into your kitchen's scheme, you also incorporate a biophilic design. The fact that they come in various shapes and colors means that they can achieve any effect you opt for for your kitchen design. Plus, their full-height versions add extra drama and beautify your kitchen generously.
What is standard kitchen backsplash height?
Standard kitchen backsplashes measure 4 inches and they start right above the countertop, only covering a relatively small area to protect the wall from the stains. From that perspective, they are preferred mostly for functional purposes.
Full Height Chevron Tile Backsplash
Chevrons are like an inverted V-pattern and add movement to your kitchen walls. If you wish to use them as a full-height backsplash, they will look like arrows that guide you and draw your eyes up to the ceiling. This will not only look stylish but also create the illusion of a taller kitchen and expand the kitchen visual scheme with a playful design. But it doesn't mean that they don't look classy. Chevron tile backsplashes come in different colors and materials and are effective to create any design desired for the kitchen.
Full Height Slab Backsplash
When we think of a full-height slab backsplash, we refer to a single piece that starts over the countertop and reaches the ceiling. These full-height slab backsplashes make great statement pieces that provide your kitchen with impactful designs. As they don't have grouts and spaces between the tiles, they offer a seamless design.
Marble, porcelain, granite, concrete, and quartz are the most popular materials preferred for a full-height slab backsplash. But, how thick is a slab backsplash? The answer is slightly dependent on the material, but averagely, they are 3 cm. It is something to consider before deciding on getting a full-height slab backsplash.
Full Height Marble Slab Backsplash
If you want something elegant, then marble is the answer. Like granite, marble is another natural stone that effortlessly creates expressive wall designs as a kitchen backsplash. Due to its natural beauty and inherent veins, it looks stylish. In particular, the marble backsplashes are favored in contemporary kitchens as they suggest fluidity and flow while suiting the minimalist style and character of the contemporary at the same time.
If you decide on a marble slab backsplash, you might also consider matching the countertops with the backsplash to achieve a seamless design that will become the visual focal point of the kitchen. However, one advantage of them is that they need to be taken care of and sealed annually.
Full Height Quartz Slab Backsplash
Quartz is very popular when it comes to kitchen backsplashes thanks to its several benefits. First of all, it is stain-resistant, doesn't require sealing like other natural stones, and is non-porous, so it doesn't allow for bacterial growth easily.
Secondly, as they have veinings, they can mimic marble backsplash, which makes it an alternative to marble. Last but not least, they can go easily with any style, be it transitional, contemporary, mid-century, or beach-inspired homes, and they elevate the overall look of the kitchen effortlessly.
Especially, if you want to get a full-height backsplash, a quartz slab backsplash is great to provide a neutral and plain background that looks chic and sophisticated in the meantime.
Should backsplash go all the way up?
There is no need unless you want to. But if you desire to achieve a more interesting and appealing look or don't prefer upper cabinets, then instead of having a dull wall surface, you can choose a full-height backsplash to color the kitchen wall with interesting patterns, shapes, and colors to suit your kitchen theme.
Full Height Granite Slab Backsplash
Granite is a natural stone, strong and durable. With its porous surface, it evokes a tactile feel and stimulates your senses. You can recognize the granite stones with their square edges at the top and 1.25-inch thickness. When used as a backsplash, they look extremely stylish and rich, offering excellent backgrounds for your kitchen. Unfortunately, they are a bit pricy when compared to the other elements, especially if you want to get a full-height granite slab backsplash. But if you have the budget for it, they are worth it.
Full Height Porcelain Slab Backsplash
Porcelain is an excellent choice for those looking for a seamless design. Plus, it is easy to clean and maintain and durable. They achieve the same impact marble and quartz backsplashes provide, so you can think of porcelain as a great alternative to marble and quartz.