41+ Backsplash for White Quartz Countertops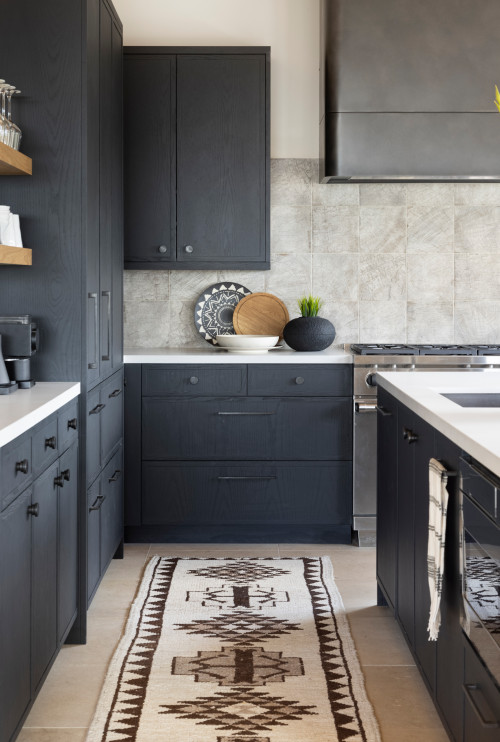 ID# 134008 | Houzz.com – Credit | © Ashley Campbell Interior Design
---
Southwestern Kitchen with Slate Blue Cabinets and Quartz Countertops
The arresting and tender look of the kitchen feels visually pleasing and soothing at the same time. Slate wood cabinets beautifully harmonize with square tile beige-gray backsplash, while white quartz countertops lighten up the space. The wood floating shelves give that rustic charm, supported by the vintage range hood. The running-style rug creates homey vibes, partially coating the beige porcelain tile flooring.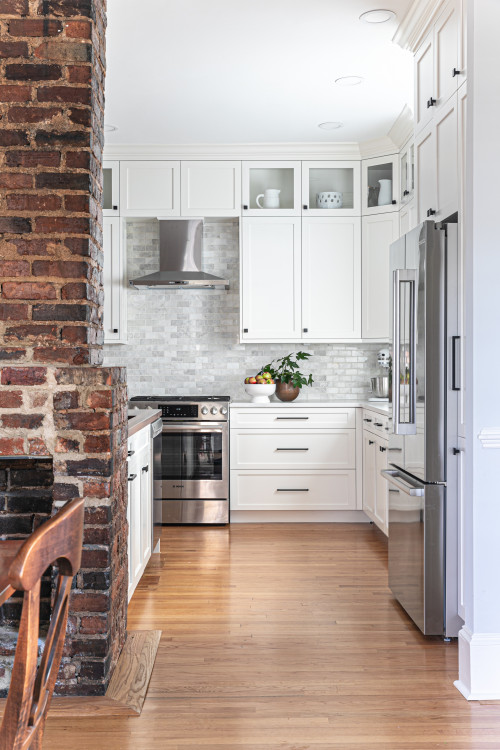 ID# 134026 | Houzz.com – Credit | © Tailored Designs
---
Transitional Kitchen with White Cabinets and Brick Accent Wall
In this transitional kitchen, the brick accent wall strategically separates the kitchen from the rest of the open-plan layout. It radiates a sense of warmth and friendliness. The white marble subway tile backsplash is coordinated with the brick wall, suggesting some distance with its gray hues. However, both offer similar visual schemes with different functions, which puts them in synchrony. White cabinets lighten up the space, punctuated by black handles. Stainless steel appliances offset the raw and earthen hues brought by the brick wall, while light wood flooring reinforces a sense of warmth.
Backsplash for White Quartz Countertops
Before discussing a backsplash for white quartz countertops, first, let's make clear what quartz is and what its features are. Quartz is one of the hardest minerals found on Earth, composed of natural quartz crystals, minerals, pigments mixed with resin. So, white quartz countertops particularly owe their popularity to their stain-resistant, easy to care, and waterproof nature. As they are engineered and feature non-porous surfaces, they come with additional advantages unlike natural stones such as marble and granite countertops which require a more complicated care routine. Unlike them, quartz countertops don't require any sealing thanks to their non-porous solid surfaces.
White quartz countertops have various shade scales when it comes to white, offering design flexibility for homeowners. Some feature veining, shades, and gray hues, which make them resemble marble. But in all versions, they create eye-catching designs for kitchens. Choosing backsplashes for them is not very challenging, as quartz countertops easily blend in and match with other materials and patterns. For instance, marble, glass, quartz, and ceramic tiles are some of the most popular backsplash applications for white quartz countertops. Keep reading and find stunning kitchen backsplash ideas to find different backsplash combinations for quartz counters!
How to clean white quartz countertops?
The advantageous part of quartz countertops is that they are non-porous. So no liquid can penetrate beneath the surface, which prevents bacteria growth inside. This, in return, makes the cleaning process much simpler. Just keep in mind to avoid using harsh and strong chemicals or spiky sponges. Besides that, all you need is a mild soap or a non-abrasive cleaner, a soft sponge, tissue paper, or a piece of soft cloth to wipe and dry.
White Quartz Countertop Colors
A white is not simple white; it has variations in itself too. The same thing applies to the white quartz countertops which have plenty of variations with distinct styles. Thus, they give you many alternatives to choose from. Even if you are choosing a white quartz countertop! Here are some of the most popular quartz designs:
Arctic White: Arctic white quartz countertops are best to lighten up the space, making a perfect pair with black, wood, and blue cabinets regardless of cabinet styles.
Calacatta White: looks like marble produced with quartz technology. Thanks to its soft gray veins, it proposes a marble-like look.
Carrara White: It comes with cloudy shapes on a white backdrop.
Cascade White: Cascade white quartz offers a busier and delicate look with taupe, silver, and grey contrasts.
Empire White: With ghostly shadows, veins, and soft movements on its surface. Empire white is one of the most favored forms. Delicate and beautiful!
Iced White: Iced white quartz features soft shades and gray hues applicable to homes and commercial spaces. They offer a timeless look.
Frost White: With an icy palette, it provides a clean and smooth aesthetic to the surface. When compared to iced white, its shades are much smaller and hard to notice, but still there to offer a sophisticated look.
Pure White: It is referred to as " Whitest White." Thanks to its seamless look, it represents a superlative form of quartz whiteness.
Sparkle White:  It features another icy palette with tiny speckles and subtle beauty.
Backsplash for Pure White Quartz Countertop
Pure white, also referred to as "whitest white," offers a silky finish and a sleek look, contributing a refreshing and brightening tone to the kitchen.
Do white quartz countertops stain?
Though white quartz countertops are stain-resistant, the answer is still yes. Unless you clean the spillage before it dries up! Especially the homeowners should be mindful of tea, coffee, tomato sauce, and wine, some of the strongest materials that leave stains.
Backsplash for Sparkle White Quartz Countertops
Sparkle white quartz countertops feature little speckles that offer a sophisticated and interesting look. To neutralize its busy pattern, you can choose something simpler such as a pure white quartz backsplash. If you prefer something with tiles, subway, hexagon, and chevron backsplashes are some of the other options you can consider.
Backsplash for White Marble-Look Quartz Countertops
White marble-look quartz countertops do effortlessly take over the kitchen with their elegant look that also embeds simplicity. While choosing a backsplash for them, you can apply a backsplash identical to the countertops. This book matching brings a strong sense of integrity. But you can also feel free to use a real marble backsplash, tile backsplashes, or pattern-free white quartz backsplashes.
What backsplash goes with white quartz countertops?
Picking a backsplash always requires a lot of thinking. However, already having white quartz countertops in your kitchen does save your time and effort. It is because white quartz countertops can go well with many different styles, designs, and materials. Secondly, the fact that they show diversity thanks to their distinct patterns and hues makes the matching process even simpler. Thirdly, while keeping things simpler, you can still make statements and come up with appealing surfaces.
For instance, to create extra visual interest, glass backsplashes can be paired with quartz countertops. Due to their light-refractive surfaces, they add movement to the kitchen, matching the simple beauty of quartz countertops. Aside from that, marble, ceramic, and porcelain backsplashes make great couples with white quartz countertops. Especially, you can match the luxurious and chic marble with marble-look white quartz countertops. This helps enhance the texture scheme of the kitchen while creating a seamless outlook.
Backsplash Materials
Choosing a backsplash is extremely important to define the background of your kitchen while combining it with the right countertops is another issue. In today's market, a wide range of materials, colors, and shapes are available. In addition to the natural stones such as granite, marble, travertine, and quartzite, engineered and manufactured materials like quartz also occupy a large portion of the market.
Glass Backsplash for White Quartz Countertops
A glass backsplash offers a luminous look and reacts to daylight, thus creating a playful visual scheme. Likewise, white quartz countertops can lighten up the space effortlessly. Besides, glass and quartz have some common features. For example, they are more stain-resistant and durable. And thanks to their non-porous surfaces, they don't need any sealing These shared properties, in return, make them a great pair to elevate the overall scheme of the kitchen.
Marble Backsplash for White Quartz Countertops
Marble is one of the most luxurious and stylish natural stones highly sought after in interior designs. Even if they are not as durable as quartz countertops and require a more complicated cleaning and sealing process, they are considered worth all trouble thanks to their pure aesthetic value.
When it comes to marble-quartz compliance, matching a marble slab or tile backsplash with quartz countertops makes a great pair for sure. As work surfaces are used more, choosing a quartz countertop would be a smarter choice because it is more resistant. At the same time, a marble backsplash can dress your kitchen walls and make a statement with its natural beauty. Another reason why quartz-marble goes well is that you can apply them in slab formats instead of tile versions. Slab formats alternate the look of the kitchen beautifully and offer a seamless design.
How to take care of white quartz countertops?
Taking care of white quartz countertops is not extremely difficult or tricky, unlike the porous materials such as marble and granite that need to be sealed yearly. For quartz, the first important thing is daily cleaning. It will allow you to keep the best look of the white quartz countertops. Secondly, keep strong chemicals like bleach and ammonia, sharp objects, rough sponges or clothes, and anything hotter than 150-200 centigrade degrees away from them. Thirdly, make sure to use a cutting board while using a knife.
Quartz Backsplash for White Quartz Countertops
You can match your white quartz countertops with quartz backsplash but also feel free to choose a different pattern. For example, choosing something with veins like Empire, Carrara, and Callatta white quartz adds a genetic flow and movement to the wall surface, which looks appealing and visible from every angle.
What to use to clean white quartz countertops?
Using abrasive or acidic cleaners, including vinegar, oil soaps, detergents, damages the quartz countertops. What needs to be paid attention to is where cleaners belong on the pH scale. If the pH value is between 5 and 8, it is a safe choice. Baking soda is safe to use, for example.
Should your backsplash match your countertop?
There is no such rule. If you match them, sure, they look great and create a seamless design. But feel free to try different tiles, patterns, and colors for your backsplash; especially, if the countertop is an Arctic white or pure white quartz, then there is no need for any concern.
Ceramic Backsplash for White Quartz Countertops
Ceramic backsplashes offer various looks, ranging from a tile-tile look to more natural-looking tiles with the capacity to mimic a natural stone. They are highly customizable, and for the same reason, you can find them in a wide range of hues, shades, and shapes. This in return means that you have a myriad of options to choose from to make a perfect match with white quartz countertops.
Do quartz countertops have a backsplash?
It would be hard to pin down any specific backsplash pattern and material for quartz countertops. As they have an infinite capacity to blend with a variety of styles and designs, the backsplash options also vary accordingly.