43+ Backsplash for White Countertops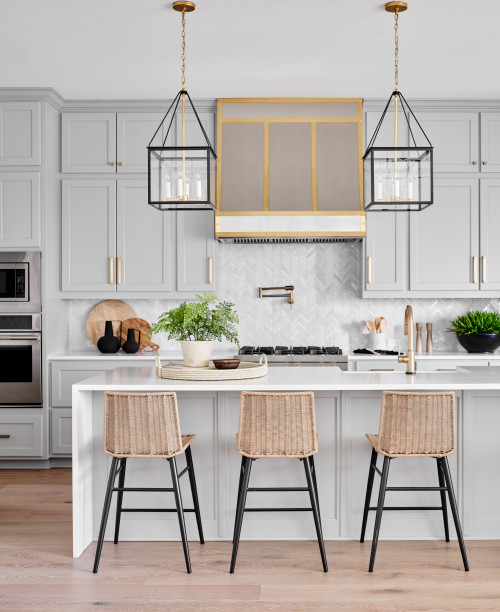 ID# 132920 | Houzz.com – Credit | © Haven Design and Construction
---
White Kitchen Design and Light Wood Floors for a Farmhouse Design Style
Light wood floors and the white kitchen design combine stylishly and create a fresh look. Thanks to the white scheme the kitchen has a bright atmosphere. You can use gold hardware to have a more luxurious look. The white quartz countertops and the gray backsplash create a harmonious view. You can enrich the kitchen using black decoration items such as black and glass pendant lighting fixtures.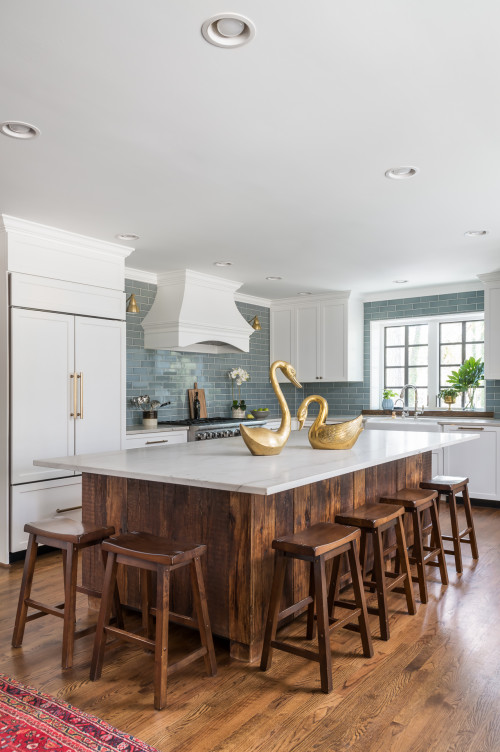 ID# 132928 | Houzz.com – Credit | © Innovative Construction Inc.
---
White Shaker Cabinets and Blue Backsplash for White Countertops
The wood island pops up from the wood floors and it gives a rustic style atmosphere with the stools. The white quartzite countertops and the white cabinets catch the harmony with a fresh look. You can brighten up this look with the freshness of a blue backsplash. The white appliances keep the integrity of the design of the white cabinets. You can spice up the kitchen with brass hardware and give a luxurious appeal to the kitchen.
Backsplash for White Countertops
Kitchens are the places where we spend our time the most. So, you may want to feel fresh, clean, or dynamic in the kitchen while you cook or prepare some food for your loving ones. A backsplash and countertop have an important role when we prepare food. Their maintenance, the visual feast that they give when preparing, their durability, are some of the criteria that we check before designing a kitchen. White countertops are the most popular option for kitchens. But which backsplash can work with white countertops? To find an answer to this question, scroll down and find different and stylish backsplash for white countertops ideas!
If you like to go with white countertops, you can choose from a large of material and color range for a backsplash for white countertops. From, pure whites to sophisticated blacks, from glamorous glass tiles to luxurious natural stone slabs, there is a wide range of color, material, pattern, and texture options for kitchen backsplashes. Finding the right backsplash might be overwhelming and when choosing it, you need to consider the color and material of your cabinets and countertops. But, do not worry! If you are using a white countertop, because of its clean and sleek look, these countertops can be good company with almost every backsplash type.
You can pair your white counters with a pure white quartz backsplash to enhance the freshness, use darker shades to create a contrasting look, or add a luxurious sense with natural stones. And, whether your style is contemporary or classic, urban or farmhouse, you can create stylish designs with the right backsplash! If you want to see different kitchen backsplash ideas for white countertops, you are in the right place! Keep reading and find these inspirational design ideas!
Different Backsplash Colors
When it comes to deciding the colors for your kitchens, you may find yourself in a challenging situation. Thanks to the large range of color and materials alternatives for backsplashes, sometimes it can be hard to choose. It is better to start by deciding which design style you will go with. Because design style has their signature colors mostly. When you decide the colors for your cabinets you can dive into different backsplash colors. For instance, if you will use white countertops you can choose a white backsplash to have a matching look. It can be the black color to create stylish contrast. You can use a gray backsplash and bring a soft contrast with the white countertops. Blue can give you a fresh and peaceful atmosphere for the kitchens. Let's see what are the different backsplash colors!
White Backsplash for White Countertops
The white color can provide timeless, elegant, and classic appeal and a white backsplash for white countertops can boost up your cabinet design with a fresh look. The clean look that they can offer will make you freshen up. You can blow up your dark kitchen cabinets with a white backsplash for white countertops and create stunning contrast. Thanks to being timeless, you do not have to change your backsplash according to design trends. They will last for a long time!
What backsplash goes with white countertops?
It depends on your design taste, of course, however, there are some stylish choices for a backsplash for white countertops. Since white is a timeless color, you can use the same color for the backsplash with the same material as the white countertops. By doing this, you will gain a modern and simple look. The other option is matching the countertops with a ceramic tile backsplash. These have a large range of color and pattern options for a backsplash. For a bright kitchen, white countertops go well with gray, white, and blues, and have a deep charming look with dark gray, black, or deep blue.
Black Backsplash for White Countertops
If you like contrast and want to have a movement with it, a black backsplash for white countertops is a perfect fit. You can hide stains with a black backsplash and bring a sophisticated appeal to the kitchen cabinets. When they are used with dark cabinets the design will have a modern look. Whether your style is contemporary or classic, industrial or farmhouse, you can use this timeless color for a backsplash.
Gray Backsplash for White Countertops
You may like to go with neutral colors and be classic, if so a gray backsplash for white countertops can save you! You can create a perfect blend of white and gray colors in your kitchens. Being able to complement each other is a plus for the white and gray colors. There are dozens of color hues for the gray color that you can perfectly harmonize with the white color countertops. Their harmony will tempt you and you will be amazed by the stylish look that they will provide!
Is white countertop good for kitchens?
White color has an endless harmony with almost any color. It is a timeless color and neutral. So, whether your design style is urban or classic, farmhouse or contemporary, you can use a white countertop for every kitchen.
Blue Backsplash for White Countertops
You may like to have a serene look with a peaceful atmosphere, if so, you can go with a blue backsplash for white countertops in your kitchens. The summer breeze can fill the entire kitchen with a blue backsplash. You may like to have a freshness with a blue backsplash for white countertops. The vibrant tones of the blue color can bring dynamic vibes to the atmosphere. They are mostly in use with white cabinets. You can accentuate the kitchen with gold or brass hardware to have a luxurious scheme with the blue backsplash.
White Countertop Materials
When you decide on the colors, the second phase of the challenge will wait for you. If the countertops will be white, then you need to choose white countertop materials. Do you like natural surfaces? Then you can use marble, are you in search to make a difference? The concrete countertops will welcome you. There is a variety of materials such as laminate or quartz which will create a perfect harmony with your backsplash and cabinets. Let's dive into the white countertop material world!
Backsplash for White Quartz Countertops
Quartz countertops have another name such as engineered stone or compound stone since it is not a natural but man-made product. The quartz countertops have a couple of ingredients in them, these are waste granite, marble, recycled industrial wastes such as silica, glass, mirrors, ceramic, and natural stone. These materials are 90% of the quartz countertops and the other 10% are cement-based and a polymeric binder. They are held together with binders and mixed, and they are heated and shaped. Finally, a quartz countertop comes to life. It is a plus to be recycled material, isn't it? You may want to use a backsplash for white quartz countertops, which will create an amazing view thanks to the stylish look of the quartz countertops. So, let's look at a backsplash for white quartz countertops.
Backsplash for White Marble Countertops
Marble is one of the most famous countertop materials. If you like natural textures and want to have a natural look, white marble countertops are, definitely, the perfect selection. You cannot find the natural white color that a white marble provides. They are all unique and have dozens of options. There are different kinds of options for a backsplash for white marble countertops!
What color should your backsplash be?
There are some beautiful solutions for a backsplash. You can use a white backsplash always. They can make a small interior larger, give a bright look, make an interior look spacious. Other colors change according to your design taste, such as if you have a contemporary design look with a natural appeal, you can go with gray or black tones.
Backsplash for White Laminate Countertops
If you want a cheaper solution for the countertops, the laminate countertops are on top of the list. They have a variety of color and design choices, too! They are man-made productions just like the quartz countertops, but they consist of plastic fused with particleboard or kraft paper. The laminate countertops can imitate the natural stone materials which can give a rich and expensive effect. If you want to use affordable materials they will be your best friend. A backsplash for white countertops can boost up your stylish kitchen!
Backsplash for White Concrete Countertops
If you like do-it-yourself projects, concrete countertops have a challenge for you! A concrete countertop consists of cement and sand, they became a general-purpose mortar mix. They can create a natural look. People mostly prefer concrete since it is an environment-friendly material. You can finish it with epoxy to have a shiny surface if you want any depth for the countertops. You can use any color with them which is another challenge! A stylish backsplash for white concrete countertops can bring a sleek and natural look to your kitchens.