18+ Black Backsplash with White Countertops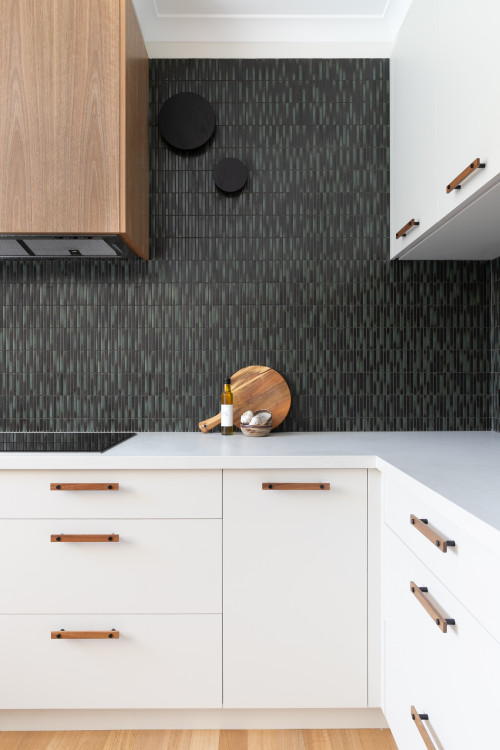 ID# 146103 | Houzz.com – Credit | © Susan Cleveland Design
---
Midcentury Style White Cabinet with Black Backsplash And White Marble Countertops
Black backsplash with white countertops come together with wooden details to form a perfect whole. In the kitchen, which captures the modern line with classical preferences, the patterns and details on the black backsplash create elegance. The white countertop provides a unique harmony with the white cabinets. Black splash is a perfect complement between the wooden cabinets and the white countertop, like a puzzle piece. The warmth that the wooden cabinets add to the environment continues on the white cabinet handles. The warm tones preferred on the floor also ensure that every detail is in harmony. In terms of the preferred hearth color and very modern design, it achieves a unique harmony with the black backsplash.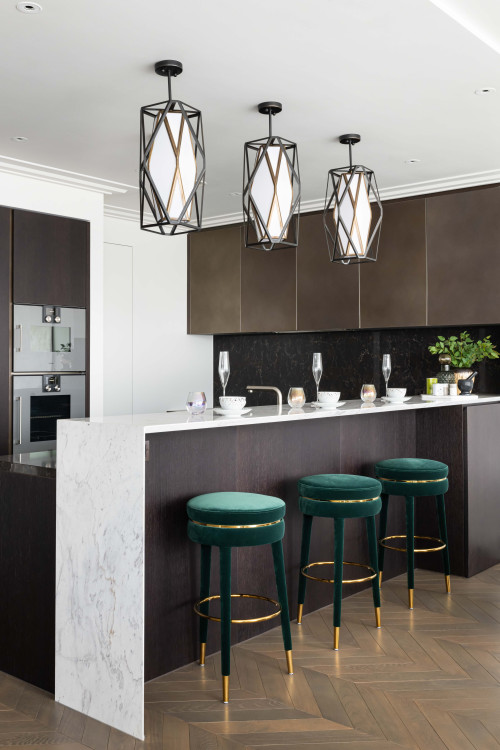 ID# 146112 | Houzz.com – Credit | © Veronica Rodriguez Interior Photography
---
White Countertops and Black Backsplash Effect in Contemporary Kitchen Design
Black and white are like two lovers who have never met… But while witnessing a wonderful merger together in this kitchen, we witness the perfect harmony of white countertops and black backsplashes. This kitchen in the Contemporary design language gains a darker and more impressive look with its black backsplash and coffee-toned cabinet doors, while it gains a warmer and more balanced look with white marble countertops. This kitchen is pleasing to both the user and the eye, with the storage and usage areas provided by the designers quite adequately. With the calm colors on the floor and ceiling, efforts are made to make the kitchen stand out. In this way, the look becomes more elegant and balanced, while the suffocating features of dark colors are neutralized with white countertops.
Black Backsplash with White Countertops
There's something undeniably attention-grabbing and dramatic about pairing a black backsplash with white countertops in your kitchen or bathroom. The contrast between the two colors creates an eye-catching focal point that exudes sophistication and elegance. Whether it's sleek subway tiles, complex and intricate mosaic patterns, or the natural beauty of stone, the black backsplash serves as a bold and contemporary statement that adds depth and visual intrigue to the overall design. If you're looking to make a statement and add a touch of luxury to your space, this combination could be a perfect choice – you won't be disappointed!
Timeless and Classic Monochrome Color Scheme
When it comes to designing a perfect kitchen, the white countertops and black backsplash combination can leave you feeling elated. The whiteness of countertops offers a sense of purity and cleanliness, bringing calmness to your senses. Its durable material makes it functional and pleasing to the eye. Pairing it with a black backsplash creates a stunningly balanced and visually appealing design that works well with various interior styles. This combination can give your space a hint of modernity, sophistication and charm that will leave your guests in awe. No wonder, it's a popular choice that just feels right! To learn more about this timeless combination, scroll down and find the stunning black backsplash with white countertop ideas!
What kind of backsplash looks good with white countertops?
White countertops have a chameleon-like quality that enables them to blend harmoniously with virtually any texture and color! However, when paired with the overall design scheme of the kitchen, a more cohesive and satisfying outcome can be achieved that's sure to evoke feelings of joy and contentment!
Types of Black Backsplash for White Countertops
The harmony of white countertops with black backsplash comes to the fore in classic kitchen preferences. The countertop and backsplash chosen by the style and culture that is desired to be reflected in the kitchens become very important for a perfect image. Differentiating from the materials used and having different styles, the black backsplash creates choices according to one's taste. Modern kitchens add color to your homes when the preferred black splash is added to the elegant look offered by the white countertops.
Black Ceramic Tile Backsplash with White Countertops
Backsplash, which comes together with white countertops, modernizes the kitchens with its pattern options due to the preference for ceramics. In addition, a small detail opportunity is offered to those who prefer a simple kitchen, thanks to the black ceramic tile backsplash with white countertops. Black ceramic tile backsplash with white countertops becomes an integral part of modern kitchens. The addition of various black ceramic tile backsplash details to the white cabinets creates a flawless look. With the right lighting, the bright appearance of white is maximized.
Should the backsplash be lighter or darker than the countertops?
The kitchen is more than just a physical space defined by countertops and backsplash. It's a place where memories are made, where families come together to cook and enjoy meals. So when making choices regarding your kitchen design, don't just focus on the functional aspects. Consider the emotional factors and how your choices will impact the overall feel and atmosphere of this important gathering place. Embrace the warmth and love that the kitchen represents and let it guide your decisions.
Black Glass Backsplash with White Countertops
Imagine walking into a kitchen with bright and elegant vibes. One where sparkling reflections and smooth details catch your eye, and where luxury is emphasized. With a black glass backsplash paired with white countertops, this dream can become a reality. The black glass backsplash adds the perfect touch of radiant harmony to bright and modern kitchens. It also offers a chance to maximize lighting efficiency in the kitchen area. Not to mention, the black glass backsplash easily harmonizes with other furniture and accessories, providing a polished and cohesive look. Simply put, the black glass backsplash with white countertops is the right choice to add perfect reflections to any kitchen, and it will leave you feeling absolutely delighted.
Is a black backsplash a good idea?
Adding a black backsplash can bring balance to your kitchen by creating a play of light and dark, adding depth and contrast. Although, it's important to keep in mind that not all kitchen designs are compatible with a bold feature like a black backsplash. Ultimately, the decision to go with a black backsplash depends on how well it fits in with the overall design and aesthetic of your kitchen.
Black Stone Backsplash with White Countertops
Have you ever gazed upon a kitchen where black and white dance in perfect harmony? It's a sight to behold. A black stone backsplash paired with white countertops is a phenomenal choice, particularly for brighter kitchens. Plus, the white countertops amplify the lighting in your cooking area, giving you a seamless ambiance. When it comes to modern kitchens, black stone backsplashes are all the rage. But, if you lean towards classic kitchen styles, the black stone backsplash with white countertops is a fantastic option. What's more? Cabinets and accessories complement this combination effortlessly. The white countertops spell cleanliness, making your time in the kitchen more productive and enjoyable.
Black Subway Tile Backsplash with White Countertops
Adding a warm atmosphere to the white countertops, the black subway tile backsplash is an excellent option for stylish kitchens. It is the right choice for those who want to reflect different styles in their kitchen designs. The modern atmosphere desired to be created in homes becomes much more elegant thanks to the black subway tile backsplash. The synergy of the contrast of black and white is reflected in the whole kitchen.
White Countertop Materials
White countertops are one of the most important elements for the success of most kitchen designs. It adjusts the black-and-white balance in the kitchens and provides a cleaner look. So what are the materials that can be used for white countertops? Examples include laminate, concrete, white granite, marble, porcelain, quartz and recycled glass countertops. These different materials can be examined by looking at different factors such as price, durability, longevity, and usability. It is up to you and the designers to choose the most suitable material for users and designs. With white countertops, kitchens can have a cleaner and more lively appearance!
Black Backsplash with White Marble Countertops
The harmony of black and white is a choice that can make every space or every design element look beautiful without exception. Especially the combination of black backsplash and white countertops is a combination used in most designs and offers stylish and quality looks in almost every result. Whether you are designing a modern, rustic or traditional kitchen, the black backsplash and white countertops duo will make those kitchens stylish. The abundance of variety and texture options in black and white pairs allows you to achieve the perfect harmony of black and white in designs, away from boring.
Black Backsplash with White Quartz Countertops
Have you ever seen a combination so breathtaking? The way a Black Backsplash and White Quartz Countertops come together is simply stunning. Imagine having this elegance and sophistication in your very own kitchen or bathroom design. The black backsplash immediately creates a dramatic and bold focal point, drawing you in with its magnetizing charm, while the white quartz countertops offer a clean and durable surface, leaving you worry-free in regards to its maintenance. The combination of these two elements brings about a sleek and modern look, enough to have anyone's jaw dropping in amazement.
What goes with a black backsplash?
Black is truly one of the most versatile colors out there, able to seamlessly blend with any texture or color. Just like white, it has an amazing ability to showcase variability in design. That's why you can pair a black backsplash with almost any material or color, and it will blend beautifully. There's just something so captivating about the way black adapts and enhances other colors and textures – it's truly a work of art!
Black Backsplash With White Laminate Countertops
The beautiful contrast of black and white is undoubtedly a winning combination. But unfortunately, using these materials can be costly. However, laminate countertops offer a solution! They provide the same look as their more expensive counterparts such as white marble and other stones, making them versatile and affordable. With a range of colors, textures and patterns to choose from, white laminate countertops create stunning results with black backsplashes, allowing you to achieve your design dreams without breaking the bank.
Should the counter match the backsplash?
Don't just settle for a backsplash and countertop match made in heaven. Compatibility alone won't guarantee a wow-worthy look. Remember, the colors of these elements can vary greatly depending on the overall design scheme. So, instead of always going for harmony, opt for materials that complement your design and make your kitchen truly shine with stylish finesse!