37+ Glass Countertop Ideas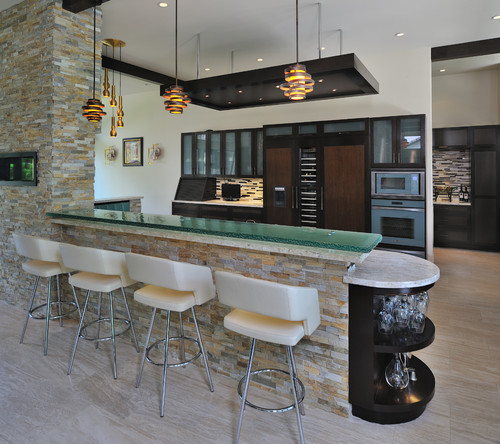 ID# 90427 | Houzz.com – Credit | © Hann Builders
---
Modern Contemporary Stone Kitchen with Textured Glass Countertop
This home in Houston proudly features a contemporary galley kitchen with glass-front dark wood cabinets, multicolored tiles backsplash, paneled appliances, laminated wood flooring, and turquoise countertops. It has a two-layered countertop on the island which looks great with the stone counter wine storage and slate mosaic tile wall. Notice that the glass countertop has a textured bottom to bring more drama to this modern contemporary kitchen.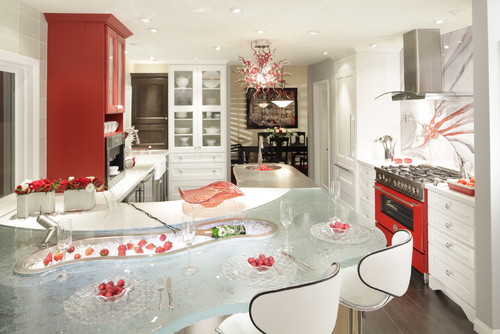 ID# 90410 | Houzz.com – Credit | © Columbia Cabinets
---
Luxurious Farmhouse Kitchen with Curvy Textured Countertop
A spacious designer kitchen with white walls and wooden flooring to complete its farmhouse look. It has white cabinets for kitchen storage and comfortable curvy white chairs. This stunning curvy glass countertop ideas used 1.5 inches thick glass that is supported by a stainless leg on one side and is left hanging on the other side. In the center is a void intended for wine and ice to double the counter's usage as a home bar. Decorative chandelier, pin lights and a pendant lights are also added in this country kitchen.
37+ Glass Countertop Ideas (Glass Top Designs, Tips & Advice!)
Glass Countertop Ideas
Glass countertops are ideal for an edgy and sleek modern kitchen. There are different varieties of glass which can be used for the kitchen. It can be graded according to their sturdiness, opaqueness, and composition. Glass countertop ideas can also be used in combination with other materials. Since it is a manufactured material, it is available in myriad sizes, designs, forms, shapes, and thickness.
Environmentally friendly glass countertop ideas
Homeowners can even choose any color and design that they want. This material is stain resistant, heat resistant and also scratch resistant. It is also very easy to clean and maintain.
Glass Countertop Cost / Price;
Glass countertop varies between $50 – $100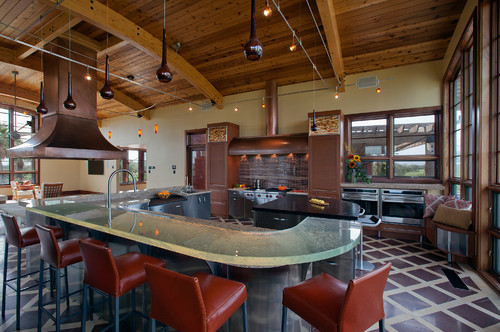 ID# 90401 | Houzz.com – Credit | © National Kitchen & Bath Association
---
Brown Transitional Kitchen with Glass Countertop
A transitional open concept eat-in kitchen with exposed wooden ceiling beams and beige walls features a half U-shaped glass countertop on a stainless steel countertop. The curvy shape of the countertop is a nice contrast with the straight lines of the recessed panel brown cabinets and the patterns of the brown backsplash tiles and flooring. To complete the look, brown glass pendant lights, track lightings and orange leather counter-height stools were added. This space is indeed a head turner!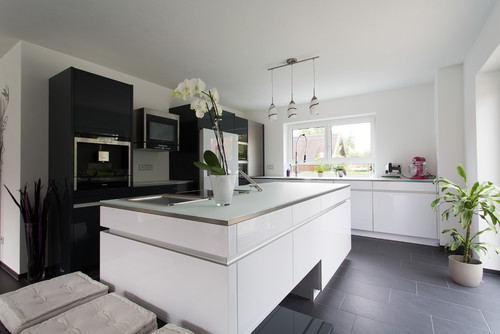 ID# 90402 | Houzz.com – Credit | © Aumer Group
---
Sleek Modern Contemporary Kitchen
Seeing this black, white and gray modern contemporary L-shaped open concept kitchen with gray ceramic tile flooring will definitely make you love the way glass countertop looks! Yes, even a simple counter can get a sophisticated feel merely by adding glass on it. The natural light from the white picture window brightens the kitchen with black ceramic tile flooring during the day while the white decorative pendant lights bring drama to the area at night.
PROS OF CGLASS COUNTERTOP: ADVANTAGES
Available options: – Glass countertops can be design wide variety of styles, colors, and textures. Because it can be shape & formed in to so many design style.
Extremely durable: – Heat resistant, also free for dirt and bacteria to get trapped in.
Eco-friendly: – Glass countertop can be made from recycled materials that makes it great eco-friendly option.
CONS OF GLASS COUNTERTOP:
Sharp or heavy objects: – If glass countertop crack or chip, difficult and expensive to repair.
Buying Options Where to Buy Glass Countertop
Beautiful glass kitchen countertops and raised bars.
; ThinkGlass