41+ Beach Home Decor Ideas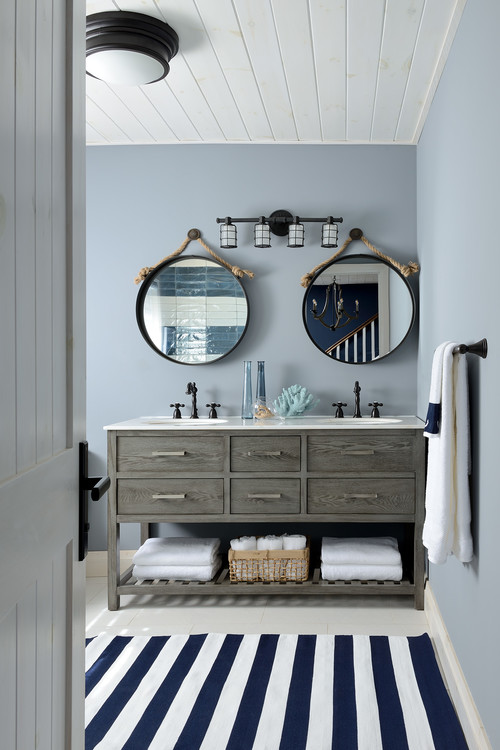 ID# 154617 | Houzz.com – Credit | © Erica Gelman Design Inc.
---
The Peaceful Effect of Blue Tones on Beach Houses
With its blue details and wood textures, this kitchen offers the relaxing and inviting atmopshere of the coastal style. The dark wood vanity brings a rustic modern vibe while the pastel blue wall paint softens the atmosphere. The white shiplap ceiling adds dimension to the space and makes the space feel larger. The round mirrors and blue and white striped rug perfectly complete the beachy style.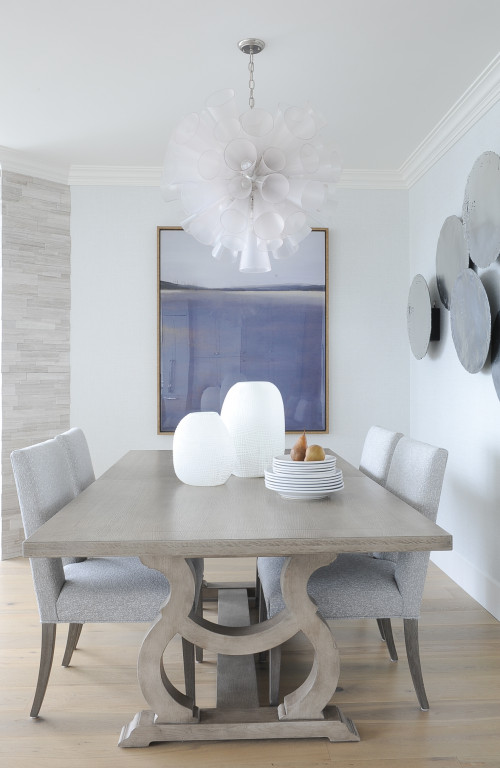 ID# 154621 | Houzz.com – Credit
---
Natural Materials for Beach Houses
The peaceful atmosphere in contemporary beach houses can be easily achieved with the dominance of light tones. The addition of coastal and sea-inspired paintings to the light tones gives a very stylish look. In the area where earth tones are used, white walls and the preferred white color for lighting support the bright appearance of the area. Natural materials add a maximum level of naturalness to the area. Rectangular wooden dining table and wooden floor maximize naturalness.
Beach Home Decor Ideas
During the design and decoration phase of Beach home living spaces, users tend to create a peaceful and stress-free atmosphere concept. Among the Beach home décor ideas, the combinations of products using natural materials and light color preferences make the time spent at home enjoyable and relaxing.
In design ideas where the concepts of comfort and naturalness come to the fore, the use of wood in furniture and other products adds warmth to the environment. The warmth brought to the space by details such as wood and rattan as a natural material, offers a relaxing visuality with textile materials used in light or pastel tones. In the selection of furniture and accessories, colors such as green, yellow and brown, evoke nature, bring and warmth to the environment, while organic products create a relaxing living space. So, if you wamt to incorporate a coastal vibe to your home, check these beach home decor ideas and get inspiration!
What colors go with the beach theme?
Blue and white are the main colors for beach-style home decor. This combination offers the relaxing feel of the ocean and sky. To complete this serenity, you can incorporate some natural elements such as wooden shelves or wicker lighting fixtures. Soft beige hues also great companies for the coastal theme.
What is the difference between coastal and beachy decor?
Although there are similarities between the two designs, they can have different features. It can be said that non-shiny materials and items are preferred more in houses with coastal decor. Apart from this, the emphasis on naturalness is at the forefront in both decors.
How Can I Decorate My Home Beach Style?
Natural materials and neutral color tones are essensials for beachy home decor. Color applications in blue tones also offer the relaxing effect of the ocean and sky. You can incorporate these colors and materials through furniture, textiles, or tiles. In addition to them, white is also one of the main colors for the coastal decor.
Patterned and Textured Tiles
In beach home decor ideas, which have a serene look and simple elegance, the patterned and textured choices in the tiles to be used to cover the surfaces take these living spaces away from the monotonous and classical appearance. Patterns and textures with different geometries create an eclectic design line and offer users more enjoyable options.
Patterned tiles on surfaces such as floors, walls, and backsplash bring dynamism to beach house designs. Living spaces, which gain a simple elegance with the use of repetitive shapes and patterns on the tiles, gain a lively and original appearance with tiles with asymmetrical and irregular textures.
Wood Wall Panels
Creating a peaceful and relaxing environment in living spaces designed with the beach house concept gains an authentic elegance with natural materials and wooden products and details. The use of natural materials, which is preferred in furniture and accessories such as seating units and cabinets, provides warmth and a natural aesthetic appearance to the space with the use of wood panels in wall coverings.
While the use of natural wood panels gives the space different characteristic appearances, the use of nautical color and white color in beach house designs is one of the popular and effective choices. Solid wood panels harmonize with different furniture and floor covering preferences and create a natural holiday ambiance in the beach house.
Textured Textiles
When it comes to interior design, using textured textiles is a great way to add visual interest to a space and make some personalized touches. Whether you are renovating your bedroom or want to enliven your kitchen, textiles will be a perfect addition. In today's market, there are endless color, material, and texture options for fabrics. According to your taste and budget, you can find the right one for your home and freshen up the overall look.
Blue Shades
While decorating different areas of the house in beach house designs, surface coatings and textile products are preferred, while blue shades provide a perfect nautical theme. With its harmony with white and light colors, the beach atmosphere is carried into the design of the house elegantly.
The combination of dark and light tones of blue gives living spaces a modern and high-quality look. Blue shades, when combined with products with natural materials and white color, create perfect visual harmony and a relaxing effect.
Natural Materials
Details inspired by nature are a very good option for beach home decor ideas. The perfect combination of earthy tones and white color offers perfect harmony. Especially the beach houses with wood details, maximize the emphasis on naturalness. Contemporary beach houses gain a very stylish look with the use of Natural Materials. The bright appearance can be supported by the combination of white and wood.
Wallpaper Designs
Beach houses usually feature designs that bring peace and pleasure to the users. A resting environment can be created perfectly. Wallpaper designs that can be preferred especially in beach houses support the area's peaceful atmosphere. Wallpaper designs can create much more enjoyable spaces with inspiration from the beach and nature for beach home decor ideas. It is seen that white, blue, and green colors are preferred especially in wallpaper designs.
What is coastal-style furniture?
Furniture which is made of natural materials directly reflects the beachy themes. Wooden cabinets, wicker lighting fixtures, and bamboo chairs are some examples.
Nautical Decors
Sea decorations that reflect the coast are used quite frequently for beach home decor ideas. Nautical decor products bring perfect integrity to the atmosphere of beach houses. It is seen that blue and wood tones are used frequently. Accessories inspired by the sea and the beach add integrity to homes.
Rattan Furniture
Natural accents come to the fore in houses inspired by the beach. Natural views are indispensable in beach houses where a peaceful and lively atmosphere prevails. Especially rattan furniture is an excellent choice. Inspired by nature, rattan furniture maximizes the natural look of beach houses. A pleasant atmosphere is created with rattan furniture. Time spent in the area becomes much more peaceful.
Large Basket Pendants
In designs inspired by beach houses, the emphasis on naturalness comes to the fore. The emphasis on naturalness is provided perfectly with natural materials. Especially wooden floors and furniture support the natural look. In addition, Large Basket Pendants provide a perfect complement to nature-inspired spaces. Large Basket Pendants bring a modern look to spaces with their timeless elegance. In addition, a pleasant appearance can be created with Large Basket Pendants in areas dominated by white.