35+ Farmhouse Home Decor Ideas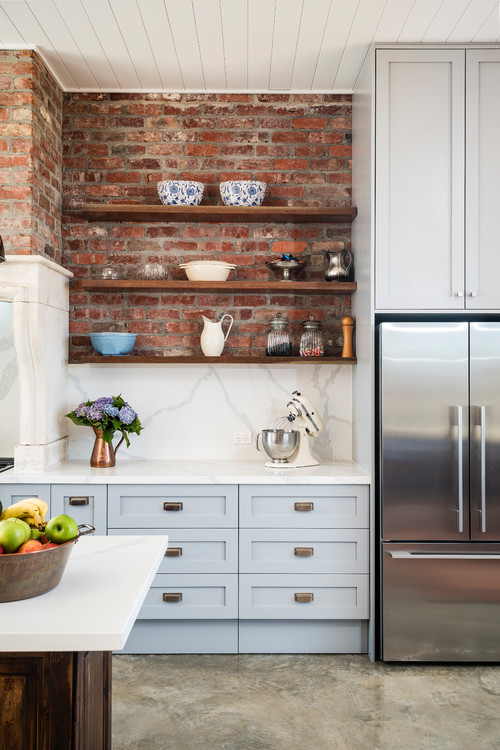 ID# 155307 | Houzz.com – Credit | © Smith & Smith Kitchens
---
Natural Materials in a Farmhouse Kitchen with Blue Shakers
This kitchen is a perfect example of how different materials can be used to create a beautiful and functional kitchen! The exposed brick wall provides a textured and rustic backdrop for the kitchen, while the white marble slab backsplash adds a touch of sophistication and elegance. The pale blue shaker cabinets provide a pop of color while the white quartz countertops and gray concrete floors create a cohesive and modern look. The white shiplap ceiling perfectly completes the cozy atmosphere.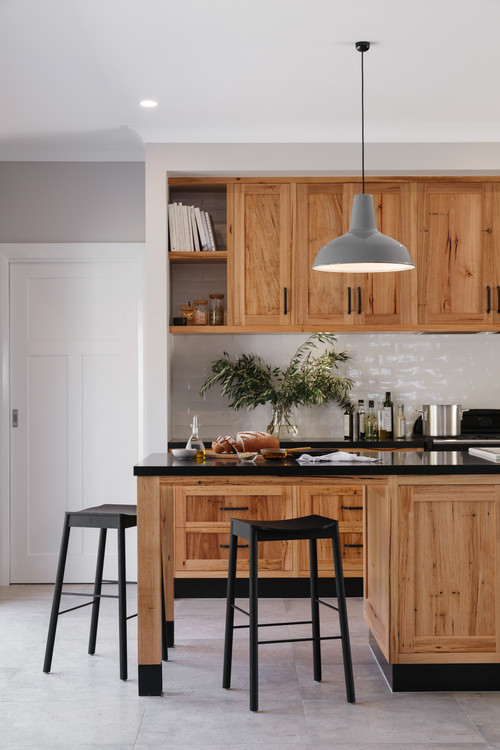 ID# 155327 | Houzz.com – Credit | © Space Craft Joinery
---
Wood Shaker Cabinets with Black Hardware and Black Countertops
This kitchen features a natural color palette that creates a warm and inviting atmosphere! The wood shaker cabinets in a natural finish bring a touch of the outdoors into the space and offer a classic, timeless look. The black hardware provides a sleek contrast against the light wood and adds a touch of sophistication. The white tile backsplash brightens the space and also offers a clean, modern look.
Farmhouse Home Decor Ideas
Often defined as chic, comfy, cozy, or warm, the farmhouse style is one of the most popular design aesthetics for homeowners and interior designers. This style often features warm, neutral colors, natural materials, and vintage elements. Regarding farmhouse home décor ideas, the focus is on creating a cozy, welcoming atmosphere that feels like home!
Farmhouse style is generally separated into two distinct design aesthetics: modern and traditional. Traditional farmhouse style typically uses more rustic and vintage elements that offer a cozy aesthetic. On the other hand, the modern farmhouse style, as the name suggests, brings more contemporary features into the aesthetic.
Exposed wooden beams, shiplap wall panels, open shelving, ample cabinetry, and vintage or antique accent pieces are the hallmarks of this decor. So, if you want to create a warm and inviting atmosphere for your home, scroll down and find 35+ farmhouse home decor ideas that will inspire you!
How Do I Decorate My Home Farmhouse Style?
To decorate your home in a farmhouse style, start by choosing a neutral color palette that includes whites, grays, and beige. Then, add texture to your rooms with distressed furniture pieces and natural fiber accents, such as jute rugs, burlap curtains, and woven baskets.
Wooden elements, such as barn doors, reclaimed wood accents, and shiplap walls, are also important for achieving a farmhouse look. You can also incorporate vintage or repurposed items, such as an antique armoire or a reclaimed window frame used as a mirror.
Lighting is another important aspect of farmhouse decor. Use simple, rustic light fixtures, such as wrought iron chandeliers or pulley pendant lights. Add a warm glow to your spaces with candle holders or a group of lanterns.
Finally, don't be afraid to incorporate plants into your decor. Green foliage, flowers, and herbs bring a touch of the outdoors inside and add to the natural, organic feel of a farmhouse-style home.
When putting it all together, remember that farmhouse style is all about creating a warm and inviting space that feels lived-in and well-loved. Mix and match different elements to create a look that is uniquely your own and reflects your style and taste.
Natural Materials 
Natural materials play a significant role in farmhouse home decor ideas and are key to achieving a warm, inviting, and authentic feel. From rough-hewn woods to natural fibers, these materials help to bring a touch of the outdoors inside and create a cozy and comfortable environment. Wood is one of the most important natural materials in farmhouse decor. Whether it's used for furniture, flooring, or wall accents, wood adds warmth, texture, and character to any space. Reclaimed wood, with its knots, cracks, and other imperfections, adds a touch of history and uniqueness to a room. For a more rustic feel, rough-hewn woods such as barn wood or pallet wood can be used for accent walls, headboards, or even as paneling for cabinets and cupboards!
Other natural materials that are often incorporated into farmhouse decor include stone, linen, and jute. Stone, such as marble or granite, can be used for countertops, flooring, and backsplashes, adding durability and texture to a space. Linen, such as curtains or throw pillows, brings a soft and cozy feel to a room, while jute, in the form of rugs or baskets, adds texture and natural warmth. In conclusion, incorporating natural materials into your farmhouse decor is an essential aspect of creating a warm, inviting, and authentic space. Whether it's rough-hewn woods, stone, linen, or jute, these materials add texture, character, and natural warmth to any room.
Variety of Texture
The variety of texture is a critical element in farmhouse home decor ideas, adding depth, interest, and a sense of warmth to any space. Whether it's through the use of natural materials like wood, stone, or woven fabrics, or textured accents like basketry or rugs, textures can enhance the rustic charm and cozy comfort that defines farmhouse style. Wood is one of the most commonly used varieties of textures in farmhouse home decor. From rough-hewn beams and planks to smoothly sanded surfaces, wood adds warmth, richness, and a sense of history to any space. Wood can be used on walls, floors, furniture, and accessories, bringing natural warmth and texture to a room.
Add Character with Textures
Stone is another popular texture in farmhouse home decor ideas. Natural stone surfaces, such as a stone fireplace or stone wall, add depth and interest to a room, while also providing a durable and low-maintenance surface. Stone countertops, backsplashes, and flooring also bring a touch of natural variety of textures to a kitchen or bathroom. Woven fabrics, like burlap, jute, or linen, bring texture and coziness to a room. Whether it's through throw pillows, curtains, or upholstered furniture, woven fabrics add a soft, natural touch to any space.
Basketry, such as woven baskets or wire baskets, also adds texture and a touch of rustic charm to a room. A variety of textures can also be added to a room through the use of rugs. Whether it's a shaggy, textured area rug or a braided wool rug, rugs add warmth and softness to a space, as well as define areas of a room. Rugs also provide an opportunity to add color, pattern, and texture to a room, making them a versatile and essential element of farmhouse home decor ideas.
Exposed Beams
Exposed beams are a staple of farmhouse-style decor, adding character and warmth to any home. Whether you live in a traditional farmhouse or simply want to add some rustic charm to your space, incorporating exposed beams into your interior design can be a beautiful and effective way to do so. Here are some ideas for incorporating exposed beams into your farmhouse home decor ideas:
Use them as architectural features:
Exposed beams can be used as a focal point, serving as a striking architectural feature in a room. You can paint them in a contrasting color, or leave them natural for a more rustic feel.
Create a cozy atmosphere:
Exposed beams can make a room feel cozier and more inviting, especially when paired with comfortable furnishings and warm lighting. Use soft textiles like blankets and throw pillows to enhance the cozy atmosphere.
Highlight natural materials:
Exposed beams can complement other natural materials in your home, such as hardwood floors, stone fireplaces, and woven baskets. Using these elements together will create a harmonious and organic look in your space.
Accent lighting:
Highlight the beauty of exposed beams by adding accent lighting. This can be done through the use of wall sconces, pendant lights, or even string lights to create a warm and inviting atmosphere.
Mix and match:
You can mix and match different styles to create a unique and eclectic look in your home. For example, pair rustic exposed beams with modern furniture, or add a touch of industrial style with metal accents.
Incorporating exposed beams into your home decor can bring warmth, character, and natural beauty to your space. With these ideas, you can create a stylish and inviting farmhouse-style home that reflects your style and taste.
Comfortable Furniture
Comfortable furniture is an essential element of farmhouse home decor ideas, creating a warm and inviting atmosphere that is perfect for relaxing and entertaining! Whether you're furnishing a living room, family room, or bedroom, there are many different styles and designs of comfortable furniture to choose from.
Natural Stone Backsplashes
When it comes to farmhouse kitchens and bathrooms, natural stone backsplashes are one of the most common elements! These beautiful stones can easily add texture, color, and warmth to any kitchen or bathroom. From luxurious marble to rustic limestone there are plenty of different stone materials that you can use as a backsplash.
Metal Accents
Metal accents are a great way to add character and sophistication to any farmhouse-style home decor. Whether you're looking for a modern twist on traditional farmhouse style or a sleek and industrial feel, metal accents can help you achieve the look you want. From lighting fixtures to cabinet hardware, you can incorporate these metal accents in different ways and add a dose of sparkle to your home!
What colors are farmhouse style?
Farmhouse style typically features a neutral color palette of whites, grays, and beiges, with occasional pops of color from natural elements such as flowers and greenery!
Natural Color Palette
Farmhouse home decor is all about creating a warm and welcoming space that feels like an extension of nature, and natural color palettes are a key component of achieving this look. By incorporating natural colors, textures, and materials, you can create a cozy and inviting environment that soothes the senses.
Warm earth tones, such as beige, brown, and light green, are often the cornerstone of a farmhouse-style color palette. These colors evoke a sense of the outdoors and create a natural and organic feel throughout the space. By using these colors throughout your home, you can create a cohesive look that is both calming and harmonious.
What color furniture goes with the farmhouse style?
When selecting furniture for a farmhouse-style room, choose pieces in natural wood finishes, such as pine, oak, or reclaimed wood, to complement the neutral color palette. These materials add warmth and texture to the space while also reflecting the farmhouse's natural aesthetic. White, gray, or beige furniture works well in a farmhouse room because it complements the neutral walls and flooring. Consider pieces in soft blues, greens, or yellows for a pop of color. Furniture in distressed or shabby chic styles can also add to the vintage, rustic feel of a farmhouse room. Because the farmhouse style emphasizes comfort and practicality, it is critical to select furniture that is both functional and aesthetically pleasing.
Mix & Match Materials
Mix & match materials are a popular trend in farmhouse home decor ideas that allows homeowners to combine different textures, patterns, and colors harmoniously and stylishly. This approach can bring character, depth, and interest to a space, and create a warm and inviting environment that is both functional and aesthetically pleasing. One of the key aspects of a successful mix & match approach is to choose materials that complement each other, rather than clash. For example, pairing a smooth, sleek countertop with a textured, rustic backsplash, or combining a smooth, modern sink with a weathered, vintage faucet.
Another way to mix & match materials is to use them in unexpected ways, such as pairing a rough, reclaimed wood wall with a smooth, contemporary light fixture, or combining a traditional wood floor with an industrial-style metal stool. In a farmhouse kitchen, a common mix & match approach is to pair a classic white subway tile backsplash with a butcher block countertop, or to use a mix of open shelving and closed cabinetry, which can create a visually interesting and functional space. Similarly, in a living room, a farmhouse design could feature a mix of natural materials, such as a plush wool rug, a distressed leather armchair, and a reclaimed wood coffee table. The combination of textures and materials in a space can also bring a sense of layering and depth to a design, making it feel more complete and polished.
What styles go with the farmhouse?
The farmhouse style often incorporates elements from a variety of other styles to create a unique and cohesive look. The cozy and warm atmosphere of the farmhouse style can perfectly work with other design aesthetics such as modern, industrial, rustic, or shabby-chic!
Cozy Decorations
Farmhouse decor, with its emphasis on comfort and coziness, creates a warm and inviting atmosphere in any home! Whether you want to add a few farmhouse touches to your existing decor or start from scratch, there are plenty of ways to make your home feel more comfortable and inviting with cozy decorations.
What is the difference between rustic and farmhouse home decor ideas?
While there are similarities between rustic and farmhouse decor, the main difference is the emphasis on functionality and simplicity in farmhouse decor, whereas rustic decor tends to focus more on the natural and raw beauty of materials! Rustic decor is also often associated with a more rugged and outdoorsy aesthetic, while farmhouse decor is more about creating a warm and inviting atmosphere that's comfortable and practical for everyday living.