27+ Farmhouse Bathroom Ideas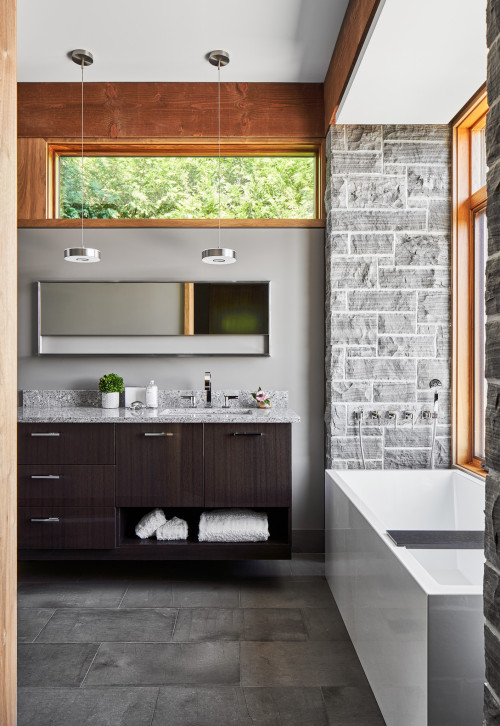 ID# 152303 | Houzz.com – Credit | © Astro Design Centre
---
Rustic Charm with Farmhouse Bathroom Ideas
This rustic bathroom design includes farmhouse vibes with its dark wood floating vanity, wood details, and the gray stone accent wall of the bathtub. The gray floor tiles, gray walls, and accent stone wall complement each other adding a neutral backdrop to the wood textures. The gray countertops put a final touch to the gray color palette while the chrome hardware provides a modern glitter with the pendant lighting fixtures!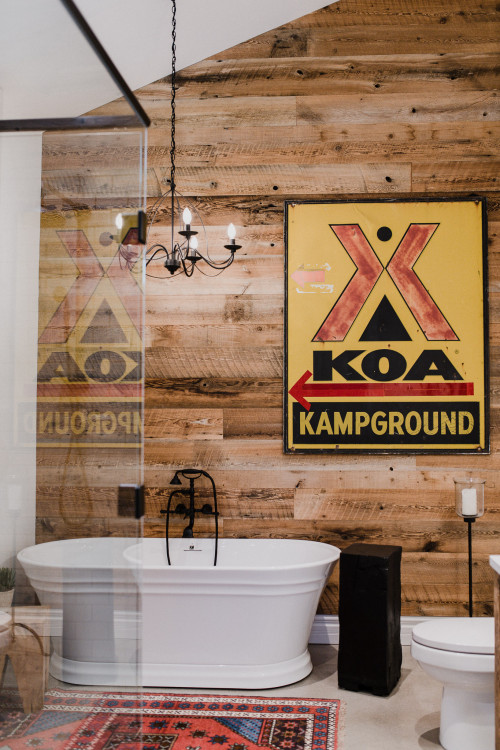 ID# 152321 | Houzz.com – Credit | © AG Designs
---
Modern and Rustic Farmhouse Bathroom with Black Details
The white walls and beige floors bring a feeling of tranquility and cohesion, whilst the white vaulted ceiling gives a grand and airy atmosphere. The black tapware and chandelier bring a glossy and fashionable flair; combined with the wood, white and beige tones, the bathroom has an immaculate, refined atmosphere. The standout chandelier over the bathtub provides a glamorous and sumptuous focal point to the room conveying an aura of lavishness.
Farmhouse Bathroom Ideas
Farmhouse bathroom ideas are perhaps the coziest and most comfortable of all bathroom themes. Sweet hues, a worn-in appearance, and unpretentious materials all conjure up simpler times and encourage comfort and relaxation. And it's not only about shiplap and aged, rustic furniture (or romantic ones, if the space is leaning in the shabby-chic direction). The design is really quite adaptable! Although we're totally on board with sticking to the classics, farmhouse bathroom ideas may also be full of contemporary, industrial, or polished touches.
When it comes to balancing coziness and style, a well-done farmhouse bathroom is the height of luxury. In addition to being attractive and rustic, it also provides a chic haven where you may unwind at the end of the day or start a new one. These wonderful farmhouse bathroom ideas are likely to assist you in creating a lavish design that is both livable and visually beautiful if you're seeking some bathroom ideas that are warm and rustic-inspired.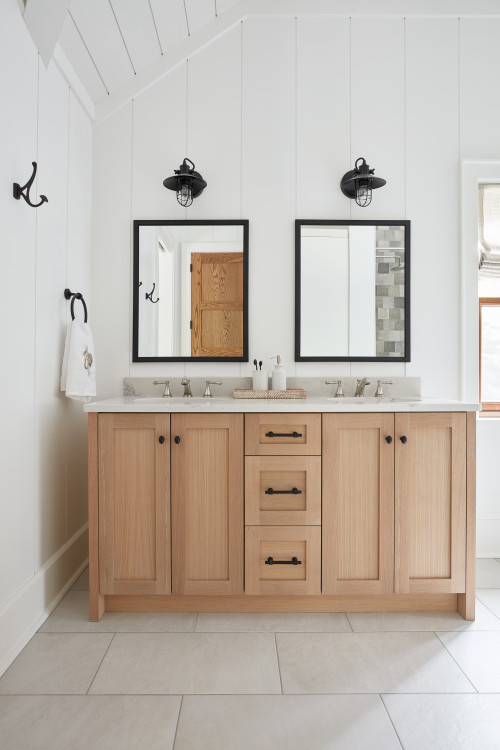 ID# 152301 | Houzz.com – Credit | © Kim Jeffery
---
Farmhouse Bathroom Ideas with a Double Sink Vanity
This farmhouse bathroom's double sink vanity includes marble countertops, light wood shaker cabinets, and black hardware. The under mount sinks and chrome faucets provide a sense of sophistication, while the black accents offer a sleek and modern contrast. The all-white color scheme and floor tiles create a light and airy atmosphere that reminds one of the peace and serenity of the countryside.
ID# 152302 | Houzz.com – Credit | © Oakwrights
---
Exposed Beams for a Vaulted Ceiling with White Walls
The most eye-catchy design element is the light wood exposed beams, of course. The country-style bathroom has a bright appeal with white walls and light wood textures. The small floating vanity with flat panels and the freestanding white bathtub add a modern touch to the rustic texture of the beams. Thanks to the black frame window there is a stylish contrast in this bathroom.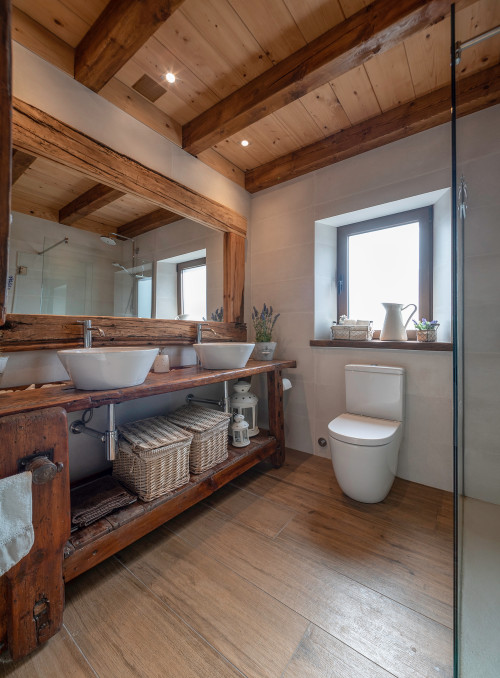 ID# 152304 | Houzz.com – Credit
---
Open Dark Wood Cabinets with Wood Countertops
The hardwood design of the vanity and the countertops provides a stylish combination with the wood ceilings. The white vessel sinks and the chrome tapware add a modern shine to this country bathroom design. The white walls and light wood floors enlighten the wood vanity design creating a warm atmosphere and harmony. The large wood frame mirror helps the natural daylight to brighten up the space.
Farmhouse Bathroom Decor
The farmhouse style is no longer just for real farmhouses. This design craze has spread over the world, giving rise to a variety of sub-trends that range from coastal to modern farmhouses. In order to create a relaxing getaway in your bathroom, choosing a farmhouse bathroom décor might be a fantastic way to keep the color scheme basic and use materials that are already in your house. While we adore the shiplap aesthetic just as much as the next design enthusiast, you can make a simple yet elegant update by embracing a new paint color and your current tiles.
There are many methods to make minor adjustments for an instantly updated design for a farmhouse bathroom decor, so you don't necessarily need to be able to buy new cabinets or flooring right away. There is no better space in the house to embrace farmhouse design than the bathroom. These farmhouse bathroom design suggestions can assist you in making a special environment that represents your personality and style, whether you live on a farm or simply want your area to feel like one.
Farmhouse Bathroom Vanity
Farmhouse-style bathrooms have become increasingly popular in recent years, thanks to their timeless aesthetic and welcoming feel. One of the key elements of a farmhouse bathroom is the vanity, which can serve as a focal point for the space. If you're looking for farmhouse bathroom vanity ideas, here are a few options to consider.
Reclaimed Wood Vanities:
A reclaimed wood vanity brings a sense of warmth and history to a farmhouse bathroom. The natural variations in the wood grain and patina give each piece its unique character. Consider a vanity made from reclaimed barn wood or salvaged planks from an old factory or warehouse.
Shaker-Style Vanities:
Shaker-style vanities are simple and functional, making them a perfect fit for a farmhouse bathroom. They feature clean lines, flat-panel doors, and minimal ornamentation. Look for a vanity made from solid wood, such as maple or cherry, for a traditional feel.
Console Vanities:
Console vanities are a great option for small bathrooms, as they take up less floor space than a traditional vanity. They often feature open shelving below the sink, which is perfect for storing towels and other bathroom essentials. Look for a console vanity made from reclaimed wood or painted in a farmhouse-style color, such as white or gray.
Vanity with Vessel Sink:
To add a unique touch to your farmhouse bathroom, consider a vanity with a vessel sink. The sink sits on top of the vanity rather than being built into it, which creates a more sculptural look. Look for a vanity with a rustic or reclaimed wood look and a vessel sink made from natural materials, such as stone or copper.
Vintage Vanities:
Vintage vanities are a great way to add character and charm to a farmhouse bathroom. They often feature ornate details, such as turned legs, and are typically made from solid wood. Look for a vintage vanity that has been refinished or repurposed for a new look.
When it comes to the lighting for your bathroom vanity, consider using vintage style or Edison bulbs for added rustic charm or to achieve a vintage look. These are just a few farmhouse bathroom vanity ideas to consider when designing your space. Remember, the key to a farmhouse bathroom is to keep things simple, functional, and inviting.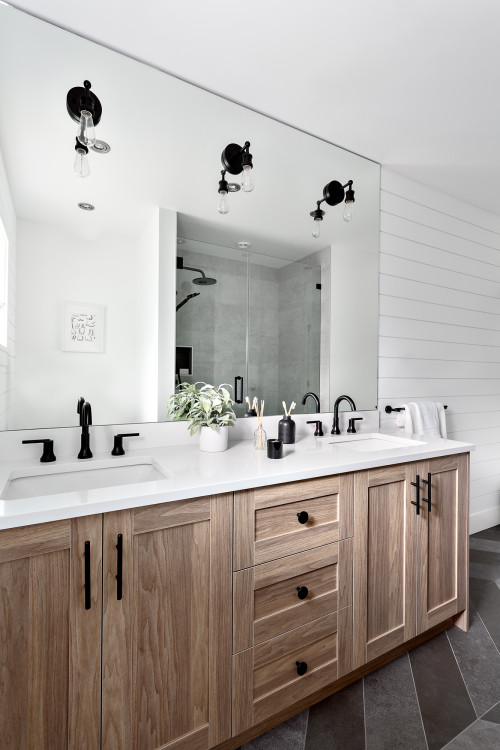 ID# 152305 | Houzz.com – Credit | © Shakespeare Homes and Renovations Inc.
---
Farmhouse Bathroom Vanity With Light Wood Shakers
The under mount sinks and black tapware add a modern touch to the bathroom, while the black hardware gives the space a cohesive look. The gray chevron tile floors add a touch of texture and pattern, making the space feel more interesting and dynamic. The white shiplap walls give the space a rustic and farmhouse feel and create a visually interesting and contrasting element with the light wood cabinets. The full-height frameless mirror with black sconces not only provides a useful reflective surface and task lighting but also an elegant and cohesive feature to the space. The white ceiling lightens the space and makes it feel larger and brighter.
Natural Stone Mosaic Tiles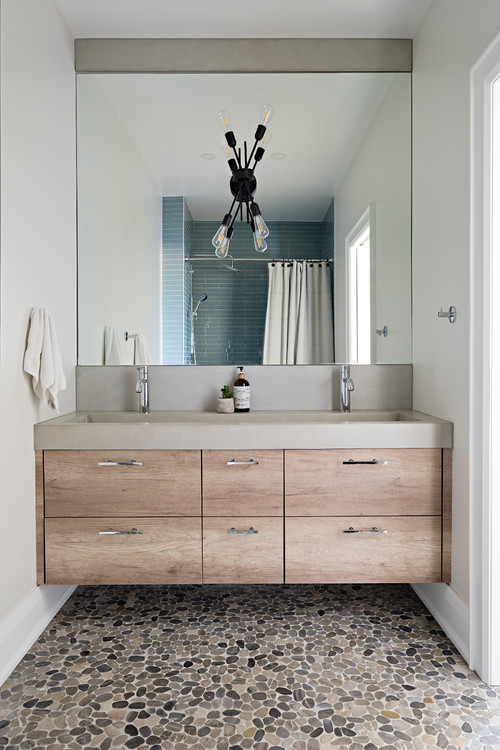 ID# 152306 | Houzz.com – Credit | © Soda Pop Design Inc.
---
Country Style with Pebble Stone Floors
The vanity with its chrome hardware and tapware offers a chic, modern atmosphere. The combination of gentle grey countertops and backsplash provides a soft contrast to the bright wood vanity, while the expansive wall to wall mirror without a frame opens up the room. The combination of grey pebble stone flooring and white painted walls conveys a sense of serenity and cleanliness that'll make you feel right at home!
What makes a farmhouse bathroom?
A farmhouse bathroom can evoke feelings of warmth and comfort, thanks to the natural materials, neutral color palette, and vintage elements that are used to create this cozy style. Wooden walls, stone floors, and brick accents give the room a rustic charm while also offering a simple and relaxed atmosphere. Adding in antique elements like a clawfoot bathtub or vintage light fixtures create a sense of nostalgia and serenity. The warm and inviting atmosphere of a farmhouse bathroom is sure to be a cozy and calming sanctuary.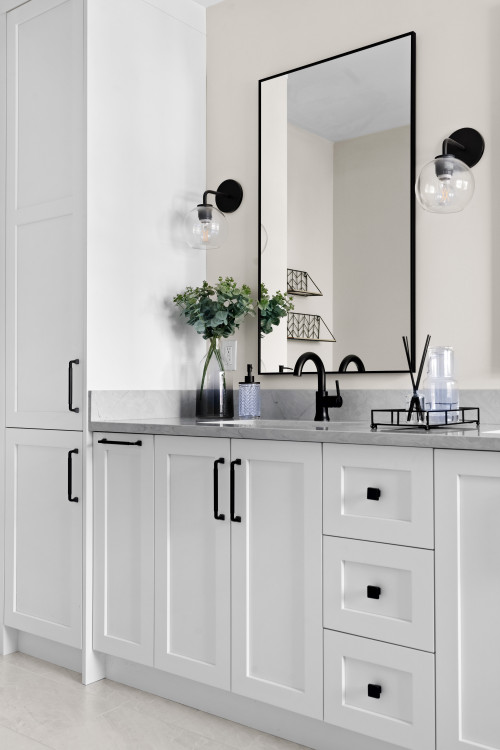 ID# 152307 | Houzz.com – Credit | © Elle Cherie | Inspired Interiors
---
Farmhouse Bathroom Vanity with White Shaker Cabinets and Black Accents
This farmhouse bathroom features a built in double sink vanity with white shaker cabinets and black hardware. The vanity provides ample storage and counter space, making the bathroom practical and functional. The countertops are gray, providing a neutral contrast to the white cabinets, and the backsplash is also gray but with a short slab design that covers only a portion of the wall. The black tapware and sconces add a bold and contrasting look to the space. The bathroom also has a black frame mirror that provides a striking contrast to the white walls!
Farmhouse Bathroom Backsplash
Farmhouse bathrooms are known for their rustic charm and cozy feel, which is why the backsplash design plays a crucial role in creating a warm and inviting atmosphere. A unique and stylish farmhouse bathroom backsplash design can add character and personality to the space, while also serving practical purposes such as protecting the wall from water damage. One way to add rustic charm to your farmhouse bathroom is through the use of natural materials. For example, a farmhouse bathroom backsplash made of reclaimed wood can add a cozy, cabin-like feel to the space. The natural variations in the wood's color and texture can create a sense of warmth and coziness, making the bathroom feel like a true oasis!
Create Eye-Catching Focal Point
Another way to add charm with a farmhouse bathroom backsplash to a bathroom is through the use of textured materials. Exposed brick or natural stone backsplashes are popular choices for farmhouse bathroom backsplash designs because they create a sense of warmth and coziness, while also adding a unique and organic touch to the space. For example, a natural stone backsplash like a honed, tumbled, or polished can add a rustic feel to a farmhouse bathroom. A backsplash can also be used to add a pop of color to a farmhouse bathroom. From eye-catching mosaic tiles to classic subways there are endless options to create a farmhouse backsplash.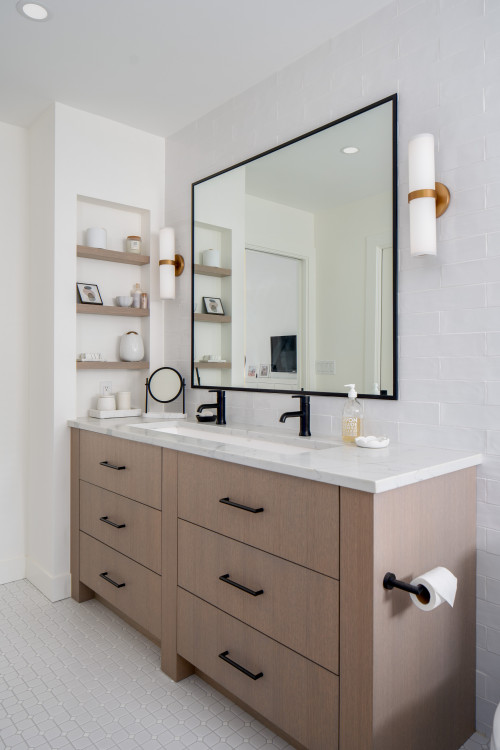 ID# 152308 | Houzz.com – Credit | © NOVERO Homes and Renovations Ltd.
---
Modern Appeal with a Farmhouse Bathroom Backsplash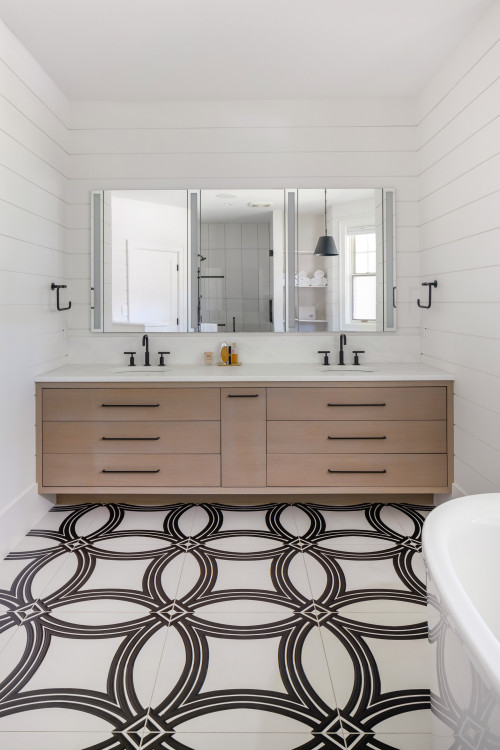 ID# 152309 | Houzz.com – Credit | © SGDI – Sarah Gallop Design Inc.
---
Black and White Floor Tiles with an Organic Flow
This bathroom offers a unique, dynamic experience that stirs the human soul – a black and white floor tile design with an organic flow adding motion and a timeless look. The wood vanity, accented by black hardware, emits a warm and rustic vibe, and the white countertops play off the shiplap walls and ceiling to develop a cohesive atmosphere. The mesmerizing pattern of the tiles inject a sense of movement into the space, creating an awe-inspiring visual effect. All while providing ample storage and counter space.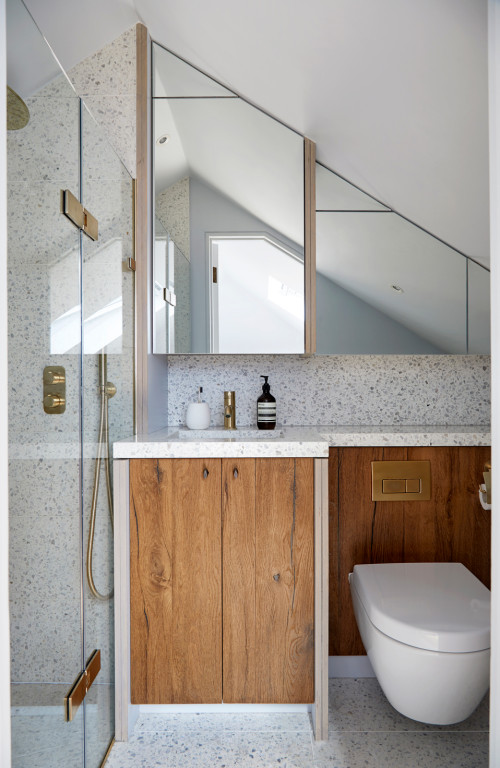 ID# 152310 | Houzz.com – Credit | © Indie & Co.
---
Farmhouse Bathroom Backsplash with Terrazzo Tiles
The warm, rich tones of the wood vanity adds a cozy ambiance that enlivens the bathroom. The unique terrazzo flooring, countertops, and backsplash wall combine to create a distinct character that brings the room together. Using the same material throughout unifies the space and gives it an expansive feel. The brass accents complete the elegance, bringing exquisite cohesion to the whole bathroom.
Farmhouse Bathroom Lights
An idea of a farmhouse bathroom light is all about creating a warm and inviting space that feels like a true oasis. Whether you're looking for a vintage, rustic or modern look, there are many options available to help you create the perfect ambiance in your bathroom. One popular option for farmhouse bathroom lights is the use of pendant lights. These lights are suspended from the ceiling and can be used to provide task lighting over a vanity or general lighting in the room. Pendant lights come in a variety of styles, including vintage, rustic and modern, so you can find the perfect look to complement your bathroom's design.
Many farmhouse bathrooms lend themselves to cozy vibes and warmth with the use of sconces. Wall-mounted lights can not only provide task lighting, but add a decorative touch to the room. Many sconces have a rustic, aged feel, perfect for creating an inviting space. Positioned on either side of the mirror or mirror-cabinet, they offer a welcoming touch. Recessed lighting is also an appropriate choice, ideal for those with lower ceilings wanting to provide general or task lighting. Alongside using sconces, the color temperature of the light you choose can affect the ambiance. Warmer light (2700K-3000K) will inject a cozy and comfortable feel, while cooler temperatures (4000K-5000K), better suited for applying makeup or shaving.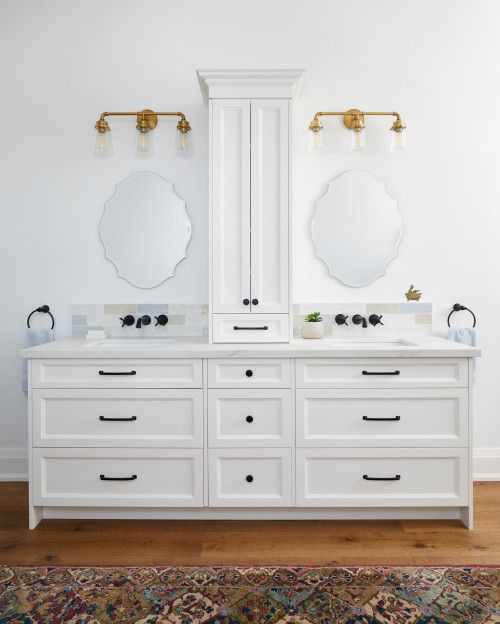 ID# 152311 | Houzz.com – Credit | © Master Edge Homes
---
Farmhouse Bathroom Lights with Brass Details
The white shaker cabinets and black hardware create a clean and classic look. The white countertops and short backsplash in small tiles provide a neutral look with a subtle vintage-inspired texture. The arabesque style mirrors imbue the bathroom with a sense of luxury and elegance. The brass details added with the sconces give the space a feeling of warmth and sophistication, transporting you to a time past or an industrial feel. Overall, the blend of design elements naturally creates an atmosphere of comfort, classic beauty, and sophistication!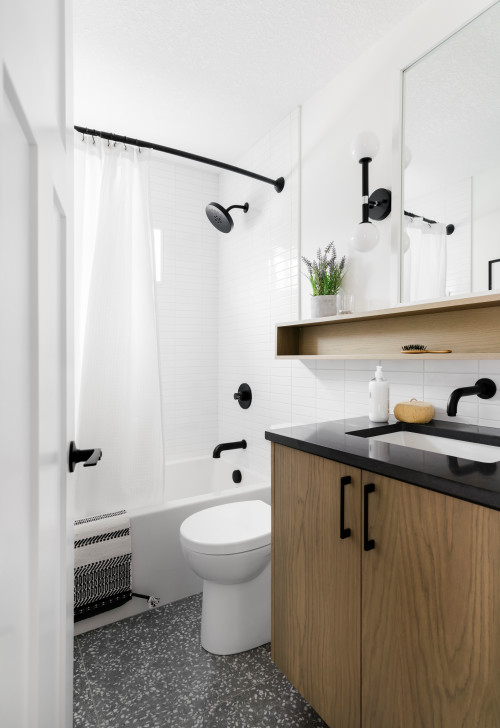 ID# 152312 | Houzz.com – Credit | © Whiting Young Interior Design
---
Stylish Contrast and a Warm Touch for a Country Style
The wood finish brings a warm, inviting, and rustic atmosphere, characteristic of a farmhouse style. The black hardware accents on the cabinets create a striking contrast against the wood, bringing a dose of sophistication to the space. An under mount white sink in the countertop maximizes the counter space and adds a modern touch for easy cleanup. Complementing the countertops, black tapware adds a modern twist. A black detailed wall lighting fixture illuminates the room, adding a hint of chic elegance and fashion. It creates a captivating visual in the bathroom – a focal point that arouses human emotion.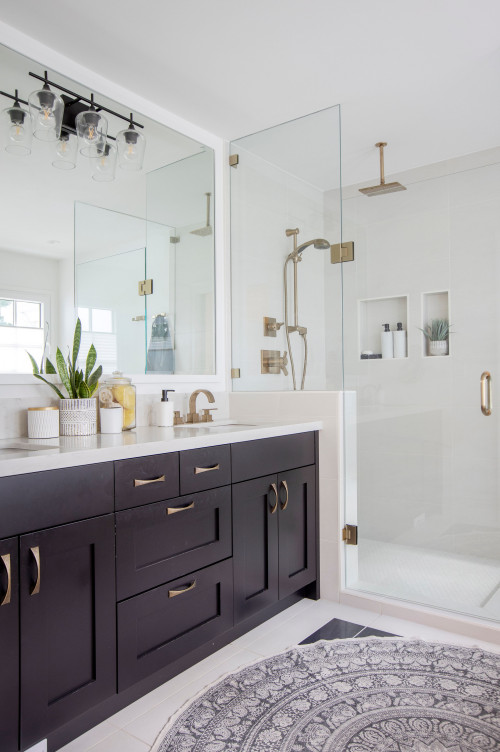 ID# 152313 | Houzz.com – Credit | © Miles Design
---
Farmhouse Bathroom Lights with a Black Vanity
The striking contrast of the black cabinets against the pristine white of the walls and ceilings gives an incomparable touch of drama to the space. The timelessness of the shaker style cabinet doors gives the bathroom an unpretentious yet elegant appeal. The warm and luxurious vibes of the brass hardware and tapware beautifully accents the cabinets, creating an utterly harmonious look. The full-height frameless mirror adds a feeling of spaciousness that evokes a mesmerizing sense of dimension. The sconce with its ornate black details serves as a multifaceted source of light, delivering both task and ambient light and radiating a comforting ambiance in the room.
Different Styles of Farmhouse Bathroom Ideas
Farmhouse bathrooms have gained immense popularity in recent years, owing to their warm, inviting charm. Different styles of farmhouse bathroom ideas are available, each with unique looks and feel that evoke a sense of comfort and happiness. Below are three popular styles – modern, rustic and small farmhouse bathrooms. Modern farmhouse bathrooms evoke a sense of serenity with their clean and minimalistic look, while rustic bathrooms bring a warm and homely atmosphere, and small farmhouse bathrooms offer an inviting, cozy feeling. To find out which style works best for your preferences and needs, consider trying out different looks and feeling the joy associated with each one!
Modern Farmhouse Bathroom
Creating a modern farmhouse bathroom can give you a tranquil and calming place to escape from the demanding and overwhelming modern world. Harmonizing your classic farmhouse style with contemporary design, you can use white or gray walls and flooring to soften the look and natural wood elements, such as shiplap or reclaimed wood, to add warmth and comforting human feelings. Plus, industrial light fixtures,
freestanding bathtubs
, and modern cabinetry and fixtures provide a welcoming escape from the uncertainty of life. Seize these timelessly
modern farmhouse bathroom ideas
to make your personal abode of self-care and daily grooming an oasis of calm and solace.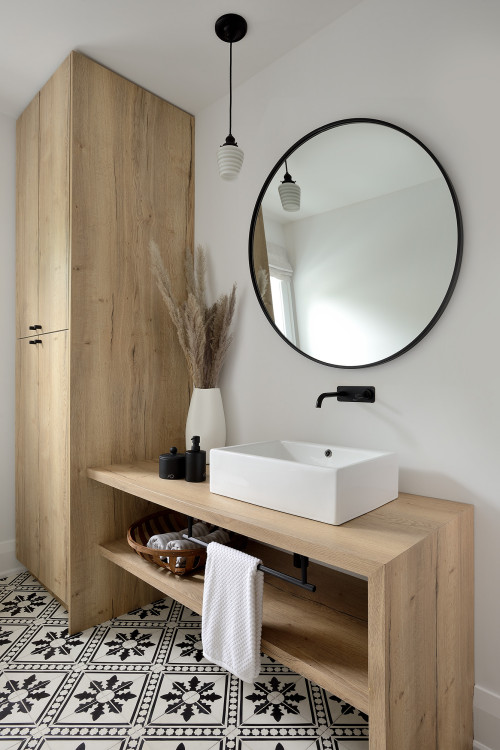 ID# 152314 | Houzz.com – Credit | © Michelle Berwick Design
---
Modern Farmhouse Bathroom with Scandinavian Vibes
This farmhouse bathroom design exhibits the appeal of Scandinavian design. The black accents and light wood flat-panel cabinets provide a chic contrast in the room. The little wood vanity with a white vessel sink has a simple style that is animated by the floor tiles' black and white floral motifs. The circular mirror stands out thanks to its thin, dark frame, which contrasts sharply with the geometry of the vanity design.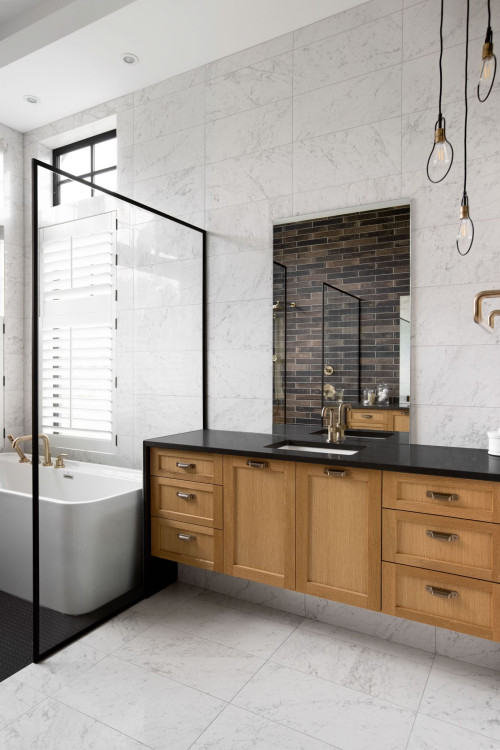 ID# 152315 | Houzz.com – Credit | © Spaciz Design Company Inc.
---
Wood Floating Vanity with Shaker Cabinets and Black Countertops
This farmhouse bathroom design welcomes you with rustic vibes thanks to the wood shaker cabinets and the black quartz countertops. The white ceramic tile floors and the walls emphasize the vanity design creating a sophisticated appeal in the bathroom. The white under mount sink provides a contrast to the black countertops while harmonizing with the white environment. The frameless mirror and the pendant lighting fixtures bring a modern mix to the space.
What colors are good for a farmhouse bathroom?
Colors that are often used in farmhouse-style bathrooms include white, beige, gray, and soft blue. These colors create a neutral and relaxing atmosphere and are often paired with natural wood finishes, such as on the ceiling beams or vanity. Additionally, the use of black or galvanized metal fixtures and accents can add a touch of industrial charm. Other popular farmhouse bathroom colors are shades of green and yellow which gives a warm and cozy feeling.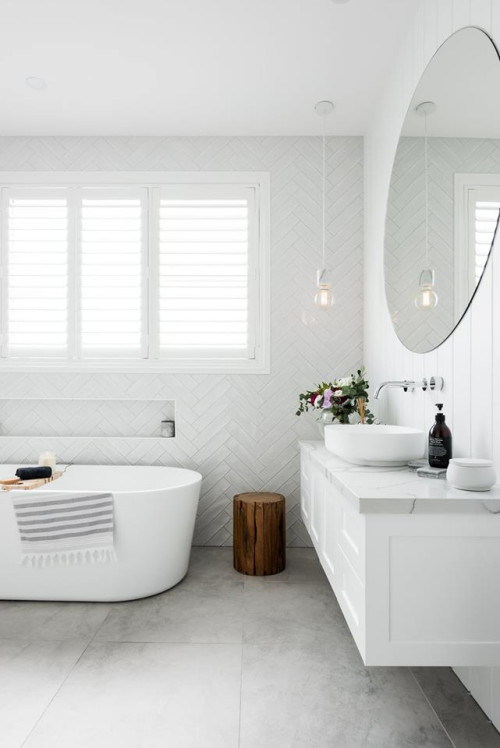 ID# 152316 | Houzz.com – Credit | © Apex Constructions N.S.W
---
White and Modern Farmhouse Bathroom with a Floating Vanity
The white environment with different materials provides a sleek and modern appeal in the bathroom. The floating vanity with shaker cabinets and marble countertops increases the richness of the room while the white shiplap backsplash wall adds a warm and familiar look. The white stone-like floor tiles and the white herringbone tile walls complement each other saving the modern and bright appeal.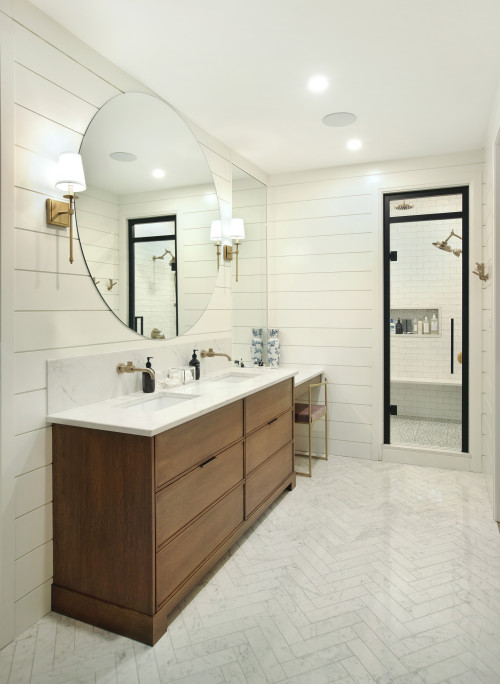 ID# 152317 | Houzz.com – Credit | © Braam's Custom Cabinets
---
White Shiplap Walls and Wood Flat Panel Cabinets
This bathroom exudes warmth and texture, thanks to its wood recessed panel double-sink vanity. With its white countertops, shiplap walls and brass detailing, the room is both clean and elegant. The large frameless round mirror helps the space to feel more open and the white herringbone tile floors give it a timeless charm. The black frame shower door is a stylish and modern contrast to the otherwise country atmosphere, invigorating the senses with its nuanced sophistication.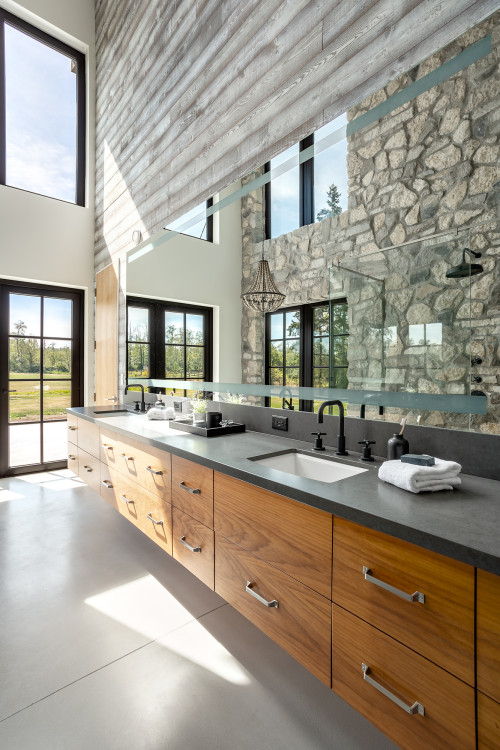 ID# 152318 | Houzz.com – Credit | © Beyond Beige Interior Design Inc.
---
Modern Farmhouse Bathroom with a Large Double Sink Vanity
This bathroom boasts a modern farmhouse style, with a large double-sink wood flat-panel floating vanity providing ample storage and counter space. The use of metallic hardware adds a touch of shine and complements the gray countertops. The large gray tile floors are sleek and contemporary while the stone and wood walls add natural texture and warmth. The black tapware adds a modern contrast and the large frameless window brings in natural light and a connection to the outdoors.
Rustic Farmhouse Bathroom
Rustic farmhouse bathrooms evoke the warmth and simplicity of a country cabin. This style is characterized by natural wood elements, such as knotty pine or reclaimed wood, and natural stone elements like river rock or slate. Use earthy tones, like browns and greens, to create a warm and inviting space. Other popular elements of this style include vintage or antique fixtures and hardware, a clawfoot bathtub, and a large, farmhouse-style sink.
Additionally, you can also include some DIY elements or use some vintage or antique items in your bathroom as decor such as an old ladder as a towel rack, or an antique window as a mirror frame. This will make the bathroom feel more authentic and in line with the rustic farmhouse aesthetic. View some of the chic rustic farmhouse bathroom design alternatives by scrolling down.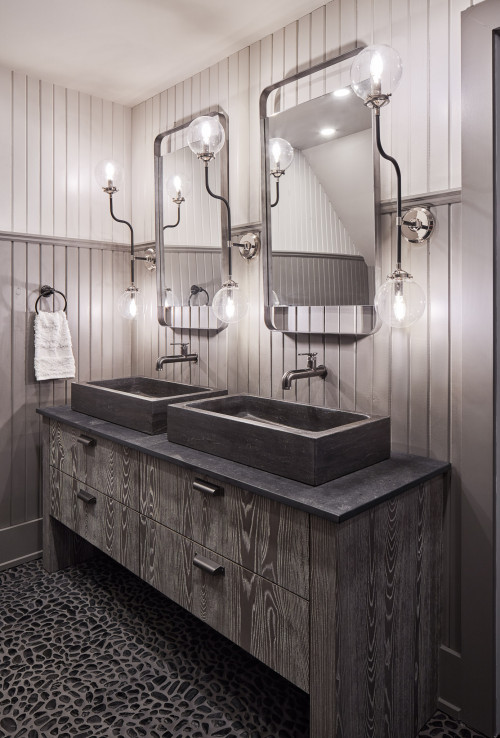 ID# 152319 | Houzz.com – Credit | © Astro Design Centre
---
Rustic Farmhouse Bathroom with a Double Vanity
The vanity's gray hardware provides an elegant touch to the space, while the pebble floor tiles and shiplap walls – in light gray and white – present the bathroom with a polished and unified aesthetic. The warm wood tones and cool gray-shaded color palette offer a cozy and inviting calming ambiance, forming an ideal place for leisurely rejuvenation. The inclusion of shiplap and pebble floor tiles intensifies the natural rustic ambiance of the bathroom and brings it to life with comforting feelings!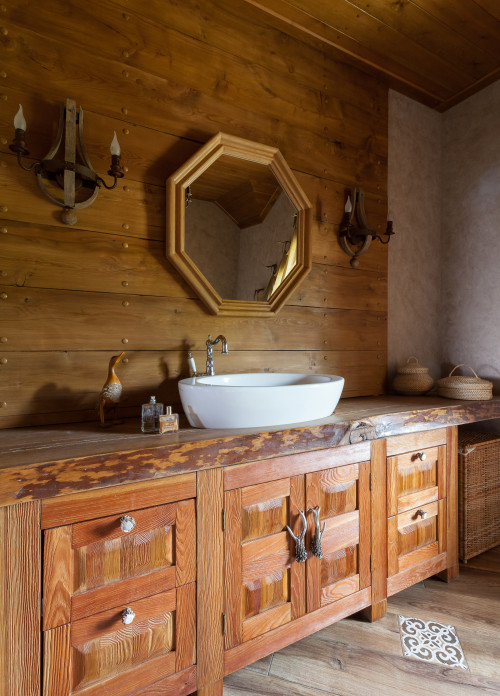 ID# 152320 | Houzz.com – Credit |© Lukonina Nata
---
Wood Cabinets and Countertops with a White Vessel Sink
The natural, rustic feel of wood throughout the space creates a comforting and inviting atmosphere. The white vessel sink brings a modern touch to the design, in contrast to the wood elements, creating a balanced look between old and new. And the octagon brass frame mirror adds an air of elegance and sophistication – making the bathroom truly a beautiful blend of rustic and modern elements. Every element within it brings a feeling of warmth and depth to the space, creating a tranquil and enjoyable experience.
How to decorate a farmhouse bathroom?
For a truly farmhouse-style bathroom design, use natural materials like wood, stone, and natural fibers. Add vintage or antique pieces like a charming claw-foot tub or a homey vintage sink. For the color palette, stick to a neutral scheme of whites, grays, and beiges, and use shiplap or beadboard as a wall treatment. Adorn the room with vintage or rustic lighting fixtures like pendant lights or sconces and bring some life through potted plants, herbs, flowers, and other green additions. Last, but not least, opt for a simple, clutter-free design with an emphasis on functional, practical elements. Enjoy the cozy, timeless feel of this classic style!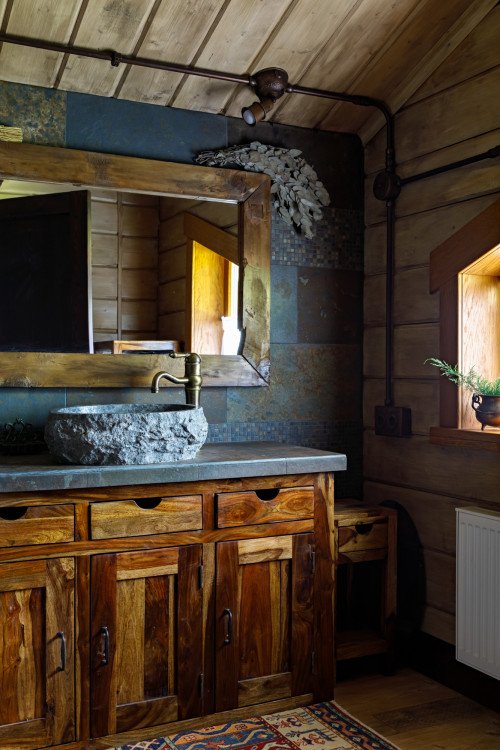 ID# 152322 | Houzz.com – Credit | © Татьяна Ильина (Сорокина)
---
Dark Wood Shaker Cabinets with Gray Countertops and a Stone Vessel Sink
The dark wood shaker cabinets and the dark wood floors bring a sense of warmth and homely comfort to the room, while the gray countertops and stone vessel sink add a touch of class and sophistication. The stone tile backsplash wall provides an interesting texture, while the wood shiplap walls give the bathroom a comforting and real farmhouse feel. The harmonious blend of wood, stone and gray exudes a sense of unity, making it a place of pure relaxation and delight.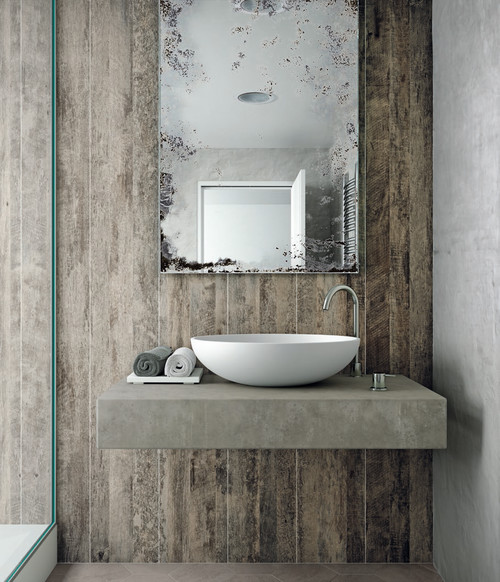 ID# 152323 | Houzz.com – Credit | © VIRECO
---
Rustic Farmhouse Bathroom Design with a Single Vanity
This bathroom exudes a sense of warmth and luxury, with its stylish and cohesive design and beautiful blend of natural materials and neutral colors. The wood backsplash wall brings a sense of comfort and texture, while the beige stone countertops offer a feeling of opulence and refinement. The white vessel sink is a modern twist that crystallizes the connection between vintage and modern style. The lustrous chrome tapware adds a hint of grandeur and sophistication, harmonizing magnificently with the beige floors. The subtle gray
wall tiles
bring an aura of grace and depth to the space, creating a peaceful backdrop that magnifies the elegant overall look of the bathroom.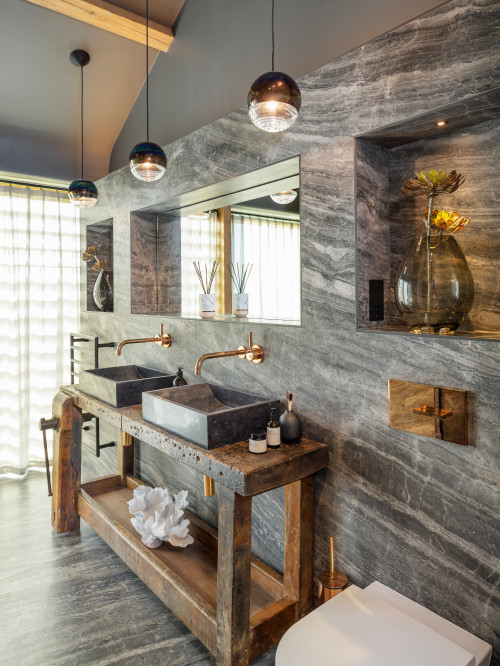 ID# 152324 | Houzz.com – Credit | © Woodford Architecture and Interiors
---
Gray Marble-like Walls and Floors with Brass Details
The wood freestanding vanity offers plenty of storage and countertop space, creating a feeling of warmth and texture. The double gray vessel sinks deliver a hint of charm and sophistication, while the brass fittings provide a sense of glistening and refinement. The gray marble-like walls, floors and backing wall niches bring a sense of lavishness and elegance, unifying the beauty of the room. The niche in the backing wall with a frameless mirror provides a practical yet lovely touch that provides a stunning, neat look, transforming the bathroom into a functional and pleasant haven.
Small Farmhouse Bathroom
Small farmhouse bathrooms can be just as charming as larger ones. The key is to use the right design elements and keep clutter to a minimum. Use light colors and small-scale patterns to make the space feel larger. Popular elements of this style include a wall-mounted sink, a pedestal bathtub, and a corner shower. Use open shelving or a medicine cabinet to store essentials, and make sure to have ample lighting to make the most of the space. Additionally, you can also use mirrors to reflect light and make the space feel larger. A frameless mirror can also provide the illusion of more space. To keep a consistent theme you can use rustic frames on the mirrors and other decor.
Another design tip for a small farmhouse bathroom is to minimize grout lines in the tile work. Large format tiles or fewer grout lines can make the space feel more cohesive, which will give the bathroom a larger feel. Finally, you can also incorporate some plants, greenery, or flowers, to bring some natural elements into the space. Be mindful of the light availability and choose plants that can thrive in low light conditions. This can add a touch of warmth to your small farmhouse bathroom while keeping it feeling natural and authentic.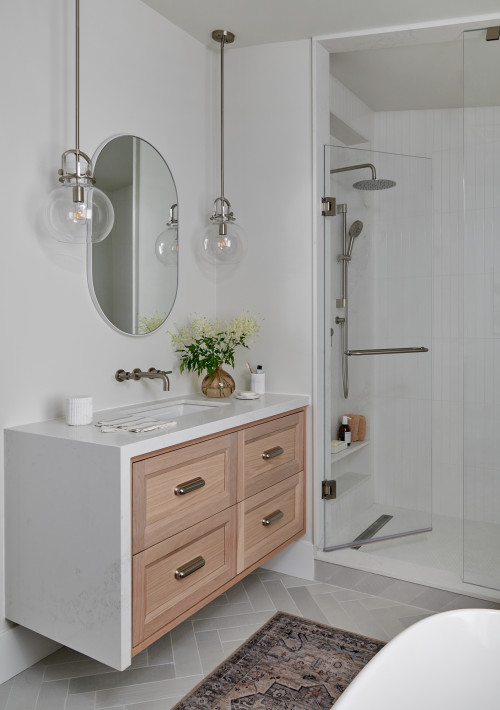 ID# 152325 | Houzz.com – Credit | © Rüme Design
---
Small Farmhouse Bathroom Design with Light Wood Shaker Cabinets
This cozy farmhouse bathroom design is both practical and stylish, evoking a sense of comfort and homeyness. The single floating wood vanity adds storage and counter space in an open and airy setting. The choice of natural materials such as wood and quartz compliments the white walls and grey herringbone tile floors, creating a clean and polished atmosphere. Adding a hint of warmth and elegance, brass hardware effortlessly marries with the pendant lighting fixtures to provide a complete experience.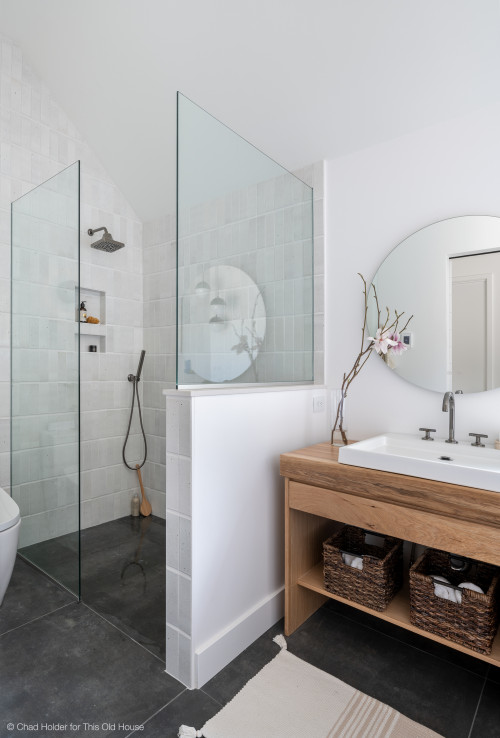 ID# 152326 | Houzz.com – Credit
---
Country and Modern Appeal with a Wooden Touch
This bathroom provides a peaceful and soothing atmosphere, with its minimalist and functional design! The small wood vanity invites a sense of relaxation and its open cabinetry adds a sense of freedom and airiness. The small white sink stands out from the wood vanity adding a modern touch of sophistication. The round frameless mirror is not only practical but a stylish addition, giving the room a pristine look. The neutral colors of the gray floor tile and the white walls and ceilings bring a feeling of harmony to the space. Not to forget the natural materials, such as wood and tile, give a beautiful balance of warmth and finesse.
Is the farmhouse still in style for 2023?
Though there's still much love for the classic farmhouse look, come 2023 we'll witness it metamorphosing into something noticeably more polished, blending inspirations from European, Belgian farmhouse, nautical and Scandinavian decor. This evolved version of the modern farmhouse aesthetic shows no signs of waning enthusiasm in the coming year giving us plenty of reasons to rejoice!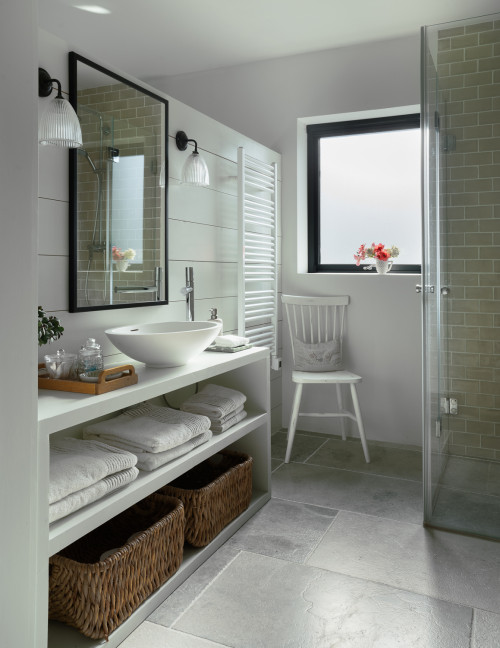 ID# 152327 | Houzz.com – Credit | © Robin Quarrelle Photography
---
Small Farmhouse Bathroom Ideas with a White Shiplap Backsplash
Shiplap design is a classic touch for farmhouse designs that enlarges the room when they are used horizontally. The white countertops and open cabinetry of the vanity provide a modern appeal with its sleek design. The large floor tiles and the white environment enlighten the room creating a fresh and airy appeal. The black accents such as the details of the sconces and the frame of the mirror add a stylish contrast to the white shiplap wall.