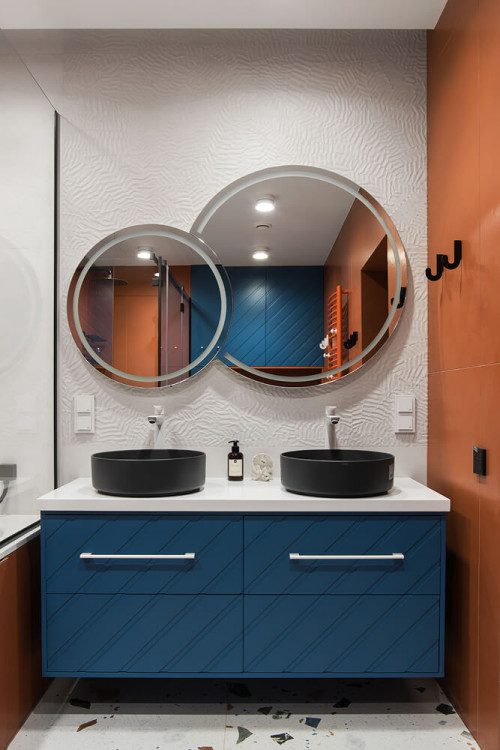 ID# 149006 | Houzz.com – Credit | © Nice Design
---
Blue Vanity with White Countertop and Black Vessel Sinks
This contemporary bathroom knows how to have fun with the space! From the blue vanity to the orange-painted walls, and the textured finish on the backsplash wall, every piece either adds a pop of color or texture or both. Likewise, the black vessel sinks add a striking contrast, posing against the white background. On the floor, the terrazzo floor dotted with small and large chips echoes the overall color scheme. The intertwined round mirrors are an example of a high-tech, featuring LED lighting system. And finally, amidst all of them, the white quartz countertop brings a calming contrast.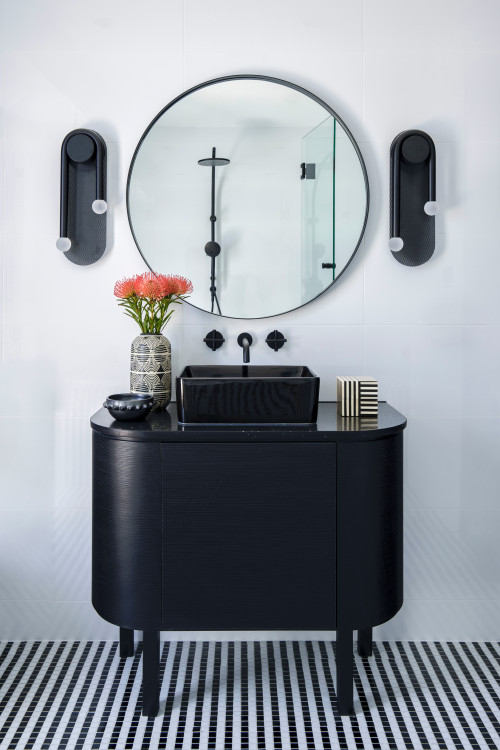 ID# 149027 | Houzz.com – Credit | © Kaiko Design Interiors
---
Contemporary Bathroom with Black Curved Vanity and Black Countertop
If you want something different, go with curvy forms that deepen the artistic mood of the design. For example, this contemporary bathroom uses a black curved small vanity and a round mirror. Together they constitute a soft aesthetic look. The black granite vanity countertop and sink add to the dramatic ambiance. On the floor, the white and black small tiles aligned in rows give the design a sense of order and support the contrasting theme. Plus, they also make slipping almost impossible thanks to the multiple fractions.
Bathroom Vanity Tops
Anyone would expect their bathroom to look clean and eye-appealing, and to achieve that you don't need big design moments. Even a small detail like a vanity top can create a big difference in the overall design aesthetic. Available in multiple material options, colors, finishes, and thicknesses, today's market opens up almost limitless design opportunities with bathroom vanity tops. Though marble, granite, wood, laminate, quartz, and solid surface vanity tops are some of the most popular materials, there is more to that.
Plus, by toying with the sink types, such as under-mount, vessel, and drop-in sinks, you can come up with a wide range of looks. All you need to do is push your imagination. Here we have gathered an array of bathroom designs with a focus on bathroom vanity tops. Take a closer look at them to ignite your imagination and get inspired for your next overhaul project to find the right vanity top.
Material Options for Bathroom Vanity Tops
From cultured granite to cultured marble, butcher block, laminate, quartz, and porcelain, the material options for bathroom vanity tops are various. While some are natural stones, some are engineered to provide more affordable, pore-free, and practical options. In recent years, especially, budget-friendly laminate got popular again, offering better quality and more durability when compared to the first years it popped up.
Marble Bathroom Vanity Tops
Sophisticated and elegant, marble bathroom vanity tops heighten the aesthetic value of bathroom designs. If you want a luxurious and upscale feel, marble is the route to go. Available in a wide range of colors- white, black, gray, pink, beige, green, and brown, it can also be used to introduce a splash of color. Some designers even go with all-marble looks. They use it on the floor, on the wall, and as a basin to create a cohesive and high-end look. And if you want to downplay its stunning veins, you can use a light/dark wood vanity for a soft contrast.
What can I use for a vanity top?
From marble to wood, laminate, quartz, soapstone, porcelain, and granite, you have many material options for a vanity top. And each material has a world of its own, especially the natural stone benchtop. As for the engineered ones such as quartz and laminate, they also stand out as practical and low-maintenance options. Plus, they have been getting better at mirroring wood, marble, and stone patterns. Thanks to their budget-friendly prices, they offer great substitutes for natural materials.
Quartz Bathroom Vanity Tops
Engineered vanity tops made of quartz are pore-free. That's why they don't require sealing, unlike natural stones like granite and marble. They also provide stain-resistant surfaces. It, in turn, makes them a practical option. In terms of aesthetics, thanks to their brightness, they give the bathroom a modern appeal. Plus, they have multiple finish options, from marble effect to speckled and a variety of colors.
What is the best material for a vanity countertop?
From marble to granite, engineered materials like laminate and quartz, vanity countertops are various. And of course, this also means that they come with different aesthetic and functional features while also differing in quality and longevity. And among a variety of materials, granite bathroom countertops set themselves apart. Their resistance to scratches and dents makes them a favored option. Not to mention their dramatic and eye-popping veining that is ready to make granite the showstopper. But since it is a natural stone with a porous surface, it needs to be resealed annually. In case you decide to look for a substitute, engineered quartz countertops are pore-free and have a more solid structure. In terms of aesthetics, they have multiple finish options.
Laminate Bathroom Vanity Tops
Made of plastics, laminate bathroom vanity tops are another practical option to be used in bathrooms as a low-maintenance material. They are resistant to water stains, durable, and stylish. Thanks to the cutting-edge printed process, they feature high-end finishes that look very realistic. These finishes include marble, wood, and stone effects. To put it differently, if you can't afford a marble vanity top, you can get a marble-look laminate benchtop. As one of the most affordable options on the market, it offers a great substitute for natural stones, acting as their doppelgangers.
Granite Bathroom Vanity Tops
One of the most expensive yet durable bathroom vanity top materials is granite, surely. Featuring dramatic veins and bold speckles, it effortlessly makes a strong visual statement and offers a classic finish. Unlike marble, it is also more resistant to scratches and dents. But granite also requires annual sealing to preserve its best version. With sealing, you also make it less prone to bacteria and stains.
What is the cheapest vanity top material?
The cheapest vanity top materials include laminate, acrylic, and Corian. And their costs vary between respectively, $10 and $80, $10 and $30, and $20 and $75 per square foot. Another cheap alternative is engineered hardwood which, again, costs between $15 to $70 per square foot.
Wood Bathroom Vanity Tops
Looking for a sense of warmth and texture? Then, wood bathroom vanity tops are the way to go. You can pair them with wood floating vanities for a seamless look. Blue and white tile backsplash, gold hardware, and geometric light fixtures can complement them beautifully. Whether you go for a mid-century, contemporary, Scandinavian, minimalist, and eclectic bathroom design, wood vanity tops function wonderfully.
Can you replace just the top of a bathroom vanity?
If you want to change up your bathroom vanity, you can replace the vanity top, if you want to avoid full-time work. Even such a small change can create a big difference in the overall design aesthetic. With a drill and jigsaw, you can easily replace your bathroom benchtop. When compared to installing tiles and replacing the cabinetry, it will feel like a piece of cake. Plus, it is cost-effective.
Types of Bathroom Vanity Tops
Vanity consists of different components: the cabinet, countertop, sink, and hardware. As such, by changing up one of those elements, you can create a new look for your vanity. The same goes for the sink too. And there are two main vanity tops: sink integrated into the countertop and vessel sinks. Now let's take a closer look at them.
Bathroom Vanity Top with Sink
The bathroom vanity top with sink could be a dropped-in one (self-rimming), under-mount, and trough sinks. Each one has a different impact. For example, the under-mount sinks create a super-sleek profile. They are easy to install and save a lot of counter space for bathroom users. Trough sinks are especially great for double vanities and couples/siblings who share the bathroom. They are generally carved out of stone and wood but today they are available in other materials as well.
How much does a custom vanity top cost?
A custom-made vanity top cost ranges from 80 to 180 USD per square foot. But depending on the material and the size of the project. According to these aspects, the price can go up more. Natural stones such as granite or marble cost between $75 and $200 per square foot. Laminate countertops are more affordable options.
Bathroom Vanity Tops for Vessel Sink
Vessel sinks, available in different forms and materials, sit on the vanity tops, creating a layered look. Both modern and farmhouse bathrooms go with this style to add extra interest to the vanity. The marble-carved ones look extremely stunning. But for unparalleled durability, you can go with stainless-steel versions. The tapware for these sinks is installed on the wall, which again allows you to add another aesthetic detail.
How to install a bathroom countertop?
First, measure the replaced-to-be countertop to ensure that you get a new one with the right measurements. After you have everything ready at hand, move on to the second step. The second step is disconnecting the plumbing. But first, to reach that, remove the doors of the vanity with the help of a screwdriver. Switch off the water supply valves.
After disconnecting the plumbing, cut the caulk along the wall with a utility knife to disconnect the vanity from the wall. If the vanity top is attached to the cabinet, disconnect it. You can do so by either removing the fasteners with a screwdriver or breaking the glue. After ensuring that the countertop is not connected to the cabinet, just remove it carefully. Since the countertops are heavy, you can ask a friend of yours to help you during the removal and installation.
Now you are ready to install the new one. First, apply silicone caulk to the cabinet's top edge. Then place the vanity top again with your friend's help. If there are any, install fasteners to secure the vanity top.
In the last step, apply caulk along the cabinet where the vanity top meets the wall. And reconnect the plumbing.