26+ Bathroom Vanity with White Top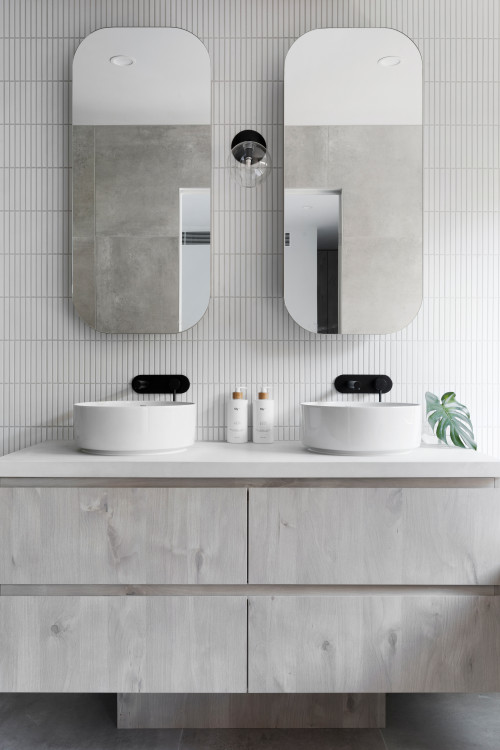 ID# 149201 | Houzz.com – Credit | © Atlas Architects
---
Floating Bathroom Vanity with White Tops for a Contemporary Touch
The sleek design of the double-sink floating vanity welcomes you with a fresh and natural touch. The white flat-panel cabinets and the white quartz top of the vanity complement each other flawlessly. The black details provide a minimalistic contrast while the white ceramic tile backsplash joins this contrast with a modern appeal.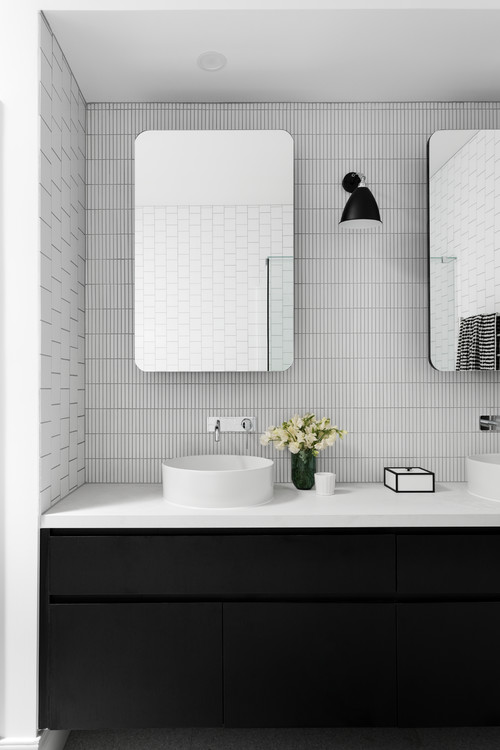 ID# 149219 | Houzz.com – Credit | © Hart Builders Pty Ltd
---
Contemporary Black Flat-Panels and Mosaic Tile Walls
This modern master bathroom exudes a sense of sophistication and elegance with its sleek black cabinets and crisp white tile walls. The addition of gray terrazzo floors adds to the chic appeal, while also providing durability and stain resistance with the choice of engineered quartz white tops. The vessel sink atop the benchtops adds a beautiful visual element that enhances the space, while the inclusion of mosaic tile brings texture and pattern to the space, creating an inviting atmosphere.
Bathroom Vanity with White Top
The colors you pick for your vanity tops can significantly alter your bathroom's personality. Nothing in a bathroom appears fresher and tidier than a bathroom vanity with white tops. Neutral hues are frequently used in modern homes' bathrooms to encourage calm. When you want a calm yet vibrant countertop, white is ideal. White tops don't always have to be difficult to keep clean. A bathroom vanity with white tops can create a clean and classic look in any bathroom. In this article, we gather different bathroom vanity with white top ideas that will inspire you!
You can pair a white marble or quartz top with dark wood cabinetry for a striking contrast. You may want to use a white ceramic or porcelain top with a modern, minimalist vanity for a sleek and sophisticated look. Also, you can create a farmhouse-inspired look by pairing a white top with a distressed or reclaimed wood vanity. Using a white top with a metallic or mirrored vanity for a glamorously reflective surface is one of the terrific design ideas in bathrooms. Regardless of the style you choose, be sure to keep the rest of your bathroom's design cohesive with the vanity. For example, if you have a traditional bathroom with chrome fixtures, a modern, minimalist white vanity may not be the best choice. Let's scroll down and see some of the stylish options for a bathroom vanity with white tops.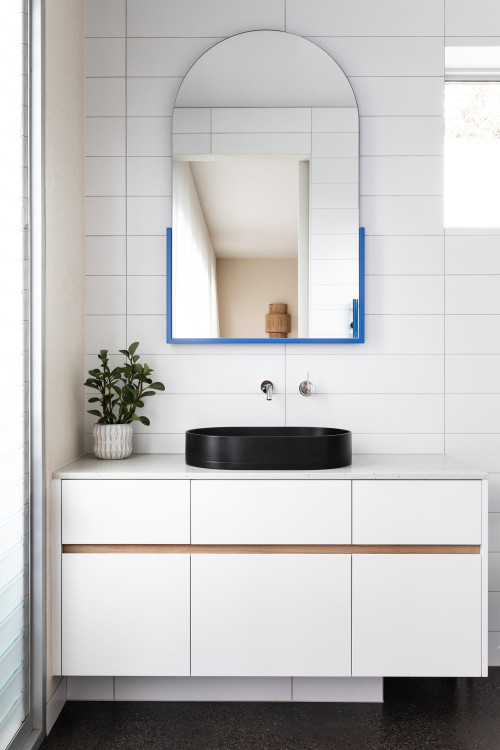 ID# 149202 | Houzz.com – Credit | © eat.bathe.live
---
Pop of Blue with a White Porcelain Tile Backsplash
The white porcelain tile backsplash and the white flat-panel floating vanity design complement each other perfectly. They provide a unified appeal in terms of geometry and shape. The black floors and the black vessel sink bring a cohesive appeal while the blue frame of the mirror adds a pop of color to the space.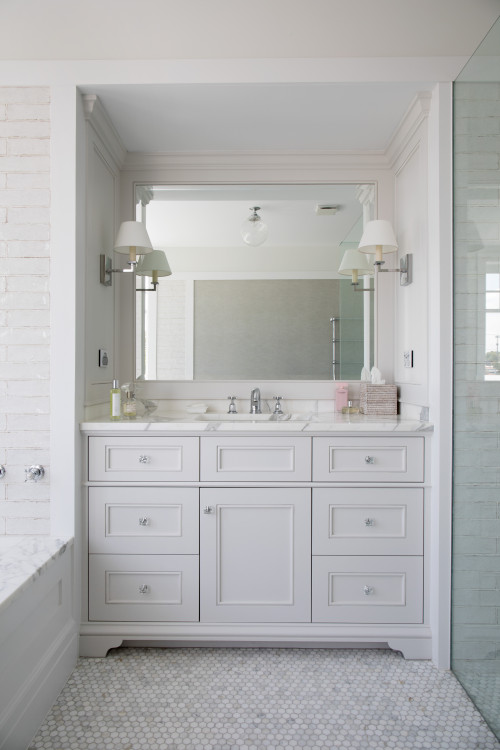 ID# 149203 | Houzz.com – Credit | © Wyer + Craw
---
Traditional Bathroom Vanity with White Tops and an Under-mount Sink
The opulent look of the white recessed-panel cabinets and the luxurious touch of the white marble hexagon floor tiles complement the white marble top of the built-in vanity, creating an atmosphere of grandeur. The mirror frame and wall lighting fixtures pulling the design together, complete the lavish look, making one feel truly pampered.
What kind of vanity top is best for bathroom?
When selecting the ideal vanity top for your bathroom, keep your specific needs, preferences and human feelings in mind. For example, marble gives a luxurious and elegant look, but may come with a higher price tag and require more maintenance. Granite offers strength and long-lasting durability, but also a steeper cost. Quartz provides the look of natural stone with enhanced durability and low-maintenance, but may require cleaning more often. Finally, laminate offers an affordable, low-maintenance option, while still providing a synthetic material with layers of paper or fabric. The best vanity top for you will depend on the aesthetic you'd like to achieve and your budget.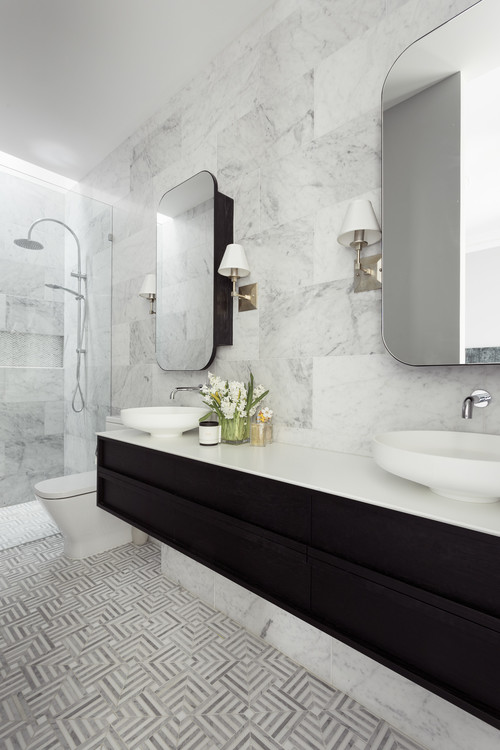 ID# 149204 | Houzz.com – Credit | © Danielle Trippett Interior Design
---
Black Flat-Panel Cabinets and Marble Tile Backsplash
The stark contrast between the white surroundings and the black cabinet fronts gives the bathroom a contemporary feel! The white marble bathroom backsplash tiles go well with the white worktops. The gray marble veins blend with the chrome elements to give this transitional bathroom design a modern feel.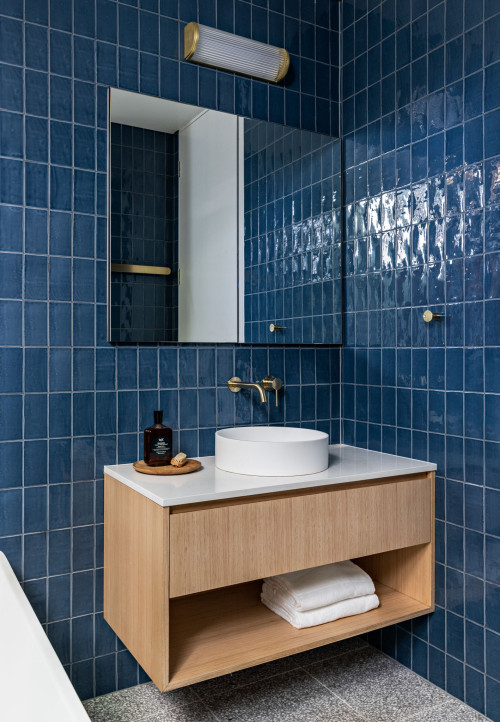 ID# 149205 | Houzz.com – Credit | © Kitty Lee Architecture
---
Light Wood Floating Bathroom Vanity with White Tops and Blue Tiles
This bathroom radiates a modern and stylish vibe, with a combination of a light wood, floating vanity and a white quartz countertop. The soothing blue ceramic tiles and the sleek gray terrazzo floors add to the contemporary feel. The vessel sink atop the vanity gives a unique and eye-catching accent to the design. This space offers a fresh and sophisticated look with its modern details, inviting us to luxuriate in its atmosphere.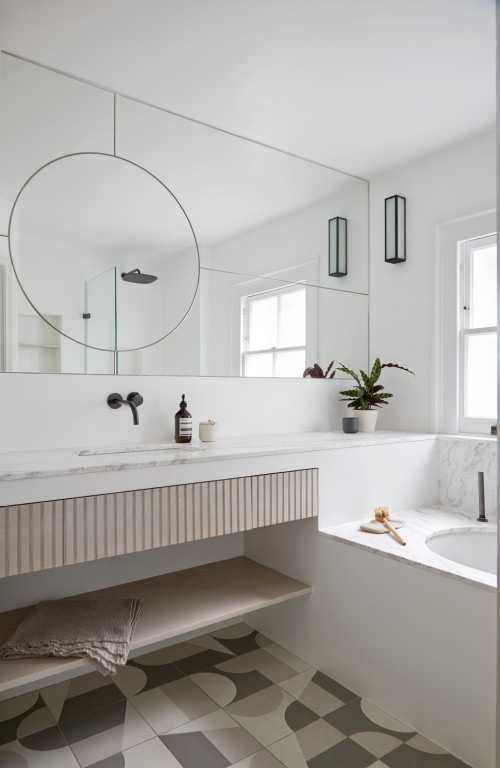 ID# 149206 | Houzz.com – Credit | © Indie & Co.
---
Neutral Color Palette for a Contemporary Style
The white floating bathroom vanity and its white marble top provide a visually pleasing appeal. The expanding countertop design is a terrific idea! The multicolored and patterned floor tiles bring movement to the bathroom's general appeal. The frameless full-height mirror has a custom design that brings a focal point to the bathroom.
Vanity Top Material Options
Choosing a color scheme for your bathroom vanity is no easy task, but the next challenge is selecting the right vanity top material to complete your vision. From natural marble to more contemporary concrete and even quartz or laminate, each option has its own unique characteristics and benefits – making it difficult to choose. Consider your style and needs when making your selection, as it will be an essential part of the overall look and feel of your bathroom. It's a big decision, so take your time to determine which material is the best fit for you.
Bathroom Vanity with White Marble Top
Bring a feeling of luxury and elegance to any bathroom with the addition of a bathroom vanity featuring white marble tops. This natural stone is acclaimed for its distinguished veining and patterns, subtly adding visual appeal and character. As well as offering sophistication and style, marble is incredibly durable and hard-wearing, apt for withstanding moisture and heat in a bathroom space. However, marble is a porous material and requires regular sealing for protection against staining and etching, as well as needing to be handled with caution due to its propensity to scratch and chip.
Despite these additional considerations, a white marble top bathroom vanity can provide a stunning and timeless solution to your needs. Drawing on an ageless aesthetic, this versatile piece is complementary to a variety of bathroom styles, working together with wooden, metal, or painted cabinetry to create an unforgettable atmosphere.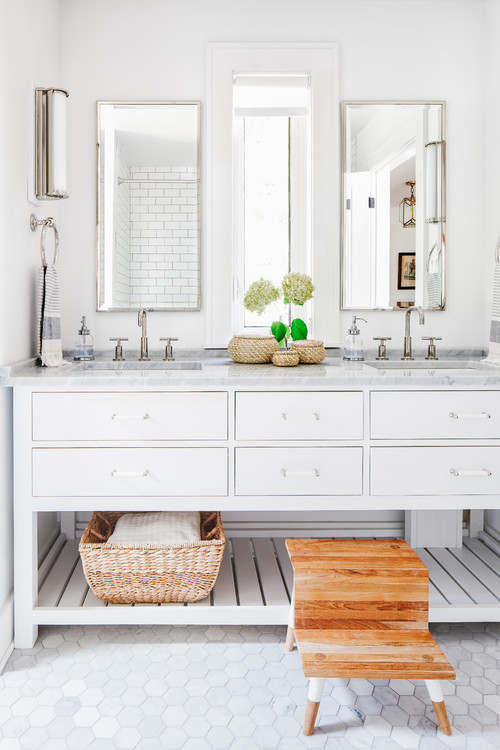 ID# 149207 | Houzz.com – Credit | © Croma Design Inc.
---
Beach Style Bathroom Vanity with White Marble Tops and Hexagon Tile Floors
The white furniture-like bathroom vanity with white marble tops provides a familiar and intimate appeal! The white cabinetry and the white marble countertops complement each other creating a luxurious and classic look. The hexagon floor tiles bring movement with a sense of luxe to the environment. The wood stepstool and wicker basket break the white dominance and bring warmth.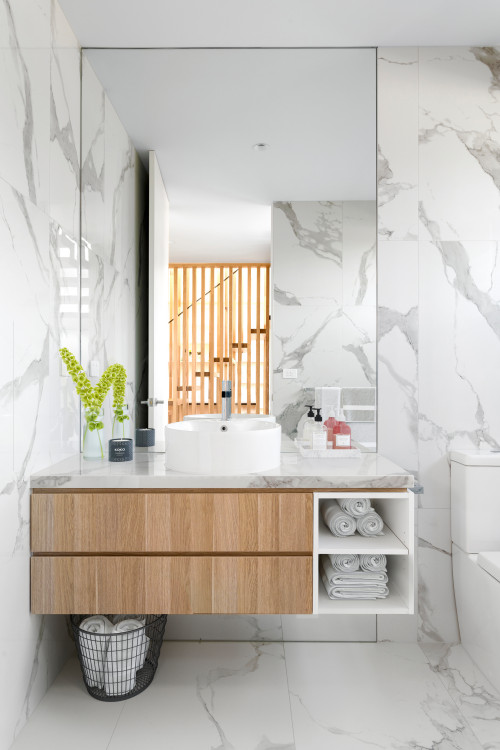 ID# 149208 | Houzz.com – Credit | © Sky Architect Studio
---
Light Wood Flat-Panel Floating Vanity with a Vessel Sink
With a white marble floor and a white floating vanity that surrounds the room, this contemporary bathroom is well-equipped. The marble's striking gray veins convey elegance and refinement, while the wood vanity contrasts with the material's generally uniform and monochromatic appearance by bringing in a splash of warm natural color. The round vessel sink contributes to the tiered effect, and the open shelf makes the towels accessible and easy to grab.
What is the most durable material for a bathroom vanity top?
For budget-friendly and less maintenance, we can recommend quartz tops for bathroom vanities.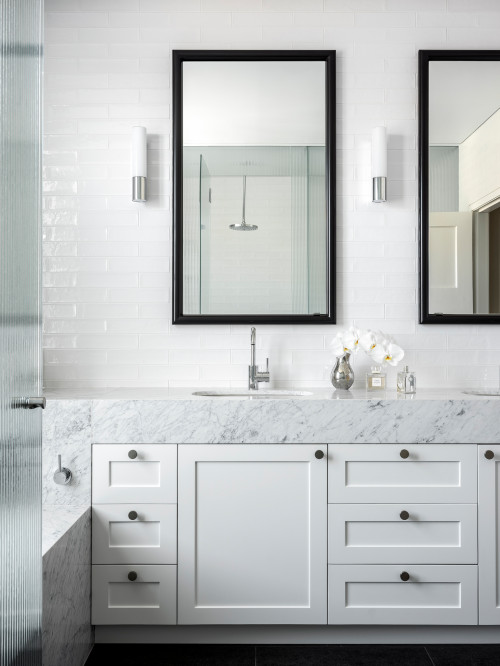 ID# 149209 | Houzz.com – Credit | © Porebski Architects
---
Double Sink Built-in Bathroom Vanity with White Marble Tops and Black Hardware
This bathroom boasts a stunning double-sink built-in vanity, designed with shaker cabinets, black hardware, and a white marble top. It evoke feelings of timeless classic beauty and modernity alike, thanks to the contrasting black frame mirrors and white subway tile backsplash. Whether you're looking for a functional and stylish choice for your bathroom, this vanity fits the bill perfectly.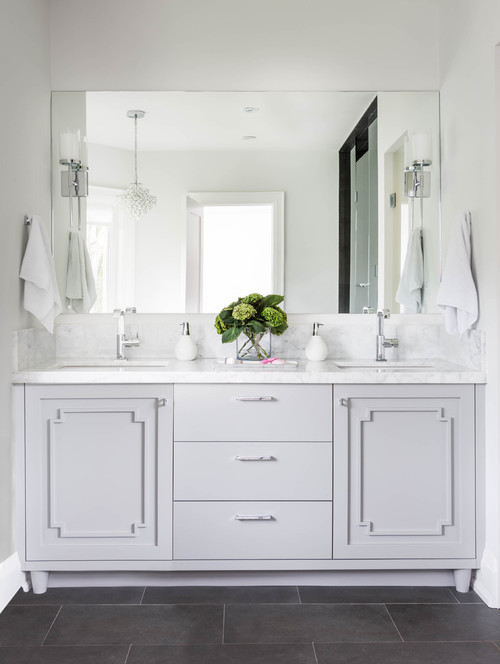 ID# 149210 | Houzz.com – Credit | © Jodie Rosen Design
---
Gray Cabinets and Black Floor Tiles for a Transitional Style
A unified and fashionable appearance is achieved in this transitional bathroom by the use of gray cabinetry, gray hardware, and white marble surfaces! The space's sleek and contemporary design is furthered by the frameless mirror and white marble backsplash. The vanity area has a sleek and neutral backdrop thanks to the light gray walls and black floor tiles. The sleek frameless mirror and the marble surfaces combine to give this bathroom an opulent and sophisticated appearance.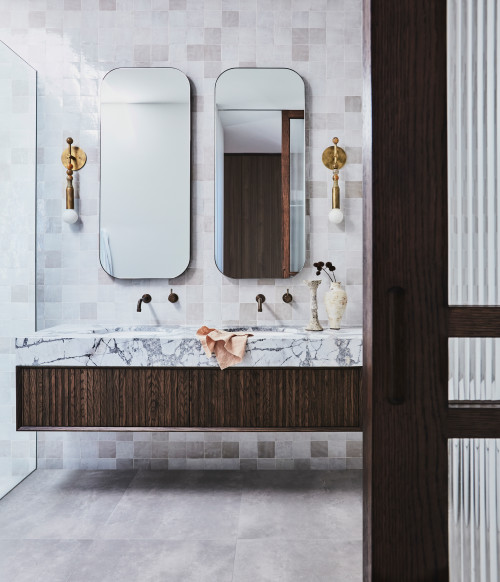 ID# 149211 | Houzz.com – Credit | © Penman Brown Interior Design
---
Floating Wood Bathroom Vanity with White Marble Tops and a Square Tile Backsplash
The wood floating vanity and the white marble top create a natural atmosphere with a luxurious touch thanks to the brass accents. The gray veins of the marble top create an organic flow in the bathroom. The large beige square floor tiles emphasize the wood floating sink while the square tile backsplash brings a textural look to the environment.
What vanity top does not stain?
The different varieties of vanity tops that can be greatly appreciated for their ability to resist stains are quartz, solid surface, stainless steel, ceramic and acrylic. Quartz is an engineered stone comprising natural quartz crystals, resin, and pigments that is known for its incredible durability, resistance to marks and scratches, and minimal upkeep. Solid surface is manufactured from acrylic or polyester resin that exhibits stain and scratch proofing. Stainless steel, as a metal, is renowned for its stains, heats and scratches diverting abilities, usually at a higher cost. Ceramic, made from clay baked in a kiln, is resistant to stains and simple to clean, though it does risk chipping and scratching. Acrylic, a synthetic material, is also strong against stains and scratches and has straightforward upkeep. All of these materials bring a sense of comfort, security, and resilience in regard to stain resistance.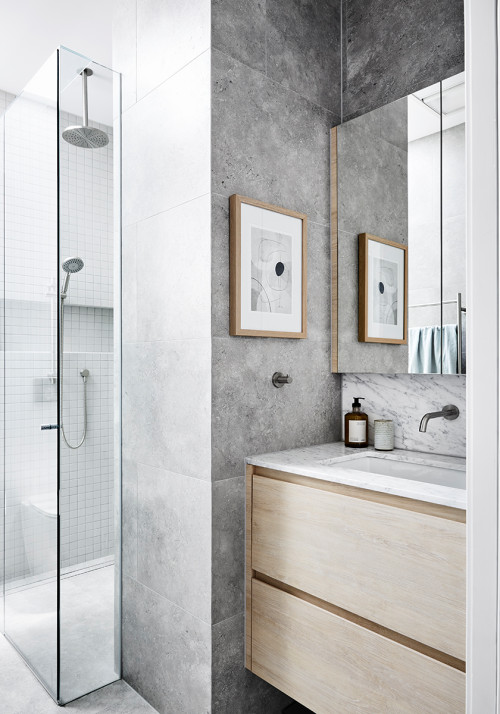 ID# 149212 | Houzz.com – Credit | © Sketch Building Design
---
Contemporary Style with Gray Wall Tiles and Flat-Panel Wood Cabinetry
This bathroom emanates a stylish and sophisticated atmosphere, showcasing a stunning light wood floating vanity design with light wood flat-panel cabinets and a white marble top. The sumptuous slab marble backsplash adds a touch of elegance and pairs wonderfully with the vanity. The light wood cabinets and white marble top create a clean and classic look that is further accentuated by the marble backsplash, adding visual interest and depth. The neutral and modern look of the gray wall and floor tiles provide a beautiful backdrop for the vanity area. All in all, this bathroom will evoke feelings of luxury and comfort!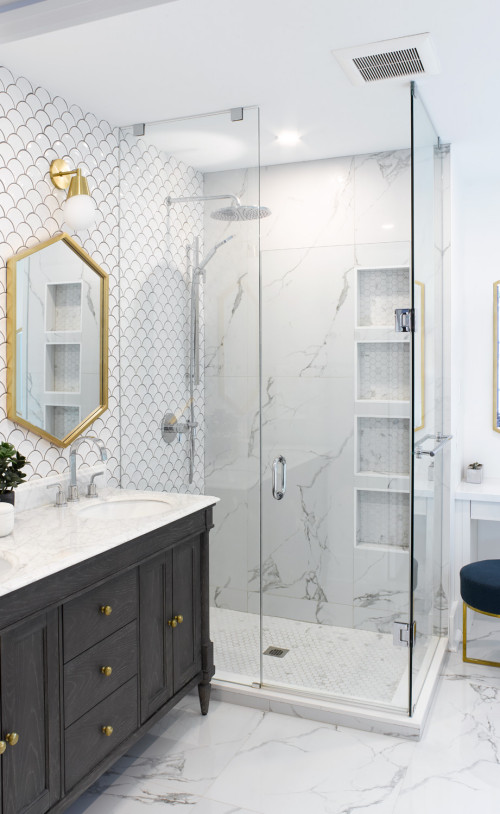 ID# 149213 | Houzz.com – Credit | © Designstrom
---
Transitional Bathroom Vanity with White Marble Tops and Gray Cabinets
The bathroom exudes a feeling of sophistication and luxury with its gray vanity cabinets and brass hardware. The addition of a white marble bathroom vanity top brings an air of opulence to the room, while the white fish scale tile backsplash enhances the luxurious look. The marble tiles used in the shower further elevate the high-end appeal of the space, while niches provide both function and style to the bathroom. Every choice of the gray vanity cabinets, brass hardware, white marble, marble shower tiles, and niches creates a stylish space that can add to the value of the home.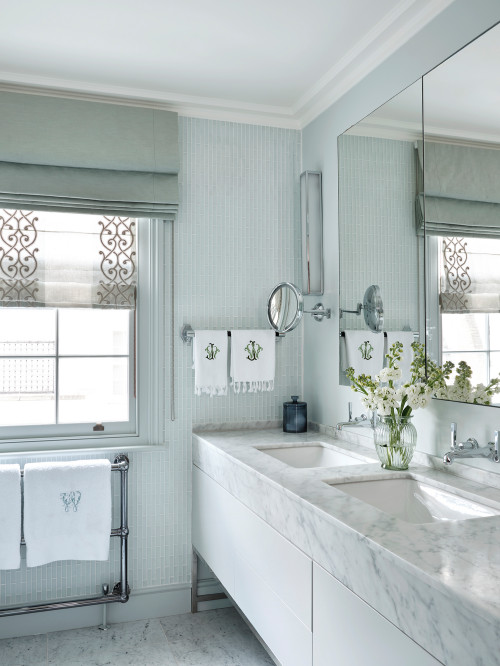 ID# 149214 | Houzz.com – Credit | © Initially London
---
Blue Mosaic Tile and Blue Paint Walls with Flat Panels
The blue mosaic tiles on the walls of this bathroom give it a charming texture and depth. Set against white flat-panel cabinets and pristine marble tops, the bright blue wall paint creates a cheerful and inviting atmosphere. The double-sink vanity with its under-mount sink is a seamless and unifying addition giving a feeling of bright and captivating space.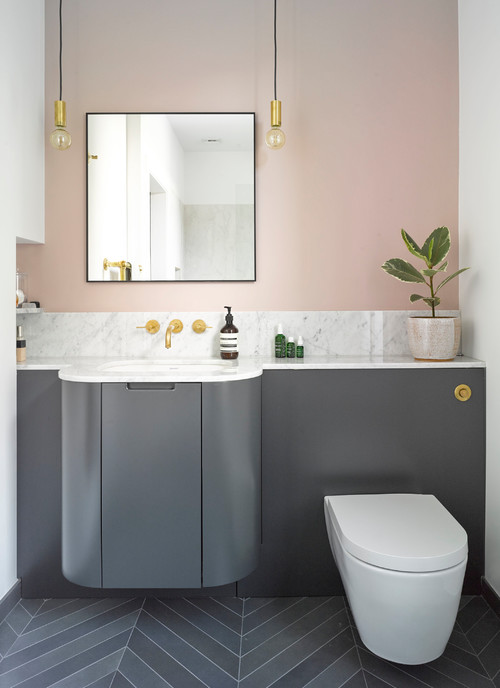 ID# 149215 | Houzz.com – Credit | © The Watermark Collection
---
Gray Flat-Panel Cabinets for a Bathroom Vanity with White Marble Tops
The white marble tops on the countertops and cabinets evoke feelings of cleanliness and elegance, making the bathroom a luxurious space! The gray tones of the cabinets and walls, coupled with the modern flat panel design and brass accents, tie the space together for a cohesive and stylish look. The soft pink walls add a touch of warmth while the chevron tiles on the floor bring visual interest. Indeed, the combination of these warm and cool tones creates a gorgeous bathroom with a timeless and inviting atmosphere.
Bathroom Vanity with White Quartz Top
A bathroom vanity adorned with a white quartz top can be a very stylish choice and is sure to bring a refreshing, modern vibrancy to any bathroom. The beauty and strength of white quartz are undeniable, as it provides a beautiful contrast to the other tones in the room while also boasting strong durability, resistance to any kind of stains or scratches, and requiring only minimal maintenance. The versatility of white quartz makes it the perfect option for so many different aesthetic combinations, allowing you to tailor it to fit your and your family's individual style.
White quartz is perfectly blended with white cabinets, giving the bathroom a bright, polished look and feel, or with a darker shade then, such as black or navy, the look can become more luxurious and sophisticated. Or, to create a beachy atmosphere, why not go for blue cabinets and white quartz?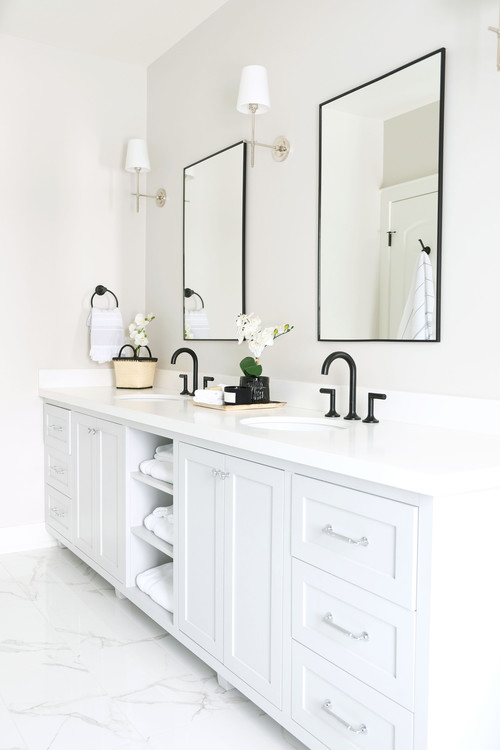 ID# 149216 | Houzz.com – Credit | © Aspen & Ivy
---
Country Style Bathroom Vanity with White Quartz Tops and Shaker Cabinets
This bathroom's white shaker cabinets provide a clean, modern look while their simple, flat-panel design adds a touch of minimalism! The bright white color of the cabinets adds a fresh, cheerful feel that further is emphasized by the white hardware. To complete the look, white quartz countertops bring a playful, crisp and clean appearance to the space, leaving one feeling invigorated and content.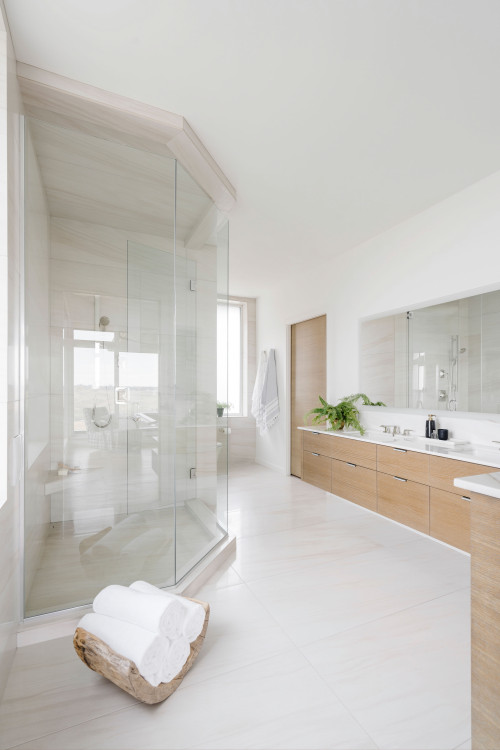 ID# 149217 | Houzz.com – Credit | © Chandra Laine Design Inc.
---
Light Wood Flat-Panel Cabinets for a Large Contemporary Space
This contemporary master bathroom exudes a sense of comfort and ease, with its light wood and flat-panel cabinets, corner shower with a hinged door, wall-mount toilet, and a double vanity with a floating design! The beige-hued palette and clean lines afford the space a modern, yet cozy, atmosphere. Highlighting the look are the porcelain floor and white tiled walls, the quartz countertops with its undermount sink, the shower seat and white benchtops. All combined, it creates a remarkable space for one to relax, rejuvenate and feel truly at ease.
What is the cheapest vanity top material?
Laminate, ceramic, acrylic, and cultured marble: all budget-friendly options with their pros and cons. Laminate is versatile in its range of colors and patterns but is not as strong as natural or engineered stone. Ceramic is easy to clean and maintain but is susceptible to chips and scratches. Acrylic is long-lasting, however, it might not be as sturdy as other materials. Cultured marble provides an assortment of shades and styles, but isn't as reliable as natural or engineered stone. Choosing the right product for your needs can be a tricky decision, as each material has its benefits – and drawbacks.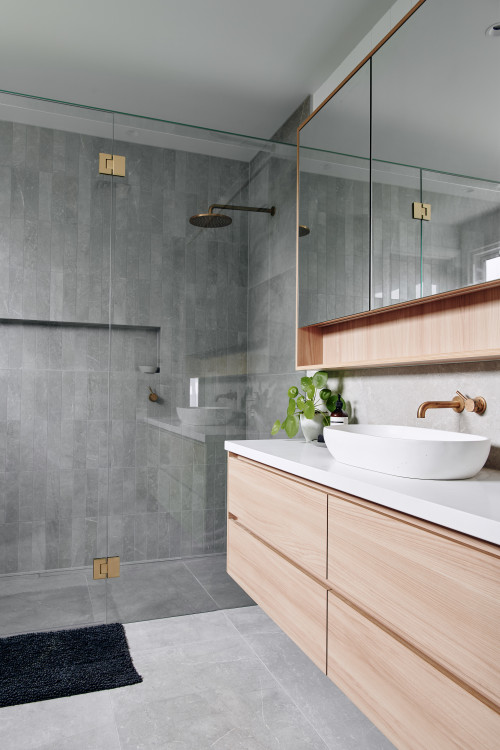 ID# 149218 | Houzz.com – Credit | © BD Building Design
---
Contemporary Bathroom Vanity with White Quartz Tops and Wood Flat Panels
This large beach-style master bathroom boasts flat-panel light wood cabinets and a double shower with a hinged door. The walls and floors are clad in gray ceramic tile, giving the space a sleek and modern look. A single floating vanity with a vessel sink sits atop engineered quartz countertops, while a niche provides storage and display space. White benchtops add a touch of contrast and a touch of beachy charm. This bathroom exudes a relaxed, coastal vibe while still maintaining a contemporary aesthetic.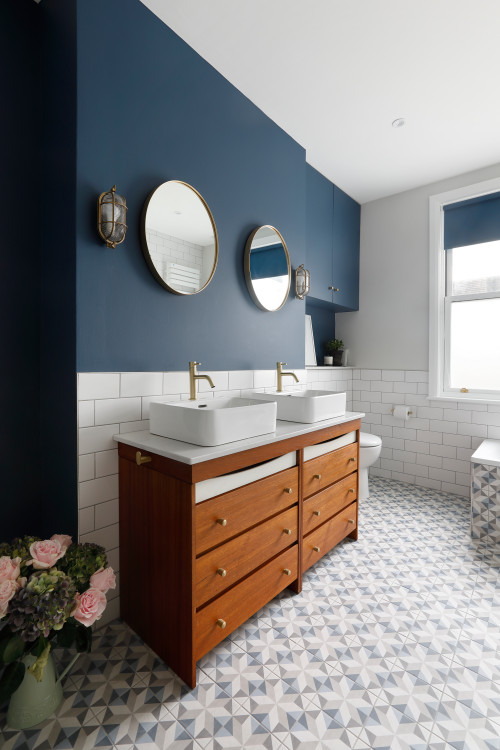 ID# 149220 | Houzz.com – Credit | © Emma Wood Photos
---
Furniture-like Bathroom Vanity with White Quartz Tops and Brass Details
The navy wall paint, white subway tiles, and geometric pattern floor tiles come together to create a modern and stylish look that stirs up feelings of inspiration! The mid-century style wooden vanity, with mounted sinks, adds a vintage flair and brings a sense of nostalgia to the space. Porcelain, renowned for its durability and moisture resistance, lies beneath, while brass, navy, and wood elements combine to evoke a coastal-inspired aesthetic that radiates both contemporary and timeless vibes.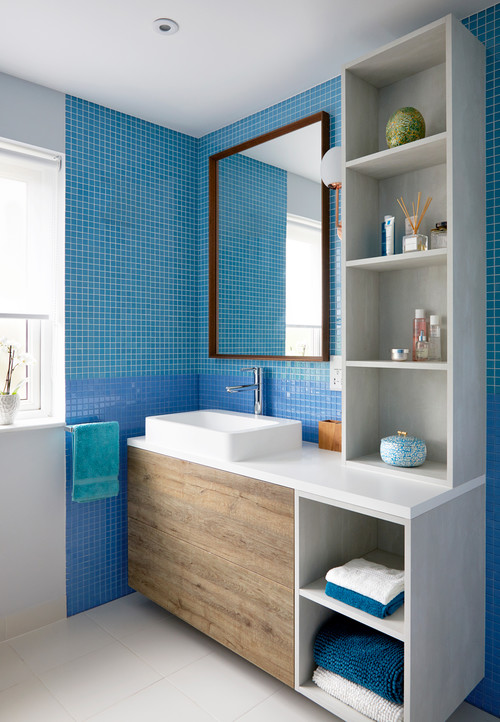 ID# 149221 | Houzz.com – Credit | © Anna Stathaki | Photography
---
Blue Mosaic Tile Backsplash and Wood Flat-Panel Cabinets
This transitional bathroom radiates a cozy and inviting feeling with its open white cabinets and wood flat-panel accentuating the warmth and texture. The white walls and floor juxtaposed with a blue mosaic tile backsplash provide a delightful blend of light, color, and style. The vanity is exceptionally inviting with the vessel sink proudly perched on white quartz countertops. This harmonious combination of white and blue creates a charming atmosphere for you to enjoy.
What countertop material is easiest to maintain?
Due to its non-porous surface, quartz may be the most straightforward countertop material but don't forget about acrylic, solid surface, ceramic and stainless steel!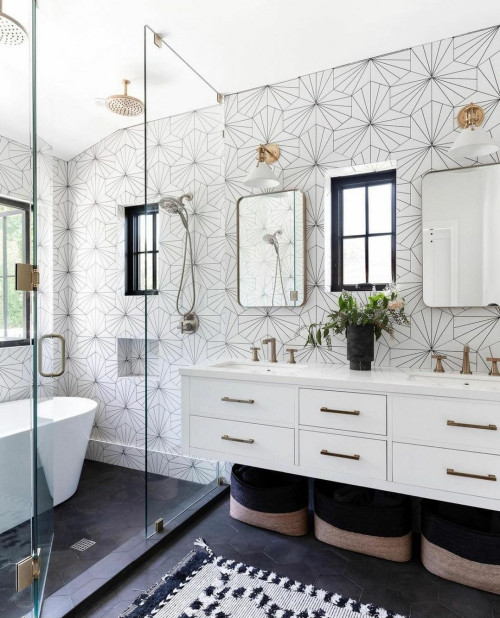 ID# 149222 | Houzz.com – Credit
---
White Floating Bathroom Vanity with White Quartz Tops and Brass Accents
The elegant and luxurious black-and-white bathroom features different patterned wall and backsplash tiles that flow dynamically, creating a stunning atmosphere! The white countertops, combined with the sleek floating flat-panel vanity, enhance the exquisite feel that the brass hardware and decorations add. The dark floor tiles add a dramatic touch to the airy space, balancing the bright elements within the bathroom. Brass elements further contribute to the glamorous and sophisticated atmosphere, giving the space a real feeling of luxury. All-in-all, this exquisite combination of different hues, materials, and finishes create an inviting atmosphere that imparts an unforgettable sense of indulgence.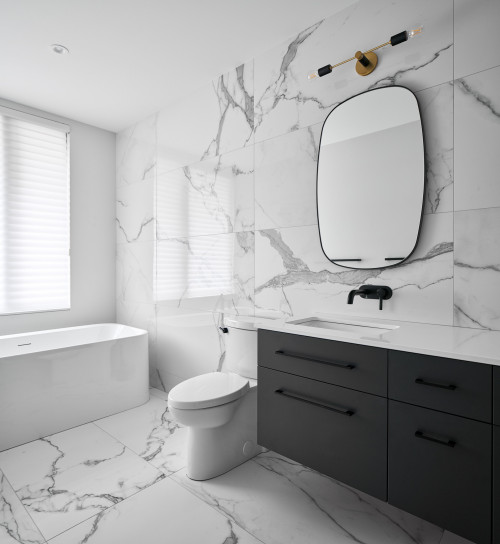 ID# 149223 | Houzz.com – Credit | © Casa Verde Construction
---
Gray Flat-Panel Cabinets with Marble Tile Walls and Floors
The luxurious and contemporary feel of this master bathroom is created by the use of a double vanity with flat-panel gray cabinetry and a white freestanding tub. The intricate yet timeless black and white marble tile on the walls and floor add an air of sophistication, while evoking a sense of opulence and comfort. This luxurious space is the perfect place to relax, letting you feel the elegance and refinement radiating throughout its stylishly-coordinated furnishings. Allow yourself to be transported to an atmosphere of serenity and relaxation with this stunningly beautiful master bathroom.
Bathroom Vanity with White Laminate Top
Bathroom vanities with a white laminate top bring a sense of brightness, freshness, and serenity into a bathroom — perfect for a place that can often get hectic. The laminate material is reliable and tough, so it can handle the moisture and stains of a bathroom without issues. Mixing and matching white laminate tops with different cabinet styles and finishes — such as wood, painted, or gloss — offer endless possibilities for a stylish and beautiful bathroom look. All-in-all, a bathroom vanity with a white laminate top is an excellent way to breathe life into any bathroom.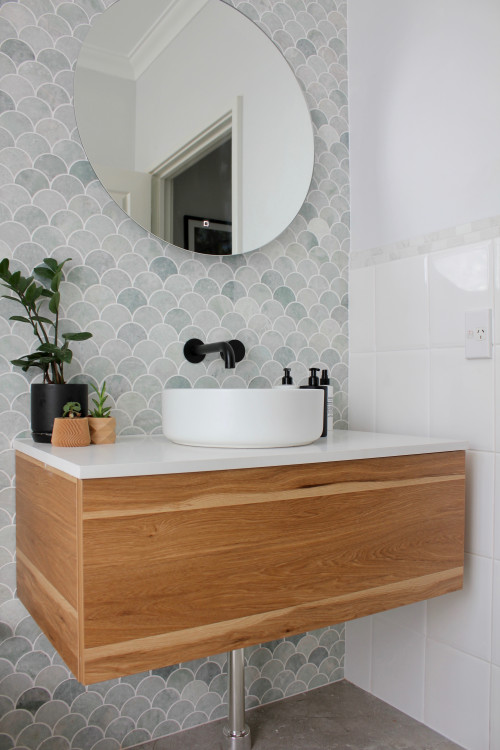 ID# 149224 | Houzz.com – Credit | © Amanda Cullity Interiors
---
Mid-Century Bathroom Vanity with White Laminate Tops
This small midcentury bathroom features furniture-like floating medium wood cabinets, which add a touch of warmth and texture to the space! The cabinets are paired with a green marble fish scale tile backsplash, which adds a pop of color and visual interest to the bathroom. The white cement tile walls provide a crisp and clean backdrop, while the gray floors add a sophisticated and elegant touch. The white laminate tops help to brighten and freshen the space, while the medium wood cabinets add a touch of midcentury style.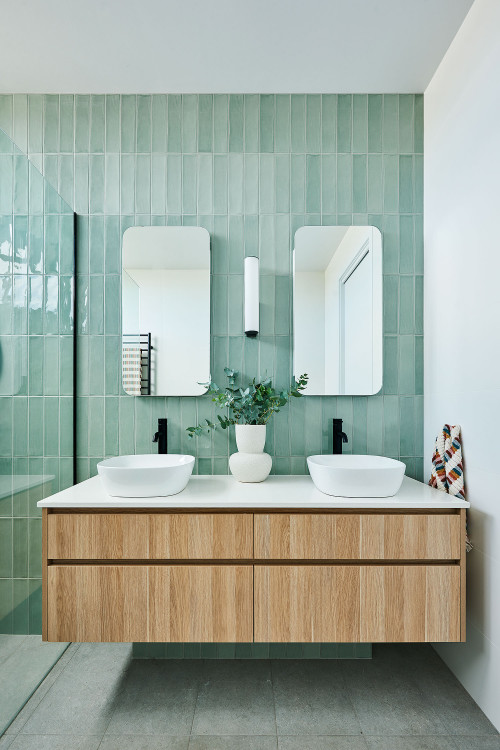 ID# 149225 | Houzz.com – Credit | © Dylan Barber Building Design
---
Light Wood Flat-Panel Cabinets and Green Tiles
In this spacious beach-style master bathroom, the flat panel light wood cabinets provide a sense of warmth and texture, creating a big and open feeling. The grey porcelain floor tiles provide a contemporary look while the green ceramic tile backsplash adds an element of color and fascination. The combination of light wood, green tiles, grey floors, and white laminate lend a cohesive and stylish atmosphere, as the bright white laminate top helps to brighten and invigorate the area. This master bathroom evokes a feeling of tranquility and contentment due to its beach-style charm!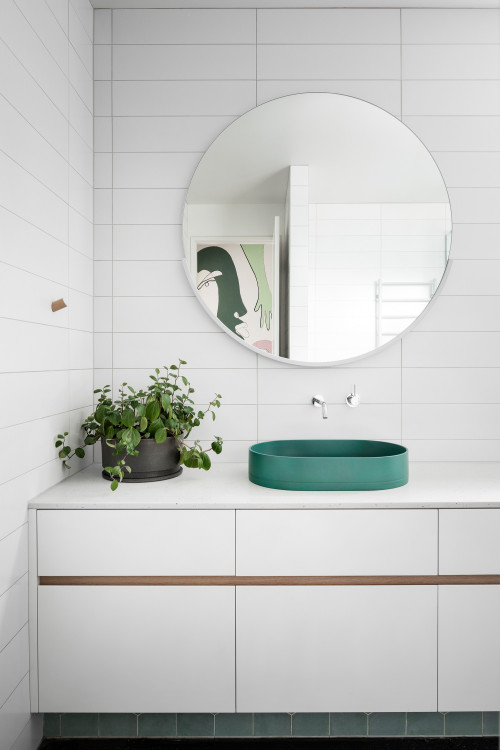 ID# 149226 | Houzz.com – Credit | © eat.bathe.live
---
Contemporary Bathroom Vanity with White Laminate Tops and White Flat Panels
In this all-white bathroom design, the teal vessel sink stands out by creating contrast and creates a focal point. The large white subway tiles bring dimension to the space with their horizontally stacked layout. The white floating vanity create a cohesive look with the wall tiles.