38+ Bathroom Vanity Sink Ideas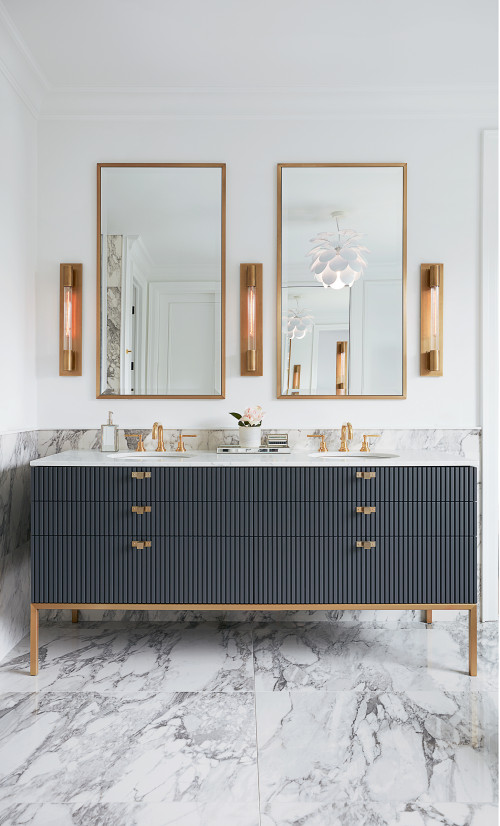 ID# 148905 | Houzz.com – Credit | © Chervin Kitchen & Bath Inc.
---
Bathroom Vanity Sink Ideas with Brass Details and White Countertops
The gray cabinets, brass-framed mirrors, brass wall-mount lighting fixtures and brass faucets & hardware lend a feeling of warmth, luxury and sophistication to the bathroom. The marble tile floors and backsplash give an elegant and timeless look to the space, while the brass accents provide a touch of glamour. In the end, you get a chic, stylish and functional bathroom that evokes feelings of beauty and comfort.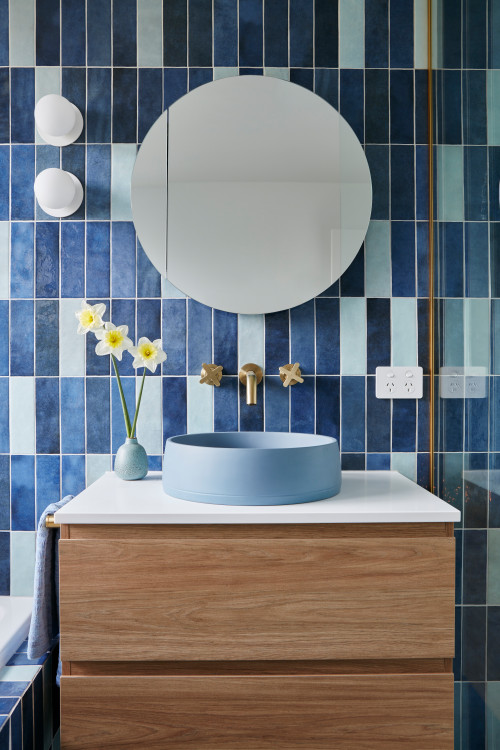 ID# 148920 | Houzz.com – Credit | © Beatson Builders
---
Blue Color Transition for a Backsplash in a Contemporary Style
A gorgeous backsplash of blue tiles in this bathroom has a gradation of light to dark navy colors. The vanity has white counters and flat panels made of light wood, with a pastel blue spherical vessel sink for a splash of color. The wall faucet made of brass gives the room a glitzy touch. This bathroom is the epitome of sophistication and beauty.
Bathroom Vanity Sink Ideas
Adding a bathroom vanity sink is an excellent way to express your unique style and bring an aesthetically pleasing and functional element to your bathroom. There's a variety of vanity sinks to choose from, each with its own unique statement and design. In this article, we gather these different bathroom vanity sink ideas. Scroll down and find the right one for your design!
You could select a sink with an eye-catching shape or material or include a vessel sink in your bathroom or vanity for a contemporary look. Vessel sinks, set on top of the vanity counter, as opposed to being sunken, really bring a special touch to your bathroom. If you have a larger family or want two sinks running at the same time, double sinks are an excellent way to go. Whatever your needs, bathroom vanity sinks ideas can be a great way to make your bathroom a more pleasant and attractive place.
Single Sink Bathroom Vanity
A single-sink bathroom vanity is a great choice to empower small bathrooms or homes with limited space. With a range of styles and materials to choose from, you can find the perfect single-sink bathroom vanity that evokes the feeling of an organized, internal comfort space with wood, stone, or ceramic, in hues of white, black or natural wood. Generally, these types of vanities come with drop-in sinks which are set on the vanity counter, or a vessel sink – a sink that sits on top of the counter – offering a beautiful and practical storage solution for a tranquil bathroom. Ultimately, a single-sink bathroom vanity can provide convenience and peace of mind in a stylish, precious way.
Double Sink Bathroom Vanity
A double sink bathroom vanity offers couples or families plenty of space and convenience when it comes to getting ready in the morning. With two sinks, mirror and storage options, it allows everyone to do their part, in peace and comfort. Having two sinks and a mirror makes it so each person gets enough space and time to groom and feel their best. This type of vanity is perfect for larger bathrooms or homes with several bathrooms, as multiple people can use the bathroom at the same time. It also offers many styles and materials, such as wood, stone and ceramic, that help create a beautiful ambience. Making it easier for multiple people to get ready in the morning, a
double sink bathroom vanity
is just one of those comforts that can give families extra peace of mind.
What type of sink is best for bathroom?
When it comes to choosing a bathroom sink, there's no one-size-fits-all solution. With a variety of styles, materials, and designs to choose from, selecting what's right for you can be a daunting task. From modern undermount sinks that create a seamless, finished look to statement-making vessel sinks that sit atop the countertop, each choice has unique characteristics that can enhance the overall design of your space. Whatever sink you choose, it's important to factor in your individual needs and the size and layout of your bathroom.
Undermount sinks are great for a modern feel and additional storage, while drop-in sinks are easy to install and can be used in smaller spaces.
Pedestal sinks offer a classic, elegant design and can make a small bathroom feel larger. Wall-mounted sinks are another space-saving option and can look great in contemporary bathrooms.
Vessel sinks come in a range of styles and materials and offer the potential to make a bold style statement.
No matter what you choose, it's important to carefully assess and consider your personal style, preferences and needs when selecting the right sink for your bathroom.
Bathroom Vanity with Vessel Sink
Having a bathroom vanity with a vessel sink is a stylish and unique way of adding a strong visual appeal to your bathroom space. It brings in a sense of human feelings; a warm and inviting atmosphere, a sleek and modern look, or a rustic and traditional vibe. With such diverse choices, vessel sinks offer a huge range of materials and shapes for you to select from when it fits best with your bathroom's design. Whether you choose a glass, stone, or ceramic sink in round, oval, or rectangular shapes; each will bring a unique touch and can invigorate your bathroom. Let the vessel sink ideas inspire you to create a space that perfectly reflects your individual style.
Where to buy a bathroom vanity with sink?
There is a wide selection of retailers – from home improvement stores to plumbing supply stores to online retailers – that have your perfect sink for you. For an even broader selection and the opportunity to talk to a design expert consider visiting an independent kitchen and bathroom showroom near you. You can find out where those are located with a quick online search or by consulting your local business directory. Also, don't forget to check our online shop to find stylish vanities at affordable prices!
Bathroom Vanity with Farmhouse Sink
A farmhouse sink can instantly add an unmistakable charm to your bathroom, evoking warmth and coziness that make it the ideal addition to any vanity. Whether you opt for a vintage-style distressed or reclaimed-wood vanity, or a more modern neutral white or painted finish, these sinks bring with them plenty of styles and a sense of home. And with a wide range of materials, from ceramic to stainless steel to fireclay, there is something to fit every taste and budget. As you browse through these beautiful options, it is impossible not to feel a human connection to them throughout the creative process.
Small Bathroom Vanity Sink Ideas
Small bathroom vanity ideas can be both stylish and functional, allowing you to make the most of limited space. With the addition of vanity, you can instantly elevate the look of your small bathroom and add a layer of luxury. When looking for a perfect fit, consider unique shapes, materials, and storage options to make the most of your space. Round or corner vanities are great ideas, as they make the best use of the room's limited space. Look for built-in drawers and shelves to add extra storage, or explore using baskets or other containers underneath the sink. Wall-mounted vanities are an ideal choice for small bathrooms, adding an elegant touch while keeping the room looking open and airy. With a range of styles and materials available, you're sure to find the perfect fit. Regardless of the option you choose, adding a small bathroom vanity sink is an easy way to spruce up your space and make it feel luxurious.
Do bathroom vanities come with sinks?
Many vanities come with a countertop and sink already installed. The vanity does not come with any faucets; they must be ordered separately. Some vanities let you pick your own countertop and sink because they don't have such features.
How to attach bathroom sink to vanity?
Attaching a bathroom sink to a vanity can be a daunting task, but with a few essential tools and materials, it's perfectly possible! Gather a drill, screwdriver, silicone sealant, plumber's putty, and mounting clips or brackets and you're ready to begin.
Spread a bead of silicone sealant around the rim of the sink where it will sit atop the vanity. This will help create a watertight seal, so take your time and make sure to cover every surface of the rim.
Next, press the sink gently into place on the vanity and secure with mounting clips or brackets. Use your plumber's putty to fill any gaps between the sink and the vanity, and then make sure it's smooth with your finger.
Finally, connect the plumbing according to the manufacturer's instructions, and test the sink for any leaks. Now your beautiful sink is securely attached to the vanity, and you can admire the satisfaction of a job well done!
Modern Bathroom Vanity Sink Ideas
Many modern bathroom vanity sink ideas can bring a chic and stylish touch to any washroom. One popular choice is avidly installing a floating vanity – a kind of bath sink mounted to the wall and free of any visible legs or support frameworks. The ultimate result is a minimalistic, exquisite look perfect for any modern bathroom. Another idea is to exploit a vessel sink, situated on top of the vanity rather than being nested. Vessel sinks come in a vast selection of styles and materials, allowing you to pick the one that resonates with your taste and bath design. To further infuse your modern bath vanity with a one-of-a-kind touch, you could consider incorporating a waterfall faucet. These faucets bring a contemporary, attractive design, plus the water moves down into the sink like a warm embrace – a stirring decorative element to your bathroom.