35+ Gray Bathroom Vanity Ideas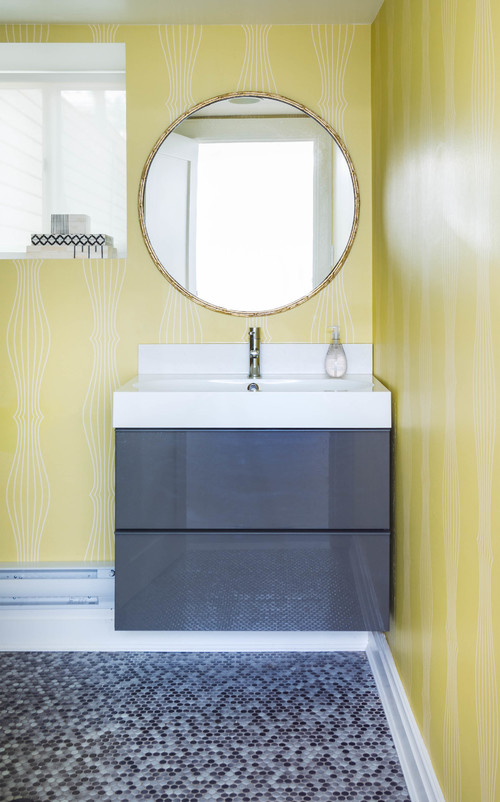 ID# 151712 | Houzz.com – Credit | © Meghan Carter Design Inc.
---
Yellow Wall Papers and Mosaic Tile Floors for a Contemporary Touch
This bathroom exudes excitement and energy, with its bright yellow wallpaper adding a splash of color! At its focal point stands a tiny gray floating vanity complete with a white top, integrated sink, flat-panel cabinets, and a shining chrome faucet. Above the vanity, a circular mirror with a brass frame brings an atmosphere of warmth and nostalgia. With its unique combination of gray and white mosaic tile, further accentuating its textured look, this design fills the space with joy and captivates the eye. Overall, this bathroom is sure to make anyone feel alive and delighted.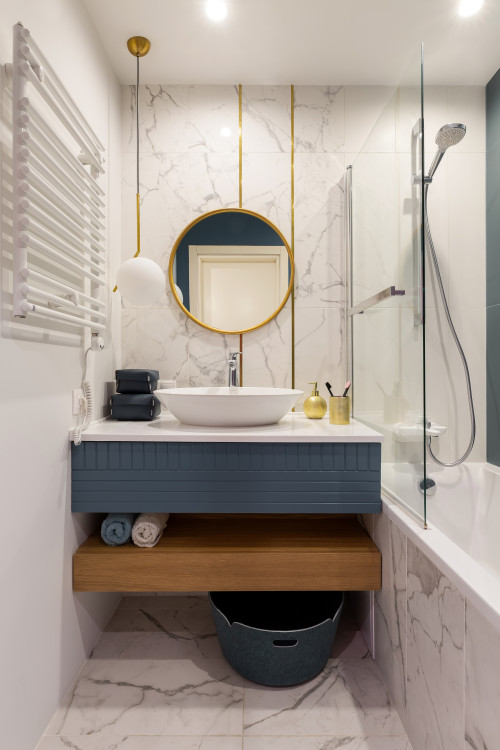 ID# 151734 | Houzz.com – Credit | © Дизайн бюро De-Sense
---
Brass and Wood Details for a Contemporary Touch
The bathroom boasts a sophisticated and modern floating vanity, showcasing a lovely collision of grey and wood cabinets. The countertops, with a white vessel sink and chrome tapware gleaming on them, add a blissful brightness. As for the charm? A stunning round brass intended frame mirror gives that little hint of glam, further accentuated by the warm brass touches throughout. Efficiency and convenience are optimized by the combined shower-and-bathtub unit, while the white tiled walls and graced with subtle, eye-catching grey veins truly capture a feeling of contemporary and freshness. Altogether, it is a space that emanates a welcoming and soothing ambiance.
Gray Bathroom Vanity Ideas
Designing a bathroom can evoke a range of emotions – from designing an elegant, classic space to creating a modern and minimal one. But when it comes to choosing the perfect bathroom vanity, it is often a key focal point. Not just for its functional purpose of providing storage, but for its power to completely transform the entire look and feel of the space. If you are daydreaming of gray bathroom vanity ideas, you are in luck! Gray is a timeless and adaptable color that will seamlessly complement a variety of design aesthetics, seamlessly.
The warm, inviting tones of a gray bathroom vanity contrasted against white walls, tiles, and accents create a contemporary feel perfect for a modern and minimalistic bathroom. While the general hue of your grey color scheme sets the tone, to create a sophisticated, luxurious atmosphere, add in some black accents. Alternatively, injecting some wooden pieces together with the grey will evoke a cozy, warmer ambiance. Whatever your bathroom style and size, a grey vanity will add character and personality to the space, making it personal and inviting. Check out these great ideas to bring grey into your bathroom!
Are gray vanities out of style?
Gray vanities, though timeless, are currently a beloved choice for bathroom renovations. They provide a neutral backdrop that can be styled and accessorized for a variety of different looks – from traditional to contemporary. Gray is also a versatile color, effortlessly pairing with other colors and finishes like white, black, brass and beyond. Even with its versatility, trends in home design will periodically change. Everyone has their own preferences, and what might be fitting for one person's style of decor may not fit for you. Nonetheless, gray vanities have proved to be a surefire way of ushering in a unique charm and character to your abode – so why not give it a go?
Types of Gray Bathroom Vanity Ideas
If you're contemplating renovating your bathroom and want to achieve an elegant look, a gray bathroom vanity is a perfect choice. This timeless and versatile hue has the power to suit many different design styles, from simple, modern, and minimal to luxurious, classic, and sophisticated. With so many options available, there is sure to be a vanity that will fit your individual tastes, space requirements and budget. When choosing a gray bathroom vanity, you'll be spoilt for choice; particularly popular are the sleek, modern and minimal designs of floating vanities. This chic style will provide a contemporary, unified look to your bathroom, whilst also allowing you to make the most of your available space. No matter your preference, a gray bathroom vanity will bring timeless sophistication to your overall design.
Floating Gray Bathroom Vanity
A very fashionable and classy option is a gray floating bathroom vanity. A modern bathroom may benefit from the warmth and depth that a soft, subdued gray color can bring, and the floating design helps to keep the room feeling airy and open.
Contemporary and modern bathroom designs frequently use floating gray bathroom vanity concepts. They are attached to the wall and have no support legs or structures that touch the ground, thus the term "floating." This provides the vanity with the appearance of "floating" in midair, which can give the bathroom a clean, modern, and spacious appearance. There are several alternatives to think about when selecting a floating bathroom vanity. You should consider the vanity's size, design, material, and color as well as how it will fit in your bathroom. One of the stylish color options is a floating gray bathroom vanity, scroll down to see some of their stylish design solutions!
Small Gray Bathroom Vanity
Searching for a fashionable and subtle upgrade to your bathroom? A small gray bathroom vanity could be the ideal solution. Expressive and neutral, gray gives a delightful touch of sophistication and modernity when combined with a range of countertop materials in your desired finishes. Not just beautiful, but a small gray bathroom vanity is incredibly practical for those tight spaces. Drawers and cabinets ensure you can store all your bathroom staples without having to compromise on your layout. Perfect for DIY installations, these petite vanities come in several sizes between 24 and 36 inches.
What color do walls go with a gray vanity?
Gray vanity can provide a great starting point for a variety of aesthetics and moods depending on the colors you choose to go with it. Whether you want to inspire a feeling of comfort and tranquility or are seeking some brightness and vibrancy, color choices for your walls can make all the difference. White is a timeless look that creates a fresh, airy atmosphere alongside your gray vanity. Alternatively, you may try softer pastels like pale blue or green for a calming and serene tone. If your goal is to create a cohesive feel, then a light gray wall to correspond with the vanity could be a great fit. For a more traditional appeal, beige or taupe hues can bring in warmth and embrace the classic. Lastly, if you're looking to stay daring, a deep blue or green can truly make a striking contrast to the gray.
Large Gray Bathroom Vanity
A large gray bathroom vanity can be your best option if you want to create a statement in your bathroom. These vanities come in a range of sizes, from 60 inches to 72 inches, and can provide ample storage and counter space for all your bathroom essentials. Popular and adaptable, gray may go well with both classic and modern design aesthetics. With a range of countertop materials and textures, a big gray bathroom vanity may give your area a sense of refinement and elegance.
Large gray bathroom vanity designs are not only fashionable but also useful for larger homes. With shelves, drawers, and cabinets, they provide a ton of storage space for keeping your bathroom items tidy and out of sight. They're a terrific option for creating a strong design statement in your bathroom due to their greater size and ability to act as a focus. If you're thinking about getting a large gray bathroom vanity, make sure to properly measure your area to make sure you get the correct size for your requirements. Don't forget to take into account the vanity's design and finish, as well as the kind of countertop and sink that would work best in your bathroom. A large gray bathroom vanity may assist you in transforming your bathroom into a stylish and useful area with a little bit of preparation and ingenuity.
Gray Corner Bathroom Vanity
Gray corner bathroom vanity designs are a stylish and practical option for smaller bathrooms or powder rooms. These vanities are designed to fit into the corner of a room, taking up less space and allowing you to make the most of your available square footage. Gray is a well-liked and adaptable hue that may go well with both classic and modern design aesthetics. Your bathroom may seem more upscale and sophisticated with the addition of a gray corner vanity, which can be matched with several countertop materials and finishes.
Make sure to properly measure your area before making your decision if a gray corner bathroom vanity is something you're thinking about. Also remember to think about the vanity's design and finish, as well as the countertop and sink options that will work best in your bathroom. With a little forethought and imagination, a gray corner bathroom vanity may assist you in transforming your bathroom into a stylish and useful area.
Modern Gray Bathroom Vanity
Gray is a popular and versatile color choice for bathrooms, as it can create a feeling of peace and uniformity in the space. Depending on the shade of gray you choose and the materials you pair it with, you can achieve a range of different looks. For a modern and trendy appearance, consider using brighter shades of gray, such as a modern gray bathroom vanity with wood countertops for a Scandinavian aesthetic. Or, for a sleek and sophisticated look, opt for a darker shade of gray, such as a dark gray vanity with white marble countertops or white vanities for a clean and contrasting look. No matter what style you prefer, incorporating a modern gray bathroom vanity is a sure way to add depth and interest to your bathroom design.
What color bathroom vanity is the most popular?
Bathroom vanities can bring a sense of style, sophistication and warmth to a room, and each popular color can evoke a different emotion. White is timeless and creates a crisp and clean look, while black can add drama to a space. Gray is versatile and harmonizes with many design styles, and wood vanities imbue a natural and inviting atmosphere. Finally, a blue vanity will bring a touch of vibrancy and coastal charm. When you're ready to choose a color for your bathroom vanity, take time to consider the feelings you want to evoke.
Gray Shades for Bathroom Vanities
Gray is a sophisticated and classy alternative for bathroom vanities that can bring out deep and warm emotions. Light gray shades are great for presenting a bright and refreshing touch to even cramped spaces. Dark gray on the other hand will create an air of luxury and drama in your bathroom, which you can emphasize by using materials like marble or golden accents. It's no wonder then why gray is a popular choice for vanity and thus the perfect way to show your individual taste. So don't hesitate to go for a gray vanity and craft a stunningly glamorous atmosphere in your bathroom.
Dark Gray Bathroom Vanity
Dark gray bathroom vanities bring a sense of sophistication, stylishness, and drama to any bathroom. For a timeless and elegant look, pair this rich hue with white or light gray walls and marble countertops. Or, get creative and mix and match textures and materials for a more interesting effect – such as a wood grain dark gray vanity, a white quartz countertop, and patterned tiles as a backsplash. To give the space a bit of life, bring in color through towels, rugs, or artwork. You can even add a touch of glam with brass or gold fixtures and hardware. With a dark gray vanity, you really can't go wrong!
Light Gray Bathroom Vanity
Vanities in light gray are a popular and fashionable option for any bathroom. These vanities accentuate the room's elegance and brightness and may be combined with a wide range of hues and materials to provide an eye-catching design. The traditional shaker form is a well-liked pattern for vanity in a light gray bathroom. Recessed-panel doors and straightforward, uncluttered lines characterize this classic style. It may go with a range of countertop materials, including granite, quartz, or marble.
Another popular design for a light gray bathroom vanity is the modern floating style. This design features a sleek and minimalist look, with the vanity appearing to "float" above the floor. It can be paired with a vessel sink or an under mount sink and is often accompanied by wall-mounted faucets for a seamless look. A light gray bathroom vanity can also be paired with colorful accents such as towels, rugs, and artwork. A bold red or blue can add visual interest and contrast to the space. Another approach to give a light gray bathroom vanity a dash of glitz is to use brass or gold hardware and fittings. These metallic accents may be used with other finishes like chrome or nickel to provide warmth and brightness to the room.
Are grey bathrooms on trend?
With its timeless look, gray can bring a feeling of serenity and elegance to your bathroom. So, gray bathrooms are definitely on-trend and they will be for many years! Scroll down and find stunning gray bathroom ideas that will inspire you.
What color are the 2023 bathroom vanities?
The timeless classic bathroom colors of 2023 include earthy tones like sandy beiges, warm ochres, and dark browns. Either combine many hues inspired by nature or stick to the multiple saturations of a single color.
Backsplash Options for Gray Bathroom Vanity
Gray bathroom vanities are a popular and stylish choice for any bathroom, and choosing the right backsplash can enhance the overall look and feel of the space. From classic and timeless to modern and unique, there are a variety of backsplash options for gray bathroom vanity designs to suit every style. One classic and timeless option for a gray bathroom vanity is white subway tiles. This classic look adds a touch of vintage charm to the space and pairs well with a variety of countertop materials.
Consider incorporating patterned tiles as a backsplash for a modern and unique look. There are a variety of patterns to choose from, such as geometric shapes, Moroccan-inspired designs, or colorful mosaics. If you want to add a pop of color to your gray bathroom vanity, consider incorporating colorful tiles or a mosaic backsplash. A bold red or blue can add visual interest and contrast to the space. Let's scroll down and see some of the stylish backsplash options for gray bathroom vanity designs that we have gathered for you!
Should bathroom cabinets be lighter or darker than walls?
When deciding on the color of your bathroom cabinets, there is no one 'right' answer as your preference is key. A few things to consider are: Lighter hues can create an air of openness and space, maximizing the light and making a small bathroom appear bigger. While a darker shade can provide a sense of security, grounding and stability if the bathroom is larger or of a traditional design. If the bathroom gets a lot of natural light, daring dark hues can be achieved without making the room feel weighed down. While a modern and minimalistic impression can be created by opting for light colors such as white or pale grey to create a clean, sophisticated look.