35+ Bathroom Vanity Ideas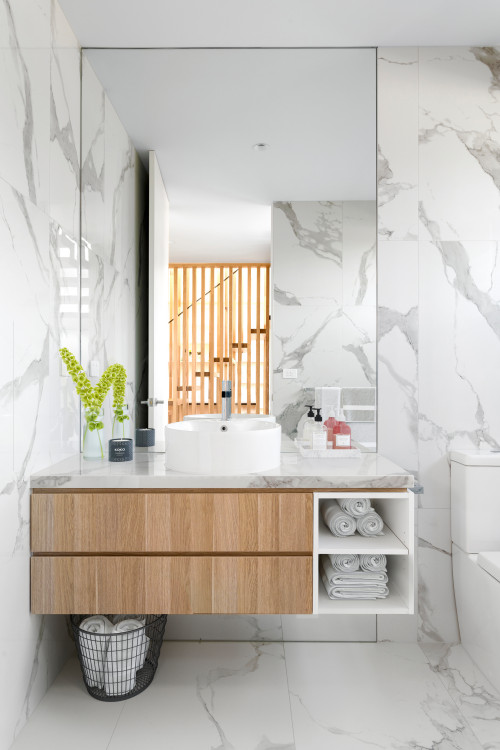 ID# 141910 | Houzz.com – Credit | © Sky Architect Studio
---
Wood Floating Vanity with Wraparound Marble Backsplash and Countertops
This contemporary bathroom is well-appointed with a wood floating vanity and wraparound white marble backsplash that continues on the floor level. The pronounced gray veins of the marble execute elegance and sophistication, while its overall homogeneous and monochromatic look is interrupted by the wood vanity that casts a sense of warmth and adds a pop of natural color to break up the monotonic look. Additionally, the round vessel sink brings a layered look, while the open shelving makes the towels easily accessible, allowing for an effortless grab.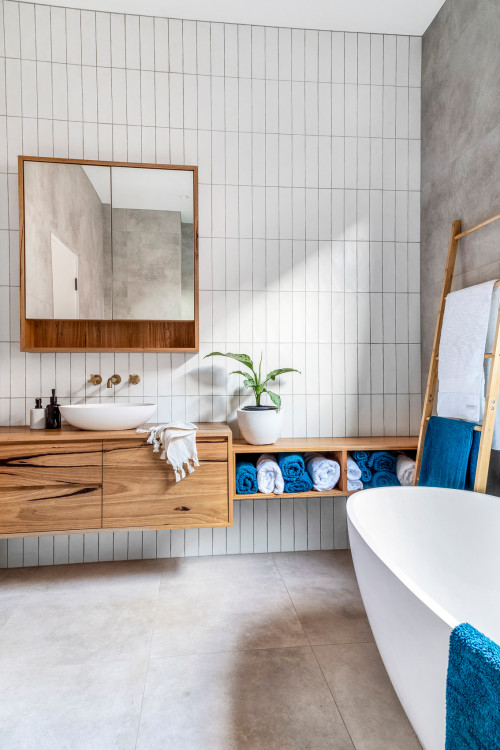 ID# 141927 | Houzz.com – Credit | © Period Extensions & Designs
---
Wooden Floating Bathroom Vanity Ideas with Ceramic Wall Tiles
While modern bathroom solutions are advancing towards simplicity today, the designed spaces are becoming more useful day by day. In the bathroom, which is combined with matte floor and wall tiles and white ceramics, the wooden floating vanity provides the effect of movement and warmth in the space, taking the design away from boringness. Wooden floating vanity and harmonious bathroom furniture and elements that add warmth to white tones warm the general atmosphere of the bathroom and provide a lively bathroom design.
Bathroom Vanity Ideas
Bathroom vanities are the essential pieces of the bathrooms that define the overall character of the design. Whether it be recessed-panel, shaker-style, or flat-panel, the vanities tell you all you need to know. You can pair them with a wide range of countertop and backsplash materials and sizes along with the various cabinet handle styles to enrich their presence and color them as you wish. Needless to mention, colors are vital to change the aura of the space and sort of dictate what to feel. Given that the bathroom is one of the treatment spots of our homes, bathroom vanity ideas are key to giving a modern or contemporary uplift to the interior space and providing a base for your color options.
If you can't decide what kind of vanity you want for your bathroom, whether it is a floating vanity, vessel-sink vanity, or vanity cabinet, this article explores bathroom vanity ideas for you. Do you love modern, modern farmhouse, rustic, chic, or transitional bathroom designs? We have it all covered for you. If you want to get some inspiration for your home project, then scroll down to discover some amazing bathroom vanity ideas.
Color Options for Bathroom Vanity
White, gray, wood, green, and black are the most favored colors for bathroom vanities. Each evokes different moods. That's why before deciding on the color, you can consider what kind of impact and mood you are looking for. For example, for a sense of freshness and cleanliness, blue and white serve the bathroom best, while gray, green, and black execute elegance and sophistication. Of course, it also depends on how you would like to combine them or which shades you would like to choose. Below you find some of the most popular color vanity options contextualized in transitional, contemporary, modern, and farmhouse bathrooms.
White Bathroom Vanity Ideas
White connotes cleanliness and purity, which directly connects it to the bathroom as bathrooms serve as the spa center of our home where we treat ourselves. Thus, white bathroom vanities are excellent options to add a sense of lightness. They can be paired with brass and wood accents to create warmth and bring sparkle to the interior. If you also want to spice up the background, you can install a backsplash of muted yellow or green and blue in pastel tones to color the bathroom.
Where to buy a bathroom vanity?
Now that we live in a world where everything is bought online, why not do the same for bathroom vanities? IKEA, Amazon, Etsy, Pottery Barn, and Allmodern are some of the popular websites where you can browse bathroom vanities. If you are on a low budget, you can also pay visits to secondhand stores to see if they have anything similar to what you are looking for. With a couple of touches, you can make the nd-hand products brand-new.
Blue Bathroom Vanity Ideas
Blue is one of the colors heavily used in bathrooms as it brings a sense of freshness and calmness that envelopes the whole bathroom wonderfully. Even better, it suggests a sense of freedom. You can combine the blue bathroom vanity with marble-look quartz, quartz, and marble countertops, which complete the blue perfectly. The wicker rugs and baskets could be used as secondary elements to finalize the look. Also, wood floating shelves, brass finish or black matte-finish wall sconces, and plumbing fixtures excellently pair with the blue vanities.
How to install a bathroom vanity?
When installing a vanity, one of the top tips to keep in mind is to check the plumbing supply lines and piping that gets connected to the sink. If you need to reline them, you might do it yourself or get professional help too. Also, before installing a bathroom vanity, you need to remove the old vanity and see if there is any damaged part or any area that requires patching and renovation.
Installation
Starts with measuring the height of the new vanity and marking it on the wall. You can also draw a straight line by using a level or measurement tape. Then do the same thing for the width of the vanity, which will give you a rough outline of the vanity. Use an electronic stud finder to locate the studs inside the vanity area. If your vanity has a back, then you will have to make some cut-outs for the pipes to fit in. So, translate the measurements of studs to the vanity and cut the pipe holes with the hole saw.
Then the vanity is ready to be placed. Follow the pre-drawn outline to fit it in its exact spot and make sure the holes at the back are aligned with the pipes properly. If not, do the necessary adjustments. Ensure that the base is level, and attach the cabinet with screws.
Now it's the countertop and sink's turn to be set. They come as couples unless there is an exception. Apply silicone to the attachment area and place the assembled sink onto the vanity and press it firmly. When everything is finished and dried up, connect the pipes and the water supply to the drain. Lastly, don't forget to attach the countertop to the wall. To do so, apply a bead of caulk along the back.
Black Bathroom Vanity Ideas
Black bathroom vanities are dramatic presences that reinforce sophistication, elegance, and depth. Even though black evokes a level of concern in the homeowners, it imbues the kitchen with character. When combined with the right elements and colors, black bathroom vanity easily elevates the bathroom's overall look. You can liven up the space with white elements and light wood accents to inject an organic softness to subdue the black. Or, you can create a monochromatic look with black, which will offer an immersive and approachable design without a doubt.
Wood Bathroom Vanity Ideas
Wood bathroom vanities are one of the most employed vanity materials to add a sense of warmth to the space. While dark wood creates a visual drama, light wood accomplishes an airy feeling that soothes its users. The wood can also be finished with grains and stains, looking enriched. Also, the subtle tonal variations of the wood add a delicate and pronounced beautifying element to the bathroom design.
How to remove the bathroom vanity?
Removing a bathroom vanity is not that hard or time-consuming. Just start by turning off the water supply and turning on the faucet to release any pressure. Disconnect the water lines from the valves. Then with the utility knife, you can disconnect the countertop that mostly comes with the integrated sink from the wall, which will give you more open and free space to navigate the vanity part. After getting rid of the countertop, now you have easier access to the vanity itself. Just remove the screws that hold the vanity to the wall and pull the vanity out, and you are done.
Colorful Bathroom Vanity Ideas
Colors have their language that energizes and soothes the energy of the designs by upgrading the mood of the space and its users. Thus, using lively, dynamic, and pastel colors in bathroom designs is significant to improve the psychology of the interiors and make a visual statement. To exemplify, Scandinavian and contemporary bathrooms love employing colors, though with one difference. Contemporary bathrooms favor vibrant and bold color statements that energize the design, while Scandinavian ones feature more soothing and soft colors, providing a perfect color scale to wash the day off and unwind.
How big should the vanity be in a bathroom?
The standard bathroom vanity is approximately 32 inches tall. Though, the sizes generally range from 30 to 36. If you have enough space for 36 inches, it is what is recommended. Most single vanity designs feature 36 and 48 inches in width. However, if you are considering a double vanity for the master bathroom and have enough space, 60 or 72-inch vanities are generously sized designs that can accommodate double sinks that cater to the needs of the couples in every possible way.
They offer ample storage space and double sinks, allowing couples to personalize their sinks. Also, they have single sink versions too if demanded. The most important point at this point is the expectations of the homeowners and the spatial arrangement of the space. Plus, two sinks mean more work and labor because they will automatically demand additional plumbing.
What finish is best for a bathroom vanity?
When choosing the paint for your bathroom vanity, just keep in mind to choose something that can handle high traffic and is durable to moisture and everyday use, and is adaptable to temperature changes. The most recommended finishes for bathroom vanities include oil, latex, acrylic, semi-gloss, and chalk-based. The semi-gloss finishes ensure maximum durability and high resistance to moisture. Also, paints with satin or (semi-)gloss finishes are easy to apply, maintain, and durable.
Satin also adds an aesthetic value with a shining touch in addition to its remarkable qualities, including washability, resistance to water stains and moisture, low maintenance, and ease of cleaning. As for the oil and latex paints, latex or water-based paints smell less and are easier to work with, while oil has a strong odor and is not comfortable to breathe in the long term. But both provide great protection.
How do you modernize vanity?
One of the easiest and cheapest ways to modernize a vanity is to change the hardware and plumbing fixtures. You can get handles and faucets with highlighted geometric forms and featuring sleek finishes that will help you modernize your vanity. Getting a white quartz countertop and a vessel sink instead of an undermount sink is another alternative to give a modern lift to your bathroom vanity. Thirdly, you can repaint your cabinet with a color featuring a modern flavor, depending on the mood and look you want to create. Charcoal and blue are two popular colors that create a well-balanced look that is soothing and sophisticated.
However, if you don't want to do some changes necessarily related to the vanity, you can also make some changes surrounding the vanity. For example, applying a hexagon tile backsplash will drastically alter how your bathroom looks and redefine the vanity in a more modern context.
Floating Bathroom Vanity Ideas
Floating bathroom vanities refer to cabinets that don't touch the floor. Rather, they give the illusion of floating or hanging in the air. Recently, they have been getting more and more popular because of their minimalist aesthetics and are mostly favored by the modern farmhouse, modern, and contemporary designs. They are aesthetic and practical, leaving the floor level neat and making it easy to clean. As they are floating, they also make the kitchen feel more spacious and airy. If you wish you can add floating shelves beneath the vanity to add some decorations or exhibit your towels to make them more accessible within arm's reach.
Types of Bathroom Vanities
Types of bathroom vanities range from pedestal sinks to floating vanities, double vanities with integrated sinks, vessel-sink vanities, and free-standing vanities. The pedestal sinks, also described as free-standing ones, offer no storage space but bring a classic look. They are adjustable to any theme. However, since they don't offer any storage space, they are not very functional. That's why they are easily replaced with floating vanities and vessel vanities to achieve a clutter-free look.
The floating vanities are wall-mounted ones that keep the floor level neat and empty. They also have an aesthetic value and are mostly used in modern and Scandinavian styles that favor minimalist aesthetics. The vessel sink vanities on the other hand have a sink perched on the top of the vanity. With a little bit of imagination, homeowners can also repurpose their antique tables or cabinets to be a home for a vessel sink. Now let's see how they are combined in bathroom projects.
Small Bathroom Vanity Ideas
Small bathroom vanities stand out as the cozy elements of the designs. If you would like to pronounce their presence, you can choose dark colors such as black, dark gray, or gray, green, or ambitious materials like dark wood, which will elevate the overall look of the design immediately.
Bathroom Vanity with Sink
Bathroom vanities can have two different types of sinks: integrated ones and vessel sink, while each one provides a unique look. Nowadays, vessel sinks are getting more and more popular and making themselves memorable as modern features to create a layered look on the countertops.
The vessel sinks come in various shapes such as rectangular, square, round, or a combination of both, for example, a rectangular one with round edges, which make them favorable options. Particularly, in contemporary bathrooms, you can employ these vessel sinks confidently to make a statement. Also, the fact that they add another layer on the countertops makes them look like an accessory that naturally connects with the rest of the design. You can couple them with wall-mounted faucets to compensate for the extra space they take from the countertops.
On the other hand, under-mount or integrated sinks come with countertops and offer a seamless look as they are made of the same material. For example, it could be a continuous piece of marble, quartz, granite, or any solid stone. Just like in the vessel sinks, the integrated ones also come in various shapes and layouts and thus are quite flexible, which makes them highly customizable. Additionally, they are also much easier to clean when compared to vessel sinks.
Double Sink Bathroom Vanity
Double sink bathroom vanities come with multiple benefits, allowing couples and siblings to use the bathroom simultaneously and personalize their sinks with personal products they have been using.
Backsplash Options for Bathroom Vanities
For bathroom backsplashes, there are various application styles and backsplash sizes. The standard ones measure 4 inches and are practical options to protect the walls from water splashes, moisture, and mildew. The ceiling-height backsplashes, on the other hand, stretch from floor to ceiling to achieve a full impact. If demanded, two different backsplashes can be applied. In some bathrooms, for instance, tiles and wallpapers are used together. While the most water susceptible and high-traffic area is clad in backsplash tiles, the rest could be coated with wallpaper, which will draw the eyes up, evoking curiosity and making the bathroom look much taller than it is.
Additionally, wrap-around backsplashes are another option that will retain the integrity of the space. Subway tiles, either horizontally laid out or vertically stacked, along with marble backsplashes are the most popular ones to wrap around the bathroom. Also, don't get surprised if you see the floors and walls clad in marble altogether, which delivers a sense of sophistication and elegance to the space.
As for the color and material options, ceramic and porcelain tiles, along with marble, granite, and quartz, make great backsplashes resistant to water splashes. For aesthetic purposes, you can benefit from geometric pattern tiles such as starburst, herringbone, hexagon, chevron, and star-shaped and thin moldings to make visual statements. You can even borrow natural elements from nature such as wood, stone, and brick. As long as they are sealed properly and regularly, they wouldn't harbor bacteria or cause moisture and mildew.
How much space do you need between the vanity and the toilet?
It is recommended for the toilet to be at least an elbow away from the vanity, which equals approximately 15 and 18 inches.
How do you build a floating bathroom vanity?
Before starting, you should decide how big you want your floating vanity to be and then what kind of material you want. You can use plywood, solid wood, or other available options depending on your budget. After that, you also need to choose what kind of countertop you want. Caeserstone, marble, granite, or quartz? You can order the pieces online or if you already have an old console, you can repurpose it to use as a vanity in the bathroom. Assuming that you have ordered the pieces the same size you want, all you need to do is to assemble them with screws, drill holes, and connect pieces. The supplies you need in this process are wood panels/boards, measuring tape, an electronic stud finder, a jigsaw, level, screws, a biscuit joiner, and an oil or water-based wood protectant.
Start with locating the studs, and by using the screws, build the mainframe. Pre-cut the boards to the desired size (height, depth, and width) or assemble the pre-cut and perfectly-sized ones. Sand and clean the surface and make it ready for the sealing process. When it comes to the countertop, glue the sides on which the countertop will be set. If the countertop is heavy and fragile like marble, then to support it, use a flat plywood board that can handle the weight of the marble countertop. Press it firmly and give it some time to settle and dry up completely.
Now that it is all set, there is one more thing left to do: sealing. As the bathroom is a humid and wet zone, this process is very essential. You can use an oil or water-based finish that will prolong the lifetime of the cabinet.