24+ Floating Bathroom Vanity Ideas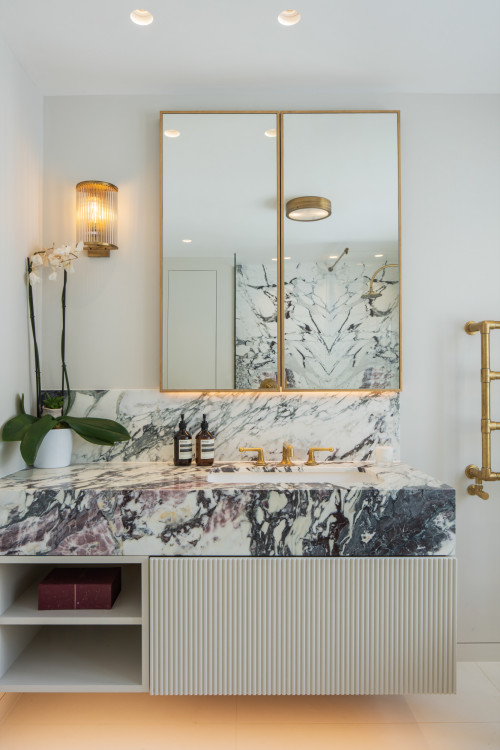 ID# 148801 | Houzz.com – Credit | © All Done Design Ltd
---
Contemporary Floating Bathroom Vanity Ideas with Marble Countertops and Backsplash
This contemporary bathroom boasts a sleek floating vanity with a gorgeous marble top! Brass accents, including the mirror frames, wall lighting fixture, and faucet, add a touch of glamour and complete the luxurious sense of this marble top. The walls and ceiling are crisp white, while the floor is tiled in a warm beige hue. The space exudes a sense of sophistication and style.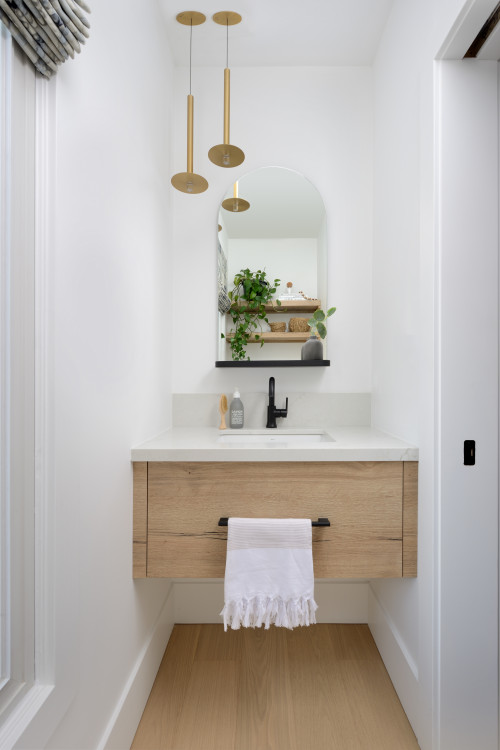 ID# 148818 | Houzz.com – Credit | © Michelle Berwick Design
---
Beach Style Wood Floating Bathroom Vanity with White Countertops
This bathroom offers a tranquil ambiance with its beach-style design! The stunning wood floating vanity with flat-panel cabinetry and black hardware adds a modern touch, while the unframed mirror and sleek black faucet add a minimalistic element. The warm wood floors, crisp white walls and ceiling create a soothing and stylish atmosphere, perfect for unwinding. Combining the beachy style and the modern elements, this bathroom vanity has perfectly blended a serene and harmonious vibe.
Floating Bathroom Vanity Ideas
A floating bathroom vanity is ideal for giving your space a sleek, modern and up-to-date feel. Not having any legs or support structures touching the floor, helps create an open and spacious atmosphere that is sure to evoke feelings of contentment and relaxation. Installing a floating vanity adds a plethora of benefits, space-saving being one of the greatest. By mounting the vanity to the wall, you reduce the amount of floor area taken up, which is especially useful in bathrooms that don't have a lot of space. Cleaning is an easier task as well, with better access when dusting and mopping around it.
Considering the multitude of options in floating bathroom vanities, it can be overwhelming to make the best choice. Weighing the size, style, and materials – such as wood, stone, acrylic, and more – are all important factors to take into account. Don't forget about countertop material and sink and faucet features either. Floating bathroom vanity ideas provide a stylish and modern look for your bathroom, whilst also being practical, spacious, and easy to keep clean. The huge array of sizes, styles, and materials allows for whatever desired aesthetic to be achieved. With all the options, it can be tricky to find the perfect vanity. But with great selection comes a great opportunity, so take your time and pick the style that best reflects you.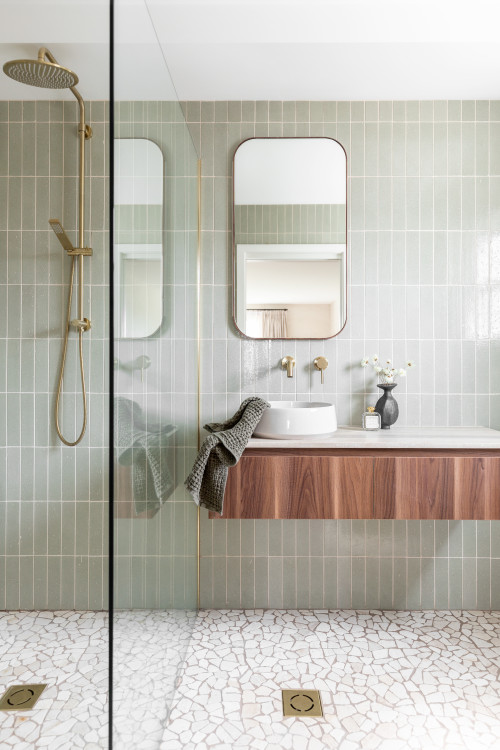 ID# 148802 | Houzz.com – Credit | © ABI Interiors
---
Pale Green Backsplash Tiles and White Countertops with Walnut Timber Cabinets
The pale green tile backsplash wall and the walnut timber flat-panel cabinetry of the floating vanity provide a stylish and natural appeal to the bathroom's overall design. The white floors enlighten the wood cabinetry with the countertops. The white vessel sink adds contrast in terms of geometry.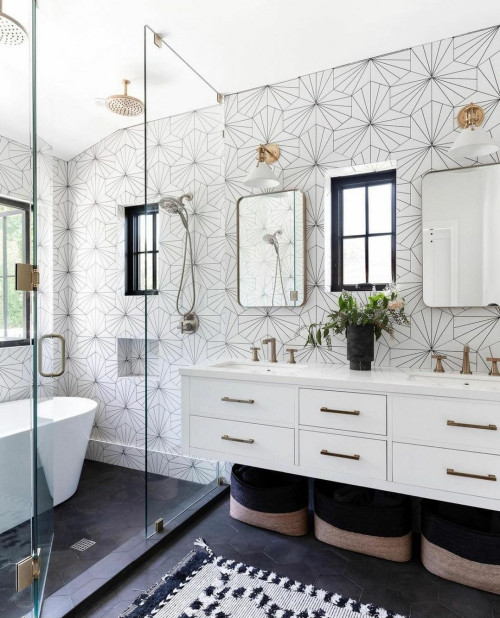 ID# 148803 | Houzz.com – Credit
---
Floating Bathroom Vanity Ideas with a Black and White Ceramic Tile Backsplash
The ceramic black and white bathroom backsplash tiles and wall tiles' distinctive patterns give the area a dynamic movement. These backsplash tiles go well with the white countertops and floating flat-panel vanity design. The elegant touch provided by the brass hardware and accents contrasts with the dark floor tiles.
How to build a floating bathroom vanity?
You should first choose the size and kind of material for your floating vanity before getting started. Depending on your budget, you may use plywood, solid wood, or other possibilities. Following that, you must also decide on the type of countertop you desire. Quartz, marble, granite, or Caesarstone? You may place an internet purchase for the parts, or if you already own an old console, you can convert it to use as a bathroom vanity. All you need to do to put the components together is use screws, drill holes, and join the pieces, presuming you purchased the pieces in the size you wanted. Wood panels or boards, a measuring tape, an electronic stud finder, a jigsaw, a level, screws, a biscuit joiner, and an oil- or water-based wood protectant are required for this technique.
Installation
Start by identifying the studs, then construct the mainframe using the screws. Pre-cut the boards to the required height, depth, and breadth, or assemble the ones that have already been cut and are the right size. Prepare the surface for sealing by sanding and cleaning it. Glue the sides where the countertop will be placed when it comes to the countertop. Use a flat plywood board that can sustain the weight of the delicate and heavy countertop, such as a marble one, to support it. Give it some time to settle and entirely dry up after applying strong pressure.
Now that everything is ready, sealing is the last task. This technique is quite important since the bathroom is a moist, humid environment. An oil- or water-based finish can be used to increase the cabinet's lifespan.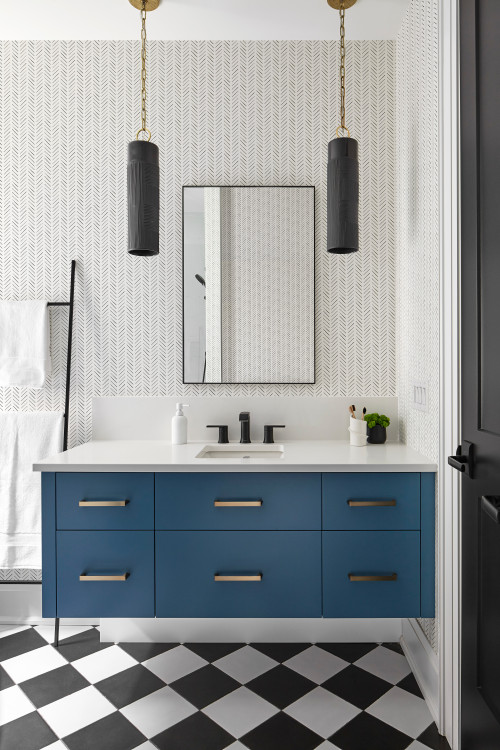 ID# 148804 | Houzz.com – Credit | © avenue design inc
---
Blue Flat-Panel Cabinets and Brass Hardware with Checkered Floor Tiles
This contemporary bathroom has a single sink vanity with blue flat-panel cabinets and silver hardware. A black faucet and a black frame mirror finish the contemporary appearance, which is complemented by white countertops and an undermount sink. Brass chains attached to black pendant lighting fixtures give the room a hint of glitz and refinement. Checkered floor tiles in black and white add a fun and lively touch and bring depth to the space by creating visual illusion!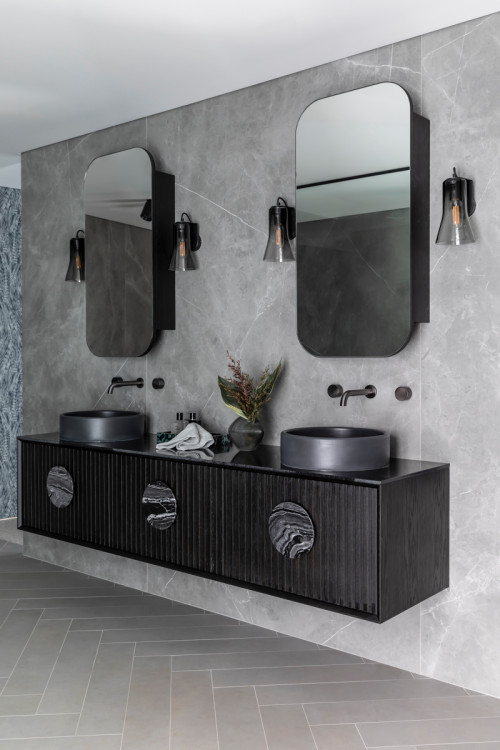 ID# 148805 | Houzz.com – Credit | © IOANNA LENNOX INTERIORS
---
Black Floating Bathroom Sink Ideas with Black Countertops and Vessel Sinks
This contemporary bathroom features a bold floating vanity with black cabinets, custom-made black hardware, and black countertops. The round vessel sinks and black wall faucets add to the cohesive black design scheme. The gray floor tiles in a herringbone pattern and gray wall tiles complete the sleek and modern look of the space. The monochromatic palette creates a cohesive and sophisticated atmosphere.
Is a floating vanity a good idea?
A floating bathroom vanity is an excellent option if you are looking to reap the advantages of extra space, effortless maintenance and fashionable style. Not only does it save ground space and make the bath appear wider, but the open set-up is also incredibly straightforward to clean. It is also customizable, so you can tailor the style and size to suit your needs! Indulge in a contemporary, minimalist look that gives a special touch of flair to your bathroom. Experience the convenience and indulgence of a floating vanity!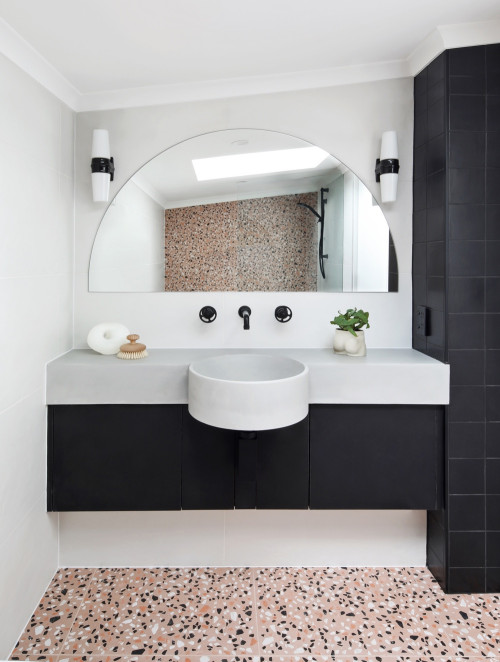 ID# 148806 | Houzz.com – Credit | © Smart Style Bathrooms
---
Arched-Top Mirror with Black Flat Panels and White Countertops
The black-flat panel cabinets and tiles provide a striking contrast to the white countertops and walls while the terrazzo floor tiles bring a dynamic and joyful appeal to the bathroom's general view. The round sink adds a contrast, too, in terms of geometry. The arched-top frameless mirror creates an illusion of depth in the bathroom.
Types of Floating Bathroom Vanity Ideas
Nowadays, floating bathroom vanity ideas are a typical sight in bathrooms. Floating vanities are a good option if you want a simple, minimalist style or if your space is limited. Smaller bathrooms or bathrooms with frequently damp surfaces are particularly well suited for floating bathroom vanity designs. From modern bathroom floating bathroom ideas to marble ones, there are many types of floating bathroom vanity ideas. Let's scroll down and see some of the solutions for a floating vanity in the bathrooms!
Modern Floating Bathroom Vanity
Modern floating bathroom vanities help infuse a contemporary and minimalist aesthetic into any bathroom, characterized by their sleek and minimal design. While these vanities feature clean lines, minimal hardware, and neutral colors of a contemporary aesthetic, the use of high-quality materials ensures their lasting durability and the ability to withstand moisture and wear and tear. Inviting these vanities into your bathroom adds a sense of sophistication and allows you to create a cohesive, streamlined look that evokes a feeling of calming calm.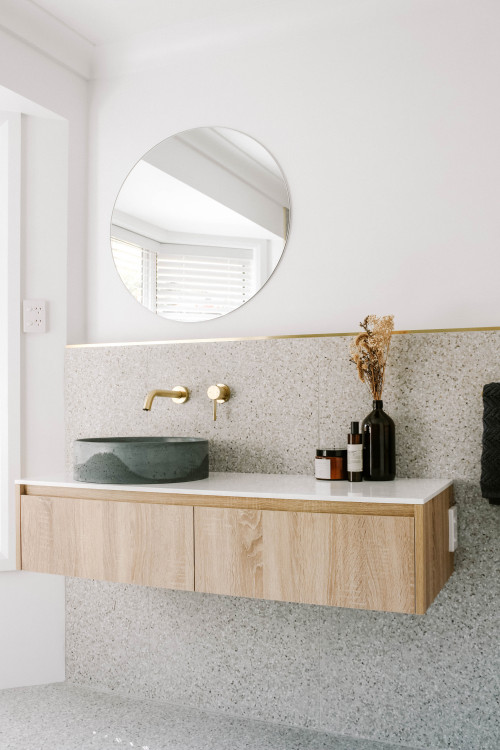 ID# 148807 | Houzz.com – Credit | © ABI Interiors
---
Modern Floating Bathroom Vanity Ideas with Light Wood Flat Panels
The brass accents and light wood flat-panel vanity design go well in a fashionable way. This gives the bathroom in this industrial design style an opulent appearance. Geometrically speaking, the gray vessel sink and frameless round mirror go well together. White countertops contrast sharply with a gray backsplash and sink.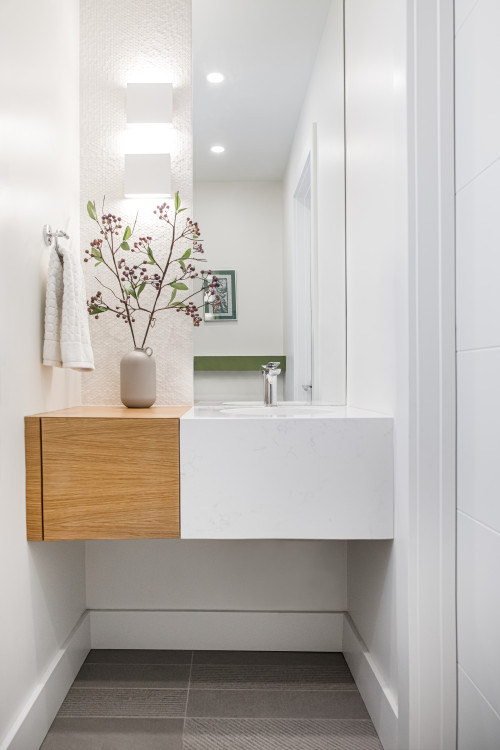 ID# 148808 | Houzz.com – Credit | © Loop Interior Design Inc.
---
Half Wood Half Quartzite Cabinetry Design with an Undermount Sink
This modern floating vanity design has such a special look! The wood part of the cabinetry provides natural vibes while the white part of the cabinetry brings a crisp backdrop to the interior. The frameless full-height mirror has a minimalistic design that boosts the stylish appeal of the floating vanity.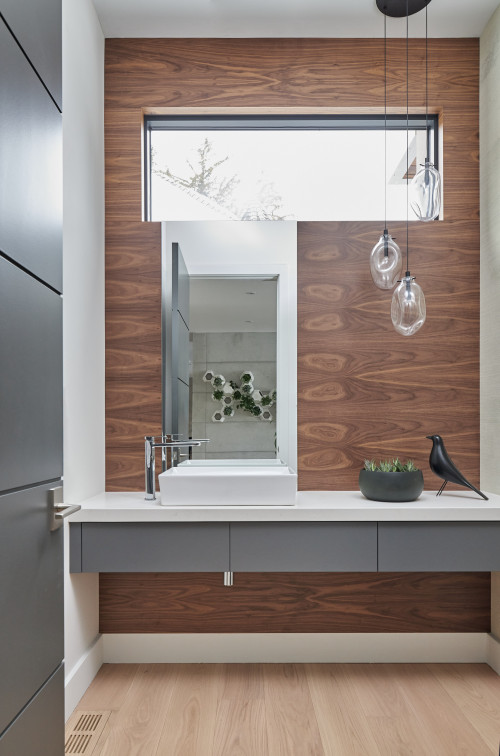 ID# 148809 | Houzz.com – Credit | © Frahm Interiors – Burlington ON
---
Modern Floating Bathroom Vanity Ideas with a Wood Wall Backsplash
This contemporary bathroom features a sleek floating vanity with grey flat-panel cabinets, white worktops and a white vessel sink that evoke feelings of sophistication and elegance. The light hardwood floors and wood backsplash on the walls bring a sense of warmth and coziness. Frameless mirror and glass pendant lighting fixtures provide an extra bit of glamour and refinement. This beautiful combination of elements creates a bathroom designed to inspire admiration and beauty.
Are Floating vanities good for small bathrooms?
Floating vanities are a great choice for small bathrooms as they take up less room and can help create a feeling of openness. Furthermore, their added storage space can be a real savior in bathrooms that don't have much space to spare. Ultimately, these features together can make your bathroom feel bigger, more comfortable and inviting.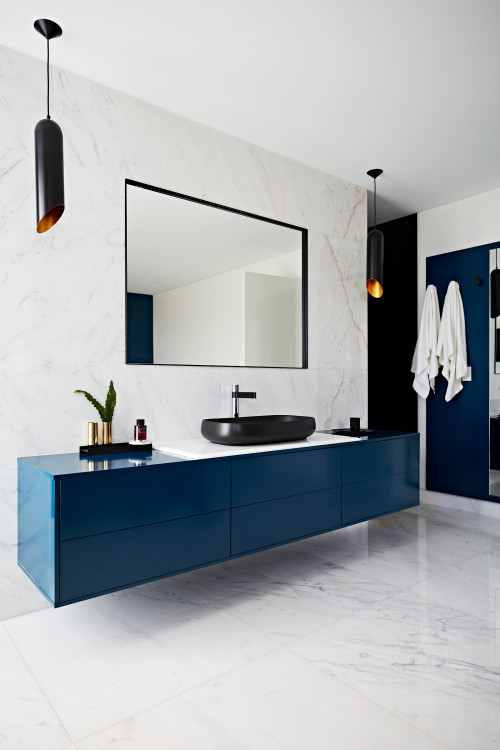 ID# 148810 | Houzz.com – Credit | © Some Studio
---
Blue Flat-Panel Cabinets with a Black Vessel Sink
The blue flat-panel cabinets of the floating vanity draw the eye. Thanks to the white walls and floors the blue floating vanity design adds a pop of color and stands out. The black accents provide a stylish contrast to the white environment while harmonizing with the dark blue hue of the vanity design.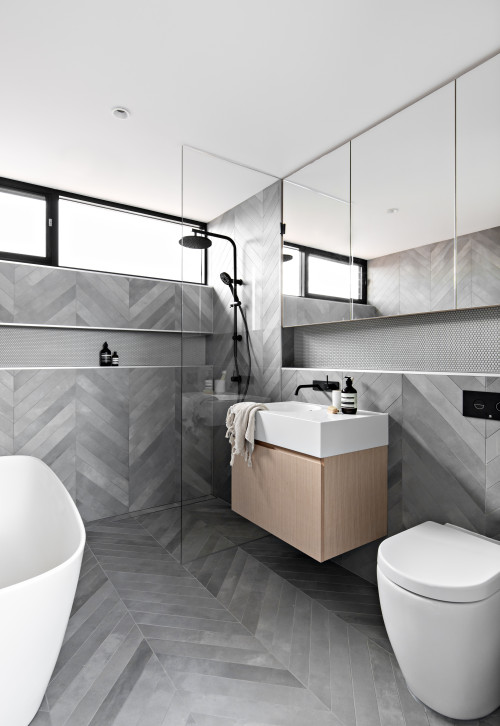 ID# 148811 | Houzz.com – Credit | © Renotech Building Pty Ltd
---
Modern Floating Bathroom Vanity Ideas with Chevron Tiles
The walls, backsplash, and flooring are all covered in gray chevron tiling, which adds a sleek movement and visual appeal. The black accents provide contrast with the surrounding gray space. The straightforward form of the white integrated sink and the light wood single floating vanity fits the modern decor. The mirrors and nooks give the depth and illusion of the surrounding.
Small Floating Bathroom Vanity
Small floating bathroom vanity designs offer a practical and fashionable aspect without taking up a lot of area, making them a wonderful choice for bathrooms with limited space. These vanity ideas may be designed in a variety of ways, including adding storage and selecting a vanity with a distinctive form or material. A small floating bathroom vanity concept is to pick one with a distinctive design or construction!
Adding storage to your small floating bathroom vanity concept is an additional suggestion. This is particularly crucial in tiny bathrooms where there may be a need to keep several goods in a little area. A vanity with built-in cupboards or drawers is an option, or you could install shelves or storage bins beneath the sink. A floating vanity is a fantastic alternative for a tiny bathroom, to finish. You can simply pick one that complements the overall design of your bathroom because they come in a variety of styles and materials.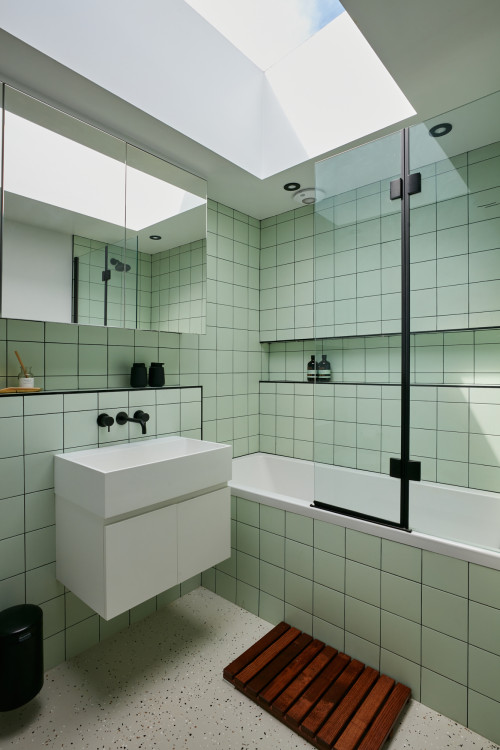 ID# 148812 | Houzz.com – Credit | © Muchmore Design
---
Small Floating Bathroom Vanity for a Mid-century Bathroom Design
The fresh green hue of the small square tiles brings a natural and dynamic appeal to the entire bathroom! The white floating bathroom vanity has white flat panels and white integrated sink countertops. The unified appeal of the vanity design adds a clean backdrop. The black accents provide a stylish contrast to the green and white colors.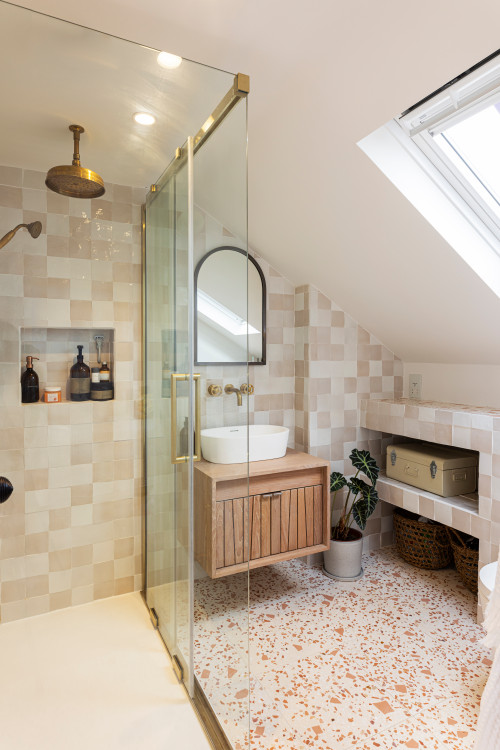 ID# 148813 | Houzz.com – Credit | © A2studio
---
Neutral Colors with a White Vaulted Ceiling
The white vaulted ceiling and the ceiling window provide an airy atmosphere to this transitional bathroom design. The neutral color palette of the wall tiles and the terrazzo floors keep the freshness alive. The light wood floating vanity design joins the neutral color palette adding warm vibes. Brass hardware and accents complement the luxurious appeal.
Are Floating vanities trendy?
For many, the sleek modernity of floating vanities is the epitome of style and sophistication, not to be missed when giving a bathroom a makeover. The versatility they offer only adds to their charm; they can be made from wood, stone or composite, tailored to fit all types of design styles and accommodate different needs. Indeed, the stylish and functional floating vanity has been a hit with design enthusiasts remarkably for several years and still enthralls today. Incorporating it into a bathroom certainly brings feelings of modernity and potential to the ambiance of the room.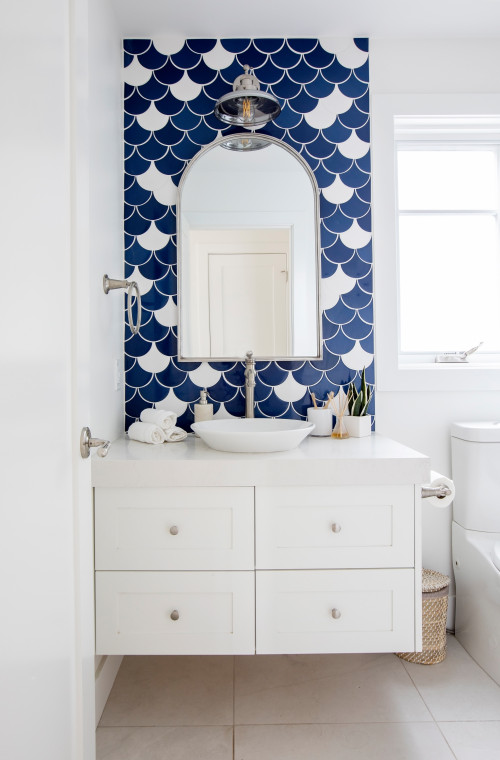 ID# 148814 | Houzz.com – Credit | © Kennedy Construction
---
Beach Style Floating Bathroom Vanity with a Blue and White Backsplash
With its backsplash made of blue and white fish scale tiles, this beach-themed bathroom stands out. The backsplash tiles' natural flow gives the movement a sophisticated appearance. The contrast between the dark blue and white tiles is stunning. The white floating sink cabinet design brightens the dark blue that predominates.
Double Sink Floating Bathroom Vanity
A double-sink floating bathroom vanity is a great choice for families or couples who want to experience the convenience of having two sinks in one convenient spot. This spacious option offers enough room to get ready in the morning, brush teeth, and wash hands – all while sharing a space! With a range of designs and materials available, including wood, stone, and ceramic, there is a perfect double-sink bathroom vanity for everyone. Plus, you can choose from drop-in or vessel sink options for even more versatility. It really is the perfect solution for households with multiple bathrooms or larger spaces. So, start sharing an area and create an inviting atmosphere for prepping in the mornings!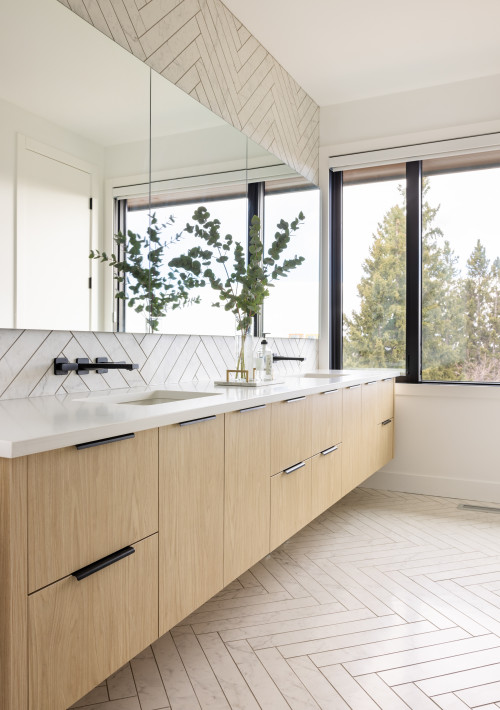 ID# 148815 | Houzz.com – Credit | © Alloy Homes Incorporated
---
Double Sink Floating Bathroom Vanity for a Scandinavian Design
This Scandinavian-inspired bathroom features a floating vanity with flat-panel cabinets made of light wood and a white countertop. Double under-mount sinks, black cabinet hardware, and black wall faucets round out the contemporary design. A frameless mirror and a backsplash composed of herringbone tiles provide interest and texture.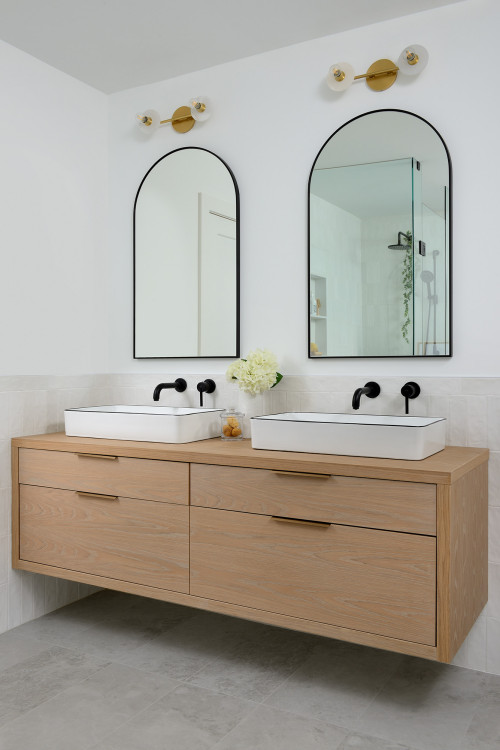 ID# 148816 | Houzz.com – Credit | © Michelle Berwick Design
---
Wood Countertops and Black Accents with Brass Hardware
This bathroom has a floating vanity with wood countertops and white vessel sinks. While black wall-mount faucets provide a sleek and modern contrast, brass hardware and wood flat-panel cabinets add warmth and character. The arched-top mirrors complete the design and give it a clean, unified look with their thin, black frames.
How much weight can a floating vanity hold?
It's important to make sure that your floating vanity is strong enough to hold everything you need it to! Factors such as size and material, the strength of the wall it's mounted on, and the type of mounting hardware used all influence how much weight the vanity can hold. In general, we'd recommend ensuring that your vanity and wall are strong enough to hold up to 100 kgs (220 lbs) for vanities made from MDF, MFC, and plywood, with dimensions from 600 to 1500 mm (24 to 59 inches) in length and 480 to 520 mm (18 to 21 inches) in width or depth. We understand the trust you invest in your vanity and want you to feel secure knowing it can handle whatever needs it must.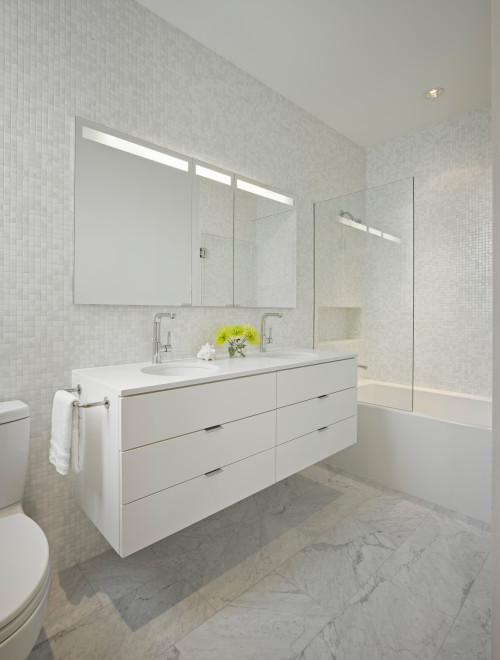 ID# 148817 | Houzz.com – Credit | © SIDLER®
---
Double Sink Floating Bathroom Vanity with White Flat Panels and White Countertops
The freshness and the bright appeal of this modern bathroom greet you! The white floating double vanity complements the contemporary design look with its sleek design. The chrome hardware and faucets keep up the all-white color palette alive. The white environment provides a crisp look.
Wood Floating Bathroom Vanity
One of the most popular materials for floating bathroom vanities to bring warmth to the area is wood. Light wood achieves an airy impression that calms people whilst dark wood produces a visual drama. The wood can also be given a grain or stain treatment to make it appear more richer. Additionally, the bathroom design gains a delicate and noticeable beautifying aspect from the wood's small tone differences.
Contemplating adding a wood floating vanity to your bathroom? Here are some ideas to keep in mind that will help bring warmth and stylish flair:
Choose sustainability: Let the environment be your guide when selecting the right wood – opt for teak or bamboo species, both known for their durability and sustainability. Water and moisture won't be an issue either!
Include a rustic vibe: Let your bathroom ooze out some rustic charm by opting for a wood floating vanity with a rough-hewn, distressed finish. It gives off a comforting, cabin-like feel.
Glam it up: Create a more luxe atmosphere by choosing a wood floating vanity with a glossy finish and classy hardware. This will help elevate the classiness and sophistication of your bathroom.
Incorporate diversity: Want to inject more visual appeal? Combine the wood floating vanity with materials, such as marble and metal, for a truly one-of-a-kind look.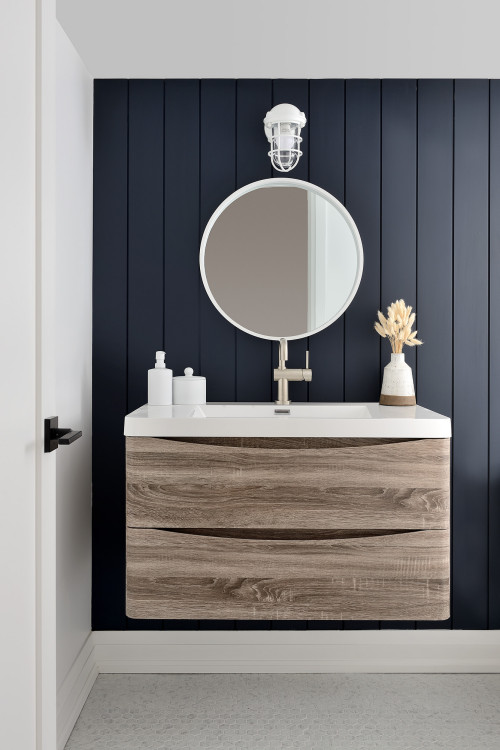 ID# 148819 | Houzz.com – Credit | © Michelle Berwick Design
---
Black Shiplap Backsplash Wall with White Countertops and Flat Panels
This beach-style bathroom features a stunning floating vanity with flat-panel wood cabinets and a crisp white integrated sink. The chic black shiplap backsplash adds visual interest and a touch of coastal flair, while the round mirror with a white frame adds a modern touch. The neutral color palette of gray flooring, white walls, and a white ceiling create a cohesive and calming atmosphere. Overall, this bathroom is the perfect blend of coastal and modern, creating a serene and stylish space.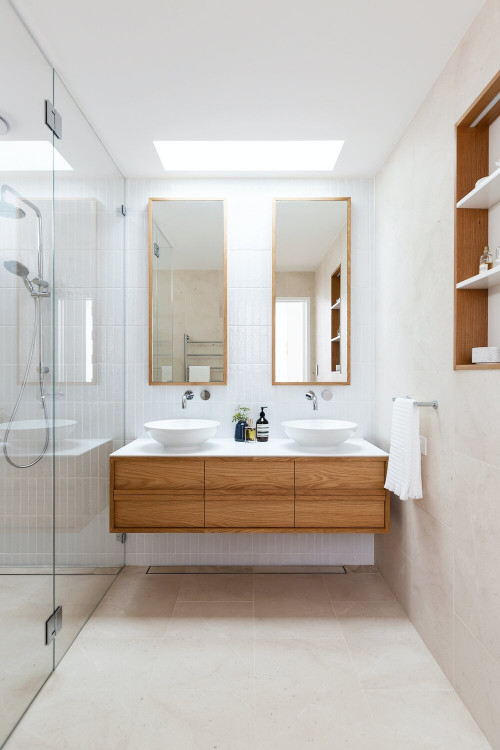 ID# 148820 | Houzz.com – Credit | © Order & Grace
---
Wood Floating Bathroom Vanity with Double Sinks
A floating wood vanity with two white vessel sinks and a double sink is featured in this sleek, contemporary bathroom. The all-white color scheme gives the room a crisp and coordinated appearance while the thin wood mirror frames give it a sense of warmth. A double sink vanity is a fantastic option for a shared bathroom since it is both practical and fashionable. Overall this bathroom is the epitome of contemporary simplicity!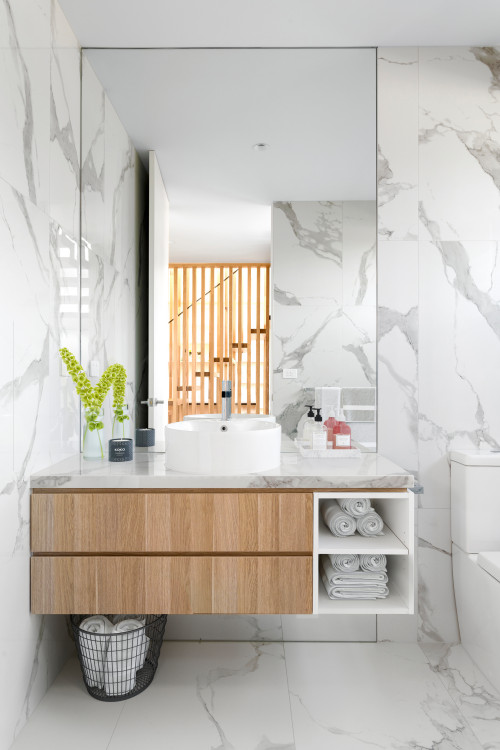 ID# 148821 | Houzz.com – Credit | © Sky Architect Studio
---
Marble Backsplash and Countertops with a Full-Height Mirror
This modern bathroom is well-equipped with a wood floating vanity and a white marble backsplash that wraps around the room and extends to the floor. The marble's prominent gray veins exude elegance and refinement, while the wood vanity breaks up the marble's overall uniform and monochrome appearance by adding a burst of natural color and a feeling of warmth. The open shelf makes the towels accessible, enabling a simple grab, and the circular vessel sink adds to the layered appearance.
Marble Floating Bathroom Vanity
Marble is an endlessly versatile and graceful material for a bathroom vanity, offering boundless aesthetic possibilities. For a timeless, polished look, opt for a light-hued Carrara or Calacatta marble floating vanity. For a more personalized touch, consider one in a stunning hue like green or pink. Paired with sophisticated hardware and a matching backsplash, it is sure to garner admiration and evoke pleasant feelings in your bathroom decor.
Experiencing a sense of luxury and sophistication in your bathroom? Pair your marble floating vanity with other materials like wood or metal to add visual interest and depth to your bathroom style. Make sure to also consider practical storage spaces, like shelves or drawers, built into your vanity for easy organization and access to all your bathroom necessities. Don't forget to set the right ambiance with proper lighting – sconces or pendant lights on either side of the mirror will provide a balanced look and add a perfect touch of elegance. With some careful planning, you can make your bathroom feel like a luxurious, timeless, and stylish haven that reflects the beautiful design that only you can make it!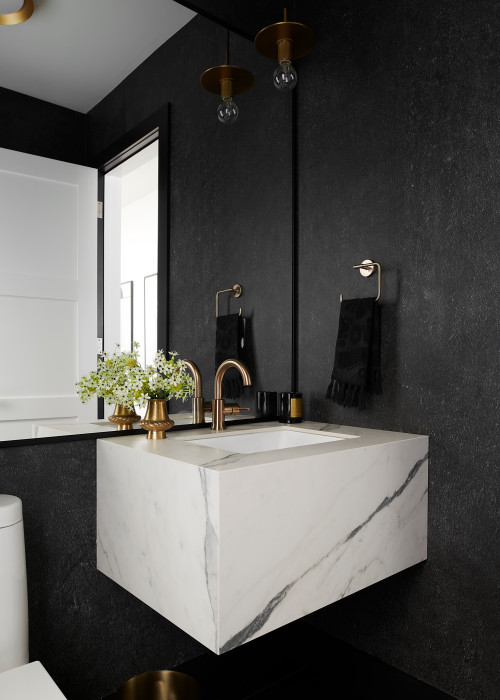 ID# 148822 | Houzz.com – Credit | © avenue design inc
---
Marble Floating Bathroom Vanity with Black Walls and Floors
This small bathroom has an air of sophistication and elegance due to its magnificent marble vanity, floating gracefully above the black walls and floor. The contrast between the light and airy marble and dark background creates a bold atmosphere that is enhanced by the brass fixtures, such as the faucet and pendant lighting, adding a glimmering touch of glamour. The large mirror furthers this by reflecting light, giving the space an even grander feeling. With its perfect blend of modern and traditional elements, this bathroom truly captures the emotion of luxury.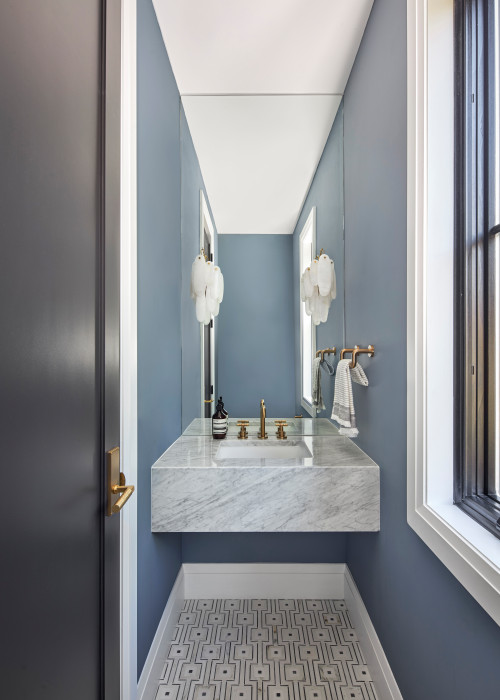 ID# 148823 | Houzz.com – Credit | © Art & Stone Group
---
Infinite Illusion with a Frameless Mirror
Having a full-height frameless mirror is one of the best ways to enhance the look of the bathroom interior. The blue walls and patterned floors make the marble floating bathroom backsplash stand out. The brass accents and the marble floating vanity complement each other providing a stylish and luxurious appeal to the bathroom.
How do I hide plumbing pipes in my floating vanity?
There are several ways to give plumbing pipes a more pleasant and attractive appearance in a floating vanity. A plumbing chase affords a neat, finished look to enclose a larger collection of pipes. A false drawer front can also easily hide an individual or a small group of pipes. Also, pipe covers can provide a quick and easy option for concealing pipes, yet may not create a completely seamless look. To add a decorative element to your vanity, utilizing a decorative pipe cover may be appropriate. Materials such as wood or metal can give a unique touch to the space. Allowing your pipes to be hidden while still providing a fashionable update to the vanity is attainable.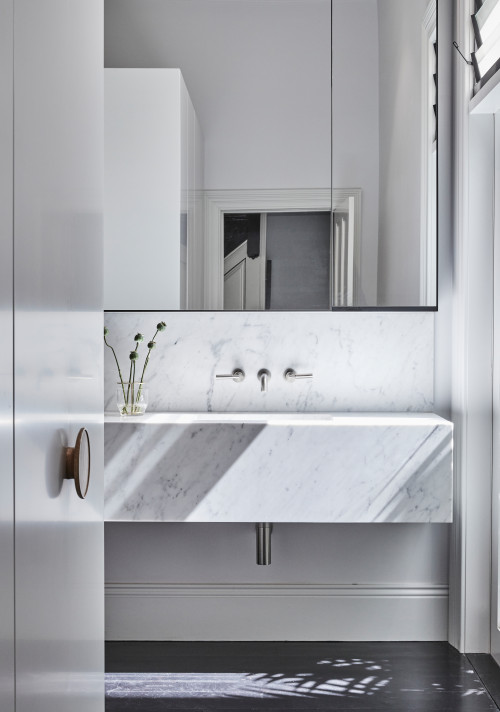 ID# 148824 | Houzz.com – Credit | © Nexus Designs
---
Marble Floating Bathroom Vanity and Marble Slab Backsplash for a Contemporary Touch
The exquisite marble vanity countertop and backsplash look awe-inspiring with the subtle grey veining adding a touch of grandeur. Its monochrome color scheme adds a sense of classic elegance that emanates throughout the room. The contrast of the white walls, gray accents and black floors with the vanity showcases its beauty, making it the envy of the space.