32+ Dining Room Lighting Ideas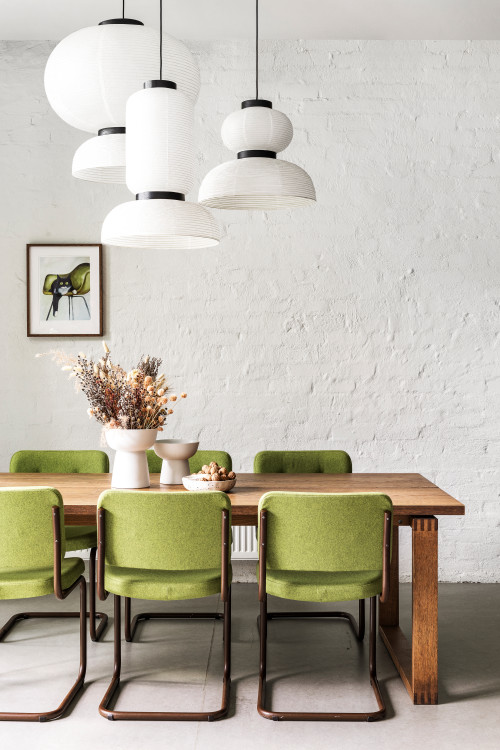 ID# 159101 | Houzz.com – Credit | © Kirsty Ristevski @miss.sneakypeek
---
Dining Room Lighting Ideas for Industrial Designs
To turn a dining table into a focal point, using a cluster pendant is one of the best ways. Here, for example, this industrial design dining room employs a cluster pendant consisting of variously-sized shades. Each one is hung at a different height to add further dimension and depth, posing against a white background. This whitewashed brick wall feels slightly assimilated in this reformulated industrial design that feels brighter and airier. Complementing all is a rectangular table that brings warmth and texture while green stools add a jolt of color.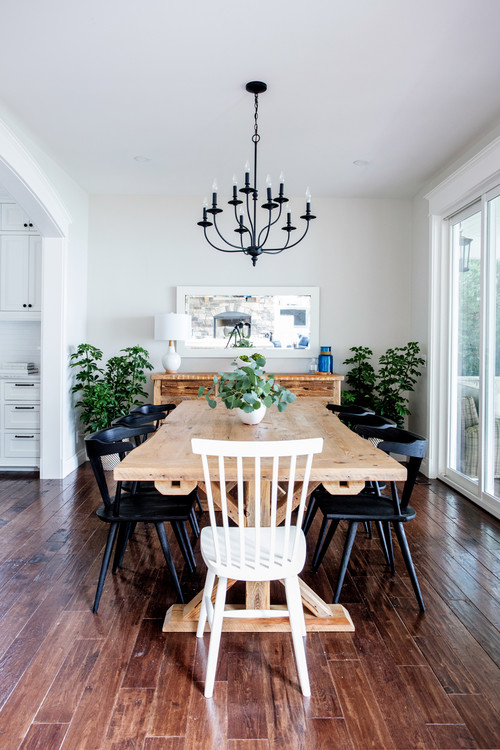 ID# 159117 | Houzz.com – Credit | © Madison Taylor
---
Dining Room Lighting Ideas for Farmhouse Designs with Wood Table
In this light and airy farmhouse design, wood is the protagonist of the design. It is introduced by a wood table, anchored to the room with black-painted spindle stools. Complementing it is a classic and timeless black chandelier that cements the farmhouse look. And in the back of the room are indoor plants that bring a breath of fresh air and elevate the mood of the interior.
Dining Room Lighting Ideas
Dining rooms are where we gather with our friends, guests, and family members, which makes them extra special. And to do justice to them, getting high-finish furnishings is not enough. Dining room lighting ideas also take an integral part in dining rooms, setting the mood of the space and giving the room its final finish. Thus, when choosing a dining room lighting fixture, it is important to consider the height of the ceiling, the size of the dining table, and the overall design theme. These criteria are crucial to ensure that each design element comes together like the pieces of a jigsaw puzzle.
To give a better idea about the variety of lighting fixtures, here we gathered several dining room lighting ideas. They are introduced by design projects of various styles from contemporary to rustic, farmhouse, and beach-style. All you need to do is to scroll down to explore some inspiring design projects.
How do I choose a light over a dining room table?
The shape and size of a dining room table are one of your first cues when choosing a lighting fixture. If you have a round small table, for example, an oversized pendant could make a great pair with it to make a statement. If you have a low ceiling, avoid getting a very large pendant that might obstruct the view. Ensure to leave 36 inches between the table countertop and the bottom of the fixture.
For high-ceiling rooms, oversized chandeliers and pendants serve the kitchen very well. Also, consider if the room has a sloping roof. If that's the case, get a lighting fixture with a flexible cord. If you have exposed beams, you can also mount a fixture on them. Also, don't think that a small pendant is a must for a small table. To turn the dining zone into a focal point, feel free to go with a statement chandelier made of glass bubbles or a rustic antler.
The second cue is the overall design theme. Do you have a room filled with antique furnishings? Or do you have an industrial or contemporary design? Get inspired by designs that feel closer to your dining room. Don't forget that a lighting fixture is a key design element that can pull the entire design together.
Thirdly, when choosing the perfect size, subtract 30 cm from the size of the table in all directions. It will give you an ideal size for a lighting fixture.
Last but not least, though this is rather optional, consider getting a dimmer switch. This way, you can navigate the light level and create a cozy atmosphere when needed.
Types of Dining Room Lighting
From pendants to chandeliers, candelabras, lanterns, spider pendants, and modern chandeliers, the types of dining room lighting are various. Below, we take a closer look at them individually, which are categorized according to their styles.
Dining Room Pendant Lights
Paper lanterns, linear pendants, oversized pendants,
Give them a chance especially if your dining room has a double volume with a high ceiling. In such rooms, pendants serve the space well, making the design more intriguing. To add further depth and dimension, you can get a few of the same pendants or their variously-sized ones. Then hang them at various heights to create a more staggered look. This way, they create a dimensional look.
How do I light my dining room?
Lightening up a dining room starts with the encouragement of an inflow of sunlight. So, first, go with light and thin window curtains to let lights in seamlessly. And if you wish, you can use blackouts as a visual accent. And as for the lightning system, you can create a layered one. For example, you can get a chandelier or pendant for your dining table for accent and task lighting. Floor lamps can be placed by the couches or accent chairs – if you have any-. Built-in spotlights can provide ambient lighting. For coziness, wall sconces also work pretty well in dining rooms. Additionally, installing mirrors also helps give the illusion of a larger and brighter space as they reflect light. You can, for instance, create a gallery of mirrors.
Dining Room Chandeliers
Even though chandeliers are mostly associated with luxury and more traditional looks, it is just not the case anymore. In addition to eclectic kitchens that employ them as a whimsical gesture, contemporary designs also go with them. Available in glass, linear, antler, and wood beads, today, chandeliers propose a wide range of looks. You see them emulating organic patterns that fit modern and Scandi-inspired designs. Also, in beach-style rooms, they come in seashells rather than crystals. And if you are looking for something exceptional, check out glass bubble chandeliers.
How can I light my dining room without a chandelier?
From spotlights to pendants, wall sconces, floor lamps, and table lamps, there are several ways to light a dining room.
Modern Dining Room Lighting
Modern dining room lighting fixtures encompass linear lighting, pendants, modern chandeliers, and multi-level designs. In addition to them, modern branch chandeliers come as a great alternative, available in multiple sizes and finishes. If you want something more minimalist, you can get its smaller version. Both artistic and practical, they easily create a visual focal point. Mid-century-inspired designs also fit modern designs, generally introduced in brass finishes. If you have jewel tones in your dining room and want them to pop, a brass mid-century chandelier gives you the perfect finish.
Should dining room lights point up or down?
If you want to provide ambient lighting for the dining room, it would be better to keep the lights pointing up. This way, the entire room gets benefits from the even distribution of lights. But if you want to create a focal point and provide task and accent lighting, then lights should point down.
How big should a light be over a dining room table?
It is recommended for a lighting fixture to measure one-third of the width of the dining table.
Farmhouse Dining Room Lighting
Classic cage-style lighting, glass pendants, and lanterns are some of the most popular farmhouse dining room lightings. Brass finish lighting fixtures that patinate over time also suit that farmhouse flair with a rustic edge. Apart from those, feel free to create your own farmhouse dining room lighting. For example, you can turn reclaimed bottles into pendants.
What color light bulb is best for dining room?
Since you are not going to need task lighting to prepare food and cut veggies, a warm color light bulb would be enough. It will just provide you with a relaxed and convivial atmosphere and set the right mood for dining.
Rustic Dining Room Lighting
Rattan and wicker pendants, wood beaded chandeliers, or any fixture made of wood or any other natural material Cast-iron and antler chandeliers, farmhouse lightings, and spider pendants tied together with ropes are other great options to consider. You can even consider exposed Edison bulbs to merge a rustic look with an industrial vibe.
Does the dining room light have to be centered over the table?
Symmetry is a very key feature to create an eye-appealing look. That's why it is recommended for the dining room light to be centered over the table. But what happens when you have a large table and need more than one lighting fixture? For example, when you need to hang 3 pendants, install the first one in the center. Then hang the other ones at equal intervals from the centered one.
Small Dining Room Lighting
Lighting fixtures are available in every size, which means you can find lanterns, chandeliers, and pendants in small versions too. For a large table, you can install them at equal intervals to provide enough lighting.
Can you put pendant lights over a dining table?
Pendant lights suit dining tables quite well, creating a visual focal point. If your dining room is adjoined to a kitchen, a lounge, or both, pendant lights also help develop a better sense of space. Aside from those, needless to say, there is a wide range of pendant designs for dining tables. So, when you have this amount of options, just pick one and add personality to your dining area. If you get a dimmable pendant, you could also change the light level and create a cozier atmosphere.