32+ Dining Room Lighting Ideas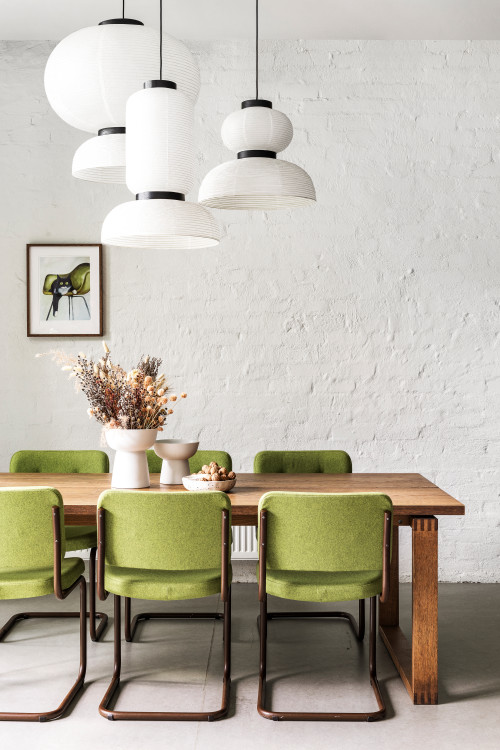 ID# 159101 | Houzz.com – Credit | © Kirsty Ristevski @miss.sneakypeek
---
Dining Room Lighting Ideas for Industrial Designs
To turn a dining table into a focal point, using a cluster pendant is one of the best ways. Here, for example, this industrial design dining room employs a cluster pendant consisting of variously-sized shades. Each one is hung at a different height to add further dimension and depth, posing against a white background. This whitewashed brick wall feels slightly assimilated in this reformulated industrial design that feels brighter and airier. Complementing all is a rectangular table that brings warmth and texture while green stools add a jolt of color.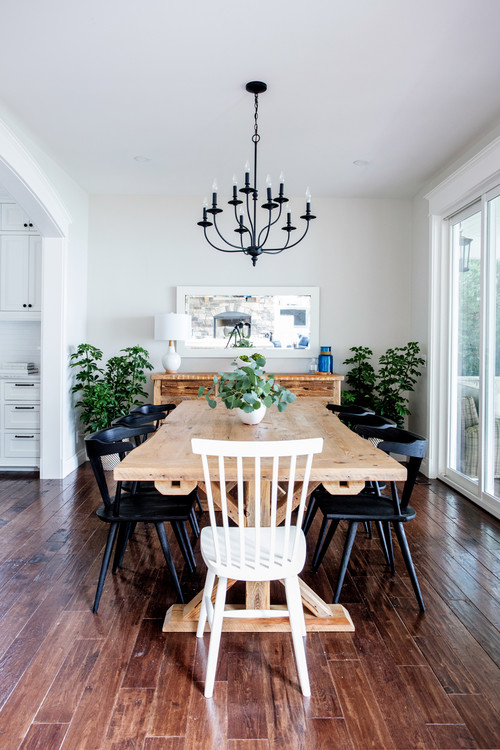 ID# 159117 | Houzz.com – Credit | © Madison Taylor
---
Dining Room Lighting Ideas for Farmhouse Designs with Wood Table
In this light and airy farmhouse design, wood is the protagonist of the design. It is introduced by a wood table, anchored to the room with black-painted spindle stools. Complementing it is a classic and timeless black chandelier that cements the farmhouse look. And in the back of the room are indoor plants that bring a breath of fresh air and elevate the mood of the interior.
Dining Room Lighting Ideas
Dining rooms are where we gather with our friends, guests, and family members, which makes them extra special. And to do justice to them, getting high-finish furnishings is not enough. Dining room lighting ideas also take an integral part in dining rooms, setting the mood of the space and giving the room its final finish. Thus, when choosing a dining room lighting fixture, it is important to consider the height of the ceiling, the size of the dining table, and the overall design theme. These criteria are crucial to ensure that each design element comes together like the pieces of a jigsaw puzzle.
To give a better idea about the variety of lighting fixtures, here we gathered several dining room lighting ideas. They are introduced by design projects of various styles from contemporary to rustic, farmhouse, and beach-style. All you need to do is to scroll down to explore some inspiring design projects.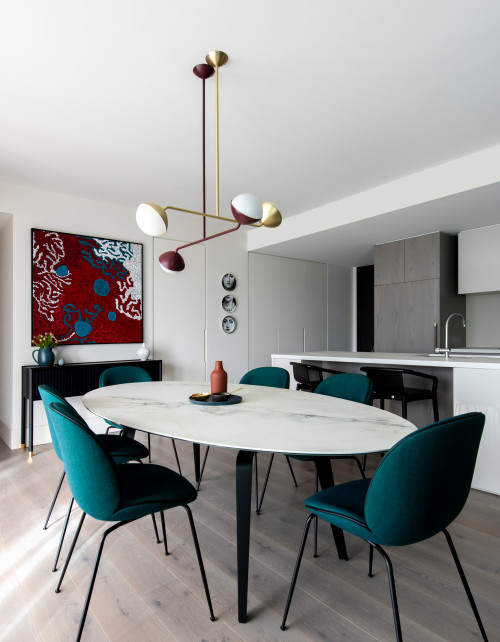 ID# 159102 | Houzz.com – Credit | © Logie Interiors
---
Contemporary Dining Room with Moden Chandelier and Accent Chairs
The year is 2023; don't settle for anything subtle and neutral. This contemporary dining room goes with two pendants that pretend as if they were one. Red and brass versions of it are hung in such a way they give the illusion of a multi-layered chandelier. In doing so, they also stay loyal to the overall color scheme, adding a statement touch to accompany jewel-toned accent chairs. Behind, the artwork in deep-saturated blue and red shades rounds up the look with an artsy touch.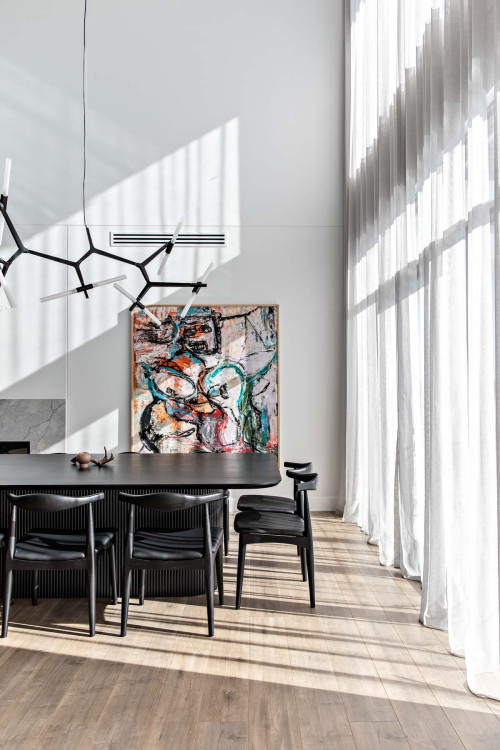 ID# 159103 | Houzz.com – Credit | © King Homes NSW
---
Black Dining Table with Artwork and Modern Chandelier
The ceiling height of any room dictates the form and size of the lighting fixture – as showcased by this double-height dining room. Here, a modern chandelier dropped all the way down overhangs a black dining table. Though single, its bulky body with branching-out features almost spans the dining room, providing enough task and accent lighting. Plus, its organic pattern keeps this otherwise high-contrast space in line with 2023 design trends. Not to mention, the sizeable artwork with jewel tones adds more opulence and drama, dressing up the off-white plain walls.
How do I choose a light over a dining room table?
The shape and size of a dining room table are one of your first cues when choosing a lighting fixture. If you have a round small table, for example, an oversized pendant could make a great pair with it to make a statement. If you have a low ceiling, avoid getting a very large pendant that might obstruct the view. Ensure to leave 36 inches between the table countertop and the bottom of the fixture.
For high-ceiling rooms, oversized chandeliers and pendants serve the kitchen very well. Also, consider if the room has a sloping roof. If that's the case, get a lighting fixture with a flexible cord. If you have exposed beams, you can also mount a fixture on them. Also, don't think that a small pendant is a must for a small table. To turn the dining zone into a focal point, feel free to go with a statement chandelier made of glass bubbles or a rustic antler.
The second cue is the overall design theme. Do you have a room filled with antique furnishings? Or do you have an industrial or contemporary design? Get inspired by designs that feel closer to your dining room. Don't forget that a lighting fixture is a key design element that can pull the entire design together.
Thirdly, when choosing the perfect size, subtract 30 cm from the size of the table in all directions. It will give you an ideal size for a lighting fixture.
Last but not least, though this is rather optional, consider getting a dimmer switch. This way, you can navigate the light level and create a cozy atmosphere when needed.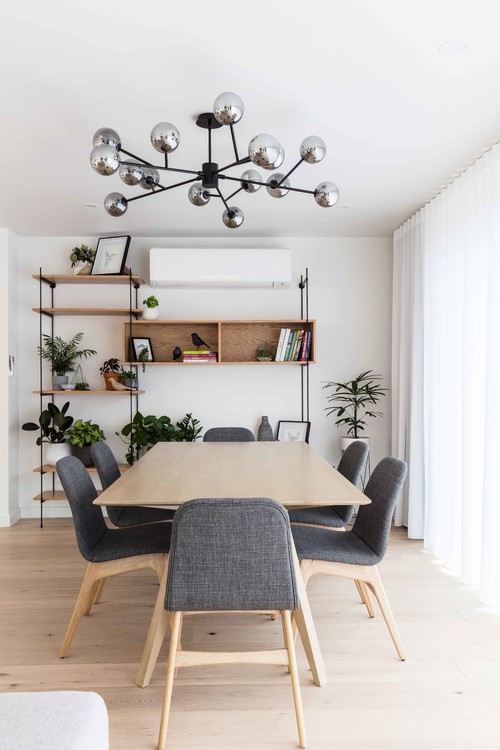 ID# 159104 | Houzz.com – Credit | © HX Design
---
Scandinavian Dining Room with Mid-century Inspired LED Chandelier and Wood Table
Scandinavian designs borrow from other designs, including mid-century modernism. Here, for example, this subtle and nature-inspired Scandinavian dining room is added interest with a mid-century-inspired LED chandelier. With its glass and aluminum shades, it comes as an anti-thesis to this room abundant in warm neutrals. Though the wood table, a wall-mounted open cabinet, and timber shelves with indoor plants occupy the larger portion of the space, it is the chandelier that keeps the interest in this room alive.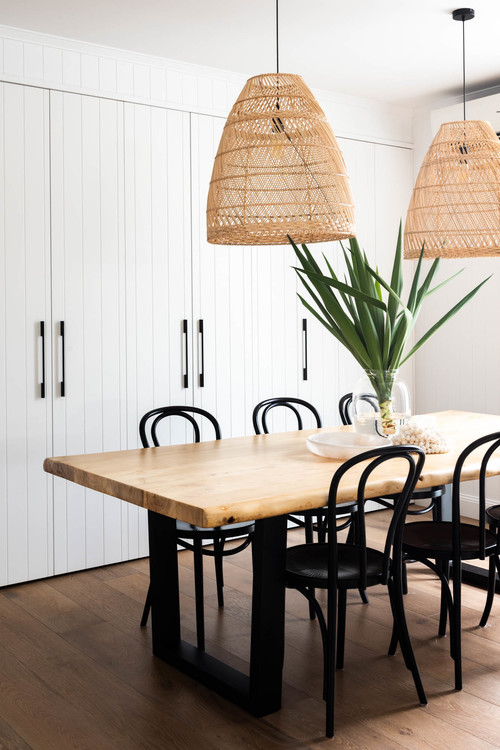 ID# 159105 | Houzz.com – Credit | © Hannah Puechmarin
---
Beach-Style Dining Room with Rattan Pendants and Beadboard Cabinets
To carry a coastal flair indoors, employ oversized rattan pendants. They bring in warmth and texture, creating a unique visual focal point. Depending on the size of the dining table or the room, you can multiply them. And to complement them, you can use whitewashed beadboard cabinets and a wood dining table as this dining room does. To anchor and color up the design, black stools and a green plant could also be brought in.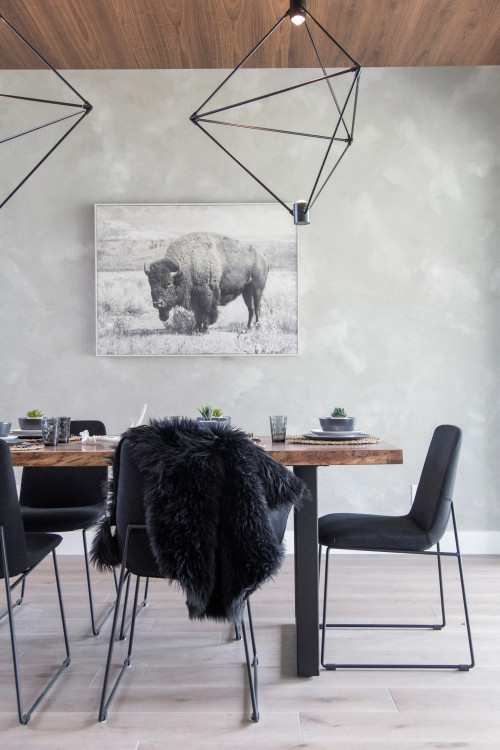 ID# 159106 | Houzz.com – Credit | © MATERIA Interior Design Studio Inc.
---
Rustic Dining Room with Wood Ceiling and Geometric Pendants
Modern and rustic, this dining room blends wood with subtle gray shades. Though different in texture, monochromatic walls, floors, and artwork harmonize beautifully. The wood-clad ceiling and wood dining table, by contrast, give this harmonious whole a visual break. The black stools and black faux sheepskin throw bring the room an edgy vibe, while the geometric pendants add visual intrigue.
Types of Dining Room Lighting
From pendants to chandeliers, candelabras, lanterns, spider pendants, and modern chandeliers, the types of dining room lighting are various. Below, we take a closer look at them individually, which are categorized according to their styles.
Dining Room Pendant Lights
Paper lanterns, linear pendants, oversized pendants,
Give them a chance especially if your dining room has a double volume with a high ceiling. In such rooms, pendants serve the space well, making the design more intriguing. To add further depth and dimension, you can get a few of the same pendants or their variously-sized ones. Then hang them at various heights to create a more staggered look. This way, they create a dimensional look.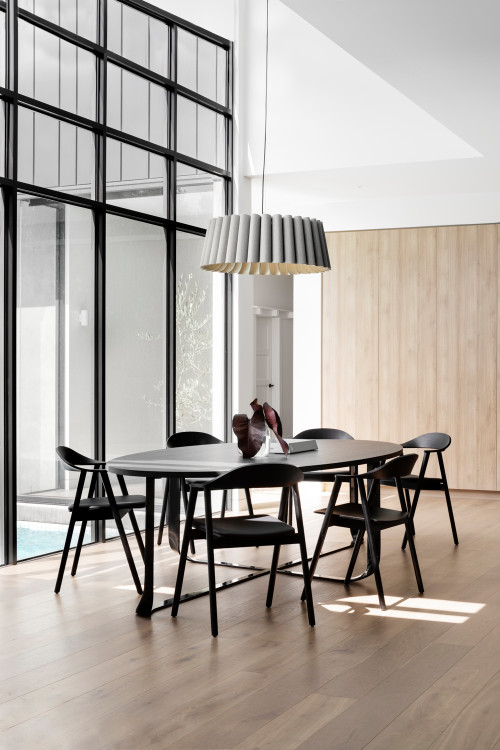 ID# 159107 | Houzz.com – Credit | © Heartly
---
Dining Room Lighting Ideas with Pendants for Black Dining Table
Bored of glass and metal pendants? Then give a chance to fabric-made ones. In this contemporary bathroom, the gray pendant has a more flexible look with its intriguing form thanks to its cotton shade. Plus, its adjustable height makes it perfect for this double-volume dining room. Though it might be harder to clean when compared to glass and metal ones, it can be preferred for its aesthetic value and soft texture. And when it comes to the design in this context, it channels coziness, overhanging the black dining table paired with black chairs. The wood cabinets and engineered wood flooring bring much-needed warmth to the design, supported by streaming lights.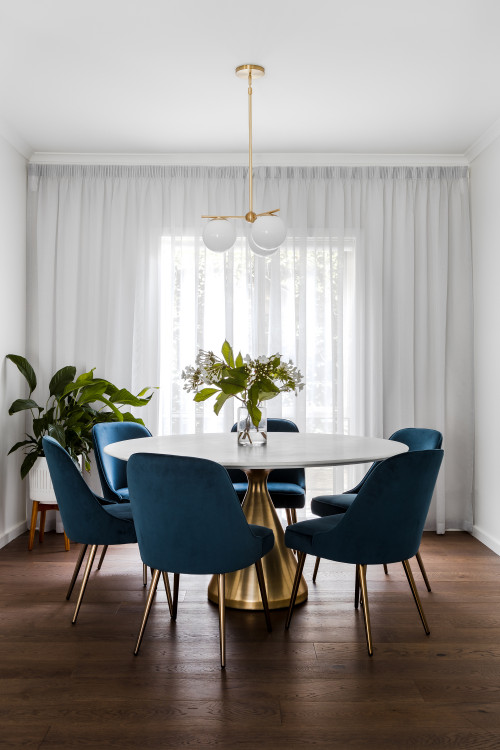 ID# 159108 | Houzz.com – Credit | © Pitch Architecture + Developments
---
Jewel-Toned Chairs with White Dining Table and Brass Accents
Jewel tones are best complemented with metal finishes- as proven by this dining room one more time. Here, the brass accents introduced in myriad ways assert a glam aesthetic for this dining room. This strong and glamorous visual scheme is balanced out with a white round dining table and white-painted walls. The kept-thin window curtains let natural light pour into the space to keep the interior fresh and airy. Finally, overhead, white glass globe shades with brass hardware pair perfectly with the rest of the design, retaining visual integrity.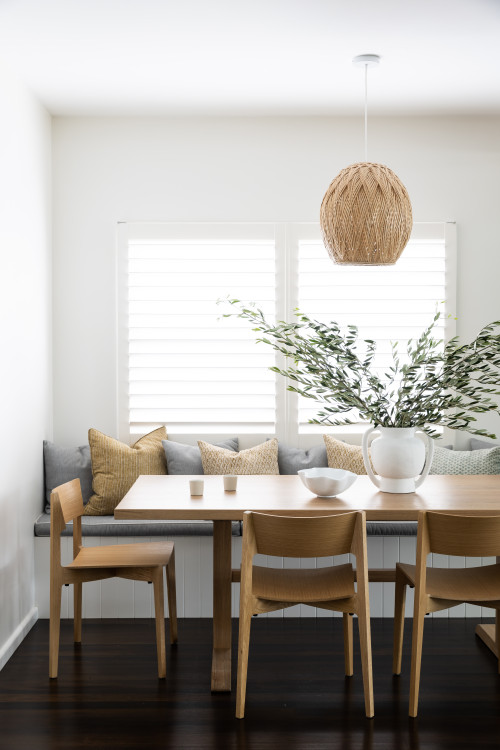 ID# 159109 | Houzz.com – Credit | © M&PG Projects
---
Banquette Dining with Rattan Pendant and Wood Stools
Placed by the window, this banquette dining seating knows how to stay in the sunlight. The soft color palette of the dining gets a touch of warmth with wood stools and the dining table. The incorporation of grays and warming wood shades give a sense of life to the otherwise all-white interior space. And what bestows this union is a rattan pendant that brings a coastal flair without going over the top.
How do I light my dining room?
Lightening up a dining room starts with the encouragement of an inflow of sunlight. So, first, go with light and thin window curtains to let lights in seamlessly. And if you wish, you can use blackouts as a visual accent. And as for the lightning system, you can create a layered one. For example, you can get a chandelier or pendant for your dining table for accent and task lighting. Floor lamps can be placed by the couches or accent chairs – if you have any-. Built-in spotlights can provide ambient lighting. For coziness, wall sconces also work pretty well in dining rooms. Additionally, installing mirrors also helps give the illusion of a larger and brighter space as they reflect light. You can, for instance, create a gallery of mirrors.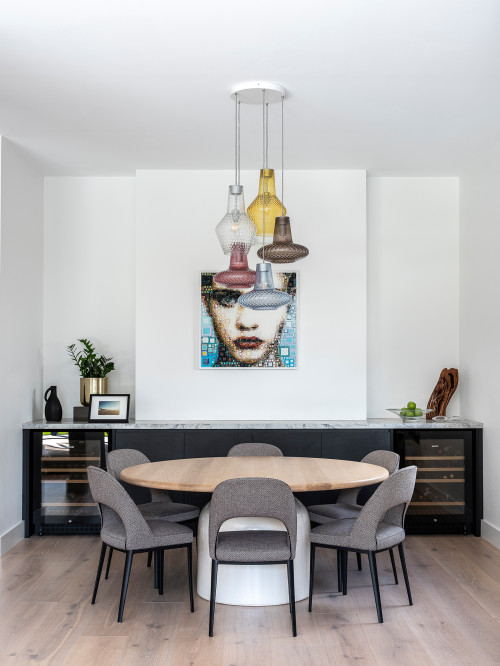 ID# 159110 | Houzz.com – Credit | © Bijl Architecture
---
Dining Room Lighting Ideas with Glass Cluster Pendant
The beverage coolers peeking out behind tell us that this room is not just for dining. So, take note of this design and get some coolers or wine racks to turn your dining room into a more sociable space. And coming back to the dining area, the gray chairs are mid-century style, offering an ergonomic design. They are made to fit the human body, while slight openings on the backrest give them extra aesthetic value. And overhead, a multi-colored glass cluster pendant modernizes the room, spicing up the neutral color scheme.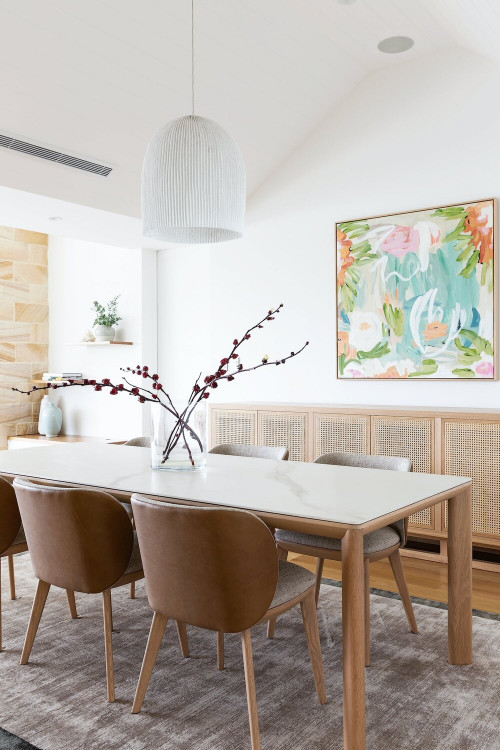 ID# 159111 | Houzz.com – Credit | © Order & Grace
---
Beach-Style Dining Room with White Pendant and Artwork
Warm shades and brown hues with touches of green suit this beach-style dining room. Natural foliage and the colorful artwork reminiscent of spring jazz up the white-painted walls. A white pendant dropped down from the whitewashed shiplap ceiling blends seamlessly with the clean look of the room.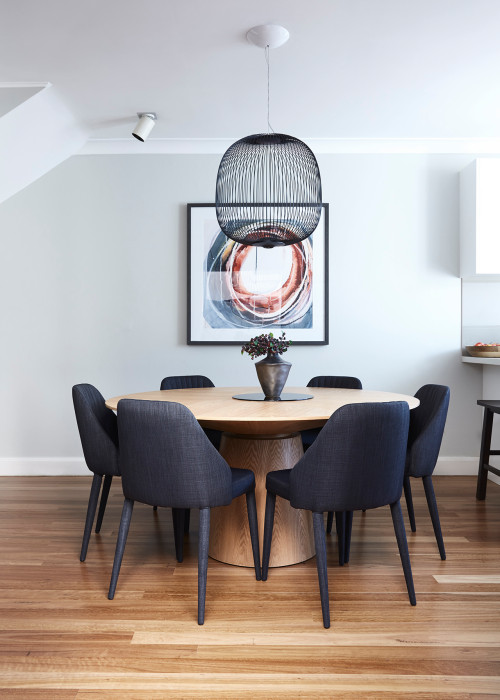 ID# 159112 | Houzz.com – Credit | © IOANNA LENNOX INTERIORS
---
Round Wood Table with Artwork and Dark Accent Chairs
Getting a round dining table helps you keep circulation going and creates a more equalitarian design. Plus, it introduces a soft feature, boosting the energy of the room. Here, the impact is doubled with a natural material choice. The round wood table is brought in to deepen the relaxed ambiance of the room. It also offsets the dark accent chairs with tapered legs. The dark modern pendant overhangs this cozy dining space, while an abstract art print adds a contemporary touch.
Dining Room Chandeliers
Even though chandeliers are mostly associated with luxury and more traditional looks, it is just not the case anymore. In addition to eclectic kitchens that employ them as a whimsical gesture, contemporary designs also go with them. Available in glass, linear, antler, and wood beads, today, chandeliers propose a wide range of looks. You see them emulating organic patterns that fit modern and Scandi-inspired designs. Also, in beach-style rooms, they come in seashells rather than crystals. And if you are looking for something exceptional, check out glass bubble chandeliers.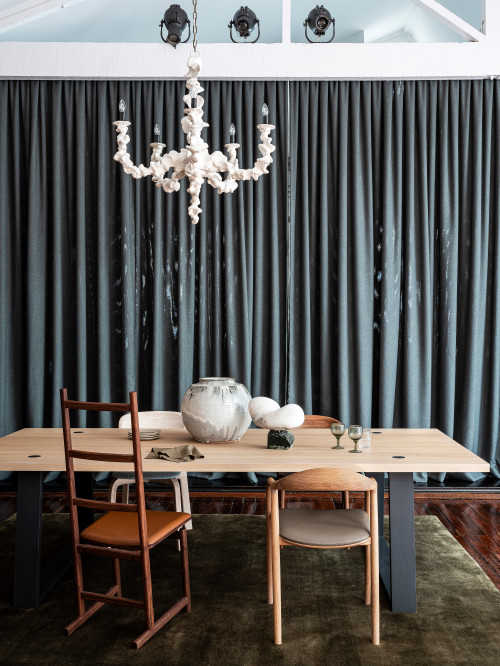 ID# 159113 | Houzz.com – Credit | © Josephine Hurley Architecture
---
Dining Room Lighting Ideas with Chandeliers for Industrial Dining Room
This casual, evolved-over-time industrial dining room abounds in earthy shades that keep it approachable. The green carpet, a variety of dining stools, and a wood table come together in intentional randomness. And if you think the richly pigmented blackouts are for the window, you are mistaken. They create a division to separate the dining room from the main lounge. It is very strategic in the sense that it gives options to merge two sections as needed and wished. And of course, the chandelier is the centerpiece of the design. Unlike its counterparts that ooze opulence, this one has a more casual look yet without completely forgetting being a chandelier. It is immersive and impactful.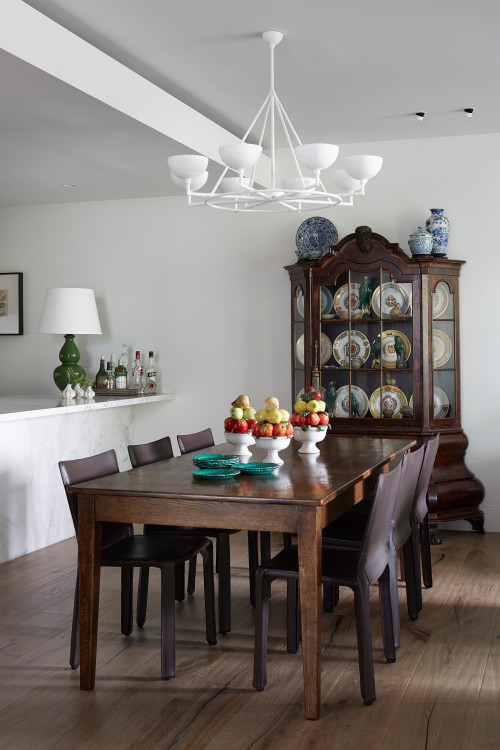 ID# 159114 | Houzz.com – Credit | © Brownlow Interior Design
---
White Modern Chandelier with Wood Cabinet and Table
In this contemporary dining room, a white hand-crafted chandelier is reimagined in a contemporary context to make it blend with its surroundings. As proven here, the mission is accomplished as it almost fades into the white setup. Its torch-shaped shades give the chandelier an effortless style and interest. As opposed to its clean finish, the dark wood table and glass-front cabinet make a counterpoint. Together they bring warmth and drama while anchoring the chandelier to the room.
How can I light my dining room without a chandelier?
From spotlights to pendants, wall sconces, floor lamps, and table lamps, there are several ways to light a dining room.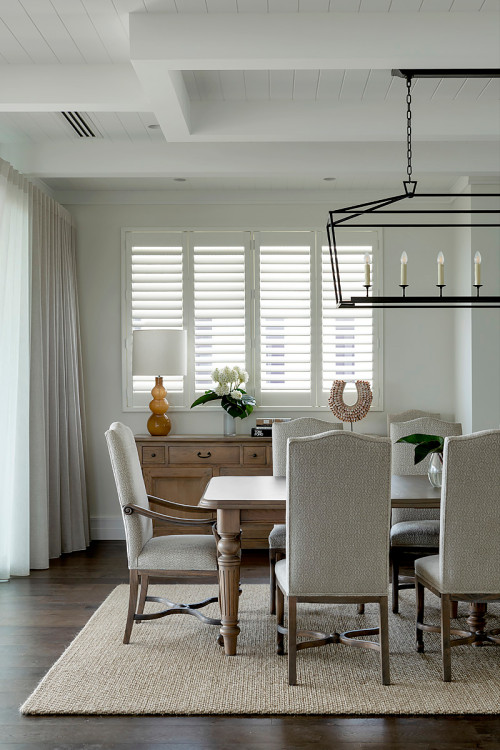 ID# 159115 | Houzz.com – Credit | © M Interiors
---
Lantern Chandelier for Transitional Dining Room with Wood Table
This transitional dining room luxuriates in its white and airy atmosphere. Warming it up is a dining table with upholstered beige stools. A lantern chandelier brings a farmhouse feel, giving the design an old-world charm. Accessories on the wood console add further visual interest and inject a dose of personality.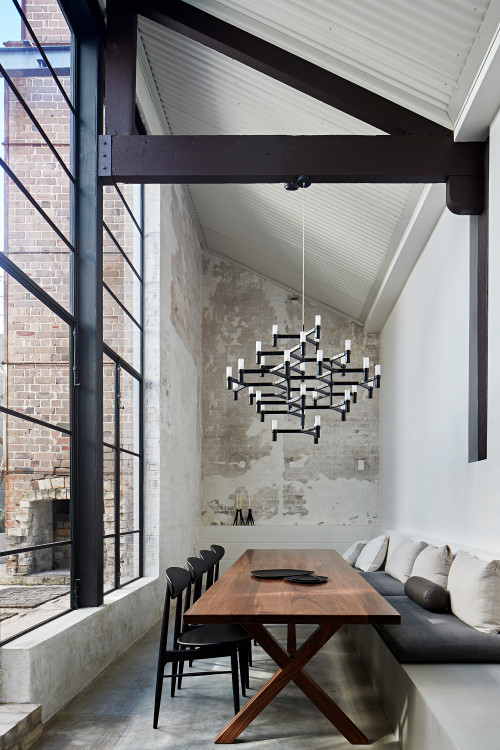 ID# 159116 | Houzz.com – Credit | © Stratti Building Group
---
Industrial Dining Room with Modern Chandelier and Banquette Seating
Unfinished looks, rustic features, plenty of texture, and high-contrasts are all welcome in industrial designs. And here you see many examples of them. Nestled under the sloping roof punctuated by a black truss, this industrial dining room shows off its exposed concrete walls and floors. The beauty of this distressed finish just gives the room an unfinished vibe, evoking visual interest. That's why designers skip adding artwork or accessories. And to turn this industrial room into a more cozy and comfy space, banquette seating is created rather than bringing a simple table with stools. This concrete-carved banquette is made more comfortable with a black cushion and pillows accompanied by a wood table that offsets the high-contrast color scheme. Overhead, a multi-layered chandelier's size is proportioned to the high ceiling.
Modern Dining Room Lighting
Modern dining room lighting fixtures encompass linear lighting, pendants, modern chandeliers, and multi-level designs. In addition to them, modern branch chandeliers come as a great alternative, available in multiple sizes and finishes. If you want something more minimalist, you can get its smaller version. Both artistic and practical, they easily create a visual focal point. Mid-century-inspired designs also fit modern designs, generally introduced in brass finishes. If you have jewel tones in your dining room and want them to pop, a brass mid-century chandelier gives you the perfect finish.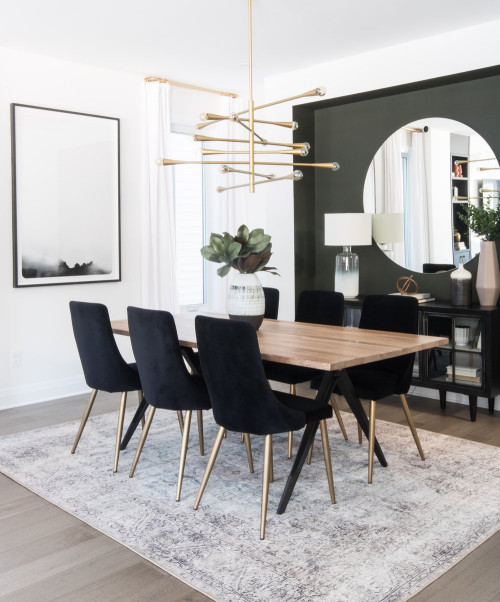 ID# 159118 | Houzz.com – Credit | © The Design Chaperone
---
Modern Dining Room Lighting Ideas with Brass Chandelier
The mid-century design hasn't lost its impact yet and keeps getting reincarnated in contemporary designs. And here, we see a reimagined version of a mid-century sputnik chandelier. It is only sleeker, adding a glamorous aesthetic with its brass finish. And it pairs perfectly with the brass tapered legs of the stools. In the rest of the design, a black-and-white color palette characterizes the room, which is offset with plants, a round mirror, and textured features.
ID# 159119 | Houzz.com – Credit | © COSWICK LTD
---
Contemporary Dining Room with Modern Pendants and Black Stools
When planning to get small modern pendants, get a few to provide enough task lighting for a large dining table. And keep them synchronized with the rest of the room. Here, this warm contemporary dining room employs two modern pendants with warm undertones. Paired with a wood table and black stools, they gain a more solid presence.
Should dining room lights point up or down?
If you want to provide ambient lighting for the dining room, it would be better to keep the lights pointing up. This way, the entire room gets benefits from the even distribution of lights. But if you want to create a focal point and provide task and accent lighting, then lights should point down.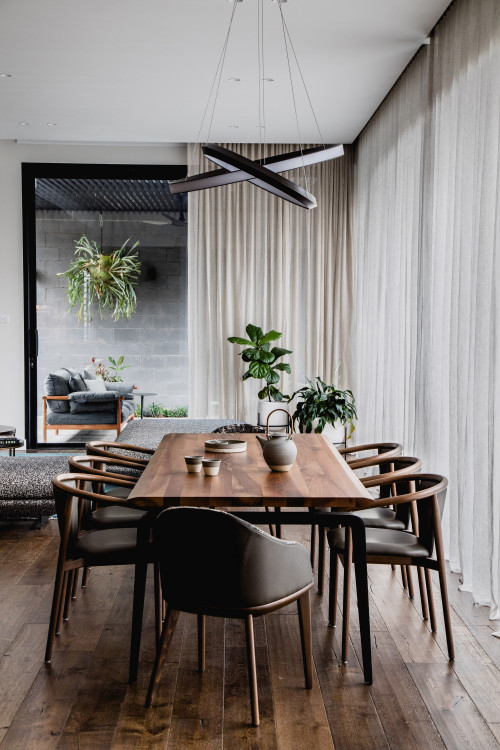 ID# 159120 | Houzz.com – Credit | © White Pebble Interiors
---
Contemporary Lighting Fixture with Wood Dining Table and Indoor Plants
Warm earthy shades dress up this contemporary dining room in its casual look. And the full-height windows take care of the rest, filling the interior with light. When it comes to the design, this cozy corner is made extremely welcoming with a wood dining table and dark wood flooring, which ooze drama and opulence. Indoor plants distributed here and there add a pop of color, and the cross-shaped lighting fixture modernizes the design instantly.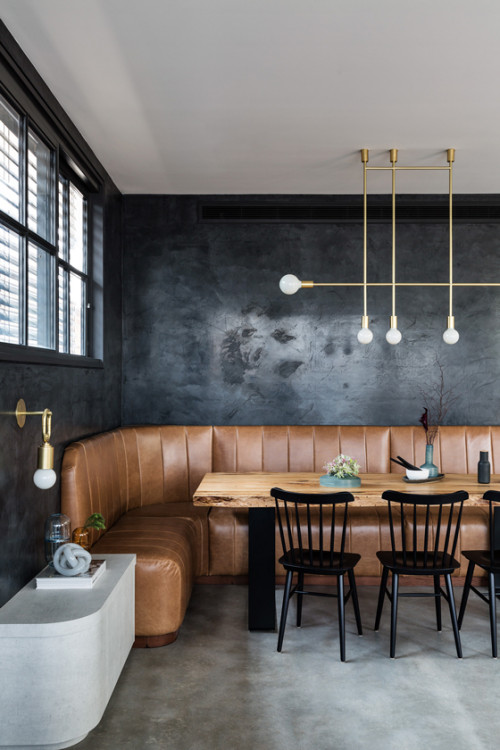 ID# 159121 | Houzz.com – Credit | © Woods & Warner
---
Industrial Dining Room with Brass Sputnik Chandelier
Industrial and contemporary design features are injected into this space to create a more personalized and unique style. The result? It is well-curated and dramatic with industrial-focused black-painted walls. With a well-managed balance between the two styles, the brown faux-leather banquette seating brings a softening effect, making the design more luring. On the other side, the curved design of the white coffee table offsets the straight lines and brings a brightening effect. Not to mention, the exposed concrete floor ensures that the industrial spirit of the room lives on. And a brass chandelier reminiscent of mid-century sputnik lighting adds a contemporary element to finalize the look.
How big should a light be over a dining room table?
It is recommended for a lighting fixture to measure one-third of the width of the dining table.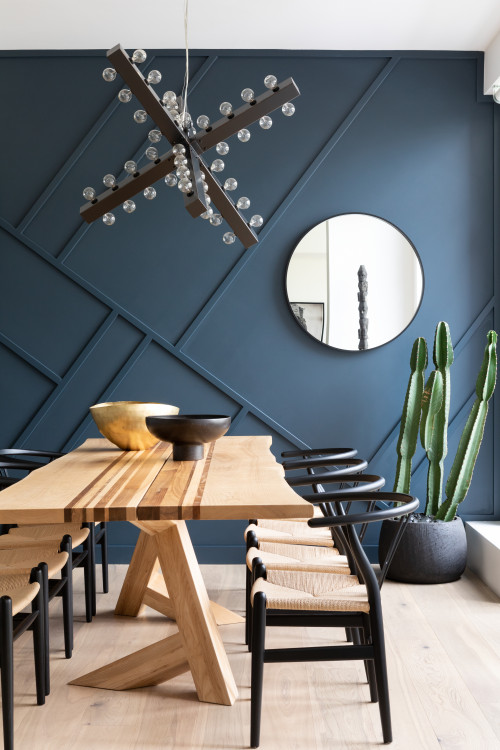 ID# 159122 | Houzz.com – Credit | © PlaidFox Studio
---
Dining Room Lighting Ideas with Statement Chandelier and Wishbone Stools
We don't know where to start when it comes to this dining room replete with statement features. But first, let's take a look at the jewel-toned accent wall that provides a solid background to play up the other features. The light wood table, for example, in this way, feels in the spotlight. A set of wishbone stools pair with it, introducing black and wood put into dialogue with the exhibited bowls. Yet above all, the statement chandelier stands out as the focal point of the design, ensuring this design is memorable. The round mirror and cactus complement the overall design composition.
Farmhouse Dining Room Lighting
Classic cage-style lighting, glass pendants, and lanterns are some of the most popular farmhouse dining room lightings. Brass finish lighting fixtures that patinate over time also suit that farmhouse flair with a rustic edge. Apart from those, feel free to create your own farmhouse dining room lighting. For example, you can turn reclaimed bottles into pendants.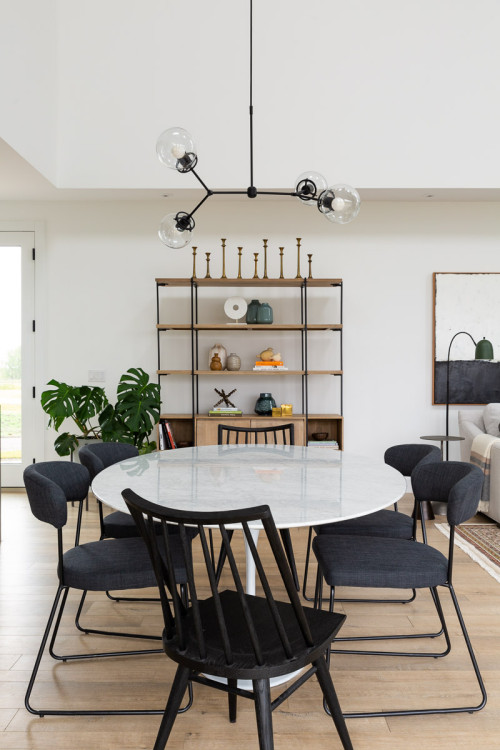 ID# 159123 | Houzz.com – Credit | © Alykhan Velji Design
---
Farmhouse Dining Room Lighting Ideas with White Table and Dark Chairs
Glass chandeliers are popular and suitable in any design, including this farmhouse dining room. Paired with a white table and dark chairs, it comes as a neutral yet statement fixture. Behind, a monstera plant and a timber open cabinet with a plethora of accessories inject personality into the room.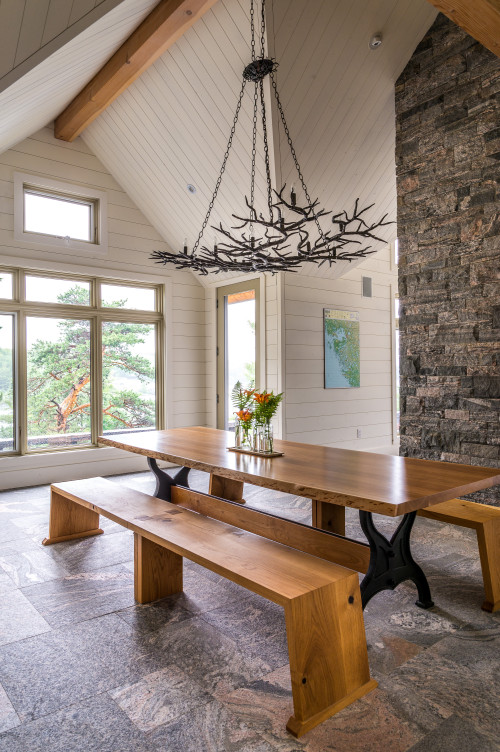 ID# 159124 | Houzz.com – Credit | © LIFE HOME DESIGN
---
Antler Chandelier with Benches and Stone Feature Wall
Taking its cues from its surroundings, this impeccable farmhouse dining room filled with rustic features offers a perfect getaway from the bustle of the city. The whitewashed shiplap ceiling extends on the walls, except for the stone feature wall that gives this consistency a casual yet intentional break. On top of that, the wood table with benches coordinates with the exposed wood beams, adding more texture-rich pieces. And the antler chandelier amongst them stands out as the centerpiece of the design with its iron branches.
What color light bulb is best for dining room?
Since you are not going to need task lighting to prepare food and cut veggies, a warm color light bulb would be enough. It will just provide you with a relaxed and convivial atmosphere and set the right mood for dining.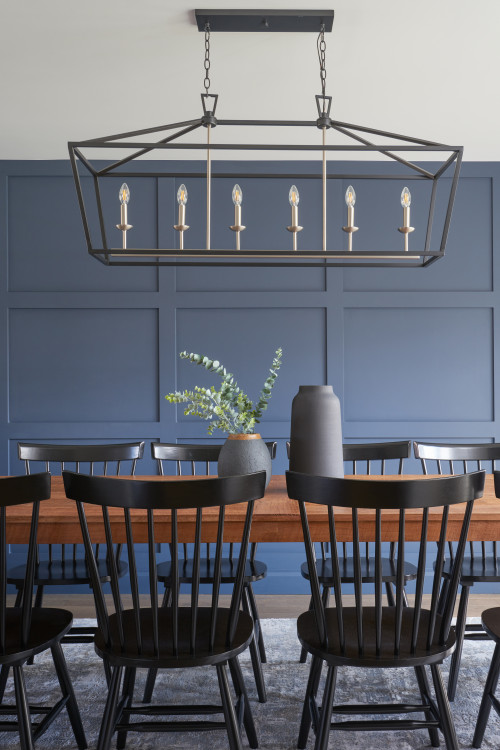 ID# 159125 | Houzz.com – Credit | © Julia Bewcyk Photography
---
Timeless Cage Chandelier with Tapestry and Timber Table
Whether you aim for a modern or rustic farmhouse look, a cage chandelier is a staple for both versions. And here, we see it in a more modern context posing against a feature wall with wainscoting details. Below, it is in an open conversation with a wood table paired with black stools. And a traditionally patterned tapestry introduces a bonus texture to enhance the material repertoire of the design.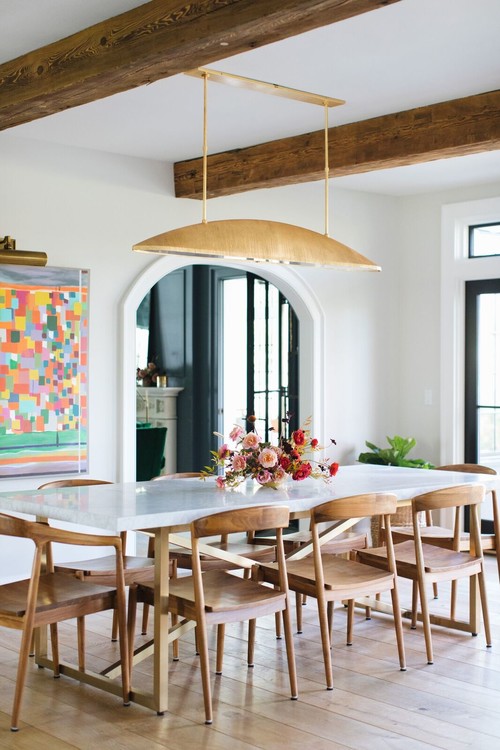 ID# 159126 | Houzz.com – Credit | © Turquoise Palace
---
Dining Room Lighting Ideas for Farmhouse Dining Room with Exposed Beams
Filled with details that contribute to the overall design aesthetic, this farmhouse dining room is just one of the best. Here old marries new, creating a very individualized design. To start with, first, the exposed wood beams add a level of intimacy, drawing eyes upward and creating the illusion of a higher ceiling. The white-painted walls, as opposed to rustic beams, create a blank canvas for a clean look. The sizeable modern-farmhouse chandelier, as one of the rare-to-see features, creates an instant focal point. The multi-colored e artwork, plants, and flowers make the room pop, ensuring the farmhouse spirit stays alive, despite the modern furnishings.
Rustic Dining Room Lighting
Rattan and wicker pendants, wood beaded chandeliers, or any fixture made of wood or any other natural material Cast-iron and antler chandeliers, farmhouse lightings, and spider pendants tied together with ropes are other great options to consider. You can even consider exposed Edison bulbs to merge a rustic look with an industrial vibe.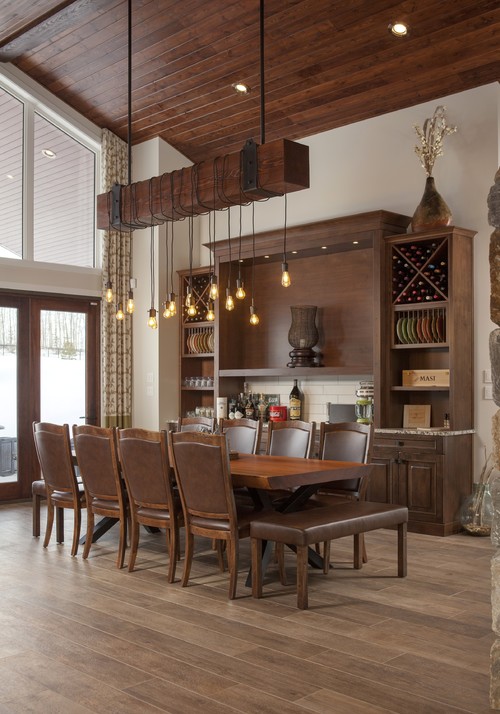 ID# 159127 | Houzz.com – Credit | © Abbey Platinum Master Built
---
Rustic Dining Room Lighting Ideas with Edison Bulbs and Wood Table
In this stunning rustic dining room, all furnishings are oversized to create a well-proportioned look for this double-height room. And the abundance of wood wraps the entire room in warmth, exposing its users to layers of texture. The dining area also plays a significant role in that, enjoying being in the spotlight thanks to the statement pendants. Consisting of a wood log decorated with a big set of exposed Edison bulbs, this pendant creates a cozy ambiance, emitting warm light. Built-in spotlights and full-height windows also support it to keep this colossal space well-lit and airy.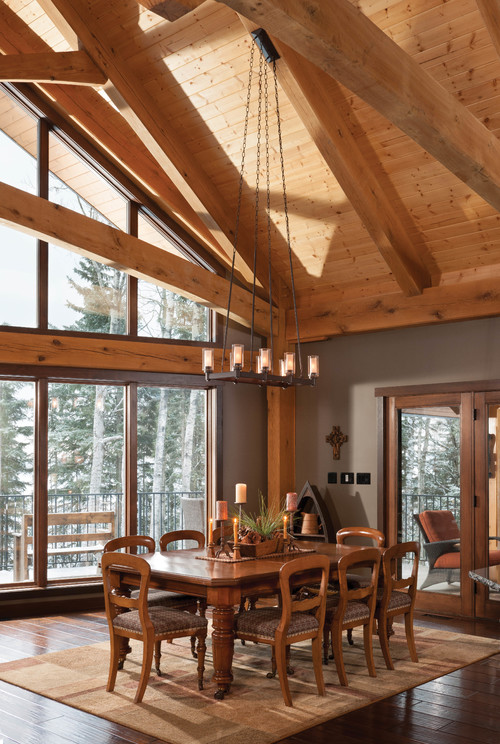 ID# 159128 | Houzz.com – Credit | © Riverbend Timber Framing
---
Rustic Iron Chandelier and Carpet with Wood Table
One step into this dining room is enough to stimulate the five senses of its users. Here, from the ceiling to the furnishings, everything comes in wood, blending seamlessly for harmonious integrity. Overhead, the wood truss and timber ridge add further accent to the space, making the ceiling look lower to create an intimate atmosphere. Mounted on this timber ridge, a cast-iron rustic chandelier is left suspended, overhanging the wood table and drawing further attention to it. The final product? This rustic dining room feels classic and timeless, enveloping its users with warmth. Not to mention, the earthy-shaded carpet that zones the dining area adds a bonus soft feature underfoot.
Does the dining room light have to be centered over the table?
Symmetry is a very key feature to create an eye-appealing look. That's why it is recommended for the dining room light to be centered over the table. But what happens when you have a large table and need more than one lighting fixture? For example, when you need to hang 3 pendants, install the first one in the center. Then hang the other ones at equal intervals from the centered one.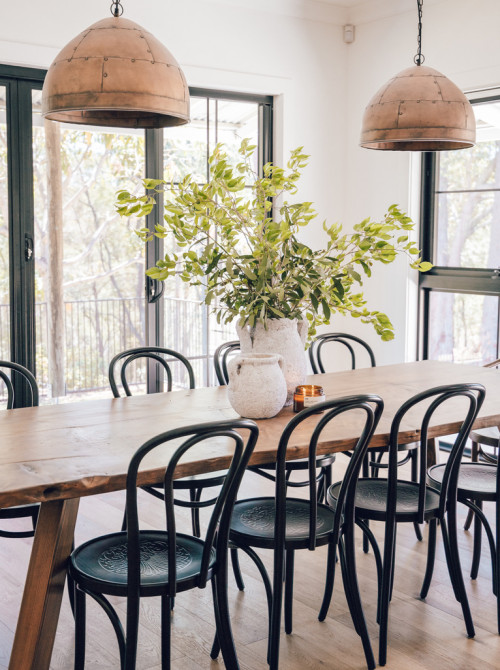 ID# 159129 | Houzz.com – Credit | © Alenka Interiors
---
Farmhouse Dining Room with Rustic Lighting and Black Stools
In this airy and bright farmhouse-style wrapped veranda, a duo of rustic pendants creates an effortless visual focal point. And along with the wood table, they bring an earthed quality to create a seamless transition between inside and outside. The greeneries exposed via full-height glazing find a translation indoors, this way. A touch of green branches also supports this outward connection. Plus, the black stools put into dialogue with black window frames keep the design feel anchored and more solid.
Small Dining Room Lighting
Lighting fixtures are available in every size, which means you can find lanterns, chandeliers, and pendants in small versions too. For a large table, you can install them at equal intervals to provide enough lighting.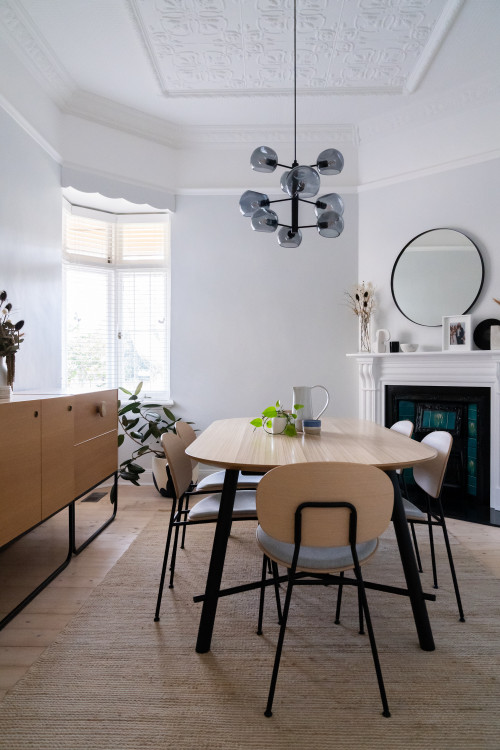 ID# 159130 | Houzz.com – Credit | © DIY Blinds
---
Small Dining Room Lighting Ideas for Midcentury Design
Play with the natural textures even if they are introduced by clean-lined furnishing. In this mid-century design, a wood table with, a wood console, and stools inject a high dose of organic shades and textures. The curved ends of the table as well as the curved backrests of the stools round things up in the room. This way, the energy is kept flowing, and soft aesthetic features are brought into the frame. Adding to them is a Sputnik-inspired chandelier with black glass shades. Small yet impactful, it is eye-catching enough to draw your eyes upward. And plants distributed here and there, keep the mid-century spirit alive.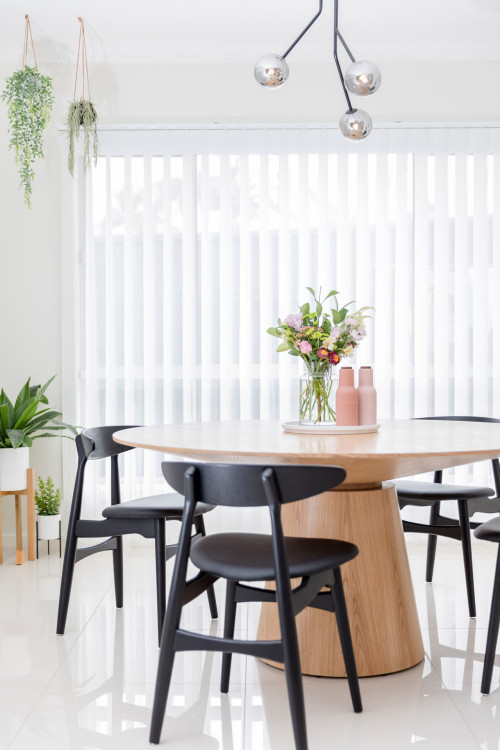 ID# 159131 | Houzz.com – Credit | © Sapphire Living Interiors
---
Round Wood Table with Black Stools and Plants
Resting on the highly polished white floor tiles, the round wood table and black stools get the chance to meet their reflections. The surrounding white walls envelop them for further brightness and spaciousness. The ceiling-mounted plants add pops of color to give life to the white walls. A small modern pendant light draws attention to the table, while the thin curtains let sunlight in to ensure airiness and freshness.
Can you put pendant lights over a dining table?
Pendant lights suit dining tables quite well, creating a visual focal point. If your dining room is adjoined to a kitchen, a lounge, or both, pendant lights also help develop a better sense of space. Aside from those, needless to say, there is a wide range of pendant designs for dining tables. So, when you have this amount of options, just pick one and add personality to your dining area. If you get a dimmable pendant, you could also change the light level and create a cozier atmosphere.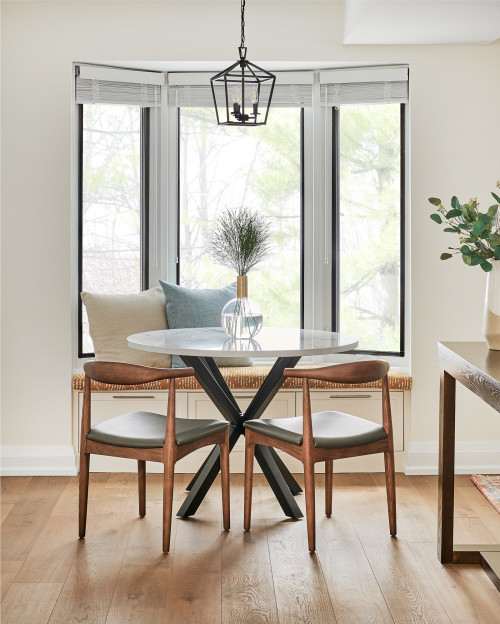 ID# 159132 | Houzz.com – Credit | © Francis + Bell Design Studio
---
Farmhouse Dining Room Banquette with Lantern Lighting Fixture
This cozy banquette seating by the window is accompanied by a round table and two cushioned stools. Overhead, a small black lantern chandelier gives the farmhouse flair to the room.